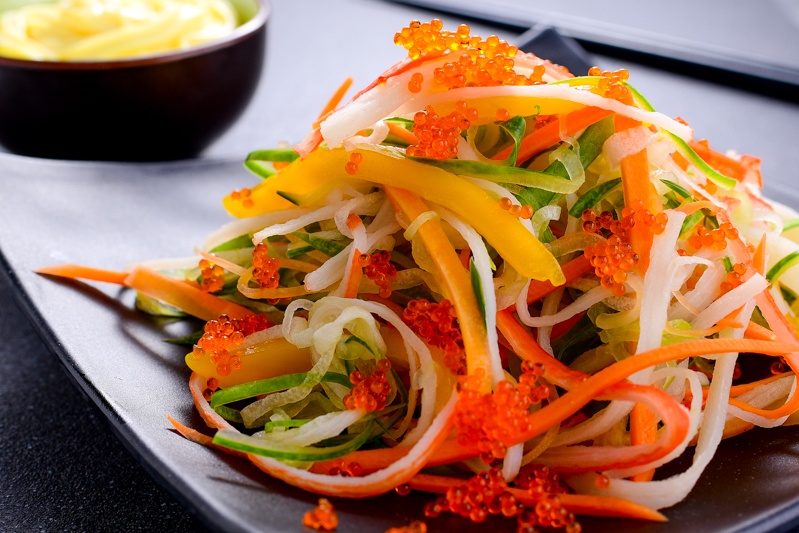 Japanese Kani Salad
Excellent combination of flavors and textures! Basically a classic California maki without all that sushi rice!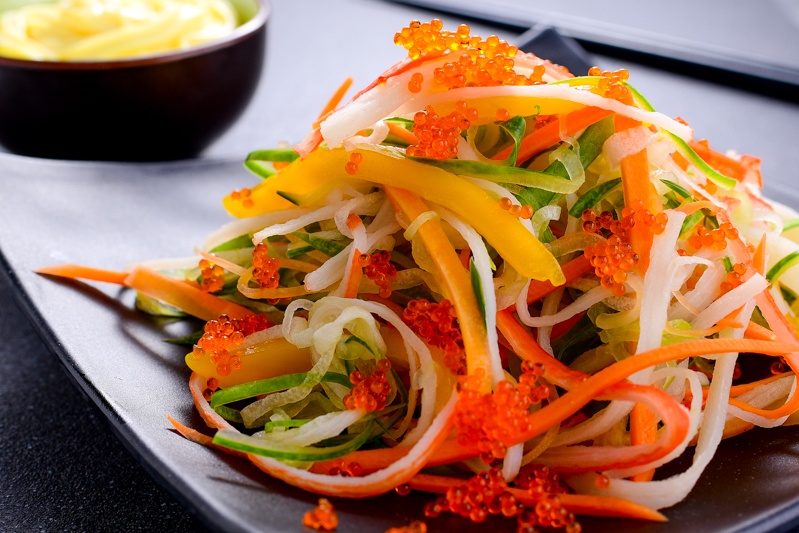 Ingredients
6

Pieces

Crabsticks

shredded into strips

1

Piece

Cucumber

julienne

1

Piece

Carrot

julienne

1

Piece

Ripe Mango

cut into thin strips

1/4

Cup

Japanese Mayonnaise

1

Tablespoon

Ebiko
Instructions
Toss all ingredients in a bowl.

Serve chilled.
Whenever I do have a good craving for a salad, it would most likely be either for a chunky grilled chicken Ceasar or for this simple Japanese kani and mango salad. In fact, this starter would most likely be found on our table whenever we go out for dinner at a Japanese restaurant despite how I always wished they could have made it more perfect for my liking by adding more crab, more Japanese mayonnaise, more ebiko, and less cucumber. . . and by more of each component, I mean at least putting twice as much which I don't even bother to request for.
With preparation being very simple and straightforward as tossing all those salad components in a bowl, I'm having this salad at home, the way I really want it.
Aside from the excellent mix of flavors, I really find the textures in this salad very interesting. Taking the time to cut your cucumbers and carrots into thin even strips really makes a huge difference in my opinion.
Let's begin with the cucumber:
I suggest leaving the rind on for more crunch and obviously better color.
Always leave the core out. Those cucumber seeds would not only ruin the wonderful texture of this salad, but would also introduce too much moisture making everything too watery with diluted flavors.
Using a mandolin or even a vegetable spiralizer would make prepping up these cucumbers really effortless and could yield much more uniform cuts.
Here's an extra step which makes for a very significant difference. Mix a heavy pinch of salt in with the shredded cucumber and leave it in a colander set over a fitting bowl for about half an hour. Don't worry about adding too much salt as we'd be rinsing that off later anyway.
The salt should draw so much more moisture out of the cucumber that would most likely make our salad too watery. Furthermore, dehydrating our cucumber slightly more would make it significantly more crisp in the end.

Don't forget to rinse the salt off under running cold water. Having a quick taste would be the best way to tell if you've rinsed them well enough.

Finally, squeeze out any excess moisture. To keep those strips intact, I suggest using a salad spinner.

Finally, get those cucumber strips together with all the other ingredients in a bowl and give them a quick toss. As with all raw salads, I suggest adding the mayonnaise as close to service time as possible as vegetables do wilt almost instantly in any acid-based dressing.

Always go with Japanese mayonnaise for this salad whenever you can – it really makes a big difference in flavor.