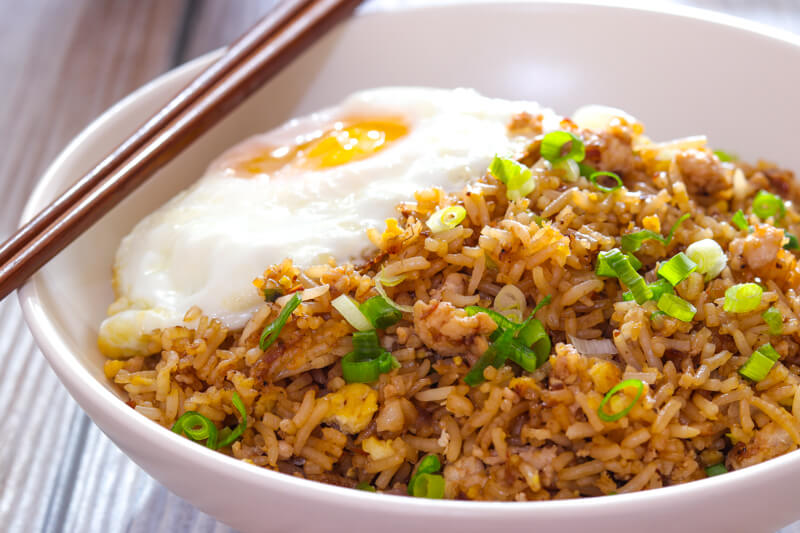 Nasi Goreng
Speed - 98%
Simplicity - 100%
Tastiness - 100%
Perfectly fluffy and uniquely flavorful. This is easily my favorite stir-fried rice dish!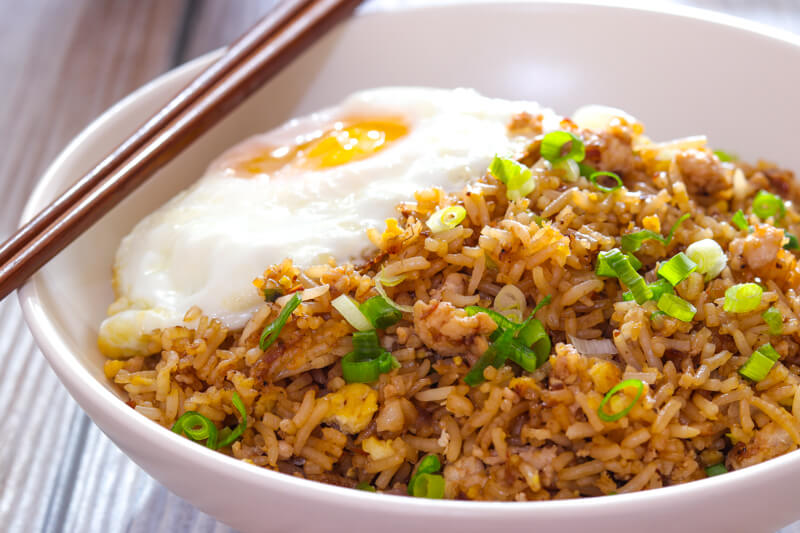 Ingredients
3

Cups

Cooked Long-Grain Rice

2

Tablespoons

Peanut Oil

1/2

Cup

Ground Chicken

1

Piece

Onion

minced

4

Cloves

garlic

minced

1

inch-piece

Ginger

minced

2

Tablespoons

Shrimp Paste

2

Tablespoons

Kecap Manis

2

Pieces

Eggs

beaten

1/4

Cup

Spring Onions

sliced
Instructions
Heat peanut oil in a wok.

Sautee ground chicken until fully cooked.

Add ginger, garlic, and onion. Sautee.

Add shrimp paste and sautee for a minute.

Add cooked rice and stir well.

Season with kecap manis, and optionally fish sauce.

Make a well in the center of the rice. Add in eggs.

Break the cooked eggs apart and toss with the rice.

Top with spring onions.
Literally translating to "fried rice", Nasi Goreng is simply Indonesia's "twist" to a classic Asian stir-fried rice dish. In fact, its local popularity has earned it the title of the country's national dish. Compared to other Asian varieties of fried rice, specifically to its Chinese counterparts, Nasi Goreng is distinct for its aroma and deep earthy, smoky flavor, which may be attributed to the generous use of caramelized soy sauce(locally known as Kecap Manis) and shrimp paste(locally called terasi).
Apart from these two essential ingredients, more locally common aromatics such as shallots, ginger, garlic, and chilis are added, giving the Nasi Goreng more spice and flavor in comparison to fried rice dishes from other Asian countries.
Various local takes on the dish feature the use of other various ingredients such as chicken, mutton, beef, seafood, mushrooms, or beans. For this recipe, we'll be going for the most common variety with chicken and eggs.
I used ground chicken to get my meat component more evenly distributed into the rice dish. It would also be possible to use chunkier strips or slices of course.

Once the ground chicken is fully cooked in your pan, add the aromatics in. Sautee the garlic and shallots until slightly soft and aromatic, just make sure that they don't start burning.

The shrimp paste goes in next. This should take just a bit of sauteeing since I went for those pre-cooked pastes that come in bottles.

The cooked rice goes in next. When making any fried rice dish, I strongly suggest that you cook your rice a day ahead and store it in the chiller. This overnight rest should make those grains stronger so they don't easily break as you stir them with the other ingredients inside the wok.

The seasoning goes in now. Using authentic Kecap Manis would of course be necessary for authentic results. It does have a distinct sweet and smoky flavor, that you won't get from ordinary types of soy sauce.
It would also be common to add some fish sauce at this point for more flavor. However, I do find the flavors from the shrimp paste and kecap manis enough for my taste.

Push the rice to the sides of the wok, making a well in the center. Add a little splash of oil, pour the beaten eggs in and give it a minute or so to cook. Then, break the eggs into pieces with your spatula and toss it into the rice.
Alternatively, you may fry the eggs in a separate pan and cut it into strips before tossing them into your Nasi Goreng.

Finally, give your rice a final seasoning of salt, fish sauce, or kecap manis, and top it with some chopped spring onions.

Typically served with eggs, this excellent fried rice dish is indeed a tasty meal on its own.