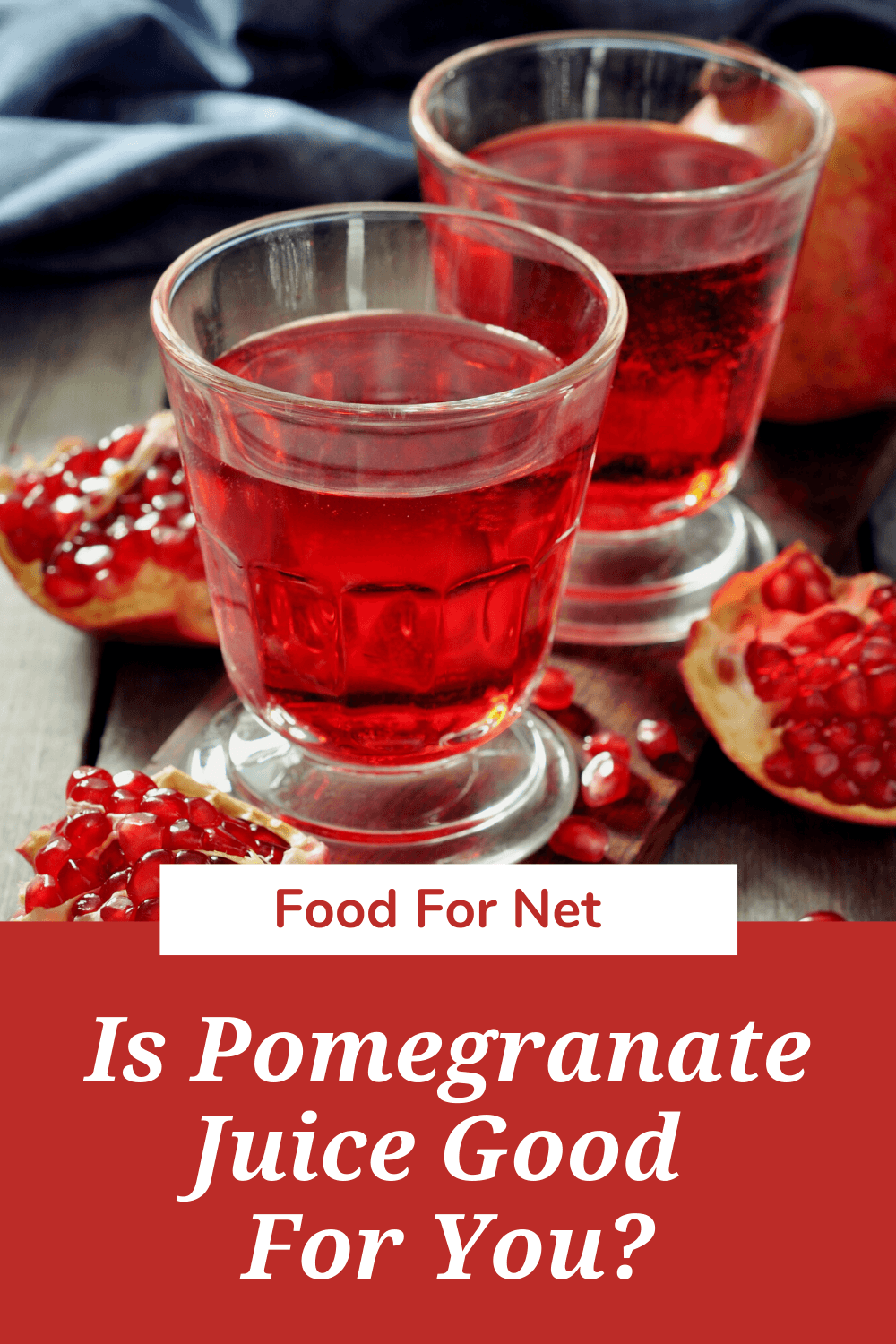 Fruit juice is normally a mixed bag when it comes to health. On one hand, it provides you with nutrients and phytochemicals from the fruit. On the other hand, the juice is a concentrated source of sugar that lacks the fiber you find in real fruit. Pomegranate juice seems like it should be an exception. It's often seen as a health tonic, one that's packed full of powerful antioxidants. But is pomegranate juice good for you?
Pomegranates themselves are pretty famous too. This isn't surprising, as the fruit is incredibly unusual. It's shaped a little like a grenade and doesn't contain the typical flesh that you see with other types of fruit.
Instead, once you manage to open a pomegranate up, you're presented with many small gems (called arils) that contain an edible seed surrounded by sweet-tart juice. Not surprisingly, pomegranates offer a wide variety of important nutrients and plant-based nutrients. They've also been linked to countless health benefits.
Pomegranate juice could even be more powerful than other juices, like grape juice, apple juice, and orange juice.
Is Pomegranate Juice Good For You?
The Antioxidants In Pomegranate Juice
Other Benefits Of Pomegranate Juice
The Hype Surrounding Pomegranate Juice
How Pomegranate Juice Could Be Harmful Instead
Pomegranates Versus Pomegranate Juice
How To Make Pomegranate Juice
Final Thoughts
The Antioxidants In Pomegranate Juice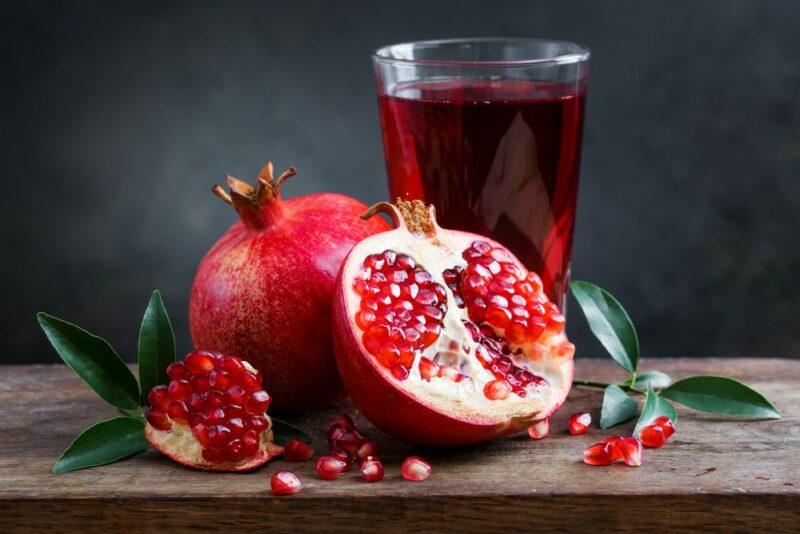 Pomegranate juice is famous for its antioxidant content, so let's start there.
Antioxidants is a broad term for a collection of plant-based compounds. They vary in structure and function, but all help to reduce levels of oxidation. This is an important effect, as high levels of oxidation can contribute to a variety of diseases.
There are plenty of antioxidant rich foods, including blueberries, brightly colored fruits and vegetables, spices, and various legumes. You even get some antioxidants from coffee.
Pomegranate juice is powerful though, as you're getting a decent amount of antioxidants in a small serving. The antioxidant content is even higher than most fruit juices, red wine, and green tea. Impressive, right?
Many of the benefits come from a class of compounds called punicalagins, which are powerful antioxidants.
Interestingly, the antioxidant content might be higher in commercial pomegranate juice than homemade versions, as commercial products often use the whole fruit and end up containing some pomegranate tannins as well as the juice. This effect is also why pomegranate extracts and powders often rely on pomegranate peel, rather than the juice.
Other Benefits Of Pomegranate Juice
The Nutrient Content
Pomegranate juice provides many of the same nutrients that you find in fresh pomegranates, including potassium, folate, and vitamin K.
These nutrients, as you're doubtless aware, play plenty of roles in your body, helping to keep your heart healthy and making sure that everything functions as it should. The potassium is particularly important, as you get close to 20% of your daily potassium intake from a serving of the juice.
The Water Content
Pomegranate juice can help you to stay hydrated too, as there's some water present. This is true even for pomegranate juice that has nothing extra added at all, as fruit juice does naturally contain a decent amount of water.
While it's always better to get hydrated from plain water, rather than juice, pomegranate juice could be helpful for anyone who struggles to drink water.
Decreases Blood Pressure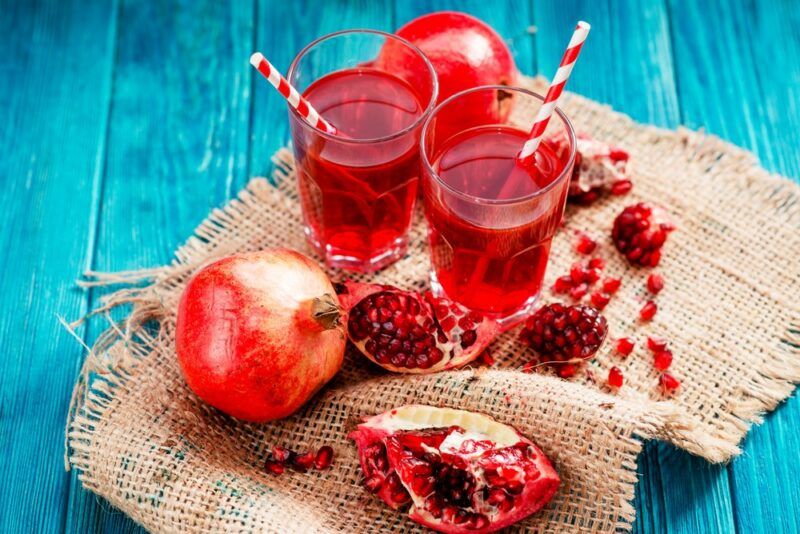 Pomegranate juice is thought to help with your heart health, partly because it can decrease your blood pressure levels. This effect isn't just theoretical either.
For example, one study examined the effect of drinking pomegranate juice or water between lunch and dinner, finding that pomegranate juice drinkers had significantly lower blood pressure than those who consumed water instead.
There may be other related benefits, including decreases in levels of LDL cholesterol, triglyceride levels, and the oxidation of LDL cholesterol. These effects are all improvements in the risk factors for heart disease. Making such improvements should decrease the risk of heart disease overall.
An Anti-Inflammatory Product
While pomegranate juice does contain sugar, it can still help to decrease your inflammation. This effect largely comes from the antioxidants, which also have anti-inflammatory activity.
Inflammation is a natural process and is part of how our bodies protect themselves. However, chronic inflammation can be harmful, increasing our risk of various diseases and possibly leading to increased pain.
These effects can be seen in practice too, as pomegranate juice can help with joint pain and even some symptoms of arthritis. Some compounds in pomegranate might take these effects one step further, although more research is needed.
Could Fight Cancer
There's also a link with cancer, as some compounds in pomegranates might decrease cancer cell reproduction or promote the death of cancer cells.
However, this isn't an area to focus heavily on. Cancer research is always tricky – and that's putting it mildly. With so many variables at play, it's difficult to see which ingredients truly decrease the risk of cancer and which ones just seem to.
Plus, most of the research that looks at pomegranate and cancer risk has looked at the compounds on their own, independent of the fruit. This means that you mightn't see the same benefits from eating pomegranates or drinking pomegranate juice.
The Hype Surrounding Pomegranate Juice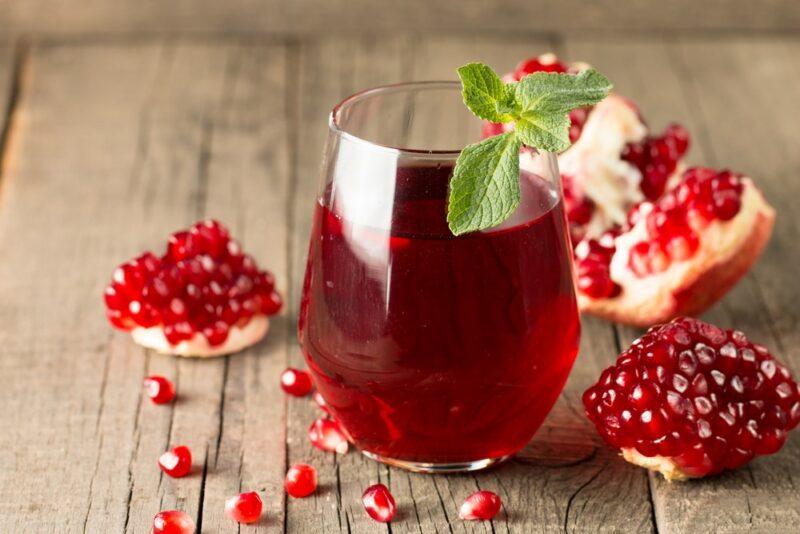 Pomegranate juice can sound amazing. It's been heavily promoted too, with companies like Pom Wonderful using claims like Cheat Death on their marketing and citing research that highlights the benefits of the juice.
While the marketing looks convincing, there's plenty of doubt and discussion about the claims.
Now, the juice clearly offers some benefits. We discussed those above. However, this doesn't make it an amazing health tonic. The juice is more likely to slightly improve some markers of health, like decreasing your cholesterol levels and oxidative stress.
It isn't going to revolutionize your health overnight – and it certainly won't allow you to cheat death.
Here's the other thing. Many of the benefits of pomegranate juice come from the antioxidants. But, while antioxidants are powerful, there's a limit to their effectiveness. You can't simply keep increasing your dose and expect to see benefits.
Instead, antioxidants are a little like vitamins and minerals – you get the most benefits when you actually need them. If your diet is already rich in fruits and vegetables, then you're probably getting most of the antioxidants that you need and pomegranate juice mightn't help much at all.
How Pomegranate Juice Could Be Harmful Instead
It's Still High In Sugar
Pomegranate juice comes from fruit, so it will always be a decent source of sugar. For example, an 8 fl. oz serving of the original Pom Wonderful juice contains 34 grams of sugar, which is no small amount.
This is natural sugar rather than added sugar, but honestly, that distinction doesn't mean much. Either way, sugar still comes with plenty of problems, including increasing the risk of type 2 diabetes, heart disease, and cancer.
Sugar can also lead to weight gain, especially if you're not careful with your portion sizes.
There's A Decent Number Of Calories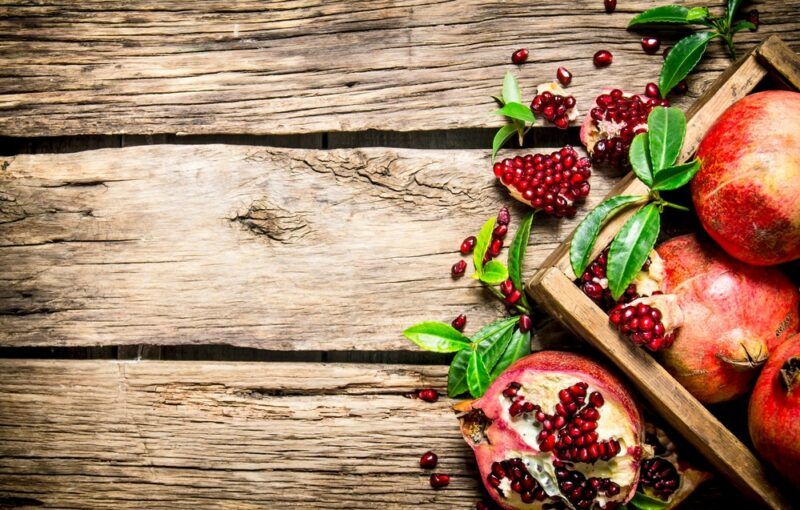 Pomegranate juice isn't exactly low in calories either. An 8 fl. oz serving of Pom Wonderful, for example, contains 160 calories.
Now, calories are simply a measure of energy. They're useful as a way to see how much energy we're taking in. To stay at a healthy weight, it's important to stick to a realistic amount of calories.
How many calories you need will vary depending on your age, gender, activity levels, and any underlying health problems. In general though, you're looking at somewhere from 2,000 to 3,000 calories per day (less if you're trying to lose weight).
160 calories from a glass of pomegranate juice is a surprisingly decent chunk of this.
Could Interfere With Some Medications
Pomegranates and pomegranate juice are generally safe, but it's still important to double-check this with your doctor, as there's a surprising number of ways that foods can interact with medications.
For one thing, pomegranate naturally helps to decrease blood pressure. This could be a problem for taking medications for high blood pressure, as you might drop your blood pressure levels down too low.
The blood pressure effect might also be relevant for anyone with naturally low blood pressure and anyone undergoing surgery in the near future.
There's Variation In Quality And Ingredients
As is often the case, pomegranate juice isn't all the same. Some brands rely on the juice (either fresh or from concentrate) and little else. Others use extra sugar and additives.
Pom Wonderful is one of the best examples. The company uses 100% pomegranate juice from concentrate and nothing else.
It's important to check the ingredients label too, even if something is marketed as being 100% juice. Some companies use other types of fruit as well. Doing so makes the juice sweeter and changes the flavor, but also means that you're getting fewer pomegranate antioxidants.
Pomegranates Versus Pomegranate Juice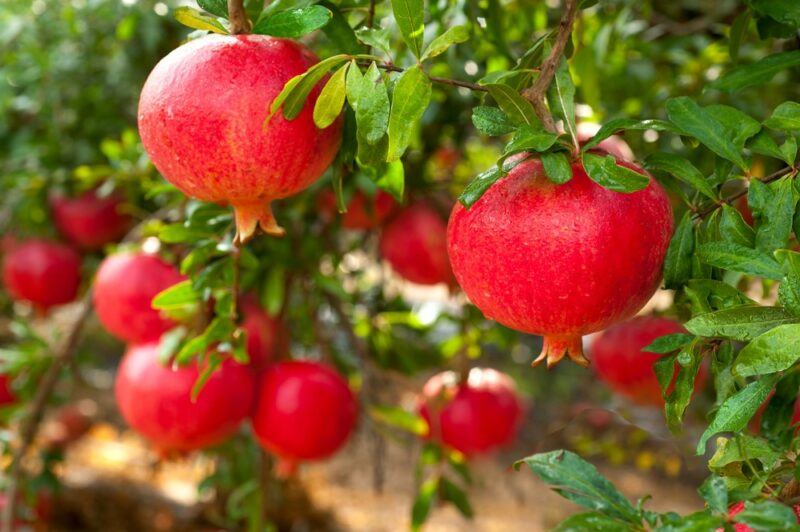 The most obvious nutritional difference between pomegranate juice and pomegranates themselves is the fiber. You don't get any fiber with the juice, while half a pomegranate gives you around 3 grams of fiber.
The fiber difference is important for two reasons.
First, fiber offers many health benefits. Not only is it critical for your digestion, but it can also improve your heart health. Many of us aren't getting enough fiber as it is, so choosing high fiber foods over low fiber ones is a wise idea.
The second reason is that the fiber slows you down. It takes much longer to eat a piece of fruit than to drink a glass of juice. So, with the fruit, there's a much lower risk that you'll overdo it.
Beyond the fiber, pomegranate juice and pomegranates are nutritionally similar – but they're still not the same,
Pomegranate juice is more heavily processed, which changes some of the nutrients. In particular, it typically has less vitamin C than fresh pomegranates and the antioxidant content could easily be lower as well.
You also need to watch out for additives with pomegranate juice – something that you never need to do with fresh pomegranates.
Overall then, fresh pomegranates are the clear winner. They're not the easiest fruit to eat, as you have the individual arils to contend with. But, once you've had some practice, you should find pomegranates easy to use.
How To Make Pomegranate Juice
Pomegranate juice is often expensive, particularly if you want a product with few additives. To get around this, why not make pomegranate juice yourself?
Doing so isn't as difficult as it seems. You simply need to place pomegranate arils in a blender, pulse them a few times so that they break apart, and then use a strainer to filter out the seeds.
Before this though, you need to extract the pomegranate seeds.
This step takes more work, but it isn't as difficult as it seems. Start off by removing the top part of the pomegranate, the part that looks a little like a crown.
Then you can use a knife to cut the pomegranate into sections and gently break the peel away.
Another option is to roughly cut the pomegranate in half, then keep whacking the back with a spoon. Doing so dislodges the seeds, but can get incredibly messy.
Or, try pulling the pomegranate arils and the flesh apart in a bowl of water. This is the least messy method and doesn't take long to get used to.
While these steps might seem like a headache, don't worry, they do get easier with time. Once you've opened a few pomegranates, extracting the seeds should be second nature. Then, you have access to all the fresh pomegranate juice you want.
Final Thoughts
Pomegranate juice sounds like an amazing source of antioxidants and nutrients. Yet, the juice also contains a decent amount of calories and sugar. You also miss out on all the fiber that comes with fresh pomegranates.
The question, then, is whether the benefits outweigh the problems. In many ways, they don't. After all, there are many other sources of antioxidants, including ones that are much lower in calories.
You'd get more benefits by focusing on fresh pomegranates themselves, as these provide you with all the same benefits, along with plenty of fiber and much less processing. You can even sprinkle pomegranate arils on top of sweet or savory meals, giving you a delicious flavor hit.
That said… if you enjoy pomegranate juice and can fit the calories into your diet, then it's still a delicious drink that might be helpful. The trick is to see it as a treat, as something to enjoy, rather than as a tonic that will dramatically change your health.
Frequently Asked Questions
Is Pomegranate Juice Good For Your Kidneys?
If you're healthy, then pomegranate juice may indirectly help your kidneys by lowering blood pressure. However, anyone with chronic kidney disease will need to be cautious, as pomegranate juice is high in potassium and that potassium can cause issues.
Does Pomegranate Juice Lower Blood Pressure?
A review of multiple studies shows that pomegranate juice does indeed decrease blood pressure levels. This effect means that anyone taking blood pressure medications will need to be cautious. Otherwise, your blood pressure levels may drop too low – an effect that can be dangerous.
Is Pomegranate Juice Good For Diabetics?
The health benefits of pomegranate juice could make it helpful for diabetics. However, the juice is also fairly high in sugar and is low in fiber. Because of this, it can easily spike your blood sugar levels.
Diabetics may need to keep their pomegranate juice portions low to minimize any blood sugar effect. Having the pomegranate juice as part of a meal rather than on its own is also helpful.
Is Pomegranate Juice Acidic?
Yes. Pomegranate juice is distinctly acidic. As a result, it can easily trigger acid reflux symptoms. However, if the juice is freshly squeezed, it's still more acidic than many processed drinks, like Coca-Cola.
How Much Pomegranate Juice Should I Drink A Day?
Most recommendations suggest sticking to somewhere between 8 and 12 ounces of pomegranate juice per day. This gives you access to the benefits without too much sugar.
The type of pomegranate juice makes a difference here. Look for products that are minimally processed and don't have any added sugar.