Fresh fruit is a big deal in Mexico, served as part of fruit salads, in smoothies, cocktails, and simply eaten fresh. Some of these fruits will be instantly familiar, like papayas, guava, bananas, and mango. Yet, there are also many exotic Mexican fruits, which come in a variety of styles and textures.
Some of these are well-known enough that you'll see them in exotic fruit boxes or even sometimes in local markets. Others are much more obscure. They might not even be available throughout Mexico, but just feature in some of the states.
We can't say that the fruits are all delicious. Most are, but some are an acquired taste or are unexpected in some way. Still… they're all worth trying. It's always good to broaden your horizons with food. You never know what new delights you'll discover.
You will have also seen many of these fruits before, as they're not just sold in Mexico. Some are also popular in Hawaii, Asia, or even in the United States.
Exotic Mexican Fruits You'll Love
White Sapote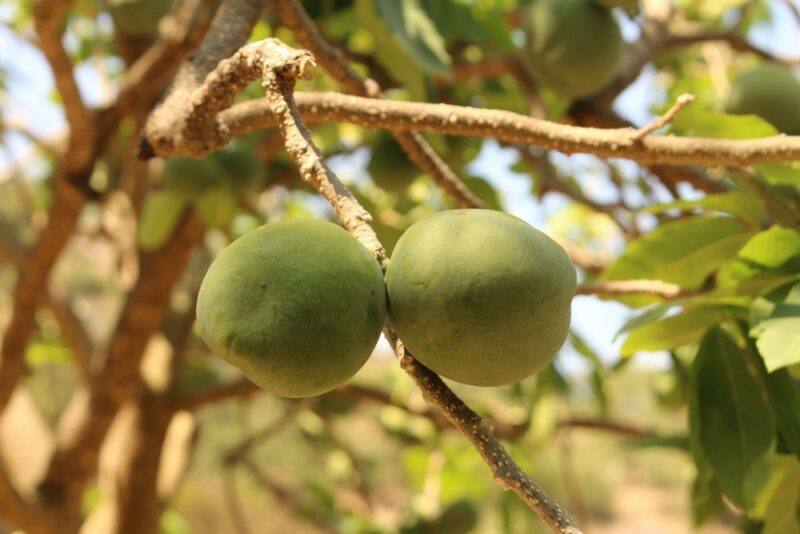 While the white sapote doesn't look exciting, it's a delicious fruit that's easy to enjoy. Underneath the skin is custard-like flesh that's sweet and offers familiar flavors. The fruit even tastes a little like a banana or peach and is particularly good if you chill it first.
Still, timing matters when harvesting white sapote fruits. They often have a touch of bitterness, which becomes much more pronounced if the white sapote is left to ripen for too long. As a result, overripe white sapotes may be much less tasty.
Like many exotic fruits, you may be able to grow these locally if you find a supplier. Some companies aim to provide as many varieties as possible, including exotic fruits and instructions for helping them to thrive. So, if you can't find the fruit locally, why not grow it instead?
Dragon Fruit

Dragon fruit are becoming more common these days. You can sometimes even find them in local markets, as well as in exotic fruit subscription boxes. The fruit looks amazing and can be used in many ways.
The flavor is interesting too. It's best described as somewhere between a pear and a kiwi, but the taste isn't too intense. Dragon fruit isn't overly sweet either, making it excellent for anyone who wants a refreshing treat.
Kiwis are a useful comparison, as the texture of dragon fruit is also similar to kiwi flesh. This makes them a surprisingly easy fruit to get used to, despite their strange appearance.
Pitaya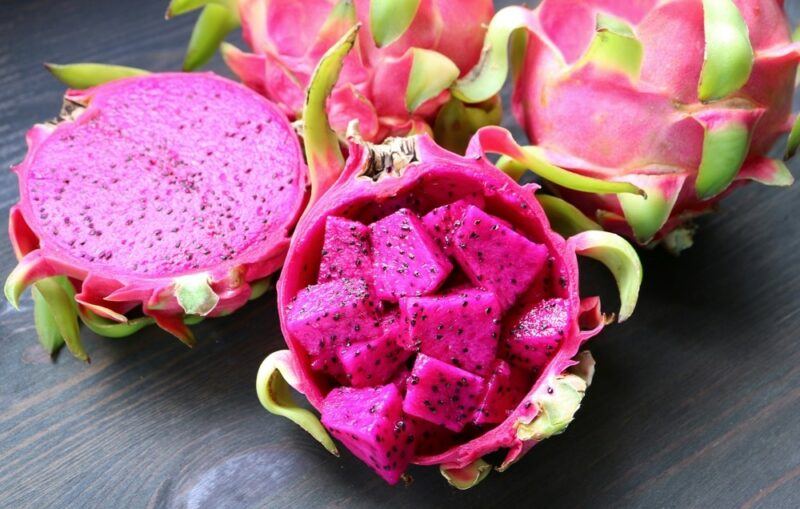 While the pitaya may look familiar, it isn't the same as the dragon fruit (or pitahaya) from above. In fact, the dragon fruit comes from the Hylocereus genus, while the pitaya comes from the Stenocereus genus instead.
Despite belonging to very different genera, dragon fruit and pitaya have a similar appearance and taste. They're so similar that many lists treat the two as being exactly the same. This similarity means you can substitute one for the other without issue.
In both cases, it's only the flesh of the fruit that's edible. This can be used in plenty of ways though, like adding it to a smoothie or a fruit salad, or even using it to accent a full meal.
Soursop

Large, green, and covered with thorns, the soursop doesn't look much like a type of fruit at all. Yet, once it is cut open, you can see the white and creamy flesh. The scent is a little like pineapple, but don't let that fool you, as the flesh tastes more like a combination of apples and strawberries, with some citrus notes thrown in.
You can simply eat the fruit raw or use the flesh in a salad or perhaps a smoothie. The soursop is delicious regardless of the approach you choose. You'll need to carefully avoid the black seeds, though, as these are toxic.
Black Sapote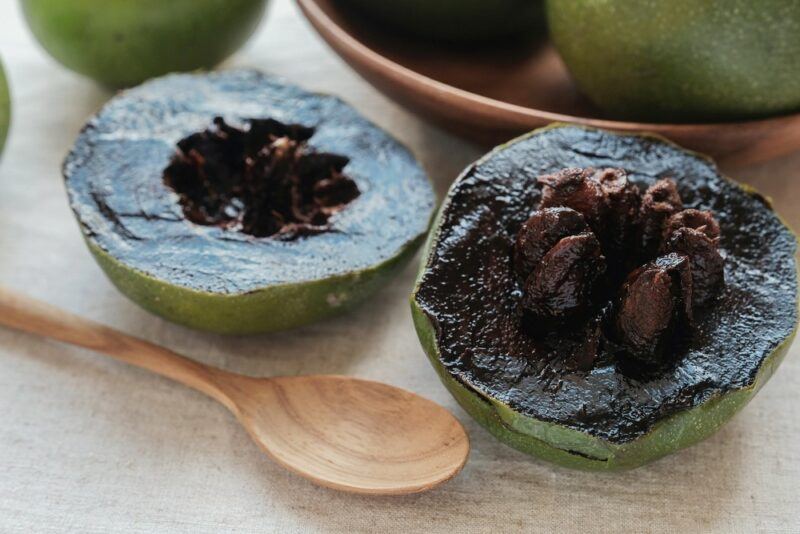 Here's another sapote to consider. But, notably, this plant isn't related to the white sapote from earlier. The previous example came from the citrus family, while the black sapote is a type of persimmon instead. Go figure.
The black sapote is famously strange. It has a black jam-like flesh that looks a little like melted chocolate or chocolate cake mix. Not surprisingly, the fruit is also known as chocolate pudding fruit.
While that name is helpful, it's also misleading. The black sapote has some chocolate tones, but certainly doesn't taste like chocolate. You're looking at flavors like honey, caramel, and dates instead. The texture isn't the same as pudding either.
Because of this, it's best to approach the fruit with an open mind. If you don't expect it to taste like any particular thing, you're likely to enjoy your experience much more.
Mamey Sapote

Here's another sapote to consider. This type the fruit tends to have orange flesh, although the color can vary depending on the variety. The flesh tends to be soft and fairly creamy with dark seeds in the center.
The flavor is amazing, with a complex balance of sweet and savory, including notes of vanilla, apricot, honey, and even pumpkin (yes, truly). The fruits should only be used when they're fully ripe and they can be prepared just like an avocado. The flesh is also used in a variety of traditional recipes.
Naranjilla

This bright tropical fruit isn't native to Mexico. It comes from South America instead. However, it is still a popular option in the south of Mexico.
The interior of the fruit is fascinating, as it looks a little like a tomato or a tomatillo, rather than a citrus fruit. This style also means that the naranjilla is a juicy fruit, one that can be used in plenty of ways.
Then there's the flavor profile. Naranjilla is sometimes described as offering the flavors of both lemons and pineapple. As such, there's a distinct tart and sour aspect to the flavor profile, coupled with a degree of sweetness.
Maracuya

This fruit should look instantly familiar, as the maracuya is basically a variety of passionfruit. It's large and yellow – and is even sometimes called a yellow passion fruit.
The flesh is similar to traditional passion fruits as well. This means that you're getting plenty of black seeds surrounded by a type of clear pulp. The seeds are completely edible, so many people simply scoop out the filling of the fruit with a spoon or use this in a smoothie or as part of a dessert.
Pomegranate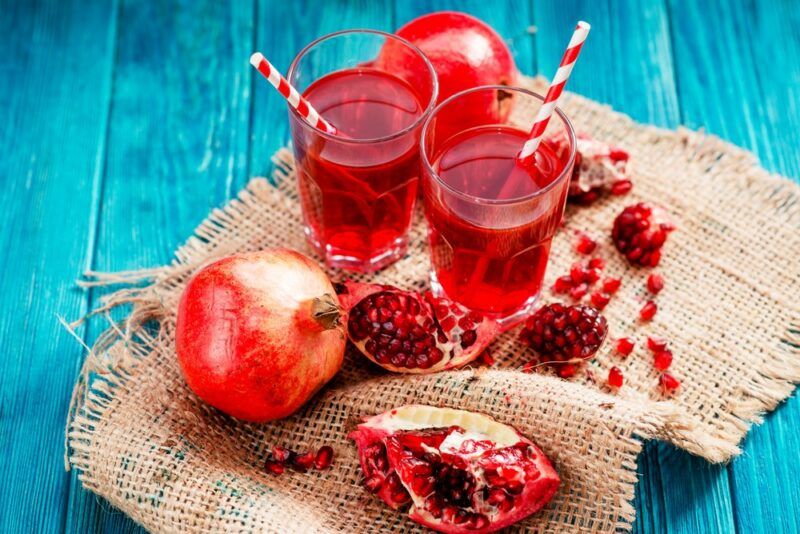 Pomegranates aren't as exotic as some of the other fruits on this list, as you can now easily find them in local stores. They're not native to Mexico either, as they were introduced back in the 1600s. Still, they are a quintessential Mexican fruit and feature in many local recipes.
Pomegranates are also very unusual. They have a firm and tough skin that needs to be cut before you can split the fruit open. Inside are small globules of fruit juice, called arils, which each contain a small white seed. The juice has a sweet-tart flavor profile that's distinctive and easy to enjoy.
The fruit could also offer many health benefits, due to the large number of antioxidants present. This is partly why pomegranate juice is often found in local stores. So, whether you're in Mexico or not, why not try a pomegranate for yourself?
Jocote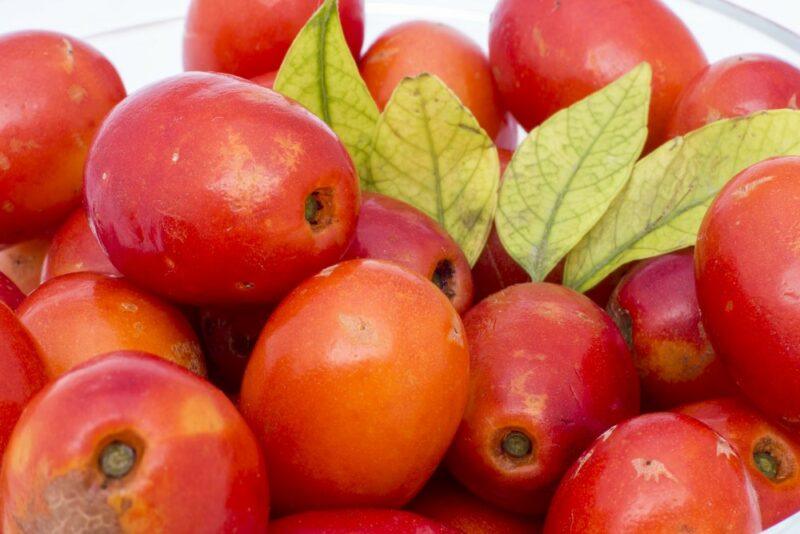 Jocote fruits are popular throughout Mexico and Central America, which isn't surprising, as these sweet fruits are delicious when fully ripe. The fruits often ripen to red with yellow flesh, however there are many different varieties, which sometimes have different colors or flavor profiles.
While the fruits are fairly similar to plums, they're actually related to cashew apples and mangoes instead. They also have an intense flavor, with notes from both mangoes and citrus fruit. It's no wonder that so many people love them.
Jocotes are also versatile. When not being eaten fresh, they're often used to make a sweet sauce or included as a dessert ingredient. Some people take the opposite approach and eat underripe jocote fruits, often with some salt or chili to offset the fruit's bitterness.
Sapodilla

Sapodilla fruits aren't very well-known. They often don't even make it only lists of Mexican fruits, perhaps because they don't look very exciting. Yet, despite their appearance, sapodilla fruits are delicious, with a malt-like flesh that includes tones of brown sugar, molasses, and pear.
The fruits can be easily eaten by cutting them in half and scooping out the flesh. The seeds should be avoided, as these have a protrusion that acts like a hook and can easily get caught in your throat.
Papaya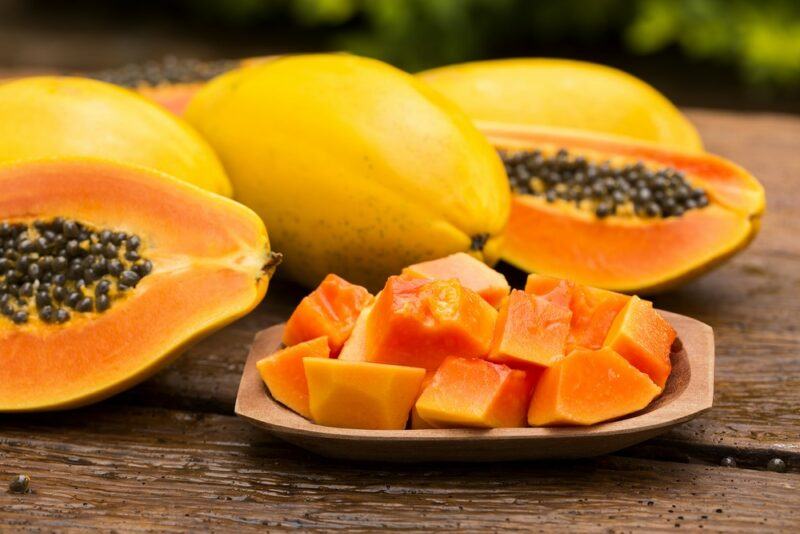 Papayas from Mexico are slightly different from the varieties found elsewhere as they tend to be larger and have a fairly mild flavor profile. However, they can still be enjoyed fresh or included as an ingredient in many dishes.
While the entire fruit can be eaten, many people avoid the skin. You might also eat the seeds separately (or not at all), so you can make the most of the papaya flesh.
Huayas

From the outside, huaya fruits look much like little limes, growing close together. They are completely different, though, as the green shell can be easily opened by squeezing the fruit, which reveals soft salmon-colored flesh.
The fruits have a distinctive flavor and vary in sweetness. Some are tarter and often consumed with lime juice and chili, while others are sweeter and can be enjoyed on their own.
Interestingly, the fruits also have a fairly large seed. It can easily be a choking hazard for anyone sucking on the flesh of the fruit.
Loquat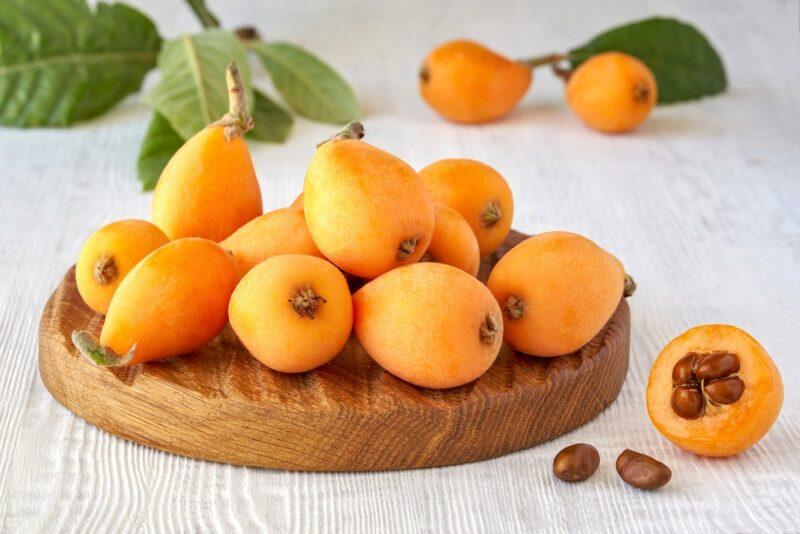 While loquats originated in China, they have now made their home in many parts of the world, including Mexico. The little fruits are delicious, often tasting like a combination of peaches and apricots.
It's best to remove the seeds before eating the fruit, as they can be poisonous if you consume enough of them. They're also relatively big and don't taste that great, so there's little point in eating them.
The popularity of this fruit means that there are many cultivars, which leads to plenty of variety. Some of these have different colored flesh and vary in their levels of sweetness. While loquats aren't as exciting as some of the other items on this list, they're still worth trying at least once.
Tejocote

Tejocote fruits are small and look a little like yellow apples. Their flavor is even similar to apples as well, although the fruit includes some guava-like notes.
Despite these features, tejocote fruits are actually a type of hawthorn. They can be eaten raw, just like you would an apple. However, they're a fairly tough fruit so they're more often used in recipes instead. Their high pectin content makes them particularly appealing in jellies and jams.
Prickly Pear

Have you ever eaten the fruit from a cactus? You can certainly do so with the prickly pear cactus. In fact, even the pads from the cacti are entirely edible.
Doing so takes plenty of care and patience, as even the fruit has hair-like thorns that you certainly don't want to eat. This is even true if you are working with a dethorned variety of the cactus, as there are also sharp hairs that are almost impossible to see.
A lot of work is involved in making sure that the cactus fruit is safe to eat. Yet, many people do eat the fruit regularly or use it in jellies and other recipes. Because the flavor differs between varieties, it may be worth finding a variety you enjoy and then growing it at home.
Nance

What do you think of these little fruits? They look much like yellow cherries, except that they have a distinct scent and flavor. The flavor profile actually changes between varieties. Some taste like a tropical combination of lychees, bananas, and pears, while others have fewer fruit notes and an unexpected almost cheese-like flavor instead.
The aroma is distinctive too. Exactly what the fruit smells like is hard to put into words, but is even harder to forget. The fruit can be eaten raw or cooked instead. It can even be fermented to create an alcoholic drink called chicha that's a little like beer.
Cherimoya

Cherimoya is actually a tropical fruit and comes from the same family as both the sweetsop and the soursop. While the fruit didn't come from Mexico originally, it is popular there.
It's easy to see why too, as the cherimoya is famous for having sweet and velvety flesh, with a delicious combination of flavors that include papaya, pineapple, and banana. The fruit can be eaten fresh, but is best when slightly chilled first.
Guava

The common guava is native to Mexico and can now be found throughout the world. In fact, the fruit is so popular that we can barely call it exotic at all. Still, fresh guavas in Mexico are truly amazing, providing a fantastic flavor profile that's hard to forget.
There's also a Mexican cream guava. This variety has aromatic white fresh, rather than the orange-red flesh found in many other varieties. These white guavas still have a delicious flavor, including notes of passion fruit and pineapple.
Avocado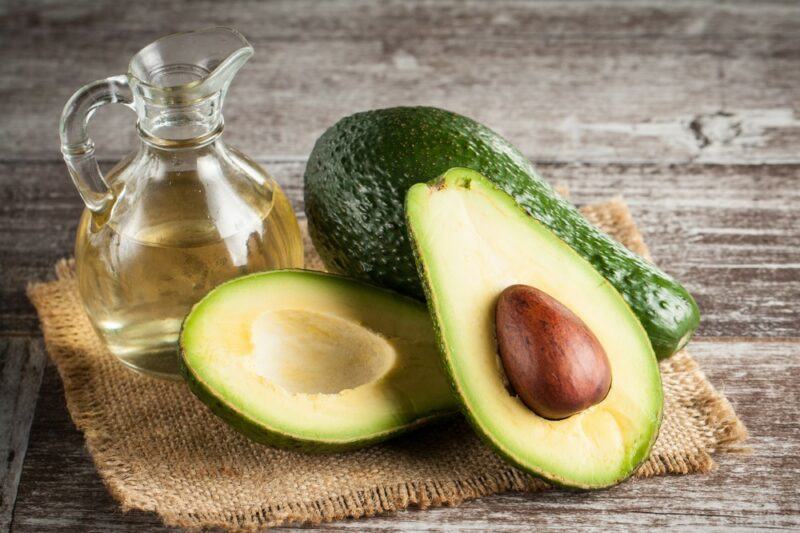 Finally, we have avocados. Despite not being very exotic these days, they are native to Mexico and have been cultivated for a long time. They're also an incredibly important fruit – both historically and in modern times.
This isn't surprising either, as it's rare to find fruits that are as creamy and as high in fat as the avocado. Mexico is still responsible for around 45% of the current avocado production, but plenty of other countries cultivate avocados too, including Colombia and Peru.