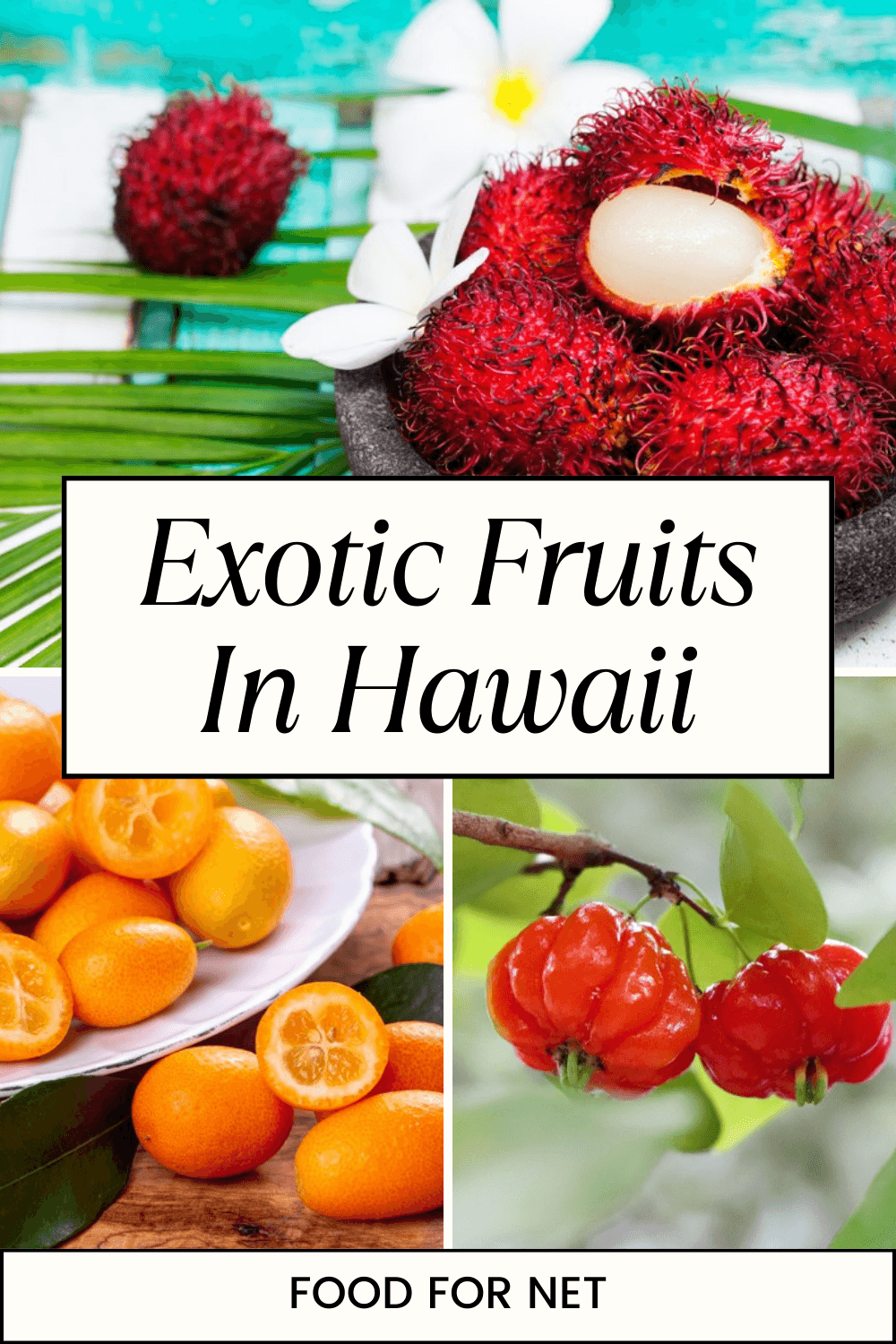 If you ever spend time in Hawaii, you will have noticed the wide selection of delicious fruits. Some of these will be familiar, like bananas, pineapples, and mangos, but there are plenty of exciting and unusual fruits too. In fact, it's incredibly easy to find exotic fruits in Hawaii.
The fruits aren't just unusual, but they're also delicious. After all, even conventional fruits have an amazing taste and texture. Exotic fruits are even more spectacular, as they're so unfamiliar.
As you'll notice, many of these exotic fruits don't hail from Hawaii originally. However, these fruits all thrive in the warm Hawaiian climate, so you'll often find them from roadside vendors and local markets.
Some of the fruits we've listed here can even be purchased online or in an exotic fruit box. Buying online like this is an excellent way to try new fresh fruit.
Exotic Fruits In Hawaii
Starfruit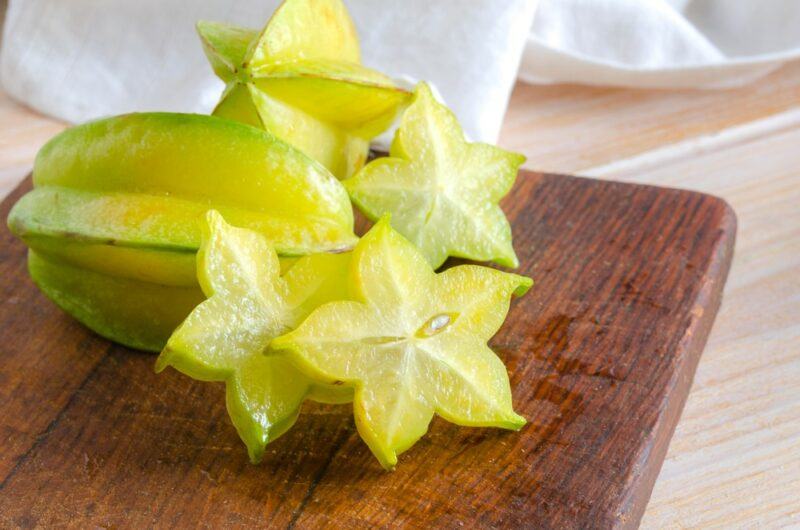 It's easy to see where these fruits get their name from. When sliced, you end up with a five-pointed star. These little yellow stars look amazing in many meals. They're also crunchy and juicy when eaten raw, making them excellent in fruit salads. I've even seen them feature on fruit birthday cakes.
Interestingly, starfruit doesn't hail from Hawaii at all. The fruit is native to Southeast Asia instead. It's not a consistent fruit either, as you'll sometimes see six or seven points rather than five and there are both sweet and sour varieties.
Breadfruit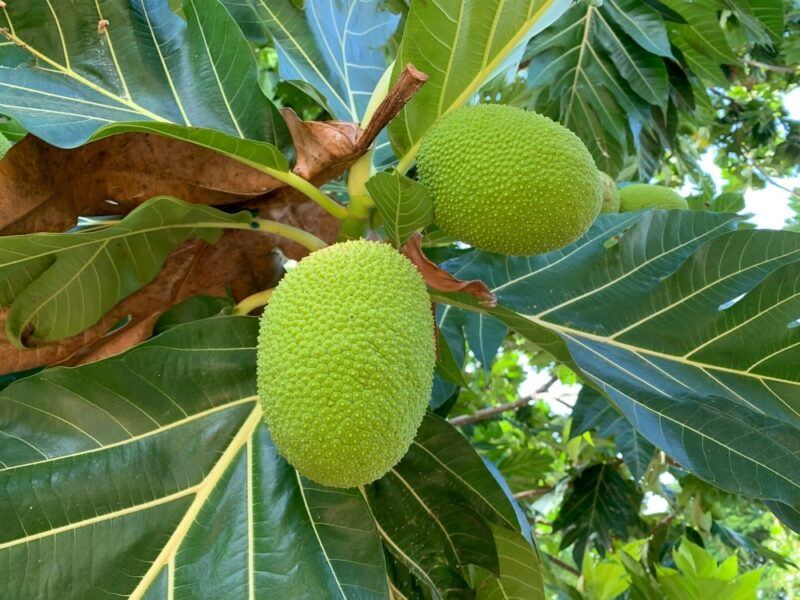 In Hawaii, breadfruit is known as 'ulu and it's a popular type of local fruit. Perhaps the biggest advantage is its versatility, as breadfruit can be eaten much like a fruit or prepared like a vegetable. It's also surprisingly high in protein.
Breadfruit really lives up to its name too, as the flavor and texture is a little like baked bread or potato. This means there aren't many strong flavors, which makes the fruit perfect as an ingredient.
If you're going to eat breadfruit raw, it's best to wait until it is at least moderately ripe. The fruit becomes sweeter as it ripens and gets much more enjoyable. Still… it remains a fairly mild fruit regardless.
Avocado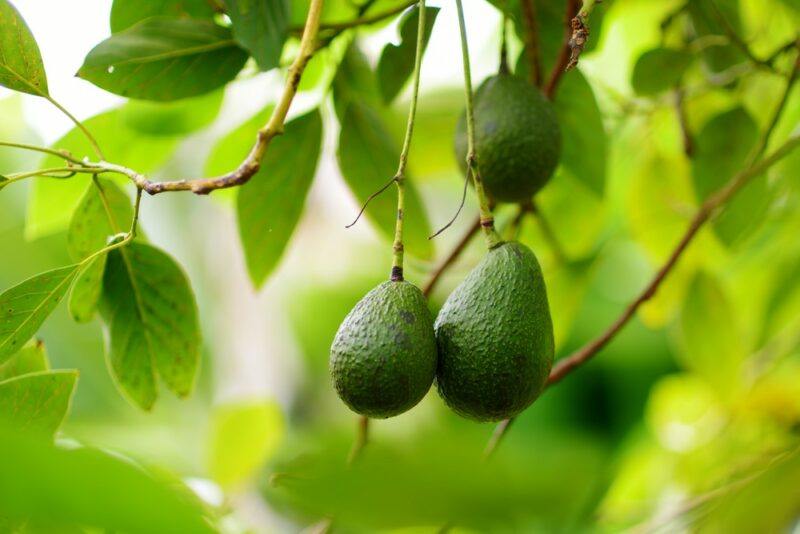 Avocados aren't all that exotic these days and are now cultivated in many parts of the world. Still, it is an exciting fruit and there are some uncommon varieties with differences in size and nutritional profile.
One example is kahalu'u, which is a large green skinned Hawaiian variety of avocado. It contains a decent amount of oil, which contributes to the avocado's creaminess and flavor. You'll often find these towards the end of October and into December.
Malama avocados can be found in Hawaii too. These ripen in the early fall instead, so you'll often find them from September to November. The avocados are smaller than the kahalu'u variety, with a fairly small seed and purple skin.
Soursop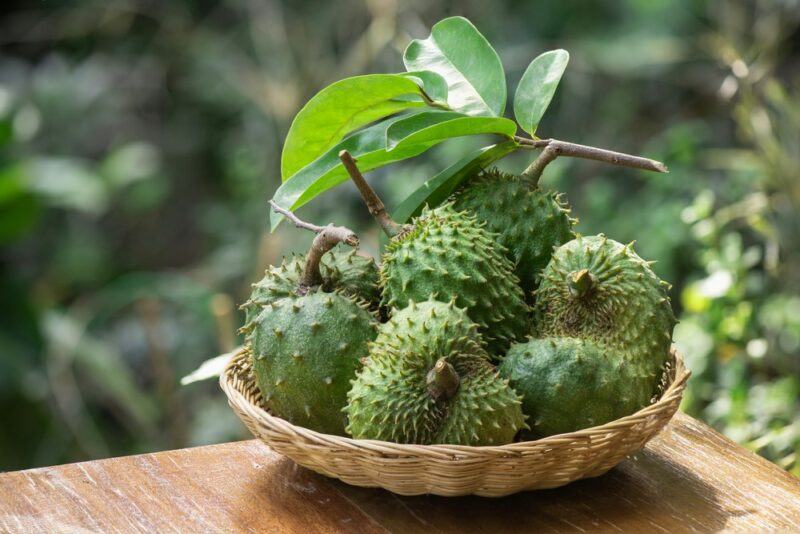 Soursop is a strange-looking fruit, with plenty of prickles, white flesh, and large black inedible seeds. The fruit is difficult to grow too, often taking at least three years before any yield is seen at all.
Despite this, soursops have become popular in many places, including Hawaii. You'll even see soursop included in many local treats, including smoothies and various fruit drinks.
The flavor is one reason for the fruit's popularity, as soursop flesh has familiar fruity notes, including pineapple, strawberry, and a touch of citrus. There's also the potential for health benefits, as soursop is thought to help reduce both oxidation and inflammation. Those effects are fantastic and may even lower the risk of some diseases.
Dragon Fruit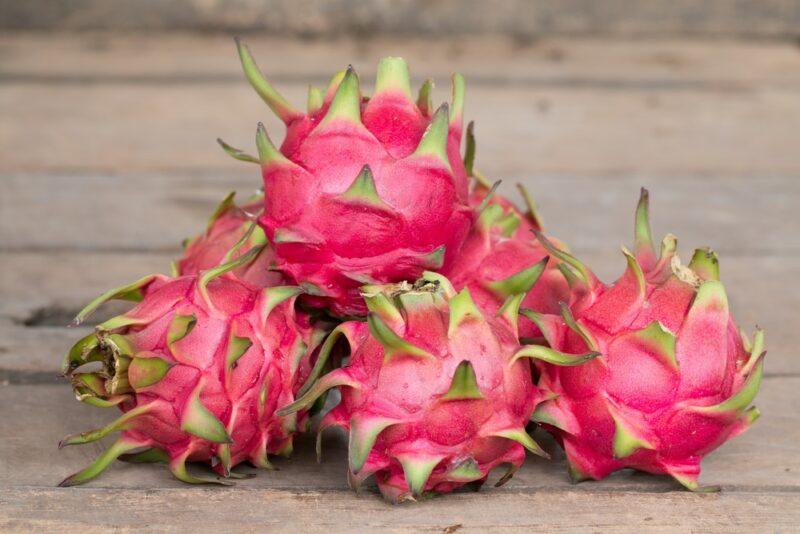 We can't forget about dragon fruit, can we? This exotic fruit has become incredibly popular, probably because it looks stunning. It even seems a little like it belongs in a fantasy novel or perhaps on an alien planet.
Still, there's more going on than just appearance. Dragon fruit also has a juicy and delicious pulp that is often slightly tart. The appearance and flavor make this a popular choice for fruit salads, although dragon fruit can be used in so many other ways as well.
Hawaii is an excellent climate for growing dragon fruit, which has led to rapidly increased production. It has a long season too and can often be found from May all the way through to December.
Rambutan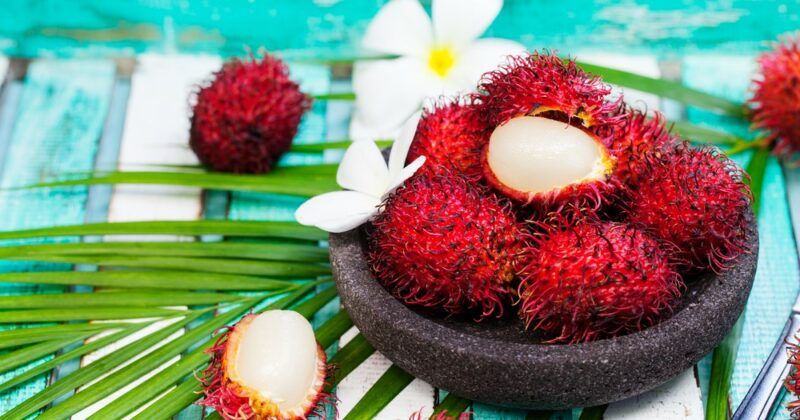 Did you know that rambutans can be found in Hawaii too? These are odd fruits, with a red hairy shell that's often tinged with green.
Open the fruit up and you find something completely different. The interior contains creamy jelly-like flesh that can be eaten immediately. The flavor is a little like a lychee, except that rambutan flesh offers a little extra tartness.
The fruit isn't difficult to consume either, as the spines are very soft. You can hold a rambutan in your hand and make a small incision into it or even just gently bite the fruit to break the skin.
Papaya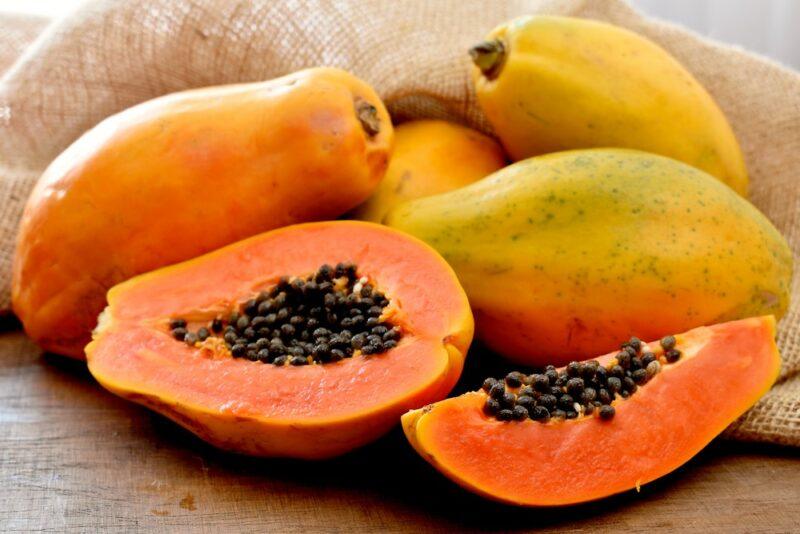 Papayas from Hawaii are particularly delicious, partly because the climate is perfect for growing rich and juicy fruits. There are also some interesting varieties, including kamiya, rainbow, and kapoho solo papayas.
Like other papaya varieties, these fruits are all excellent sources of vitamin C and antioxidants, while also being brightly colored and sweet. Their familiarity also makes them a fantastic treat when you're visiting Hawaii.
Coconut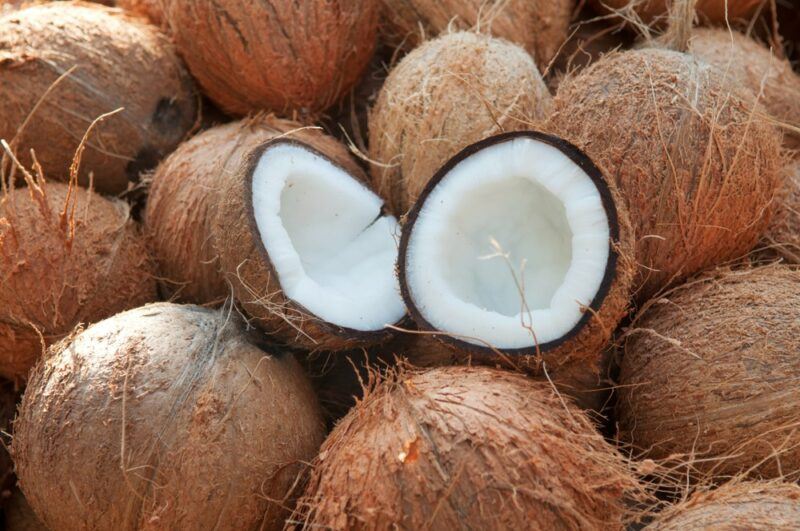 Coconuts are another fruit that's become easy to find. Yet, there's something special about freshly grown coconuts, particularly those from Hawaii.
Besides, what could beat enjoying fresh coconuts on a gorgeous sunny day in Hawaii? Doing so is infinitely better than buying a coconut from the grocery store and eating it at home.
The popularity of coconuts in Hawaii means that they feature in many dishes and come in plenty of forms. Coconut milk and coconut oil are easy to find, as are dried coconut flakes, giving you many options.
Mango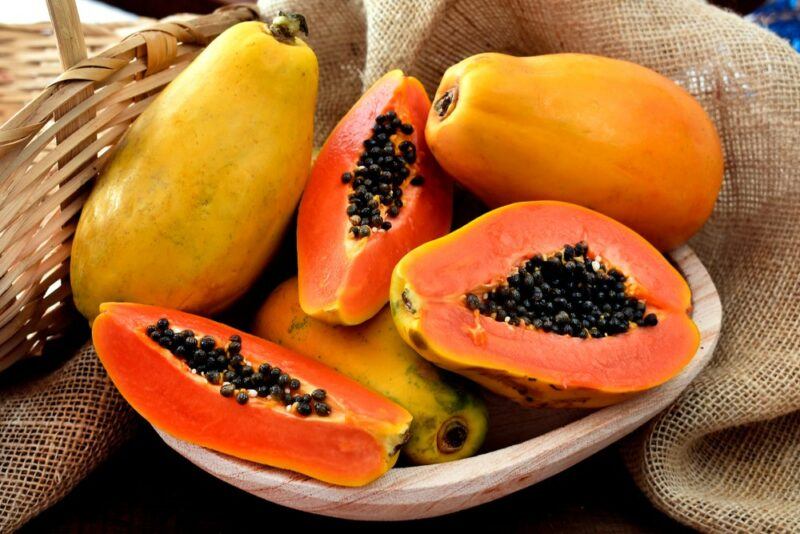 What can we say about mango that you don't already know? These juicy tropical fruits remain incredibly popular and are used in countless ways. You might eat slices of mango on their own or see them served as part of a savory meal or a salad.
That's not even counting all the cocktails and desserts that rely on fresh mango. Still, while mango is familiar, it's also a delicious fruit that's tough to ignore.
Hawaii is also home to more than 50 different varieties of mango, so you have plenty of chances to experiment.
Guava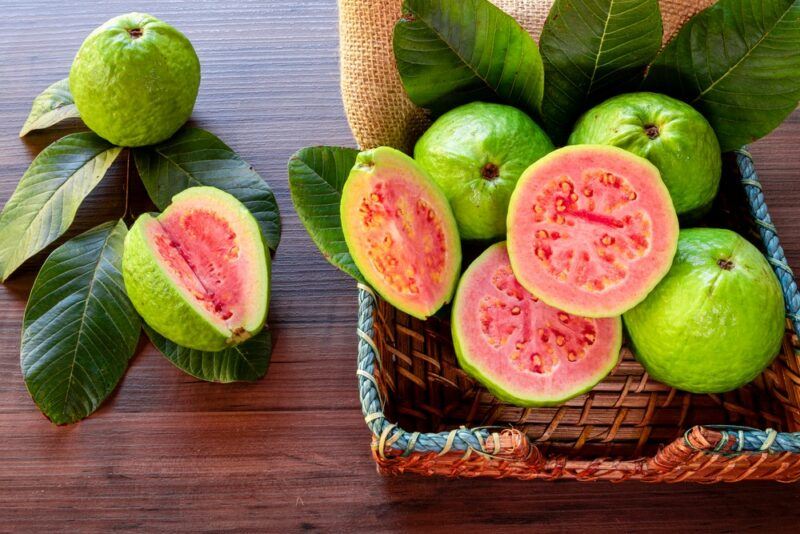 Guavas are familiar as well. This is another plant that doesn't come from Hawaii, but has settled well into the environment.
Not only are guavas delicious, but they're also easy to eat. You can actually eat the entire fruit, including the skin and all the seeds. And, if you don't want to eat it raw, plenty of smoothies and desserts feature guava.
Strawberry Guava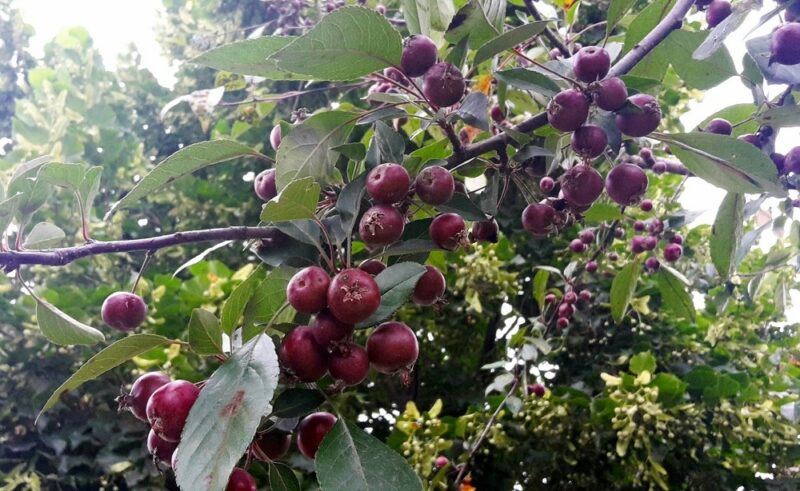 As the name suggests, strawberry guava is a type of guava. This variety has pink flesh and red skin, while the flavor profile includes notes of roses and strawberries.
Strawberry guavas are delicious and a fantastic alternative to other guava varieties. But, they're also problematic, as the species thrives in Hawaii and can displace other plants. Strawberry guava trees even make it difficult for other species to grow, which is a serious issue for native plants.
Apple Bananas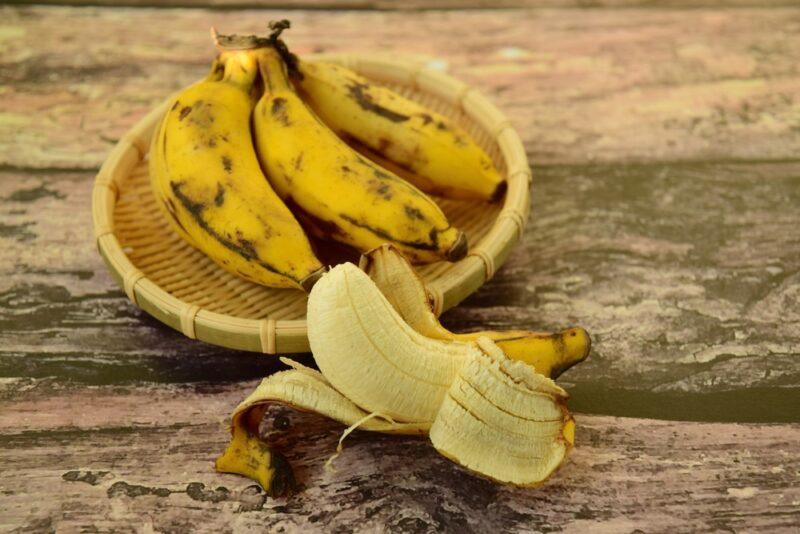 Bananas are abundant in Hawaii and come in more varieties than we see locally. There are some truly unusual types too, such as praying hands bananas, which really do look like a pair of praying hands.
Still, apple bananas are the ones we're interested today, partly because they're so abundant. The fruits here tend to be wider and shorter than regular bananas. Their flavor profile is similar, but they tend to be a bit tangier, even when fully ripe. This can make them a tastier treat than the bananas you normally eat.
Pineapple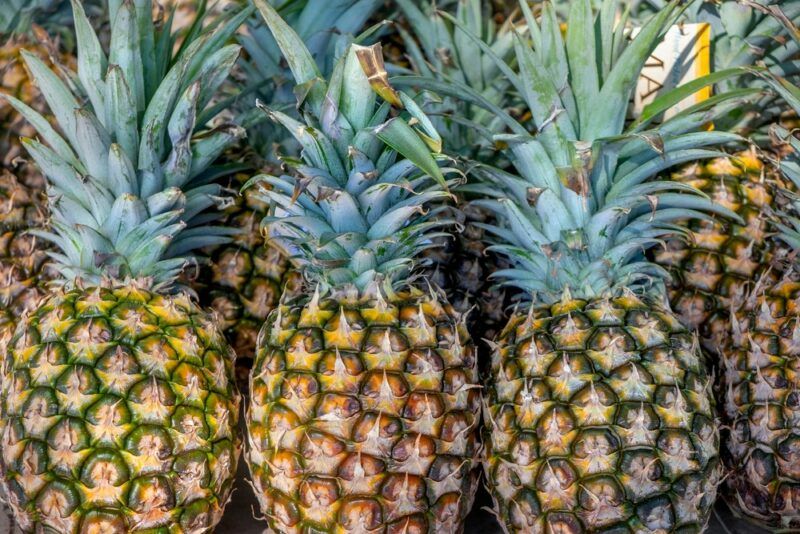 Hawaii doesn't have a national fruit, but if it did, pineapple would be the obvious choice. Pineapples were first grown commercially in the 1890s and has continued to be cultivated since then, partly due to the fruit's popularity.
These days pineapples aren't frequently grown in large commercial farms. They're often found among smaller local producers instead. Despite this, pineapples remain a delicious fresh treat that's very much a symbol of Hawaii.
There's also sugarloaf pineapple, which is an unusual Hawaiian variety. The flesh here is white instead of yellow and there's much less fiber. The pineapples aren't as acidic as normal either, which makes them even more enjoyable.
Egg Fruit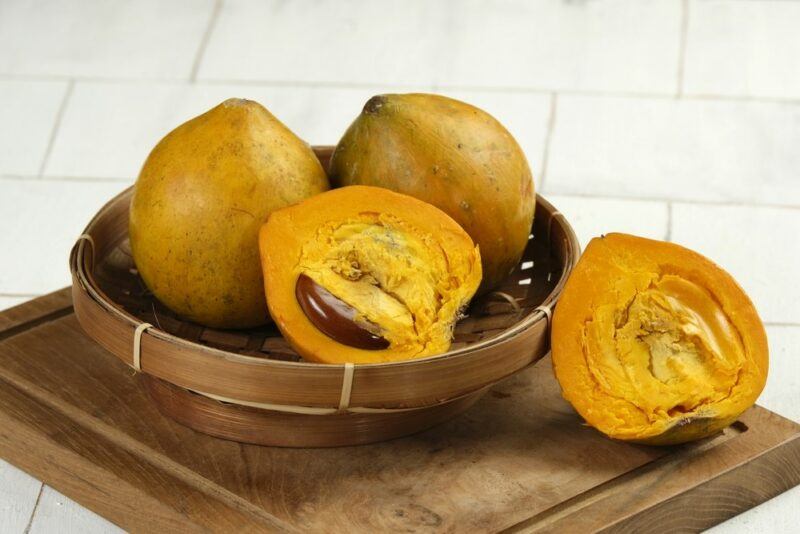 These fruits also go by the name canistel and they're strange indeed. For one thing, the texture of the flesh is surprisingly similar to a hard boiled egg yolk.
The flavor profile isn't too far off either, as this fruit is much more savory than you'd expect. Despite the savory nature this fruit is popular in many recipes, including custard, eggnog, and jams. It can even be eaten on its own.
If you're going to try the fruit, make sure it's ripe first. The skin should be entirely yellow here and it should yield a little under gentle pressure.
Lilikoi (Passion Fruit)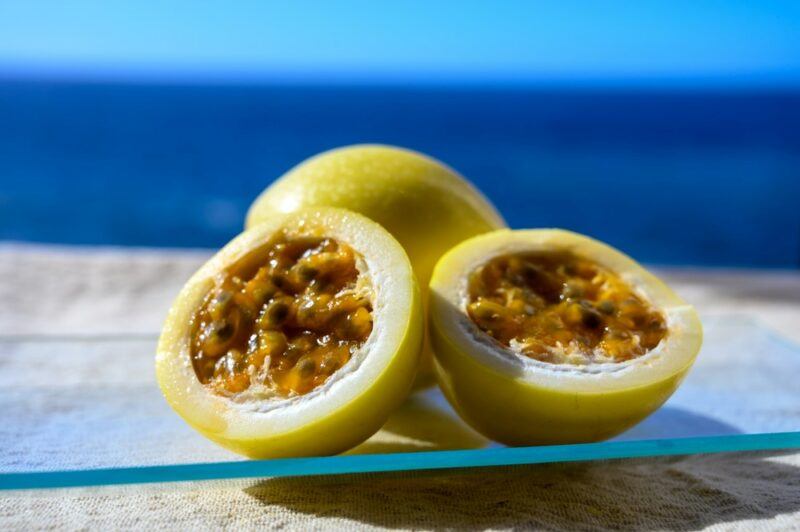 Once again, lilikoi fruits don't come from Hawaii at all. The sweet treats hail from South American instead and have simply taken off on the islands of Hawaii. They're delicious, easy to enjoy, and shouldn't be missed.
Longan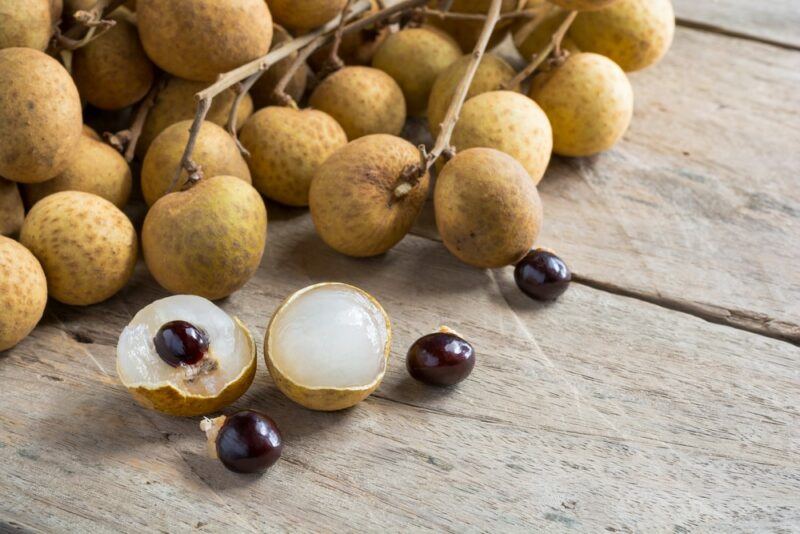 Longans are another interesting fruit. They come from the soapberry family – the same family as rambutans and lychees, which explains why all three fruits taste fairly similar.
That said, longan tends to be the tartest fruit of the three. If you're lucky, you may find the Kohala variety of longan in Hawaii. This variety is juicier and sweeter than most longan fruits and even includes some butterscotch tones in the flavor profile.
The name longan comes from a Chinese word for dragon eye, which makes sense, as the white flesh and black seed of the fruit really do look a bit like an eyeball.
Mangosteen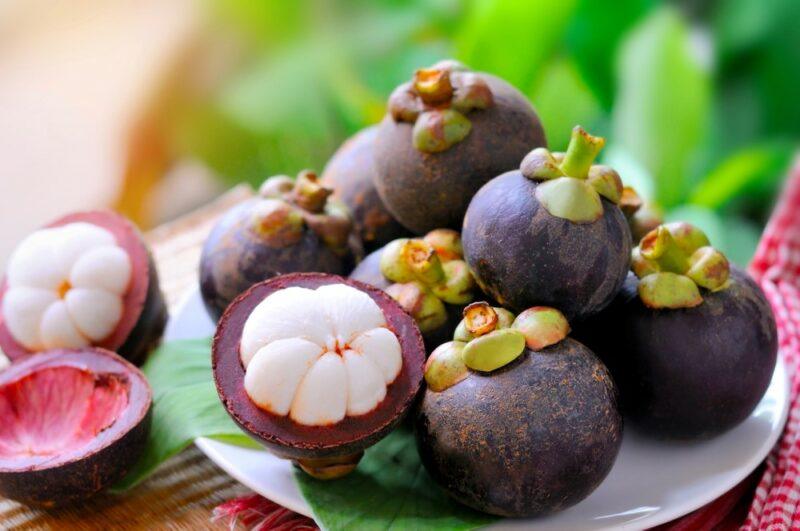 Now we come to mangosteens. These fruits are stunning because of the contrast between the deep purple rind and the white flesh.
These fruits are famous not just for their flavor, but for their potential benefits too. They're particularly rich in antioxidants, which makes them powerful for your immune system and many other aspects of health.
Mangosteens aren't as easy to find in Hawaii as some other tropical fruits, but some people do grow them. Keep an eye on local markets and roadside stalls. Hopefully you'll get lucky.
Lychee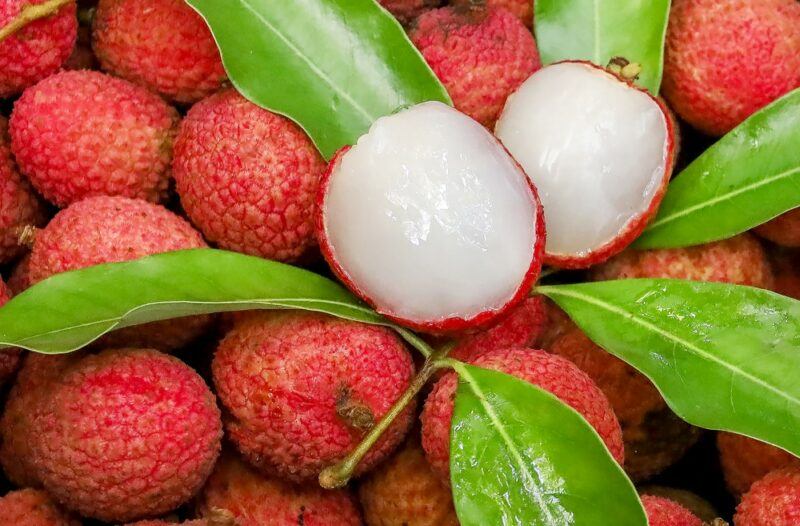 We've talked about longans and rambutans already, so it's only fair that we consider lychees. These come from the same family as the other two, but are certainly the most familiar entry. The red skin of the fruit is inedible, but once you peel that away, you access sweet translucent flesh.
Lychees are popular in Hawaii, partly because they can be grown in most types of soil and at many elevations. The fruits are most often available from May to August and can be easily eaten raw. Lychees also feature in many desserts and in lychee green tea.
Loquat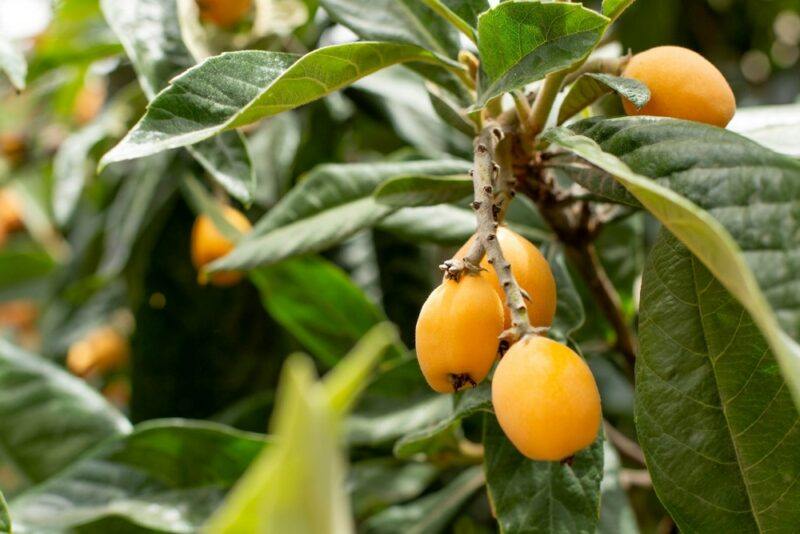 From the outside, loquats look much like the canistel fruits that we talked about earlier. However, the taste and texture aren't similar at all.
While canistel fruits have many savory flavor tones and an almost chalky texture, loquats are sweet instead. They're a little like apricots and can even be eaten as such.
There's a trick to the timing with these fruits. It's best to pick them when the skin is orange, before it ripens and turns yellow. This is when they have the best flavor.
Kumquat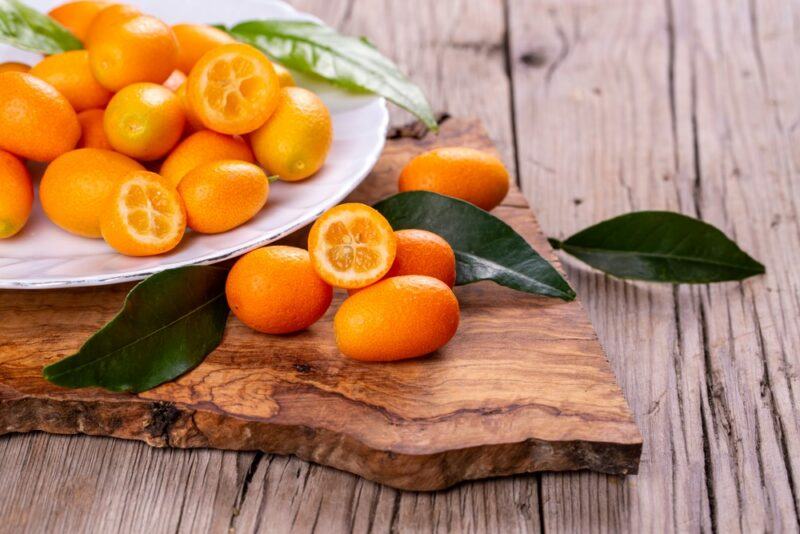 Kumquats look like tiny oranges. That might make you think that you need to peel the skin and just eat the flesh. This isn't the case though.
Kumquat skin is actually edible and is sweeter than the flesh of the fruit. Consuming both parts together gives you a much better experience.
You could eat just the flesh if you really wanted to. Just be warned, you're in for a sour snack, as there isn't much sweetness in kumquat flesh at all.
Durian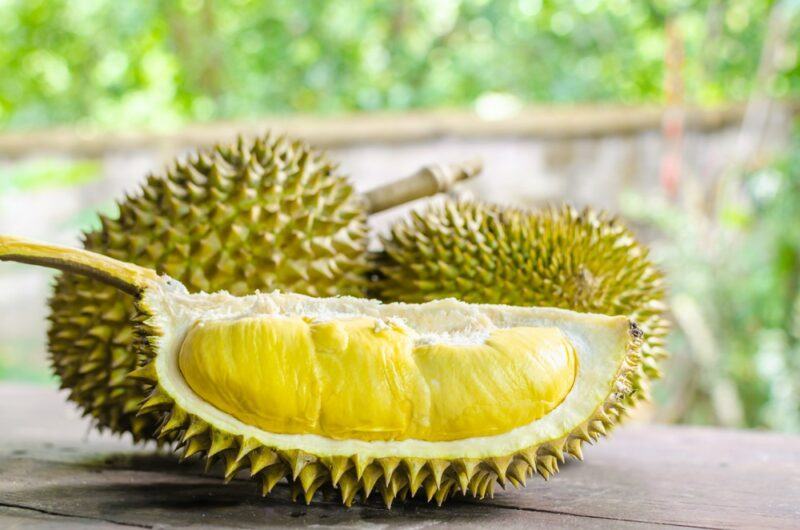 Durians are one of the most famous exotic green fruits. They're not famous for their appearance, although their large size and green spikes are certainly odd.
No, what makes durian really stand out is the scent. Durian fruit smell so strong and so bad that they've actually been banned on some flights and some hotels. Yet, if you can get past the smell, the fruit itself actually tastes surprisingly good.
The flavor is why there continues to be demand for durian, despite the horrific scent. You can even order the fruit online, just in case you want to try it for yourself.
Poha Berry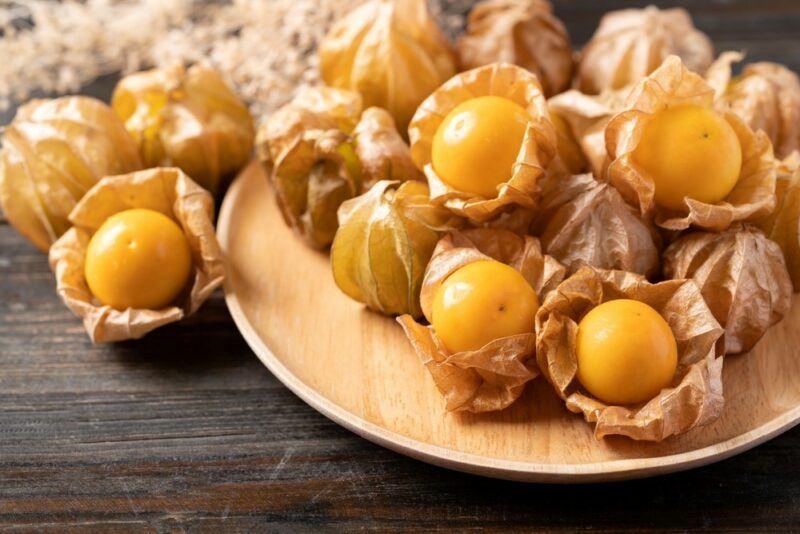 These cute little berries are a fantastic contrast to durian. They're encased in a paper-like shell that's a pleasure to remove.
The berries themselves have a slightly tart flavor. This works well in many recipes, including fruit salads and even some pies. You can eat the berries raw too and many people do.
Cherimoya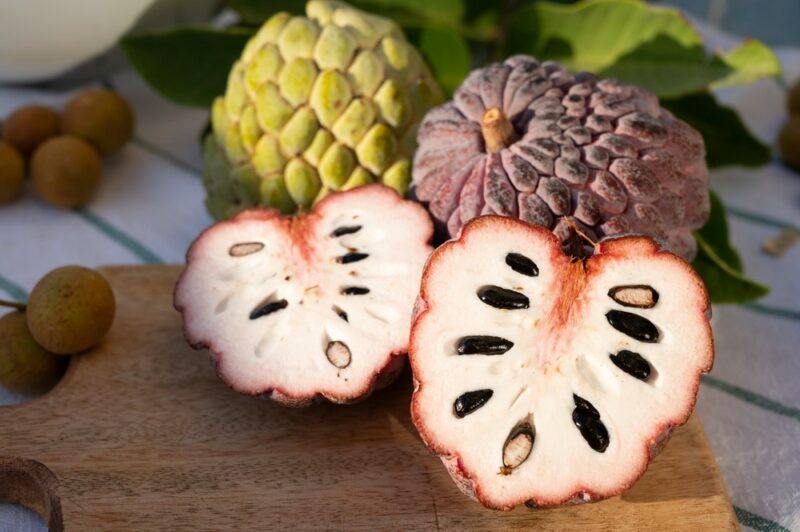 The cherimoya may look familiar, as the fruit is much like the soursop we talked about earlier – complete with white flesh and black seeds. Some of the flavor notes are similar, although the cherimoya tends to be much milder than soursop.
These fruits are difficult to grow in Hawaii, which makes them tough to find as well. Still, some small farms produce them and you might find the fruit in a farmer's market.
Noni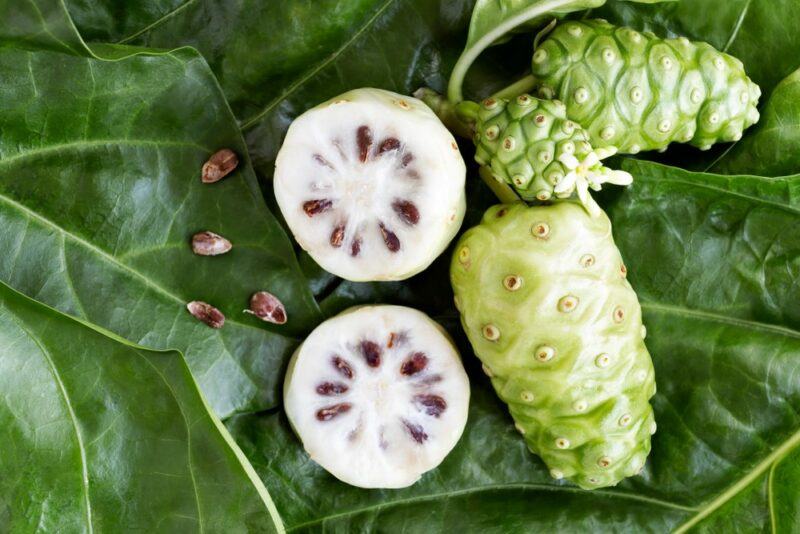 Noni fruits are odd. Really odd. They're a tart fruit and are sometimes compared to unripe pineapple or sour cheese. Not surprisingly, this is a fruit that few people enjoy. But, because it is associated with health benefits, you'll sometimes find it used in juices or jams.
Noni juice is perhaps the easiest way to get the benefits of the fruit, as the juice can be easily diluted or mixed with other types of juice to improve the flavor. Or, if you're brave, you could try eating the fruit outright.
Surinam Cherry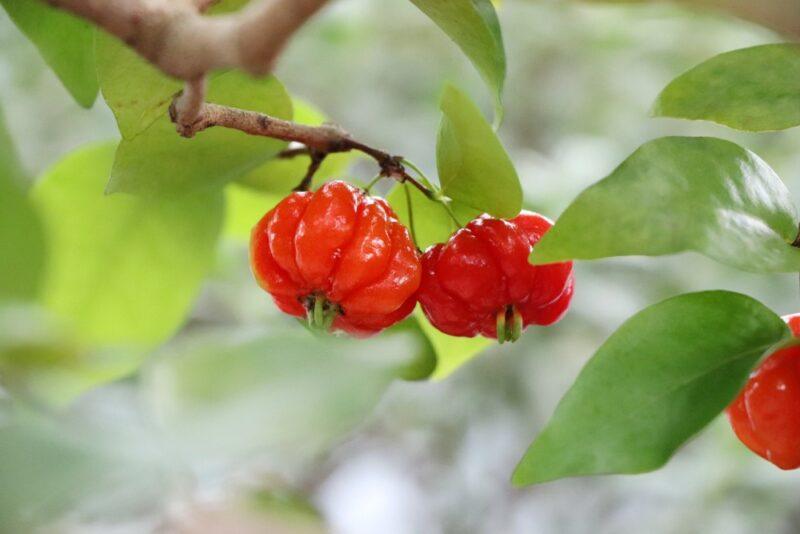 These little red fruits go by a few names, including pumpkin cherries and pitanga. However, they're not actually a type of cherry at all.
They have a sweet and tart flavor profile, with a touch of acidity. It's best to wait until they're dark red and soft, as this is when they're the sweetest. Even then, the fruits aren't for everyone.
Mountain Apple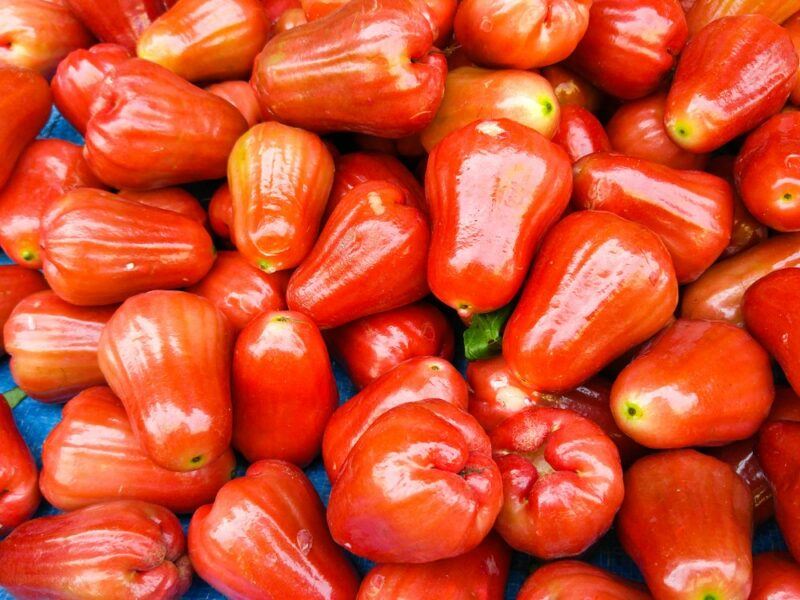 The first thing you might notice about these 'apples' is that they're shiny, much more shiny than most other fruits. While the fruits aren't actually apples at all, you can eat them in much the same way (just be sure to spit out any seeds – these aren't edible).
In many ways, the fruits are actually more similar to a pear than an apple. This includes the slight sweetness and even the texture you find with pears.
Finally, mountain apples need to be treated gently. Their skin is incredibly thin and very delicate. Too much handling will easily bruise the fruits and make them much less enjoyable.