Fruits and vegetables tend to come in familiar colors, like orange carrots and red tomatoes, but those colors aren't your only choice. There are many weird colored fruits, vegetables and spices out there too.
Don't worry, we're not talking about genetically modified food. We're simply talking about different varieties or cultivars of foods that you already know and love.
And, why not? We're already being told to eat the rainbow, as each color has its own healthy compounds. Expanding your diet to try some of these less common fruits and vegetables is the perfect way to get those nutrients.
There are plenty to choose from too.
Some of the items in this list taste the same as their more typically colored counterparts. Others have distinct differences in flavor and/or texture.
Check out the list to find some new favorites. While many of these foods haven't made their way into mainstream grocery stores, you might be able to find some at local farmers' markets or similar places. You could also purchase seeds and grow some of these yourself.
Weird Colored Foods
Black Turmeric
White Turmeric
Black Garlic
Purple Potatoes
Purple Carrots
Black Radish
Purple Broccoli
Blue Pumpkin
White Asparagus
Blood Oranges
Yellow Zucchini
Yellow Carrots
Black Tomato
Green Zebra Tomatoes
Red Bananas
Golden Beets
Watermelon Radish
Purple String Beans
Yellow Watermelon
Black Rice
Purple Asparagus
Green Eggplant
Rainbow Chard
Yellow Kiwi
Golden Raspberries
Red Pineapple
Purple Cauliflower
Red Kiwi
Orange Cauliflower
Green Cauliflower
Black Turmeric

Turmeric is famous for its bright yellow-orange color and distinctive flavor. Black turmeric is similar in many ways. While the color is different, the turmeric rhizomes look similar. They are sold as whole rhizomes or in powdered form, just like regular turmeric.
Black turmeric belongs to the species Curcuma caesia. The plant can be grown in the same way as regular turmeric and produces pale yellow flowers.
Black turmeric may be particularly good for health, as it has very high concentrations of curcumin (which is the compound that makes regular turmeric so powerful). This makes black turmeric interesting as an anti-inflammatory agent and an antioxidant.
White Turmeric

White turmeric isn't easy to find. It is grown much less frequently than orange turmeric and doesn't have the same amazing reputation either. The rhizome also looks a little like ginger, which doesn't help matters.
White turmeric also has a distinct mango scent, along with the traditional scent of turmeric. This combination is one reason why white turmeric is often used in curries.
Just like regular turmeric, white turmeric has been linked to various health benefits and anti-inflammatory properties.
Black Garlic

Black garlic isn't actually a distinct type of garlic. Instead, it is garlic that has been aged. The black color comes from the way some molecules break down as the garlic ages.
The aging process also affects the garlic's scent and flavor. Unlike white garlic, black garlic has a mild scent and a caramel-like flavor.
Black garlic has become popular in high-end cuisine, but it isn't especially difficult to use. You can use in the same way as you would regular garlic. The garlic may even be powerful for your health, as it has more antioxidants than regular garlic.
Purple Potatoes

There are multiple varieties of purple potatoes to choose from now, including Purple Fiesta, Purple Pelisse, Purple Majesty and Purple Majesty.
Others have names like All Blue or Adirondack Blue. While these are called blue potatoes rather than purple, the coloring is often similar, if not identical to purple varieties.
Some of these varieties have purple skin and a purple interior, like the potatoes in the image above. Others may only have splotches of color or may just have purple skin and white-colored flesh.
The purple pigment does not affect the color of the potatoes at all, so purple potatoes taste just like their regular counterparts. However, the purple pigment molecules are significant antioxidants.
This may even mean that purple potatoes are healthier than regular ones. If nothing else, purple potatoes do look more interesting.
Purple Carrots

While orange carrots might be the norm these days, carrots used to come in a variety of colors, including purple and red. Purple carrots have been coming back into fashion recently. You might have even seen them at grocery stores.
Once again, the purple coloring means that the carrots offer plenty of antioxidants. Some people feel that purple carrots taste better too. One problem is that the pigment does tend to bleed out into other parts of your meal, which isn't always appealing.
Individual varieties of purple carrots have their differences. Some of them are purple all the way through, while others have a yellow or an orange interior instead.
Black Radish

Black radishes aren't just a different color than normal. They're also larger than traditional radishes, with a tougher texture and stronger flavor.
The radishes can be eaten raw or cooked. When raw, the flavor of the radish can be intense, so you might not want to use too much at once.
Cooking the radish helps to mellow out the flavor. One trick is to sautee relatively large slices in butter (up to half an inch thick). This creates an enjoyable flavor and a meaty texture.
Purple Broccoli

Purple broccoli is a sprouting type of broccoli that comes from the UK. The flavor profile is nutty and peppery, along with the general flavors that you'll find in broccoli and other similar vegetables.
Once again, the purple color is a good source of antioxidants, making the vegetable particularly good for you. There are various individual cultivars to choose from, with some being more common than others.
The small heads on the broccoli mean that it ends up being very tender and cooks quickly. However, as is often the case, some of the purple coloring will be lost with high heat cooking.
Blue Pumpkin

There are many non-traditional colors for pumpkins, but blue is easily the most noticeable.
One variety is the Australian Blue pumpkin or Jarrahdale. Some seed stores and websites offer seeds for the pumpkin, which could allow you to grow it yourself. Another example is the Blue Max pumpkin.
Most of the time, blue pumpkins just have blue skin. Their flesh still tends to be the bright orange that we're all familiar with.
White Asparagus

White asparagus isn't a special variety. It is simply regular asparagus that is not exposed to sunlight. Without access to sunlight, the asparagus never produces chlorophyll, so it doesn't turn green.
Farmers use various techniques to get this result, such as covering the asparagus with a large amount of dirt or growing it under black plastic.
White asparagus tends to have a milder taste than green asparagus. It is also a little bitter. Care needs to be taken with cooking white asparagus, as the spears tend to be more fibrous and thicker than green asparagus.
Blood Oranges

Blood oranges look like regular oranges from the outside. The difference is that their flesh is a maroon color or even blood red. Sometimes the entire flesh is red, while other times the color may be streaked instead.
They have a similar citrus flavor to other oranges, but there is also a raspberry-type edge to the flavor, making blood oranges sweeter than many other varieties.
Yellow Zucchini

First of all, yellow zucchinis do exist – and they're not the same thing as yellow squash. The two vegetables do look similar, but zucchinis tend to be straight, while yellow squashes normally have a tapered neck.
Yellow zucchini (also called golden zucchini) may be a little sweeter than green zucchini. Surprisingly little is known about the differences between green and yellow zucchinis, as the yellow variety is much less common.
Yellow Carrots

Yellow carrots are thought to be Middle Eastern carrot varieties. The yellow color is consistently present all the way through the carrot, while the texture tends to be firm and crunchy.
Notably, yellow carrots are sweeter than orange ones. They have different nutrients too, including larger amounts of lutein than orange carrots along with less α- and β- carotene.
There are multiple yellow carrot varieties to choose from, including Yellowstone, Solar Yellow, and Amarillo.
Black Tomato

To many people, black tomatoes look strange indeed. They taste different from regular tomatoes too and may include smoky, savory or slightly salty notes.
Black tomato lovers often say that the flavors are more interesting and intense than regular tomatoes. Despite this, black tomatoes don't tend to sell well at markets and you won't often find them in your local store.
The exact flavors depend on the variety in question and there are many of these to choose from. Black Krim is one of the most popular choices. This variety slices well and has intense flavors.
Green Zebra Tomatoes

Green zebra tomatoes are another interesting type of tomato. The lighter stripes often end up being a pale yellow when the fruit is ripe, creating an interesting contrast of yellow and green.
Unlike most types of tomato, green zebra tomatoes don't ever end up red.
The tomatoes can be eaten raw or cooked in the same way as other types of tomatoes. Young green zebra tomatoes are especially good for cooking with, as they are tart and hold their shape well.
Red Bananas

Red bananas are a different variety of banana. They can be eaten in the same way as regular yellow bananas.
While red bananas have a similar flavor to regular bananas, red bananas do tend to be a little sweeter and sweeter. Some varieties of red banana have earthy flavor tones, while others have a notable raspberry flavor.
Red bananas tend to have more vitamin C, potassium, and iron than yellow bananas. They are also higher in beta carotene.
However, the bananas tend to be smaller than yellow bananas and have thicker skins. This combination means that there is significantly less flesh per fruit.
Golden Beets

The biggest difference between red beets and golden beets is simply the color. But, this is an important difference, as many people get frustrated at how red beets stain their fingernails and bleed onto other foods.
Golden beets provide most of the same nutrients, while also being much easier to use.
There are flavor differences too. Golden beets tend to have a sweeter flavor and lack the strong earthiness that is found in red beets.
Watermelon Radish

It's easy to see where watermelon radishes get their name from. The interior of the radish really does look like a watermelon.
Of course, the vegetable doesn't actually taste like watermelon. Watermelon radishes have a mild flavor instead, with a combination of peppery and sweet notes.
The radishes can be used in much the same way that you would use a regular radish. This includes approaches like cooking, pickling or eating the radish raw.
Some of the color is lost during cooking, making the radishes especially popular raw, often as an addition to a salad.
Purple String Beans

Purple string beans are similar to many of the other purple vegetables on this list. The beans get their color from anthocyanins. These are antioxidants that may promote health. In fact, anthocyanins are a key reason to include red, purple and blue foods in your diet regularly.
Like other purple vegetables, purple string beans lose their color after cooking. This is because heat breaks down the anthocyanins. You simply end up with green beans.
Yellow Watermelon

Yellow watermelon can surprising, as the fruit just looks like a regular watermelon from the outside. The flesh tends to be sweeter than red watermelon and has a honey-like flavor.
Red and yellow watermelon tend to be similar nutritionally, although there are some differences between one variety and the next. Varieties to look for include Yellow Doll, Yellow Crimson and Desert King Yellow.
Black Rice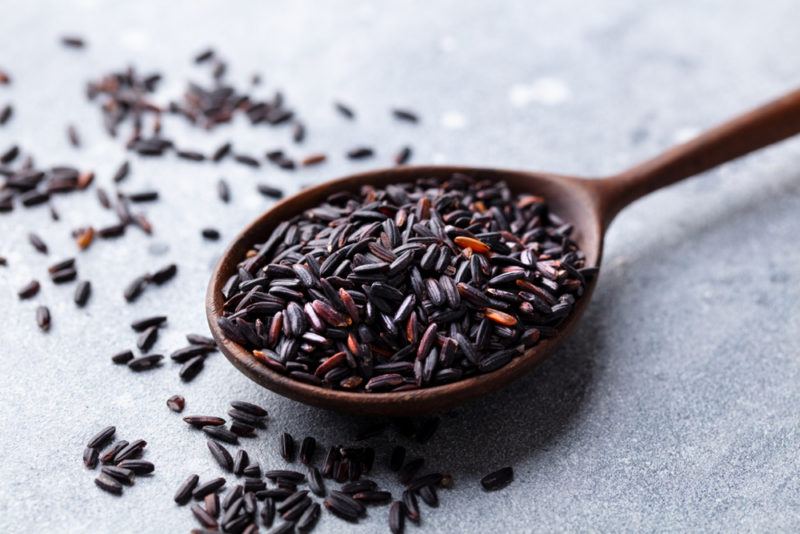 Technically speaking, black rice tends to be a purple-black color, rather than completely black. The color comes from the pigment anthocyanin. This is the same pigment found in purple asparagus, purple broccoli, and various other purple vegetables.
Black rice sometimes goes by the name forbidden rice too, as legend suggests that in Ancient China the rice was forbidden to all but royalty. These days, black rice is much easier to find.
The rice has a slightly nutty flavor and an appealing chewiness. It is also higher in protein than other types of rice. Plus, the color can make your meals look very interesting.
Purple Asparagus

Purple asparagus is a different variety than green asparagus. It is a little sweeter than green asparagus, as the stalks contain more sugar. While green asparagus has more nutrients overall, purple asparagus does contain anthocyanins, which are significant antioxidants.
Interestingly, purple asparagus is only purple on the outside. The inside of the asparagus is the same as you'll find with green asparagus.
The asparagus stalks don't retain their color when cooked. They simply end up green instead. The main way to take advantage of the purple color would be to shave the asparagus and serve it raw, perhaps in a salad.
Green Eggplant

While these eggplants are green, they are fully ripe. Green eggplants are an heirloom eggplant variety.
They're often cooked without spices so that their natural flavors shine through. Of course, they can also be cooked in the same way as regular purple eggplants.
The flesh of green eggplants is ivory white and spongy. This flesh ends up tender and creamy once the eggplant has been cooked. While there is a slight bitterness to the flesh, it does also have an intense flavor.
Rainbow Chard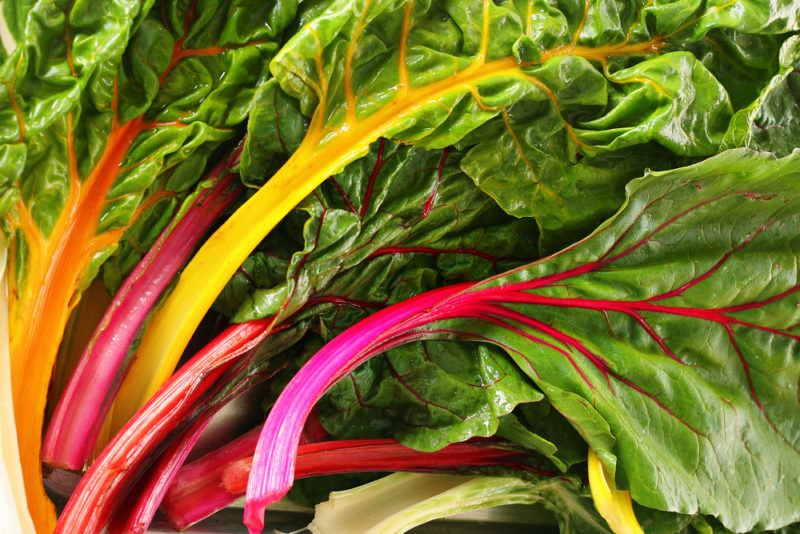 Rainbow chard is a little different than the other items on this list, as it isn't a single type of vegetable. Instead, rainbow chard is a mixture of three types: Swiss chard, golden chard, and red chard.
The idea works well, as each type of chard has its own nutritional profile. They all have slightly different flavors too.
The red chard is especially interesting for cooking, as some of that coloring will bleed into other foods. This isn't a bad thing, but it can be frustrating if you want your meal to look a particular way.
Yellow Kiwi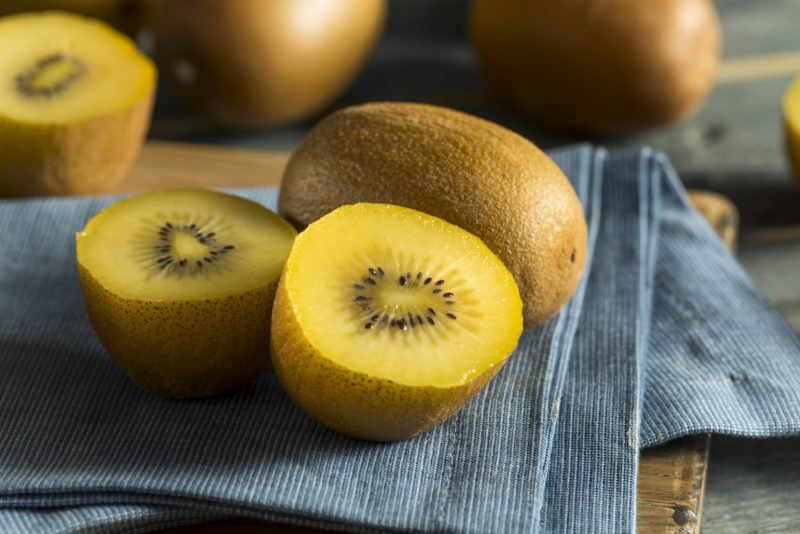 Yellow or golden kiwis (also called kiwifruit) are starting to become very common. The yellow kiwis tend to be much sweeter than green kiwis. They don't have the same tanginess that you'll often find with green kiwis.
Yellow kiwis also have a smoother texture. This makes them easy to eat.
Green kiwis tend to be cheaper than their golden counterparts, but yellow kiwis are often worth the higher price.
Golden Raspberries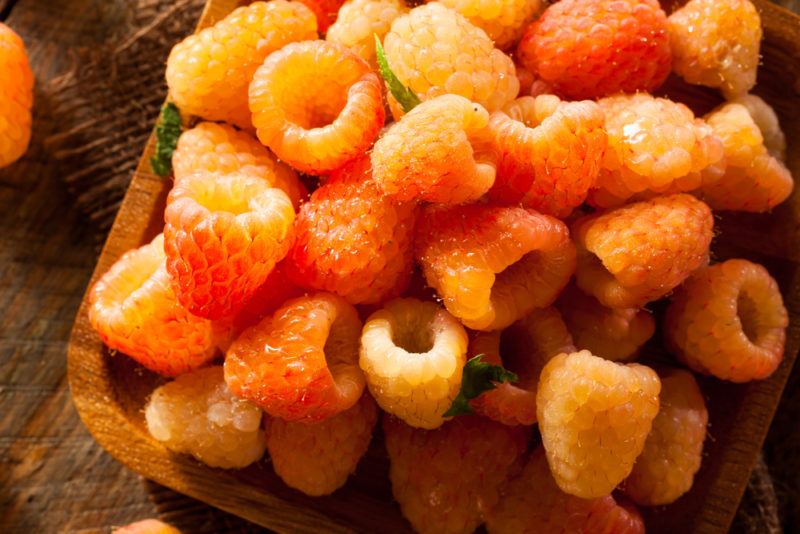 Golden raspberries are an unusual variation of raspberries. There are now multiple varieties of golden raspberry, including Honey Queen and Fall Gold.
As you can probably guess, golden raspberries end up being even sweeter than red ones.
They are grown in the same way as a traditional red raspberry. However, golden raspberry plants don't produce as much fruit as red raspberry plants and can be more susceptible to viruses. These aspects make the berries more difficult to grow commercially.
Red Pineapple

Red pineapples grow smaller than regular pineapples and have less flesh too. Because of this and the plant's appearance, red pineapple plants are normally grown ornamentally.
Nevertheless, red pineapples can be eaten. The flesh tends to be pink-yellow in color, with a sweet mild flavor.
Purple Cauliflower

Purple cauliflowers certainly stand out (while white cauliflowers really don't). Once again, the purple color comes from anthocyanin and is entirely natural.
Interestingly, the cauliflower will keep its purple color if you roast it. Doing so creates a stunning side to a meal, one that is also very easy to prepare.
Purple cauliflower tastes similar to white cauliflower, except that it is a little sweeter and nuttier. Some people find that purple cauliflower lacks the bitterness that is normally found in white cauliflower. That's another reason to give the purple version a try.
Red Kiwi

Red kiwis aren't nearly as well known as their green and gold cousins. As you can see from the image, the flesh of the kiwi isn't entirely red. Most of the redness is in a ring around the center instead (although some kiwis do have pink flesh as well).
The fruit has the same sweetness that you'll find in golden kiwi, with an added spike of berry-like flavor.
The New Zealand brand Zespri is aiming to commercialize red kiwis in 2020 and 2021, although their kiwis will largely be available in New Zealand and Asia.
Orange Cauliflower

Orange cauliflower is sometimes called cheddar cauliflower simply because of the way that it looks (the cauliflower doesn't taste like cheese at all). It has the same general texture and crumbliness as regular cauliflower and can be used in the same way.
Still, there are mild flavor differences. In particular, orange cauliflower ends up having a mild and slightly sweet flavor.
Green Cauliflower

Green cauliflower also goes by the name broccoflower. There are two main variations to look for. One looks like a regular green cauliflower, while the other has a more unusual shape and pattern of florets (which are almost fractal).
The most well-known green cauliflower is the Green Bali. There are other cultivars of green cauliflower out there too.