After a long day of work, sometimes the best way to unwind is to spoil yourself a little is with some good old whiskey. Any whiskey will do, really, but if you really want to spoil yourself then what about looking at the most expensive bottles of whiskey you can buy online?
Now, premium whiskey is usually reserved for events and parties, but it doesn't hurt to save a bottle for yourself whenever you feel the need to pull a couple of shots out. Enjoying the whole thing by yourself is a lot better than having to share it with people who, if we're being honest, might not appreciate the whiskey as much.
But whether you're buying whiskey to enjoy yourself later, or to serve in a special event, it's hard to come by really expensive and premium whiskey. This is especially true if you live in a small town with no establishments that sell the expensive whiskey brands you're looking for.
But have no fear – we've rounded up some of the most expensive whiskeys from the online whiskey retailer, The Whisky Exchange.
Keep in mind, though, that these whiskeys are really, really expensive. You may have to shell out weeks' worth of savings for even a single bottle.
And since The Whisky Exchange is based in the UK, American customers will have to pay for international shipping as well. But if you're paying for an expensive bottle of whiskey, you might as well throw in some more for the delivery, right?
And even if you can't afford any of these bottles on the list, we recommend that you read 'till the end. Not only does it give you a perspective of how premium whiskey can get, but it also gives you a clear goal you want to reach, should you find interest in any of the bottles listed below and want to buy one for yourself.
So without further ado, here are some of the most expensive whiskey bottles you can buy online.

10 Most Expensive Bottles Of Whiskey You Can Buy Online
Ardmore 1988 – £315/$410.16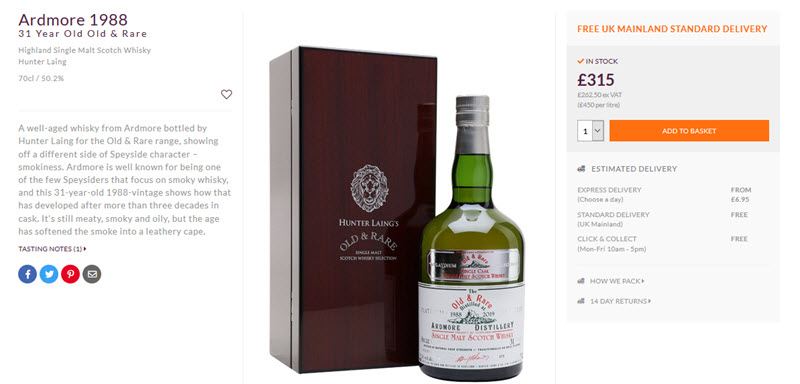 Let's begin with something a little more on the "budget" side of premium whiskeys. Now, we say budget, but even as the cheapest whiskey on this list, Ardmore 1988 will set you back around $410, so start saving up. This whisky is one of the few whiskies made in the Speyside area that's made to be smoky.
This Scotch whisky has been aged for 31 years since 1988 and comes from the Speyside area of Scotland, so you know it's good. Despite the age, you can still enjoy the smoky flavor of the whisky partnered with a luxuriously smooth finish that'll leave you wanting for more.
Pittyvaich 1989 – £330/$429.69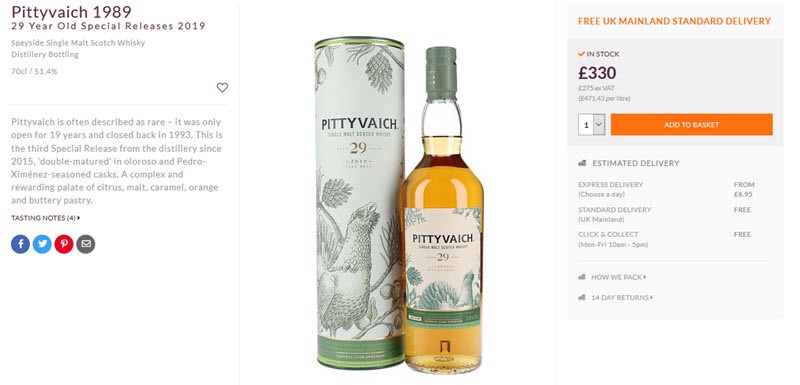 While it is a little more expensive than the Ardmore 1998, Pittyvaich 1989 still comes in as one of the cheaper whiskies of this list at almost $429.69.
This a single malt Scotch whisky that many can only describe as "rare", and for good reason – it's only been open for 19 years, and it was closed way back in 1993. Now that's not something you'd find in many whiskies sold in the market these days.
Aside from being rare, Pittyvaich 1989 prides itself on being home to complex flavors. These flavors are that of citrus, caramel, malt, and even butter – all of which you can enjoy in every sip. There's every reason why this whisky costs as much as it does.
Sullivans Cove American Oak Single Cask Whisky – £399/$519.54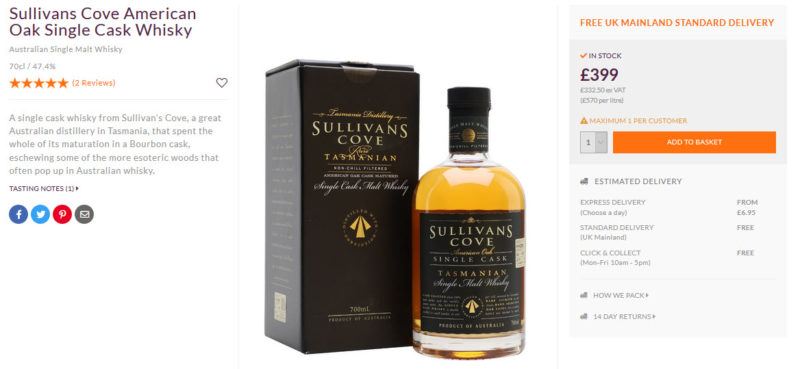 If you'd rather enjoy whiskey from other, less-known whiskey-producing countries, look no further than Sullivans Cove American Oak Single Cask Whisky. This special batch of whiskey comes from an Australian distillery from all the way in Tasmania.
While this isn't a bourbon, the whiskey is aged in used Bourbon casks and offers a more niche flavor that appeals to only a certain type of whiskey enthusiast. This is thanks to the esoteric woods that Australian whiskey is known for.
Glenfiddich 30 Year Old – £515/$670.58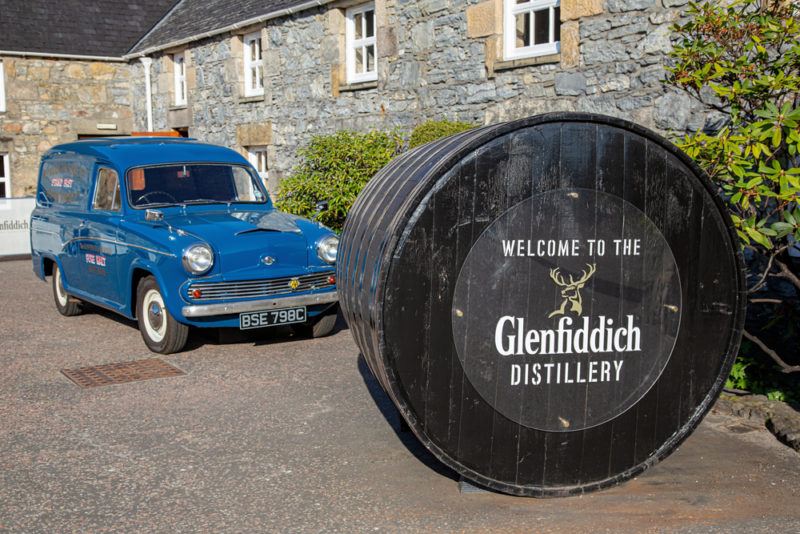 If you're a fan of the eccentric flavors of Glenfiddich whisky, then this should be right up your alley. Glenfiddich 30 Year Old is one of the most highly-praised whiskies they've released to date, and not just because it's got a $670 price tag stuck to it.
Using both American bourbon and Spanish oloroso casks, the whisky is aged for a total of 30 years, plenty of time for the complex flavors of both casks to seep into the spirit. What you end up with is a soft and fruity flavor that has hints of the oak barrels it's aged in for so long.
Thomas H Handy Sazerac Rye – £650/$846.37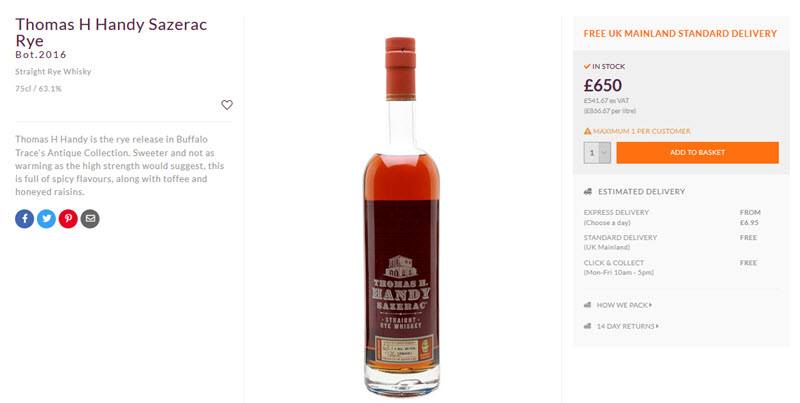 Not everyone can appreciate a good rye whiskey perfectly, but Thomas H Handy Sazerac Rye is so good that even amateurs will enjoy it. The rye whiskey is part of Buffalo Trace's Antique Collection, which may be part of the reason why it costs a whopping $846.
If you do plan on getting yourself a bottle, expect a level of sweetness that is complemented by spicy undertones and a hint of toffee and raisins. It's also not too strong, which may be just what you want if you prefer a lighter drinking experience.
Old Fitzgerald's 1849 – £700/$911.47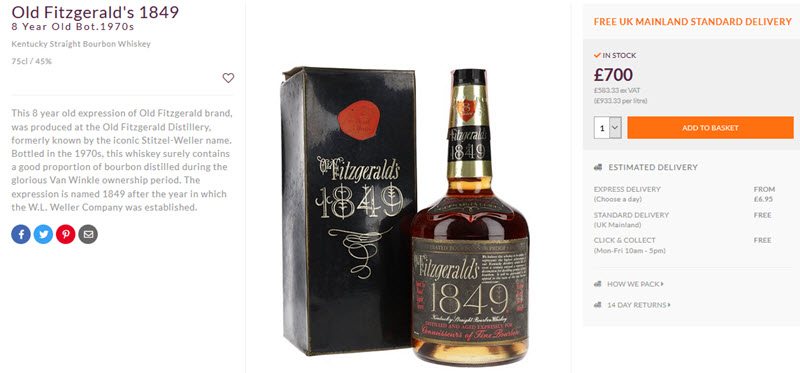 As an 8-year old whiskey, you'd think that it hasn't aged well enough until you find out that Old Fitzgerald's 1849 is a bourbon, which typically ages faster than other whiskeys. And while it's just 8 years old, this whiskey was bottled way back in the 1970s, which is why it costs $911.
Its antiquity isn't the only factor behind its price, though. It was produced by the former iconic Stitzel-Weller distillery from Kentucky. This is definitely a bourbon any bourbon fans will want to try at least once.
Jack Daniel's Monogram – £799/$1,040.38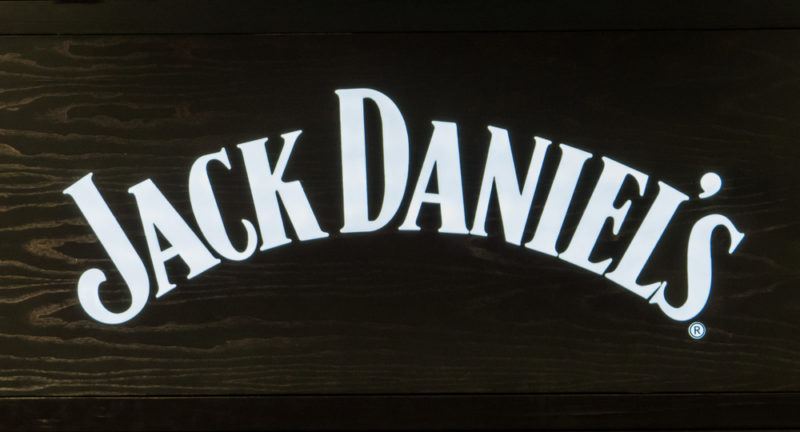 As one of Jack Daniel's most premium whiskeys, Jack Daniel's Monogram whiskey is a must-try for any JD fans reading this. It'll be a little tough to get your hands on even a shot of this bottle, though, as it'll set you back $1,040, being the first thousand-dollar whiskey on this list.
What makes this JD whiskey so rare is that it was released in 1998, and is known to be stronger than most other releases of JD whiskey. It was also released in the Asian market, making it even rarer than you might think.
Brora 30 Year Old – £2,000/$2,603.86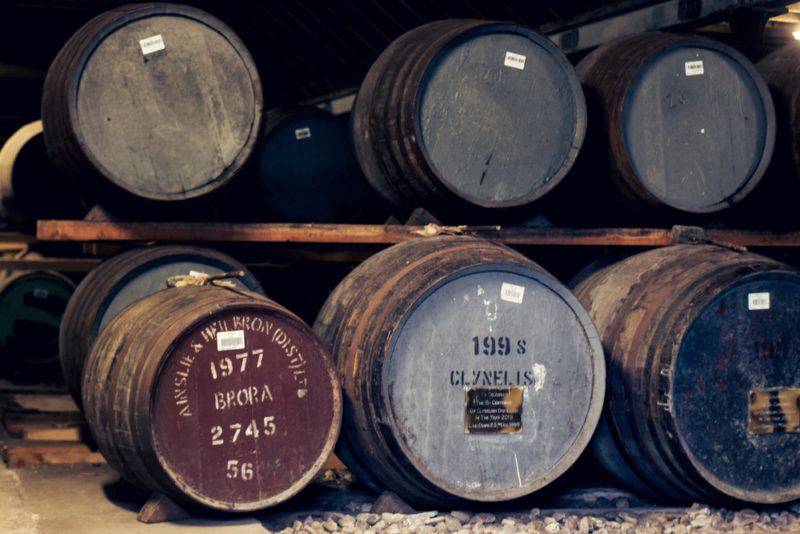 At over double the price of the Jack Daniel's prized Monogram, Brora 30 Year Old stands as one of the most lauded Scotch whiskeys commercially available to date.
Don't let that $2,600 price tag dissuade you – as a Gold Medal-winner of the Malt Maniacs Awards 2007, this whiskey has a lot to offer for those with the interest (and the budget).
Macallan No.6 Decanter – £2,850/$3,710.99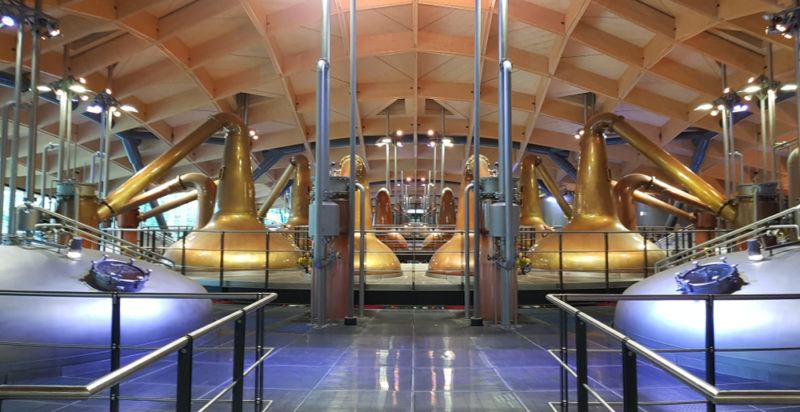 Macallan No. 6 Decanter is bottled in a beautiful, six-faceted decanter, but that isn't what makes this whisky so expensive at $3710.99. The whisky has been aged quite uniquely, as it's placed in first-fill sherry casks, giving it a one-of-a-kind flavor.
Those who are able to afford even a sip of this prestigious Scotch whisky can expect a very rich and sumptuous flavor. It contains hints of orange and fruit cake, similar to the other sweet whiskies on this list.
And with such a beautiful decanter that comes with the whisky, you can still proudly display the empty bottle anywhere at home.
Royal Salute 52 Year Old – £24,000/$31,250.40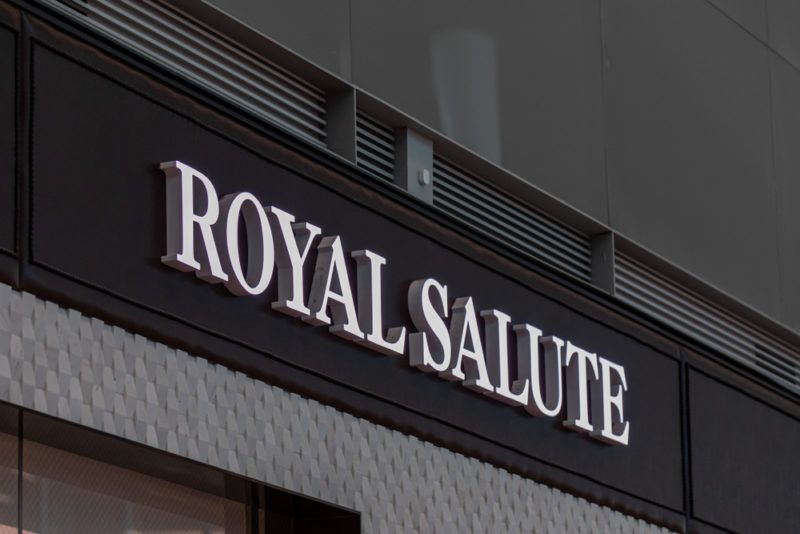 You may think that there aren't any whiskies that can beat the Macallan No.6 Decanter in terms of price, especially when you consider that it costs over $3,000. But there's a whiskey that sells for, brace yourselves, a jaw-dropping $1,350.40, enough to buy you a house, a car, or anything else for that matter.
That whiskey is none other than the Royal Salute 52 Year Old.
Why is this whisky so darn expensive, you ask? Well, this Scotch whisky is part of the Time Series, a collection of some of the best antique whiskies. It's a 52-year-old blended whisky from Royal Salute, and the age is what really gets this whisky going.
We're almost certain that you can't afford this whisky (we can't either), but if you are lucky enough to try it out, expect strong fruity flavors with chocolate, toffee, and hazelnuts as part of its undertones.
Conclusion
Maybe it's because you want to splurge a little on some of the finer whiskeys out there. Maybe you're looking for a whiskey that'll complete your collection.
Or maybe you're just morbidly curious about how expensive whiskeys can really get.
Regardless of why you've decided to read this article to the very end, at least now you know a little more about the wondrous world of high-end whiskey.