What you drink can influence your health just as much as the foods that you choose. While there are many different hot drinks out there, finding good healthy herbal teas is one of the most powerful options. These teas provide you with various plant-based compounds, including antioxidants.
Teas have other advantages too. They're low in calories, after all, which makes them ideal for weight loss. Tea also tends to be mostly water. This makes it an easy drink to keep you hydrated.
And, unlike traditional tea made from tea leaves, herbal teas tend to be caffeine-free. You can enjoy them at any time of the day. Many will even help you to relax and may promote sleep.
In this post, we're using the word herbal tea in its broadest sense. So, we're talking about teas (or tisanes) that don't rely on tea leaves. Some use herbs or spices, while others may use leaves, roots, or flowers of plants. Many of the herbal teas that you buy will contain multiple ingredients, but we're going to focus on teas that just use a single plant. You can even make many of these yourself using fresh herbs.
Healthy Herbal Teas
Ginger Tea
Cayenne Pepper Tea
Cinnamon Tea
Chamomile Tea
St. John's Wort
Peppermint Tea
Burdock Root
Echinacea Tea
Goldenseal
Sage Tea
Greek Mountain Tea
Eucalyptus Tea
Licorice Root Tea
Rooibos
Honeybush Tea
Yerba Mate
Caraway Tea
Patchouli Tea
Ashwagandha Tea
Lemongrass Tea
Lemon Balm Tea
Passionflower Tea
Yarrow Tea
Olive Leaf Tea
Kava Tea
Ginseng Tea
Hydrangea Tea
Noni Tea
Nettle Tea
Linden Tea
Ginger Tea

This drink is sometimes known as ginger tea and other times simply as a hot ginger drink or something similar. You can make it at home by brewing fresh ginger root with hot water. Slicing or grating the ginger helps you to access its flavors, creating a vibrant drink.
Many people will add lemon and honey into the finished tea. These two ingredients help to balance out the flavors, while also creating a soothing beverage.
Ginger tea is particularly good for anyone with digestion issues. The ginger can help to calm your stomach. The tea may even help with acid reflux. But, if you're relying on it for acid reflux, you might want to skip the lemon.
You can sometimes buy ginger tea in tea bags too. These versions often involve lemon and honey flavors along with the ginger. However, the tea bag version will tend to have milder flavors, as it relies on powdered ginger rather than fresh ginger.
Cayenne Pepper Tea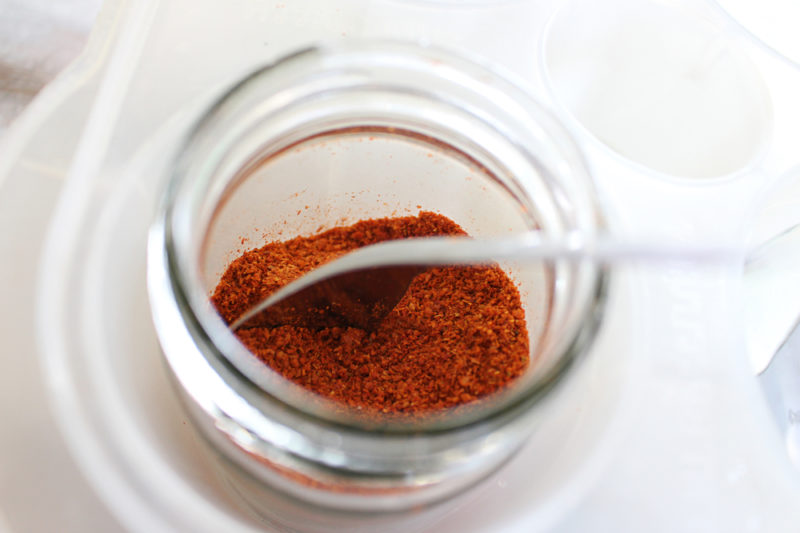 Cayenne pepper tea follows a similar idea to ginger tea. You're using a common cooking spice in an entirely new way. The idea is an appealing one, as spicy foods are linked to health benefits. There is also an interesting compound present in cayenne pepper, called capsaicin, which may have advantages of its own.
An advantage is that cayenne pepper may help with weight loss. The effect may be linked to hunger suppression, along with an increase in fat breakdown and calorie burning.
You're often just using the pepper itself, water, and lemon juice as ingredients, making this an easy type of tea to prepare. The tea also happens to be an enjoyable drink, provided that you enjoy the flavor of cayenne pepper. If you don't like how cayenne pepper tastes, you may want to turn to another type of tea instead.
Cinnamon Tea

Here's another spice-based tea, one that doesn't need much explanation at all. The tea simply relies on cinnamon. You can buy tea bags from a local store or make your own version of cinnamon tea by infusing a cinnamon stick in hot water.
The tea is an interesting way to increase your cinnamon intake, especially as cinnamon has anti-inflammatory properties. It may help to stabilize blood sugar levels too and even improve digestion.
Some versions combine cinnamon with black tea. This still provides you with the beneficial compounds from cinnamon, while also giving you a more interesting drink.
Using black tea as an ingredient can work well, as cinnamon tea itself doesn't have a strong flavor on its own. But, this combination has disadvantages too, as your finished drink isn't caffeine-free anymore, so it might not be a good choice late at night.
Chamomile Tea

Chamomile is a flower-based tea. It is made from the small dried flowers of the chamomile plant and tends to have a subtle taste. There is a slight bitterness to the flavor, but this is mild, so the tea is easy to enjoy.
Chamomile tea is most well-known for its relaxing effects. It is a perfect evening drink, one that can help you to unwind and get ready for bed.
The tea is also recommended for anyone who struggles with anxiety, as it has strong calming properties. Plus, the tea doesn't have the same side effects as anti-anxiety medications, so it's an appealing choice all around.
St. John's Wort

St. John's wort can be found in various forms, including as a supplement or as a type of hot tea. People who drink the tea largely do so for the benefits that it offers, rather than its flavor.
In particular, St. John's wort is famous as a herbal alternative to an antidepressant. The herb can have similar effects in the body, to the point that some people find it to be as good as a prescription antidepressant.
While there are benefits to the tea, this is also one to be careful with. For one thing, the herb can interact with other medications. We're not just talking about antidepressants either. St. John's wort can influence the way that many medications work and not in a good way.
The herb also has similar side effects to antidepressants. The likelihood of side effects seems to be lower with St. John's wort tea or supplements compared to a prescription antidepressant, but it's hard to know. After all, herbal teas and supplements aren't tested rigorously like medications are and effects differ from one person to the next.
In the end, St. John's wort can still be beneficial, but you need to pay attention to your own responses. If you find that you're getting side effects or that the tea is making you feel worse, move on to something else. There are many other types of tea out there.
Peppermint Tea

Peppermint is one of the most popular tea choices, partly because the flavor is one that so many people love. The tea is also unusual in that it tends to be energizing, even though peppermint tea doesn't contain caffeine at all.
The tea is often thought to help with digestive health and may help to improve an upset stomach as well. While such effects haven't been studied in much depth, the flavor of the tea is reason enough to try it for yourself.
Just be a little cautious if you experience acid reflux. Some people find that mint teas tend to aggravate acid reflux symptoms. Other types of herbal tea tend to be a safer choice.
Burdock Root

While options like chamomile, peppermint, and even ginger tea are fairly common, many readers won't have heard about burdock root tea at all. Not surprisingly, the tea comes from the burdock plant, a species that comes from the same botanical family as daisies and sunflowers.
Even if you're not familiar with burdock root tea, you might know the plant. It is one that walkers and hikers often stumble across, with a memorable bur seed that sticks to your clothing and can be frustrating to remove.
The root can be found as a powder or a supplement. It can also be used raw as a vegetable and cooked in various meals. When used to create tea, the root imparts a sweet and earthly flavor.
Potential health benefits include the chance to lower blood pressure, act as a decongestant, decrease inflammation, and improve your immune system.
Echinacea Tea

This interesting tea comes from various species in the Echinacea genus. The tea is most popular for its health benefits, as the flavor profile isn't all that appealing. Many people get around the flavor by including other ingredients, such as peppermint and lemongrass, to create a healthy brew that also tastes good.
The benefits of the tea include the potential to improve immune system functioning and to decrease inflammation. Both areas can be important for helping your body to remain in good working order.
Echinacea tea is also sometimes promoted as a way to fight colds and the flu. Having the tea when you get the early symptoms of a cold is thought to help your body to recover faster.
Goldenseal

You'll often see goldenseal and echinacea tea used as part of the same product because both are thought to help with treating a cold or the flu. Goldenseal has the same potential to help improve your immune system function.
The herb may have antibiotic properties too. However, as is often the case, such effects have been largely found through test tube studies. We don't know whether the same outcomes occur in the human body.
Regardless, goldenseal tea is an appealing source of antioxidants and is a safe caffeine-free tea that you can enjoy.
This is another choice that doesn't taste all that good on its own. So, you may want to combine it with some strongly flavored ingredients to create a tea that is delicious and healthy.
Sage Tea

Most herbal teas don't actually use herbs as an ingredient, which makes sage tea a delightful exception. Not surprisingly, the tea is simply made from sage leaves.
These leaves don't just provide flavor. They are also a source of some powerful antioxidants. These antioxidants could provide advantages, like improving cognition and lowering oxidative stress.
Sage itself offers potential benefits too. One of these is the chance to decrease the hot flashes and sweating that come with menopause. However, the effect was seen with sage tablets and in a very small study. It isn't clear whether sage tea would have the same effects.
Greek Mountain Tea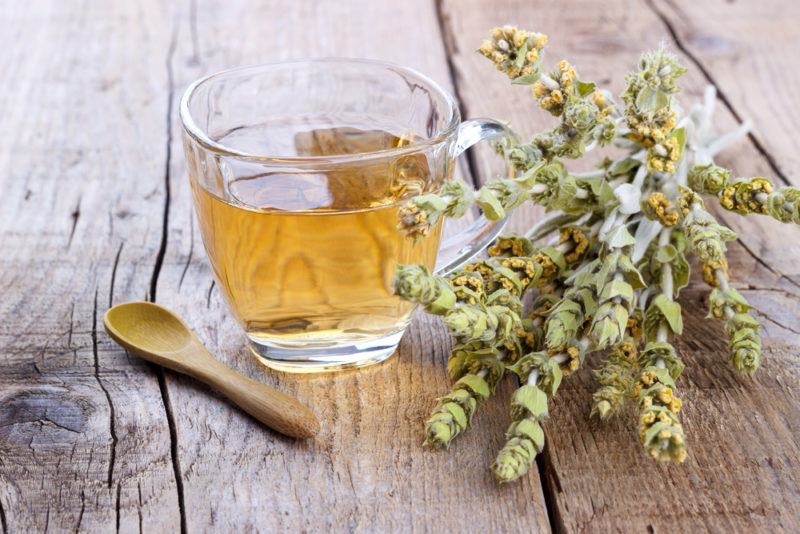 This tea also goes by the name shepherd's tea, along with many other regional names. It is made from the leaves, stems, and dried flowers that come from the Sideritis plant (also known as ironwort). The name Greek mountain tea is based on the way that the plant grows on the mountains in Greece.
Mountain tea has a long history. It has been consumed since the time of ancient Greece. The philosopher Hippocrates even talked about the health advantages of the tea and some research has highlighted the potential benefits as well.
As an herbal product, Greek mountain tea is naturally caffeine-free. It is high in antioxidants too. Just like the other teas on this list, it has been linked to various health advantages, like improving the immune system.
And, if nothing else, the tea teas good. It makes an appealing caffeine-free alternative to green tea, one that may offer many of the same benefits, but has a less intense flavor profile.
Eucalyptus Tea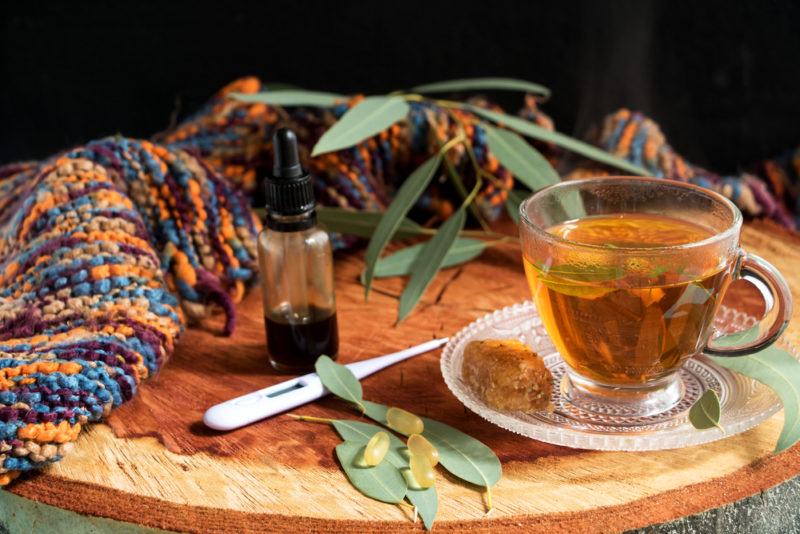 This tea is made from the leaves of the eucalyptus tree, which is found in Australia. Specifically, the tea comes from the variety called Australian fever tree or blue gum tea.
Eucalyptus tea has a strong scent that can be described in various ways. Terms like woody, pine-like, fresh, clean, and even vibrant are used. Thankfully, there isn't much need to describe the scent of the tea, as most people are already familiar with eucalyptus.
Various studies have looked at the benefits of eucalyptus oil with some promising results. However, eucalyptus tea is made from crushed leaves rather than oil, so the results may not be the same.
Even so, you'll commonly see eucalyptus tea used as a cold and flu remedy. Inhaling the tea could help to open congested airways and you may also find the tea soothing.
Licorice Root Tea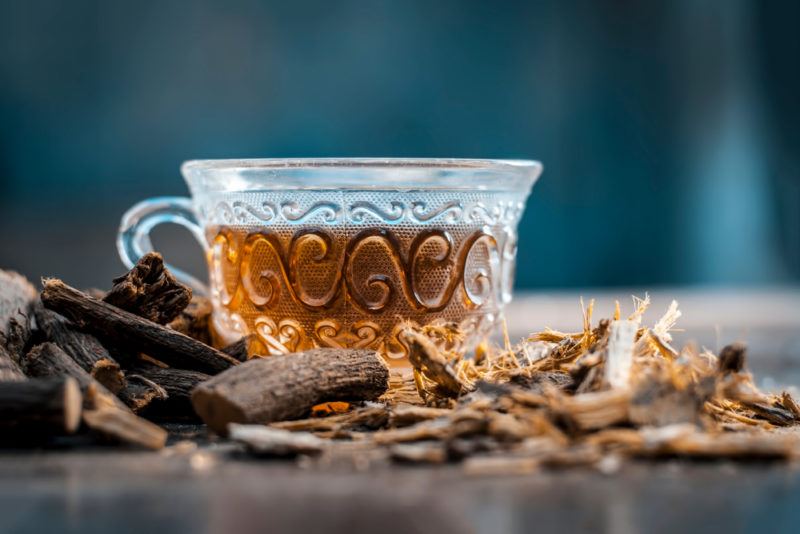 Licorice root is a well-known type of herbal tea, one that may offer many benefits. The root itself even has a long history of use in traditional medicine.
Some of the proposed benefits include the ability to help with skin health, to decrease symptoms like heartburn and acid reflux, to improve respiratory conditions, to decrease inflammation, and even to protect against cancer.
Only some of the research has focused on licorice root tea, so you might get fewer benefits with the tea than with other ways of consuming licorice root. Still, many people enjoy the tea, so why not try it for yourself?
The one limitation is that you need to be careful with the amount that you consume. Too much licorice root can be detrimental, as a compound in the root can significantly increase your cortisol levels and have other concerning effects.
Rooibos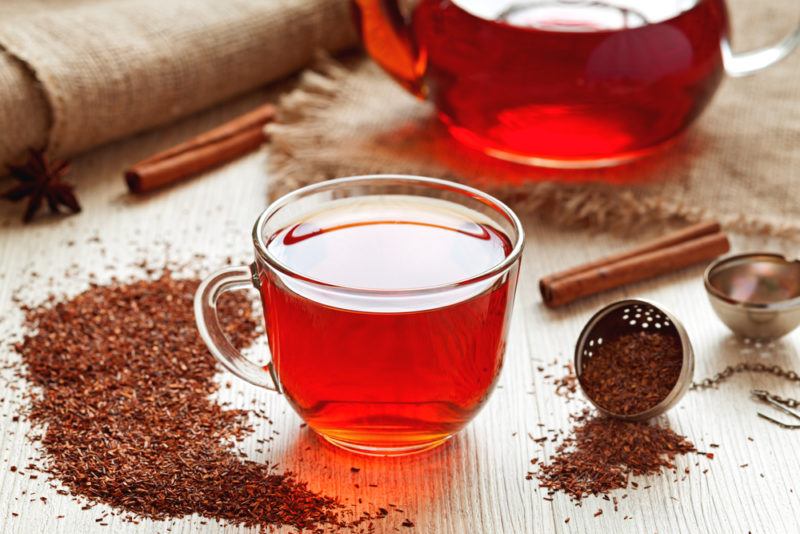 Rooibos goes by a few names, including red tea, bush tea, or red bush tea. Regardless, the tea is made from the species Aspalathus linearis, which grows in South Africa.
Rooibos leaves typically go through oxidation – a similar process to what occurs with black tea. This is process creates the red color that is associated with rooibos tea and also increases the flavor.
You can also find green rooibos tea. This green version involves more work than regular rooibos tea, so it tends to be more expensive. The two versions have different flavors too, as green rooibos tends to have malty and grassy tones.
Like other herbal teas, rooibos contains various polyphenols and antioxidants. Side effects from the tea are extremely rare, as are concerning interactions. This makes rooibos tea a safe choice, even if you're having multiple cups in a day.
Honeybush Tea

Honeybush is less common than many of these other teas and has been linked to fewer health benefits too. But, don't write it off just yet. The tea is still very relevant to anyone with cold or flu symptoms. The tea can help to calm coughs and also contains an expectorant. This can make clearing your throat much easier.
The taste of honeybush tea is another reason for trying it out. Honeybush has a floral flavor that is similar to rooibos. Of the two, honeybush tends to be sweeter, less 'medicinal', and has a fuller body. This combination of features can make honeybush tea more appealing than rooibos for some people.
Yerba Mate

Yerba mate is incredibly unusual, as it is one of the few herbal teas that contains caffeine. The tea isn't quite as caffeinated as coffee but does have more caffeine than a regular cup of tea.
The amount of caffeine present, along with the other compounds, means that yerba mate will tend to energize you, but mightn't make you jittery like coffee does.
The tea is made from the species Ilex paraguariensis, and generally relies on leaves and sticks. These are dried and then steeped.
Yerba mate is traditionally served in a gourd and consumed through a straw with a filter. The filter allows you to enjoy the tea without any fragments. You could also just strain the tea before serving it, but doing so is a much less traditional approach. The gourds and filter straws can be easily found online these days, so why not give yourself an authentic experience?
Caraway Tea

Caraway tea sometimes goes by the name ajwain water and it is made from caraway seeds. For this tea, you need to simmer the seeds in water for around 10 or 15 minutes. You can strengthen the flavor further by leaving the finished tea to sit for a while.
The tea is thought to be effective as a digestive aid. Caraway seeds have a long history in Ayurvedic medicine too, so there may be other health benefits to the tea.
The idea might sound odd, given that caraway seeds have an intense flavor. However, the tea ends up tasting quite different. There are sweet and earthy tones to the flavor profile, making this a surprisingly tasty type of tea.
Patchouli Tea

Patchouli is a strongly scented herb from South East Asia that is most often used as an essential oil. The compounds in the herb have been linked to many benefits, including the ability to improve digestive health, to boost mood, to decrease inflammation, and even to act as an aphrodisiac.
Patchouli tea isn't nearly as common as the essential oil, but you can still find it and the tea may offer many of the same benefits as the essential oil. The tea could even be better for you, in some senses, because you're ingesting it, while ingesting essential oils generally isn't a good idea.
Ashwagandha Tea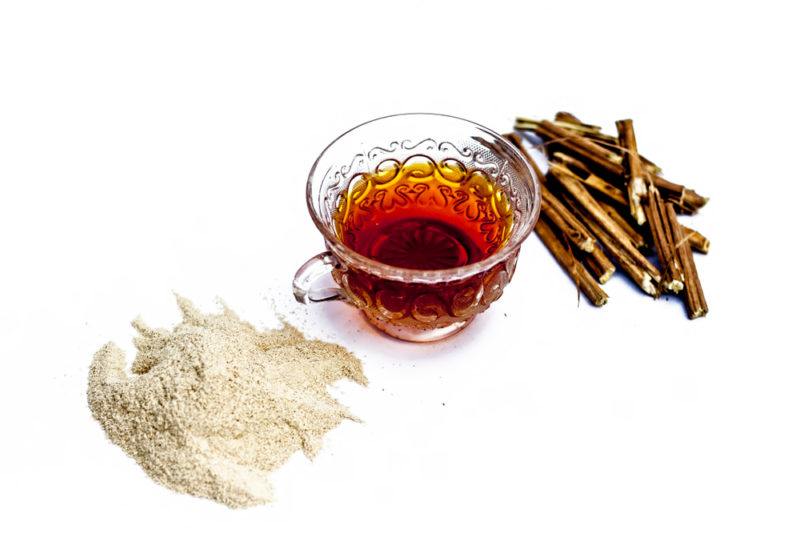 Ashwagandha is a popular herb that has been linked to less stress, anxiety, and depression, partly because it may lower cortisol levels. The herb is also promoted as a male health aid, potentially helping to improve male fertility and testosterone levels.
While ashwagandha supplements are easy to find, ashwagandha tea offers an easy and enjoyable way to get the benefits of the herb.
Unfortunately, this tea doesn't taste all that good on its own. Some people say that the flavor is similar to dirt, while others use terms like bitter and earthy instead.
Thankfully, you can combine the tea with other ingredients, like milk and honey, to make it more palatable. Some companies may sell tea that uses ashwagandha as just one of the ingredients. The other parts of the tea should help to balance out the intensity of the ashwagandha.
Lemongrass Tea

Lemongrass tea is a simple and mild choice. As the name suggests, the tea is made using lemongrass. You simply need to pour boiling water over lemongrass (fresh or dried) and allow the lemongrass to steep.
The tea ends up having a mild lemon flavor that is subtle enough to be restful. The flavor and the scent of the tea may help to improve your mood – a well-known outcome of the scent from lemons.
There are other potential benefits too, as the tea provides antioxidants and could decrease inflammation in your body.
Lemon Balm Tea

Not surprisingly, lemon balm tea has a similar subtle lemon flavor that you find with lemongrass tea. You can easily make the tea by using lemon balm leaves, which can be fresh or dried.
Many of the benefits end up being similar to lemongrass too, including the moost boosting effects. Lemon balm is also thought to help improve cognition and focus, while having antibacterial properties.
Passionflower Tea

Passionflower tea is another option that has calming properties. The effect may be due to how the tea can increase GABA levels in the brain. Doing so has a host of flow on benefits, such as improved mood, decreased stress, and even pain relief.
The tea may even help people with generalized anxiety disorder. While the effects may not be as powerful as medication for this condition, the tea does have fewer side effects, which could make it a better choice for some people.
As for flavor, the tea has grassy tones, along with some notes of hay and a gentle spiciness. It remains a mild tea, especially if you keep the steeping times under ten minutes.
Yarrow Tea

Yarrow is another herb that is linked to various medicinal properties. It is commonly used as an essential oil, an extract, or as herbal tea.
The tea may be especially important for improving digestive health. This includes helping to decrease IBS symptoms and perhaps lower the risk of acid reflux. There may be other benefits too, as yarrow contains various alkaloids and flavonoids.
Olive Leaf Tea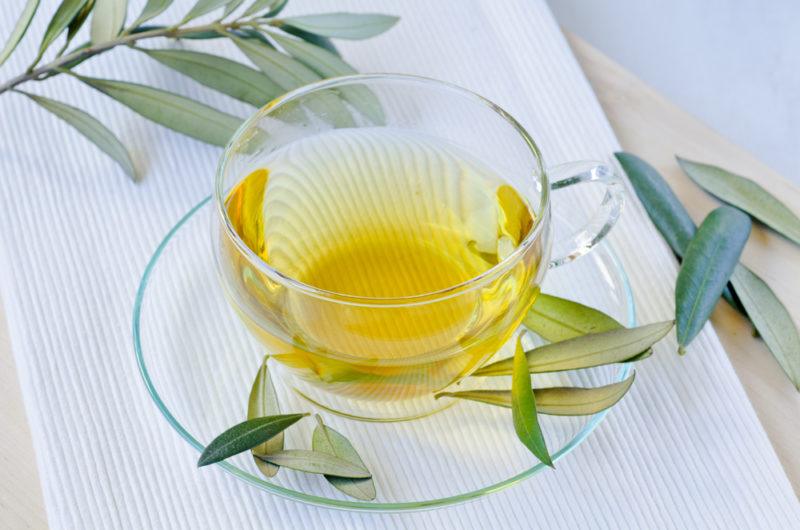 The source of olive leaf tea should be obvious. This tea is made by using olives leaves that have been dried prior to steeping. It is a traditional Mediterranean tea choice, one that might even be more powerful than green tea because of its antioxidant content.
While the tea won't offer all of the beneficial compounds that are found in olives and olive oils, it is likely to offer some of them. The compound oleuropein is notable in the leaves, along with olive skin and flesh, and is one source of potential health benefits.
In fact, olive leaves are so significant that you can find olive leaf supplements and olive leaf extract. So, why not take the simpler route and rely on the tea instead?
Kava Tea

Kava tea is an interesting addition. Kava itself comes from the nightshade family and has a long history of use by Pacific Islanders.
The tea is often thought to be relaxing and studies have conformed notable anti-anxiety effects from kava. The outcomes could even be as strong as anti-anxiety medications in some cases, but kava doesn't have the same side effects that you see with such medications.
The observed benefits are linked to the active ingredients, which are compounds called kavalactones. Kavalactones appear to influence neurotransmitters in our brains, causing a variety of effects.
These potential benefits make kava tea worth trying for yourself. However, there are some concerns about the tea too. These concerns mean that you shouldn't go overboard with your consumption of kava tea. Talk to your doctor as well, to make sure that the tea is right for you.
Ginseng Tea

Ginseng tea is another traditional choice. This one comes from Korea and the tea is prepared using ginseng root. Ginseng itself is often linked to health benefits, so it shouldn't be surprising that the tea is thought to be very good for you as well.
Some benefits include how the tea may help to lower blood pressure, restore hormonal balance, and improve cognition. There are plenty of antioxidants present too, which will have a variety of health impacts.
While ginseng tea is popular, the drink isn't universally loved. Some people find that the smell and taste of the tea are too strong, describing the tea as being almost medicinal.
Hydrangea Tea

Hydrangea tea is less well-known than many of the others on this list, although it does have a long history in Native American culture. Interestingly, this isn't a floral tea. It is made from dried hydrangea root instead.
The tea may be especially relevant for promoting kidney and bladder health, reducing the risk of any problems down the line. Because this tea isn't as widely researched as some other types, it's worth being cautious with the amount that you use. Try not to drink the tea every day and certainly not multiple times a day.
Being aware of your intake is important for other types of tea too, including the popular ones. The compounds in plants can be powerful, which is a key reason for drinking herbal tea to begin with. But, you can have too much of a good thing and high doses of some compounds may be harmful or even dangerous.
Noni Tea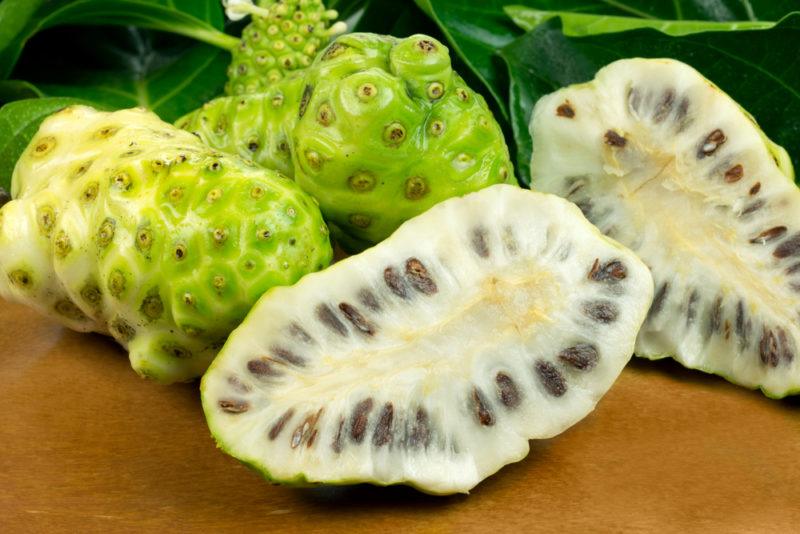 You may have heard about the noni fruit before. Noni juice has taken off as being incredibly good for you, due to the phytochemicals and antioxidants present. While many of the claims are over-the-top, there's no denying that noni fruit does contain beneficial compounds.
Noni tea comes from the same species of plant. The difference is that the tea is made from the leaves of the plant, while noni juice comes from the fruit instead. Some versions of the tea use other parts too, including the roots and the bark.
Regardless of how its made, noni tea is likely to include some of the compounds that you find in noni juice, but perhaps not all of them. The health effects may be different too. Still, the tea is thought to reduce cancer risk, promote better digestion, and improve skin health.
And, as with other herbal teas, there's little risk in trying noni tea out for yourself (as long as you don't drink it to excess). Even if the tea doesn't provide many benefits, you'll still be getting a relaxing drink that will help to hydrate you.
Nettle Tea

Nettle has a long history in herbalism, often thought to provide benefits throughout your body, while also helping to relieve urinary tract conditions and infections, including an enlarged prostate.
The tea has a long history of use, so there is decent evidence for its safety. This is also a relaxing tea that you can easily brew at home. It ends up having a rich and herb-like flavor that can remind people a little of seaweed.
However, this is one tea that you should use slowly to begin with. There are some side effects linked to it and the tea can cause problems with some medications. While most people won't have any issues at all, it's worth being certain of your body's responses before relying too heavily on the tea.
Linden Tea

With a fairly subtle color, linden tea doesn't look very impressive at all. Still, we all know that appearances can be deceiving.
That's certainly the case here, as linden tea ends up being delicious and floral. It's a type of herbal tea that you can easily drink on its own, without the need for any extra flavoring.
There are also different variations to try. The most common approach is to make the tea by just relying on linden flowers. You can also experiment by adding linden root or linden leaves as well. Either addition will change the flavor of the tea, along with the nutrients that it provides.
And, like most types of herbal tea, linden tea does have potential benefits too. It's like chamomile tea in that it can help to calm you down. The tea might even help you to sleep.