While many cocktail recipes are perfect regardless of the season, some cocktails are better choices in the summer than others. The best cocktails for summer aren't just cooling, they also have a refreshing combination of flavors. Some are fruity. Others aren't.
You'll notice that the alcohol content of many of these is on the low side. There are some hard hitters in the mix too. Still, having a lower alcohol concentration can often be better in summer, creating a more refreshing type of cocktail.
Many of the ones that we're featuring in this list can be prepared in batches too. Batch preparation is perfect if you're hosting a lunch or if you have friends to visit. Besides, who wants to be laboring to mix up multiple cocktails on a hot summer's day?
Best Cocktails For Summer
Mimosa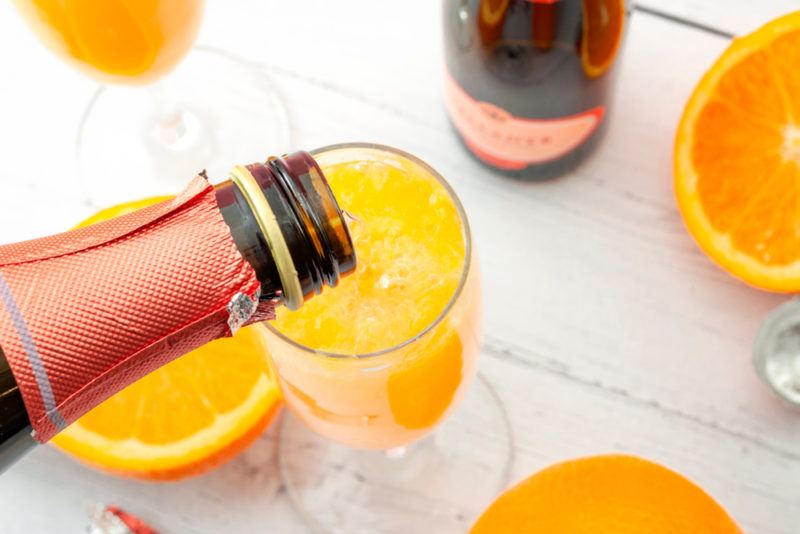 Mimosas are always a classic choice. They're refreshing, easy to make, and you can vary the alcohol content as you please. A traditional mimosa is simply a cocktail made with orange juice and sparkling white wine (or champagne).
The orange juice helps to tone down the intensity of the wine, while providing you with a fresh flavor that is perfect in the summer. Plus, you make a mimosa in a pitcher, which makes it easy to serve a crowd.
The ratio of orange juice to wine can be changed depending on what you're looking for. A classic fifty-fifty mix will give you a sweet and fruity drink that doesn't contain too much alcohol. A blend that involves two parts wine to one part orange juice will make the flavor of the wine stand out more.
Watermelon And Mint Martini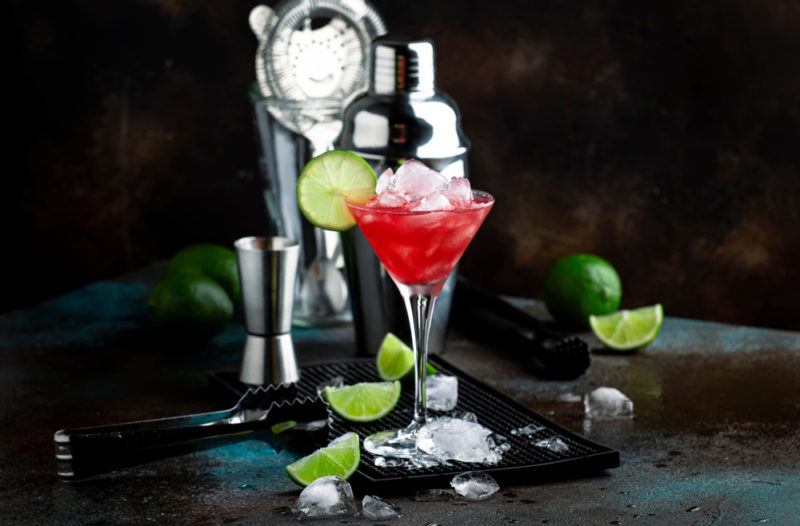 This variation on the classic martini is perfect for a hot summer's day. The main ingredients are four parts vodka and two parts mint-infused simple syrup. You can also add in two parts of watermelon liqueur, which is what provides the watermelon flavor.
The liqueur and simple syrup are added into your cocktail shaker first. You then muddle six baby mint leaves in with them. Vodka and ice are then added, and the mixture is shaken.
Once mixed, the cocktail can be strained into a chilled martini glass and garnished with watermelon. The refreshing combination of flavors works well, especially if you can get your hands on some watermelon liqueur.
Mojito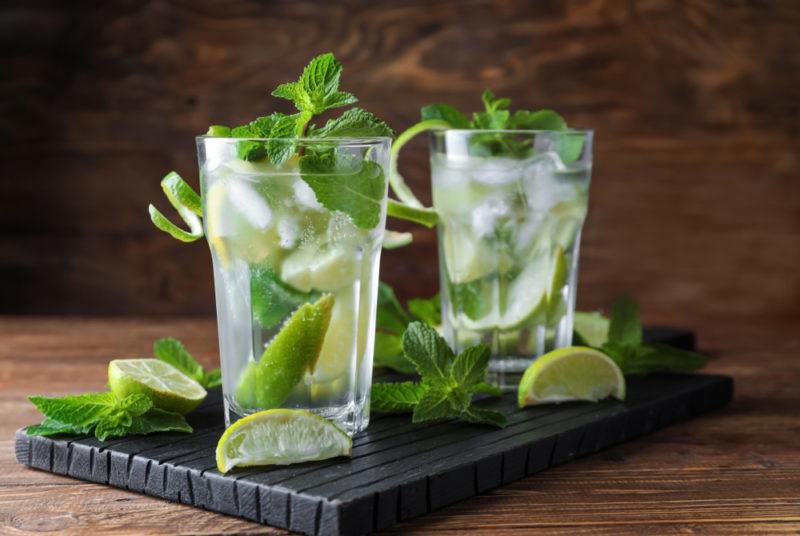 The primary flavors of a mojito are mint and lime, making this a refreshing cocktail. While there are many variations on the recipe, most rely on white rum as the spirit of choice.
You'll often be including some type of sweetener in the cocktail too, such as simple syrup, fine sugar, brown sugar, or occasionally honey. The best recipe will always be the one that suits your flavor preferences and ingredients the most.
Frozen Margarita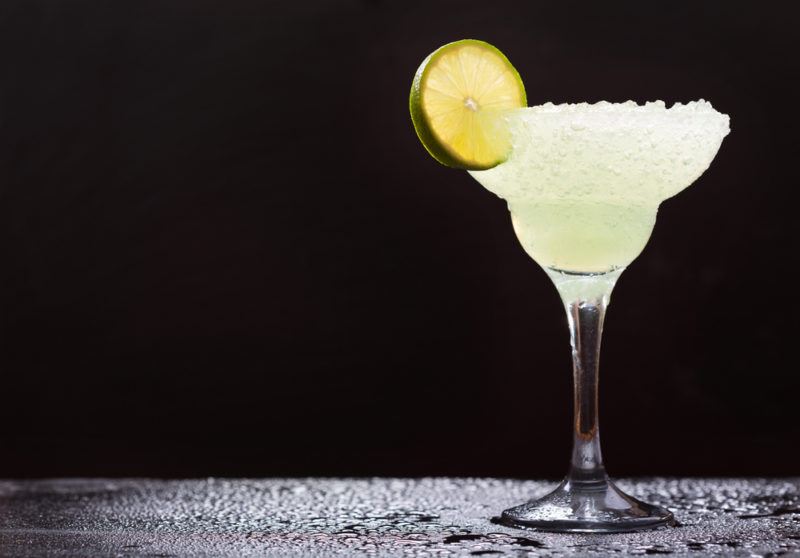 Refreshing drinks are ideal for summer, which makes a frozen margarita a perfect choice. The drink is built like a regular margarita, using a combination of tequila, lime juice, Cointreau or triple sec, and sometimes simple syrup.
The difference is that the frozen version of the drink uses crushed ice. The ingredients are blended until the texture is similar to a slushie.
It's hard to go wrong with this drink, especially as tequila and lime is a knock out flavor combination. Plus, lime is refreshing. That's always good when the weather is hot.
Daiquiri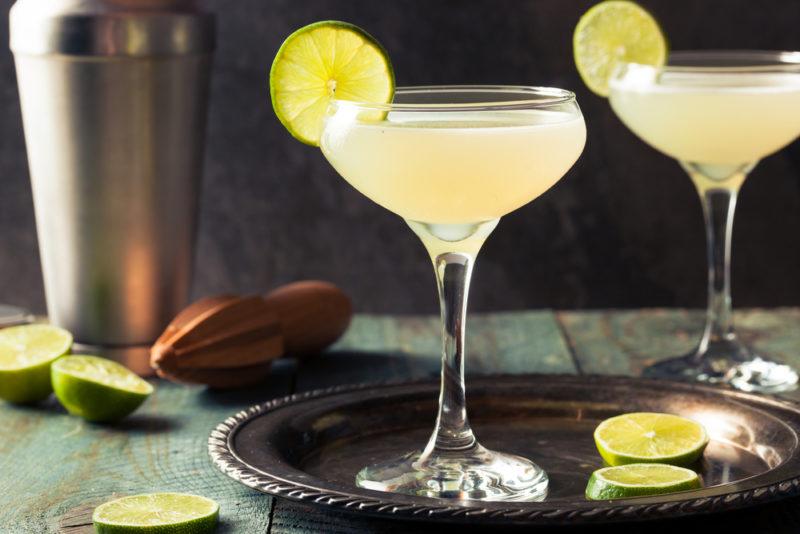 The light yellow color means that a daiquiri already looks like a summer drink. Despite appearances, the cocktail isn't fruit-laden at all. Instead, the cocktail just has three ingredients: rum, lime juice, and sugar syrup.
The combination creates a delicate and refreshing drink, one that perfectly balances the freshness of the lime with the sweetness of the other ingredients. Relying on fresh lime juice is essential for creating the perfect daiquiri.
Pina Colada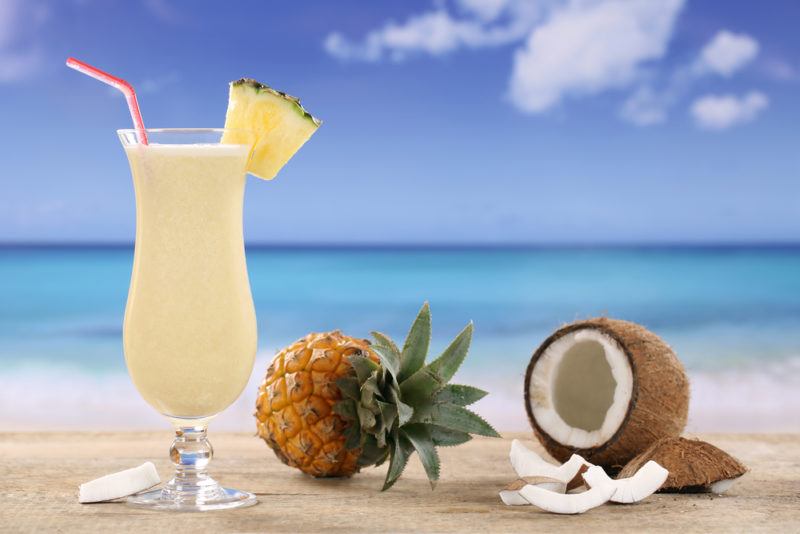 With flavors of pineapple and coconut, it's easy to see why pina coladas are famous as a summer drink. Plus, the ingredients are blended together with ice cubes to create a smooth cold drink.
Pina coladas also work well for summer because they are relatively low in alcohol. You're often looking at around 13% ABV for a pina colada, which is on the low end for a cocktail. This mightn't be appealing if you're drinking in the evening at a bar, but for a summer cocktail in the middle of the day, it's perfect.
Pimm's Cup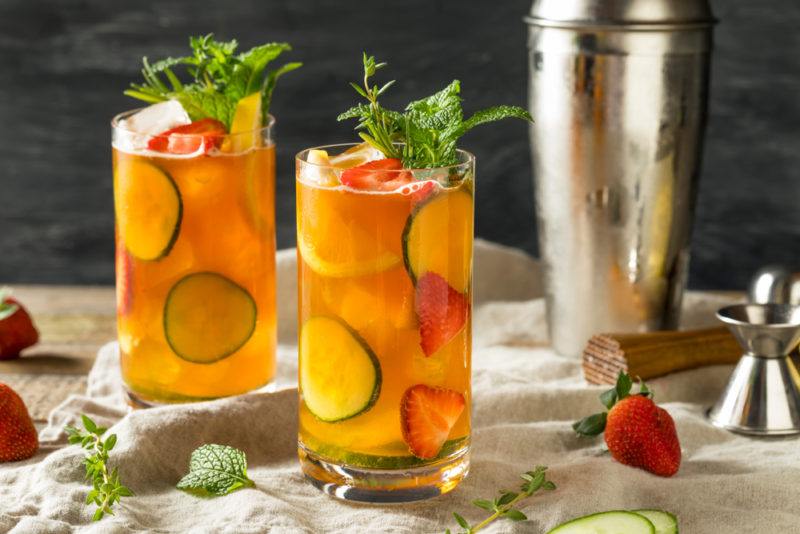 The Pimm's cup remains a classic summer cocktail, one that also happens to be easy to prepare. The cocktail simply contains three parts lemonade, one part Pimm's No. 1 and various pieces of fresh fruit, such as sliced strawberries and oranges.
Of course, there are countless variations to the cocktail. Replacing the lemonade with ginger ale or ginger beer instead is a common approach. This makes the cocktail a little less sweet and provides more bite.
Including bitters is another approach. Once again, this decreases the sweetness. Using bitters adds an extra complexity of flavor too.
Paloma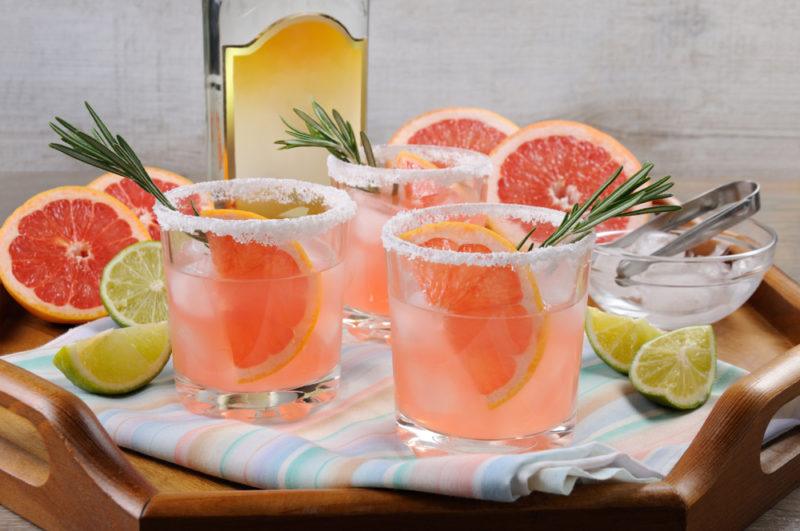 A paloma is a refreshing summer drink, one that isn't excessively sweet. The cocktail relies on tequila, lime juice, and grapefruit soda. You can use grapefruit juice and soda water rather than grapefruit soda if you would rather.
The tart flavors of the paloma are ideal for summer weather, helping to keep you refreshed. You can make the drink as dilute or as strong as you want by simply changing the amount of soda that you include.
English Garden Cocktail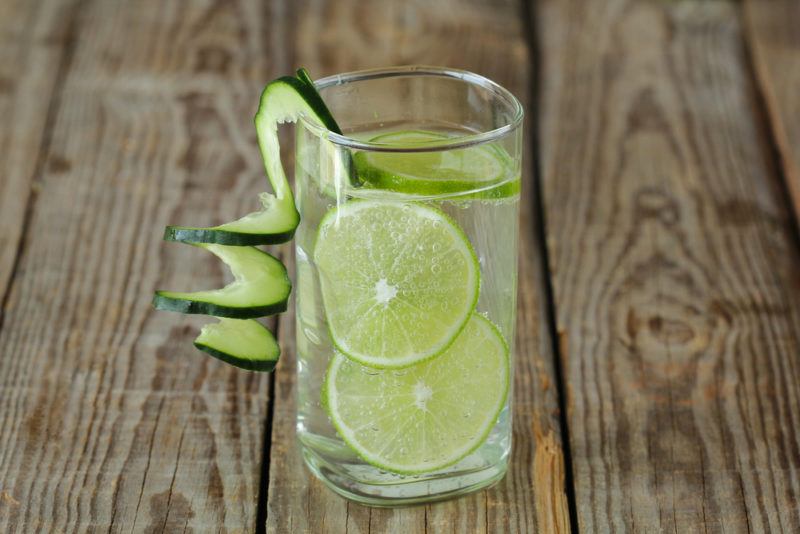 The refreshing nature of this modern cocktail makes it ideal for summer. The cocktail itself relies on elderflower liqueur, gin, and apple juice as the main ingredients. You also include a little lime juice to provide some extra tartness.
The choice of ingredients is particularly good, as elderflower and lime both perfectly complement the aromatics of gin. The drink can also be served with cucumber ribbons in the glass. This infuses the flavor of cucumber into the cocktail too, which also pairs well with the gin.
Another advantage is that you could easily scale up the cocktail and enough to serve a whole party of people.
Rosemary Gin Spritzer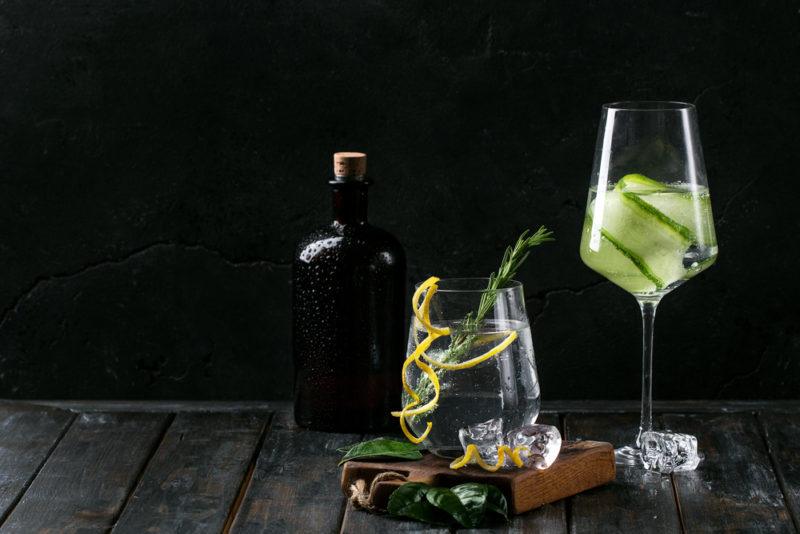 This is another modern cocktail that is incredibly easy to prepare. The first step is making rosemary sugar syrup. The process for doing so is the same as for regular sugar syrup, except that you include some sprigs of rosemary as well.
You then fill a glass with ice and pour in one part rosemary sugar syrup, one part fresh lemon juice, and two parts gin. The cocktail is finished by topping up the glass with soda water.
This cocktail works well for summer as the flavors are refreshing and subtle. The rosemary and lemon both combine well with the aromatics of the gin.
Gin And Mint Tea Cocktail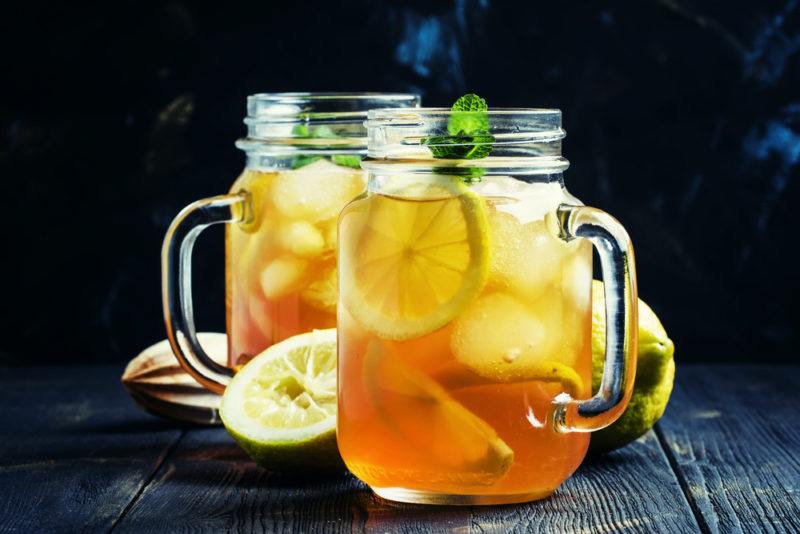 Iced tea cocktails are always a good summer choice, and there are many of these to choose from. If you don't mind a little work, this gin and mint tea cocktail is an especially good one to get started with.
The cocktail is best if you use gunpowder green tea, as this type of green tea has a robust flavor that works well with the rest of the ingredients. For anyone who doesn't have gunpowder green tea, regular green tea will work fine.
The use of gin in this cocktail helps to give it a refreshing edge with botanical notes. Plus, while some sugar is used, the cocktail isn't overly sweet.
Gin And Tonic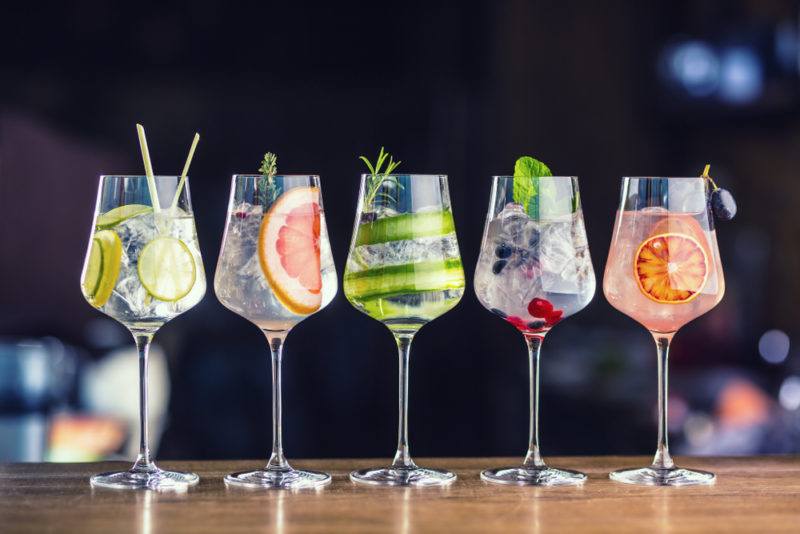 Gin and tonic is a popular and enduring drink, especially in the summer months. The tartness of the cocktail makes it perfect for warm weather, as tart flavors tend to be refreshing.
Even more importantly, a gin and tonic is easy to make – you just need gin and tonic water. It's easy to be sure that you always have the ingredients for a gin and tonic in your cupboard.
If you find gin and tonics a little boring, don't worry, there are many ways to vary the recipe. The simplest approach is to include some aromatics, perhaps a combination of sliced fruit and herbs. You could also get more creative by adding in some bitters or fruit juice.
Coquito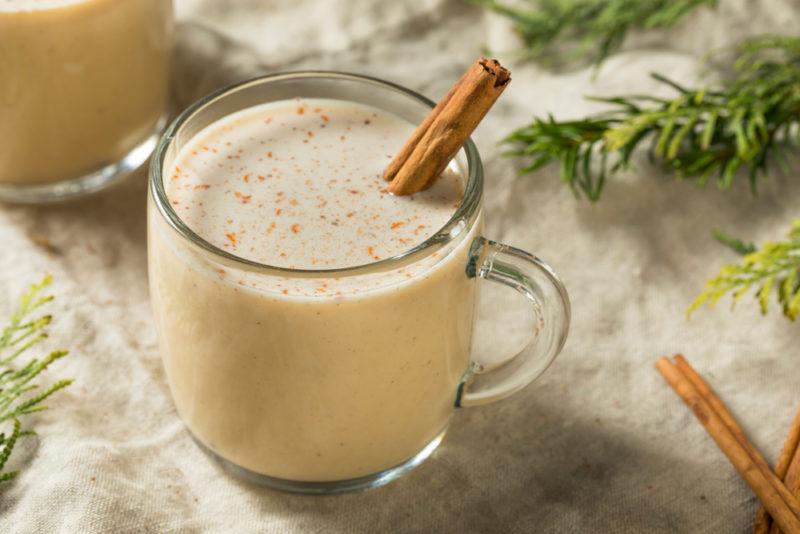 A coquito is a rich and milky coconut drink that you can prepare in advance. While the creaminess and some of the flavors are reminiscent of eggnog, this is a drink that you can have all year round. In fact, the chilled nature of the drink makes it an ideal choice for summer.
There's another advantage too. The coquito can be easily prepared in advance, making it a perfect choice for a party. For that matter, preparing many servings of the cocktail ends up being easier than making a single serving.
This is because the cocktail relies on rum, evaporated milk, cream of coconut, and condensed milk. All of these ingredients, aside from the rum, come in cans.
An easy way to make the cocktail is to blend together three cans of the evaporated milk, one can condensed milk and one can cream of coconut, along with two cups of white rum. The finished drink can then be poured into a bottle and then chilled, ideally for two to three days.
Scotch And Soda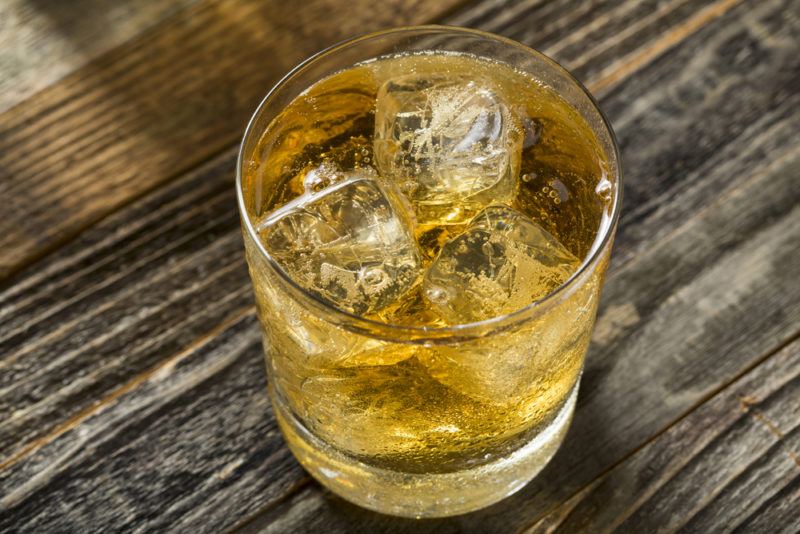 You can't really get simpler than a scotch and soda. This two-ingredient cocktail relies on blended Scotch whisky and soda water.
Making the drink is easy. Simply add the whiskey to a highball glass that has been filled with ice. Then top the glass up with club soda and stir.
The club soda helps to dilute the whiskey, creating a drink that is much less intense than neat whiskey. Nevertheless, the flavors of the whiskey continue to shine through, creating a refreshing and enjoyable drink.
Strawberry Daiquiri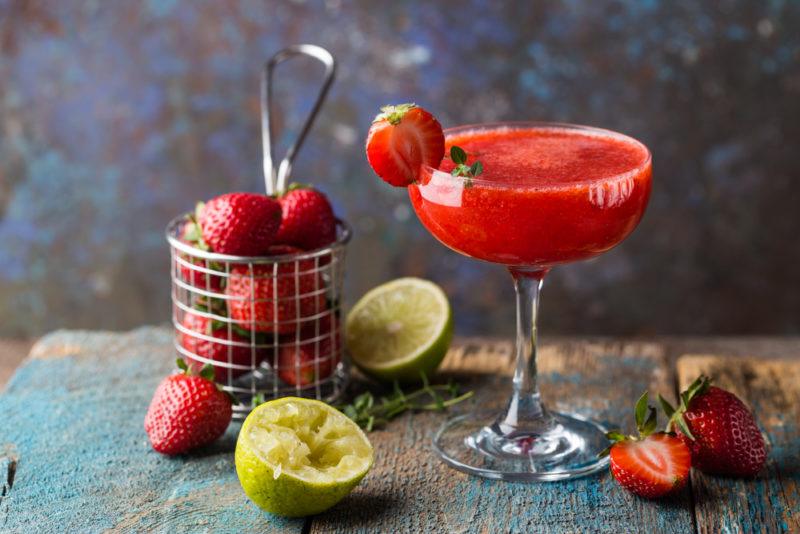 Strawberry daiquiris are often served frozen, which is one reason that that they are so popular in the summertime. The cocktail also uses a refreshing combination of strawberries and lime juice.
The strawberries provide the vibrancy and freshness that the drink is known for, while the lime juice helps to prevent the drink from ending up too sugary.
Making a frozen strawberry daiquiri isn't difficult either, as you only have strawberries, lime juice, rum, and ice to worry about. Some people use frozen strawberries and skip the ice, which makes the process easier still and means that the ice doesn't dilute your drink.
Mint Julep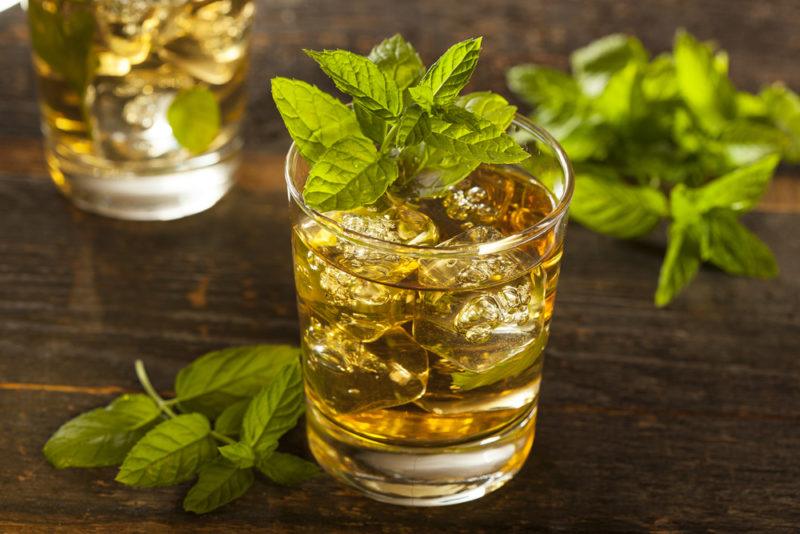 A mint julep is slightly complicated to make, as you first need to muddle mint leaves with simple syrup and soda water. Once you have done so, you transfer the mixture to a highball glass.
The glass is then almost wholly filled with crushed ice. Four parts of bourbon whiskey are then added. Unlike most cocktails, the drink is left as is – don't stir it.
Because of the various creation steps, some people make mint juleps ahead of time and store them in the freezer. Doing so could be perfect for a party, rather than trying to make the cocktails while people are waiting.
Jalisco Maid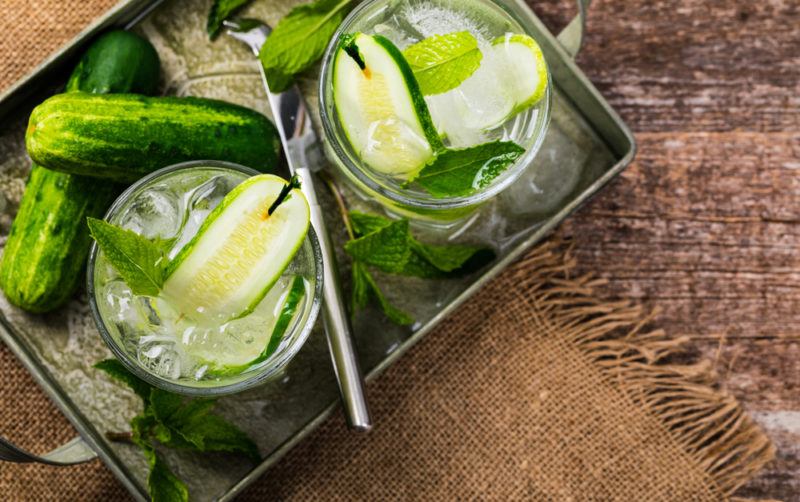 This tequila cocktail relies on cucumber, mint, and lime juice as key flavors, all of which are ideal in the summertime. The cocktail does take a little effort to make, as you first need to muddle the ingredients together, then shake with ice cubes and strain into a glass.
Even so, complex cocktails tend to be worth the effort. The muddling process is especially important. This highlights the essential flavors of the mint, making the drink taste much better than if you just used mint leaves as a garnish.
Blue Lagoon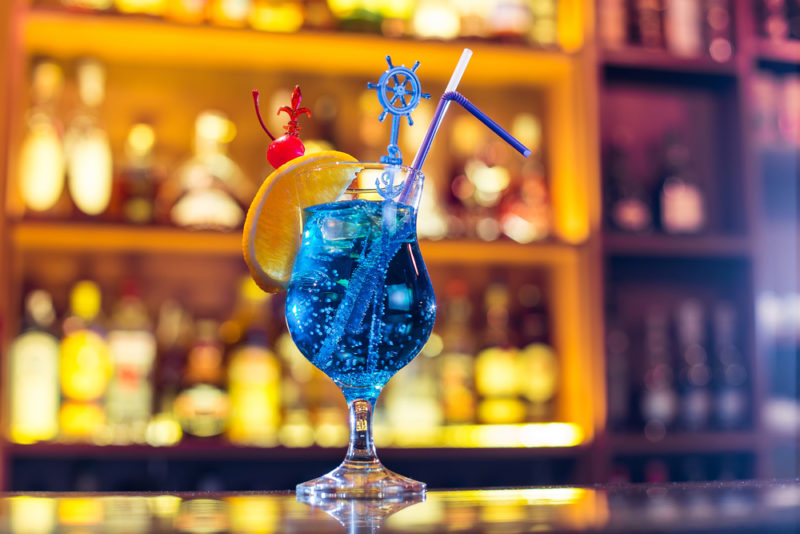 The vivid blue of this cocktail isn't the only reason that it is ideal as a summer treat. It also happens to be a very refreshing choice, as lemonade is one of the main ingredients.
The lemonade provides some of the cocktail's flavor, while the rest comes from the curacao, which is also responsible for the blue coloring. However, the appearance of the cocktail can be deceptive, as it ends up with an orange flavor.
Now, this cocktail might be called girly because of the bright blue color, but it is still delicious either way.
Aperol Spitz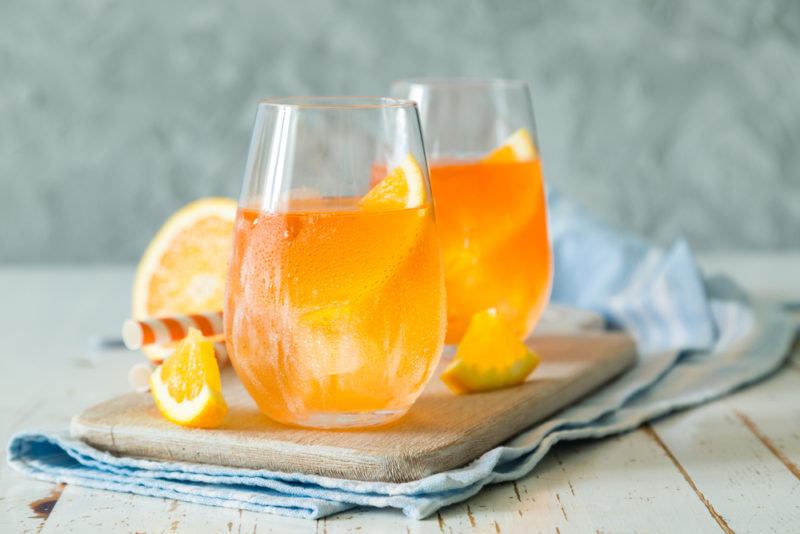 An Aperol spitz is light and refreshing, without being too sweet. As the name suggests, Aperol is a key ingredient in the cocktail prosecco is used too, along with club soda.
In case you haven't heard of it before, Aperol is an orange aperitif. It's hard to miss and has distinctive flavors, so other ingredients just won't have the same effect.
Thankfully, you do have more flexibility with the prosecco. The most important thing is to find a dry prosecco, as this stops the drink from ending up too sweet. Prosecco is often inexpensive, but you can choose another type of dry sparkling white wine if you would prefer.
Sangria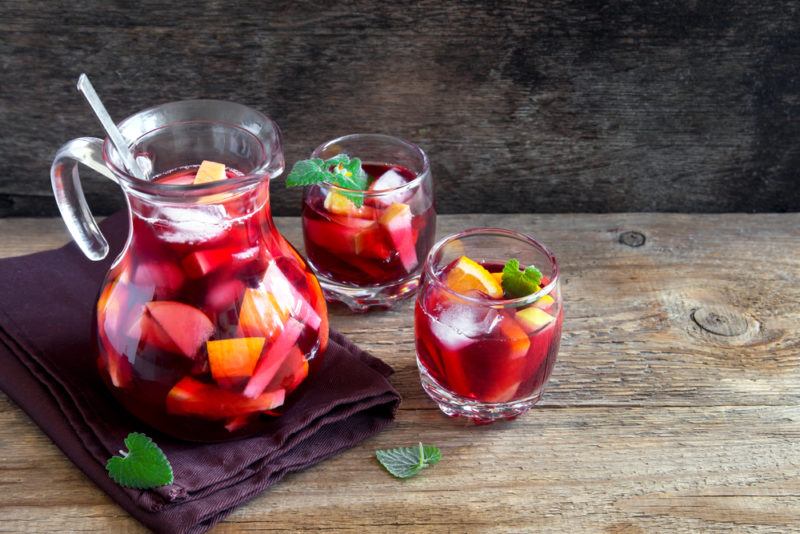 A sangria is a refreshing and fruity summertime punch that uses red wine, orange juice, and sparkling water as the main ingredients. It is generally served with chopped fruit in the pitcher and glass, creating a drink that looks as good as it tastes.
Many versions of sangria will add other ingredients too, such as brandy to increase the alcohol content or some type of sweetener to make the drink less intense.
You can make sangria using any type of red wine, but the flavors will vary depending on the wine that you choose. For example, a pinot noir tends to be lighter than a cabernet sauvignon, so the flavors of a cabernet sauvignon will be more prominent in the finished sangria.
Sex On The Beach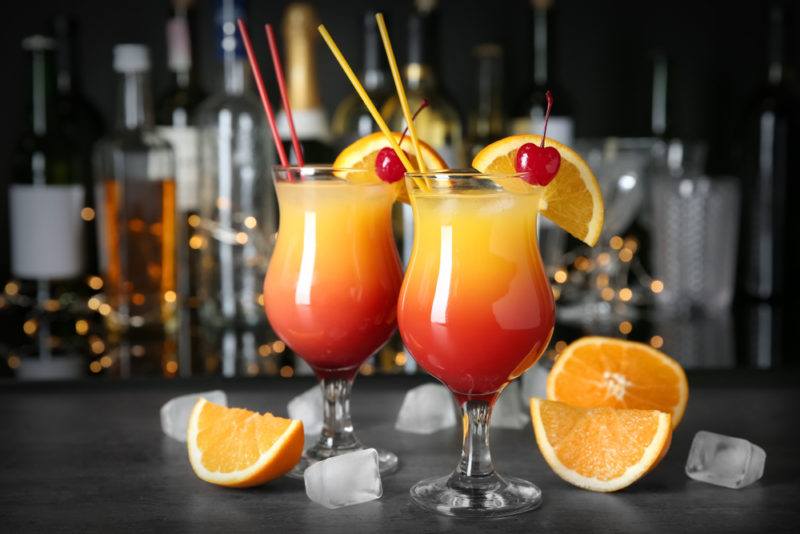 The name of this cocktail alone evokes images of summer – and makes this a fun cocktail to order.
The drink commonly relies on cranberry juice, peach schnapps, orange juice, and vodka. Interestingly, the official IBA version of the cocktail skips the cranberry juice altogether. That version uses orange juice, peach schnapps, vodka, and grenadine instead.
This type of variation in ingredients isn't unusual. You'll even find a variety of other versions out there. Other possible ingredients include pineapple juice, Midori melon liqueur, and Chambord (although not all at the same time).
On a side note, using grenadine instead of cranberry juice is a good choice in areas where cranberry juice isn't easy to find. While grenadine isn't made from cranberry juice, it does have a similar flavor and the same combination of tart and sweet.
Blue Hawaiian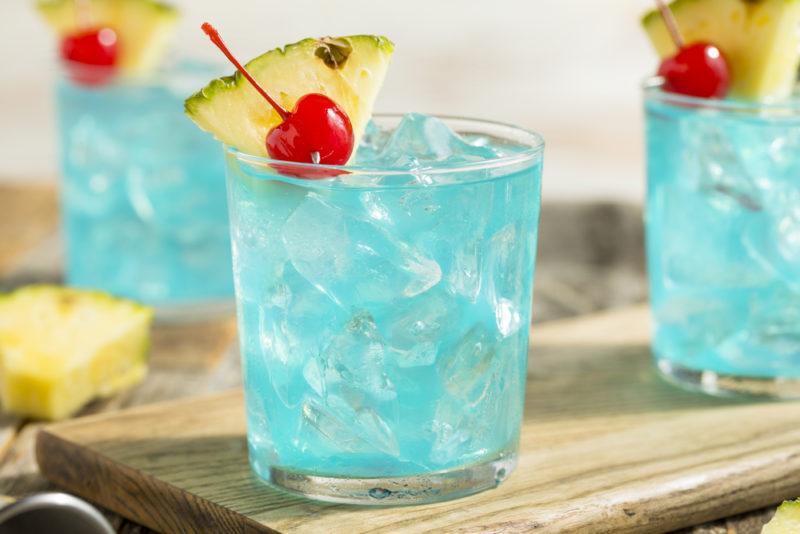 This tropical blue cocktail uses rum as the spirit of choice, along with blue curacao, cream of coconut, and pineapple juice. The cocktail is often served with crushed ice. Sometimes it is even blended with the ice to create a slushie-like texture.
Crushed ice isn't the only option. You'll sometimes find a blue Hawaiian served on the rocks instead. This approach helps to keep the drink cold, while reducing the amount of dilution, as crushed ice melts faster than ice cubes.
The color of the drink is influenced by the ingredients that you use and the ratios. Some combinations create a drink that is green rather than blue. Don't worry though. The cocktail tastes delicious either way.
Gin Fizz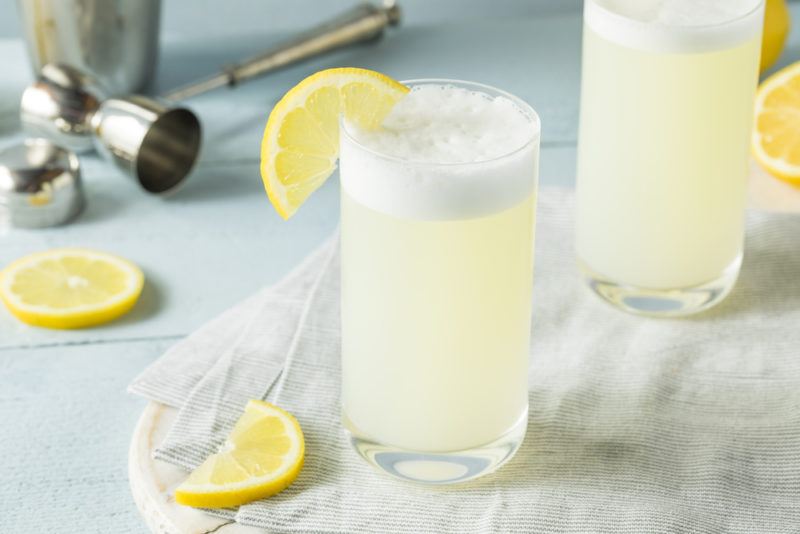 Fizz drinks are popular bar classics. They tend to have a fizzy citrus tone to them, with a slight sweetness that isn't too overbearing. A gin fizz is also less oppressive than many other gin cocktails, making it a simple treat to try and enjoy.
The ingredients are simple – gin, fresh lemon juice, simple syrup, and club soda. This combination provides a tart and sweet balance that many people love.
There is also an egg white included. Because of the egg white, the gin, simple syrup, egg white, and lemon juice are first dry shaken (which means shaken without ice) and then shaken over ice. The cocktail can then be strained into a glass, with the soda water used to top it up.
This process creates the famous fizz style of the cocktail. The egg white also influences the texture of the drink. If you made the cocktail without the egg white, as some people do, you would find that it isn't quite as good as the original.
Hurricane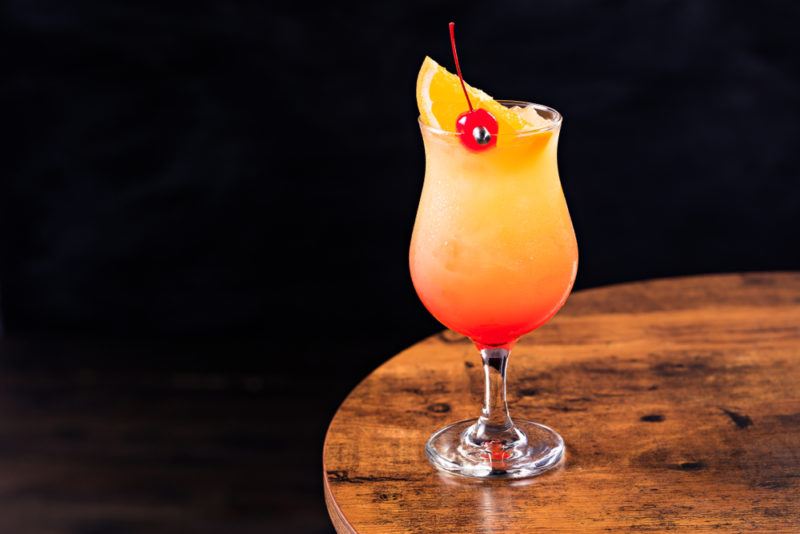 The bright colors and fruity flavors of the hurricane make it a fun summer drink, but this cocktail packs a punch too. In particular, the hurricane is traditionally made with a double hit of rum. Many versions use light and dark rum, while some use light rum and over-proofed rum.
Other key ingredients include orange juice, passionfruit juice or puree, simple syrup, and fresh lime juice. A little grenadine is sometimes added as well, although some recipes skip this.
Regardless of the specific recipe, the cocktail tends to be served over ice in a hurricane glass.
Frozen Prosecco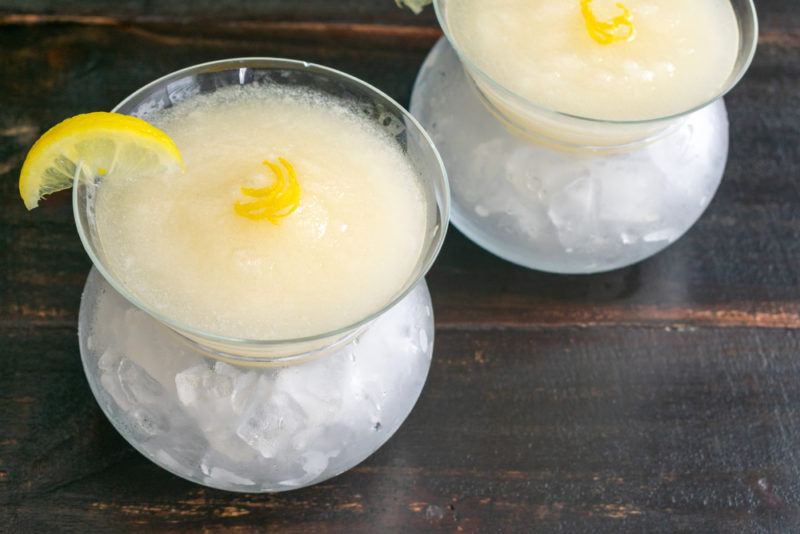 A frozen prosecco cocktail is a slushie-like drink that uses prosecco as the main ingredient. This is the only feature that the countless variations of the cocktail have in common.
For example, one version relies on prosecco, chopped strawberries, lime juice, and vodka, while another uses simple syrup, lemon zest, and prosecco. The latter variant of the cocktail ends up tasting mostly like a prosecco slushie, which could be ideal on a hot summer's day.
On the other hand, if you're hosting a party, you might prefer to use a fruitier version of the cocktail.
Fuzzy Navel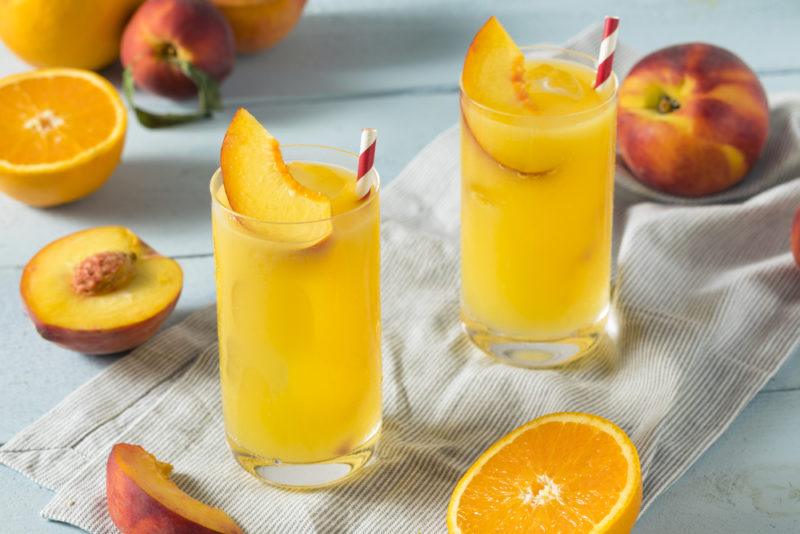 The fruity nature of a fuzzy navel is why the cocktail ends up on this list. It is also an incredibly simple cocktail to make, as there are only two ingredients – orange juice and peach schnapps. Think of it as a less intense screwdriver, one that has a slightly more complex flavor profile.
For that matter, you could add a shot of vodka to the mix too, if you wanted a higher alcohol content.
Still, the low alcohol content of a traditional fuzzy navel isn't a bad thing. If you're having a cocktail in the middle of the day, something light is often the best choice.
Pink Raspberry Mimosa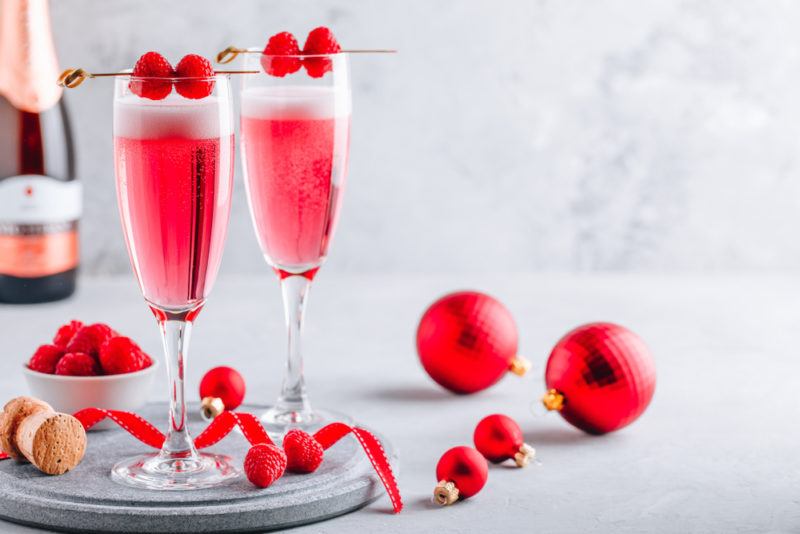 This cocktail is fun and refreshing, although calling it a mimosa is a little misleading. The cocktail still uses sparkling wine, but it swaps out the orange juice for raspberry lemonade instead.
If you don't have raspberry lemonade on hand, you can use regular lemonade and add the raspberry flavor in another way. Even just using fresh raspberries could work well enough. I've also seen recipes that use a little raspberry sorbet on the top.
Pomegranate Kombucha Mimosa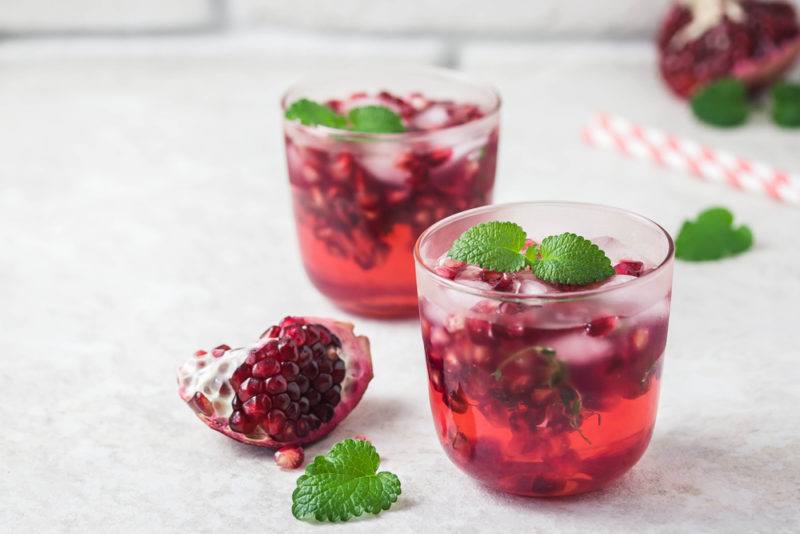 Here's another cocktail that borrows on the mimosa theme. This one uses kombucha as the mixer for the cocktail. Prosecco, champagne, or another sparkling white wine is used too, along with pomegranate seeds.
You can add a little pomegranate juice into the cocktail too, which would enhance its flavor. Some versions add a little orange juice as well. Just be sure not to add too much orange juice, or the juice will overwhelm the rest of the flavors.
Bramble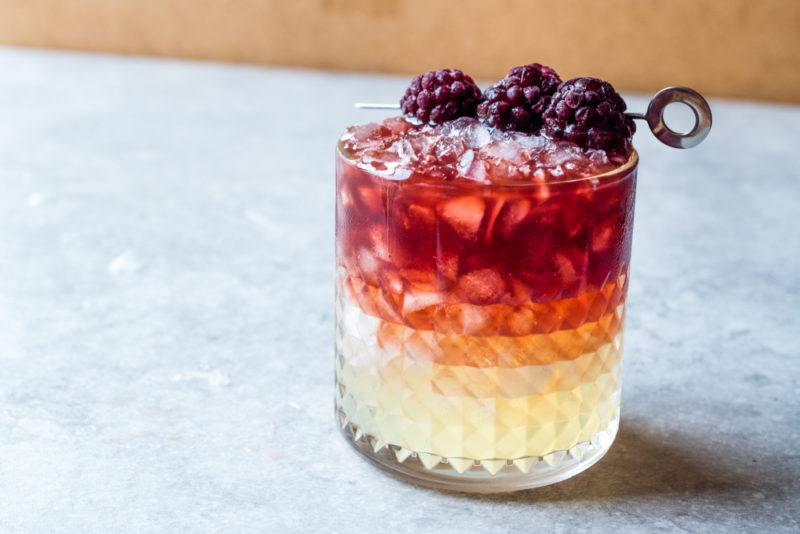 This cocktail is a classic that looks good and tastes even better. It uses gin as the leading type of alcohol, which is reason enough to call it a spring or summer cocktail.
Other ingredients include lemon juice, simple syrup, and blackberry liqueur. With these ingredients, you get a pleasantly sweet and tart combination of flavors.
The cocktail is usually served over ice, often with fresh berries included in the glass. While you can use whatever type of ice you like, crushed ice tends to best in the glass.
Elderflower Wine Cocktail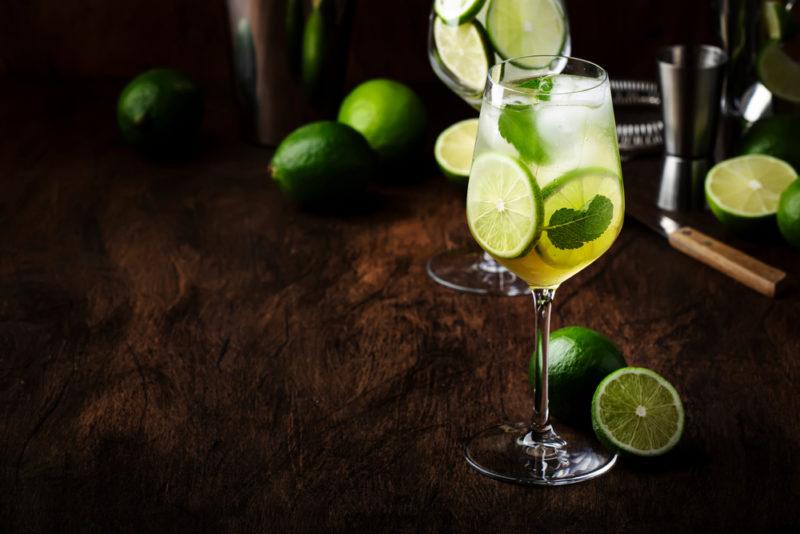 If you're looking for simple fresh flavors, an elderflower wine cocktail is hard to go past. The most basic version of this cocktail relies on white wine, sparkling water, and elderflower liqueur.
In other words, you're making a white wine spritzer and adding some elderflower liqueur to the mix. You could also consider elderflower syrup. This doesn't contain alcohol, but is sometimes easier to find than elderflower liqueur. The syrup still imparts an elderflower flavor, and you're getting plenty of alcohol from the wine.
Tequila Sunrise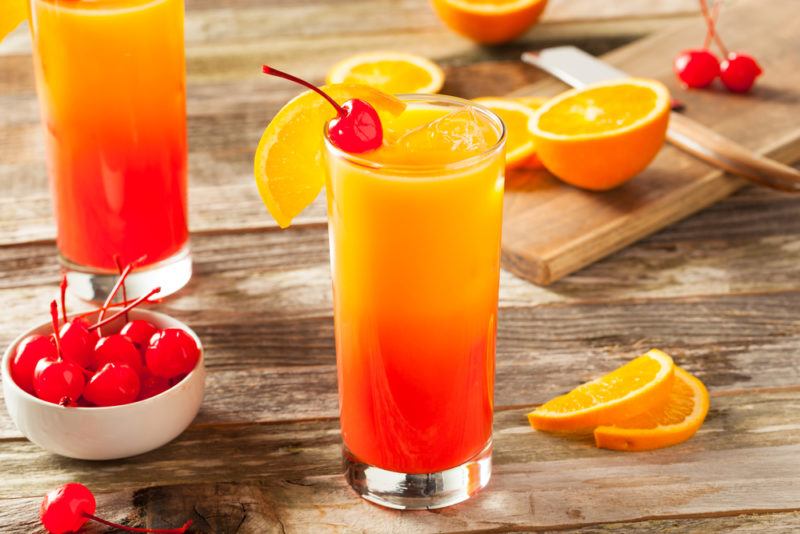 The classic tequila sunrise gets its name from the bright colors. Despite the fantastic appearance, the cocktail isn't challenging to make. It just involves three ingredients – tequila, orange juice, and grenadine.
The grenadine is what provides the bright red color at the bottom of the drink. It is also a key part of the flavor profile, creating a delicious drink. Most of the time, a tequila sunrise will be served unmixed, so that you get the layers of color. Some people serve the drink over ice, while others skip the ice.
While layered drinks can require some skill, the tequila sunrise is an exception to the rule. The layering occurs without any work, as the grenadine sinks to the bottom of the drink on its own. As long as you add the grenadine without stirring, you'll get the desired effect.
Watermelon Cocktail With Gin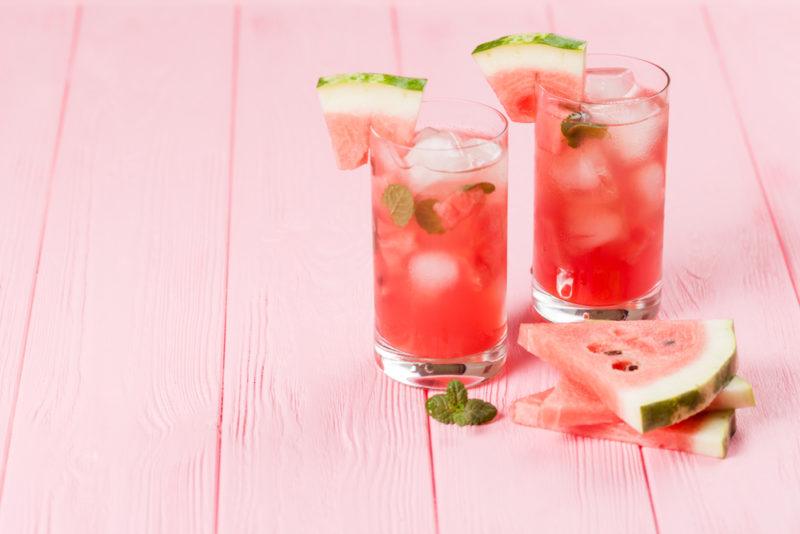 This isn't a traditional cocktail, but there are many fantastic recipes out there that use watermelon and gin. The flavors are both ideal for summer, creating a refreshing drink that is slightly sweet. Key ingredients often involve simple syrup, lemon or lime juice, mint leaves, and watermelon juice.
Watermelon juice isn't the only option. You could simply add watermelon chunks to the bottom of the glass and muddle these with a little salt.
Sea Breeze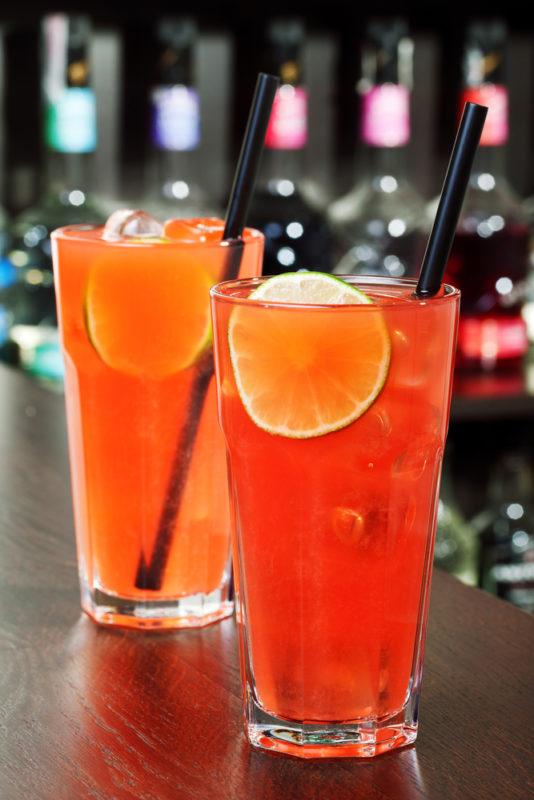 To finish this list off, we present the sea breeze. This cocktail uses vodka, along with cranberry juice, grapefruit juice, and lime juice. The combination creates a drink that isn't nearly as sweet as it first appears. The balance of sweet and tart means that it ends up being refreshing too.