There's a classic line that says all tequila is mezcal, but only some mezcal is tequila. In other words, tequila is a type of mezcal, much like bourbon is a type of whiskey. That statement is a useful starting point for our tequila vs mezcal discussion and sets the scene nicely.
Still, let's be honest, saying that tequila is a type of mezcal doesn't tell us much at all. It doesn't say anything about all the differences between the products or the areas where they're similar. And, there truly are plenty of differences and similarities.
So, let's take a deeper look. To do so, we need to think about differences in how tequila and mezcal are made, where they're made, their price, their alcohol content, and what they taste like.
As we go through these areas, remember that there are countless products in each category and plenty of differences between them. Think of it a bit like comparing bourbon to Scotch whisky. There are plenty of differences to highlight, but not all differences will apply to all products.
P.S. If you want to start experimenting, here are the best mezcal products for every budget. You could also try a tequila of the month club. A few of these even include mezcal in their rotation.
Tequila Vs Mezcal: Where It All Begins

Tequila and mezcal are both made from the agave plant. While the plant looks much like a cactus, it is actually a succulent instead.
Agave is also a long growing plant. It takes between 6 and 10 years to fully mature and needs to be carefully farmed. Because of this, agave is generally farmed by hand, often with farms and techniques being passed down from one generation to the next.
But, according to the legal definition, tequila must be made with the blue weber agave plant. The definition for mezcal is much broader and the spirit can use any of 40+ species of agave, including blue weber. This is why we say that tequila is simply a specialized type of mezcal.
The definition means that mezcal can actually rely on multiple types of agave. The species used and their ratio strongly influences the flavor profile of the finished spirit.
How Tequila And Mezcal Are Made
For both tequila and agave, the tough outer leaves of the agave must be stripped away to reveal the agave heart, also called the pina. This practice often relies on a sharp tool known as a coa or coa de jima.
The pina is then used to create tequila, through a cooking, crushing, and fermentation process.
The Production of Tequila
These days, tequila production often follows a fairly industrial process, where the pinas are first steamed in an industrial oven (brick ovens are sometimes used instead, depending on the company). This steaming process softens the agave and breaks down some of the complex carbs into simple sugars.
The next step involves crushing the agave. This releases the liquid that will form the base of the tequila. Then, after the liquid has been extracted, it is fermented and then distilled 2 to 3 times, into copper pots.
After distillation, the tequila may be bottled immediately or transferred to oak barrels for aging.
The use of industrial ovens and copper pots allows some companies to produce large amounts of tequila efficiently. Doing so is powerful for meeting the high demand for the tequila and creating consistent products.
The Production of Mezcal

Mezcal doesn't have the same level of industrialization as tequila and is often produced by smaller farms. Instead of using industrial ovens, the agave pinas for mezcal are cooked in underground pits.
These pits have a cone shape and are lined with wood, charcoal, and volcanic rock. The pinas are added to the pit, a fire is then ignited, and the whole thing is covered with dirt. Not surprisingly, this creates a very different flavor profile than you get with tequila.
The agave pinas are still crushed and the resulting liquid fermented, but this time the spirit is distilled into clay pots rather than copper ones.
Variation Between Companies
An important note must be made before we move on – there's a ton of variation between different producers.
For example, there are actually three legal categories of mezcal production, where each category allows for different types of equipment to be used. In some cases, mezcal is actually made using the same types of equipment as tequila, including autoclaves and continuous column still for distillation.
Similarly, while tequila is often created using modern approaches, some companies turn to more artisanal equipment and techniques instead.
Such variation leads to noticeable differences in character and flavor. This is partly why different tequila expressions can taste very different than each other. The same is true for mezcal. In fact, mezcal flavors can
Where Tequila and Mezcal Are Made
Tequila and mezcal aren't just defined by their ingredients and processes. There are other legal requirements that they must meet too, including where they are created.
Tequila is most commonly made in Jalisco, which is the region where the town of Tequila itself can be found. However, tequila can also be made in some parts of Tamaulipas, Nayarit, Guanajuato, and Michoacán.
In contrast, mezcal is most often produced in Oaxaca. Other potential regions include San Luís Potosí, Puebla, Guerrero, Guanajuato, Zacatecas, Tamaulipas, Durango, and Michoacán.
These patterns mean that the two spirits are generally created in different states. However, there are a few overlaps, like the regions of Guanajuato and Michoacán, which feature on both lists.
The legal location requirements also mean that tequila and mezcal can only ever be produced in Mexico. Even if the exact same ingredients and processes were used somewhere else, the resulting spirit wouldn't be considered tequila.
Tequila Vs Mezcal: Differences In Aging

Then there's aging, which is another point of difference. While tequila is aged more often than mezcal, both spirits can be aged and there are aging designations for each.
For tequila, the aging categories break down as follows:
Blanco or Silver: 0 to 2 months of aging
Reposado: 2 to 12 months of aging
Anejo: 1 to 3 years of aging
Extra Anejo: 3+ years of aging
Joven: A blended tequila, often relying on mostly blanco tequila, plus some aged tequila
The categories are similar for mezcal, but there are some differences.
Joven: 0 to 2 months of aging
Reposado: 2 to 12 months of aging
Anejo: 1+ years of aging
Madurado en Vidrio: This term refers to mezcal that has been rested in glass for 12 months or more. This is still a form of aging, but the use of glass instead of an oak barrel creates a mellower and more agave-forward version of mezcal.
Mezcal has unique flavor characteristics, so many people feel that it doesn't need to be aged at all. This may be why the aging times for mezcal tend to be shorter than for tequila and why there are so many unaged versions available.
The Tequila Worm
There is one other difference to mention briefly, the tequila worm. Tequila worms aren't included often these days. But, if you see one, it's a sure sign that you're not drinking tequila. The worms are only ever included in mezcal.
Tequila Vs Mezcal: Flavor Differences
Mezcal is famous for having a distinct smoky flavor, one that's stronger than any smokiness found in tequila. Mezcal can also be described in other ways, such as having earthy and caramelized flavors.
Remember how we said that the pinas for mezcal are steamed in cone-shaped pits that are lined with wood and charcoal? That process doesn't happen with tequila and is one of the reasons that mezcal tastes so different.
However, mezcal can be made from more than 40 different types of agave. This creates an almost endless amount of variation, especially when you factor in differences in aging and production approach as well.
Because of this, the profile of mezcal can vary dramatically. For example, the smokiness is stronger in some products, while others have surprisingly strong floral and fruity notes.
This variation means you shouldn't just try a single type of tequila and a single type of mezcal. It's best to try at least a few of each spirit. Doing so provides a much better understanding of the two spirits.
Is Tequila Or Mezcal Higher In Alcohol?

Interestingly, mezcal tends to be higher in alcohol. You're generally looking at around 40% alcohol by volume (ABV) for tequila, which is about normal for most spirits. Mezcal typically comes it at around 55% ABV instead.
Of course, there's still variation. You'll sometimes find higher ABV tequila, all the way up to 55%. Conversely, some mezcal products may have a lower ABV.
Is Mezcal More Expensive Than Tequila?
There's a huge amount of price variation for both tequila and mezcal. Still, tequila does tend to be slightly cheaper, especially if you're looking at the lower end of the selection (although, there are some seriously expensive products out there).
This difference is to be expected, as tequila production is more industrialized than mezcal production. This allows companies to make tequila in larger batches and at a lower price.
When buying tequila or mezcal, it's best to avoid the cheapest products, as these tend to be very low quality. A mid range bottle is often a wiser choice (and is less likely to leave you with a splitting headache).
Why Is Tequila More Popular?
Mezcal is starting to become popular in America, but it was almost unheard of until recently. Before that, tequila was the agave spirit of choice, partly because tequila was familiar, while mezcal was not.
The tequila industry in Mexico has also moved towards modern processes and techniques. Doing so has helped tequila producers to remain competitive. In contrast, mezcal is still often produced on small farms using traditional methods.
Notably, the difference in popularity is linked to history and production processes, not to quality. Mezcal certainly isn't inferior to tequila and many people love the spirit and all it has to offer.
The smokiness of mezcal could also be a factor, although smokiness doesn't stop people from enjoying scotch.
Drinking The Spirits
So, how do you drink tequila and mezcal?
Both spirits can be consumed as a shot or sipped slowly. Sipping the spirit is a fantastic way to experience all the flavor nuances. These get lost if you drink the spirit as a shot instead.
However, you can also experiment with cocktails. The right cocktail will highlight the flavors of your tequila or mezcal without masking them entirely. The sections below showcase a few of our favorites for each type.
For more ideas, check out our lists of tequila cocktails and mezcal cocktails.
Classic Tequila Cocktails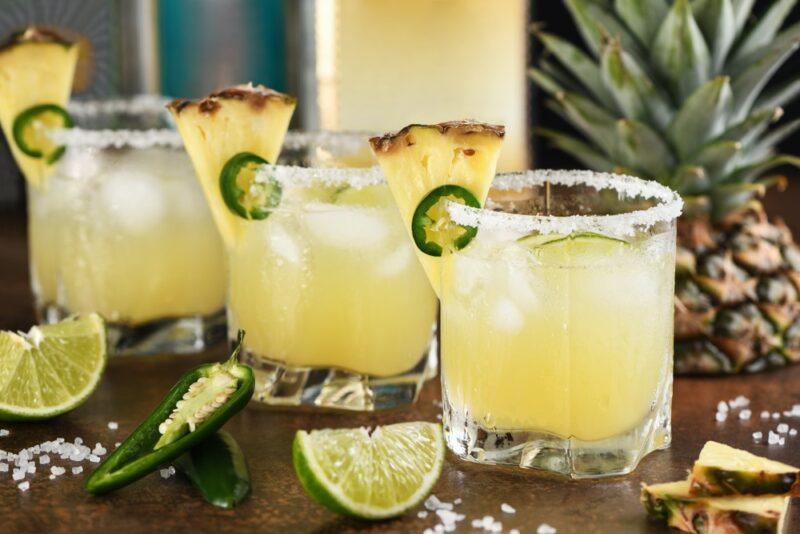 The margarita and tequila sunrise are two of the most classic tequila cocktails. The margarita is particularly appealing, as it can be made in plenty of ways. I've seen strawberry margaritas, passionfruit margaritas, watermelon margaritas, and countless others. You could even create your own unique version.
There's the paloma too, which is perfect if you want something simple. The cocktail just relies on grapefruit soda, lime, and tequila. It can also be made with grapefruit juice and soda water instead of grapefruit soda.
The tequila tonic is a nice and simple drink too. This one just relies on tequila and tonic water. You can easily experiment with the ratio of tequila and tonic, depending on how strong you want the cocktail.
Delicious Mezcal Cocktails
If you're new to mezcal, it's tempting to simply take a regular tequila cocktail and use mezcal rather than tequila. But, this often works poorly, as mezcal has a very different flavor profile than tequila.
It's often better to look for cocktails that were designed for mezcal, plus those that have been tested with the spirit.
One example is the Oaxaca Old Fashioned. This is a riff on the traditional old fashioned cocktail and uses a 3:1 ratio of tequila and mezcal instead of whiskey. The cocktail also includes agave nectar and a few dashes of Angostura bitters.
There's also a Mexican mule. This simple cocktail relies on ginger beer and mezcal, plus a little lime juice. The cocktail is much better if you can find spicy ginger beer, rather than sweet ginger beer, as this perfectly complements the flavors of the mezcal.
Finally, there's a modern cocktail called Bitters & Smoke. It's another one that relies on both tequila and mezcal. Cynar and Fernet-Branca feature as well. These ingredients add to the flavor profile, giving you a fantastic drink.