Champagne and prosecco often top the list when we talk about holiday drinks, along with classic party cocktails, like mulled wine, sangria, and fruit punch. Tequila often doesn't get a look in. That's a shame, as there's a surprising number of delicious holiday drinks with tequila.
Because tequila has such a distinct flavor, many of these cocktails are bright and vibrant, including classics like the margarita. Don't worry though, there are some unexpected drinks in the too.
Most of these cocktails will work well with any type of tequila or perhaps even some mezcal. The flavor profile can be quite different depending on the product that you choose, but that's not a bad thing. Why not experiment a little and find out which bottles of tequila go best with your favorite cocktails?
Holiday Drinks Made With Tequila
Margarita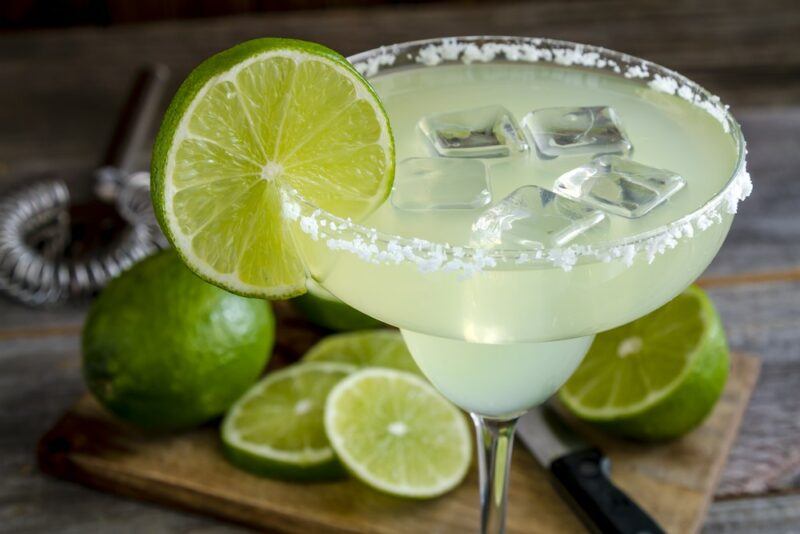 The margarita is a well-loved classic, one that's still a hit at any party. It's also a fantastic choice, simply because it is so recognizable and is easy to make.
There are only three main ingredients to worry about – tequila, triple sec, and lime juice. With so few ingredients, this is an easy drink to prepare for a crowd.
Margaritas are traditionally served with salt around the rim. This provides a fantastic contrast against the flavors of your cocktail, but the salt isn't essential. You might skip it if you have many guests and don't feel going to all that work.
Besides, the salt isn't universally loved. Some people find that it's a bit too much.
Of course, with just three ingredients, quality makes a huge difference. While you don't need top shelf tequila to make this drink pop, some bottles are certainly better than others.
Here's a little known tip – try swapping your triple sec out for Cointreau. Cointreau is more expensive, higher quality, and has a higher alcohol content. Those features all make it ideal for giving you a balanced cocktail.
Apple Cider Margarita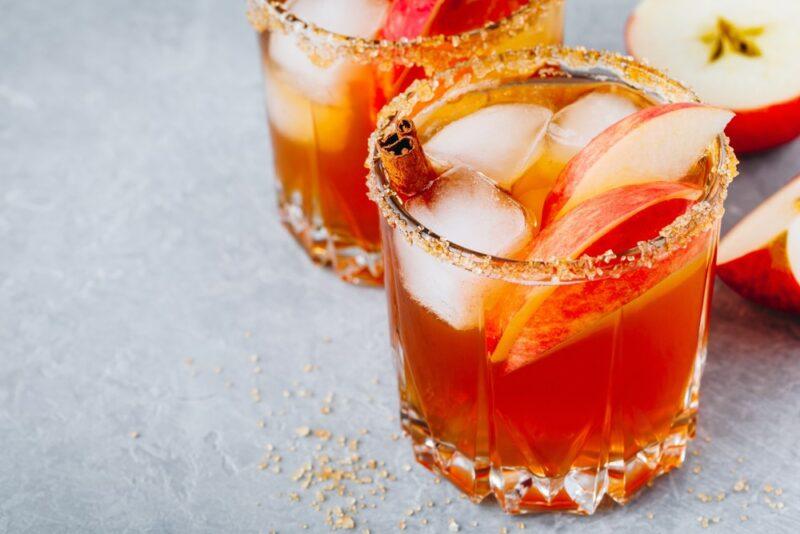 The three-ingredient combination of a margarita makes it easy to tweak the cocktail and create entirely new drinks – like this apple cider variation. The cocktail is simple. You're still including tequila, triple sec, and lime juice, but you're also adding apple cider and a little maple syrup as well.
The apple cider and maple syrup combination gives you a sweeter drink that has all the flavors of fall. You can make the cocktail even more interesting by making a cinnamon sugar rim.
Pink Summer Shandy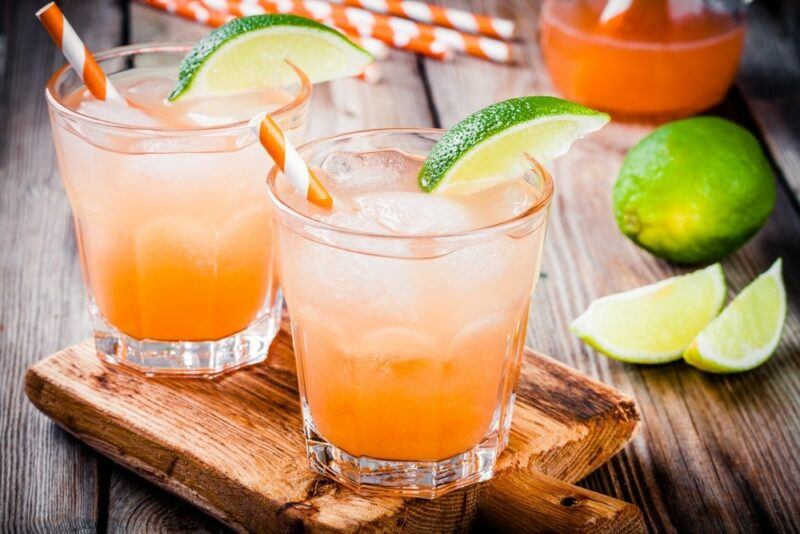 Here's a delicious and refreshing layered cocktail, from the food blog The Cookie Rookie. The drink is a simple one, as you just need three ingredients – tequila, beer, and pink lemonade. A light beer or a fruity beer are the best choices for complementing the other ingredients.
There's no need to worry about fancy pouring skills with this cocktail. Simply mix everything together. The layering happens naturally as the ingredients settle.
Tequila And Tonic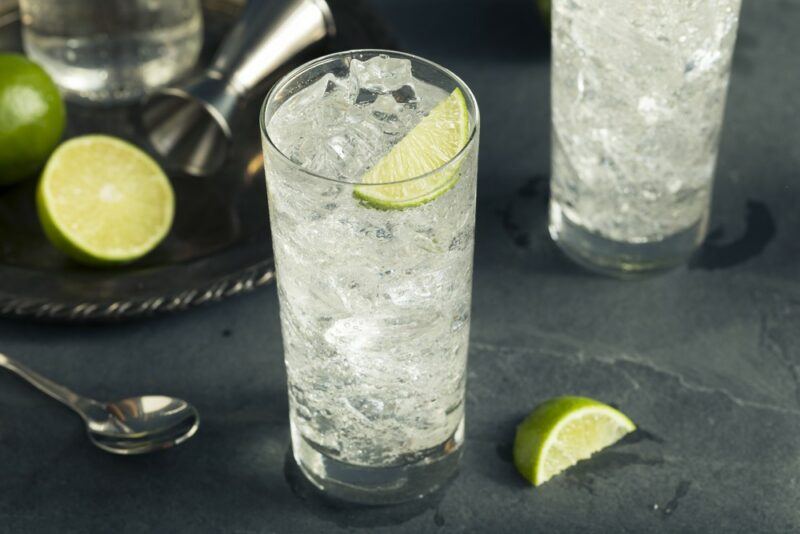 A gin and tonic is one of the most classic two-ingredient cocktails out there. It's a delicious drink too, as the sharp flavor of the tonic water perfectly complements the herbal tones in the gin. So, what about tequila and tonic?
The combination works surprisingly well too. However, the type of tequila you choose will make a huge difference. Look for a complex tequila, one that has some earthy flavors.
You could even swap the tequila out for mezcal. But, if you do so, keep an eye on the amount of mezcal that you use. Because mezcal often has a stronger flavor, you might need to use less of the spirit.
Long Island Iced Tea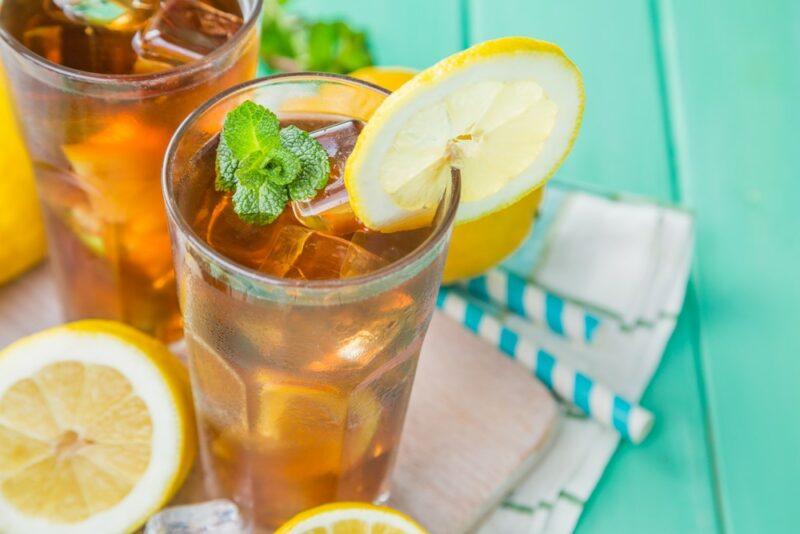 This cocktail is a fantastic one to order at a bar during the holidays, as it is a strong drink, giving you plenty of bang for your buck. It's trickier to make at home, as you need four different spirits, along with triple sec, lemon juice, simple syrup, and cola.
In all honesty, the Long Island iced tea sounds like it should be horrible. A lot is going on in the cocktail and the ingredients all have quite distinct flavors. Yet somehow, the whole mess works a treat.
Champagne Margarita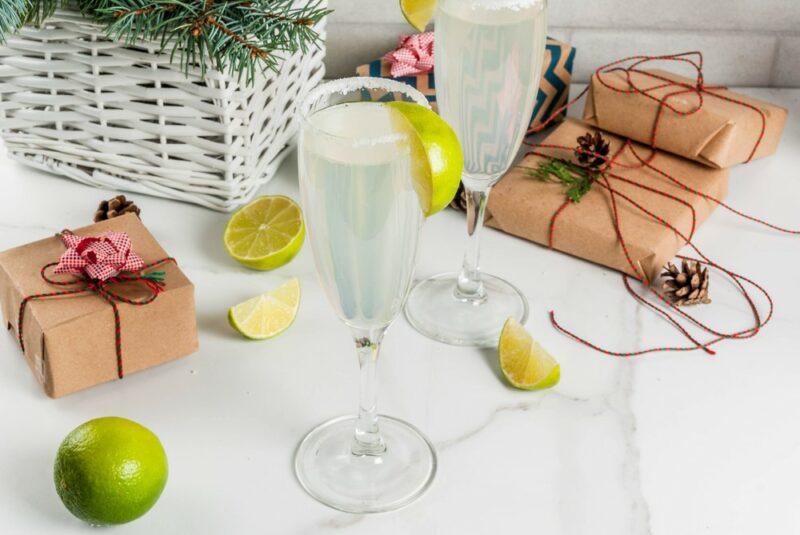 This cocktail is a fantastic twist on the classic margarita. It is exactly what the name suggests, so you're using the ingredients for a margarita, along with a bottle of champagne. The bubbles from the champagne help to lift the cocktail up, making it more refreshing.
Besides, champagne-based drinks always seem like the perfect choice for celebrations.
There's no need to stress if you don't have champagne on hand. This cocktail will work well with other types of sparkling white wine too.
Christmas Margarita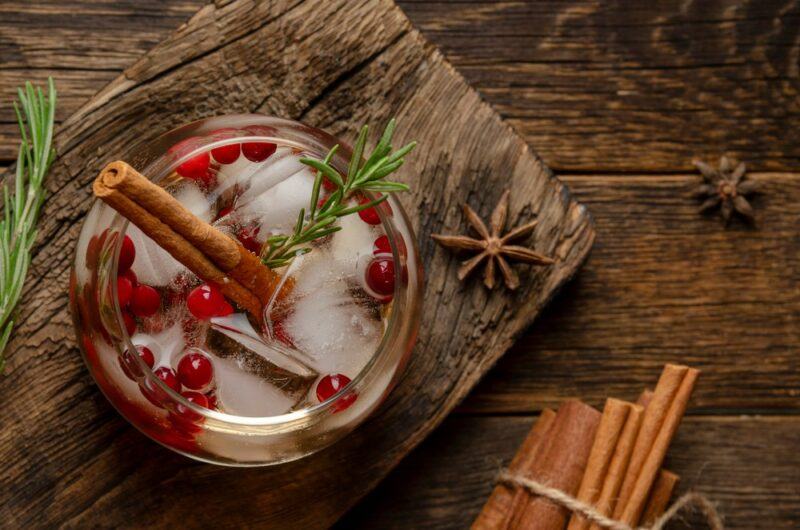 Speaking of margarita variations, this cocktail is a fun option to try out. It relies on the classic margarita ingredients, along with white cranberry juice. The cranberry juice gives the drink a season-appropriate flavor and combines surprisingly well with the tequila.
You could easily use regular cranberry juice instead. Doing so would change the color, but the flavor should be much the same either way. You might even prefer the cocktail with red juice.
To make it even more seasonal, try using some fresh cranberries as a garnish.
White Christmas Margarita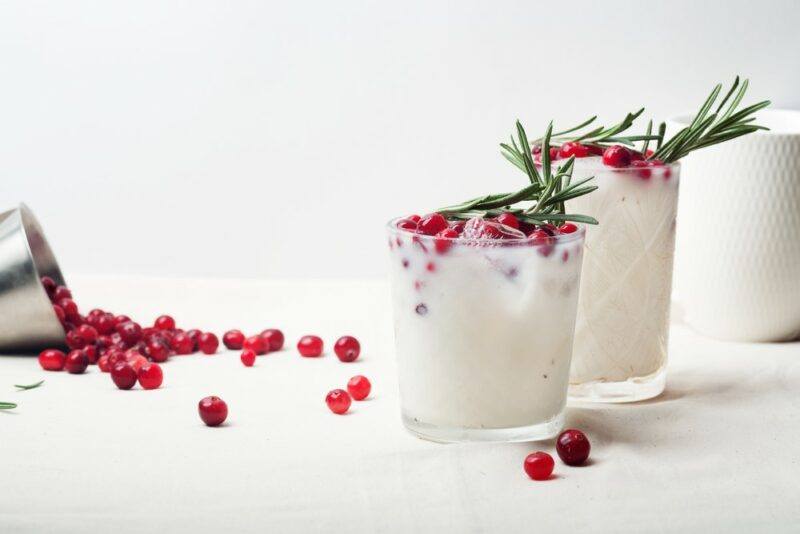 Here's another twist to the margarita theme. Rather than using cranberry juice, this version uses unsweetened coconut milk instead. Because of the milk's texture, you'll need to blend the ingredients together before serving the cocktail. While coconut milk might not be a classic holiday flavor, the color of the drink is exactly right for the season.
Tequila Sunrise Mimosas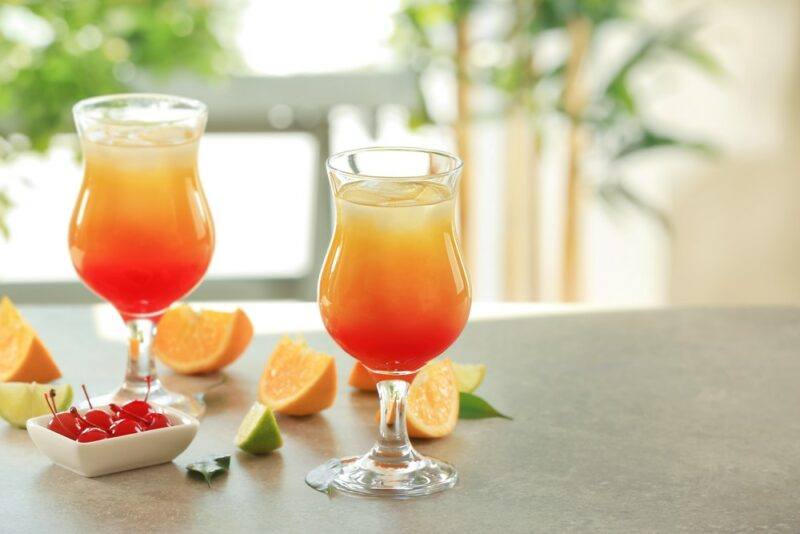 Tequila sunrises are a classic choice if you're away on holiday at a beach or somewhere similar, but they can get a little boring after a while. A tequila sunrise mimosa is an interesting variation.
This drink still gives you the layered effect that you get with a tequila sunrise, while the bubbles make the whole thing that much more interesting.
Besides, some people find that tequila sunrises are a bit too sweet. Using dry champagne should help to knock some of that sweetness off, creating a more refreshing drink.
Tequini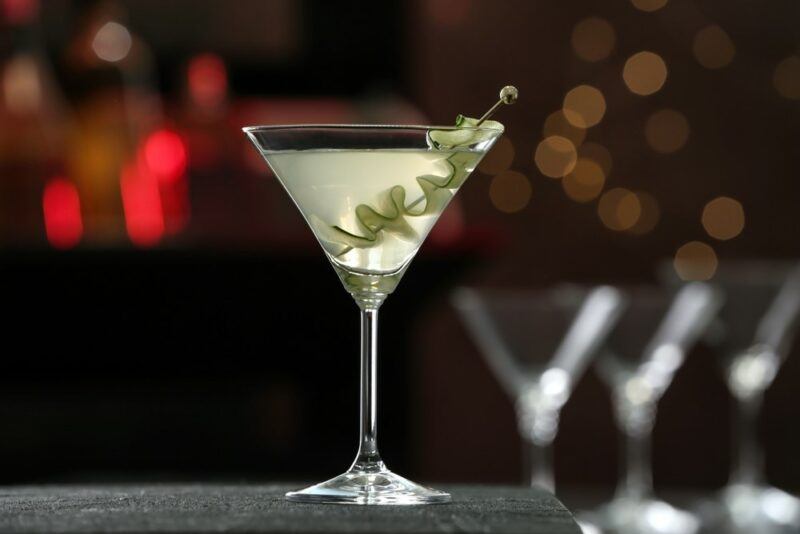 Here's a fast cocktail for anyone that likes things simple. A tequini is mostly just a martini that's made with tequila, rather than gin or vodka. Just like a regular martini, you can change the ratio of sprit to vermouth until you get the perfect balance.
There is, however, one difference. A tequini tastes much better if you add a dash of aromatic bitters too. The bitters help to balance the other flavors, giving you a more delicious drink.
And, just like a regular martini, there's plenty of room for variation. This recipe from Beautiful Booze, for example, uses hibiscus simple syrup to change the color and flavor of the cocktail.
Rosita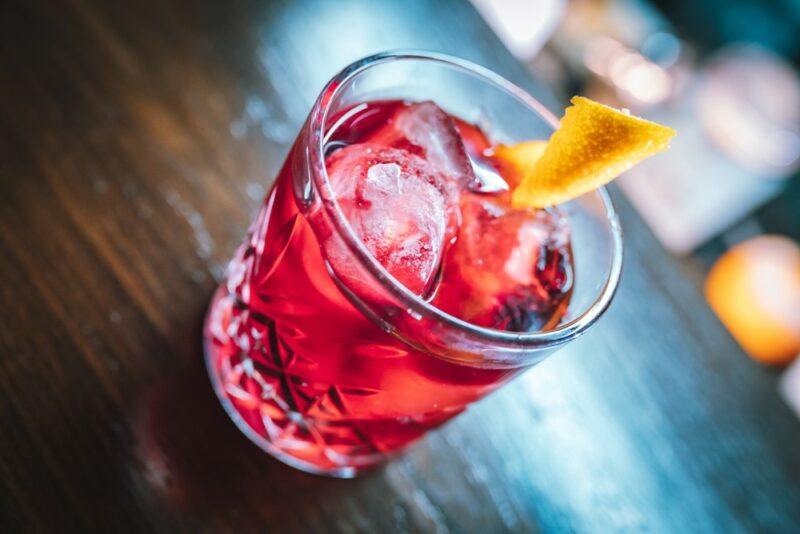 The Rosita is a surprisingly complex cocktail. It uses five ingredients, including reposado tequila, Campari, Angostura bitters, and two types of vermouth. The drink ends up being a little like a negroni, except more complex.
Using two types of vermouth might seem like overkill, but the interaction between these two is what makes the cocktail so special.
This cocktail could be the ideal choice for impressing guests at a small party. It mightn't work so well at a large event though, simply because you have so many ingredients to work with.
White Christmas Tequila Sour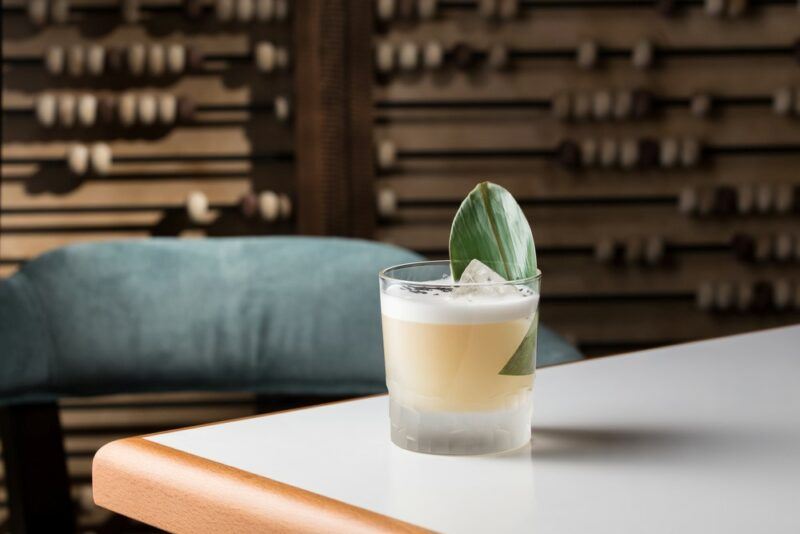 While the sour family of cocktails is extensive, tequila sours often don't get the attention that they deserve. So, rather than serving whiskey sours at your next event, why not make a tequila sour instead?
After all, we all know that tequila pairs well with citrus flavors. A tequila sour is the perfect way to take advantage of that flavor combination.
The classic recipe just requires simple syrup, lemon or lime juice, tequila, and an egg white. The egg white is optional, but it gives the cocktail an amazing foam that you won't get otherwise and doesn't change the flavor much at all.
You could also make your simple syrup from agave nectar rather than sugar. Doing so adds to the agave flavor of the cocktail, which is a perfect trick for tequila lovers.
To make the cocktail even more perfect, try using blanco tequila. Because this type of tequila is clear, it gives your cocktail a white Christmas feel. Add some cranberries for a garnish and you have something truly special.
Blackberry Tequila Smash

A tequila smash is a fun modern cocktail that relies on lemon juice, lime juice, simple syrup, tequila, and plenty of crushed ice (you can use ice cubes if crushed ice isn't an option). The interplay between lemon juice and lime juice is fantastic, but don't worry if you only have one of these two. The drink will still be delicious.
To make the drink more refreshing, try topping the glass up with some type of soda. Lemon lime soda works well here or even just soda water.
A blackberry tequila smash simply adds fresh berries into the mix. You muddle these first, so that their juice is released into the drink. Try adding some mint leaves too. These complement the other flavors perfectly.
Orange Margarita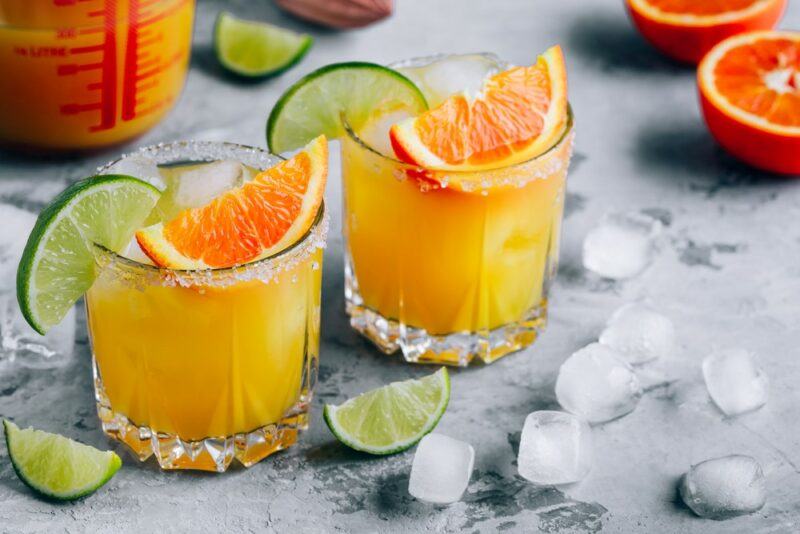 Want to change up the classic margarita? An orange margarita is the perfect way to do this. The main difference is that you're adding a little orange juice into the cocktail, along with the rest of the ingredients.
Doing so gives the cocktail some extra sweetness, while also changing the flavor profile somewhat.
You could still use salt on the rim of the cocktail if you really wanted to, but a sugar rim is a better match for the flavors of the drink.
To change things up even more, why not try making a frozen version of the drink? This would be perfect in the summer months and isn't difficult to do either. You just need to combine all the ingredients in a blender with ice and mix until you get the right consistency.
Cottontail Margaritas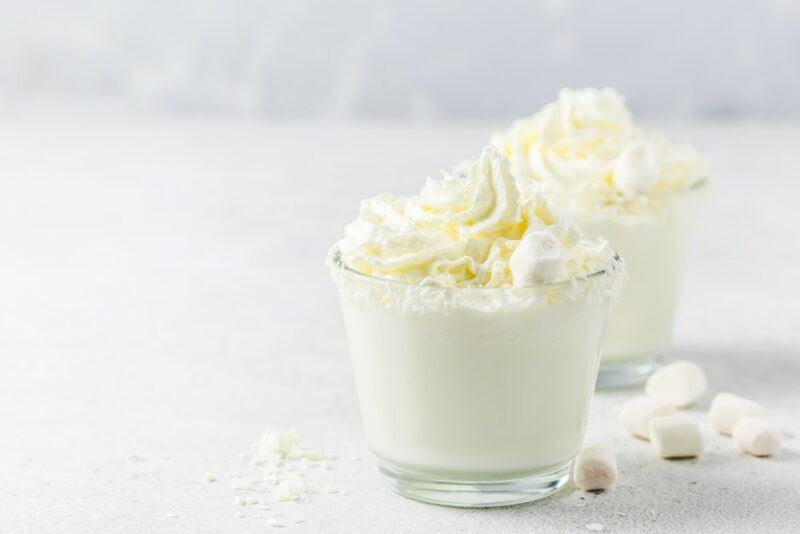 This cocktail recipe comes from Delish and was designed with the Easter holidays in mind. The cocktail relies on lime juice, triple sec, and tequila like a regular margarita, but the additions make the drink truly shine.
For one thing, the cocktail uses coconut milk. This doesn't just give the drink a white color, but also provides a creaminess that you don't get with most other margarita recipes. Then there's the pineapple juice. Combining pineapple juice with coconut milk gives you a tropical flavor.
In the end, you get a cocktail that's a little like a pina colada and is different enough to stand well on its own.
Paloma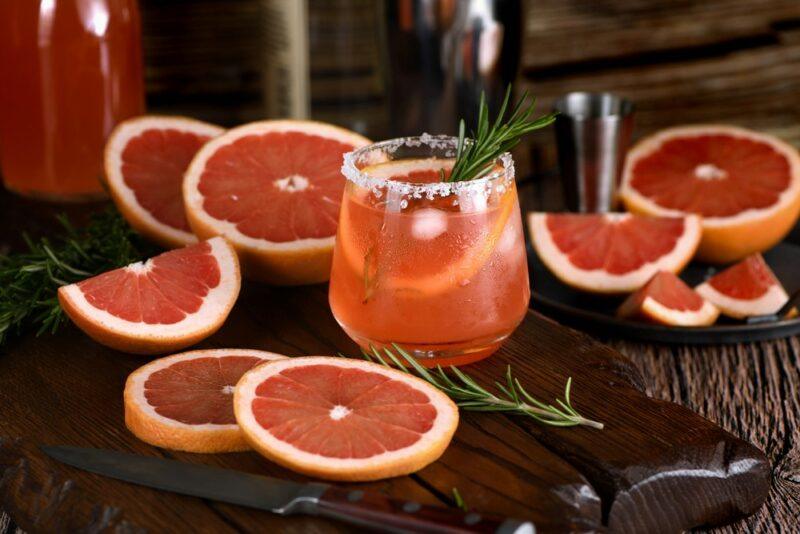 The paloma stands out because it is such a simple cocktail. The official version is made using grapefruit soda, tequila, and lime juice. That's it – three ingredients.
The combination of flavors is fantastic, giving you a refreshing cocktail that isn't sweet at all. This is a welcome change because most cocktails these days are far too sweet.
The trickiest thing is simply finding the grapefruit soda. Mexican food stores can be a good place to look and some grocery stores may stock this flavor of soda too.
Thankfully, you can get around the problem by using grapefruit juice and soda water instead of the grapefruit soda. While this version of the cocktail does taste a little different, you may prefer it, especially if you are using fresh grapefruit juice.
Matador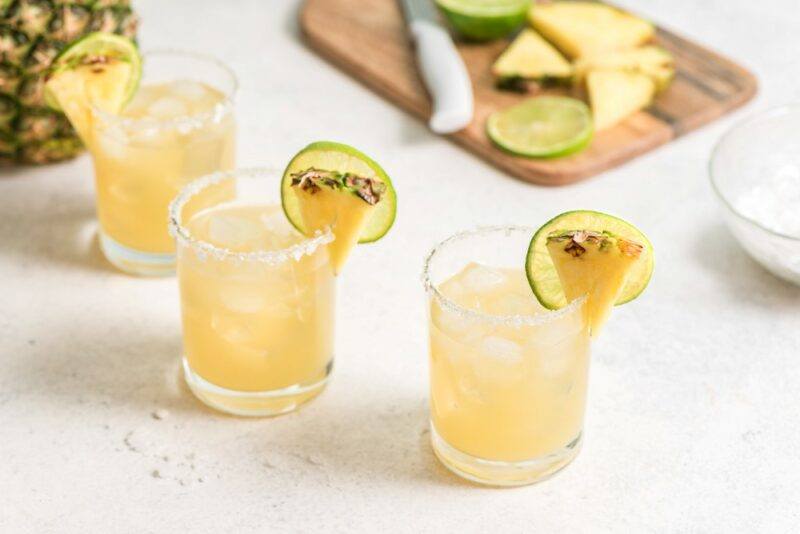 If you want something vibrant that's easy to make, a matador cocktail could do just the trick. The cocktail relies on pineapple juice, tequila, lime juice, and sometimes simple syrup for extra sweetness.
There is, of course, plenty of room for variation. Some versions of the cocktail use Angostura bitters as well, which adds some extra flavor and takes the drink in a slightly different direction.
El Diablo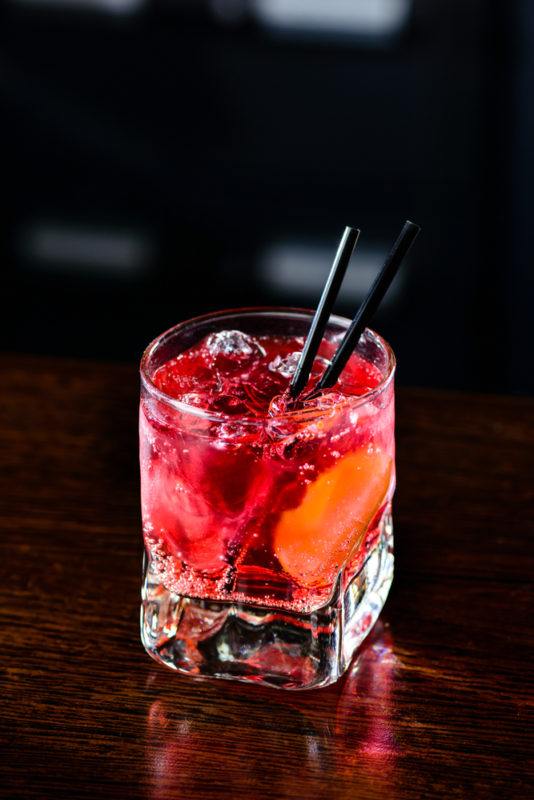 The el diablo cocktail uses an unusual mix of ingredients, which is partly what makes it so interesting. Plus, the cocktail has a fun name, a refreshing flavor, and is brightly colored. What more could you want for the holidays?
Ginger beer, or sometimes ginger ale, is the main ingredient, with tequila, crème de cassis, and lime juice also featuring. Crème de cassis is a blackcurrant liqueur that isn't used in a large number of cocktails. However, it's essential here, as the crème de cassis defines the color and flavor of your el diablo.