We've been spending some time talking about drinks for the holidays, including ones made using tequila, prosecco, and rum. Today, we're going to talk about an even more important topic – holiday whiskey drinks. After all, whiskey is a beloved spirit for many.
The popularity of whiskey isn't surprising either. The dark spirit has a complexity to it that works well for sipping and also in cocktails. Plus, there's so much variation between different types of whiskey (including how the word is spelled). Scotch whisky, Irish whiskey, Canadian whisky, bourbon, and rye whiskey are just some of the types out there, and each category has plenty of varied whiskeys.
It's not surprising then that there are many types of whiskey cocktails. The ones in this list all fit well into the holiday theme. Some have colors or flavors that go perfectly with the season, while others are warming instead. Finally, some are simply too interesting to ignore. Why not check the selection out and find a new cocktail or two to try out?
Holiday Drinks Made With Whiskey
The Golden Dram
Seelbach
Hot Toddy
Old Fashioned
Eggnog
Whiskey Sour
Irish Coffee
Apple Cider Old Fashioned
Gold Rush
Manhattan
Whiskey Flip
Spiked Pumpkin Spice Latte
Chai Whiskey Latte
Eggnog Latte
Spiced Bourbon Milk Punch
The Golden Dram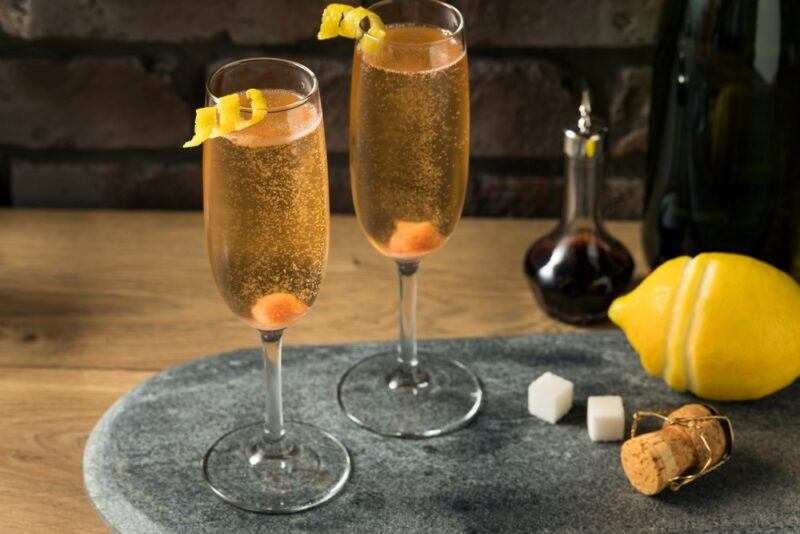 Here's a fun cocktail that combines whiskey with sparkling wine. A high-quality bottle of Scotch whisky and prosecco wine are excellent choices when making the cocktail, but you can play around with other whiskey and sparkling wine combinations too.
The cocktail itself is a variation of the classic champagne cocktail.
So, as with that cocktail, you start by soaking a sugar cube in a few dashes of Angostura bitters. You then add your whiskey. An ounce or ¾ of an ounce of the whiskey should do the trick. Stir the ingredients lightly, then fill the glass up with your sparkling wine.
The finished cocktail has a lot going for it. Not only does it taste good, but it also looks amazing in the glass (as it is a slight golden color and the sugar cube dissolves as you drink). This is also an unusual cocktail, making it just what you need for holidays and celebrations.
Seelbach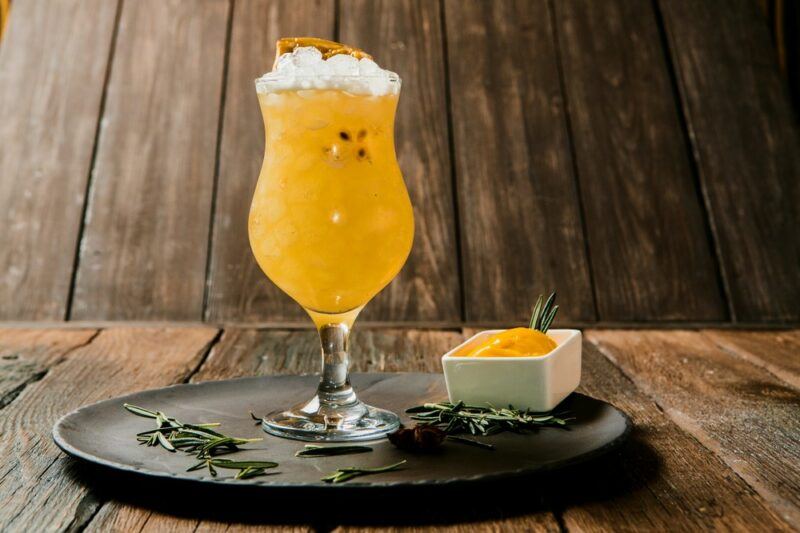 The seelbach is another cocktail that combines whiskey with champagne, giving you a bubbly drink that's fit for any special occasion. However, this version is more complex than most, as you need bourbon, Cointreau, champagne, and two types of bitters (Angostura and Peychaud's).
While using two types of bitters might feel like overkill, you do get a delightful interplay of flavors between them. Plus, Peychaud's bitters have a bright red color, which helps the drink to stand out.
Hot Toddy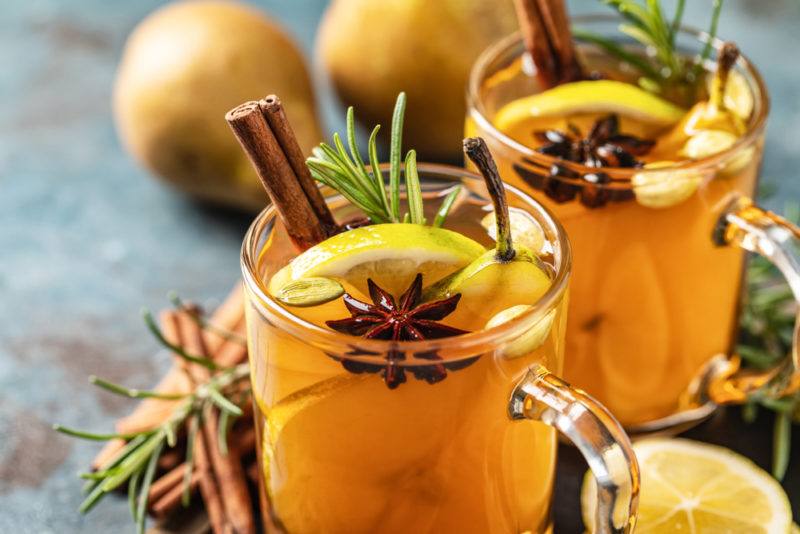 Hot toddies are one of the best winter warmers. The trick is to make them well. Too many recipes rely heavily on honey, sugar, or even apple cider, giving you an overly sweet drink.
Yet, the best hot toddies aren't that sweet at all. Instead, the flavors of the whiskey, the lemon juice, and the spices come through. While you can buy lemon, honey, and ginger mixtures to use as a hot toddy base, the best version will be one that you make yourself with fresh ingredients.
There are plenty of recipes to get you started, but you'll still need to play around with the quantities for yourself. In particular, people vary in the balance of lemon to honey that they prefer.
You mightn't get it right on your first try. Don't worry though. Experimenting is half the fun.
Old Fashioned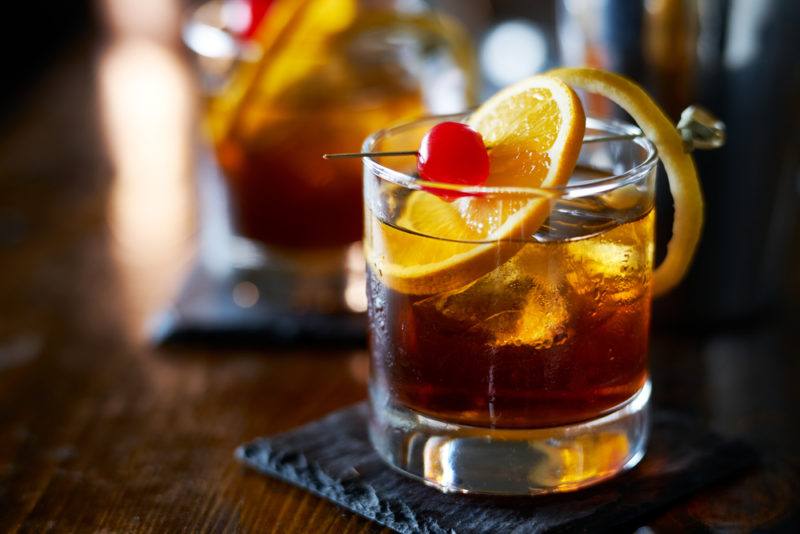 The old fashioned is called a classic cocktail for a reason. It has stood the test of time and is also a fantastic way to enjoy good whiskey without drowning it in too many flavors.
To make this cocktail, you start with a sugar cube. Saturate this with bitters and add just a dash of water. Muddle these ingredients together until the sugar has completely dissolved.
Once the sugar has dissolved, you add ice cubes to the glass and your whiskey. Many people use a single large ball of ice, as this melts more slowly than many individual ice cubes.
The old fashioned is delicious as it is, so there's no need to play around with ingredients. However, the whiskey you choose will make a difference.
Why choose this drink for the holidays? Mostly because it's simple. Besides, there's no going past the classics. They stay consistent, while fads come and go.
Eggnog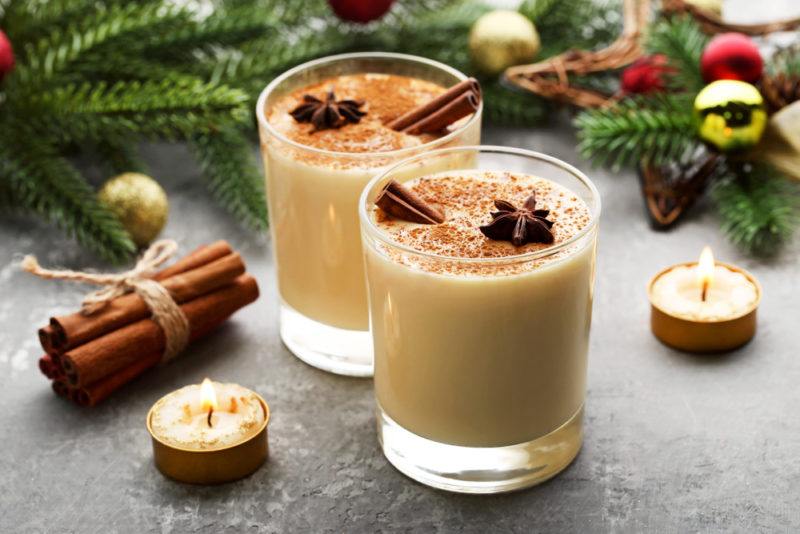 Eggnog is a holiday tradition for many, but the drink can vary dramatically. Some people make their own homemade eggnog, choosing their ingredients carefully, while others look for a store-bought option instead.
There's also the flavor. While eggnog isn't traditionally flavored, you can find plenty of flavored versions, including pumpkin, Irish cream, sugar cookie, vanilla, and many more.
Adding to the variation is the alcohol. Brandy is the most common choice for eggnog, but you can use rum or whiskey instead. Whiskey is an interesting way to go, as it adds a strong flavor to your eggnog. This flavor can be overwhelming, but it works well if you choose your whiskey carefully.
Whiskey Sour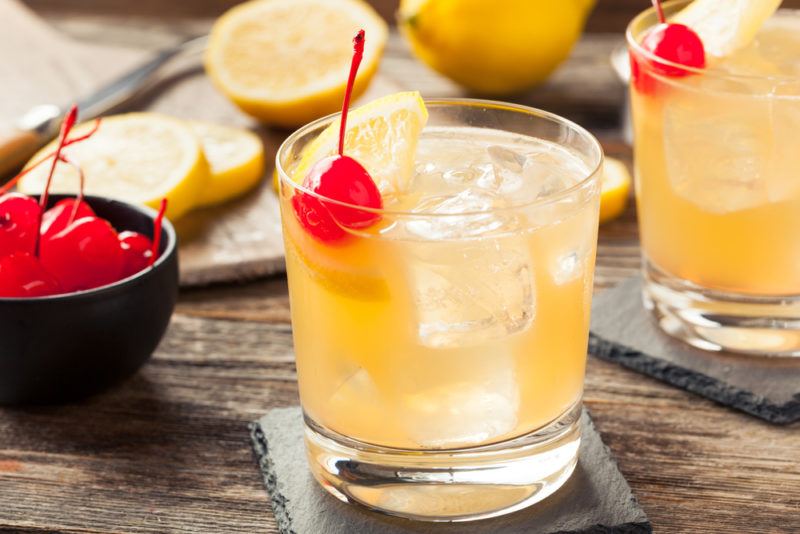 You've probably heard about the whiskey sour before. It's a classic cocktail and a simple one – as you just need whiskey, simple syrup, lemon juice, and an egg white.
That egg white might not sound that appealing. But, the idea is a common bartender's trick, giving your cocktail a foamy head, without influencing its flavor much at all.
Don't worry though. If you don't like the idea or if you're serving cocktails for a crowd, you can skip the egg white. The whiskey sour is still a delicious cocktail either way.
You can take the idea one step further by making a New York sour. This cocktail is almost identical, except that you're floating some red wine on top of the finished whiskey sour. The red wine gives you a band of color and a delicious flavor contrast.
Irish Coffee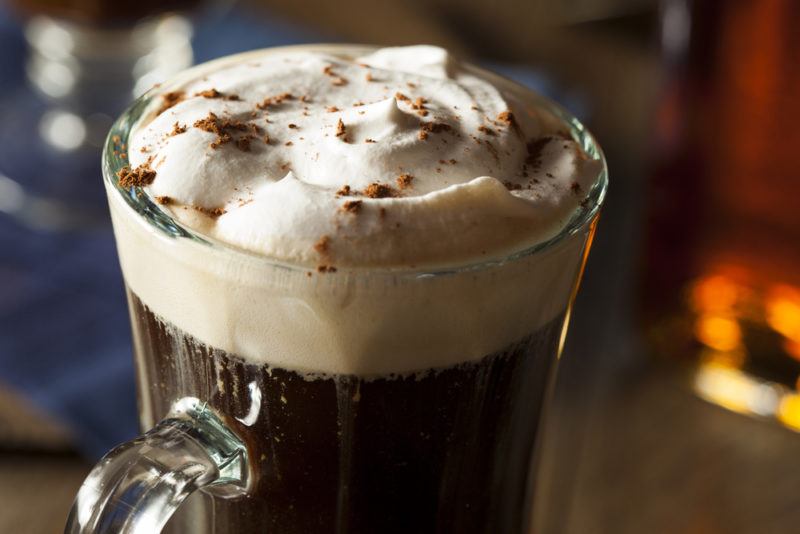 Irish coffees work well for holidays for one reason – they're warm. Many of us aren't in the mood for a cold drink with ice in the middle of winter, especially if we're not in a warm room. A warming drink is a much better option.
Besides, an Irish coffee is simply involves adding Irish whiskey to your coffee. What could be better than that?
A well-made version of the cocktail will take things a step further and include whipped cream on top. You could sprinkle some cinnamon on top of the cream to give your Irish coffee a Christmassy feel.
Most of the time, an Irish coffee has a low ABV. You're only including a shot or two of whiskey in a large mug of coffee. However, you can easily tweak the quantities to give you a stronger drink.
And, while an Irish coffee technically requires Irish whiskey, you can play around with other options. A different type of whiskey will bring its own flavors to the table and could taste even better.
Apple Cider Old Fashioned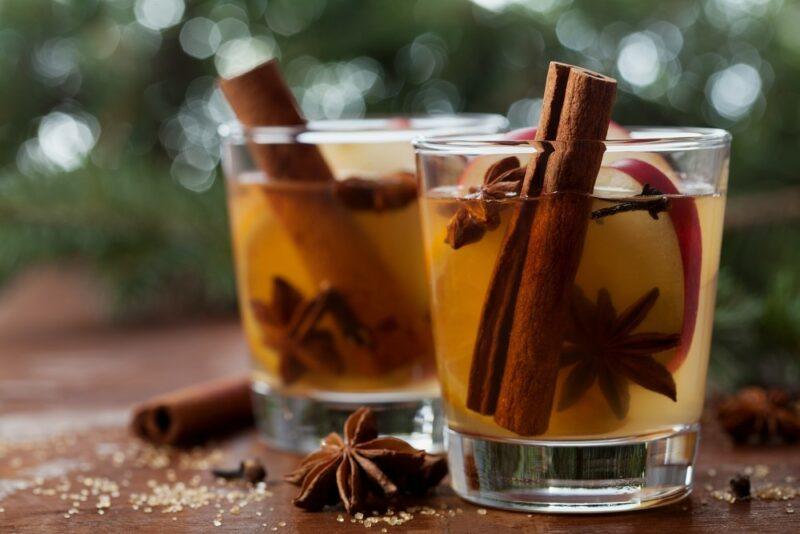 Apple cider is a fall favorite, making apple cider cocktails a perfect choice for the holidays. There are plenty of variations too, from simple cocktails to more complex ones.
An apple cider old fashioned uses the Angostura bitters and whiskey that you find in an old fashioned cocktail. But, instead of using a sugar cube, you're getting sweetness from the apple cider instead.
Using apple cider instead of a sugar cube makes this an easier drink to prepare too. You just add the ingredients to a glass and stir everything together.
The cocktail is often served cold, with ice in the glass to keep everything at the right temperature. You could easily change this up and make a warm version of the cocktail instead.
Gold Rush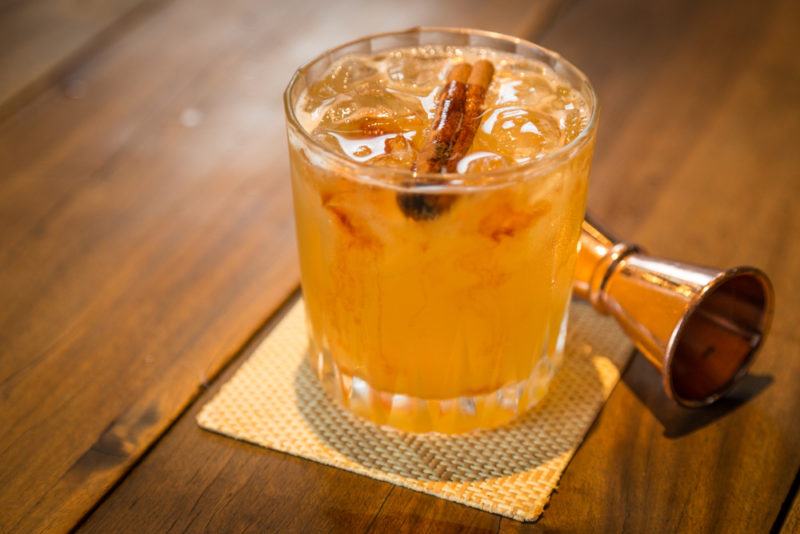 The use of honey syrup makes a gold rush cocktail stand out. This, combined with fresh lemon juice and bourbon, gives the drink an interesting flavor and mouthfeel.
The combination of ingredients might sound familiar – as the cocktail is basically a whiskey sour that uses honey instead of sugar. However, that one simple change makes a huge difference to the cocktail.
There's a trick to making this cocktail work well. You need to make a simple syrup with the honey first (then cool the syrup before using it). Doing so gives your cocktail the texture you're looking for.
Manhattan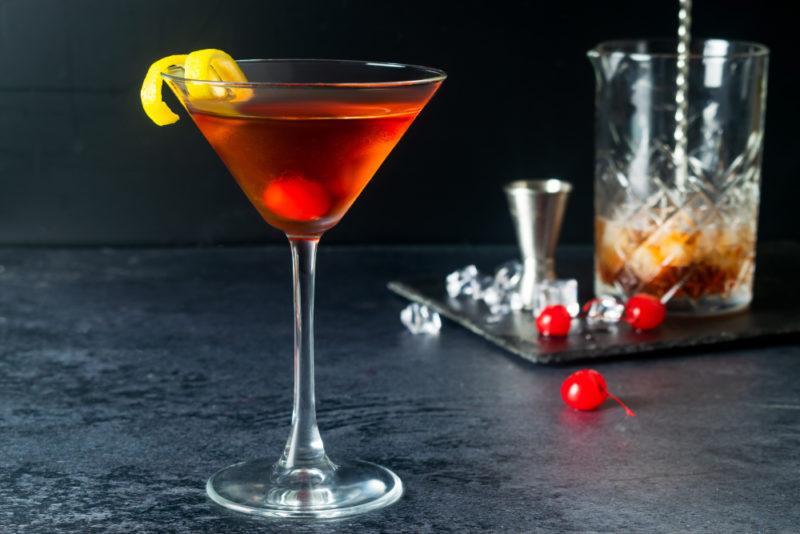 We've already mentioned a few classics, but we'd be remiss if we didn't talk about the Manhattan too. This cocktail is a fantastic one for parties, as it's elegant and easy to make. The rich red color also happens to be perfect for Christmas.
You don't need many ingredients to make the cocktail, just sweet vermouth, rye whiskey, and Angostura bitters. While other types of whiskey can be used instead, rye whiskey is the classic choice for a reason.
Whiskey Flip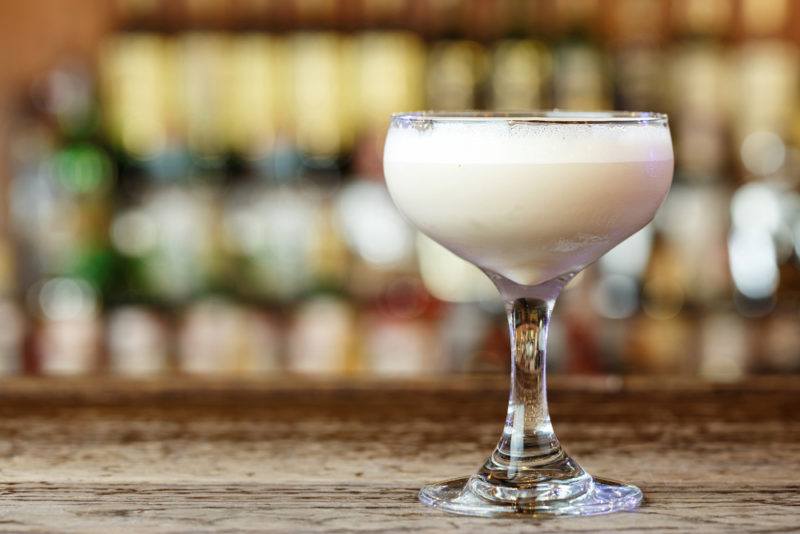 Why not serve a rich and creamy cocktail at your next event? A whiskey flip could be a perfect choice, especially as it already uses nutmeg as a garnish.
It's another simple cocktail, as it just includes whiskey, an egg, and sugar. Heavy cream is sometimes added as well, although this is optional. While that combination of ingredients might not sound too appealing, the finished cocktail truly is delicious.
You can also make more flavorful versions of the cocktail, like by adding amaretto liqueur or by infusing your whiskey with cinnamon. There's one catch though. You need to do a lot of shaking to give the whiskey flip the correct texture.
Spiked Pumpkin Spice Latte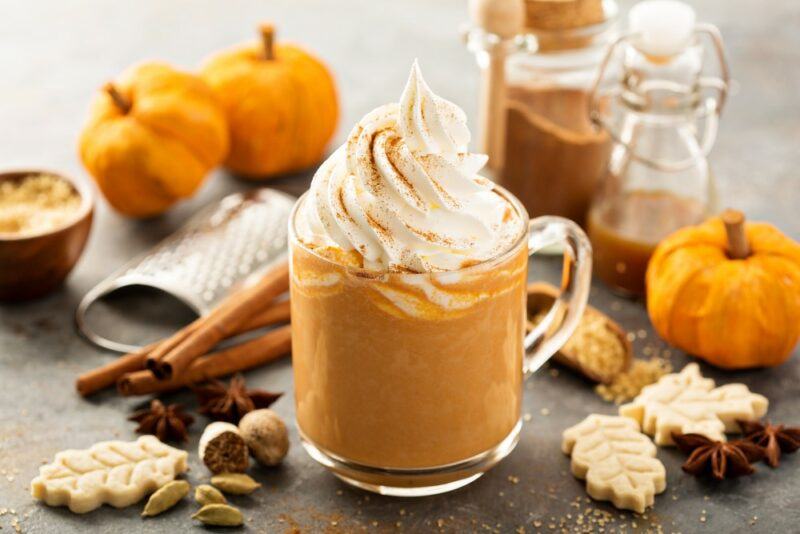 Pumpkin spice lattes are already holiday classics. So, why not make them even more perfect by adding some alcohol? Bourbon works well here, as it has a richness that complements the rest of the drink.
You could even try a combination of cinnamon whiskey and vanilla vodka. Those spirits highlight flavors that are already in your pumpkin spice latte anyway. You can easily use cinnamon whiskey in other holiday drinks as well.
Chai Whiskey Latte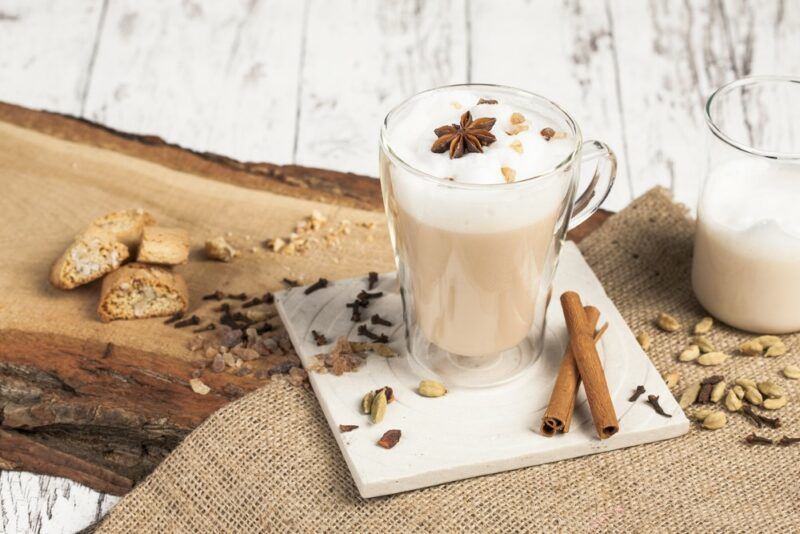 Here's another idea – spiking a hot chai latte with whiskey. Any type of whiskey should work well, although each will bring different flavors to the table. Why not start with your favorite whiskey and see how this goes?
You can even do so with a chai latte that relies on plant-based milk, like coconut milk or almond milk.
There's plenty of room to adapt your drink too. For example, you might make an iced chai latte rather than a hot one. This would be delicious on a warm day.
Don't forget about flavored whiskey either. Cinnamon whiskey would pair easily with the spices in your drink.
Eggnog Latte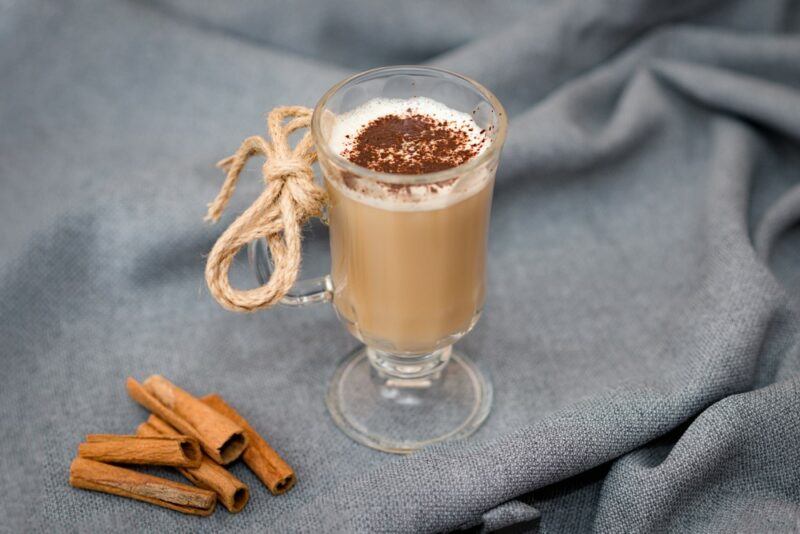 Have you ever tried using eggnog in a latte? This can be even more delicious than drinking eggnog straight.
There's nothing difficult about this drink either. You're just combining some eggnog with milk and espresso. Sprinkle some cinnamon or nutmeg on top and you have a seasonal drink that's less intense than regular eggnog.
Not surprisingly, you can spike the drink to make it even better. Bourbon can be a good starting point, but don't be afraid to experiment.
Spiced Bourbon Milk Punch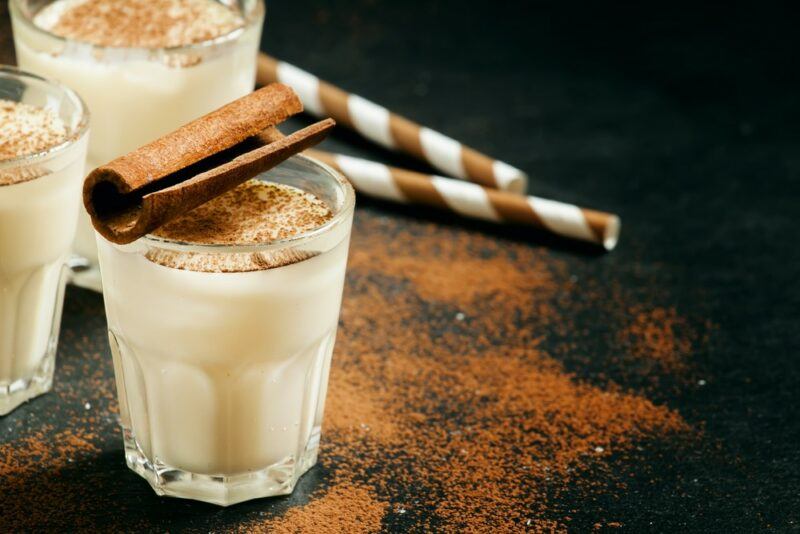 Speaking of creamy drinks, have you ever tried a spiced bourbon milk punch? If not, what are you waiting for?
The drink is a little like eggnog except, you guessed it, there are no eggs. Leaving the eggs out makes this an easier drink to prepare, although it isn't as thick as eggnog. Plus, if you use a plant-based milk, then this ends up being a vegan drink.
As for the drink itself, it's exactly what the name suggests – spices, bourbon, and milk. You start off by heating milk, then you add the spices in. You might include some type of sweetener as well.
Once the milk has heated, you take it off the heat for a while and leave it to steep. Then, after 10 minutes or so, add your whiskey in and stir in some vanilla. After that, you strain the mixture into glasses and you are good to go.