Though there are many brands of cinnamon whiskey available today, it's pretty common knowledge that it started with Fireball. It's so ingrained in society that many refer to any cinnamon-flavored spirit as "Fireball" regardless of brand. 
So how did this sweet and spicy phenomenon come to be so wildly popular? Most people cite the party scene as the reason for its spread. This is technically true, though it was a lot more deliberate than a "right place right time" word of mouth situation. Fireball chose the party scene to popularize the drink. They sent a professional marketer to an emerging market in Nashville to meet Fireball's biggest fans in person and party with them – and Fireball. 
He bar-hopped around the city, spreading the word about Fireball and touting it as the best party drink on the scene. Once he'd sold the city on it, he moved from college town to college town doing more of the same. Obviously, the feat paid off because Fireball went from 1.9 million in sales to 61 million in two short years. With all the options out there now, the best cinnamon whiskey is up for debate, but Fireball will always be the original. 
Some cinnamon whiskies are heavy on the cinnamon and come across as quite hot. Others have cinnamon present but include other flavors to add a little sweetness and balance the heat. They perform differently when sipped or put in a cocktail, so you must decide for yourself the level of sweet and spice you want to use. 
If you like the idea of flavored whiskey, but aren't convinced about cinnamon, don't worry. There are other options out there too, including honey whiskey and even peanut butter whiskey.
The Best Cinnamon Whiskey
1. Fireball Cinnamon Whiskey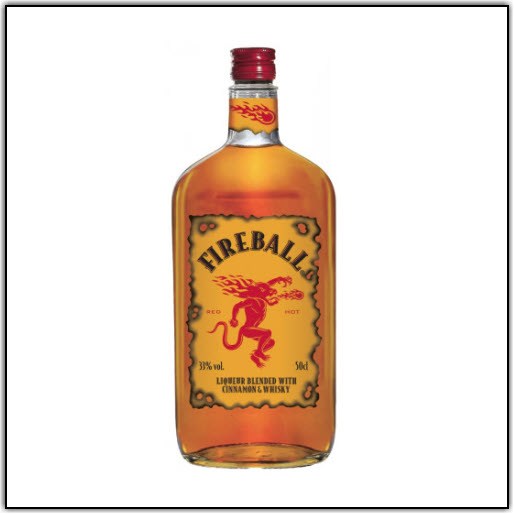 There are plenty of great cinnamon-favored whiskies out there these days, but Fireball is the original and you can't go wrong. It was made popular by the "party" crowd because it is an easy, fun one to shoot but that's not all it's good for. 
Plenty of cocktails call for a piping hot ounce of fiery cinnamon whiskey and you're also free to enjoy it neat under any circumstances you want. 
It's made with a base of Canadian whisky and is naturally flavored with real cinnamon. The range of heat and sweetness varies across cinnamon whiskies, but this one is undeniably hot, and that was done on purpose. It's the go-to when you want strong, bold cinnamon heat. 
The whiskey is aged in American bourbon barrels and though it originates in Canada, it's bottled in Kentucky. While shots and spiced cocktails are the obvious choices, it's quite good over ice, too. 
2. Jack Daniel's Tennessee Fire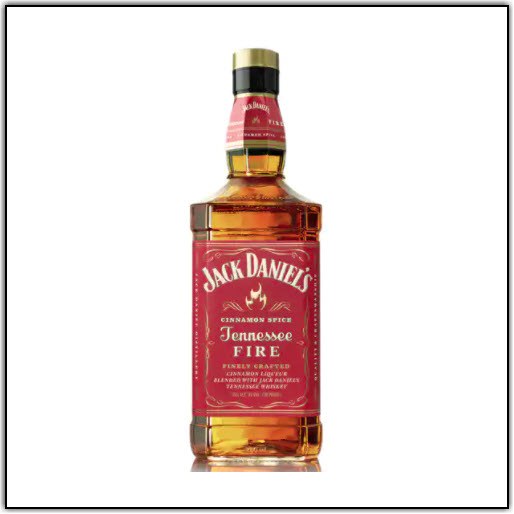 Not to be left behind, whiskey dynasty Jack Daniel's has another great cinnamon whiskey to offer. The Tennessee Fire is made with their original Tennessee Whiskey as the base, bringing flavor notes of roasted nuts, vanilla beans, and toasted wood to the table. 
Add to that their unique cinnamon liqueur and you've got an amazing balance of nutty, woodsy, sweet, and spicy. The cinnamon liqueur doesn't stop at just ground cinnamon, it also contains cinnamon bark for extra flavor and cloves for extra spice. The result is a warm, indulgent drink with a delicious array of flavors with cinnamon at the forefront. 
There's no denying it's an excellent sipper, offering a slightly more mild palate for those who aren't after the most intense heat ever, though the cinnamon spice isn't lacking. It's also a fantastic addition to any spiced cocktail, bringing extra flavors in to balance it out and enhance the experience. 
3. Stillhouse Red Hot Whiskey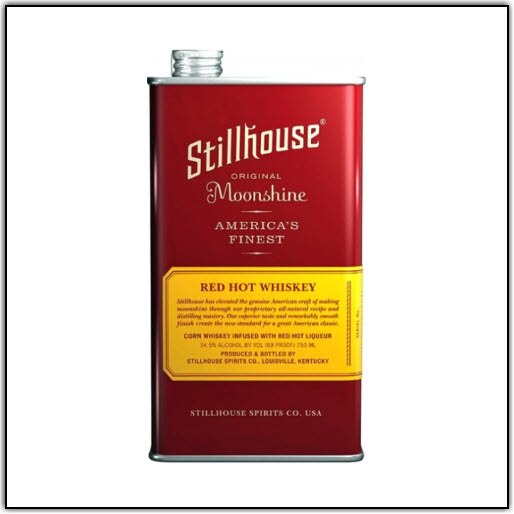 Stillhouse Red Hot Whiskey comes from a base spirit made with 100 percent clear, quality corn. The sweet corn whiskey is infused with natural cinnamon for the perfect blend of sweet and hot in the same instance. 
They designed the whiskey to be as versatile as possible. Of course, it's a good choice for your favorite spiced cocktail. It also works as a delicious, smooth shot for anyone who wants something sweet with a little kick at the same time. They also suggest trying it in a punch, perfect for a quick party fix. 
The whiskey also comes in a unique stainless steel can as opposed to the typical glass packaging. This means it chills faster, stays cold longer, and you can bring it where glass isn't allowed. 
4. Jim Beam Kentucky Fire Bourbon Whiskey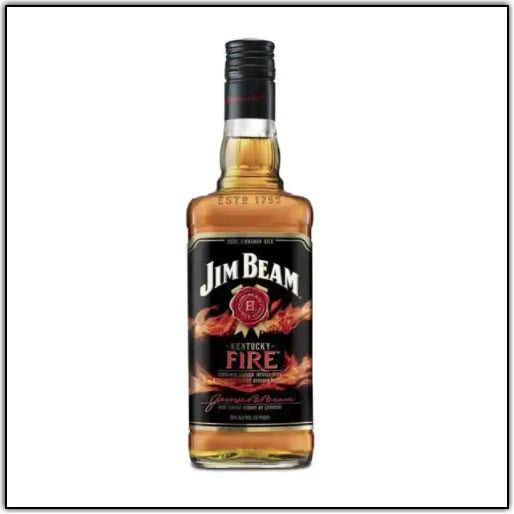 Another well-known whiskey brand jumping on the cinnamon bandwagon, Jim Beam's Kentucky Fire Bourbon Whiskey is a success – no surprise there. Their legendary Kentucky whiskey serves as the base for this sweet, hot, spicy treat. 
Their Kentucky bourbon was already wildly popular, so it's natural that their cinnamon creation would catch on quick too. The distillers at Jim Beam do well to balance the flavors of the bourbon and cinnamon, with neither overpowering the other. They also achieve a lovely smoothness that makes for a great sipper, even without chilling first. 
They keep it simple, with sweet, candied cinnamon dominating the nose. The palate follows with a similar punch of sweet cinnamon with notes of bourbon to balance it. The whiskey has a fiery kick, no doubt, but it doesn't overwhelm the senses.
5. Cinerator Hot Cinnamon Whiskey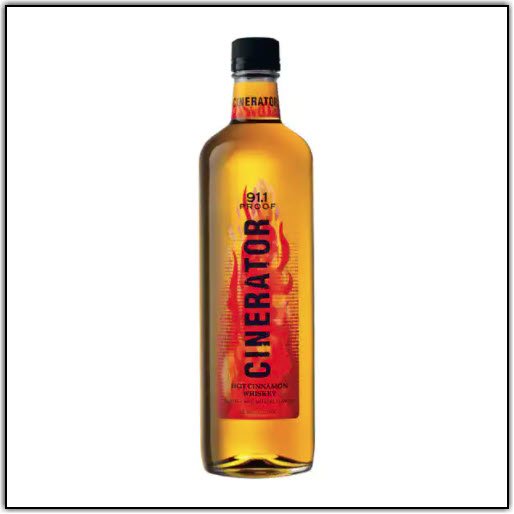 Fairly new to the scene, Cinerator Hot Cinnamon Whiskey is taking the world of cinnamon flavor by storm. It caters to those that really love the spice and want something hot and bold without too much sweetness to take away from it. They achieve this goal, offering up one of the most intense cinnamon drinks with enough heat to stand out from the crowd. 
Despite the bold heat, they still manage to make the whiskey smooth. This means you can do whatever it is you want to do with your cinnamon flavor. Shots, sipping, cocktails – you can have it all with this all-around fantastic spirit. 
Their goal is simple so it's natural that the whiskey is simple, too. Offering a profile filled with cinnamon spice, the drink doesn't mess around and you won't find much else. The nose is full of cinnamon and the palate follows suit. This may not be for everyone, but at least they're honest about it. Not everyone can take the heat, but Cinerator's cinnamon whiskey is made for those who can. 
Amazing Cinnamon Whiskey Cocktails

Cinnamon is a versatile flavor in general. When translated to whiskey there are so many fun drinks you can make, ranging from sweet and balanced to fiery hot. It all depends on the type of cinnamon whiskey used and the ingredients you pair it with. 
Apple Pie 
Apple pie is an acceptable dessert after many holiday dinners. It's also appropriate on a regular Wednesday night with no special occasion! The taste of sweet, delicious apple pie is recreated in liquid form with this lovely dessert cocktail. 
You'll need the following ingredients: 
One ounce vanilla vodka. 
One ounce cinnamon whiskey.
Four ounces apple juice. 
A pinch of ground cinnamon. 
Brown sugar for the rim. 
Optional cinnamon stick for garnish. 
The process is simple – start by wetting the rim of the glass and apply the brown sugar. Then, shake all the ingredients in a shaker with ice and pour into the glass, careful not to disturb the sugar rim. 
Some notes: 
Organic apple juice is best as it has the most authentic apple flavor. Apple cider or spiced cider also work as a substitute. 
This recipe should work with most cinnamon whiskies. Some are hotter than others so you have a little control over the ratio of sweet and spicy here. 
Regular vodka and vanilla extract will work just the same if you don't have vanilla-flavored vodka. 
Cinnamon Sangria 
Sangria is a fun and versatile drink with styles to go with every season, occasion, and preference. Sangria normally ends up being sweet and maybe a little fizzy, but that doesn't mean you can't experiment further than different wine and fruit combinations. 
A little cinnamon whiskey and red wine make an amazing cinnamon sangria that's got a great combination of tangy, sweet, and spicy. 
It's a simple cocktail with three easy ingredients: 
A bottle of dry red wine of your choice.
One cup of your chosen cinnamon-flavored whiskey.
One cup of orange peach mango juice. Dole sells this particular combination, but any juice with these flavors will do. 
These measurements make about six servings. Sangria recipes are often made for larger quantities as it's a great party drink and it's meant for sharing. But, you can easily scale the recipe back if you're alone or mixing for a smaller group. 
All you must do here is mix the juice, whiskey, and wine together in a pitcher. If you have some fresh or frozen fruit to match the fruit juice, you can add a few pieces. Pineapple will also complement this recipe. 
Allow the combination to chill in the fridge for at least ten minutes before serving. You can add ice to keep it colder for longer but just be aware that too much ice will water down the flavor as it melts.