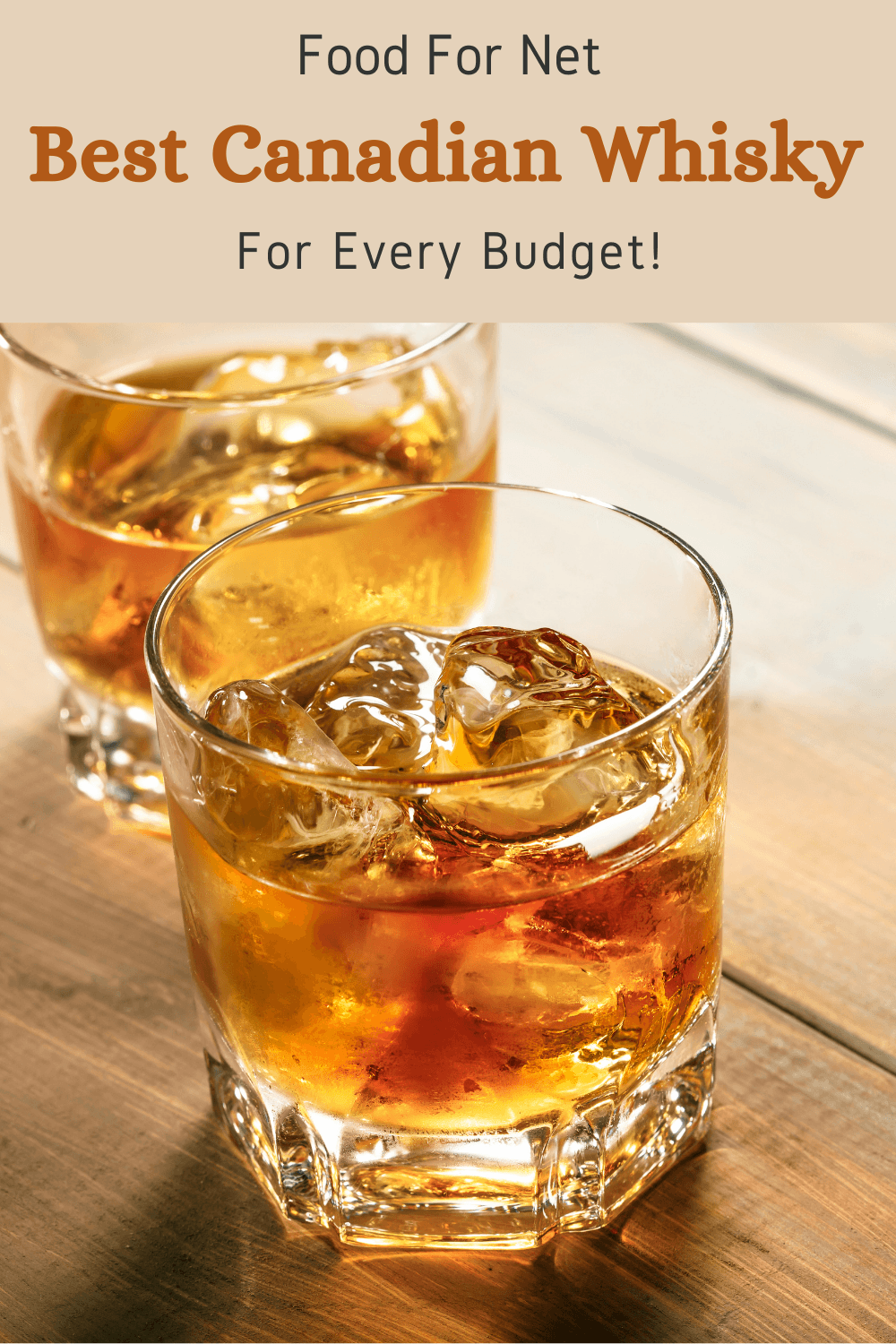 While many Canadian whiskies are heavy on the rye, there is only one official law regarding Canadian whisky: it must be fermented, distilled, and aged for (minimum) three years within Canada.
There are no regulations regarding its ingredients or contents, which leaves it wide open to experimentation and interpretation. With many distilleries having been around since the 1800s, the best Canadian whisky often comes with decades of experience, tradition, and attention to detail.
It's a common misconception that Canadian whisky is made only of rye. It's often made with a combination of rye, corn, and malted barley. What sets Canadian whisky apart is the common practice of fermenting, distilling, and aging each grain separately.
While a single grain isn't required, the single grain approach is common among Canadian whiskies and many prefer it this way. People often pay more for a smooth, top-notch whisky from only one grain. A multi-grain mash bill is more common for flavored whiskies.
Canada also has many old distilleries that began in the 1800s and are still in operation today. This includes classics like Canadian Club and Crown Royal. These brands are widely trusted and many don't hesitate to pay higher prices for their high-value whiskies because they know exactly what they're getting into.
If you love this type of spirit, you could look at other options too, like Irish whiskey, rye whiskey, and even whiskey of the month clubs.
Best Canadian Whisky Brands
Bottom Shelf
1. Canadian Club 100% Rye Whisky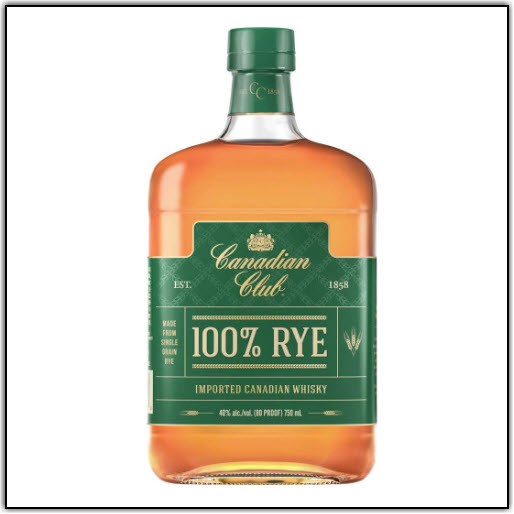 An affordable Canadian staple, Canadian Club 100% rye whisky is a basic but delicious whisky that's won numerous awards. This includes the 2014 Canadian Whisky of the Year, Sippin Whisky of the Year at the Canadian Whisky Awards, and a gold medal at the World Spirits Competition.
Unlike a lot of rye whiskies, this Canadian whisky is 100 percent rye – no corn or barley mixed, just rye. This is a tradition passed down from the founder who began his journey in 1858. In 1891, the Canadian Club whisky became the first North American Spirit to receive a royal decree from Queen Victoria.
Founder Hiram Walker had to change his tune a little during prohibition, though. He moved operations to Windsor, Ontario where he could continue to legally produce his spirits. It's rumored that Al Capone was a big fan of Canadian Club Whisky and made some money smuggling it across the Detroit River.
This revered rye whisky offers an aroma of toasted grains and wood notes with a hint of vanilla. This is followed by complex rye spices, caramel, and hints of oak on the palate with a long creamy finish flavored with vanilla, clove, and oak.
2. Crown Royal Canadian Whisky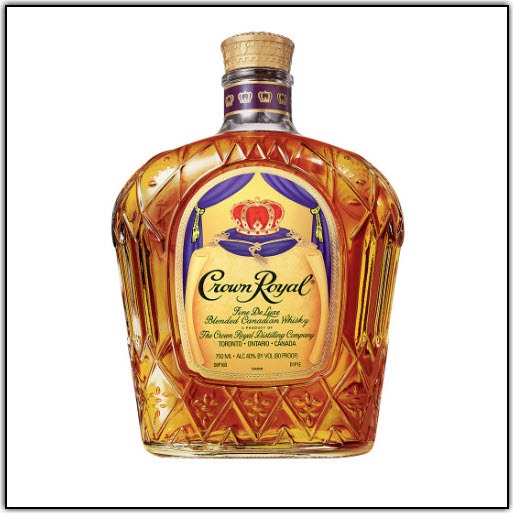 An absolute legend in Canada, Crown Royal produces some of the most popular whiskies around. It was created when an intuitive entrepreneur caught wind of King George VI and Queen Elizabeth's very first journey to North America. He wanted to create a unique, signature whisky they could enjoy.
He sampled more than 600 blends and sorted through hundreds of bottles, glasses, and labels before creating what he believed to be the best whisky for those of royal stature. Naturally, he called it Crown Royal and gifted the royal couple ten cases to enjoy while in North America.
The aroma is rich with vanilla, maple syrup, and hints of fruit. The palate offers a smooth creaminess with flavors of oak, rye spice, vanilla, and dried fruit leading into a medium-long finish.
3. Pike Creek 10-Year-Old Rum Barrel Finish Canadian Whisky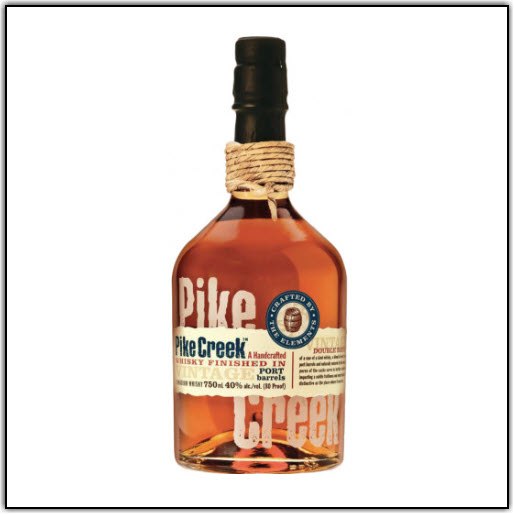 This barrel finished Canadian whisky is aged for a full ten years in bourbon barrels before resting even further in ex-rum casks to finish it off. Like many Canadian distilleries, this one began in the 1800s when a baker decided to distill his excess grains into whisky.
Pike Creek whisky is traditionally Canadian, being distilled twice in small copper stills. This 10-year expression is matured in bourbon barrels and finished in ex-rum casks. What makes this whisky so unique is the non-temperature controlled climate in which it's aged.
The fluctuating weather causes the barrels to contract and expand, maximizing interaction with the whisky. This creates a signature, 100 percent Canadian flavor.
Rich aromas of brown sugar and vanilla grace the nose with this one as well as hints of plums, molasses, oak, and toffee. The palate offers similar flavors with a subtle note of citrus zest.
Middle Shelf
1. Masterson's 10-Year-Old Straight Rye Whiskey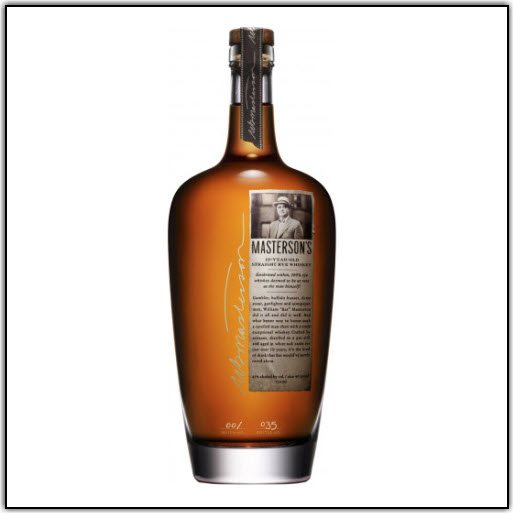 This rye whisky was named number one in the 2013 Spring issue of Whiskey Advocate and it certainly earned that title. The deep golden color offers a bright, floral aroma with notes of nutmeg, woody spice, and crisp caramel with hints of raisins, vanilla, and a subtle note of chili spice.
The flavor is a strong, complementary mix of sweet and spicy with a long and robust finish filled with hints of rye and cinnamon.
The Canadian straight rye whisky is named for William Masterson, who left home as a teenager to become a buffalo hunter. This began a long journey of moving around and a career that went back and forth between the army and politics.
After being voted out of office, he became a saloon owner and, supposedly, avenged the death of his brothers with a famous gun.
These bottles pay homage to the crazy history of "wild west" legend who, like the whisky itself, was proudly born in Canada.
2. Forty Creek Double Barrel Reserve Whisky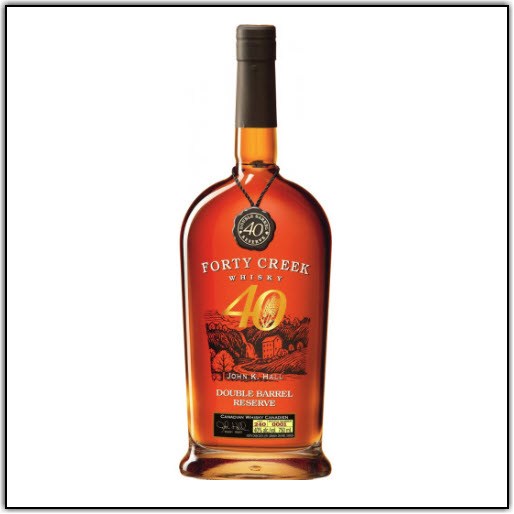 This double-barrel reserve whisky is the result of careful attention to detail. It's a combination of rye, corn, and barley grains, all of which are distilled separately in traditional copper pot stills.
Once distilled, the whisky is also aged and matured separately in traditional oak barrels. Once they've matured enough, then they are put together to finish the process in American oak casks originally used to mature bourbon.
These ex-bourbon casks contribute the distinct notes of vanilla, toffee, and caramel found in the finished product. The aroma offers notes of toasted oak, coconut, and pecan.
The palate is similarly nutty with notes of toasted and roasted nuts, caramel, and creamy vanilla in addition to the sweet flavors from the ex-bourbon casks
3. JP Wiser's 18-Year-Old Canadian Whiskey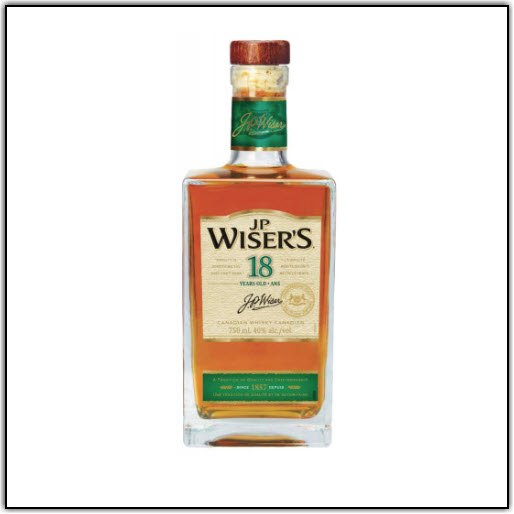 This top-notch 18-year-old Canadian whisky was given a gold medal and a score of 93 from the Beverage Tasting Institute in 2016. The honor was well-earned with its expert blend of Canadian rye and barley malt that are milled and mashed individually before maturing for 18 long years in traditional oak casks.
The aroma is simple and direct with strong notes of creamy caramel. It offers a smooth, lovely flavor of sweet honey, caramel, nuts, pepper, and notes of toasted grains.
This beautiful honey-colored whisky is the creation of the company's Master Blender Don Livermore who spend 15 years as a blender before officially completing a Ph.D. in distilling and brewing. You can be sure the guy knows his stuff.
Top Shelf
1. Caribou Crossing Single Barrel Canadian Whisky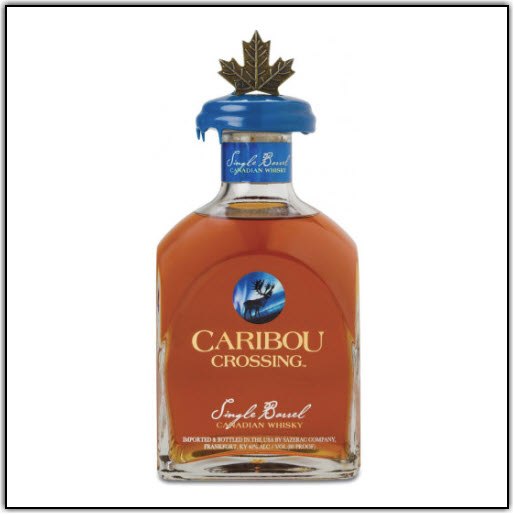 This impressive single barrel Canadian whisky earned a great score of 93 from Whisky Advocate. Master Brewer Drew Mayville has a long history in the whisky world, beginning as an apprentice for Seagram's Distillery and working his way up through the ranks over the course of 22 years.
When Seagram's closed for good, he joined Buffalo Trace, where he kept his Master Brewer title. Caribou Crossing is distilled and matured in Alberta where it is hand-selected by Mayville itself for its pleasant aroma, excellent flavor, and overall high quality.
The aroma is slightly fruity with notes of orange, vanilla, honey, and caramel. The palate offers similar notes of vanilla with toasted marshmallow, peaches, soft rye spices, and creme brulee.
2. Long Stock & Barrel 16-Year-Old Straight Rye Whiskey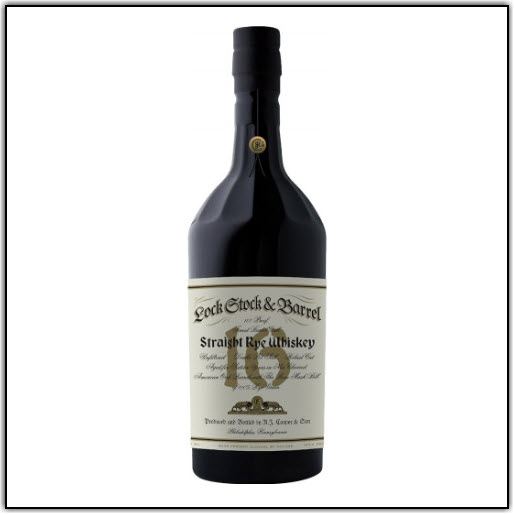 Not only is this one of the oldest straight rye whiskies available but it offers one of the most intense flavors around. It's aged for 16 years specifically in cold weather in new charred American oak casks. It's then bottled, unfiltered, at 107 proof.
Not only is the flavor intense but it's unique. This whisky comes from a rare mash of 100 percent rye grown in the Pacific Northwest, where only the best of the best are harvested and used. The whisky won the highest honors at the 2016 World Spirits Competition, a title that was, and still is, well-deserved.
You'll notice an aroma of chocolate, vanilla, black pepper, and spice cake – an amazing combination of sweet and spicy. The palate leans a little more sweetly with fruit flavors paired with notes of leather, pinewood, oak, wild cherries, dried pear, sassafras, and blackberry. The finish is just as fruity with added notes of anise, pepper, and molasses.
3. Canadian Club Chronicles Issue No. 2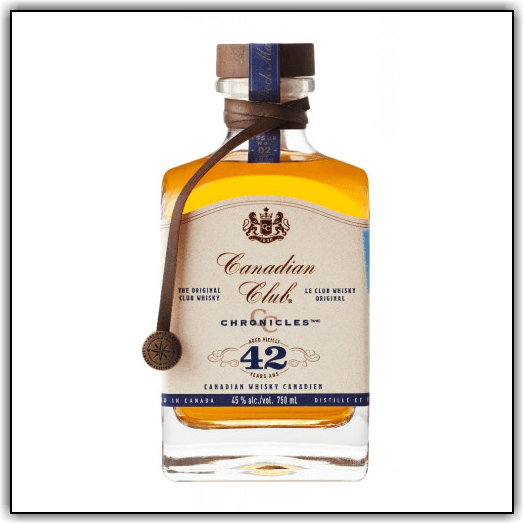 Another Canadian Club classic, this whisky was made in honor of the legendary dock worker who delivered whisky to enthusiasts and bar owners alike during prohibition. He remained dedicated to providing whisky to those who wanted it, despite the risk to himself.
At 42 years old, it's the oldest Canadian whisky currently on the market. The aroma is a complex one, offering wood spice mixed with ginger, vanilla, almond, and light butterscotch with hints of rye and corn.
The whisky offers an elegant, smooth texture with a combination of butterscotch, almond, vanilla, and baking spice on the palate.