If you've ever searched for Irish drinks before, you've probably noticed one odd pattern – many of the drinks featured have very little to do with Ireland at all. Some are similar to regular cocktails or shots, just with an extra green ingredient or two to make them seem 'Irish'. Others, like the Irish mule, just happen to use Irish whiskey as an ingredient.
That idea is frustrating. After all, if you're looking for Irish drinks, you probably want a drink that actually comes from Ireland – not something that just seems vaguely related.
That's why, in this post, we're taking a different angle. We're looking at drinks that you'll actually find in Ireland and are loved by Irish people. Many of them are exported throughout the world, so you can easily find them regardless of where you live.
If you want to expand your tastebuds further, why not check out drinks from other parts of the world too, like Korean drinks and Russian drinks?
Irish Drinks
Guinness
Other Irish Stouts
Irish Whiskey
Jameson and Ginger
Magners Irish Cider
Kilkenny
Irish Coffee
Irish Mist
Baileys Irish Cream
Poitín
Irish Breakfast Shot
Tea
Notable Omissions
Guinness

Let's start the list with an item you probably know – Guinness. This Irish stout is famous throughout the world. It has a long history too and was established in Dublin, back in 1759.
The stout is well-known both for its distinctive dark color and the strong bittersweet flavor. These features both relate to how the beer uses some roasted barley. Roasting the barley creates a notable flavor that you won't mistake for anything else.
When served well, the stout ends up with a rich creamy head and hints of coffee. You'll often find it served in an official Guinness glass, especially if you're ordering the stout in an Irish pub.
And, of course, you'll see Guinness being used as an ingredient in food and in some mixed drinks. The strong flavor of Guinness is excellent when combined with dark meats. You might even see it in some desserts. You can also use it to make Guinness cocktails.
Other Irish Stouts

Of course, Guinness isn't the only type of stout that you'll find in Ireland. Other companies produce their own versions, some of which are just as locally famous. Murphy's and Beamish are two popular brands that are worth trying for yourself.
Beamish tends to have a more malty flavor of the two, while Murphy's is a drier drink with a smoky flavor. Both stouts are a fantastic way to enjoy Irish beer without turning to Guinness every time.
Murphy's also tends to be a lighter beer, only around 4% ABV. This low alcohol content might be enough to help you avoid a hangover almost entirely, which is always good news. Of course, you could still get drunk on Murphy's beer if you drunk enough of it.
Irish Whiskey

Irish whiskey doesn't require much introduction – it's mostly just whiskey that is distilled in Ireland. Monks were crucial players in the development of Irish whiskey. However, much of the spirit's history has been lost to the ages.
Ireland does have laws for what whiskey can use the name Irish whiskey. The spirit, obviously, needs to be produced in Ireland. It must also use a malted cereal mash. That mash needs to rely on malt, be yeast fermented, then be distilled to a strength of between 40% and 94.8%.
Irish whiskey uses a triple distillation process, which gives you a relatively light and smooth whiskey. That distillation process is one reason that Irish whiskey works so well as a cocktail ingredient.
Redbreast is a well-known brand in Ireland and overseas. It is mellower than many other whiskeys, especially if you choose an aged version. You can also look for Tullamore DEW. Whiskey drinkers often pair this one with Guinness, saying that drinking a little of the whiskey followed by a gulp of Guinness is incredible.
And, while we're talking about Irish whiskey, we can't go past Jameson. Few Irish whiskeys are as famous as this one. Jameson whiskey now comes in many different types. It is delicious on its own, as part of a whiskey cocktail, or even just with a mixer like ginger beer.
Jameson and Ginger

Irish whiskey can be used in most whiskey cocktails, including modern cocktails and classics. In fact, Irish whiskey is often the perfect choice. After all, it tends to be smoother and more mellow than other whiskeys, so it won't overwhelm your other ingredients.
A Jameson and ginger is one of the simplest places to begin. This is a two-ingredient cocktail that just relies on Jameson whiskey and ginger ale. Serve it with a lemon wedge or lime wedge to give the drink a slightly sour edge.
Magners Irish Cider

This drink is a type of hard cider that's produced in Ireland. There are multiple flavors, including original, pear, and berry, along with a light version of the cider.
Names can be confusing here, as this cider was originally called Bulmers, after the company's owner. While company ownership has now changed, the cider is still sold as Bulmers within Ireland.
The cider tends to be around 4.5% alcohol by volume (APV). This is on the low end for hard cider, which normally ranges from 4.5% to 7% APV and can be as high as 12%.
Kilkenny

Kilkenny isn't as well-known as the other drinks on this list – and you're most likely to find it in Ireland rather than elsewhere in the world. Still, the Irish cream ale is popular among fans.
It comes from the same company that produces Guinness. A pint of the beer even has the same creamy head as Guinness, which makes it look fantastic in the glass.
Of course, Kilkenny is a lighter color and doesn't have the same intense flavor you find with Guinness. Those differences can be a good thing. Some people find that Guinness is too intense. If that's the case for you, then Kilkenny could be a perfect alternative.
Irish Coffee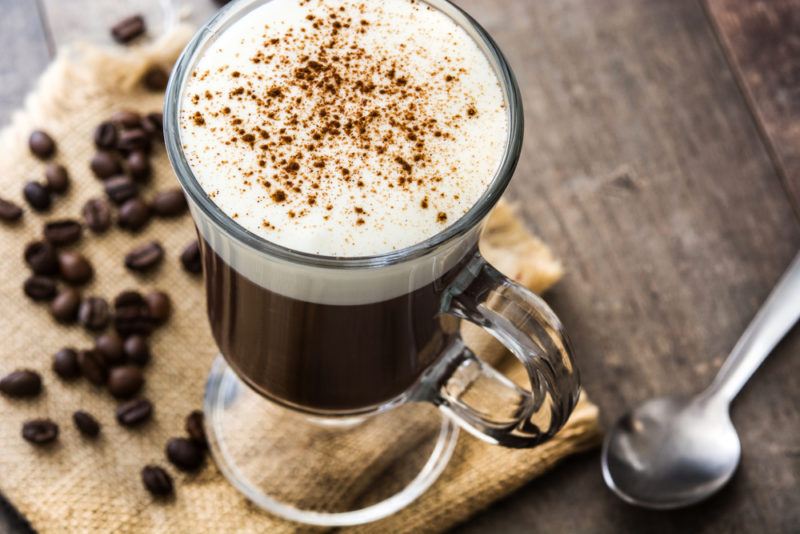 Irish coffee is another famous drink, and it does actually come from Ireland. The legend says that the drink was created in 1942 by a chef who served it to visiting Americans. The goal was to make the drink more warming than coffee on its own – and the cocktail certainly succeeds there.
The traditional version of the drink involves black coffee, a teaspoon of sugar, and Irish whiskey, with thick cream floated on the top. This should be the version you get if you order the cocktail at a bar, but there are no guarantees.
In fact, the quality of Irish coffee varies dramatically. Some bars go to lengths to create the perfect drink, while others simply add a splash of whiskey to a mug of coffee and call it a day.
Irish Mist

This drink is a whiskey liqueur that's made in Dublin, Ireland. It relies on Irish whiskey and a combination of other ingredients, including spirits, heather, clover honey, and aromatic herbs.
The ingredients provide the drink with a distinctive flavor. The liqueur was once 40% ABV but now tends to be 35% ABV instead.
Irish Mist is mostly served on its own or perhaps over ice. It can also be combined with a mixer like cranberry juice or cola. Some cocktails use Irish Mist as well, like a black nail, which combines equal measures of Irish whiskey and Irish Mist.
Baileys Irish Cream

This liqueur remains incredibly popular throughout the world. You'll even find some flavored versions now, including pumpkin spice, salted caramel, and espresso. But, the original Irish cream version is the one that Baileys is most famous for.
Baileys itself is a cream and Irish whiskey-based liqueur. It also uses a cocoa extract and some extra ingredients to create a distinct flavor that you won't find elsewhere.
Baileys is delicious when served over ice. It's also used in some cocktails and even as an ingredient in some types of desserts. Just don't try to get drunk on Baileys alone. The liqueur has a relatively low ABV and contains a decent amount of cream. You'd make yourself sick long before you felt much more than a buzz.
Poitín

Here's a curious drink. Poitín is the equivalent of moonshine in some ways, as it was illegally brewed for more than 200 years, often in pot stills. The traditional version of the drink used malted grain. However, there have been plenty of variations over the years, including people who made it using beets or potatoes.
Buying illegally brewed poitín was rarely a good idea. Like moonshine, the drink was often potent and wasn't hygienically made. In fact, the alcohol content was often somewhere from 60% to 90%. The drink could even be dangerous.
These days though, some professional manufacturers also produce the spirit. Micil poitín is one good example. The company has a long history of making poitín and a solid reputation. If you're going to try poitín for yourself, this brand is undoubtedly the way to go.
Legal brands like this one tend to be smoother and easier to drink than bathtub poitín. With the legal versions, you're looking at an ABV of between 40% and 45%. This puts poitín on par with other popular spirits. And, just like other spirits, you could easily use poitín in a cocktail.
Irish Breakfast Shot

This shot is one that you can actually find in Ireland. The name of the drink might sound strange. Then again, the shot uses a strip of bacon as a garnish, so perhaps calling this a breakfast shot is fitting.
The shot itself is simple. You just need Irish whiskey, butterscotch liqueur, and some orange juice. This combination of ingredients creates a maple syrup-like flavor that is offset by the freshness of the orange juice.
Not convinced? You will be once you've tried the drink once.
As for the whiskey, Jameson Irish whiskey can be an especially good choice. The flavor notes of this whiskey perfectly complement the other ingredients in the shot.
Tea

We've been focusing on alcoholic drinks for this list. But, the popularity of tea in Ireland makes the drink too important to ignore. Many Irish households will offer tea at any point of the day.
In fact, Ireland tends to drink more tea than most other countries. That's an impressive feat, as tea is popular in many parts of the world.
Coffee is becoming more popular in Ireland, with a surge in coffee shops in recent years. Many Irish people are making coffee at home too. Still, even with this growing interest in coffee, tea remains the dominant hot drink in Ireland.
Notable Omissions
You might notice that we've left a few apparent classics off this list. These items often turn up on Irish drinks lists, even though they're not really Irish at all.
Irish Car Bomb

The first drink to talk about is the Irish car bomb – and it's probably obvious why we left the drink off the list.
The Irish car bomb is a controversial drink, but some people still love it because of the taste. The drink follows a bomb style, which means that you're dropping a shot glass into a pint of beer. You need to drink the whole thing quickly once the shot hits the beer. Be careful, though. You don't want to damage your teeth by hitting them with the shot glass.
This particular drink uses a mix of Baileys and Irish whiskey in the shot glass, and Irish stout as the beer of choice.
The contents of the shot glass end up fizzing when they hit the beer. This is where the bomb idea comes from.
The drink's controversy comes from its name, as Ireland has a tragic part of its history that was rife with violence, including car bombs. Naming a drink the Irish car bomb is a crass call back to an awful point in history.
Besides, the cocktail is an American invention. The Irish part of the name just comes from the Irish alcohol that's used.
If you are going to try the drink, do so in America, not in Ireland. Ordering it at an Irish bar is highly offensive. Even here, bartenders often prefer calling the cocktail an Irish bomb or an Irish slammer.
Irish Mule

The Moscow mule is a classic cocktail that uses ginger beer, vodka, and lime juice. It's traditionally served in a copper mug, which helps to keep the drink cool for longer.
Many Moscow mule variations simply swap the vodka out for another type of spirit and change the name accordingly. This is exactly what happens with an Irish mule. So, as you can probably guess, the Irish mule uses ginger beer, Irish whiskey, and lime juice.
The whiskey adds extra spiciness to the drink, giving it a more exciting flavor than one that just relies on vodka.
Irish Flag Shot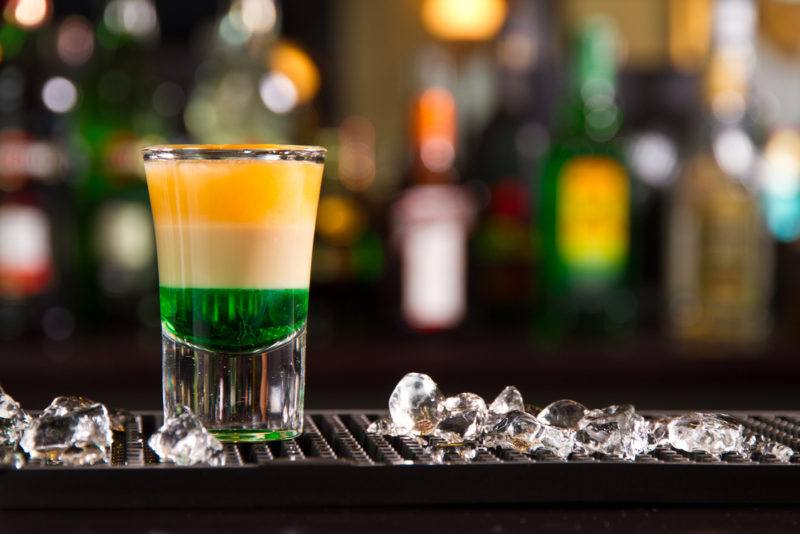 It's easy to see where this shot gets its name from – it is layered to look like an Irish flag. Not surprisingly, the shot is popular in the United States on St. Patrick's Day and isn't found that often in Ireland.
This isn't the tastiest shot either. Each type of alcohol is chosen for its color and the way that they layer together. You end up with a shot that looks fantastic and tastes… interesting.
The main ingredients are green crème de menthe, Baileys Irish Cream, and Grand Marnier. You can't really skip the crème de menthe or the Baileys Irish Cream, as these interact with each other to create distinct layers.
You could swap the Grand Marnier for a different orange liqueur and some recipes do. However, Grand Marnier tends to behave the best.
Either way, you have a peppermint layer, an Irish cream layer, and an orange layer. The peppermint and the orange don't complement one another well at all.
Irish Trash Can

This is another cocktail that you'll often find served for St. Patrick's Day. However, the 'Irish' in the name just comes from the drink's color (it turns green after mixing). So, once again, there's nothing particularly Irish about the cocktail.
This cocktail won't be for everyone either, as it combines half a dozen different types of alcohol and then adds a can of Red Bull. You end up with a sweet drink that comes with quite a kick.
If you want to try it for yourself, you'll need peach schnapps, triple sec, gin, vodka, blue curacao, and rum. Don't forget the can of Red Bull. The cocktail is traditionally served with the Red Bull can upside down on top.
Just be warned – one of these drinks goes a long way. There's a lot of alcohol in here, along with the caffeine from the energy drink.
Other 'Irish' Cocktails

Many cocktails use the word Irish in their name but have little relationship with Ireland at all. Sometimes the name might be a reference to the person who inspired the drink, to the final color, or to the fact that the drink uses Irish whiskey.
The Irish kiss cocktail, for example, uses peach schnapps, orange juice, ginger ale, and Irish whiskey. Another cocktail with the same name relies on Baileys, Kahlua, and hot coffee (which gives you a variation on the idea of an Irish coffee). Neither cocktail appears to have much history in Ireland.
Of course, whether they're Irish or not, many of these cocktails are still fun and delicious. They're worth trying for yourself. Just remember that many of them are more common in American bars than in Irish ones.