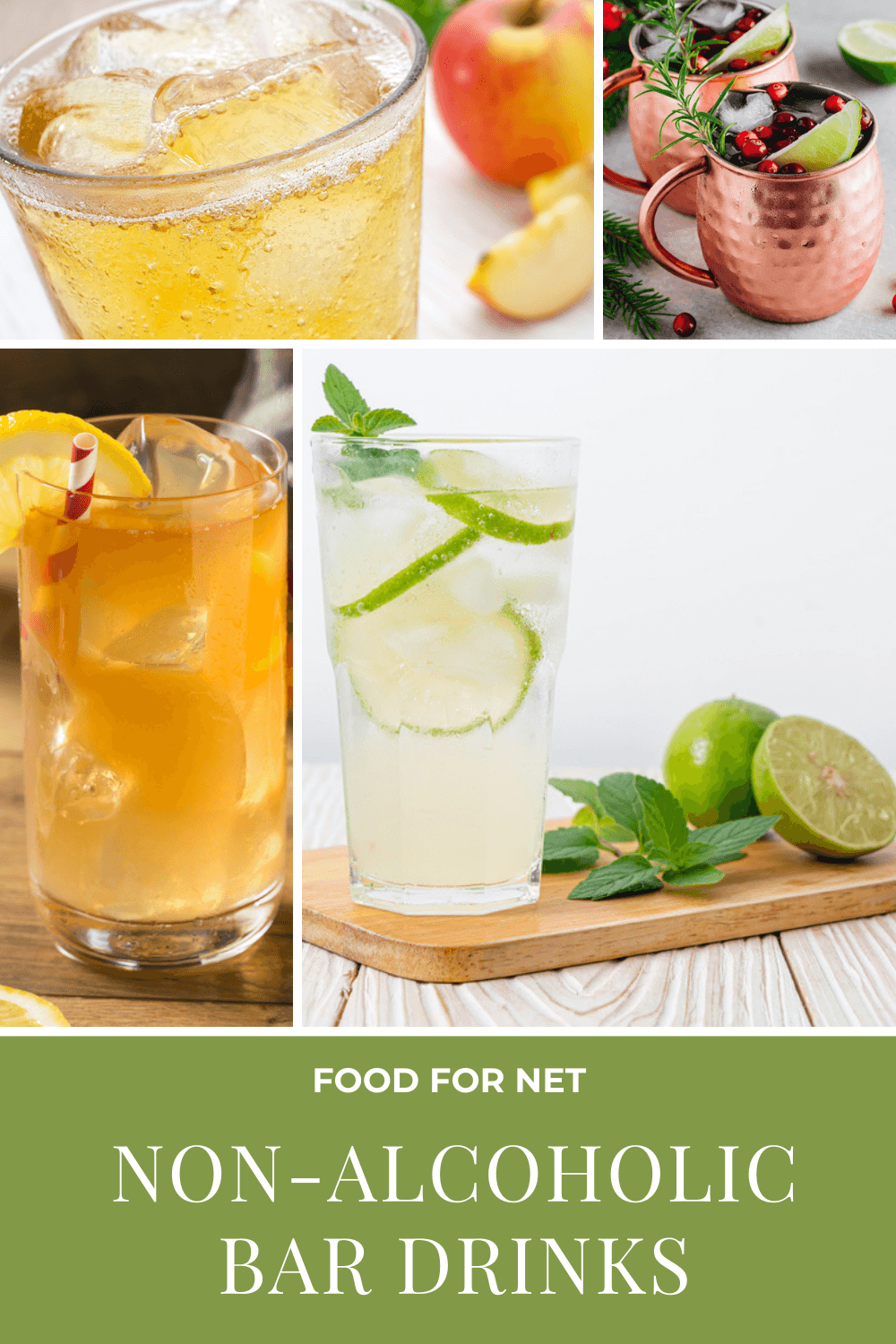 Avoiding alcohol while everyone around you is drinking can be a frustrating experience. Your options for non alcoholic drinks can seem very limited. The problem is even worse at an unfamiliar bar where you don't know what they offer. Don't worry. There are usually at least a few non alcoholic drinks to order at a bar.
Many more people than you might think are either going alcohol-free for the evening, or straight up don't drink alcohol at all. Thankfully, non-drinkers don't need to miss out on delicious cocktail flavors.
There are plenty of delicious drinks out there. Many can be ordered at any bar, while others you might need to hunt around for.
Don't stress too much if these drinks aren't on the menu at your local bar. Most use common ingredients and bartenders should be more than happy to mix them together for you.
P.S. You can also find alcohol free spirits, including the famous Seedlip brand. Some bars have started to stock these and create some truly exquisite alcohol free drinks.
Non Alcoholic Drinks To Order At A Bar
Club Soda with Lime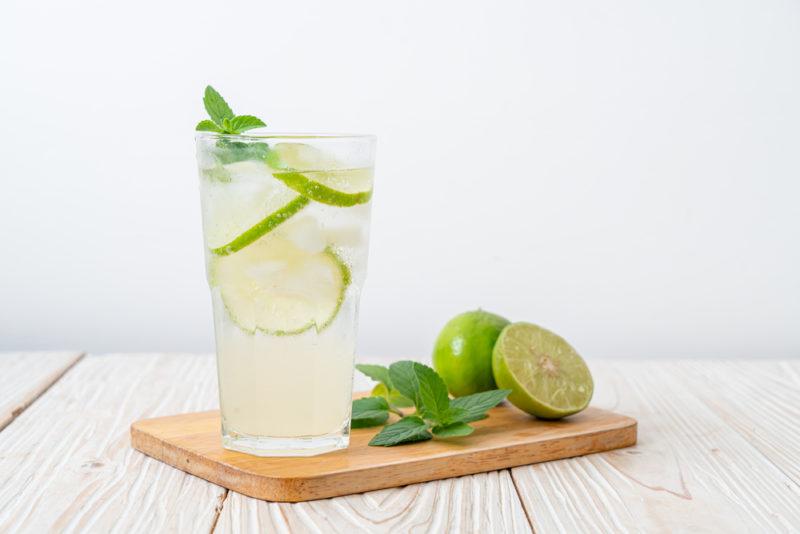 You can't go wrong with this combination if you want something simple that isn't sweet. The lime adds just enough flavor to make your soda water enjoyable.
Some bars will make this drink with a lime wedge, while others will add lime juice instead. The lime juice will have a stronger flavor, but either one can be appealing.
Club Soda with a Splash of Cranberry Juice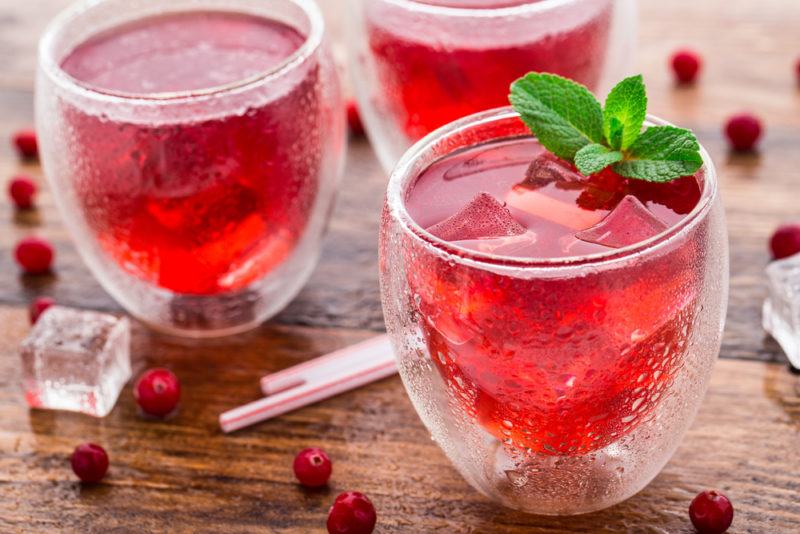 Adding a little cranberry juice is another easy approach. The juice gives you some sweetness, but only a little, while the bubbles help make this a refreshing drink.
This combination is much better than ordering a cloyingly sweet glass of fruit juice.
Soda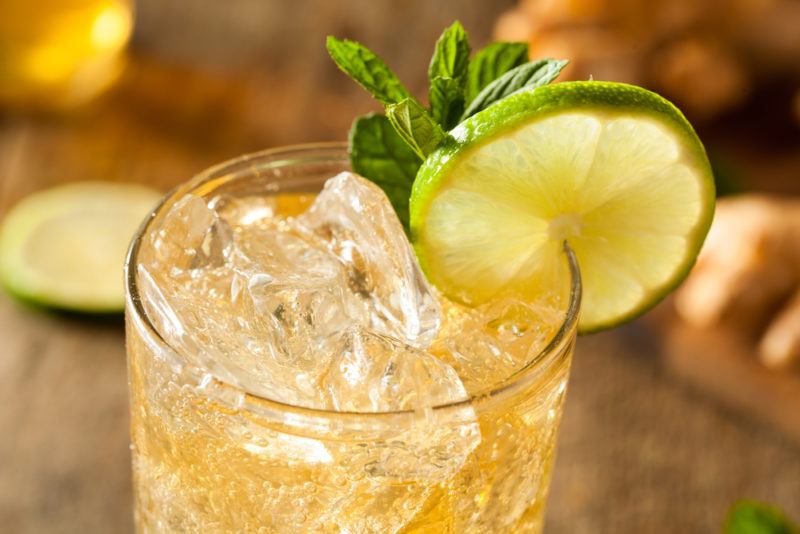 Soda is one of the easiest alcohol-free choices at a bar. Most bars will have the classics, like ginger beer, cola, lemonade, and soda water. Some may have more unusual types of soda too, especially if they use these in cocktails.
Don't be afraid to ask what their soda selection is.
Pay attention to the soda that they have on tap too. Anything available on tap should be less expensive than soda from a bottle.
Juice Spritzer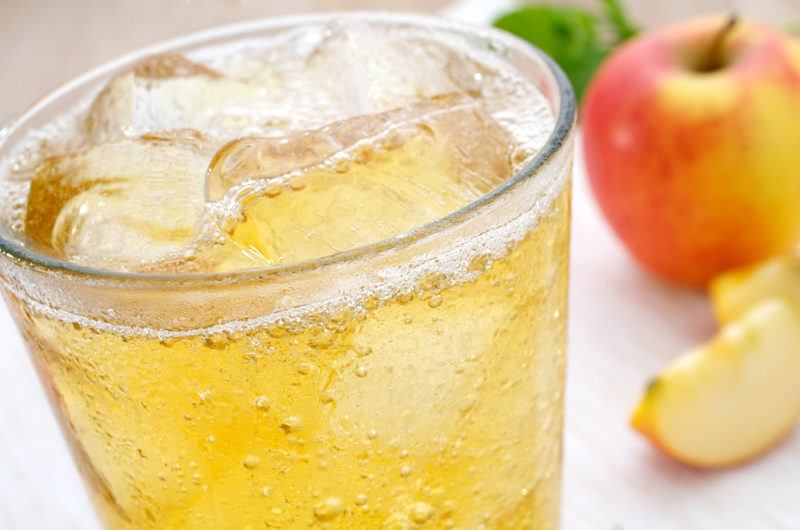 Like soda, juice is an obvious non alcoholic choice. Most bars will offer a few types of juice to choose from. Orange and cranberry juice are easy bets, as both are common cocktail ingredients.
Many bars will have bottled juice too. This should give you a wider variety of juice types and flavors.
A juice spritzer is an easy way to liven your juice up a little. The simplest approach is to combine juice with seltzer or soda water. If you prefer something sweeter, try asking for a juice and lemonade mix instead.
To kick this up a level, ask for a little lime juice as well. Lime juice is a fantastic way to make drinks taste more complex.
Shirley Temple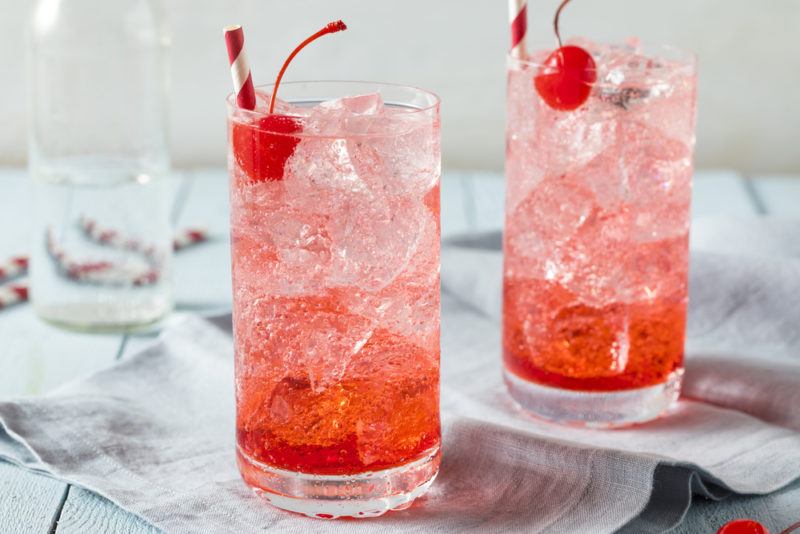 The Shirley Temple is probably the most famous non alcoholic cocktail out there. It combines ginger ale and grenadine, along with a little lemon or lime juice. The drink is garnished with a maraschino cherry, so it even looks like a regular cocktail.
Despite the drink's fame, Shirley Temple itself is said to have disliked it. This isn't too surprising, as when the mocktail is made with cheap ingredients it can be excessively sweet.
You can get around the sweetness by making grenadine yourself and using freshly squeezed lime juice.
Grenadine, Tonic Water, and Lemon Syrup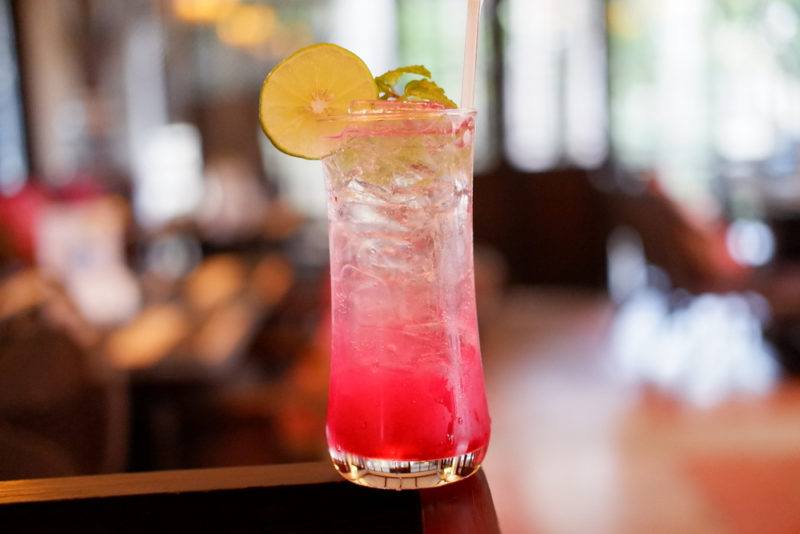 This mocktail does have a name. It's called the Keep Sober Cocktail. However, the drink is obscure enough that most bartenders won't know it, so you'll need to be specific about the ingredients instead.
The combination of grenadine, tonic water, and lemon syrup makes this like an adult version of a Shirley Temple. You're getting a more interesting flavor profile and less sweetness.
Roy Rogers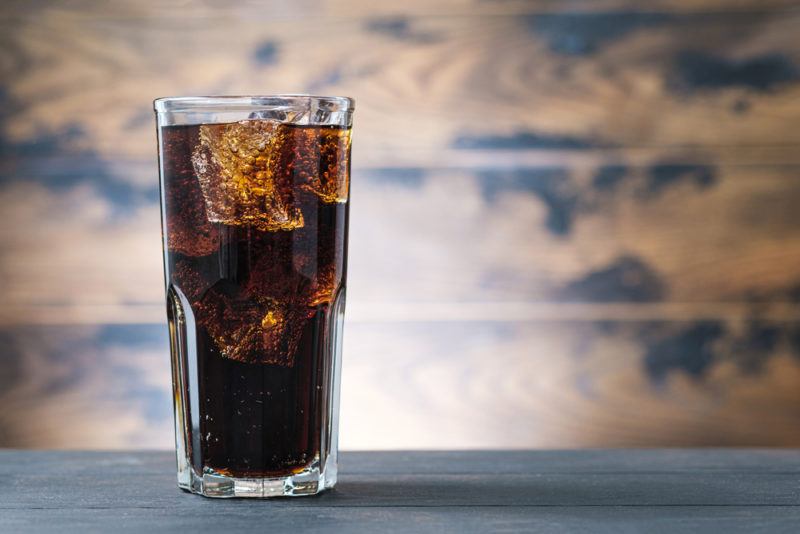 This mocktail isn't as girly or sweet as the Shirley Temple, but the underlying idea is similar. This time you're combining grenadine with coke and serving the drink over ice. It's classically garnished with a maraschino cherry.
You could easily add a little lemon or lime juice to this cocktail if you wanted. While those juices aren't part of the classic recipe, either one makes the drink a little more intricate.
Arnold Palmer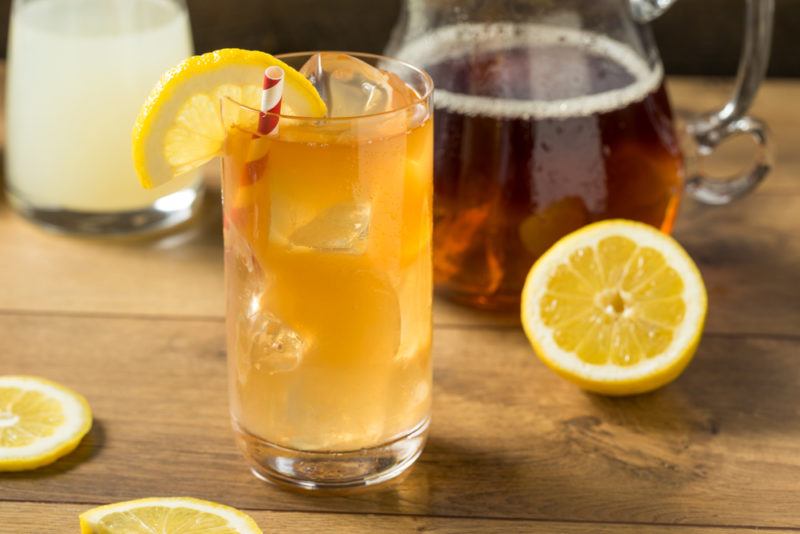 The Arnold Palmer is another classic non alcoholic cocktail. It uses iced tea and lemonade. Some versions add lemon juice or simple syrup to make the cocktail slightly more complex, but those ingredients aren't essential.
Ratios of the two ingredients can vary. Arnold Palmer himself is reported to have preferred one part lemonade to three parts of iced tea. Still, some bars may serve equal measures of the two ingredients.
The combination of iced tea and lemonade works well. You get a refreshing drink that's less intense than iced tea and isn't as sweet as lemonade.
Iced Tea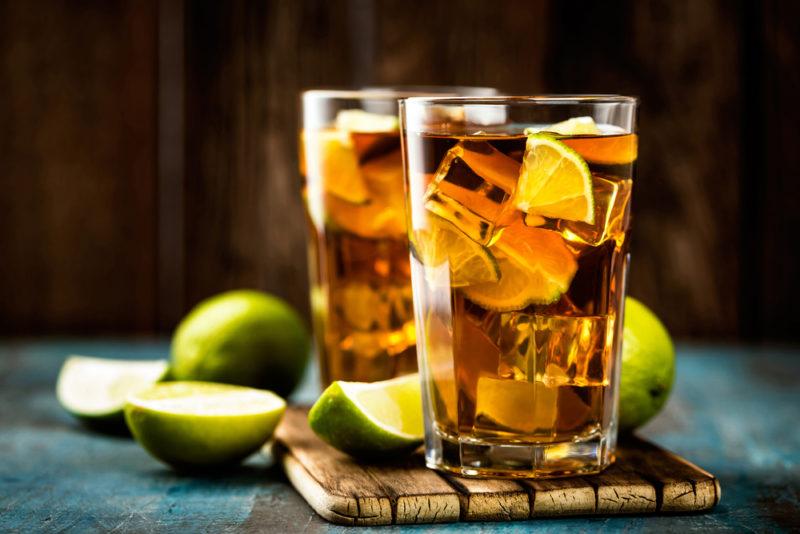 You could also go for iced tea on its own (just don't order a Long Island Iced Tea – as that's a potent cocktail). While iced tea isn't offered at all bars, many will have it.
The drink is perfect on warm evenings or if you're drinking during the day. And, because iced tea is mostly water, it's an easy way to rehydrate yourself.
Lemon, Lime, and Bitters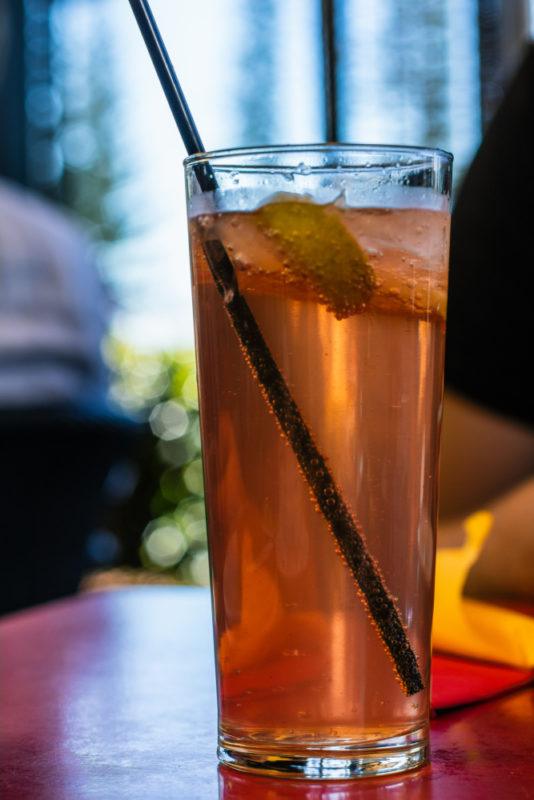 Lemon, lime, and bitters is a traditional choice for non-drinkers in Australia and New Zealand, and it's something you could order at your local bar too. The drink tastes delicious and uses common bar ingredients. Some bartenders will make it for you, while others might serve you a version from a bottle instead.
The drink itself is simple. It uses lemonade, lime cordial, and angostura bitters. The lemonade might be substituted for a lemon lime soda like Sprite. The bitters give the drink a delicious edge that you don't often find in mocktails.
You'll sometimes see this made with club soda instead. The club soda version isn't as sweet. That could be a good thing in some situations.
There's one limitation, however.
While lemon, lime, and bitters is called a non alcoholic drink, it does contain a tiny amount of alcohol from the bitters. The drink ends up with an ABV of around 0.2%, which is incredibly low.
This alcohol level is low enough that lemon, lime, and bitters is almost always considered non alcoholic (except in some Australian pubs). Whether this tiny amount of alcohol is a problem will depend on your relationship with alcohol. The drink might be a poor choice if you want to cut alcohol out of your life entirely, but fine if you don't mind the odd drop now and then.
Seltzer with Bitters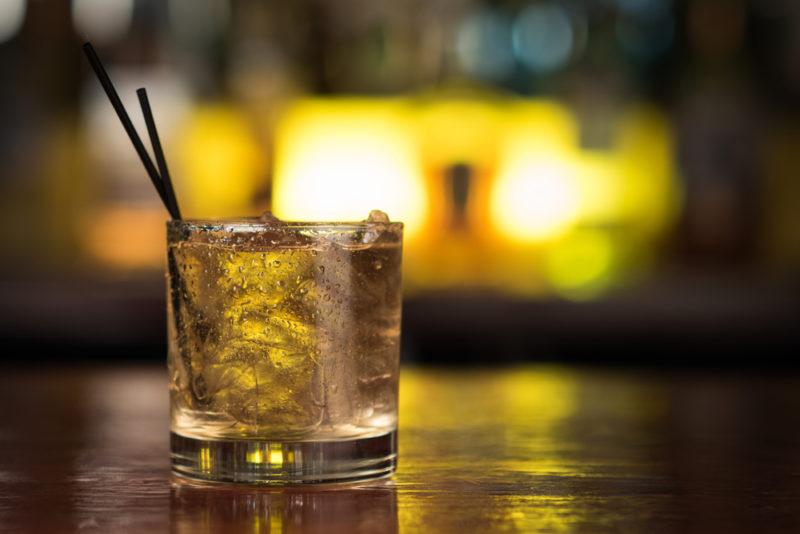 Ordering seltzer with bitters gives you a subtle drink. The bitters make your drink taste more interesting without adding much sweetness.
You do, however, face the same problem as with lemon, lime, and bitters. Once again, your drink contains a tiny amount of alcohol from the bitters.
Club Soda and Cordial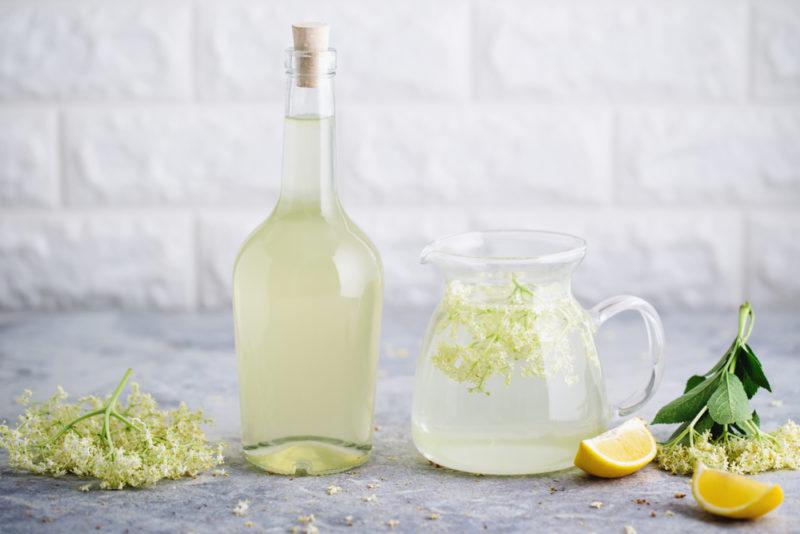 Combining some type of fruit cordial with club soda always works well. You get a fresh and refreshing drink that only uses two ingredients.
This particular drink may be harder to order in the US, as fruit cordials aren't as common as in the UK, New Zealand, or Australia. Still, you don't know until you ask.
Virgin Bloody Mary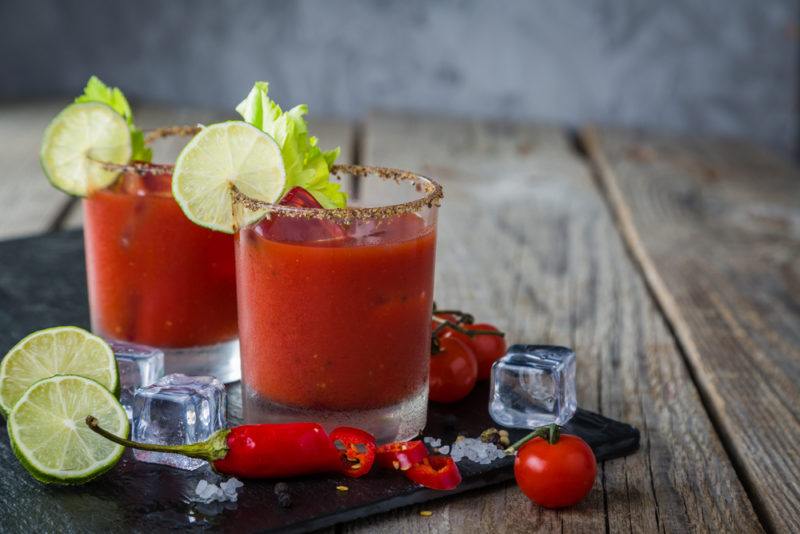 Virgin cocktails are an easy go-to at a bar. You're basically ordering a regular cocktail without the alcohol. This is a great way to get in the spirit of things. Most of the time it won't even be obvious that your drink is missing the alcohol.
Of course, some virgin cocktails are better than others.
A virgin bloody Mary can be a fantastic choice, as a bloody Mary has so many interesting flavors. The official version uses vodka, tomato juice, lemon juice, tabasco sauce, Worcestershire sauce, celery salt, and black pepper.
Vodka doesn't have much flavor anyway, so it's not surprising that an alcohol-free version of this cocktail still tastes delicious. You could also try a virgin Caesar. This is a similar cocktail, except that it also uses clam broth.
If you want to make things interesting, ask for an extra spicy version of either cocktail.
Virgin Mojito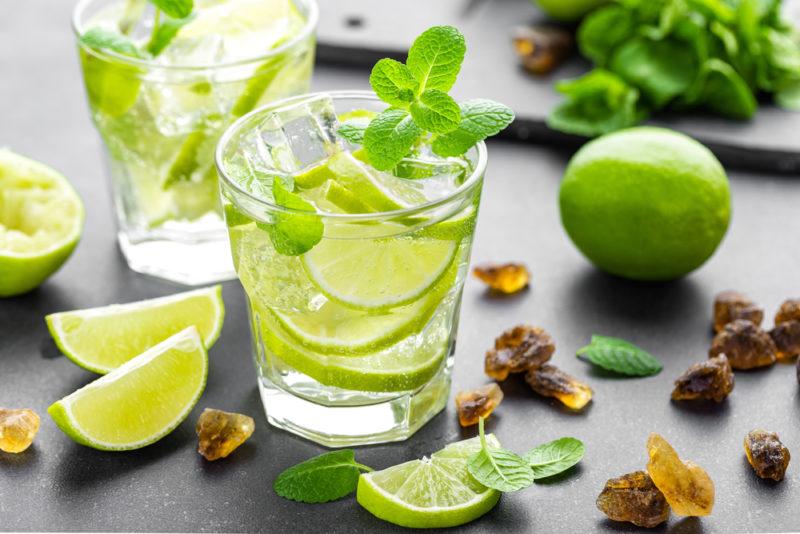 A mojito is another cocktail that tastes just as good without the alcohol. The standard version relies on club soda, lime, white rum, mint leaves, and white sugar.
While the flavor profile gets a little simpler once you take the rum out, the mocktail is still delicious. Plus, mojitos are popular cocktails and use common bar ingredients. It will be challenging to find a bartender that can't make a virgin mojito for you.
Other Virgin Cocktails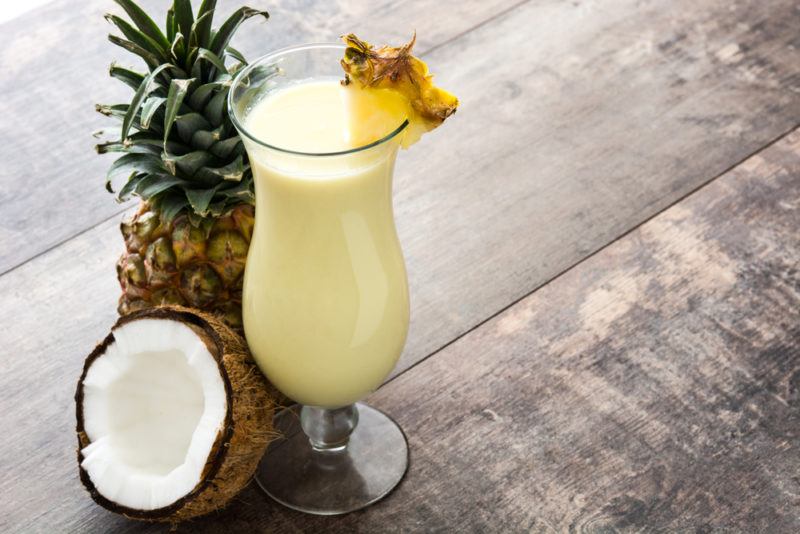 There are many other delicious virgin cocktails too. But, it helps to know your stuff before you head over to the bar.
While some virgin cocktails taste delicious, others aren't that good or simply don't make sense. For example, you can't order a virgin martini – as a martini only uses gin and vermouth to begin with and those ingredients both contain alcohol.
Other good virgin choices include a pina colada, strawberry daiquiri, or Tom Collins. Many vodka cocktails are perfect without the spirit too, as vodka doesn't have much flavor anyway.
If you feel stuck, you can always ask the bartender for advice. They should be able to point you to some delicious virgin cocktails. Some bars may even have a house specialty or two.
Mocktails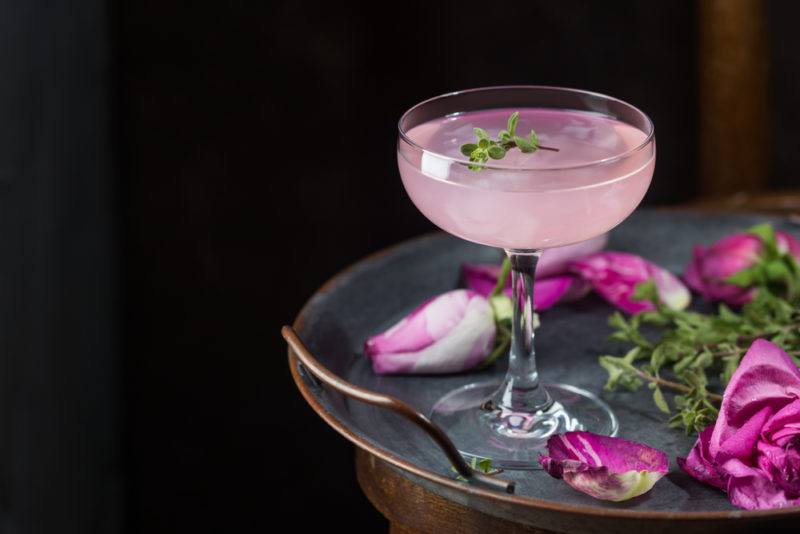 Mocktails are simply drinks that are like cocktails without any alcohol. So, the Shirley Temple and Roy Rogers drinks that we mentioned earlier are both mocktails. The same is true for any virgin cocktail.
We're including mocktails as a separate item for this list because many bars will have their own mocktails. Providing some non alcoholic options has now become the cool thing to do and you'll even see a few mocktail options gracing the menu of many bars.
Some bartenders will be able to create a mocktail for you too, especially if you have a general idea of what you want. For example, I knew a bartender who asked patrons for rough preferences, like whether they liked fruity or not, sweet or sour, that type of thing. He was then able to create unique mocktails based on those requests.
Alcohol-Free Spirits
Alcohol-free spirits are a fairly new idea. These products are designed to mimic the flavor of traditional alcoholic ingredients without including any alcohol at all. Mocktails made with these spirits can taste similar to ones that rely on their alcoholic counterparts.
The brand Seedlip is the biggest player in the market here. You might find others as time goes on.
Or, for an even easier option, ask for one of these spirits with tonic water. You'll get a drink that tastes like a gin and tonic, but is still entirely alcohol free.
The biggest problem is that you won't find these spirits everywhere. Many bars won't use them at all. Still, if you have a favorite watering hole, you could always suggest that they try the idea out.
Kombucha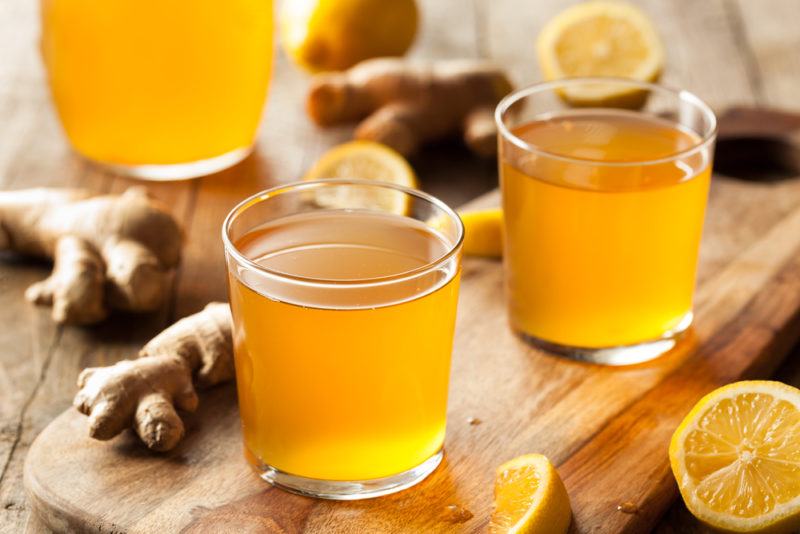 Kombucha is a popular drink for its health benefits. It is a powerful source of probiotics and happens to taste delicious too.
You won't find kombucha at every bar, but many will have a few bottles in the fridge. Some may even offer kombucha on tap.
Try asking to have the drink served in a wine glass. This is a great way to fully enjoy the experience.
Ginger Beer with Lime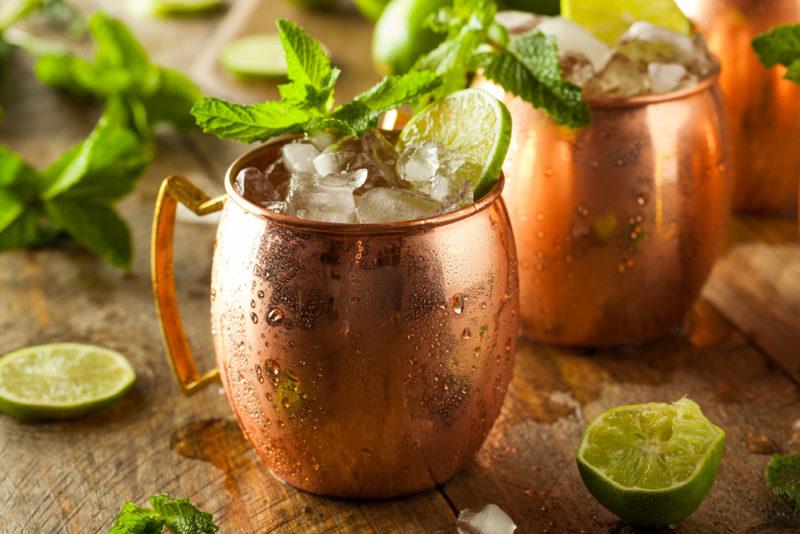 The ginger beer and lime combination is basically a virgin Moscow mule, but calling it that sounds pretentious and could confuse your bartender. It's much easier to ask for a ginger beer and lime.
With this and kombucha, make sure that your drink really is alcohol-free. Ginger beer and kombucha are both fermented, so they can end up with surprisingly high levels of alcohol. Most bottled products will be non alcoholic, but it's always worth double-checking.
Other types of soda combine well with lime too, including cola and lemonade.
This is a perfect non alcoholic choice because most bars should have lime juice on hand. After all, the juice is used in countless cocktails.
Cranberry Juice, Ginger Beer, and Soda Water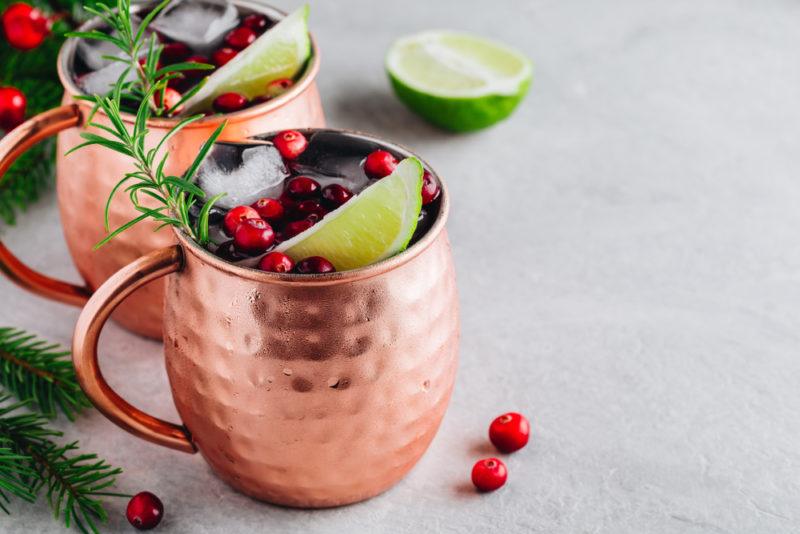 Combining ginger beer and cranberry juice sounds like an odd idea. It's also one that works surprisingly well. The ginger beer provides bubbles, an exciting flavor, and enough sweetness to offset the cranberry juice.
The drink can be made more complex by adding lime, mint, and sugar, but those ingredients aren't necessary. You might even prefer the simpler version of the drink.
0% Beer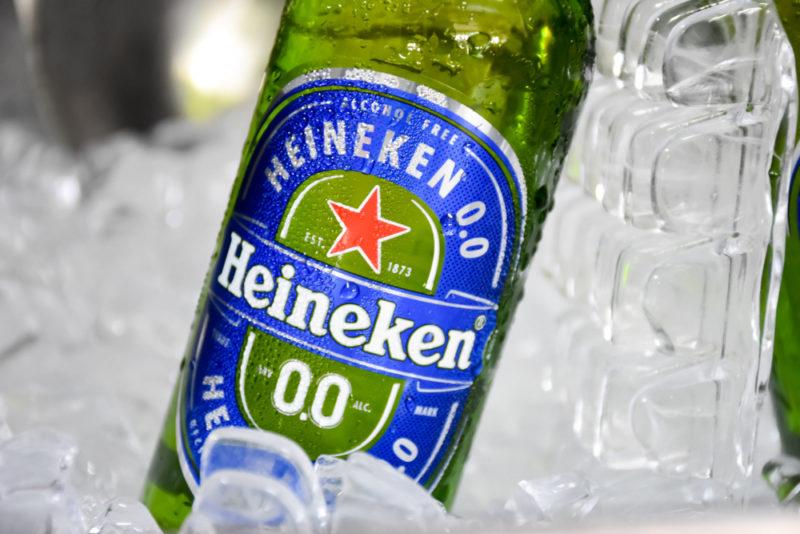 Non alcoholic beer is exactly what the name suggests. You're getting something that tastes like beer, without the alcohol. Some versions will taste almost exactly the same as their alcoholic counterparts, while others may be much lighter.
You may need to experiment a little here, as some types taste better than others.
Once you know which non alcoholic beers you enjoy the taste of, you can look out for it at your local bar.
Coconut Water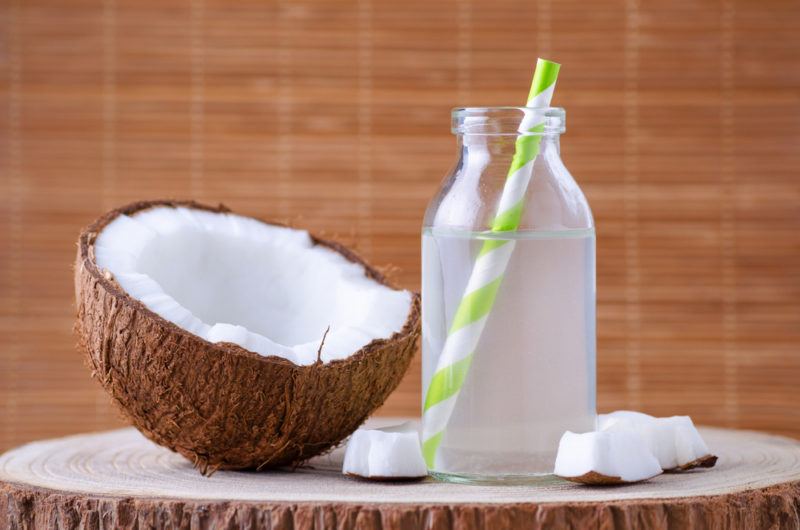 As society becomes more health-focused, options like coconut water are getting much easier to find. Now you'll often be able to order coconut water at a bar.
This is a fantastic choice if you're wanting something healthy and low in calories. Coconut water can be perfect between drinks too, for anyone in your party that is drinking booze. This is because coconut water offers electrolytes, so it helps you to stay hydrated.
Tea or Coffee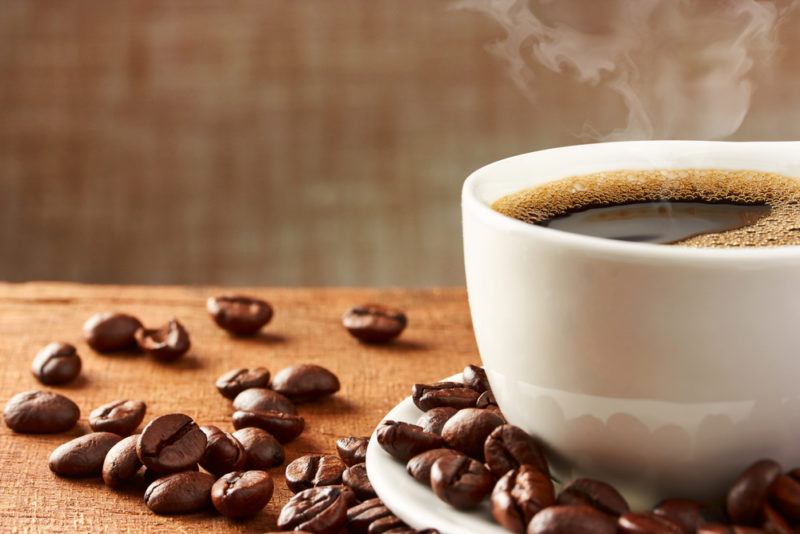 Some bars will serve tea and coffee. You might be able to find hot versions of the drinks, along with iced tea and cold brew coffee.
Tea has the advantage of being refreshing and hydrating, while coffee will give you an energy hit instead. Both options can work well.
Even if your bar doesn't normally serve tea, most will have some tea on hand, as it can be used for infusions and in some cocktails. Getting the bartender to make you a hot pot of tea shouldn't be too difficult, even if tea isn't on the official menu.
Sprite And Orange Juice

This simple drink works well – and every bar should have the ingredients. The Sprite dilutes your orange juice and makes it much more interesting by adding bubbles. You also get some subtle lemon-lime tones from the soda.
Or, as we mentioned earlier, you can simply order orange juice with soda water. Doing so still gives you fizz from the soda water, without making the drink too sweet.
Another cool thing is that a glass of bubbly orange juice looks like it is alcoholic (you can even ask the bartender to make it look like a cocktail). This is helpful in social situations where people are pressuring you to drink.
Water

Boring as it may seem, there's always water. It will keep you hydrated, if nothing else. You don't need to stick to regular water either, as most bars will offer sparkling water.
Red Bull

If the night is wearing on, why not order Red Bull? The combination of caffeine, taurine, and sugar is certain to keep you going for at least another hour.
You can often find other energy drinks too, but Red Bull is easily the most common. After all, it features in a shocking number of cocktails.
Are These Drinks Completely Alcohol Free?
Drinks that rely just on soda or juice will be completely alcohol free. However, any distilled non alcoholic spirits, alcohol free wine, or alcohol free beer may have a tiny amount of alcohol. This is because these products often still involve a fermentation step, then the alcohol is removed.
Often, such products are legally required to have less than 0.05% alcohol to be labeled as alcohol free. Some companies try to get as close to 0% as possible, while others don't.
Any drink using bitters is a slight issue as well. Bitters generally have an ABV of between 35% and 45%. However, only a few dashes of bitters are used in a drink, so you're never getting much alcohol from them.
Related Content