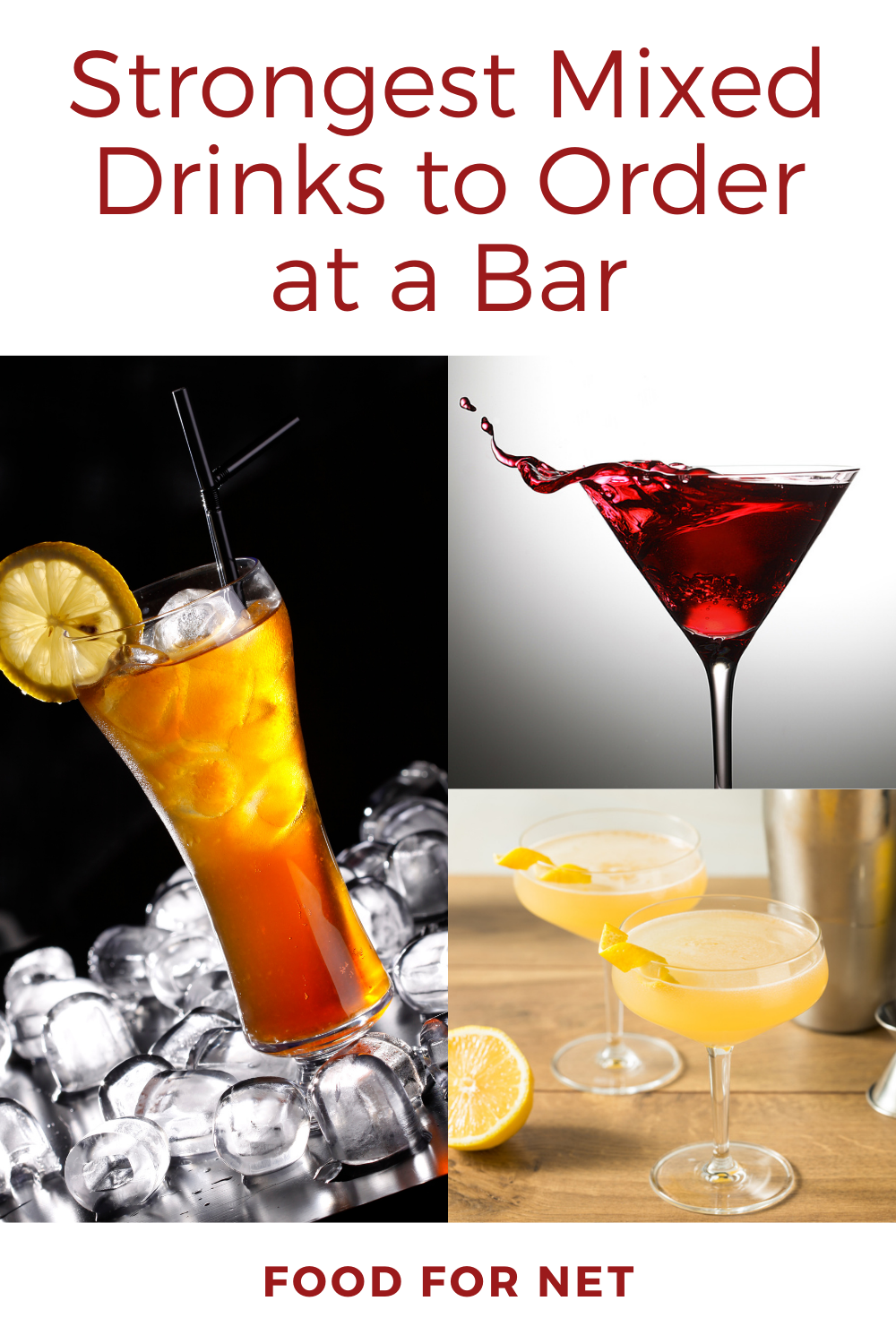 Ordering drinks at a bar can get tricky fast. There are so many of these to choose from, each with its own flavor profile. You'll probably love some of them and hate others. The alcohol content varies too, as some cocktails are on the weak side, while others pack a punch. That's why today, we're looking at the strongest mixed drinks to order at a bar.
By this, we mean the ones with the most alcohol in them.
Even if you don't order cocktails often, knowing the strongest ones just makes sense. Then, you know what to order if you want to get drunk fast and what to avoid if you're trying to be more mellow.
While we're focusing on drinks that you can order at a bar – you could make most of these at home too. Many aren't even that complicated. The basic theme is that they rely on high proof alcohol ingredients and limited amounts of mixer.
Don't worry though; these cocktails aren't all difficult to drink. Some of them go down with surprising ease.
Strongest Mixed Drinks (With Pictures)
Zombie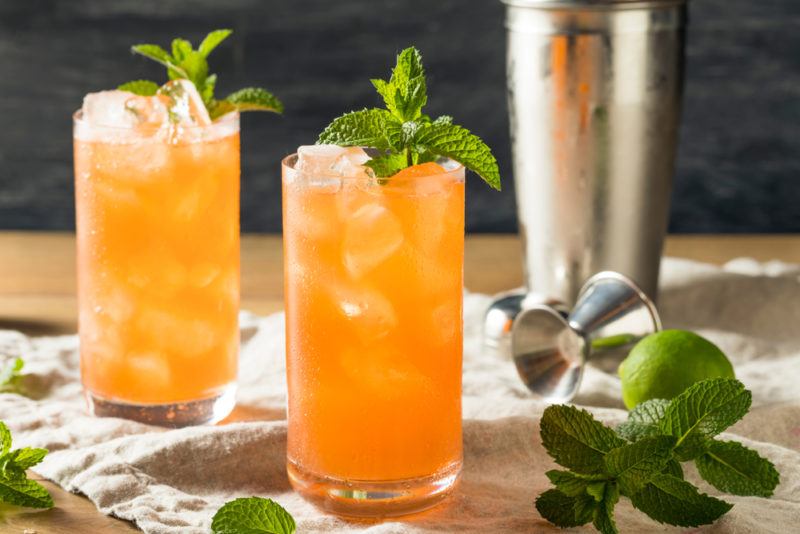 The zombie cocktail doesn't look like its name at all. It is vibrant and pretty instead. And, just like the appearance suggests, this is a fruity cocktail.
A classic version of the cocktail relies on three types of rum, white grapefruit juice, lime juice, cinnamon syrup, falernum, Pernod, Angostura bitters, and grenadine. One of the rums is traditionally high proof, which increases the alcohol content still further.
Other versions are more accessible, using two types of rum, lime juice, pineapple juice, and grenadine. Such recipes tend to contain less alcohol, but they're still not lightweights.
With so many versions to choose from, it's worth asking the bartender how they make the cocktail (when the bar is quiet, of course). This is the best way to know whether the drink will be what you're looking for.
If you're making zombies at home, then you can easily tweak the ratio of ingredients to make the cocktail more alcoholic.
Long Island Iced Tea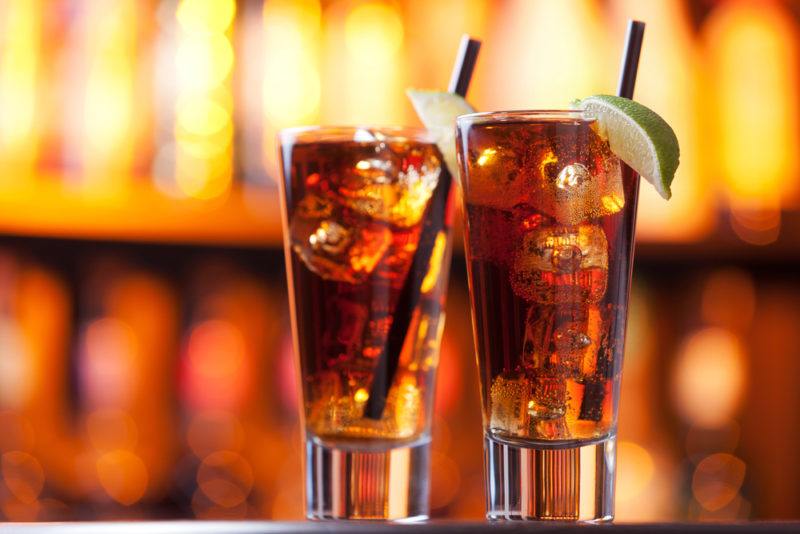 The Long Island iced tea is one of the most deceptive cocktails out there. It uses five types of alcohol, which are all 40% ABV. You'll normally see gin, vodka, tequila, rum, and triple sec included in the mix – often in equal measures. The concoction is then topped up with a little cola.
You end up with a large amount of booze and not all that much mixer at all. Honestly, the amount of cola is shockingly small.
Even more impressively, the cocktail just looks like a tall glass of iced tea, so no one will even know what you're drinking.
Perhaps the most surprising feature is the flavor of the cocktail. With five types of spirits and some soda, you'd expect this cocktail to taste horrible. But that's not the case at all. The spirits balance out each other well, giving you a delicious and surprisingly complex drink.
Aunt Roberta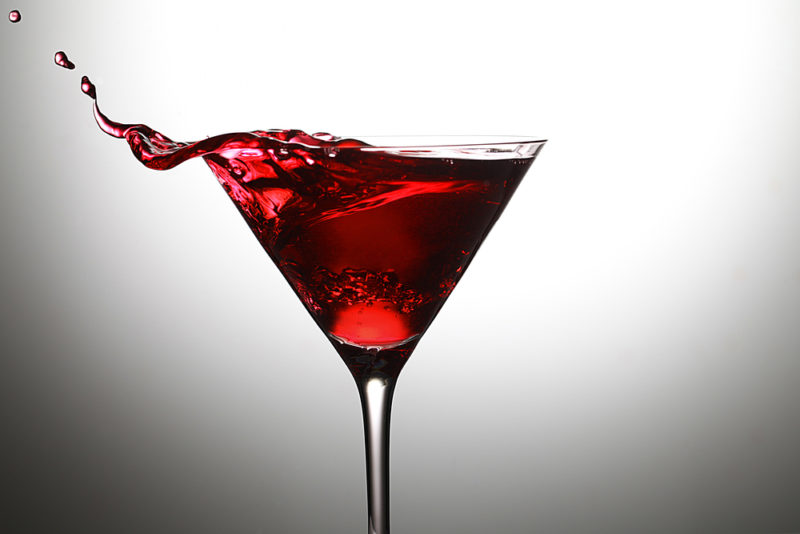 Like the Long Island iced tea, this cocktail combines multiple types of spirit in a single drink. But, this time, there aren't any mixers present at all. Instead, the five ingredients are gin, vodka, brandy, blackberry liquor, and absinthe.
Not only are all the ingredients in this cocktail alcoholic, but they are all at least 40% ABV. There are no low alcohol players at all. Absinthe can often be even higher, at around 45% ABV.
The blackberry liquor and absinthe both make this cocktail stand out from the crowd.
The ratios of ingredients will vary depending on the recipe that you use. For example, some versions call for equal measures of all the ingredients. In contrast, others have higher amounts of absinthe and vodka.
Such differences in quantities will change how the cocktail tastes, along with its strength.
Martini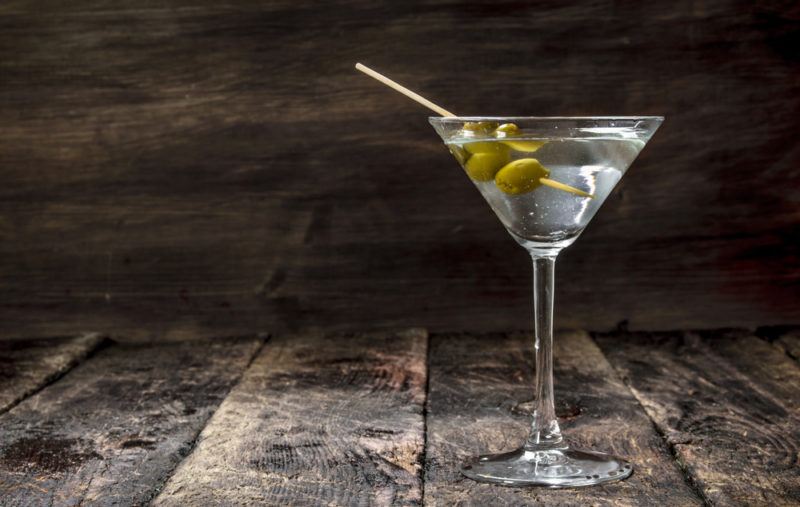 A martini relies on two ingredients – either gin or vodka, and then vermouth. These are all alcoholic ingredients, so you're getting a decent APV regardless.
However, vermouth isn't a spirit; it's a relatively low APV fortified wine. If you want a strong martini, then you need to tweak the ratio of gin/vodka to vermouth.
For example, an extra-dry martini tends to rely on dry vermouth and also contains more gin (or vodka) than vermouth. Ratios like 3:1 are common, but you can see many more extreme versions too, like a 15:1 martini.
Another variation involves rinsing the glass with vermouth, without including in the cocktail at all. Or, you might include a very small amount of vermouth. Such cocktails will sometimes be called a bone dry martini.
If you're ordering at a bar, it's best to specify the ratio of spirit to vermouth that you're looking for – or ask what the bar's version of an extra-dry martini is. This way you know what to expect before you spend any money.
Oh, and be a little careful if you're ordering a bone dry martini. This request generally means you're getting a tiny amount of vermouth in your martini, but some people simply serve a glass of gin that is garnished like a martini.
Negroni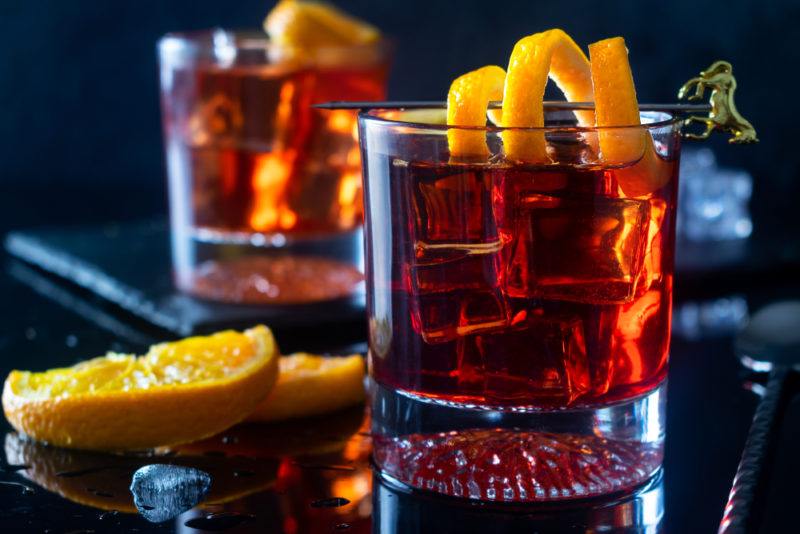 The negroni is a classic cocktail, so it's a very easy one to order at the bar. It's also deceptive, as the cocktail looks pretty and tastes amazing, so it's easy to forget just how strong it is.
There are three ingredients, plus an orange twist as the garnish. Gin is the star and, at 40% ABV, is the main source of alcohol too. The cocktail also includes Campari (at around 25% ABV) and vermouth (15% ABV).
Sazerac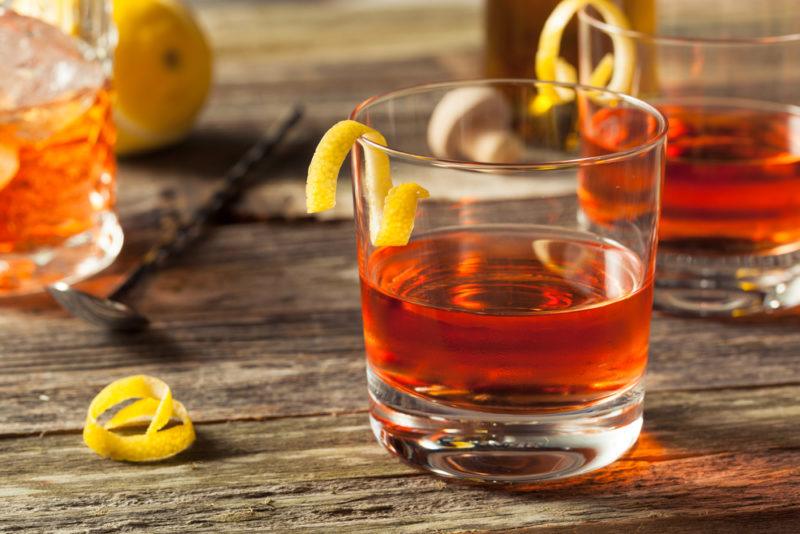 This is another cocktail that can be made in a few different ways. A classic version involves rye whiskey, cognac, Angostura bitters (or Peychaud's bitters), and a sugar cube. The cognac isn't essential, as some versions of the cocktail only use rye whiskey as the spirit of choice.
Before making the drink, be sure to rinse the glass with absinthe. Even though absinthe isn't in the cocktail itself, rinsing the glass with it strongly influences the cocktail's flavor. The cocktail just won't taste the same if this step is skipped. So, if you're ordering at a bar, watch to see whether the bartender uses absinthe. If the bartender doesn't, then it's time to find a new local.
The strength of the drink comes from the rye whiskey, along with the fact that you're not using many other ingredients. After all, a sugar cube and some bitters don't add all that much to the finished drink.
Other recipes add extra ingredients, like a little water or some simple syrup. These versions might not be quite as strong, but they're still impressive.
Liquid Cocaine

While this cocktail is often served as a shot rather than a full drink, you can enjoy it either way. The ingredients are simple – equal measures of Bacardi, Jägermeister, and tequila.
With such a simple ingredients list, it doesn't matter whether your bartender knows how to make this drink or not. You can easily explain it. Plus, the ingredients are all extremely common, so you shouldn't have any issues at all.
Jungle Juice

While jungle juice sounds like something you might give your kids, it is actually a potent drink. Fresh fruit is the key ingredient here. The fruit is steeped in grain alcohol overnight and then served.
It's easy to get caught off guard by this cocktail, as it is incredibly strong and looks just like your typical fruit punch. Jungle juice isn't as difficult to drink as you might expect. When it's well-made, the flavors of the fruit dominate the drink and the alcohol is barely noticeable.
If jungle juice sounds like too much, you can always dilute it with a little mixer, like lemonade or soda water. Even just a little would make the drink easier to enjoy. Doing so is somewhat frowned upon, but in the end, you decide what you're going to drink – no one else.
Death in the Afternoon
This cocktail gets its fame from Ernest Hemingway. It's an easy one to order, as there are just two ingredients. So, even if your bartender doesn't know how to make the cocktail, you could easily give them instructions.
The cocktail is made by pouring one jigger of absinthe into a champagne glass and then topping it up with chilled champagne. This tends to create a milky cocktail that's a cut above simply drinking champagne.
Absinthe tends to be around 45% ABV, while champagne is often around 12%. This makes the cocktail a little less potent than options like Long Island white tea or Aunt Roberta, but it is still a powerful choice.
Hemingway suggested drinking three to five of these cocktails in a single sitting, which probably isn't a good plan. Seriously, just one or two is likely to make you tipsy. Who knows where you would be after five?
Caribou Lou

Caribou Lou isn't the most well-known cocktail out there, despite getting its name from a famous song. You might get lucky and find a bartender that knows how to make the cocktail. If not, then most bartenders are willing to make you a cocktail if they have the ingredients at hand – and this is a pretty easy cocktail to make.
The main ingredients are pineapple juice, coconut rum, and Bacardi 151, a high-proof rum. You could use another high proof rum instead of the Bacardi, as Bacardi 151 was discontinued back in 2016.
The use of two rums is what gives this cocktail its potency. Most bars will have the rums that you're looking for, so the real question is whether they have the pineapple juice. Many will, so why not ask and see where you end up?
Corpse Reviver

Strong cocktails don't always have morbid names, but some of them do. This cocktail is a classic one that dates back to the 1930s. It's often promoted as a hangover cure (hence the name), but you don't need to be hungover to enjoy the cocktail.
This time, the cocktail features four alcoholic ingredients – gin, Cointreau, absinthe, and Lillet Blanc (you can swap this for Cocchi Americano if you would prefer). A little lemon juice is added, along with an orange peel garnish and that's it.
Lillet Blanc is a type of fortified wine, with an ABV of around 17%. So, it isn't as potent as a spirit. Still, the other ingredients in the cocktail are all powerful. You certainly won't feel like you're missing out with this cocktail.
There are other variations on the corpse reviver cocktail too. They use different combinations of ingredients, but most remain potent.
Four Horsemen No. 3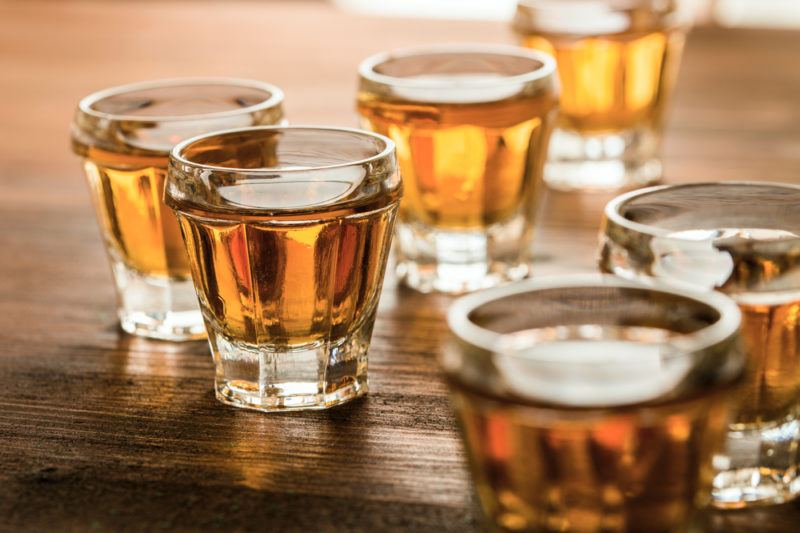 Here's another cocktail with a frightening name. This particular version relies on Jägermeister, peppermint liqueur, cinnamon schnapps, and overproof rum. You use equal measures of each, which gives you a very potent drink, at roughly 51% ABV.
The alcohol content isn't the only potent aspect of the drink either. The flavors are intense too – as you're getting peppermint and cinnamon flavors, not to mention the unique flavor of Jägermeister.
Ordering this particular cocktail at a bar could be difficult, as the ingredients are unusual and the recipe itself isn't that well-known.
Thankfully, there are many four horsemen cocktails and some bars will have their own variations. The four horsemen cocktails all use equal measures of four different alcoholic ingredients – often spirits.
For example, one version of the four horsemen no. 2 uses equal measures of Jim Bean, Jack Daniels, Johnnie Walker, and Jose Cuervo. It's easy to see how potent that combination would be – and most bars will have all of the spirits on hand.
Black Russian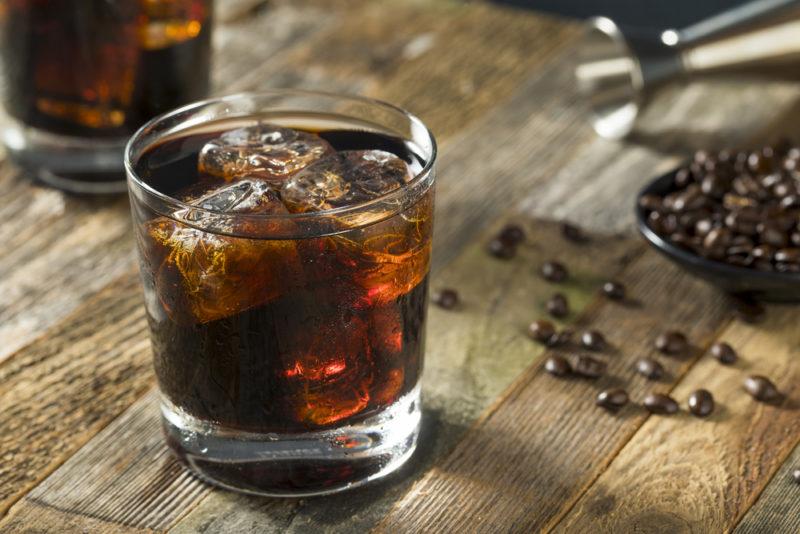 The black Russian is such a classic cocktail that it's easy to forget just how potent it is. The drink relies on vodka and coffee liqueur. Both ingredients are alcoholic and there are no mixers involved at all.
You can even kick this up a notch by relying on a 100-proof vodka like Absolut 100, rather than an 80-proof version. Using a higher proof alcohol doesn't just make this cocktail stronger, the approach also makes it taste better. Don't believe us? Try the drink for yourself.
Hand Grenade

This cocktail is a little different. You can order it in a bar, but only if you're in the French Quarter of New Orleans. Still, if you're in the area, this specialty cocktail is worth trying. Many people say that it is delicious, although there are those that don't like the drink at all. Then again, it's rare to find a cocktail that makes everyone who.
Vodka, rum, gin, and melon liqueur are the main ingredients. Once again, these all contain alcohol, so you're getting a stiff drink. Substitutions are sometimes made, like using a different type of fruit liqueur or adding another spirit into the mix as well.
Sometimes you'll find the cocktail on the rocks, while other times it might be frozen instead. Either approach tastes fantastic. The cocktail is often served in a specialty plastic yard glass. This glass is another reason that the cocktail is so potent – you're getting a decent amount at one time.
Tokyo Iced Tea

We've talked about the Long Island iced tea already, which is a staple at many bars and features five different types of alcohol. But, the Long Island isn't the only cocktail to follow this approach. There are countless variations that change a few ingredients.
One of these is the Tokyo iced tea. The cocktail still has the five classic spirits from a Long Island, but swaps the cola for lemon lime soda instead. There's also a serving of melon liqueur in the mix, which gives the tea its neon green color.
Most versions also use a sweet sour mix. This all the flavors together well and creates a vibrant cocktail.
Adios Motherfucker
Then there's the Adios Motherfucker (often just called the AMF). Like the Tokyo iced tea, this uses Sprite as a mixer and includes sweet and sour mix.
However, while the Tokyo iced tea features melon liqueur, the AMF relies on blue curacao. The blue curacao is what gives the cocktail its vibrant color and makes it such a stunning drink.
Hurricane

The hurricane is a fruity and tropical drink, often served with plenty of ice. Yet, it's also relatively strong and surprisingly manly, as it contains two different types of rum. Sometimes it's even made using overproof rum, which raises the alcohol content even higher.
The sweet flavor of the hurricane is fantastic as well. This means that the hurricane is easy to drink. You could probably knock back a few without much effort at all.
Bullfrog

The bullfrog cocktail might look bright, fruity, and innocent, but it is a surprisingly strong cocktail. You've got vodka, rum, gin, tequila, and blue curacao in the mix.
That's not all. There's also Red Bull as an ingredient. Combining Red Bull with this much alcohol is seriously impressive. However, it's best not to have more than one of these drinks per night, as the combination of caffeine and alcohol isn't great for your health.
151 Ways to Die

This recipe comes from Tipsy Bartender, so it's not a shot you'll often see in bars. It's also an incredibly strong shot, as it features equal measures of whiskey, tequila, Everclear, and overproof rum.
The only way to create a stronger shot than this would be to just focus on a single overproof ingredient, but such a shot wouldn't taste nearly as good.
An Evening In Mexico

An evening in Mexico is another modern creation and certainly lives up to its name. Not only does the cocktail include tequila, but there's also mezcal and agave as ingredients.
These are complemented by a few dashes of orange bitters and grapefruit bitters. So, there are hardly any mixers in this cocktail, which keeps it nice and alcoholic.
Churchill Martini

The Churchill martini is a tongue-in-cheek recipe, as Churchill was famous for not including any vermouth in his martini at all. So, we're simply talking about a glass of gin that's garnished with an olive or three, just like a traditional martini.
This style ends up being the strongest martini possible (unless you find a version that relies on Everclear instead of gin or vodka).
Manhattan

We can't mention the martini without bringing up the Manhattan. It's a very similar cocktail, except that the Manhattan relies on bourbon as the spirit of choice. Sweet vermouth still features, although there are a few dashes of bitters as well.
Because there are a few mixers in the cocktail, it's certainly a strong choice. It's also refined and is a great drink to sip slowly. Like many classic cocktails, this is traditionally stirred rather than shaken.
Nikolaschka

The nikolaschka cocktail is certainly unusual. The drink itself is simply cognac in a snifter glass. This is then topped with a slice of lemon, powdered coffee, and sugar.
Some people drink the cocktail by placing the lemon slice on their tongue, then sipping the cognac. Others drink the cognac first, then chew on the lemon slice. Regardless, we're basically talking about a shot of cognac, so the alcohol content is naturally high.
Caipirinha

Like the old fashioned, the caipirinha involves very few ingredients. It's simply made from sugar, lime juice, and a Brazilian spirit called cachaça. The sugar and lime juice create an interesting contrast to the cachaça and give you a drink that's easy to enjoy.
11th Hour

The 11th hour is one of the most impressive shots you'll ever see. It features 11 different ingredients, including absinthe, vodka, tequila, gin, and rum. What's more, every single ingredient is alcoholic – there are no mixers present at all.
The shot is even stronger due to the use of overproof rum and Everclear. All-in-all, it's an intense shot that even tastes relatively good.
Of course, you need all 11 ingredients on hand to make the shot, which is a limiting factor. You could order it at a bar instead, although the shot would come with a decent price tag.
Old Fashioned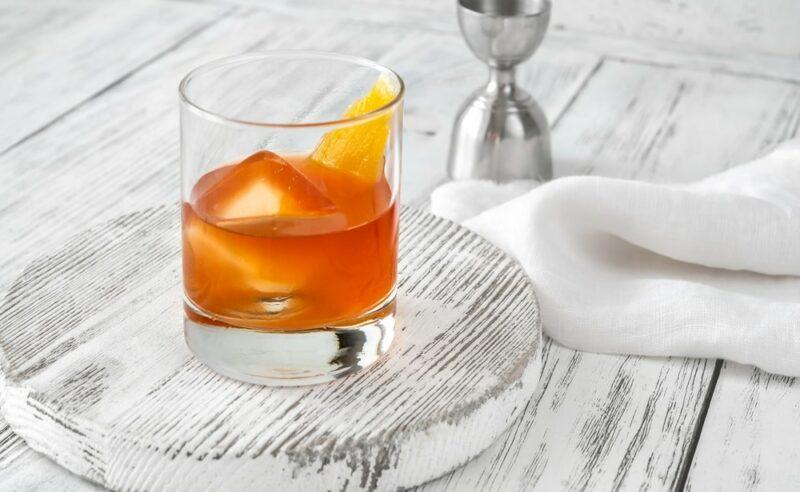 The old fashioned is a classic cocktail. It's also fairly strong, as we're simply talking about a glass of whiskey with a sugar cube and a splash of bitters. These ingredients mean that you get pretty close to a 40% ABV.
This is also a very easy cocktail to make. It's certainly much simpler than the cocktails the feature half a dozen or more ingredients.
Hell's Fury

Finally, there's the hell's fury shot. This relies on equal amounts of Fireball, 151 proof rum, Everclear, and black absinthe. You also muddle a habanero pepper at the base of the shot glass, to provide and even more intense flavor.
The use of both Everclear and 151 proof rum really adds to the strength of this shot. Plus, there are no mixers in here at all. You'll need to be ready for an intense experience.
What Is The Strongest Mixed Drink?
The Aunt Roberta is often considered to be the strongest mixed drink, as it doesn't contain any mixers and mostly relies on spirits. However, the 11th hour and 151 ways to die shots are both stronger, due to their combination of overproof rum and Everclear.
Which Strong Mixed Drinks Taste Good?
The best tasting strong cocktails are the ones that have some type of sweet mixer. The sweetness makes the drink much more enjoyable and easier to drink. The Long Island iced tea is a classic example of this style. The same is true for the many Long Island variations, including the Tokyo iced tea and the adios motherfucker.
You could also look for something simpler, like the old fashioned. That cocktail uses whiskey, a sugar cube, and bitters. The sugar cube and bitters don't dilute the whiskey much, but make it much easier to drink.