Milk might seem like an odd cocktail ingredient. Despite this, there are many milk cocktails out there, in a variety of styles. As it turns out, milk works well in some cocktails, adding a creamy richness that you don't find with other ingredients.
The cocktails in this list all use milk or cream as a key ingredient. The approach sometimes creates a milkshake-like cocktail that can be ideal during the day rather than in the evening. Other times, you end up with a creamy dessert-like cocktail, a coffee-based cocktail, or something else entirely.
With so many different styles out there, you're certain to find something that you like on this list. Don't be afraid to experiment either. Even classic cocktails can be tweaked. Changing just one or two ingredients can often create an entirely different drink, one that is just as good as the original or perhaps even better.
Milk Cocktails
Chocolate Martini
White Chocolate Martini
Toblerone
Brandy Alexander
White Russian
Eggnog
Ramos Gin Fizz
Milk Punch
Bushwacker
Grasshopper
Coquito
Leche Mexicana
Orgasm
Tom And Jerry
Mudslide
Nuts And Berries
Milk And Honey
Colorado Bulldog
Banshee
Delce de Leche
Chocolate Martini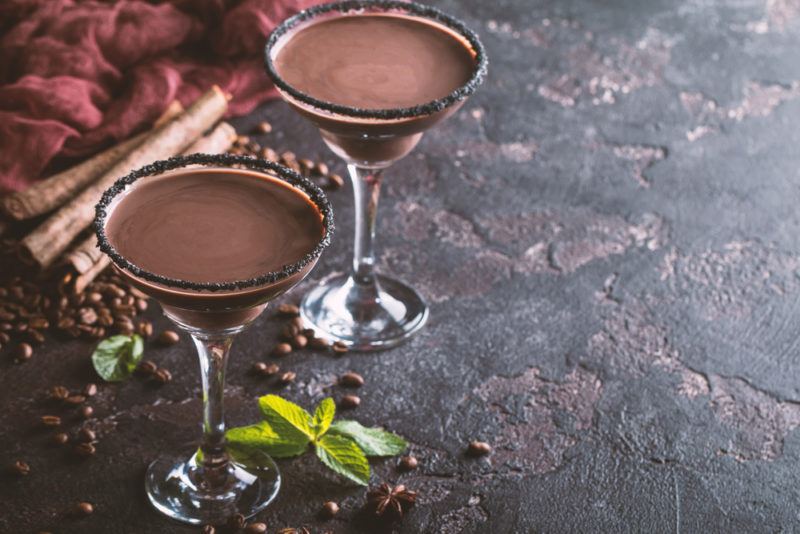 There are many chocolate martini recipes out there. Some of them use milk (or half-and-half) as an ingredient, while others don't.
In general, martini variations include either vodka or gin as the main spirit, along with at least one other type of alcohol. Chocolate liqueur is a common choice for chocolate martinis, but Bailey's Irish Cream is also used.
For a recipe that uses dairy as an ingredient, check out this one from Food.com. While it isn't the most creative version of a chocolate martini, the recipe is easy to prepare, making it ideal for beginners.
White Chocolate Martini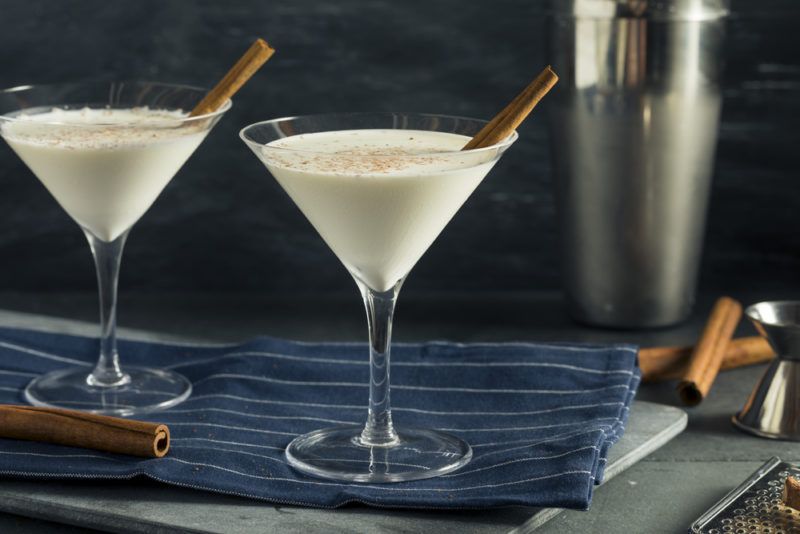 A white chocolate martini follows the same concept as a regular chocolate martini. The main difference is that you're using a white chocolate liqueur rather than a regular chocolate liqueur.
This single change creates a drink with a more delicate flavor, one that may also be a little sweeter. Of course, the final taste of your drink will be strongly influenced by the recipe that you rely on. For example, many recipes use vanilla vodka as the spirit of choice, as the vanilla flavor is a natural complement to the white chocolate liqueur.
Toblerone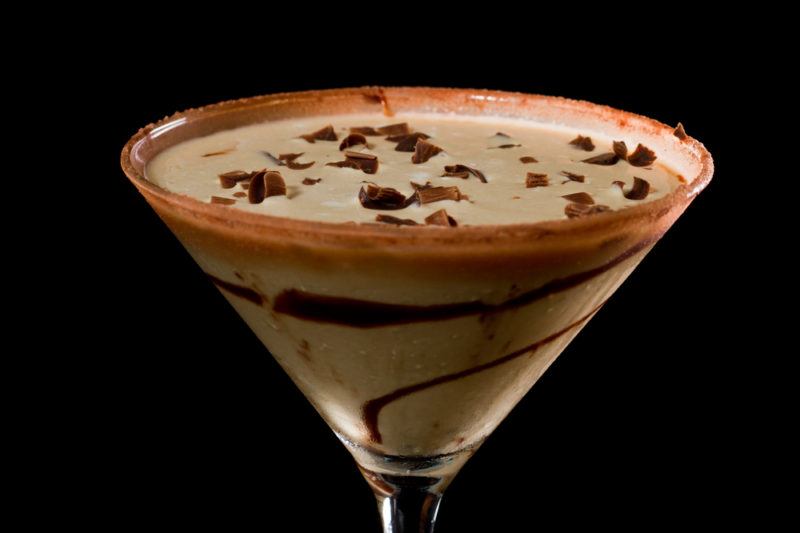 If you're looking for a decadent drink, a Toblerone cocktail will certainly meet your needs. The cocktail relies on various rich and creamy ingredients, including Baileys Irish Cream, Cadbury Cream, and cream itself.
There is also Kahlua, which is a coffee-flavored liqueur, and brandy, both of which add to the drink's alcoholic kick. The cocktail is often served in a glass that has been dipped in chocolate syrup or has syrup on the sides.
Brandy Alexander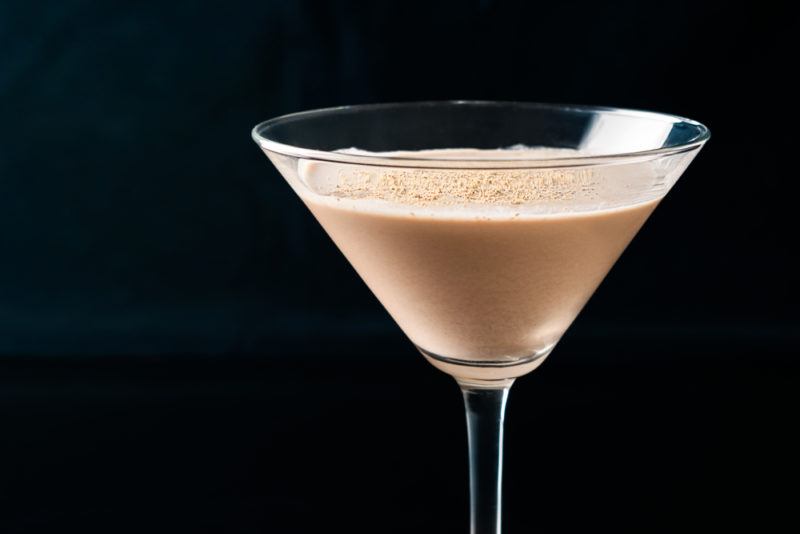 A brandy Alexander follows a similar theme to a Toblerone, except that a brandy Alexander is much simpler. The cocktail just relies on three ingredients – brandy, cream, and crème de cacao.
Some versions of the cocktail call for cognac specifically and might go by the name Alexander rather than brandy Alexander. The cocktail is similar either way, giving you the chance to simply choose whichever ingredient you have on hand.
Many versions of the cocktail use the same amount of each ingredient, making this a very easy cocktail to remember and prepare. There is also a coffee version that relies on a coffee liqueur in addition to the crème de cacao or instead of it.
White Russian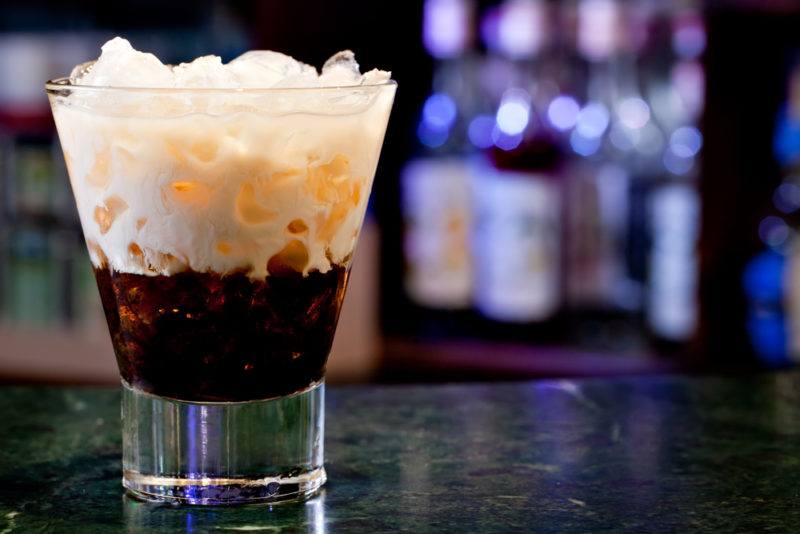 A white Russian cocktail relies on vodka, Kahlua and cream, in a ratio of roughly 4:2:1. The cocktail is normally served over ice in a small glass, which leads to an intense alcohol hit.
The use of cream and Kahlua also makes this a fairly creamy cocktail. It could be appealing as a dessert cocktail too if you find drinks like the brandy Alexander to be too rich.
As with most similar cocktails, you can choose the type of dairy that you use. For example, some people might swap out the cream for half-and-half or full fat milk to create a milder cocktail. This substitution works well if you find that cream is too rich for your tastes.
Eggnog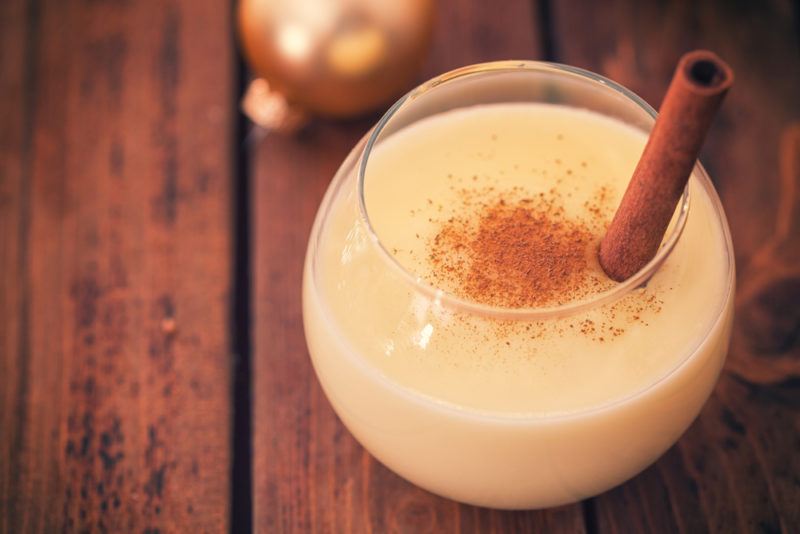 Whether you have an alcoholic version or a non-alcoholic one, eggnog is a classic milk-based drink. Alcoholic eggnog can be simply amazing, as the cocktail offers a mix of warming flavors and spices, all in a gentle milky drink.
Plus, you can make the cocktail in plenty of different ways. For example, brandy, bourbon, and rum are all options – and each lends a different flavor to the finished drink. There are even some more unusual alcoholic additions, like sherry and tequila.
Other ingredients can be added for flavor too, such as almond and vanilla extracts or spices like cinnamon.
Many recipes will show you how to make eggnog for yourself at home without any hassles at all. You can even skip the egg if you like. But, homemade eggnog isn't your only option. If you want a very easy milk cocktail, you could simply buy eggnog from the store and spike it with the spirit of your choosing.
Ramos Gin Fizz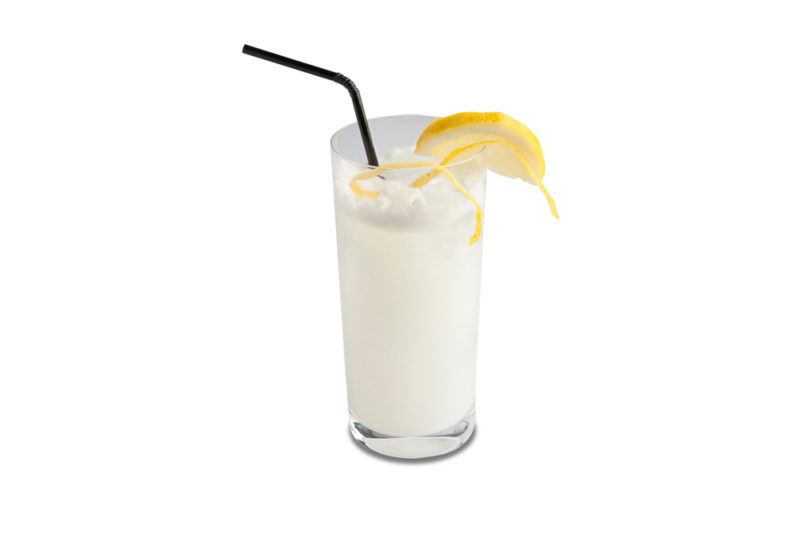 A Ramos gin fizz is a frothy and frustrating cocktail. The frustration comes from the way that intense shaking is required to give the cocktail the fizzy and frothy head that it is named for.
History even suggests that the creator of the drink originally hired teams of men simply for shaking the cocktail, as it was shaken for 12 to 15 minutes. The cocktail isn't shaken for nearly that long these days, of course, with bartenders often shaking it for just a minute or two instead.
Regardless of the time involved, you need to first dry shake the ingredients, which means shaking them without ice. Then you add ice and shake again. Instructions often suggest that you keep shaking even after you feel like you should stop – as the cocktail always takes longer to shake than you expect.
As for ingredients, the Ramos gin fizz relies on gin, lemon juice, lime juice, simple syrup, an egg white, heavy cream, and orange flower water. It is topped with club soda. While the drink takes time to make, it is popular, suggesting that it is worth the effort.
If nothing else, this could be a fun cocktail to order at a bar. That way, somebody else goes to all the effort and you just get to reap the rewards.
Milk Punch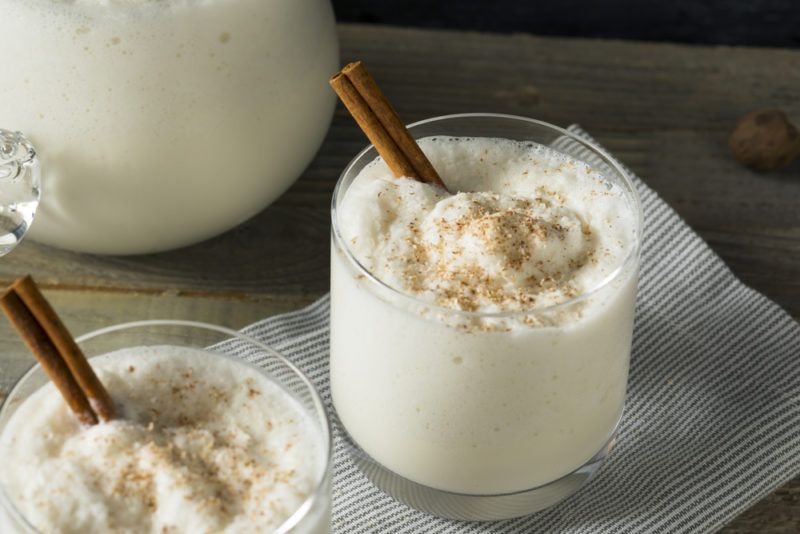 Milk punch is generally served cold and garnished with nutmeg. The cocktail relies on brandy or bourbon as the alcohol of choice. This is combined with sugar, milk, and vanilla extract, making it a simple drink to create.
You can use other spirits with the punch too. For example, some recipes rely on both brandy and rum, while others might use one of those two spirits. Bourbon milk punch is also popular, where bourbon is the spirit of choice.
There is also a variation called a clarified milk punch, which uses a process called milk washing. This version of the cocktail relies on curdling the milk. The milk can then be strained to create a clear liquid that still has many of the characteristics of milk.
Clarified milk punch is extremely versatile. It can be made with most spirits and combined with almost any juice, spice, or tea. The cocktail ends up having interesting flavors too, making it great for experimentation.
Bushwacker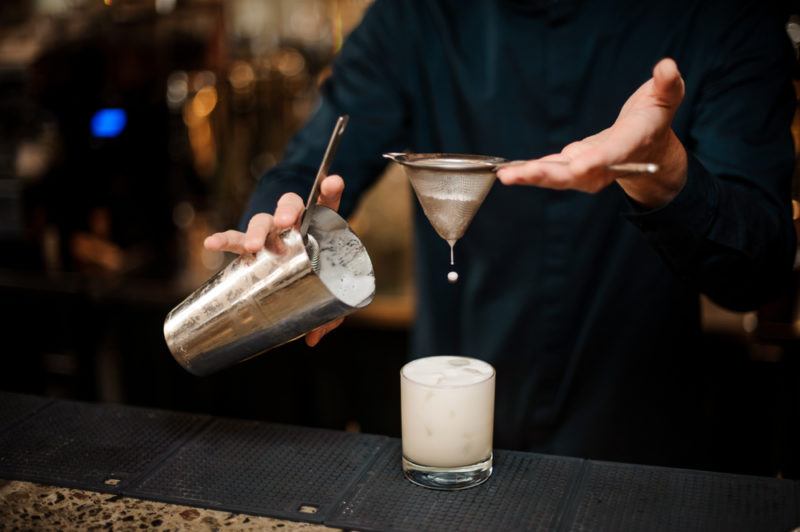 Here's a more complex drink that could be perfect for summer. The bushwacker is basically an alcoholic milkshake. It's even made by blending the various ingredients with ice.
The cocktail relies on milk and cream of coconut, so it's easy to see why it ends up being so milky. The alcoholic ingredients include rum, dark crème de cacao, and Kahlua. This combination provides a creamy cocktail with notes of coffee, chocolate, and coconut.
Some versions rely on a combination of light and dark rum, while others use one or the other. A dark rum provides more intense spicy flavors, while a light rum allows the other ingredients to stand out more.
You can also play around with the amount of rum in the cocktail. For example, you might decrease the rum content if you're looking for a light summertime drink or increase it if you want something heady.
Grasshopper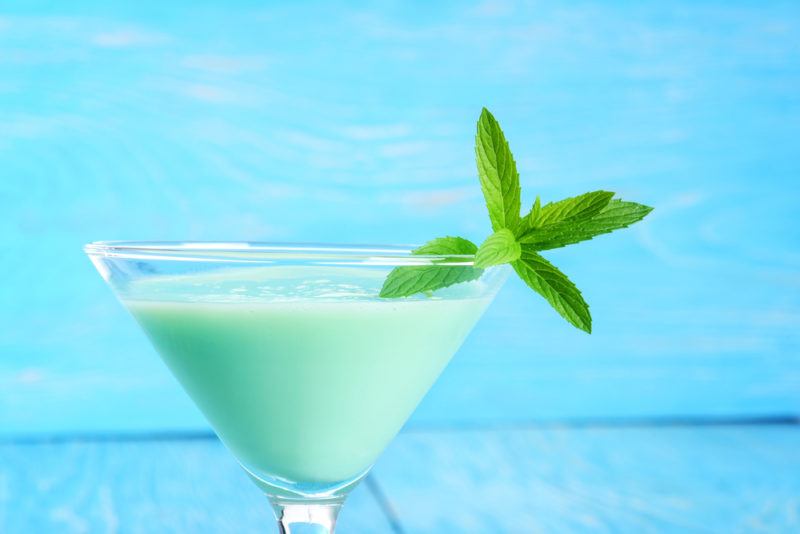 The grasshopper is a little like an alcoholic shamrock shake, except that it contains relatively few ingredients and doesn't rely on additives (unlike the shamrock shake from McDonald's).
The cocktail uses just three ingredients – green crème de menthe, white crème de cacao, and heavy cream. Equal quantities are used of each of the three, so there isn't much to remember.
The cocktail is easy to prepare too. Simply add the ingredients to a cocktail shaker. Shake over ice until the cocktail is cool and then strain into a cocktail glass.
The use of heavy cream and crème de cacao means that this ends up being a rich and sweet drink that isn't for everyone. The alcohol content is also fairly low, as you're relying on liqueurs rather than a base spirit. As a result, some people love the cocktail, while others don't.
Coquito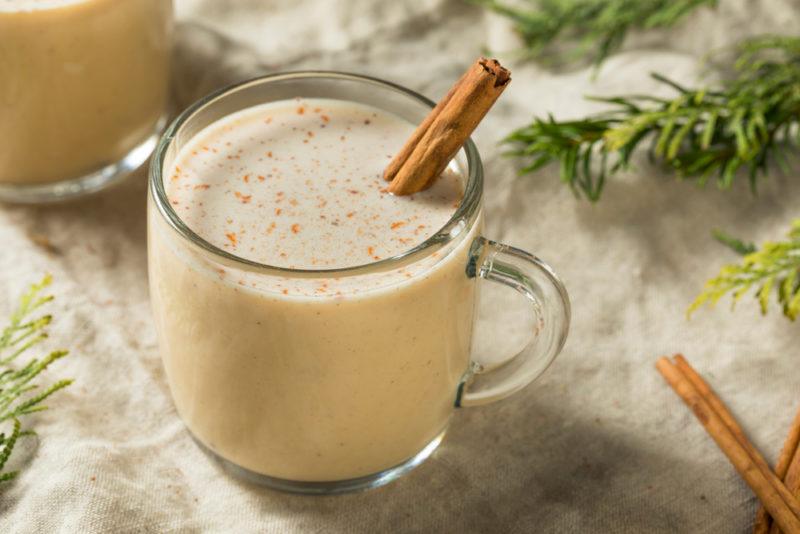 This Puerto Rician drink is a little different than most of the other cocktails on this list, as it doesn't rely on milk per se, Instead, the cocktail relies on condensed milk, evaporated milk and cream of coconut, along with white rum.
The ingredients are simply blended together, poured into a bottle and refrigerated. The drink should be kept in the fridge for at least a few hours, but ideally for two days. You end up with a cold creamy drink that allows the flavors of rum to shine through.
Being able to prepare this cocktail ahead of time is a useful approach, although this does mean that you can't mix this one up on the spur of the moment.
Leche Mexicana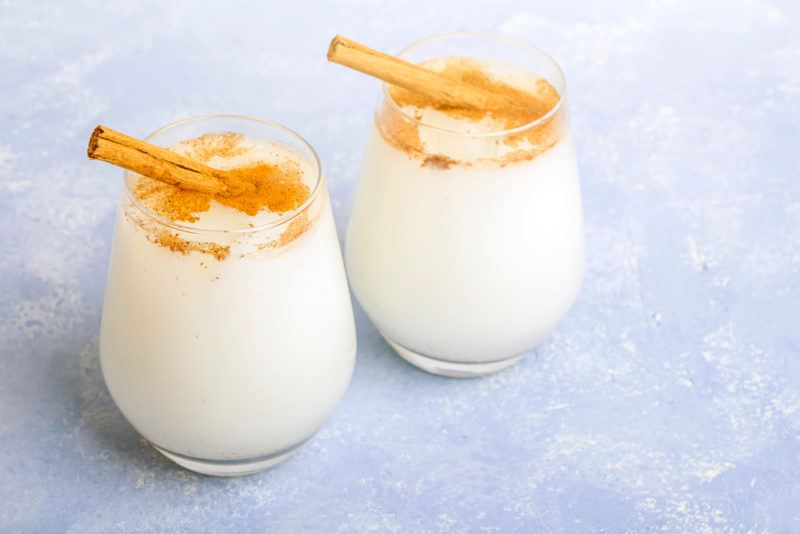 This simple cocktail uses tequila as the alcohol base, with half-and-half and crème de cacao as additional ingredients. The end result is a milky cocktail that highlights the taste of tequila without drowning it in a host of other ingredients.
The tequila alone makes the cocktail worth trying. There aren't that many tequila-based milky cocktails and the tequila does add a certain something to the finished drink.
Orgasm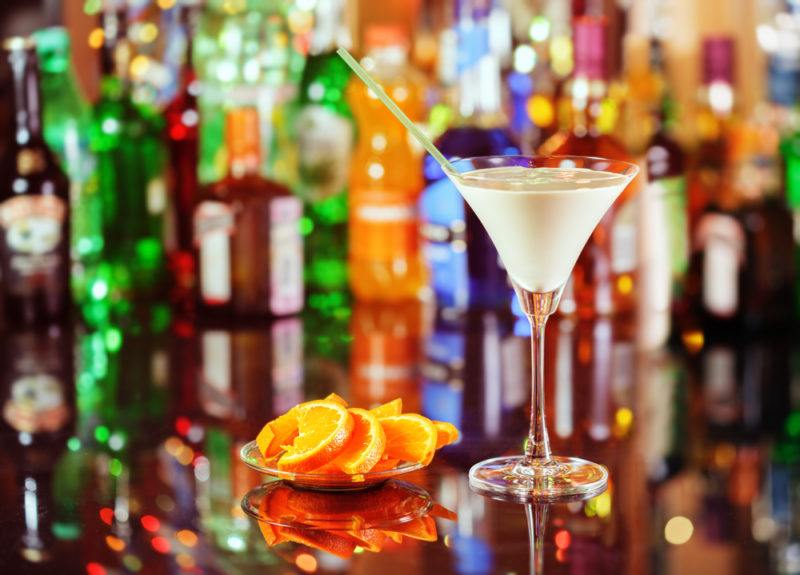 There are countless versions of this cocktail out there. Some go by the name orgasm, while others are called screaming orgasm instead. Either way, the cocktail is a fun one to make at home and even more enjoyable to order at the bar.
One version of the cocktail relies on the phrase 'on your back', where back is an acronym for Bailey's, amaretto, half-and-half, and Kahlua. This version uses equal measures of those four ingredients.
Vodka and cream are common substitutions into the cocktail. Some recipes also call for a shot of coffee rather than the Kahlua. The use of coffee slightly decreases the alcohol content of the cocktail, while providing a more potent coffee flavor.
Tom And Jerry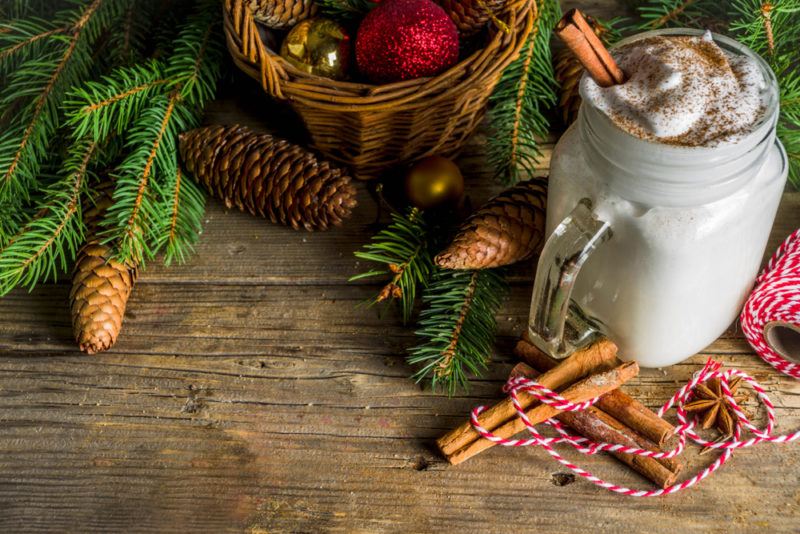 A Tom and Jerry cocktail is a variation on the traditional eggnog. One difference is that a Tom and Jerry tends to be served hot, while eggnog is often served cold instead.
The Tom and Jerry version also tends to use brandy and rum as ingredients, rather than a single type of alcohol. There is also more variation in whether you use an egg or not. Many recipes simply rely on milk, spices, sweetener, and perhaps some hot water.
The end result is sweet, spicy, and milky – ideal for a cold winter's night.
Mudslide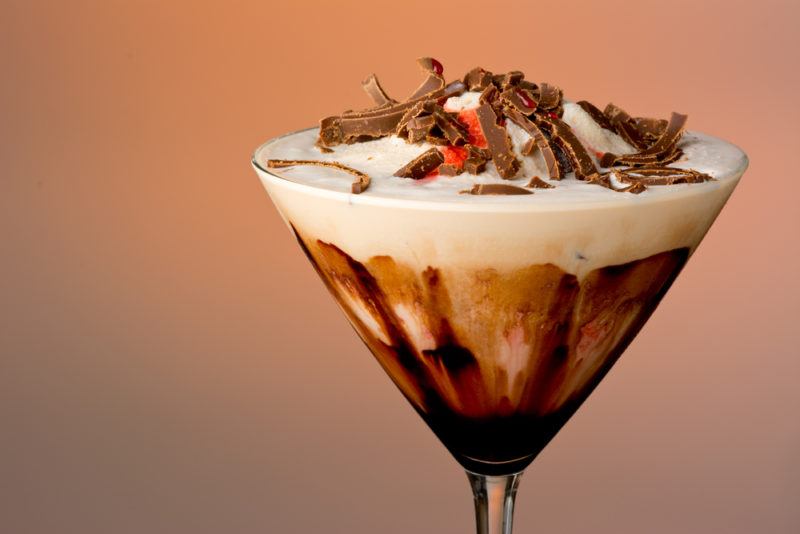 A mudslide is a dessert cocktail through and through. There are countless variations to the drink, although most rely on a combination of Bailey's Irish Cream, Kahlua, vodka, and some dairy. Heavy cream is often the preferred milk product, which creates a very rich drink.
You could also swap this out for full fat milk if you wanted a similar flavor with a little less intensity. A mudslide can be served on the rocks or neat. It is sometimes blended to create a smoothie-type drink as well.
Many people use chocolate syrup in the glass to liven the drink up even more. Spooning a little of the syrup onto the side of the glass before you add the cocktail is one way to do this. Chocolate shavings are often added on top of the cocktail as a garnish too.
Nuts And Berries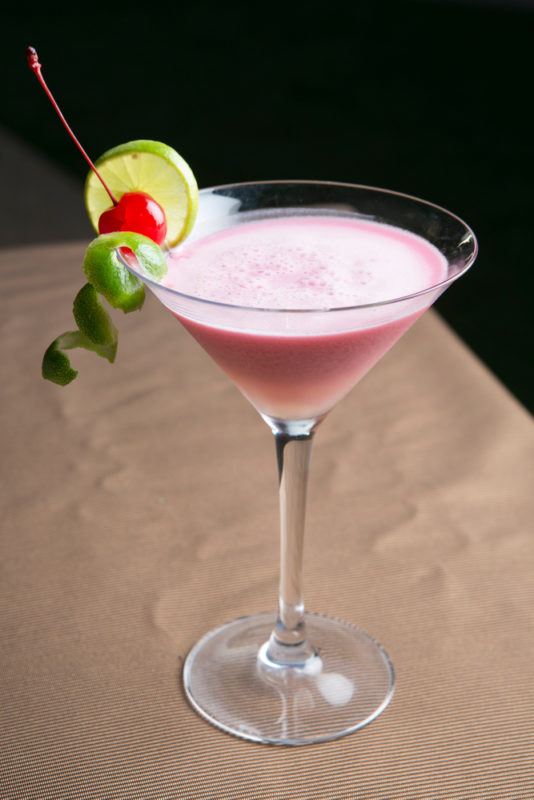 Chocolate and coffee aren't the only flavors that work well in a creamy cocktail. This nuts and berries cocktail shows that you can take other approaches too.
The name of the cocktail comes from its flavor, as nuts and berries aren't ingredients in the cocktail at all. Instead, the recipe relies on Frangelico, Chambord, and either milk or cream.
The Frangelico is what provides the nutty flavor of the cocktail, while the berry notes come from the Frangelico. The milk or cream provides a creaminess to the drink, helping to also balance out the sweetness of the two liqueurs.
Milk And Honey

This relaxing drink tastes exactly as the name suggests. The main ingredient is simply milk. This time you do want to stick to milk rather than using cream, as cream would make the cocktail too intense.
The other ingredient is Benedictine. Benedictine is a honey-based liqueur that also contains various herbs and spices to complement the honey flavor.
You could easily serve this cocktail warm, perhaps at the end of the day. Keeping the ingredients cold works just as well and the cocktail will taste delicious either way.
Colorado Bulldog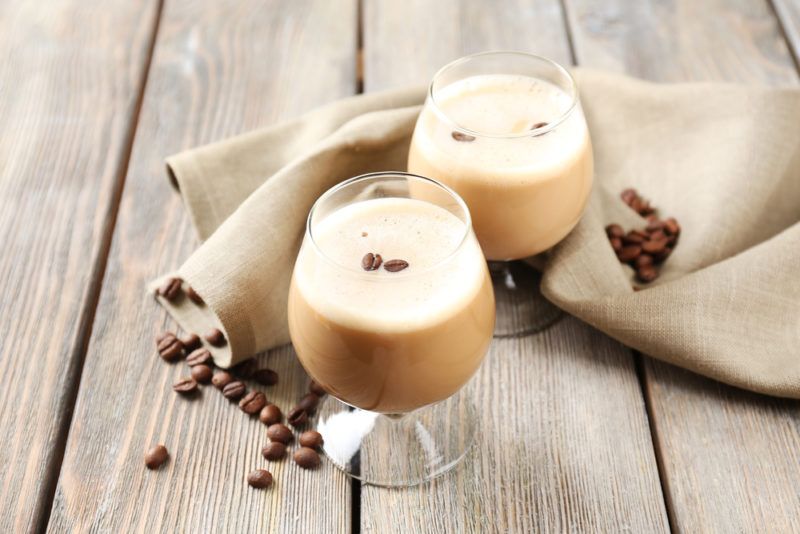 The reliance on dairy means that many of the cocktails on this list are quite creamy indeed. The Colorado bulldog is a nice exception to this general rule.
In fact, the cocktail is a little unusual, as it uses cream (or milk) and cola as key ingredients. It's unusual to find dairy and soda in the same drink. Yet, the combination does help to make your creamy drink a little less intense.
The cocktail is generally made with equal measures of cola and cream, along with half as much vodka and coffee liqueur. Most of the drink's flavor comes from the cola and the coffee liqueur, while the other ingredients add texture and complexity.
Banshee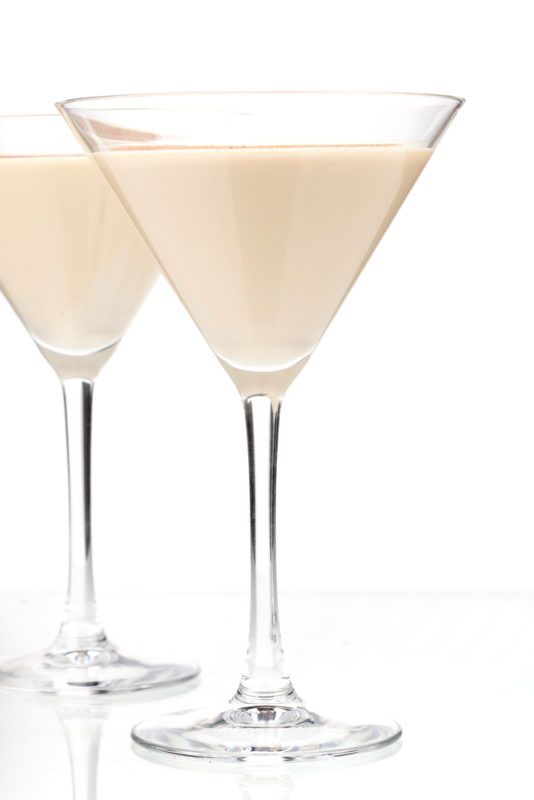 The banshee was once much more popular than it is today, but the drink is still worth trying for yourself. It is a little like a white Russian, as you're relying on a liqueur rather than a spirit.
The difference is that a banshee uses banana liqueur and white crème de cacao, rather than a coffee liqueur. This combination creates a similar flavor to a chocolate-covered banana.
Even with two liqueurs present, the cocktail ends up having a low alcohol content. This makes it a good choice as a nightcap or for when you just want something simple.
Dulce de Leche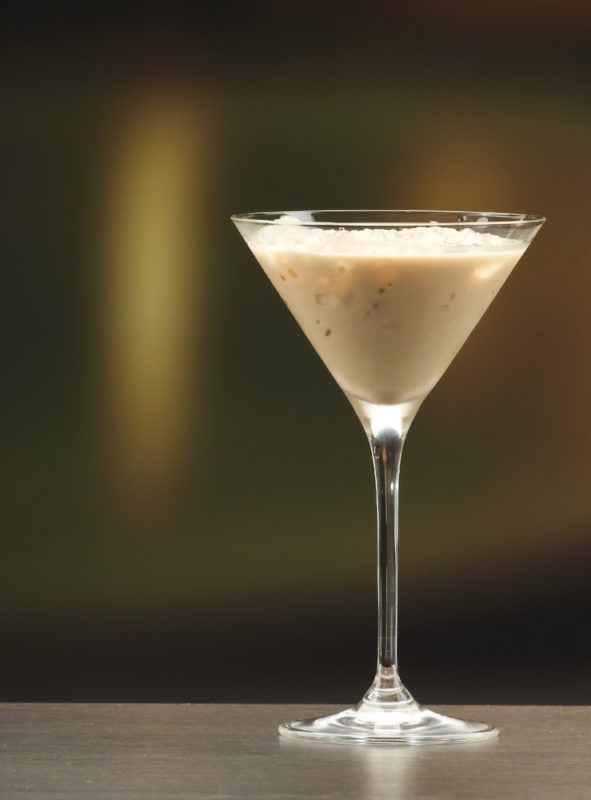 This cocktail differs from most others on the list, as it uses sweetened condensed milk as the milk-based ingredient. Chocolate liqueur and white rum are used as well.
The drink tastes particularly good if you shake the ingredients over ice and serve the cocktail in a chilled glass. This approach helps to keep the cocktail cold.
Bacardi is the recommended rum for this cocktail, largely because Bacardi created the recipe to begin with. Of course, any other white rum will work well too.
You can also swap out the sweetened condensed milk for either milk or cream. This substitution works well if you find that the original version of the cocktail is too rich.
Friar Tuck Cocktail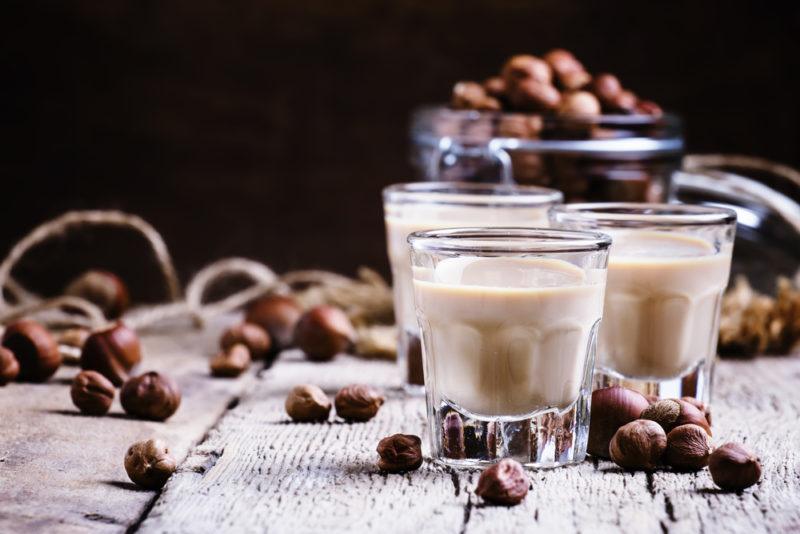 The Friar Tuck cocktail gets its name from the hazelnut liqueur Frangelico, which is one of the key ingredients. The association comes from the way that the bottle uses a rope belt, reminiscent of the character from Robin Hood.
Multiple distinct cocktails go by the same name, which can be a little confusing. The one that we're focusing on today uses Frangelico, dark crème de cacao, and cream. The drink is generally served neat in a chilled glass, after being shaken over ice. However, it can be tasty when served over ice too.