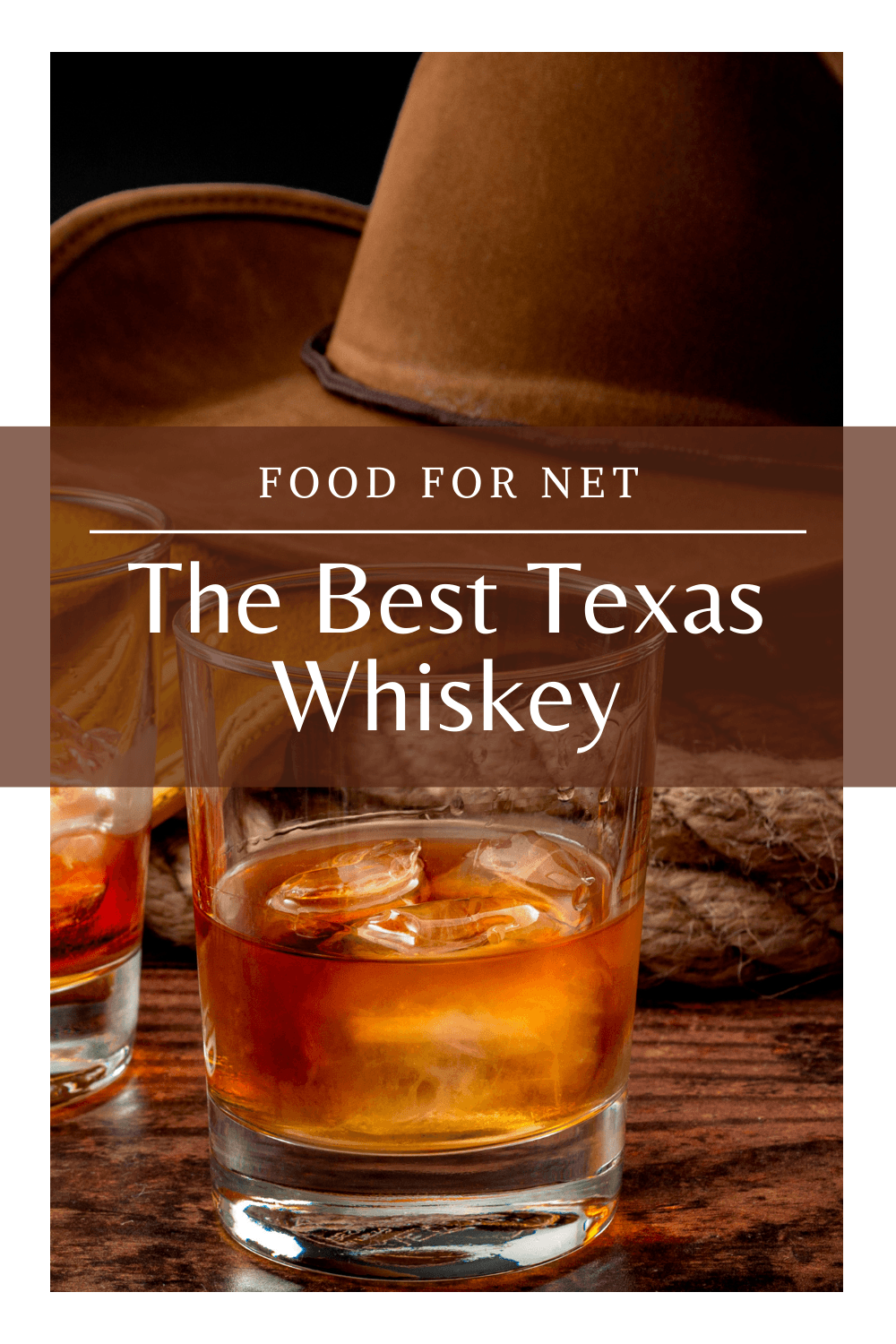 With all the different styles out there nowadays, just saying "whiskey" isn't always enough. Whiskey is categorized by many things including age, mash bill, and location. Different styles have different signature flavors, and some locations have strict criteria for what constitutes a certain label. Tennessee Whiskey, for example, is pretty strict.
Texas whiskey is new to the whiskey scene compared to others. Balcones Distilling was the first distillery to make a legal, Texas-made whiskey in the summer of 2009. This was the official beginning of Texas whiskey. Many still consider their original expression to be the best Texas whiskey, though there is much to choose from now. Today, the Texas Whiskey Association is working to define exactly what Texas whiskey really is, but there are already around 100 active distilleries in Texas.
Balcones is a founding member of the association that works to both promote Texas whiskey and educate. They also certify that their distilleries that make Texas whiskey are making it authentically and not buying unfinished whiskey from out of state and finishing it in Texas. Many distilleries do this and it's not against any rules, but it can't be called Texas whiskey.
Many distilleries use Texas-grown corn to make the whiskey, though this isn't a direct requirement. One thing that largely contributes to the drink's individuality is the temperature of Texas itself. The state is notoriously hot and has dramatic temperature fluctuations in the summer.
This has the whiskey aging and developing flavors faster than whiskey made elsewhere which is a huge advantage. Whiskey aged for two years in Texas has a similar maturation to a whiskey aged for four years in another state. The temperature fluctuations also create bolder and more interesting flavors as the interactions between barrel and whiskey vary more.
This means that many Texas whiskies are young and bold with a flavor profile that presents much older. They're excellent in cocktails or simply for sipping.
The Best Texas Whiskeys
1. Iron Wolf Select Bourbon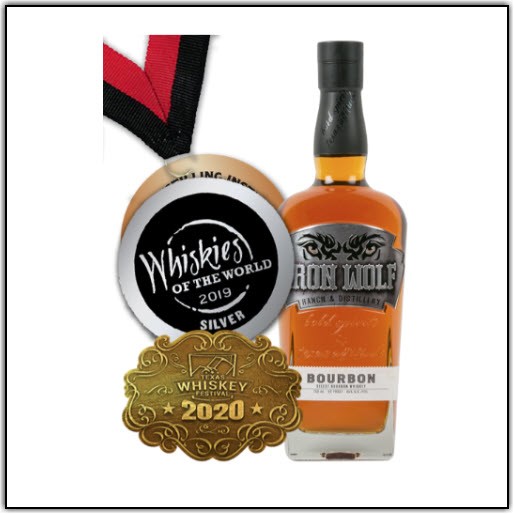 Iron Wolf wanted to make whiskey a good experience as well as a good drink. This is why they put about two years of research and planning into it before officially opening their distillery, which is now open to the public.
In addition to tours enjoyed by whiskey lovers, they create a range of excellent whiskies, all of which are based on their original bourbon. While they've kept their exact mash bill under wraps all these years, experienced drinkers note some definite rye on the palate. The entire process is done at the distillery itself.
Aged for about three and a half years, the nose offers a sweet caramel toffee aroma. The same can be found on the palate, with some rye notes in there along with a little heat. The sweet and spicy combination makes it an interesting sipper while also doing well in many cocktails.
2. Ranger Creek .36 Texas Straight Bourbon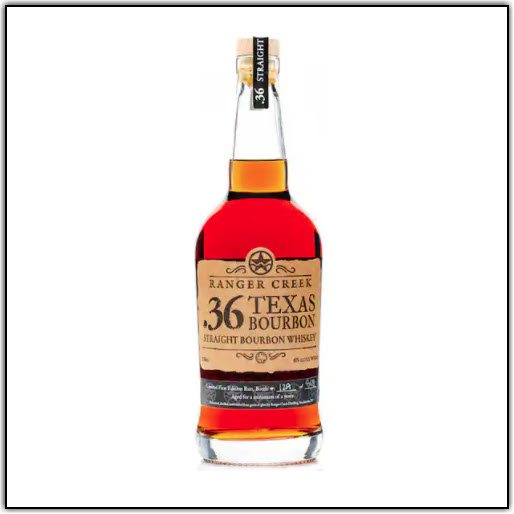 Ranger Creek .36 Texas Straight Bourbon is a whiskey as unique as its name. It's Ranger Creek's flagship effort, made in small batches and aged in traditional oak casks. It's left to mature in the warm Texas sun. The name is a reference to the .36 caliber pistol that the Texas Rangers used.
They believe in "grain to glass" which is why they take care of everything on location. This expression is made from corn that is milled, mashed, fermented, double-distilled, and aged at their distillery.
The notorious sipping whiskey has won many awards over the years, offering a wonderful and complex profile for whiskey lovers everywhere to enjoy. The nose is warm and spicy with a similar experience on the palate.
You'll find notes of cinnamon and pepper, balanced with slightly sweet brown sugar and a series of caramels. It's only aged for about nine months, but they use smaller than average barrels which can speed the aging process and brings the whiskey to the desired maturity sooner.
3. Yellow Rose Outlaw Bourbon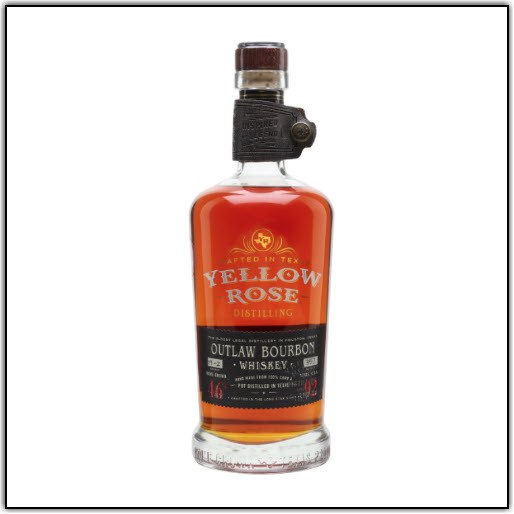 As its outlaw title would suggest, Yellow Rose Outlaw Bourbon breaks all the traditional bourbon rules, just like the outlaws of the West broke all the laws. The drink is produced in a pot still, exclusively from yellow corn. Not many distillers still use a traditional pot still but Yellow Rose believes that it helps them create a true small-batch whiskey.
After distillation, the whiskey is aged in small American oak barrels located in Houston. Here, the temperature fluctuations mean the whiskey has a unique interaction with the barrels, imparting a unique flavor.
On the nose, you'll find a complex array of subtle aromas working together. This includes floral oak, drizzled caramel, and oak char. The palate is sweeter, offering notes of buttery caramel, vanilla, toffee popcorn, and a touch of marshmallow.
The finish offers a hint of treacle and a lingering flavor of charred oak.
4. Ben Milam Single Barrel Bourbon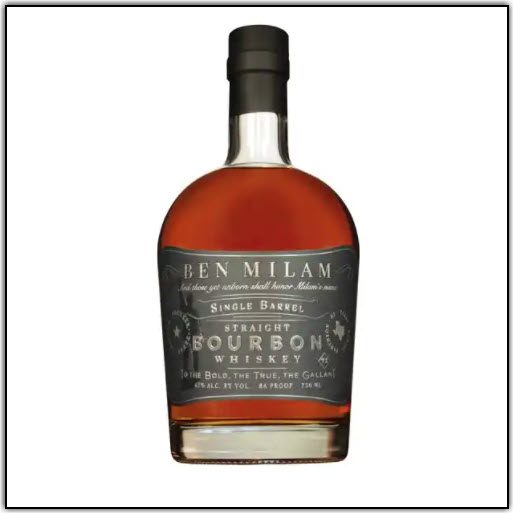 Ben Milam Single Barrel Bourbon strives to represent pure bourbon at its finest. Using whiskey from only a single barrel, there is no blending to create a specific flavor and nothing is done to mask imperfections. The result stands alone and stands strong as a true sipping whiskey with incredible flavor.
While the flavor is deep and rich, it's not terribly complex. This makes it good for gifting when you don't know someone's specific preferences. It's also a good introduction to higher-quality craft whiskeys.
On the nose, you'll find the smell of freshly cut grass and an array of sweet aromas like vanilla, cinnamon, and grape juice with a touch of ethanol heat. The palate follows with cinnamon heat on the front with cloves and baking spices in the middle. Also present are notes of vanilla, prune juice, and sugar.
Overall, it has a sweet profile with a touch of heat in the background.
5. Treaty Oak Ghost Hill Texas Bourbon Whiskey

Treaty Oak Ghost Hill Texas Bourbon is an impressive expression that earned a triple gold at the 2018 MicroLiquor Spirit Awards. It also earned a gold medal from the Beverage Tasting Institute in the same year.
Named after an impressive 500-year-old tree in Austin, Texas, Treaty Oak is an innovative distillery that combines modern methods with traditional distilling. This combined with carefully selected, high-quality local ingredients makes for a top-notch whiskey.
The company is all about meaningful names, taking inspiration from many different areas of importance and sentiment. This particular expression is named after their beloved 28-acre home in Texas. The drink is a true grain-to-glass effort with the entire process taking place at their distillery, where it's also aged for about two years.
The palate has plenty going on, with notes of stone fruit in front followed by sweet corn, oak, and malt. It offers a mildly spicy finish.
What is Texas Whiskey?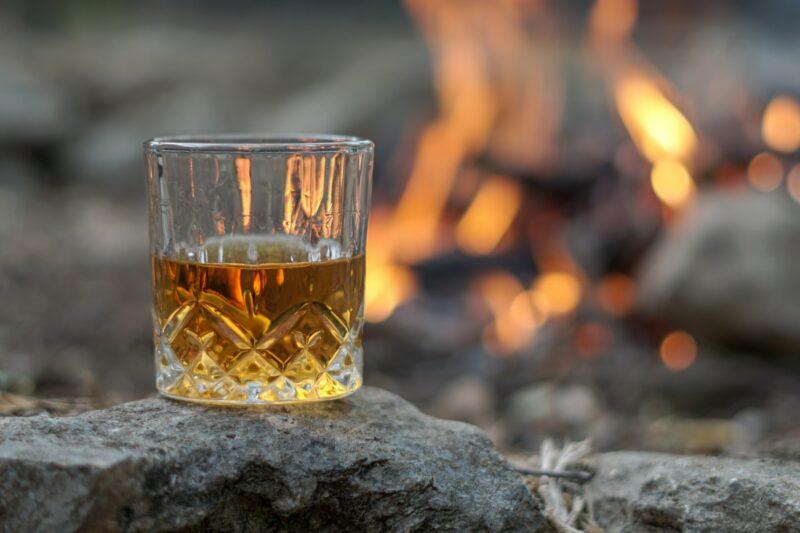 Because it's so new and much less established than other styles there is still some confusion surrounding official Texas whiskey. Some would like to leverage the "Texas" name in their branding because of the natural, wild, beautiful, and untamed images that are conjured with the simple mention of the state.
Unfortunately, this means that not everything with "Texas" in the name is actually made in Texas. So, The Texas Whiskey Association stepped in to create some official rules, guidelines, and certifications around the whiskey to ensure no one gets confused or worse, conned.
For starters, they set some clear rules for what makes a whiskey a Texas whiskey:
It must be produced at a licensed distillery located within the State of Texas.
It must be made from cereal grains and Texas-sourced water. The ingredients must then be processed, fermented, distilled, barreled, and matured completely within the boundaries of Texas.
Be bottled within the boundaries of Texas and include no additives other than water sourced from Texas.
Be independently and manually verified by an officer of the Texas Whiskey Association.
Once your whiskey is verified and fully compliant, you can become a member of the association if you're not already, and the whiskey in question is given the official title of Texas whiskey.
Lots of Freedom
Unlike other styles of whiskey, Texas whiskey has no restriction on the type of grain or the amount of any one grain that must be used. This means that distillers have entirely plenty of range as long as the whiskey follows everything else.
And yet, Texas whiskey, for the most part, is bold, strong, and has a distinct and unique flavor profile. There are two reasons for this. The first is that although there are no restrictions, many Texas distilleries producing official Texas whiskey use corn. Or at least, the mash bill contains a majority of corn.
There's also the fact that temperatures are not only on the warmer side in general but they do fluctuate a lot from warm to hot to even hotter, sometimes rapidly. These things affect the interactions the whiskey has with the barrel and therefore imparts certain types of flavors into the liquid.
Of course, things like aging and the types of barrels used also contribute, and this is why we have a variety of bold, strong Texas whiskey flavors. It's interesting though, that despite the freedom they're allowed, Texas whiskey is so distinct and set apart from other styles.