Puerto Rico isn't just an exciting tourist destination. It's also a hub for delicious food that you won't find anywhere else in the world. This is partly because Puerto Rican food draws inspiration from many different culinary traditions. You'll see elements of Spanish, European, African, American, and Caribbean cuisine in the dishes of Puerto Rico.
Of course, Puerto Rico doesn't simply copy foods from other countries. The dishes you find in Puerto Rico all have their own distinct twists, leading to memorable meals that often surprise and delight in equal measure.
As with any culture, you should keep an open mind when trying Puerto Rican food for yourself. Some meals will use ingredients or flavor combinations that you don't expect, many of which taste amazing. Why not leave judgment at the door and experiment with the dishes on this list?
If you're looking for more ideas, why not check out our lists of Russian food and Vietnamese food? Those countries have plenty of interesting dishes for you to try too.
Delicious Puerto Rican Foods
Mofongo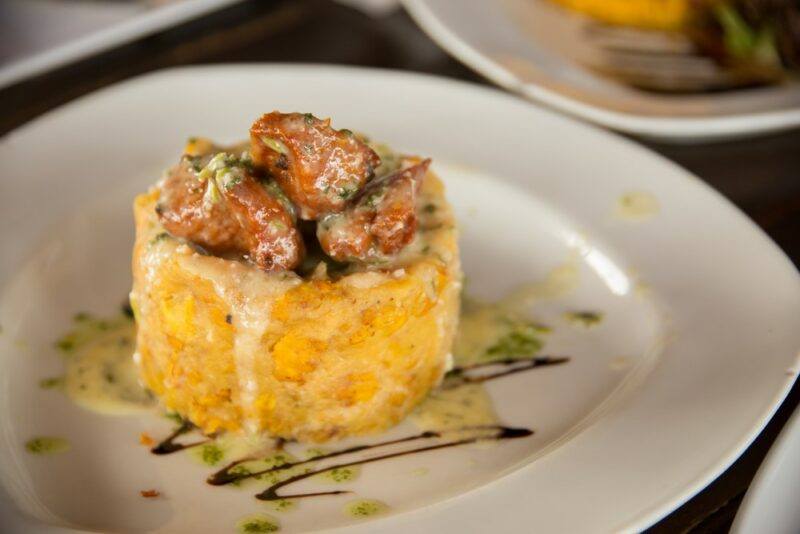 Mofongo might be a simple meal, but it's also somewhat unexpected. The main ingredient here is fried green plantains. These are mashed up and mixed with other ingredients, like pork skin, onions, and plenty of garlic.
Of course, that's just one variation. This dish can be changed in countless ways and will often taste quite different depending on where you order it from.
For example, you'll often find chunks of meat and some type of sauce served on top of the mashed plantains.
The savory nature of plantains means that the meal is surprisingly similar to mashed potatoes and meat. The dish is a local favorite, so it's worth trying at least once.
Trifongo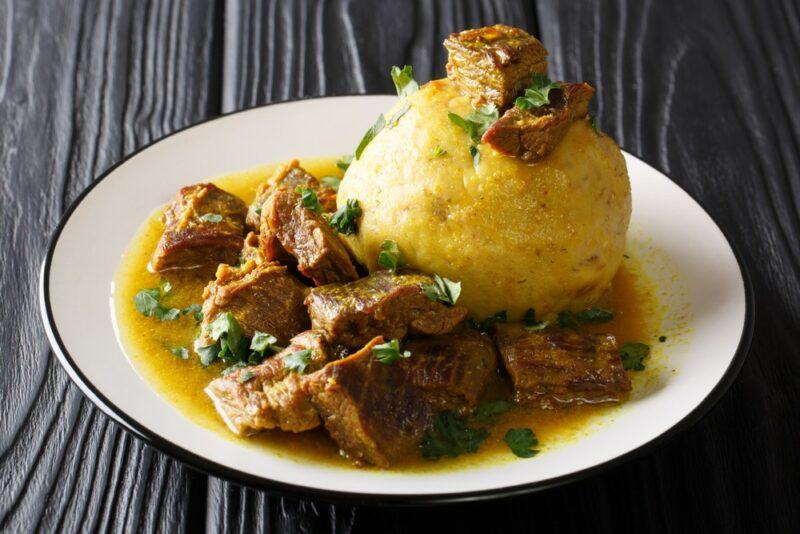 Trifongo mightn't be as famous as mofongo, but it's still a delicious dish to try. It's similar to mofongo, except that trifongo relies on sweet plantains, rather than green ones. This gives it a sweeter flavor than mofongo.
Many versions use equal amounts of sweet and savory plantains. This mellows out the sweetness and gives you a dish that has a great balance of flavors.
Similar toppings can be used for trifongo and monfogo. You can expect plenty of differences depending on where you order the dish from.
Tostones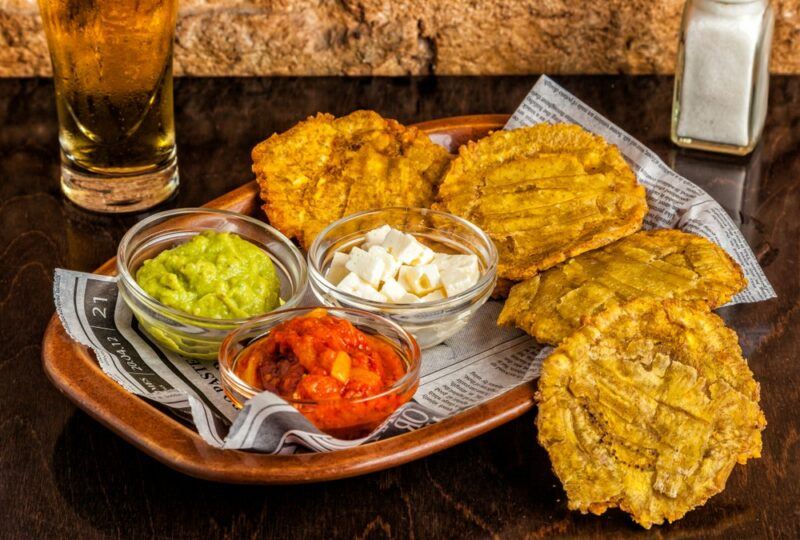 Here's another plantain-based dish. This one relies on green plantain slices that are fried twice and then pounded flat. You end up with a snack that can be eaten much like potato chips – either on their own or with a dip.
You'll also find tostones served like potato chips. They might even be used to replace nachos in a loaded nacho-style meal. Be careful with that one though, as tostones are more satisfying than nacho chips and will fill you up fast.
Puerto Rico isn't the only place that you'll find this snack. It is common throughout the Caribbean and Latin America. Because of this, there's a variety of different names for tostones, including chatinos, frito verde, and patacones.
Maduros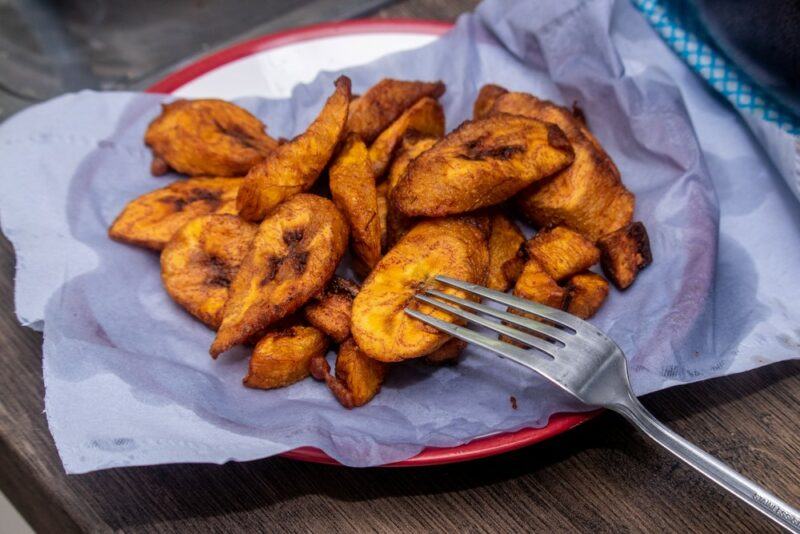 You can probably guess the difference between tostones and maduros. While tostones are twice-fried green plantains, maduros are made from sweet plantains instead. Maduros are typically grilled or lightly fried. The difference in cooking technique isn't surprising, as green plantains are much starchier than their sweet cousins.
The choice of ingredients means that maduros end up being a delicious sweet snack, while tostones are more savory. The sweetness of maduros is perfect for complementing a spicy meal. Or, you could eat them on their own when you want a sweet treat.
Pernil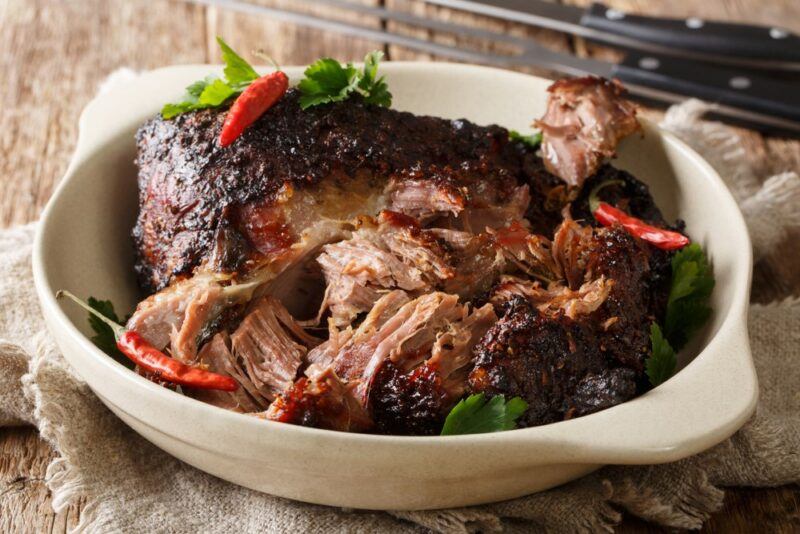 Here's a simple one. The term pernil refers to roast pork shoulder. This is often marinated in adobo mojado. That traditional marinade perfectly complements the natural flavor of the pork.
Not surprisingly, pernil isn't served on its own. Instead, many of the foods featured on this list will be served alongside it, including the classic mofongo.
Pernil also can be served as part of various dishes. One common choice is a dish of rice and beans that is topped with pernil and mojo sauce.
Simple and delicious.
As you might expect, pernil sandwiches are also a popular Puerto Rican food. These are exactly what you would expect and just like our sandwiches, the fillings can vary dramatically.
Lechon Asado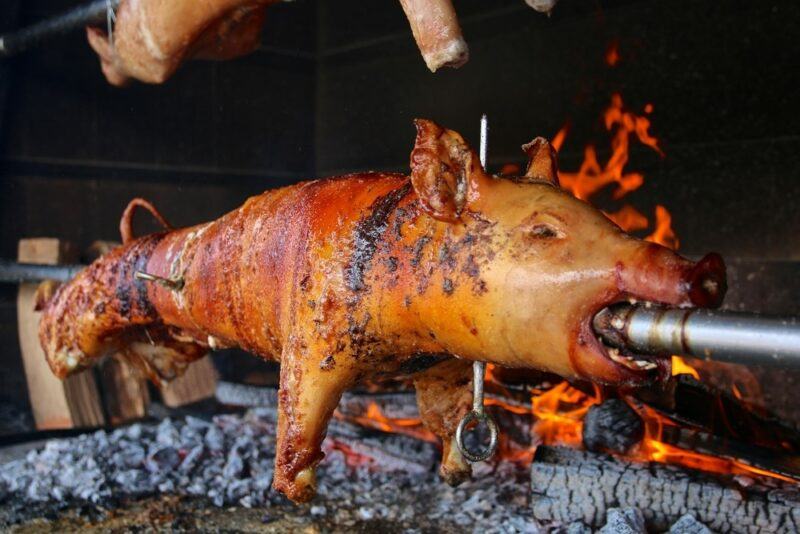 If you love pork, here's another option for you. Lechon asado is a suckling pig that is slow roasted on a spit. The pig is first doused in a variety of herbs, spices, and other seasoning ingredients, then cooked over a fire.
The cooking process gives the pig a crispy skin and creates a smell that carries for miles. Lechon asado is a popular choice at events. You may find it served at some restaurants and from open air vendors too.
Alcapurrias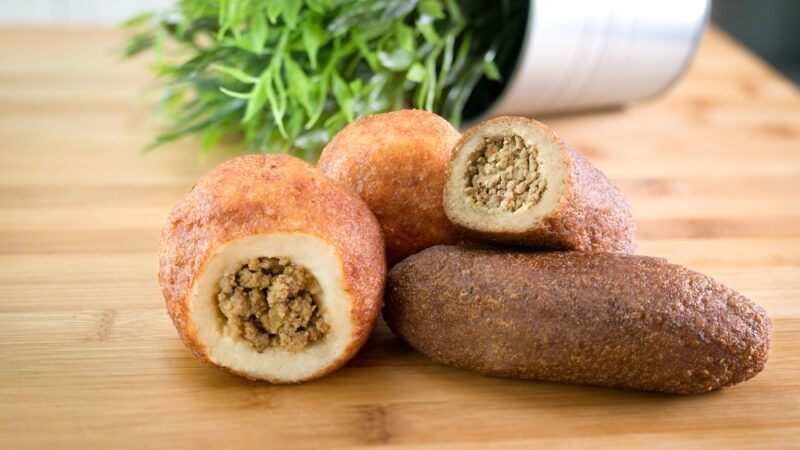 Plantains show up once again with alcapurrias. These filled treats are basically a type of fritter that's made with plantains and either taro root or yucca.
Alcapurrias end up being surprisingly similar to a corndog, but they have their own delightful selection of flavors. Ground beef is often used as the filling. Other ingredients might be added in too, like red pepper and onion.
Some versions swap the beef out for crab meat. This is delicious too, especially if the crab is fresh. In fact, the crab version is well-balanced, as you can taste the distinct flavors of the plantain, while the crab shines through too.
Because this treat is deep fried, it isn't the healthiest option. Still, there's no denying that this is a delicious dish, one that you won't forget any time soon.
Fiambrera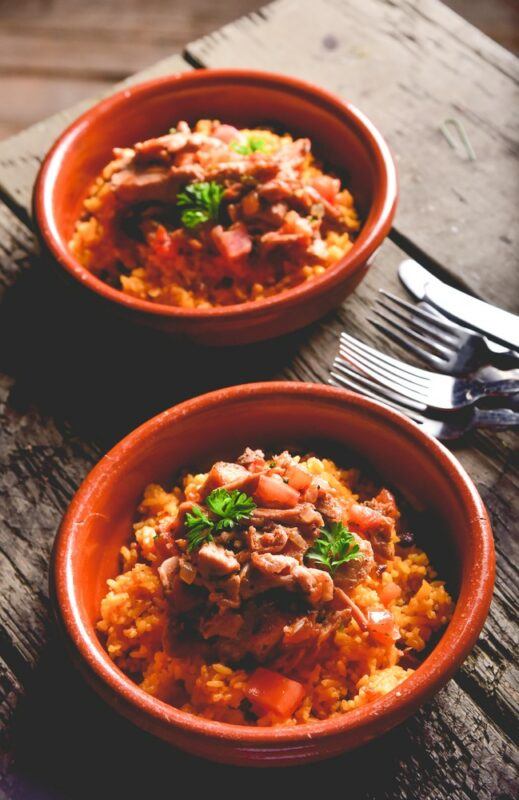 The word fiambrera refers to food being mixed together on a plate, which describes the dish well. It's a bowl-based meal that can contain many different ingredients, including meat, fish, vegetables, carne asada, and many others.
These ingredients will usually be served on top of a carb-laden base – one that uses ingredients like tostones, rice, and beans.
The dish is a fun one, as you have plenty of different flavors and textures all at once. Plus, it ends up being a filling meal. You shouldn't need anything else for quite a while afterward.
Budin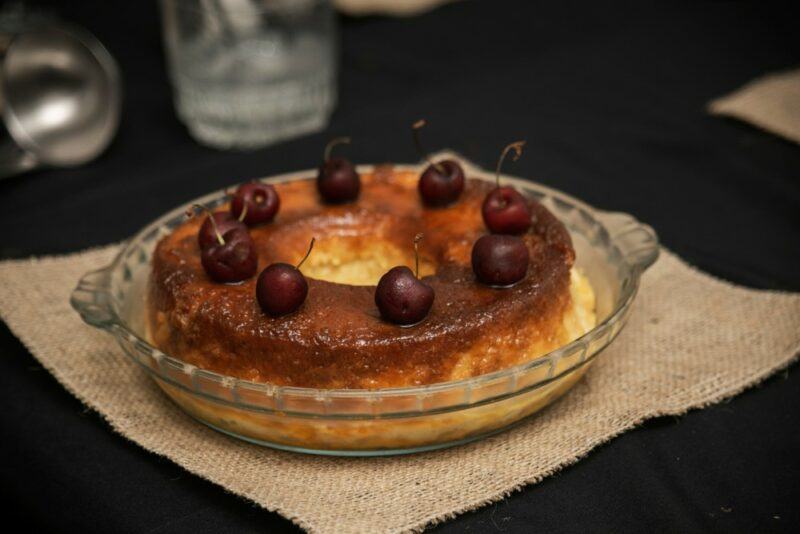 If you're looking for dessert, budin is an easy dish to turn to. It's basically a Puerto Rican bread pudding. Budin is a popular dish, partly because it is easy to prepare and doesn't cost much.
Interestingly, budin tends to be served cold or at room temperature, with cold being the preferred option. This is different than American bread pudding, which is more often warm. While the idea might sound a bit strange, budin is delicious when eaten cold.
Budin mightn't be quite what you expect either. It ends up having a custard-like interior because a water bath is used to cook the pudding.
Some versions of the recipe spice things up a little. For example, you might see budin served with berries. Rum may even be used as an ingredient. That addition gives you a rich boozy dessert that goes perfectly with some ice cream.
Arroz y habichuelas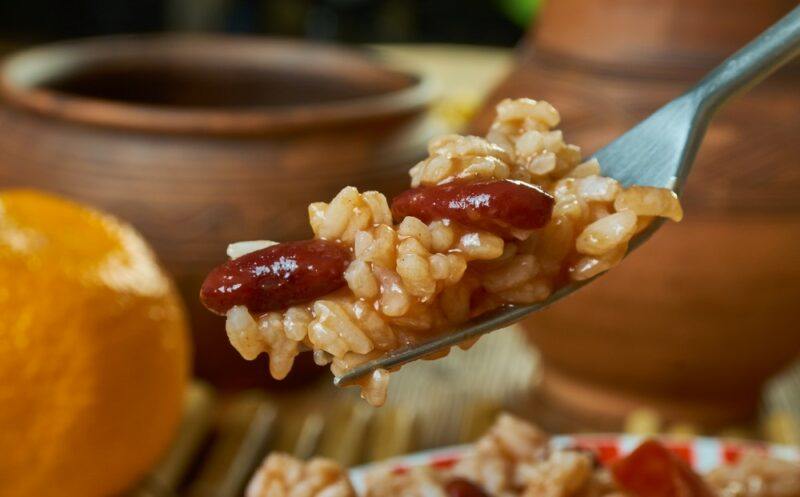 Arroz y habichuelas is simpler than the name suggests, as we're really just talking about rice and beans. The rice portion is consists of cooked white rice that has been simply seasoned, often with salt.
The beans side of things is more complicated. This often relies on pink beans that are stewed with ingredients like peppers, garlic, a herb-heavy cooking base, and even a ham hock. These ingredients make the beans rich and flavorful.
The rice and beans tend to be served alongside each other. This lets you choose how much of each you want to eat.
Arroz con Gandules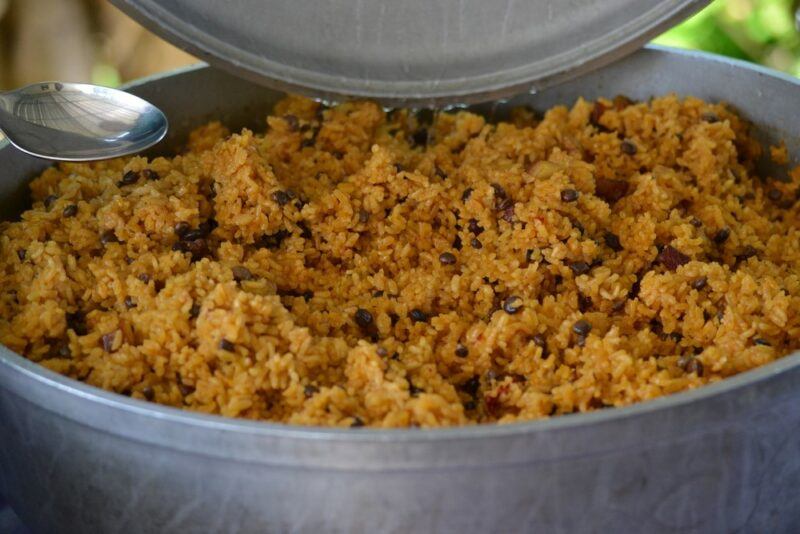 Arroz y habichuelas is a rice and beans dish, so it shouldn't be surprising that arroz con gandules features rice as well. However, arroz con gandules is quite a different dish. It relies on rice, pork, and pigeon peas, which are all cooked together in the same pot.
Sofrito is included as well. Sofrito is a base ingredient for many Puerto Rician recipes and brings plenty of flavors into the meal. It includes ingredients like cilantro, tomatoes, cubanelle peppers, aji dulce peppers, and garlic.
Anito oil is another common addition. While the sofrito provides the rice with much of its flavor, the anito oil is where the dish gets its color from.
Other ingredients can feature too, such as capers, olives, and spices for seasoning. As always, there is plenty of variation depending on who is making the dish.
Even with all the differences, the importance of the dish can't be understated. Along with pork, arroz con gandules is seen as one of the national dishes of Puerto Rico.
Pasteles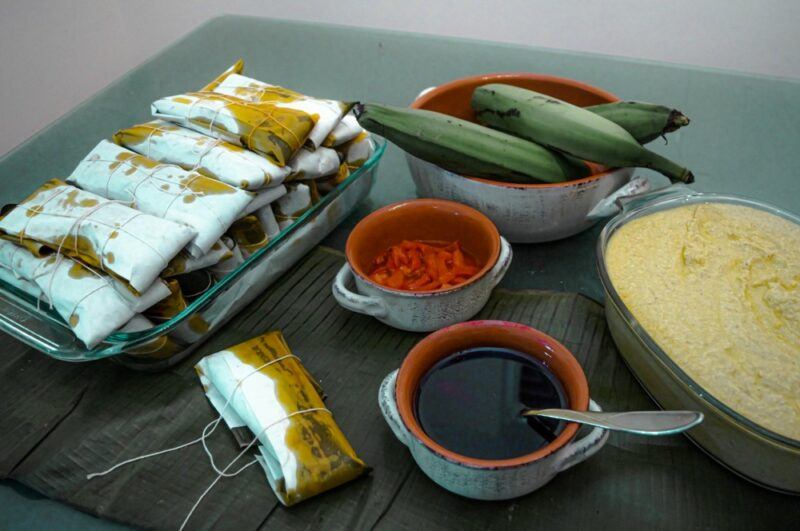 Pasteles may look a little familiar, as they're similar to a tamale. However, while tamales rely on masa and are wrapped in a corn husk, pasteles use a combination of taro and plantain instead. They're then wrapped in a banana leaf.
Pasteles often have a meat-based filling, one that may include vegetables or seasoning ingredients as well. They end up being a delicious treat and should appeal to anyone who already enjoys tamales.
Even if you don't, why not try pasteles for yourself at least once?
Rellenos de Papa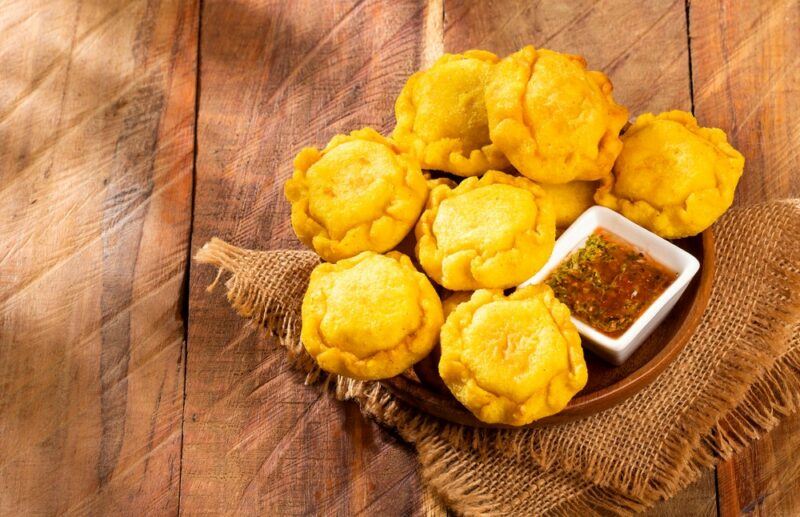 Rellenos de papa is another dish that has an outer layer and an inner layer. This time, the dish is made from potatoes that have been stuffed with a meat filling and then deep fried.
The deep frying creates a crispy outside layer, giving you a fantastic contrast between this and the soft mashed potatoes. The most common filling involves pan fried ground beef that's mixed with a variety of ingredients, including herbs, tomato sauce, and adobo.
Empanadillas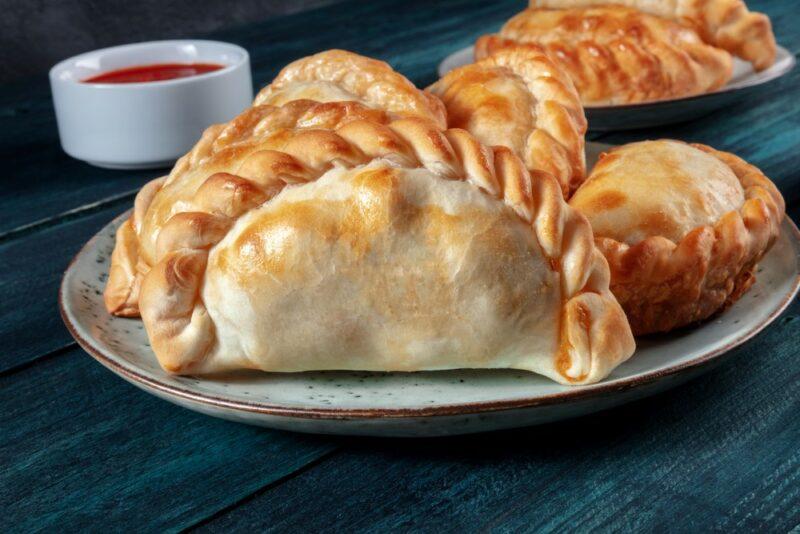 Empanadallias are basically Puerto Rican empanadas. Just like regular empanadas, empanadillas are savory pastries that are a little like a large turnover. One difference is that the rolled over pastry on empanadillas tends to be thicker than for empanadas.
The traditional approach involved stuffing empanadillas with ground beef and a selection of other ingredients. These days, chicken is a common stuffing as well.
Sancocho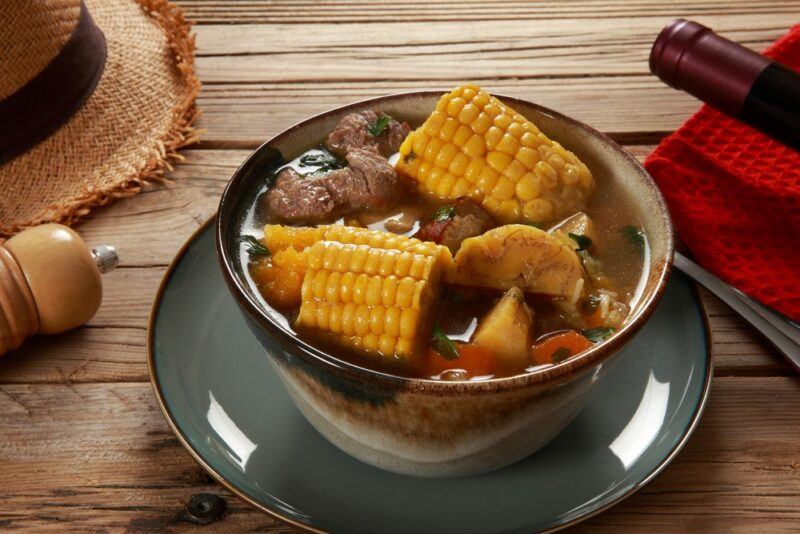 How can you go wrong with a comforting soup? Such a dish is perfect when it's cold outside or when you're feeling a little under the weather.
Sancocho is often described as Puerto Rican comfort soup. It's easy to see why too, as the dish relies on tubers, corn on the cob, and squash as key ingredients. Sofrito features here too.
But, as with most soup recipes, the amount of variation is almost endless. You'll often see some type of meat added, which might be chicken and ham, beef ribs, pork feet, beef, or something else again.
The vegetables can be changed around too, along with the flavoring ingredients. Sometimes a bowl of rice or some bread will be served with the soup, helping to round it out into a filling and complete meal.
Pastelon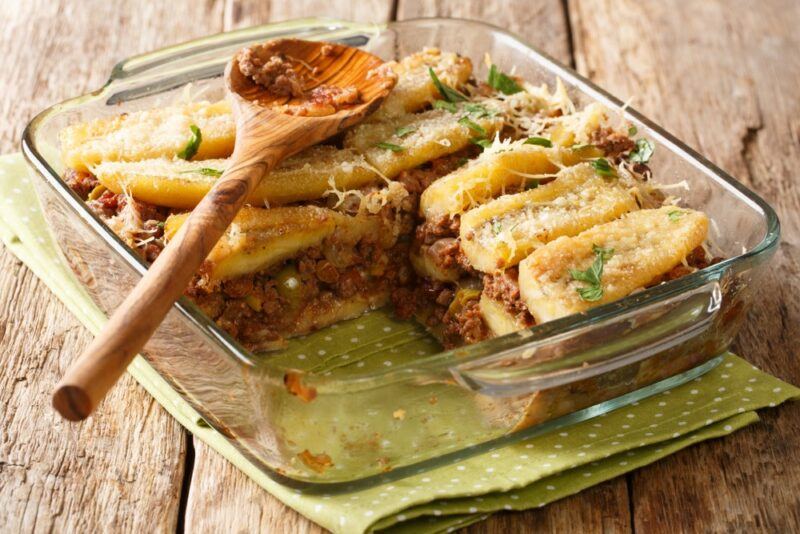 Think of pastelon like lasagna with one major difference – plantains. Instead of using noodles, the dish uses layers of fried plantains.
Ground beef and cheese are still used in the dish, although the beef is cooked with ingredients like sofrito, tomato sauce, oregano, and olives. This gives it a distinctly different flavor to the beef used in lasagna.
Of course, the main flavor difference comes from the plantains. These are sweet, so you get an interesting salty and sweet contrast that you wouldn't find with lasagna.
Piñon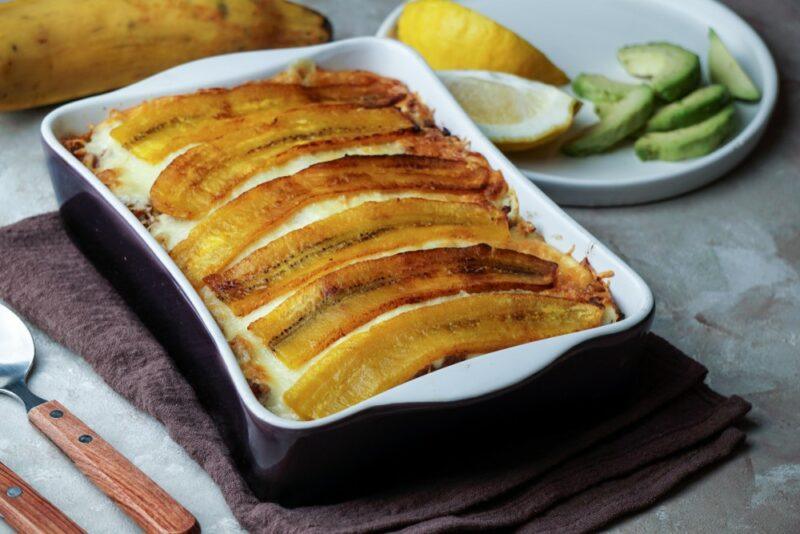 Like its cousin pastelon, piñon is a layered dish that looks much like lasagna. While the two names are sometimes used interchangeably, piñon is a dish from the south and west of Puerto Rico, while pastelon is more often found in the east and the north.
There are differences too, as piñon tends to have a layer of canned green peas in addition to the other ingredients. In some cases, the plantains may be mashed too. Mashing the plantains changes their texture without altering piñon's flavor profile.
Both pastelon and piñon rely on very ripe plantains. These are the sweet ones and give the dish the moisture it needs. Using underripe plantains instead will give you a dish that's much too dry.
Tripleta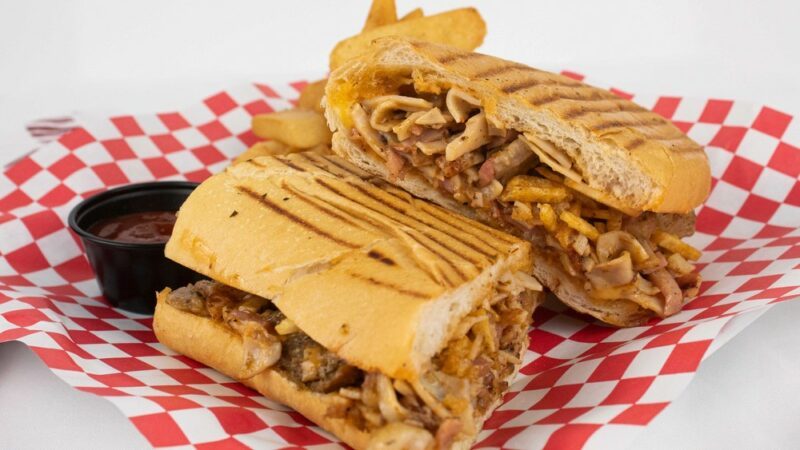 Tripleta is so named because the sandwich contains three different types of meat, making it a meat lover's dream. Ham, lechon pork, and grilled steak all feature.
That's not all. The sandwich also includes fries, cheese, ketchup, and mayonnaise. Some vegetables may be included too, but it's far from the healthiest sandwich out there.
Still, the popularity of the sandwich isn't surprising. The combination of ingredients makes it a delicious and satisfying choice. You'll often see it sold by street vendors in Puerto Rico. Some places in the United States serve tripleta. You'll have the most luck in places like New York City where the Puerto Rican population is high.
Quesitos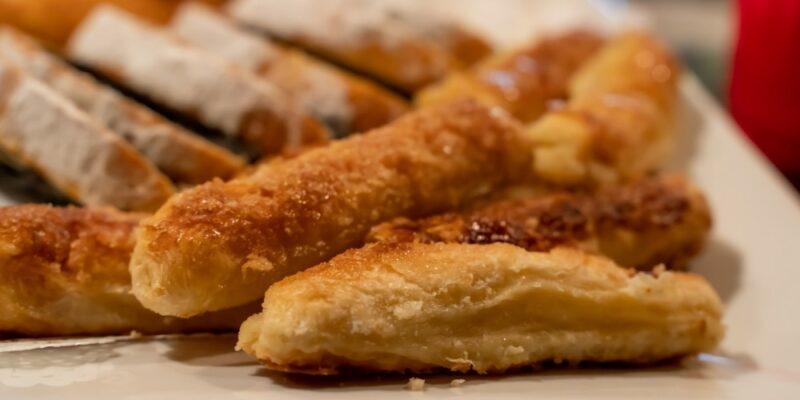 Pastry lovers rejoice. Puerto Rico has a delicious option for you – quesitos. This flaky pastry is served warm and is often stuffed with a cream cheese filling, giving it a delicious sweet and savory balance.
You may see other versions too, like quesitos that are filled with salted caramel or dulce de leche. Hunt around for long enough and you might even stumble onto a bacon version.
Quesitos are the perfect food for tourists to start with, as the flavors are all familiar and delicious. There are no surprises here and anyone who enjoys pastries should feel right at home with quesitos.
Arroz Con Dulce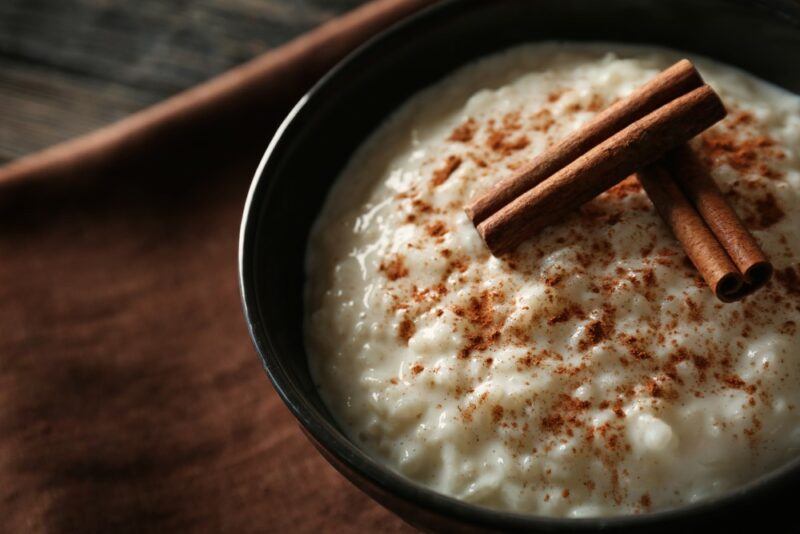 Here's another sweet choice. This dish is a rice pudding that relies on coconut milk, sugar, and some spices like cinnamon and nutmeg. Raisins might be added in as well, although these aren't essential.
Be prepared for some trial and error if you want to make this dish for yourself. Getting the pudding right isn't easy, as you need to soak the rice for long enough to make it soft. You also need to keep an eye on it throughout so that it does not end up smoky.
Tembleque
This creamy pudding features coconut milk and sugar as well, along with similar spices. This time, however, cornstarch is used as a key ingredient.
Using cornstarch instead of rice means that tembleque has a smoother consistency than arroz con dulce. Tembleque could also be more appealing for anyone who doesn't like the idea of having rice for dessert.
Arañitas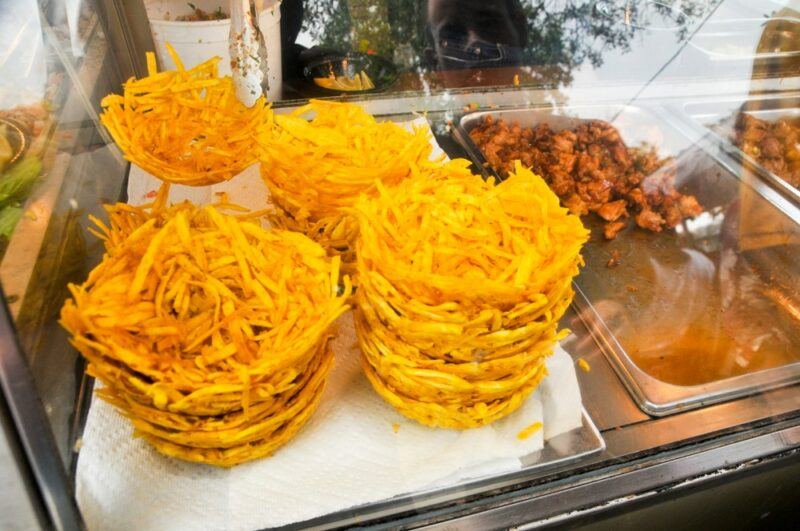 Arañitas is yet another Peurto Rican dish that relies on plantains. This time the plantains are shredded and fried. You end up with small crispy cakes that can easily be dunked into dips like guacamole.
The name arañitas means little spiders. It's a reference to the appearance of these shredded cakes. Don't worry though. You're getting a delicious snack – one that doesn't taste like spiders at all.
Asopao de Pollo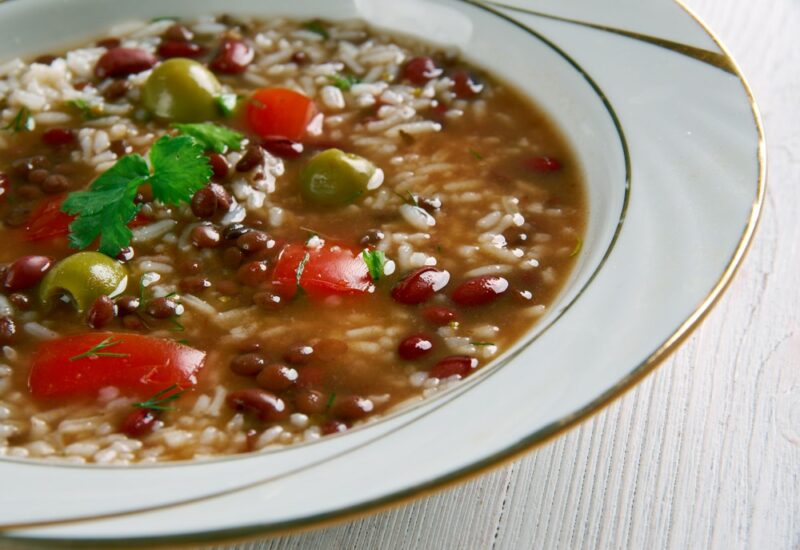 Asopao de pollo is an incredibly hearty and comforting dish, giving you an entire meal in just one pot. It's sometimes referred to as a savory soup, but it is more similar to gumbo or paella, as there are many ingredients and relatively little broth.
Chicken and rice are common ingredients. However, this is another dish that tends to vary depending on who makes it. Some people might use pork, shellfish, pigeon peas, or olives as part of the dish. Although, if you're using pork or shellfish instead of chicken, then you'd call the dish asopao, rather than asopao de pollo.
While asopao de pollo is a popular choice for making at home, it's also a dish that you'll find served at some restaurants.
Flan De Queso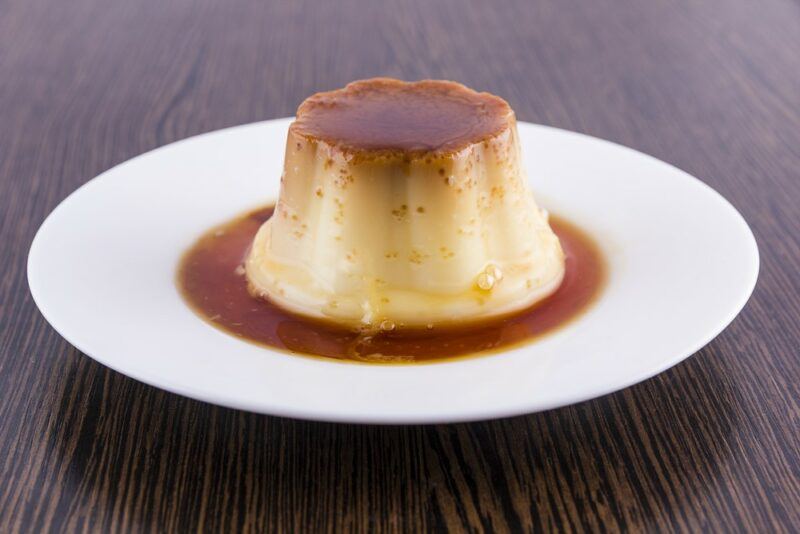 The Puerto Rican flan is a simple dessert, but that doesn't make it any less delicious. Think of it like a middle ground between cheesecake and caramel custard. Sound a bit good? It should.
Most versions of the flan are plain or vanilla, relying on ingredients like condensed milk, cream cheese, eggs, and sugar. A caramel sauce is then poured on top, to provide a delicious sweetness. The caramel sauce can be skipped if you like. If that's the case, you might top the flan with fresh fruit and coconut cream, or something similar.
Other versions can be found too, including chocolate or berry flavored flans.
Pollo Guisado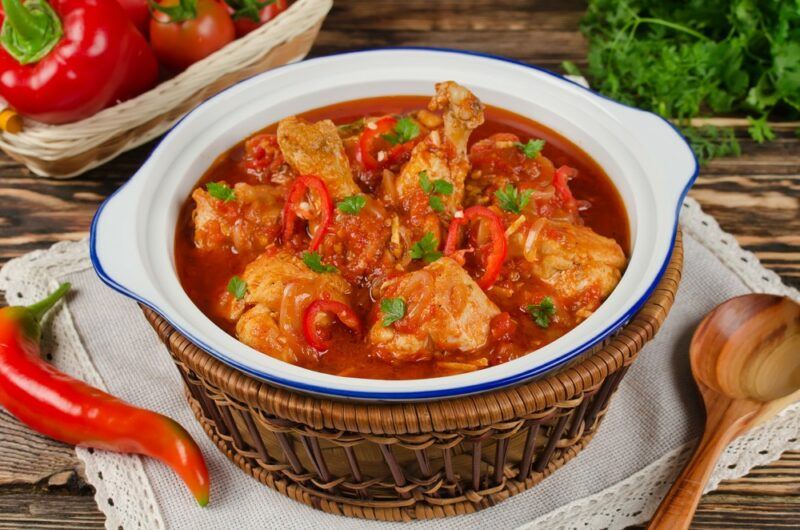 While Puerto Rico isn't a cold country, they do still have some delicious soups and stews. Pollo guisado is one example. This stew features potatoes, chicken broth, onions, tomato sauce, and chicken. Once again, sofrito is used as a base flavoring ingredient.
Most versions of this stew use dark chicken meat that's still on the bone. The chicken is cooked until it is very tender and may even be falling off the bone.
The taste isn't the only reason to try pollo guisado for yourself. It's also an easy dish to prepare, as it is made in a single pot and is mostly a hands-off cooking process.
Jibarito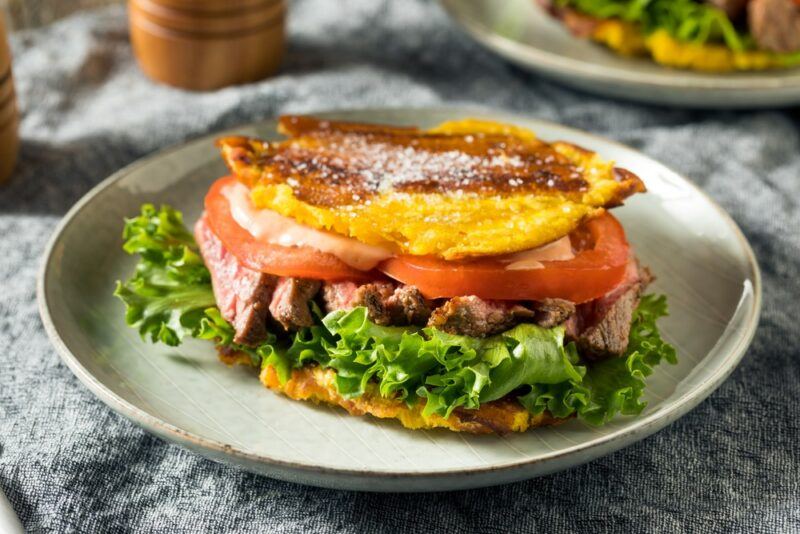 This sandwich could be an interesting choice if you're avoiding bread, as it replaces the bread with green plantains that have been flattened and then fried. Aioli is commonly used as well, along with classic sandwich fillings like lettuce, tomato, cheese, and some type of meat.
Using steak in a jibarito is the most common approach, but another type of meat can easily be used instead. A word of warning though, fried plantains aren't necessarily healthier than bread. They're still high in carbs and the frying process isn't great for your health either. This makes the sandwich best as a treat, rather than something that you eat regularly.