There's always something exciting about enjoying food from another culture. After all, there are many different flavors and textures to experience, not to mention unexpected ingredients and combinations. But where do you begin? Sometimes the food can be so different that it might seem overwhelming. This can sometimes be the case with Vietnamese food.
The meals often have a combination of sweet, sour, salty, and hot flavors. Ingredients like tamarind, fermented fish sauce, chili peppers, fresh herbs, and cane sugar feature to provide these different flavors.
Don't worry though, Vietnamese food doesn't tend to be too spicy. Chili sauces are served on the side instead, which lets you control the amount of heat in your meal. Some dishes are also very mild indeed, making them perfect for beginners.
Of course, the flavor profile and ingredients used do vary from one dish to the next. That's why we're highlighting a variety of delicious Vietnamese meals in this post and showing you what you can expect. Plus, don't forget to pair with with Vietnamese drinks for an authentic dining experience!
If the foods in this list aren't quite what you want, why not experiment with Russian food or Thai food instead? Each culture has its distinctive dishes. Some might be more appealing than others, but they're all worth trying at least once.
Delicious Vietnamese Foods
Goi Cuon
Banh Xeo
Bun Cha
Cha Ca
Mi Quang
Xoi
Cao Lau
Lau
Banh Mi
Com Ta
Rua Muong
Nem Ran
Ga Tan
Pho
Pho Cuon
Hoa Qua Dam
Pho Xao
Bot Chien
Thit Kho To
Banh Goi
Chao
Bo Luc Lac
Goi Xoai
Mi Xao Mem
Goi Cuon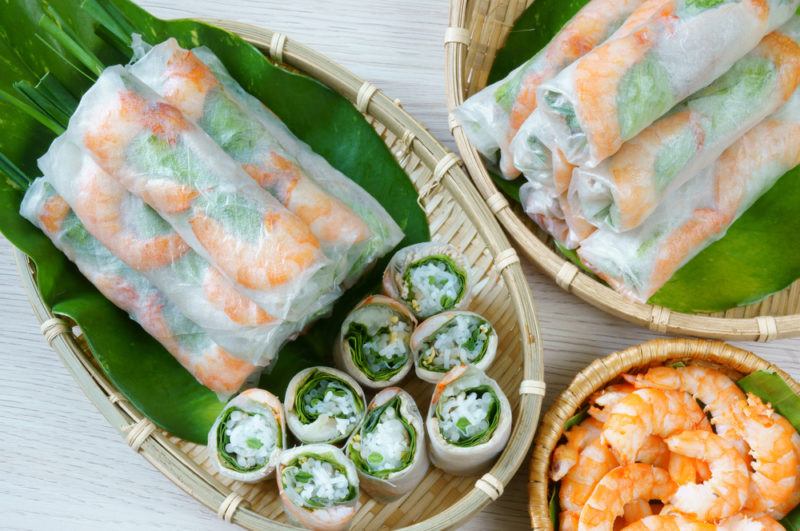 Goi cuon is one of two types of spring roll that you'll find in Vietnamese fare. The rolls are typically served cold in a translucent rice paper wrapper. Ingredients include a selection of vegetables and some type of meat, like shrimp, minced pork, or strips of pork.
You might see some more interesting ingredients too, such as star fruit. Regardless of the ingredients chosen, goi cuon spring rolls tend to be delicious. They're also much healthier than the fried spring rolls that are another popular starter.
Goi cuon is often served with sauce. Fish sauce is a popular choice, as the distinctive flavor of the sauce contrasts well against the fresh spring rolls. A hoisin-peanut sauce can also be used and creates another palate-pleasing combination.
Banh Xeo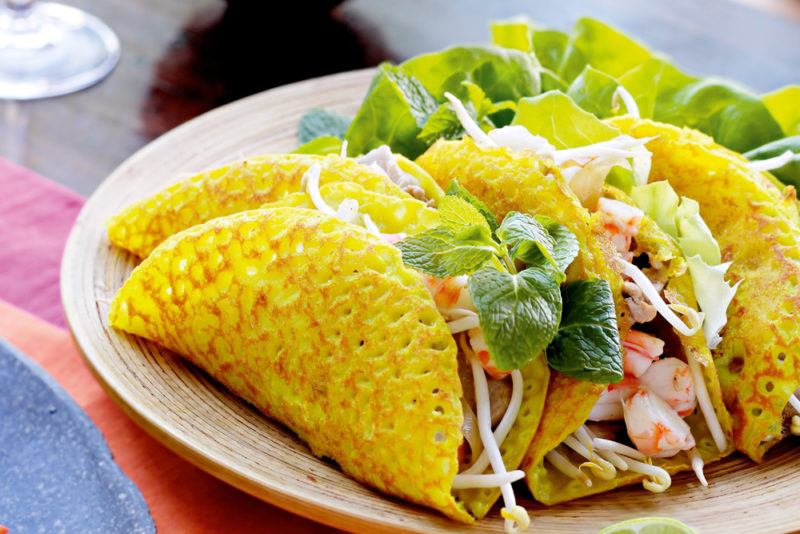 Banh xeo is sometimes translated as sizzling pancakes. The name is an apt one too, as the dish starts out with Vietnamese pancakes. However, these are served very differently than the pancakes you might be familiar with.
For one thing, the pancakes are stuffed with a variety of fillings and rolled. Possible ingredients include egg, bean sprouts, and shrimp. The pancakes are then fried.
You'll often see banh xeo wrapped up in either rice paper or lettuce leaves. It can be dipped in a sauce or two. If the pancake is too unwieldy, it can be cut into manageable slices.
Another difference between this dish and regular pancakes is that banh xeo is thin, much like a crepe. Once it has been fried, it ends up crisp rather than fluffy. There are plenty of variations depending on where you buy the dish from, but you can be sure that it will taste delicious no matter what.
Finally, the pancake itself is made using rice flour and turmeric. These ingredients give it a distinct flavor and texture.
Bun Cha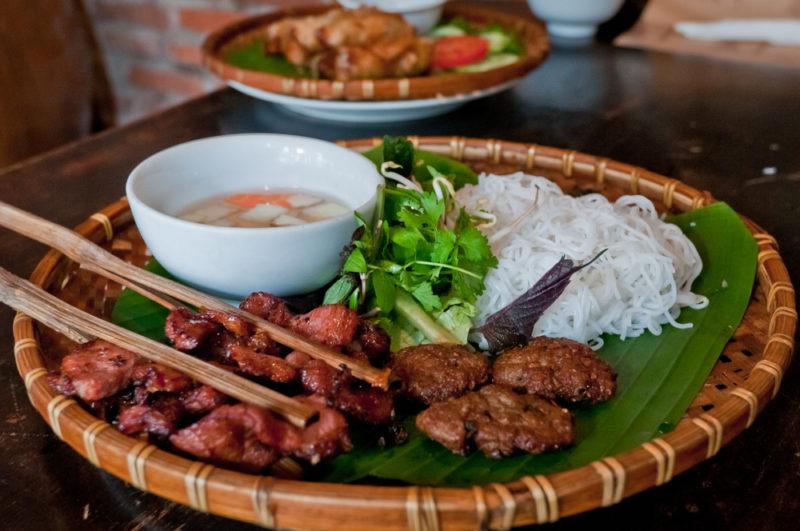 Bun cha is a popular street food that's most often found in Hanoi. The dish is sometimes called grilled meatballs and will often be served on top of rice noodles. That name tells you all you need to know about the dish.
Some street vendors provide a bowl of rich broth as well. This combination of foods can provide you with a hearty lunch.
Bun cha may seem more familiar than most other items on this list, as the dish really is similar to meatballs or hamburger patties that you might find at home. Even so, bun cha is worth trying for yourself. The combination of spices gives the meatballs a distinctly Vietnamese flavor.
Cha Ca

Cha ca is a surprisingly simple turmeric fish dish. It is created by sautéing white fish in butter and turmeric, with ingredients like spring onions and dill. You'll often find cha ca served with rice noodles.
The dish is most famous in Hanoi, so much so that there's even a street named after it. This is why you'll also see the meal called cha ca Hanoi.
In fact, just like other Vietnamese dishes, you'll see various other names for this meal, including cha ca la vong, which is a reference to a cook named La Vong who was credited with inventing the dish originally.
Mi Quang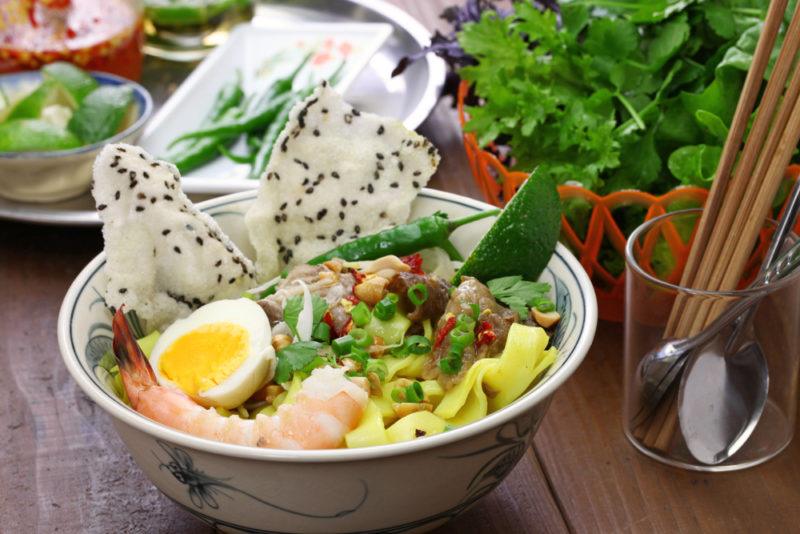 Mi quang might not be as well-thought-of as other Vietnamese dishes, but it isn't one to write off. Instead, mi quang is a delicious and easy meal that you'll often find from street vendors, especially in Hanoi.
The meal is often called noodle soup, as it relies on hearty noodles, along with a variety of other ingredients. The broth is infused with turmeric, which adds to the richness of the meal.
In some cases, calling the dish a soup is a little misleading, as you end up with relatively little broth and plenty of hearty ingredients. So then, it's no wonder that mi quang is often served as an evening meal. It's certainly filling enough for that role.
Xoi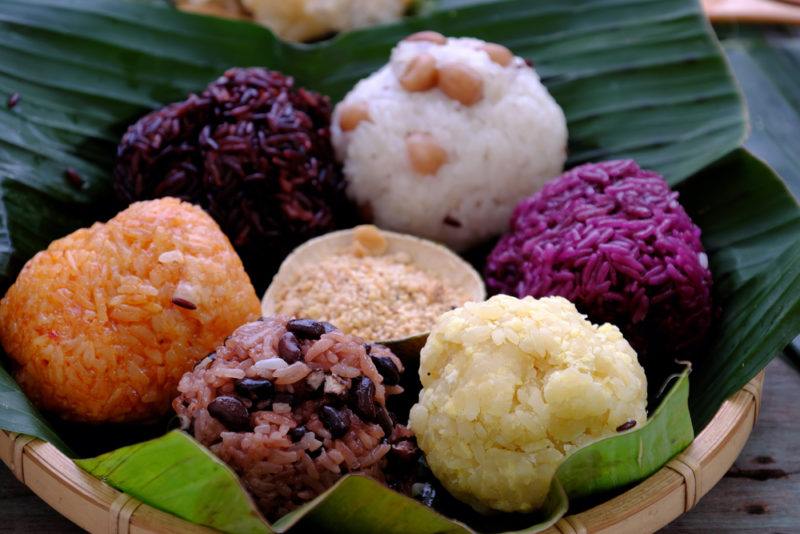 Xoi is a type of savory sticky rice. You'll sometimes find it served as part of a meal or alongside one. More often though, xoi is served as a meal in its own right.
You're not just getting rice either. Other ingredients are often mixed in, including thin slices of meat, eggs, or vegetables. The dish is perfect when you want something filling that isn't too complicated or spicy.
The cooking method can vary too. For example, some versions are steamed to give them a firm texture, while others are cooked in a similar way to regular rice.
Cao Lau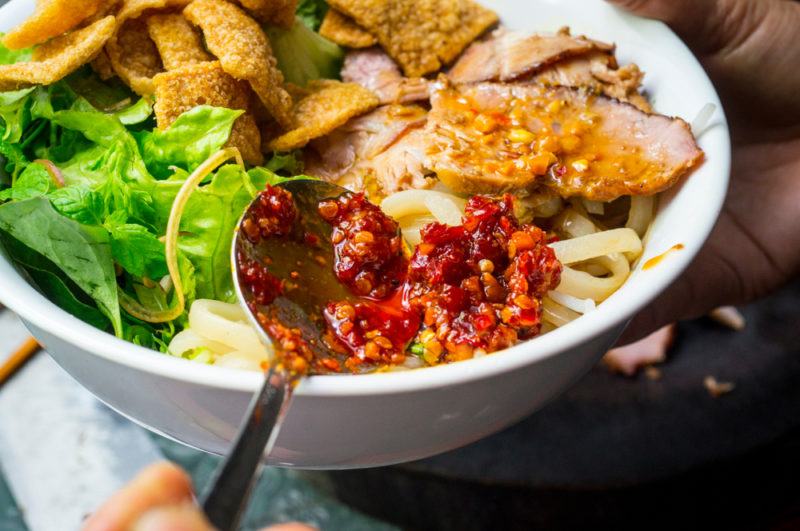 Cao lau is another noodle dish. This one relies on thick noodles made from rice flour. These are served in a light broth and then topped with pork rind croutons and bean sprouts. There are often other delicious toppings too, like rice paper or crackers made from rice flour.
One of the most interesting features is the balance of different textures and flavors. You have soft and crunchy within the same meal, along with spicy and sweet. Such contrasts make cao lau even more enjoyable.
The meal tastes as good as it sounds, but, because it is quite carb-heavy, you might enjoy it with a fresh salad on the side rather than on its own.
Lau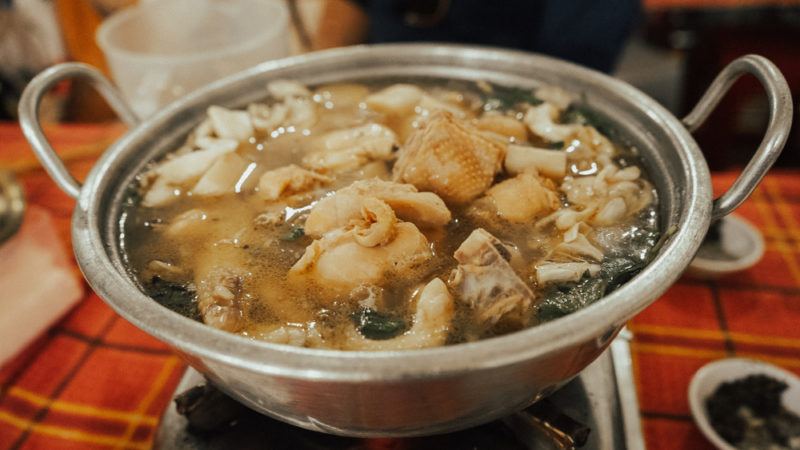 Lau isn't quite the same as cao lau. Instead, lau tends to be a communal hotpot dish. A key feature is that pretty much anything can be included, with tofu, meat, seafood, and even frogs being an option.
Other ingredients include a selection of spicy herbs and vegetables. The soup is generally spicy and sour, although the flavor does vary based on the specific ingredients used.
Of course, the dish tastes better when chefs use a little discrimination about the ingredients that they include. If you're making lau yourself, try focusing on one or two types of protein, rather than a large selection.
Banh Mi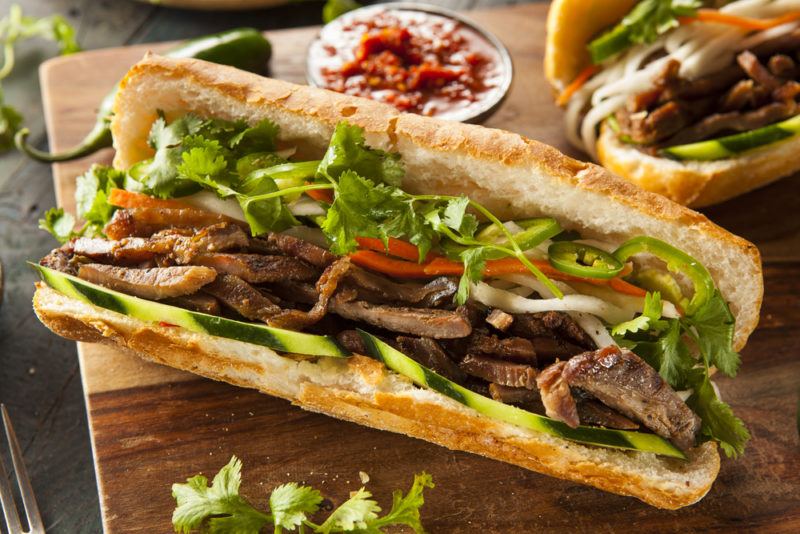 Banh mi might seem a little surprising at first glance. Yet, it's delicious and is a popular type of Vietnamese street food. The dish was inspired in the 19th century, during a period of French colonial rule.
That piece of history shouldn't be surprising, as banh mi is a stuffed sandwich that relies on a French baguette. Fillings tend to be savory and rely on Vietnamese flavors. You'll see examples like beef, chicken, or paté, along with plenty of greens and other vegetables.
Fillings vary depending on where you are in the country. If you're in South Vietnam, then the ingredients may be more diverse again, including options like cheese, a fried egg, and chili sauce.
Com Ta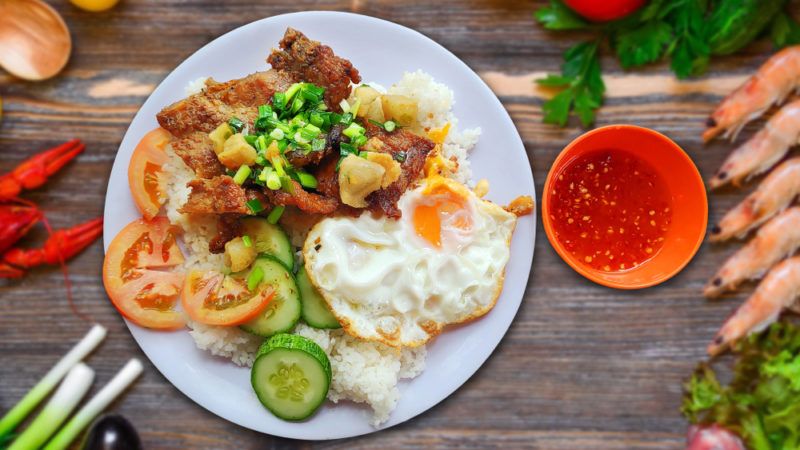 Com tam also goes by the name broken rice, as it is made up of small clumps of rice. It's sometimes considered a leftovers-based snack, although you'll often find it sold from street vendors as well.
The rice isn't typically served on its own. Additions can include pork, fish, or a fried egg, along with some fresh herbs. You'll often get a decent amount of the protein that you choose, making com ta a filling meal.
Rua Muong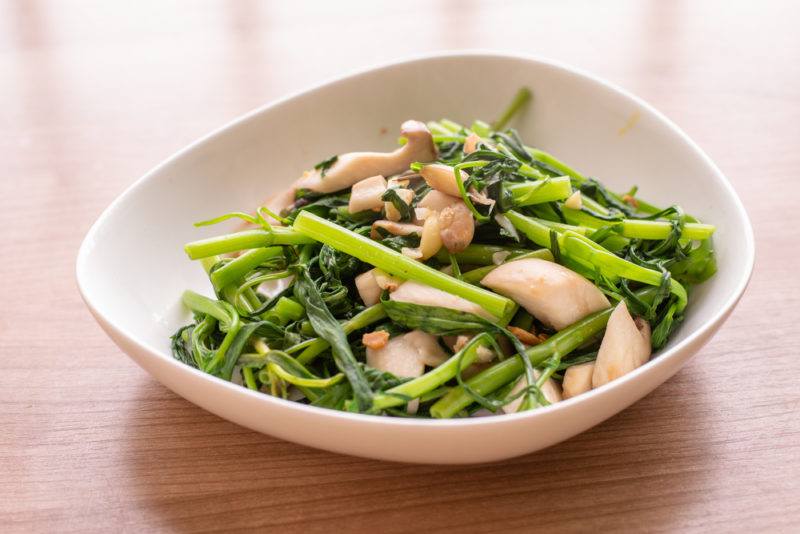 Rua muong is a semi-aquatic plant that's sometimes called water spinach or river spinach. It's also called river weed, but that unappealing name doesn't stop rua muong often been served in Vietnamese restaurants.
The simplest approach is to stir fry the water spinach with garlic. This makes the river weed easy to eat, without drowning out its natural flavor. When served this way, the dish is sometimes called rau muong xao toi and sometimes just rau muong. Either way, it's delightful.
For something more complex, you could consider goi hue rau muong. This is a salad dish that relies on river weed, along with some type of protein, herbs, vegetables, and seasoning ingredients.
Nem Ran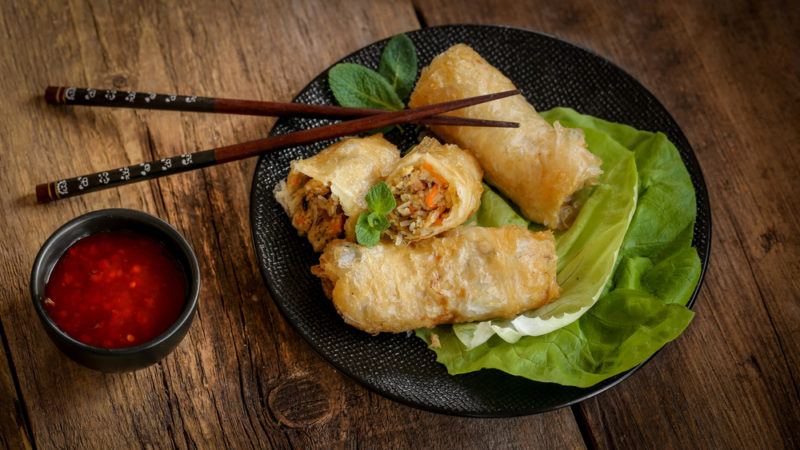 These spring rolls go by two different names – nem ran or cha gio. Either way, they should be instantly familiar, as Vietnamese deep fried spring rolls are often served before a meal. You've probably had them many times before at Asian restaurants or even during a party.
The spring rolls are delicious too. The soft veggies and meat inside the rolls contrast perfectly with the crisp outer shell.
Of course, these deep fried spring rolls aren't nearly as healthy as the fresh goi cuon spring rolls that we highlighted earlier. Choosing high quality ingredients may help a little, but in the end, deep fried food is never going to be the healthiest choice.
Ga Tan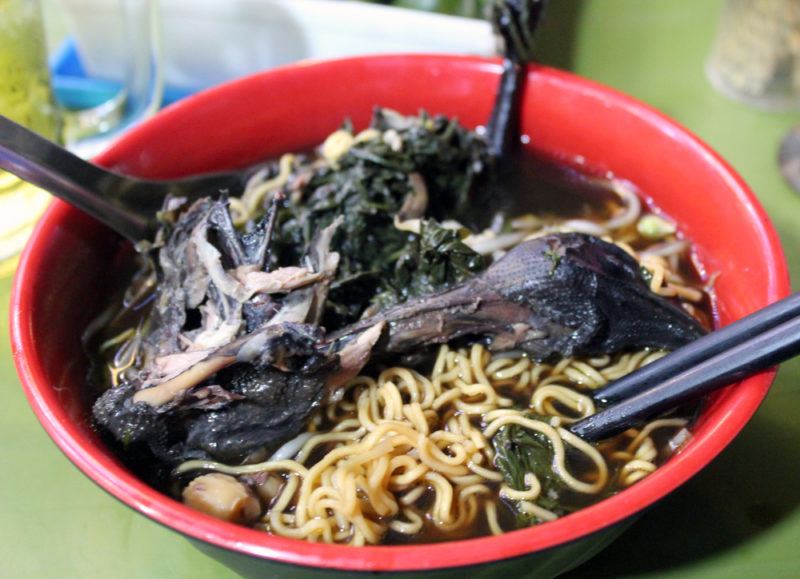 Ga tan could be the perfect thing when you have a cold, as it is the Vietnamese equivalent to chicken noodle soup. Just like chicken noodle soup, this dish won't cure your aliment overnight, but it has been linked to health benefits.
Of course, ga tan is quite different than the chicken noodle soup you might be familiar with. It relies on a dark broth and instant noodles. Dark chicken meat is often used too, often when it is still on the bone.
The flavor profile is different too. Not only does the chicken meat provide a rich flavor, but you're also getting some bitterness from the Chinese herbs that are used. This contrasts with the slight sweetness of your chicken to give you a surprisingly delicious set of flavors.
Like many of the dishes on this list, ga tan is one that some people choose to make at home, while others purchase from street vendors instead. It's easy to see why you might buy the meal, as it is packed with flavor. Besides, who wants to be preparing soup when they're feeling sick?
Pho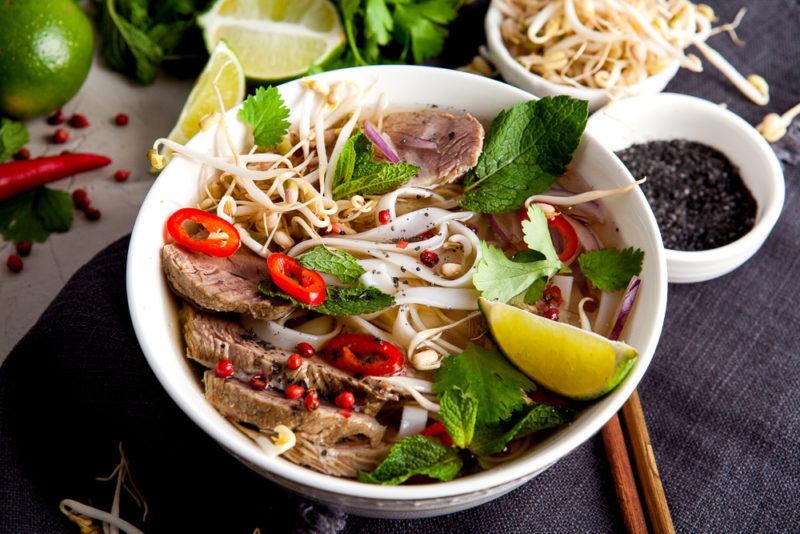 Pho is one of the most famous dishes that Vietnam has to offer. While pho initially came from North Vietnam, it is now seen as the national dish for the whole country.
Describing pho is simple – it's noodle soup. The soup uses rice noodles that are broad and flat, with a beef or chicken broth. Key ingredients include ginger, coriander, and spring onions. These ingredients all give the soup its distinctive flavor.
There's often meat added in too, such as thin slices of beef, pork, or chicken.
Pho's popularity doesn't just come from how the dish tastes. It is also an inexpensive meal that can be found at countless stores and stalls throughout Vietnam.
Pho Cuon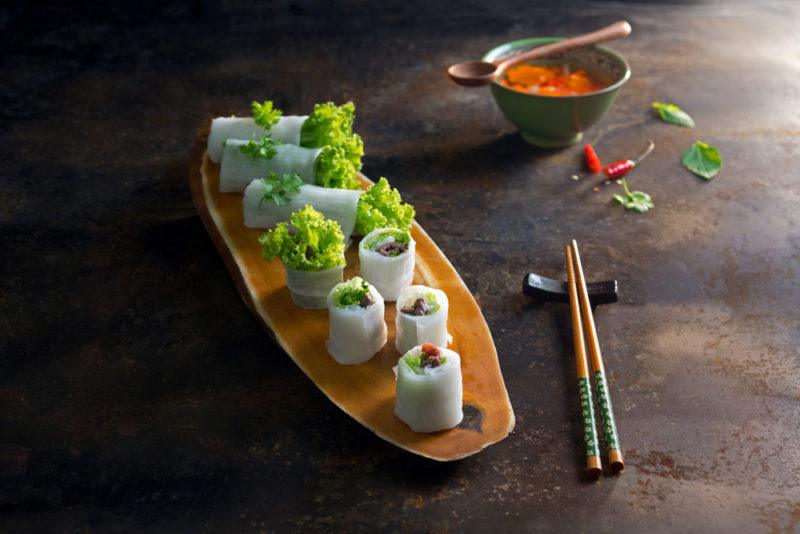 Pho cuon is an interesting hybrid food. It's a variation on the idea of fresh spring rolls (goi cuon). But, rather than use rice paper around the spring roll ingredients, pho cuon uses uncut pho noodle sheets instead.
Swapping the rice paper out for noodle sheets changes the taste and the texture of the dish, making pho cuon an interesting alternative to goi cuon. Besides, it's always nice to have another fresh option rather than food that's deep fried.
Hoa Qua Dam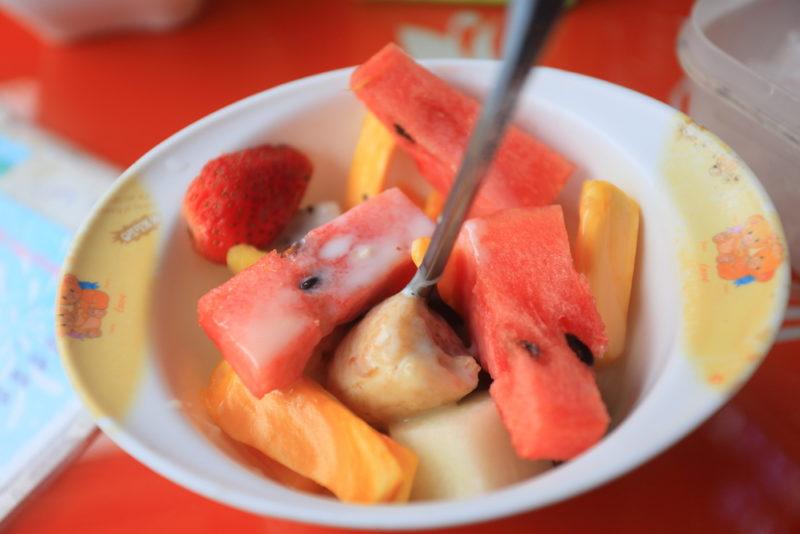 If you're bored with savory options, why not try hoa qua dam instead? This Vietnamese fruit salad is often served in a cup and is ideal for hot summer days.
However, you're not just getting fruit.
The traditional version mixes condensed milk into the salad, which creates a creamy and delicious treat. Of course, condensed milk is high in sugar and fat, so it can be substituted for other ingredients, like shaved ice.
Pho Xao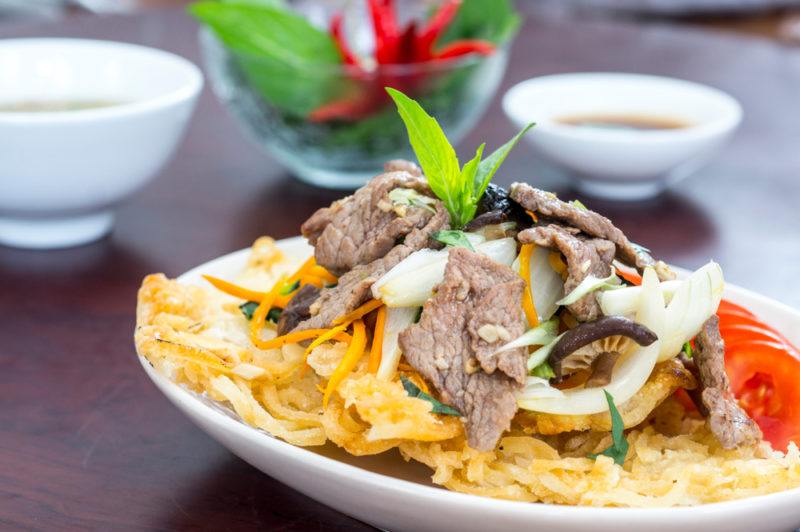 Pho xao shows that serving pho noodles in soup isn't your only option. This dish involves stir frying the noodles and then adding other ingredients, like meat and yu choy sum.
Pho xao is sometimes compared to pad Thai, as they are both stir fried noodle dishes that rely on meat and vegetables. The two meals can taste quite similar, as Vietnamese and Thai cooking does rely on some similar ingredients, like sprouts, hot peppers, and cilantro.
Plus, both dishes are flexible. Chefs will vary in the ingredients they choose, so some pho xao and pad Thai dishes will taste similar to one another, while others may taste completely different.
The most consistent difference is that pho xao tends to be milder than pad Thai, especially if you're comparing traditional versions of both dishes.
Bot Chien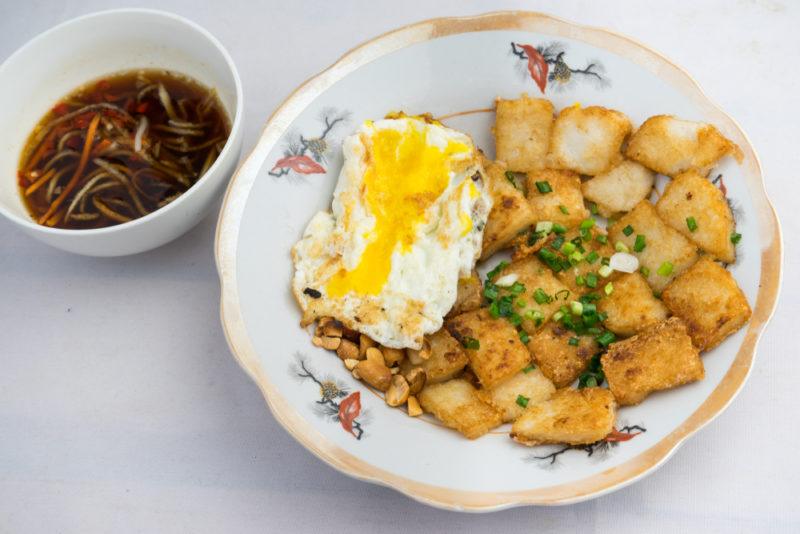 You'll often find bot chien in Saigon, served as a snack from street vendors. The snack is a versatile one, which you could easily enjoy after school, after work, or even after a late night drinking session.
The snack itself is basically fried flour rice cakes. These are simply made using rice flour and a little tapioca. The ingredients create cakes that are starchy and thick. Once fried, they end up with a crispy brown exterior and delicious softness inside.
A fried egg is often cooked in with the rice cakes. Other ingredients might be added for flavor too, like green onions, rice vinegar, chili sauce, and even papaya slices.
Thit Kho To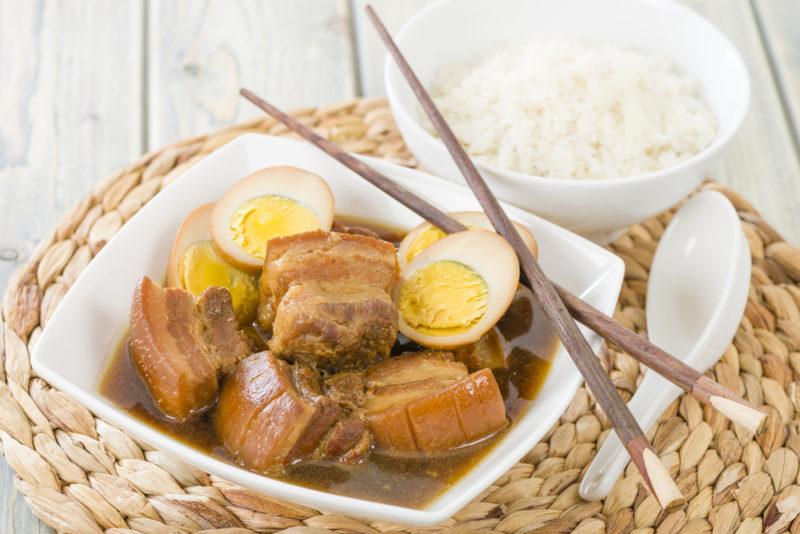 If you love pork belly, then this is the dish for you. It uses chunks of pork belly that are braised slowly in a combination of sugar and fish sauce. This approach creates a caramelized meal, where the pork ends up being tender and delicious.
A variation on the dish is called ca kho to. This version skips the fatty pork belly and uses fish instead. Catfish is a common preference, although other types of fish might be used too.
Ca kho to provides a similar flavor profile to the pork version, except you're getting a healthier dish that contains much less fat. Plus, you're getting omega-3 fatty acids from the fish, which are powerful for your health.
Banh Goi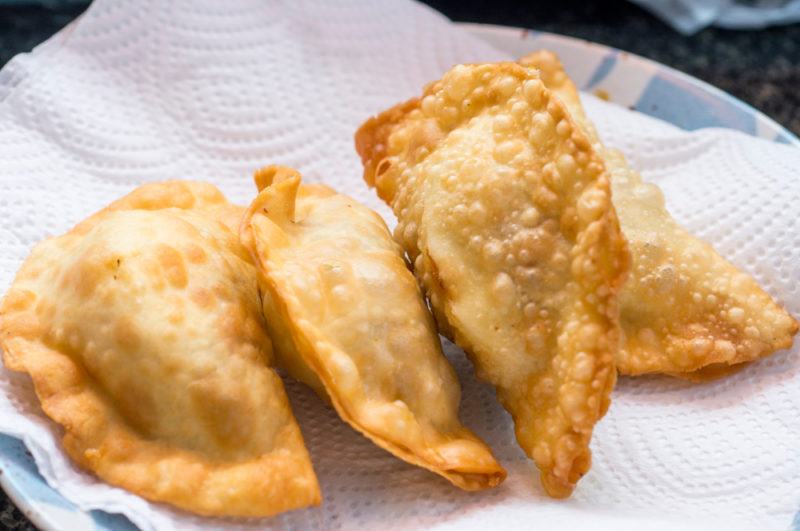 Banh goi is sometimes compared to a Cornish pasty – and it's easy to see why. The treat is basically a type of crispy Vietnamese dumpling.
The exterior is often pastry-like and is made from ingredients like flour, salt, and water. Some versions rely on gyoza skin. Either approach is delicious and gives a similar texture.
While banh goi might look like a Cornish pastry or a samosa, the filling is different from both types of dish. Minced pork often features, along with vermicelli noodles and mushrooms. While noodles might sound like a strange choice, they do make the dish taste simply amazing. They give it an interesting texture too.
Chao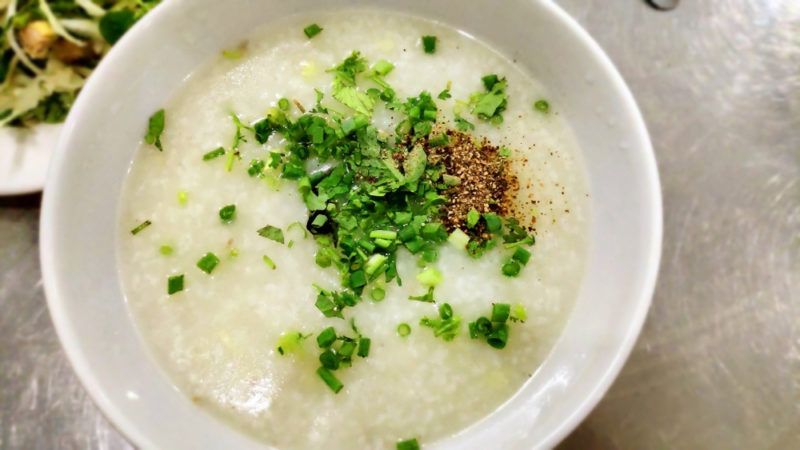 At its most basic, chao is a creamy rice porridge. It's a good choice when you're not feeling well or are hungover, as it is plain and surprisingly filling.
Of course, you don't need to eat rice porridge on its own. There are plenty of ways to make it more interesting, like including slices of meat or fish, along with fresh herbs.
Some versions change the broth that's used too, which gives the dish a more interesting taste.
Variations of chao have their own names, like chao ga, which relies on chicken. There's also chao long. This version includes organ meats like pork intestine and kidney. While chao long might not be for the faint-hearted, it is packed with nutrients.
Com Rang

This delicious dish should be instantly familiar – it's simply Vietnamese fried rice. It uses all the ingredients you'd expect in fried rice, including small pieces of meat and vegetables.
Soy sauce and fish sauce are often used too. These provide the dish with a slightly smoky flavor and keep it from drying out.
Dishes like com rang are a fantastic way to use up leftover rice. You end up with a delicious meal that doesn't take much effort to create at all. What could be better?
Che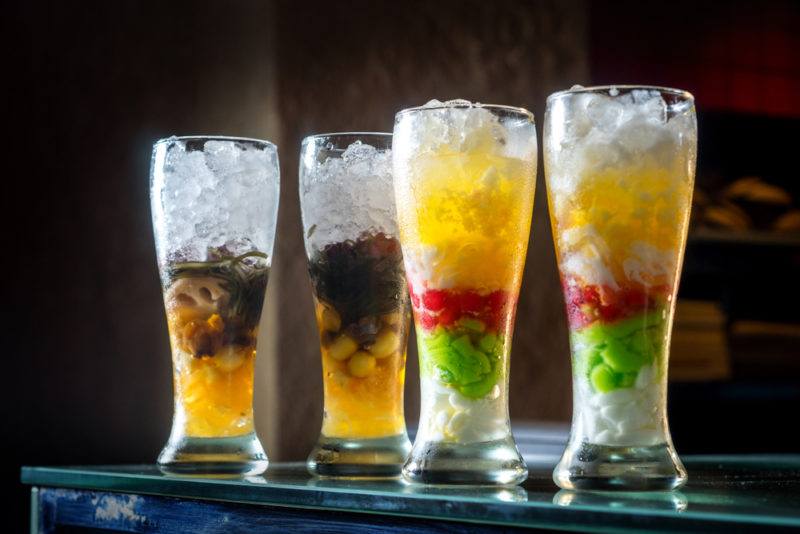 Che is the general term for a traditional Vietnamese dessert, sweet beverage, or even sweet soup. Common ingredients include beans or peas, tapioca, fruit, coconut cream, glutinous rice, and taro.
That list is just scratching the surface. There are countless versions of che to choose from, many of which have their own names. Here are some of them:
Che bot san – cassava flour
Che khoai lang – sweet potato
Che thach sen – jellies that are similar to vermicelli
Che bot loc – small dumplings of cassava and rice flour
Che xoai – mango
Che trai vai – lychee and jelly
As you can probably guess, each of these types of che can be made in a variety of ways.
If the dessert is made at home, it will often be served in glasses, so that the different layers can be clearly seen. However, many people will purchase che from stores instead. Vietnamese grocery stores sell multiple types of che in clear plastic cups, giving you a delicious portable dessert.
The ingredients for che might seem strange to Western audiences. After all, we tend to use rice, beans, peas, and sweet potatoes in savory meals, not sweet ones. Still, it's always fun to branch out and try something new. Even if you don't end up enjoying che, the experience should be a memorable one.
Bun Bo Hue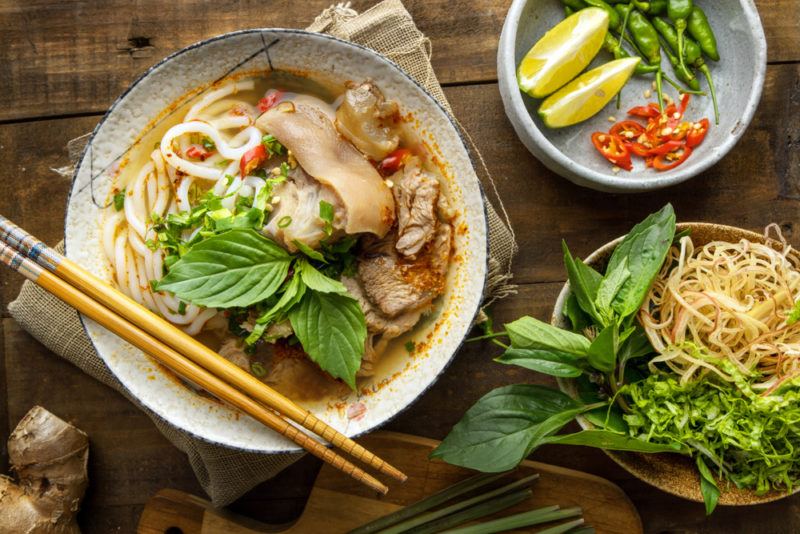 This dish is sometimes just called bun bo, as the 'Hue' is a reference to the original city where bun bo was created. The meal itself is a type of soup that uses rice vermicelli noodles, along with beef.
You end up with a rich broth that features lemongrass as a key flavor. There's some spiciness to the broth, along with salty and umami flavors. All in all, the soup is a delicious one that's worth trying for yourself.
Some restaurants make this meat-heavy, often including slices of beef and pork. Another variation is to include pig's feet or pig blood cubes. Thankfully, you can easily find versions of the soup that skip those ingredients entirely.
Bo Luc Lac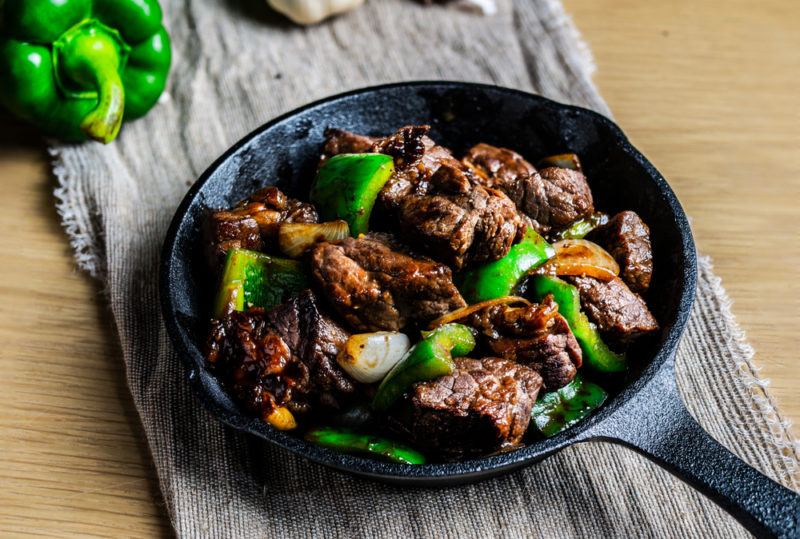 Bo luc lac is also known as shaking beef. The name simply refers to how the beef is tossed around the wok with other ingredients while it is cooked.
Other ingredients can include red onion, tomatoes, peppers, and soy sauce.
The dish is often seen as a hybrid of French and Vietnamese cuisine. Combining flavors and ingredients from multiple cultures like this is a powerful idea. You often end up with more interesting dishes than you'd find otherwise.
Plus, dishes like bo luc lac are an easy introduction to Vietnamese food.
Goi Xoai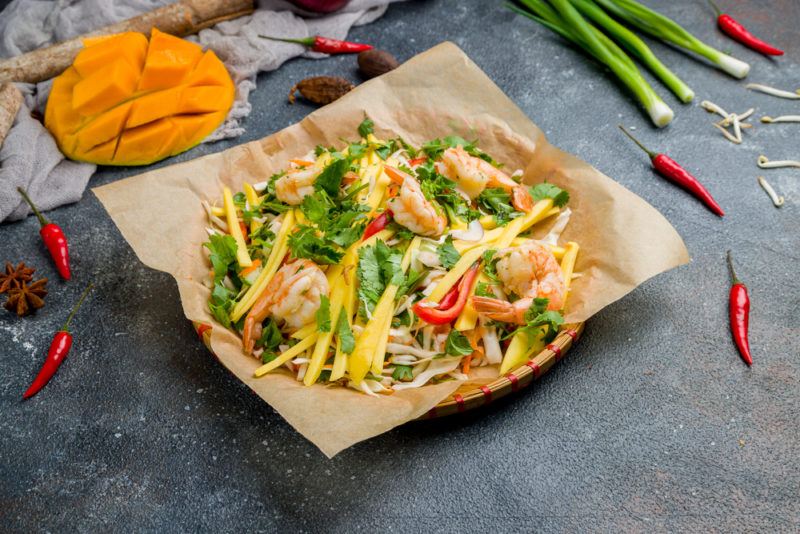 Do the meals on this list sound too rich and heavy? If that's the case, then this green mango salad should be perfect.
The dish is a vibrant one that relies on shrimp, green mangos, and fresh herbs to create a refreshing flavor profile. As with many Vietnamese dishes, you're getting a fun contrast of flavors and textures, including sweet, salty, and sour tones.
This is meant to be a simple salad. However, the complexity can vary dramatically – as can the ingredient selection.
Mi Xao Mem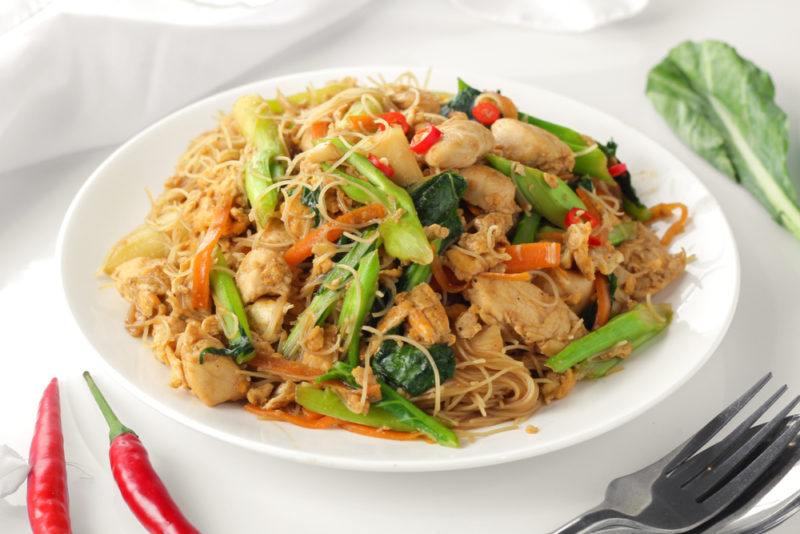 This stir-fried noodle meal was clearly influenced by Chinese cooking, which isn't a bad thing at all. Mi xao mem relies on familiar ingredients, including egg noodles, vegetables, and beef (or some other type of protein).
The familiarity of the dish makes this an excellent meal for picky eaters or for anyone who doesn't eat Vietnamese food often. The meal is even simple enough that you could make it at home.