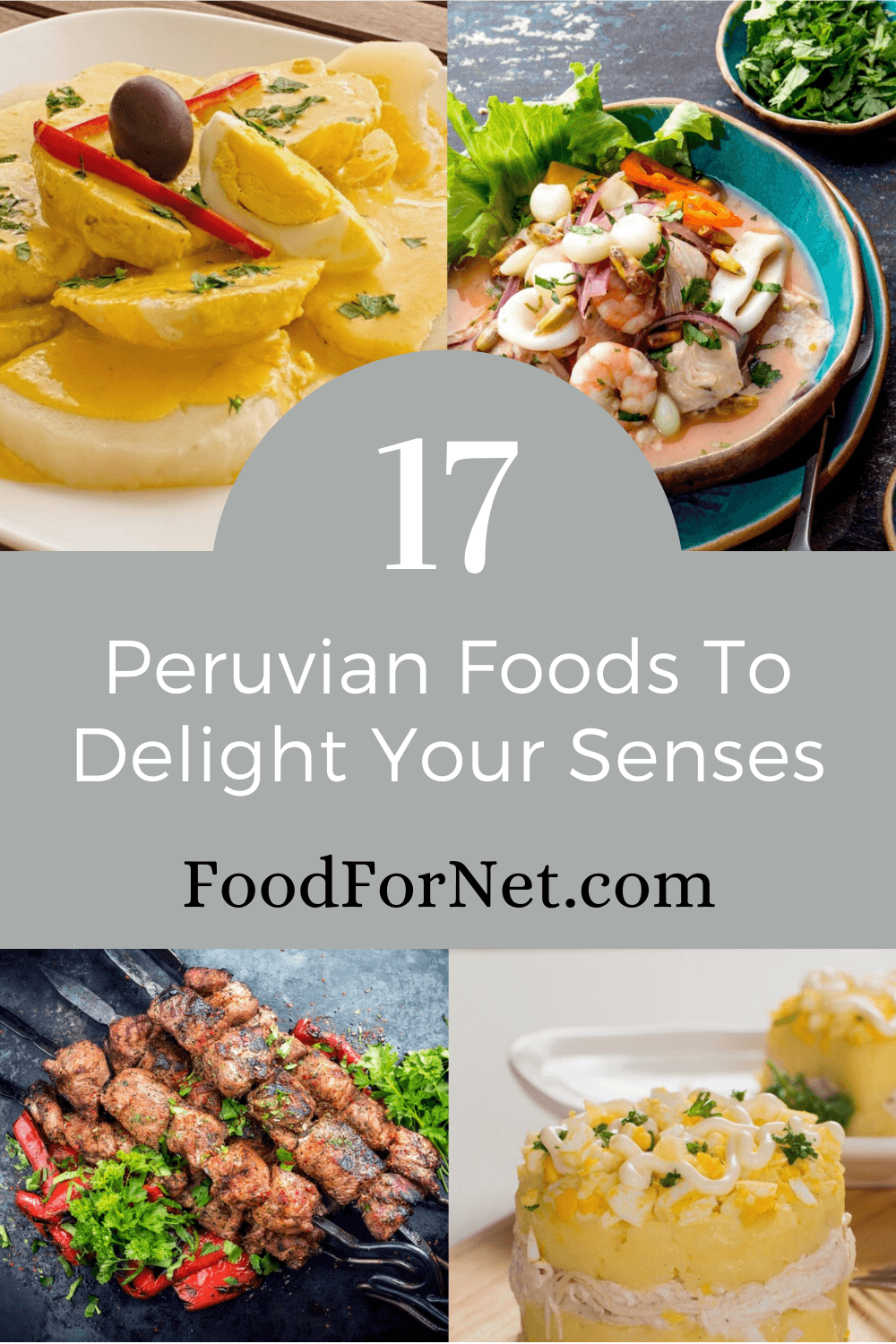 For those looking for a taste experience, Peruvian food is not to be missed. The meals often come with amazing juxtapositions, with contrasts between hot and cold, delicate and robust, and much more.
While Peruvian food isn't as well-known as Chinese, Indian, or Thai food in the United States, it is rapidly becoming more popular. In fact, you'll find a few familiar dishes on this list, along with more obscure ones.
Don't worry if you can't find authentic Peruvian food in your area. It's always possible to make your own, using recipes that you find online.
So, why not take a look? Dive into the list and discover some new favorites. You could even take the style of these dishes and combine them with your own meals to create something entirely new.
Delicious Peruvian Foods
Ceviche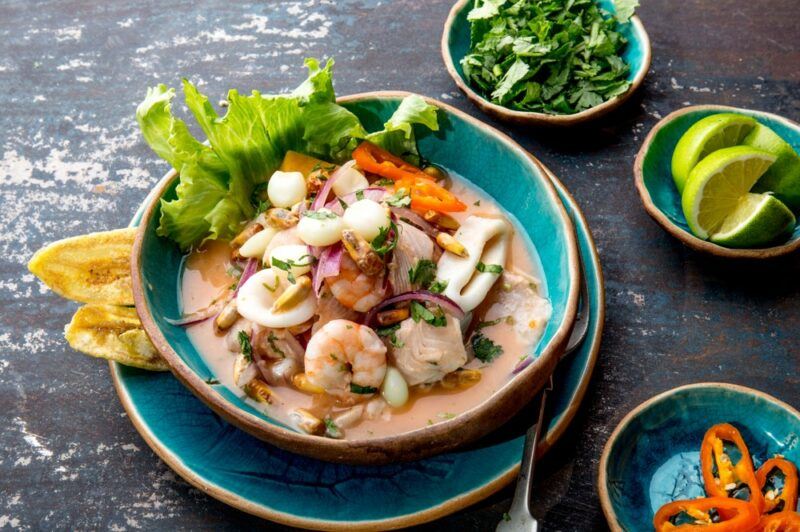 Ceviche is often seen as Peru's national dish, although it's one that you can now find in many different parts of the world. Peru's version started simple with just five ingredients – fish marinated for a few minutes in hot chiles, lime juice, onion, and salt.
Sea bass is the traditional fish used for this dish, although other types might sometimes be used instead. And, of course, you'll see plenty of variety in how the dish is prepared and served.
The most interesting thing about ceviche is that the fish isn't cooked at all. Because of this, the fish needs to be as fresh as possible and the dish eaten soon after it has been prepared.
Other dishes may be served alongside ceviche, including a creamy sweet potato dish and boiled corn. These two additions help to balance out the flavor and texture of the ceviche.
Pollo a la Brasa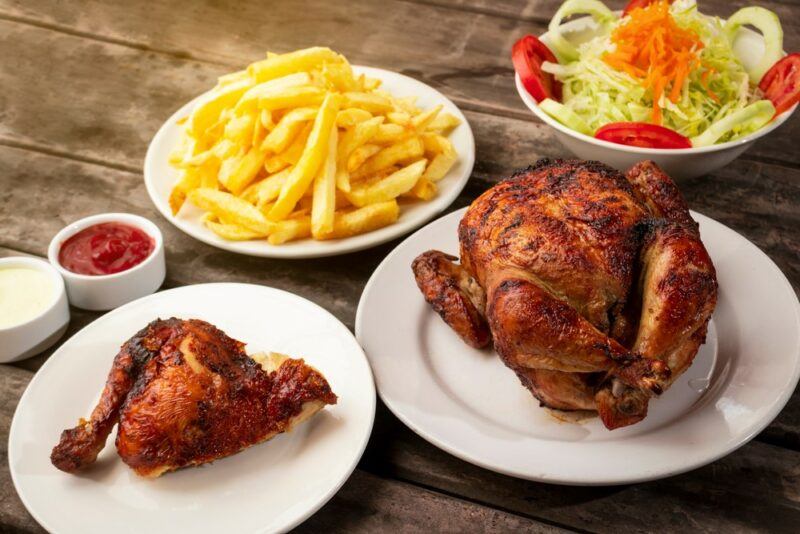 This dish is another that you might find in the United States and in other countries too. Pollo a la brasa is simply a form of rotisserie chicken, one that is first marinated in a selection of strong spices. The spices and the roasting process give the chicken a rich earthy flavor that is nicely contrasted by the crispy skin.
You can eat the chicken just like any other type of rotisserie chicken, which includes using it as an ingredient in your cooking. However, the chicken is often served with a green black mint sauce.
This creamy sauce can be made in a variety of ways and is delicious no matter what. The sauce isn't to be missed, as this is what sets the chicken above other meals.
Aji de Gallina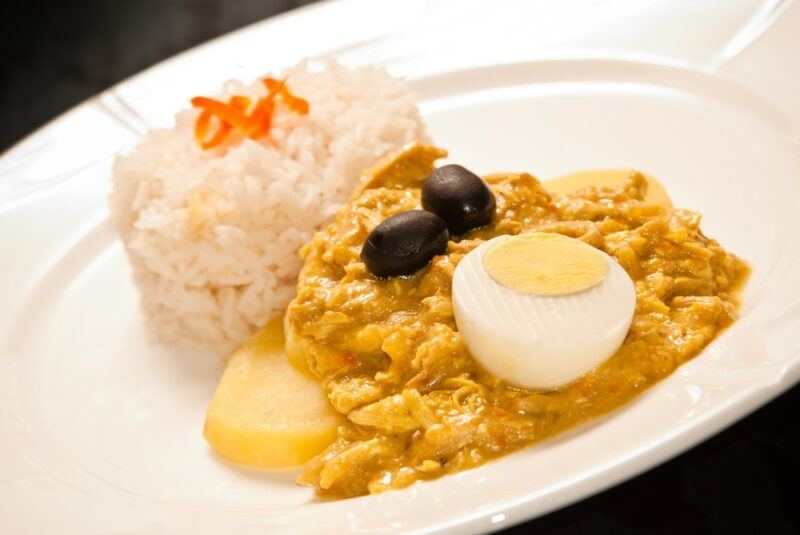 If you want something rich and creamy, it's hard to go past aji de gallina. The dish relies on shredded chicken that is cooked in a sauce of cream, cheese, and aji amarillo (a type of chili pepper).
The use of aji amarillo gives the dish a slightly spicy edge. However, this is mellowed out by the creamy sauce, so you end up with a warming meal that doesn't overwhelm at all.
You'll often see the dish served over rice and boiled potatoes may be included as well. These starches help to extend the meal out, while also stopping the creaminess from being too much.
Tacu Tacu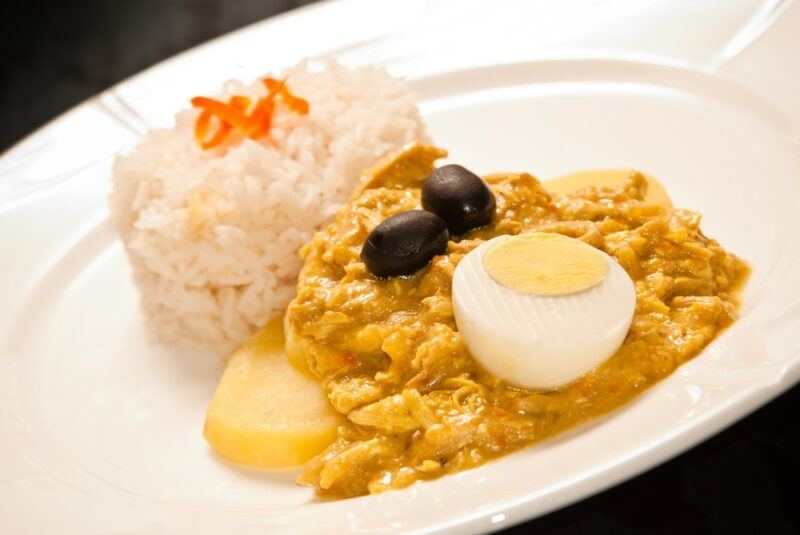 This traditional dish is also a very satisfying one, as it relies on a combination of beans and rice, made into a type of pancake. Tacu tacu is fairly mild, making it an excellent choice for anyone new to Peruvian food.
Don't expect tacu tacu to be the same everywhere. Individual chefs have their own approaches to the meal.
You'll often find it served with steak and a fried egg, although plantains and fried egg might be used instead. Such additions make the meal even more filling.
Canary beans usually feature in tacu tacu, but you may see other types instead. Interestingly, the dish often uses day old beans. These provide more flavor than fresh beans and make this dish an easy way to use leftover beans.
Tiradito

Tiradito has some similarities to ceviche, but it also has a distinct Japanese influence. One difference is that ceviche features cubed fish, while tiradito uses slices of fish instead.
Plus, ceviche involves marinating the fish in citrus juice and a few other ingredients, which partially 'cooks' it. With tiradito, the fish is covered with sauce instead, so the fish truly is raw.
The sauce of tiradito is interesting too. It is spicy and includes ingredients like soy sauce, mirin, and aji amarillo.
Lomo Saltado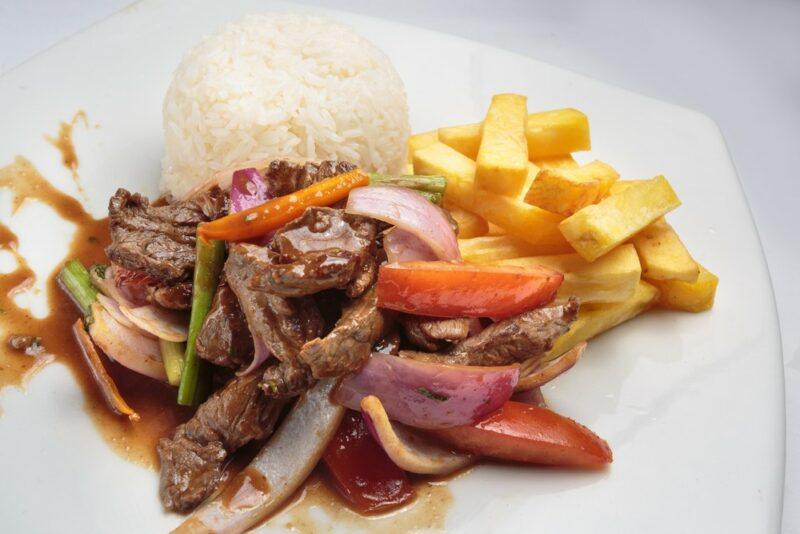 Lomo saltado is quite simply stir-fried beef. Like tiradito, lomo saltado represents a fusion of styles from two cultures. But, while tiradito took inspiration from Japanese cooking, lomo saltado is inspired by Chinese cooking instead.
The dish is typically made with strips of beef that have been marinated in soy and then stir-fried with ingredients like aji amarillo, tomatoes, onions, and spices.
An even more interesting feature is how the meat is served. You're often given two types of starch – French fries and rice. Eating fries and rice as part of the same meal might sound odd, but the idea works surprisingly well.
Papas a la Huancaina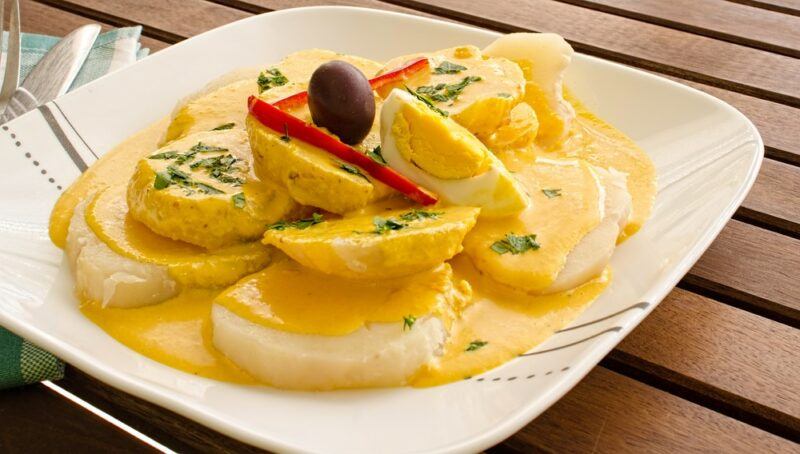 This meal might seem unexciting at first glance, as it relies on a yellow sauce, yellow potatoes, and hard boiled eggs. Yet, like many Peruvian dishes, the sauce is surprisingly complex, giving you some fantastic flavors, along with a balance of mild and spicy.
That balance is partly achieved by that familiar combination of aji amarillo and a creamy sauce. You'll mostly see this served as a side dish or perhaps as an appetizer.
There is one unusual feature that's worth mentioning – saltines. Saltine crackers are regularly used as ingredients and even served alongside the meal. While this addition might seem strange, the crackers do provide a delightful contrast to the creaminess of the sauce.
Cuy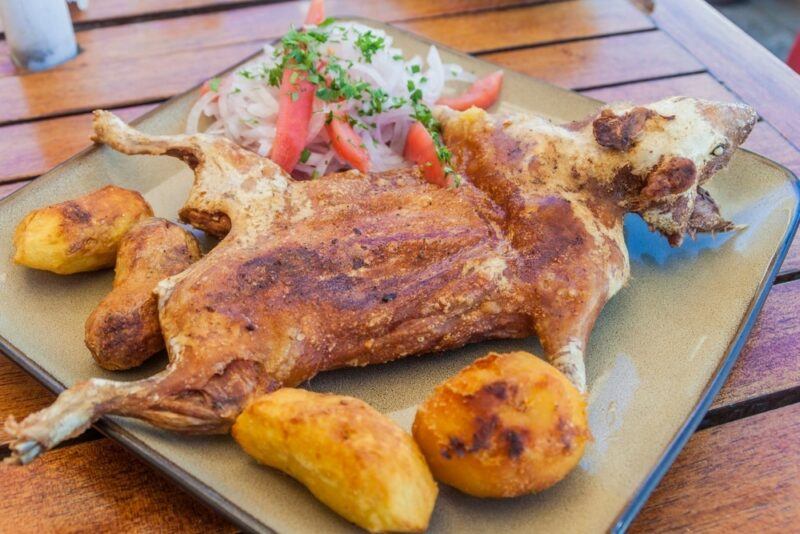 This meal might be unexpected, as cuy is guinea pig. Eating guinea pig isn't an obscure practice in Peru either. Instead, guinea pig is a popular type of meat. You end up with dark smoky meat with crisp skin.
The small size of guinea pig makes this dish even more attractive, as you're getting a single-serving meal. Guinea pig is sometimes stuffed, roasted, and served with potatoes. It can be eaten much like fried chicken and can be even more enjoyable.
Of course, there are plenty of other ways to use the meat too. Chefs have their own techniques, which might include braising or even deep frying the meat.
Even if you're hesitant about eating guinea pig – the dish is worth trying if you're ever in Peru. You're certain to enjoy it, as the flavor profile is like nothing else.
Rocoto Relleno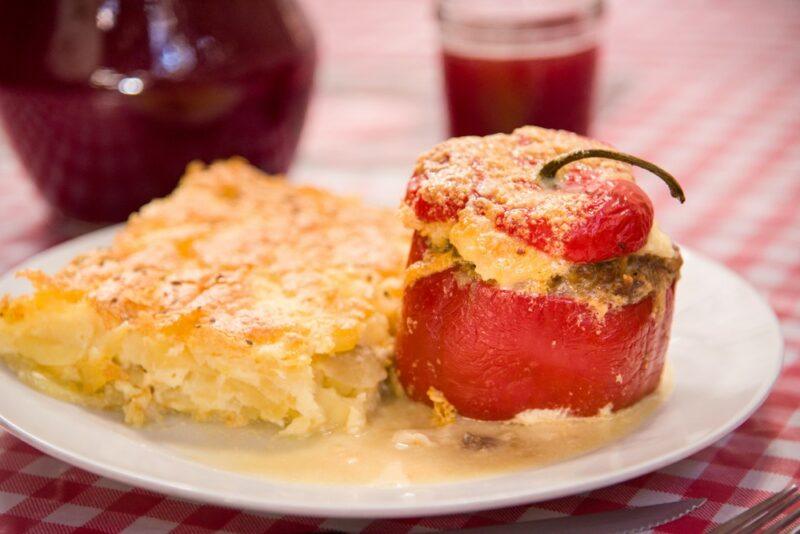 You may have seen something like rocoto relleno before, as the dish consists of spicy peppers that are stuffed with a mixture of beef, onions, and various herbs. Raisins often feature too, which provide a slight sweet flavor to the dish as well.
Augmenting the pepper and the stuffing is a topping of queso fresco. Finally, the pepper is baked in a sauce that relies on egg and milk.
These features mellow the flavor somewhat. Still, don't expect this to be a mild dish, as rocoto peppers are much hotter than jalapenos. Even with the sauce and the savory filling of the peppers, you'll still get a strong spicy kick when you first try this one for yourself.
Causa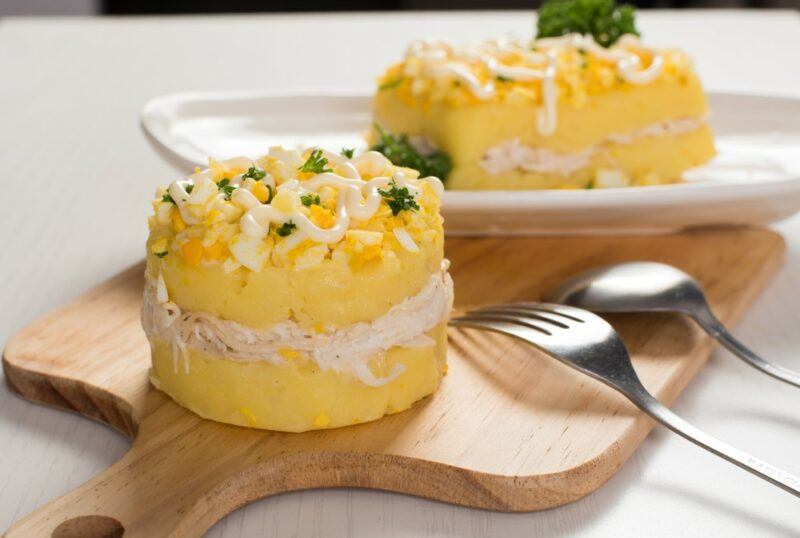 If you want something mellower, causa could be an easy choice. The meal can be prepared in various ways, but it is essentially a potato casserole.
Mashed yellow potatoes are one of the base ingredients of the recipe. These are blended with flavor-filled ingredients, like aji amarillo sauce, and lime. Then there is a layer of meat with mayonnaise, followed by other layers.
These layers can be alternated multiple times, giving you a starch-heavy dish that has a little spiciness, but not too much. Interestingly, you'll see the dish served cold more often than hot.
Anticuchos de Corazón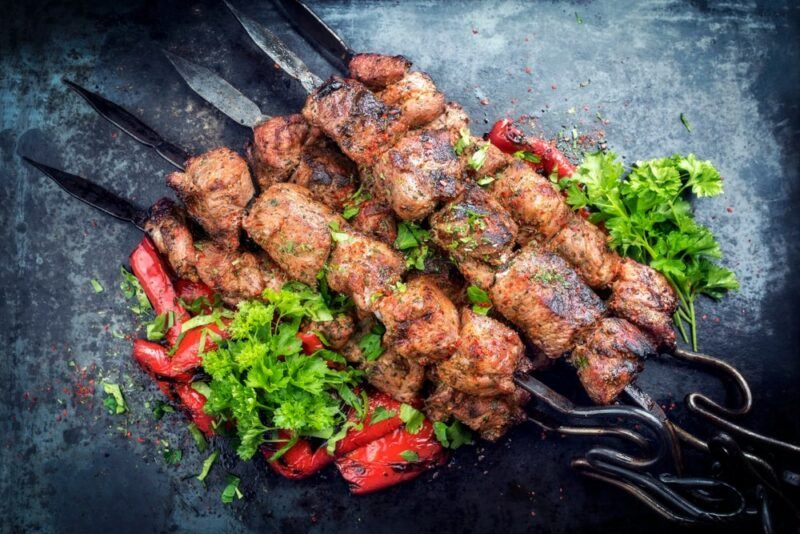 Many of us steer clear of organ meats, which might make this dish seem unappealing (as it is grilled heart). However, the heart is a muscle, one that isn't just edible, but it also nutritious and surprisingly delicious.
This particular dish involves cutting the heart into small cubes, marinating it, and then grilling the cubes over charcoal. The cubes are typically served on a skewer, often with other ingredients like potato and sliced onion.
If you're ordering anticuchos de corazón at a restaurant rather than from a street vendor, you might find it served as an appetizer without the skewer. The flavors are just as delicious in this context and are a perfect way to set you up for the rest of your meal.
Arroz Chaufa Peruano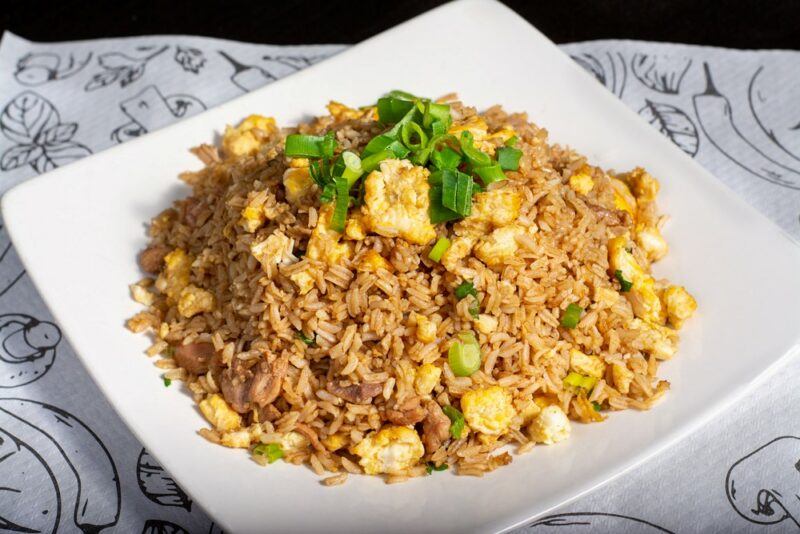 Fried rice is a popular delicacy, showing up in many different cuisines. The Peruvian version is strongly inspired by Chinese cooking and includes small pieces of egg, chicken, and vegetables.
It's an immediately familiar dish, but one that's still worth trying out for yourself.
Anticuchos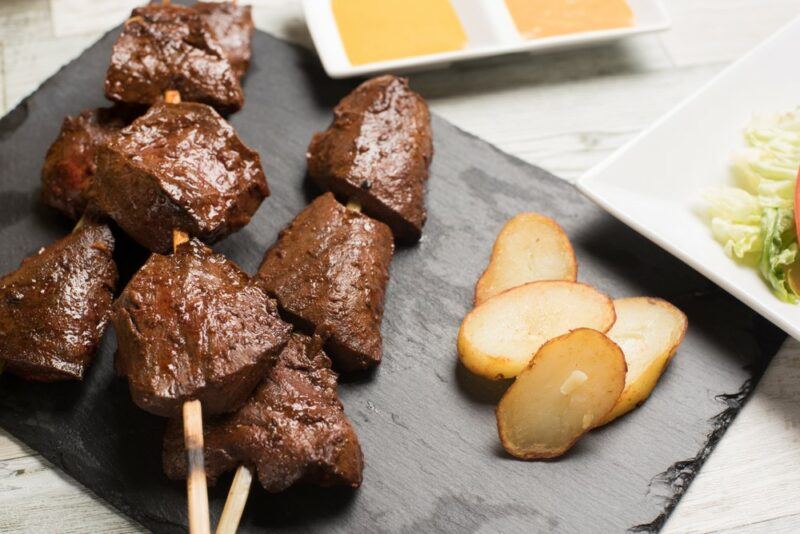 Anticuchos de corazón isn't your only option for delicious meat. Street vendors and restaurants also serve anticuchos. This dish follows the same style as anticuchos de corazón, except that the meat isn't heart.
Instead, regular cuts of beef are used or perhaps another type of meat, like chicken.
These versions don't have the same flavor profile as anticuchos de corazón, but you're still getting a delicious dish. Plus, antocuchos made with chicken or beef is ideal if you're hesitant about eating an animal's heart.
Pachamanca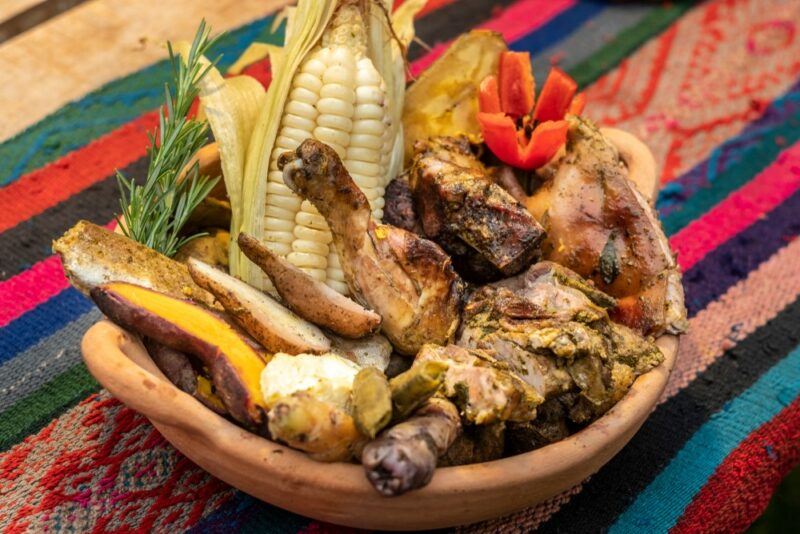 Pachamanca isn't a meal that you'll find everywhere. Instead, it's a rural dish, one that's most strongly linked to the Andes.
Despite this, the meal is an especially important one, with a long history in Peru. It is traditionally cooked outdoors using a mound of hot stones. These stones are buried along with the food for around two hours, which gives the meal the time to fully cook.
Key ingredients include various types of meat, like chicken, cuy, lamb, and pork, along with vegetables like sweet potatoes, yucca, corn, and potatoes. This approach creates a rich feast, where the different ingredients take on the flavor of each other, giving you a meal that isn't soon forgotten.
Arroz con Pato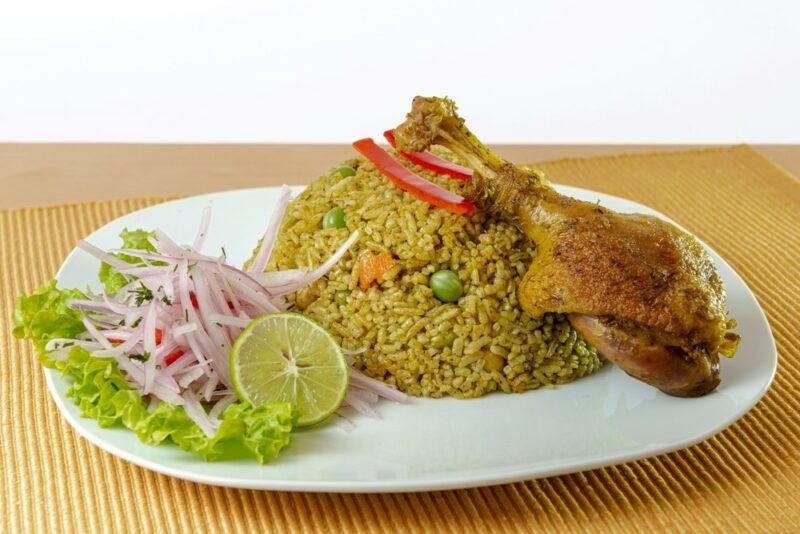 This dish consists of rice with duck, making it a delicious meal for families to enjoy at home. While the dish takes some inspiration from Spanish cooking, the Peruvian version has distinct flavors of its own.
You may see cilantro and other herbs used to flavor the rice, along with beer to add a richness that you wouldn't see otherwise. Other ingredients may be used with the duck.
Not surprisingly, there are countless ways to change this recipe, including differences in how the duck is cooked, the other ingredients that are served with it, and what is mixed into the rice. Regardless, you end up with a delectable meal that nicely balances protein, fat, and starch.
Carapulcra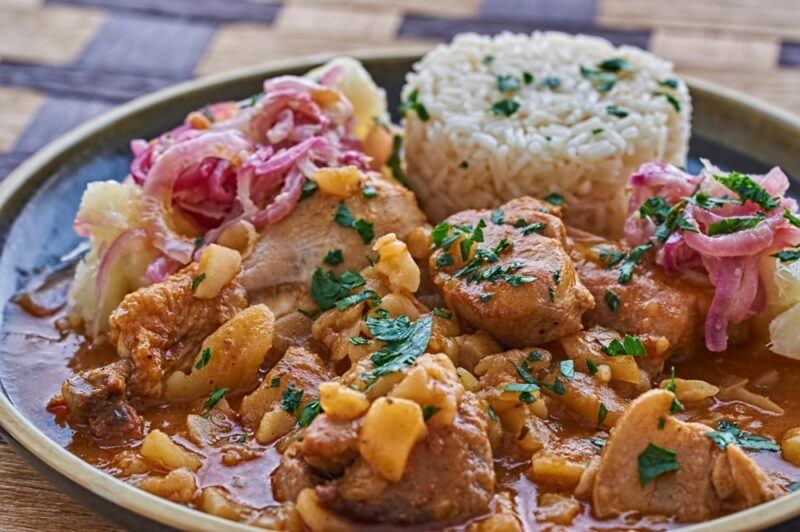 Carapulcra is a type of stew that uses dehydrated potatoes as a key ingredient. Some type of meat is included too, such as pork or chicken. There's no shortage of spices either, along with other ingredients to make it taste just right.
Baked peanuts are a surprising addition to the meal, giving the dish a distinctive flavor profile that you won't find elsewhere.
The cooking technique is interesting too, as the stew is cooked over a low flame. This slow cooking approach helps to blend the flavors together well, providing a rich dish that has surprising complexity.
Papa Rellena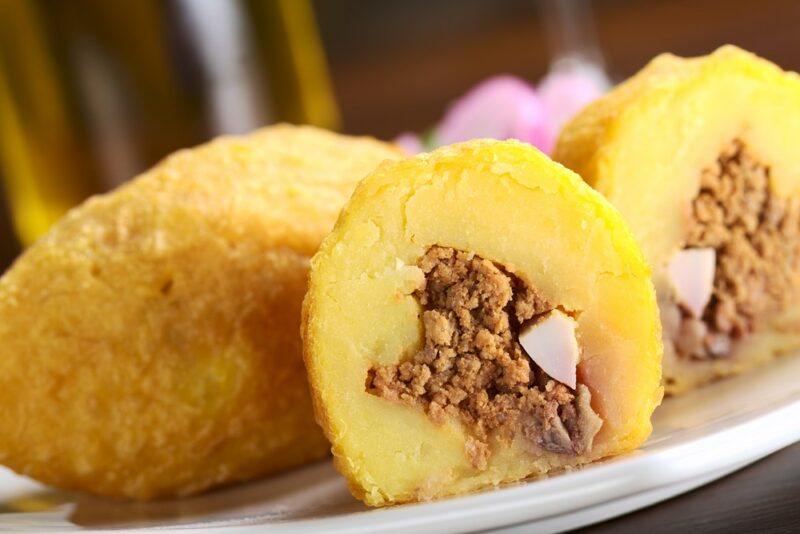 Papa rellena is popular as a street food, particularly in the capital of Peru. The dish itself is similar to a croquette, where the outside consists of a type of potato dough (which is why these are often known as stuffed potatoes).
The filling often includes some type of meat and onions, although there's plenty of room for variation. Spices help to bring the flavor profile to life,
It's easy to see why these treats work so well as street food, as they're easy to eat and are filling.