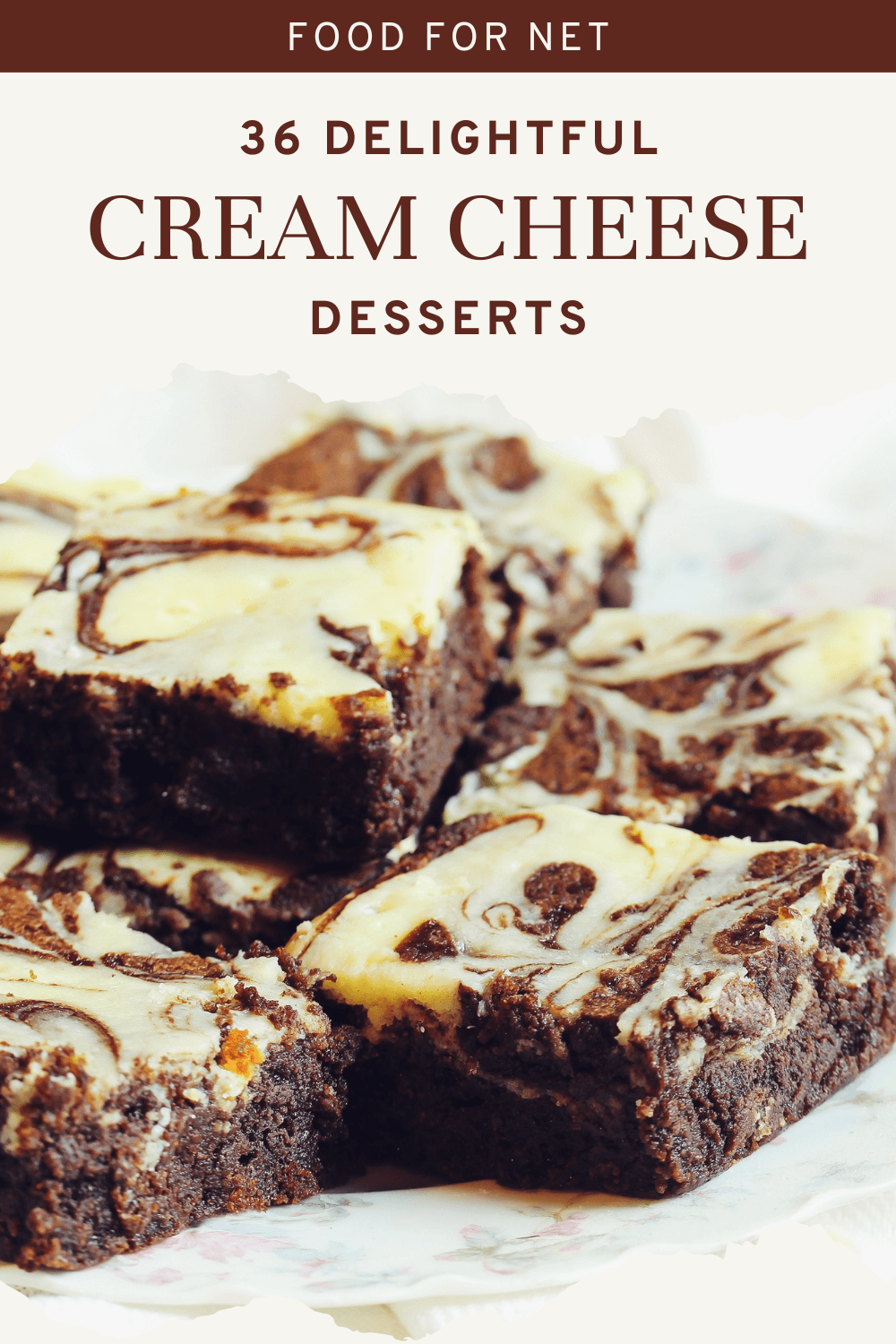 Where do we begin with desserts? There are more flavors and styles than anyone could hope to count and plenty of obscure ones are being developed regularly. Still, once you've found a style or ingredient you like, it's easy to find desserts that riff on that theme. Today, we're doing just that for desserts with cream cheese. Why not? Cream cheese can make your desserts taste amazing.
Cream cheese is also a useful ingredient. It adds creaminess and moisture to desserts, often creating an amazing texture. The added moisture is particularly useful in baking – reducing the risk that you overcook your dessert and dry it out.
You could even pair many of these desserts with drinks. We're not just talking about alcoholic drinks either. Even tea and dessert works well together.
If making your own dessert feels like too much effort, why not try a dessert of the month club? These send out different desserts each month, giving you plenty of delicious variety. Many clubs offer interesting flavors and treats, including those you probably wouldn't make yourself.
Or, if you're focused on cream cheese, a cheesecake club might be the way to go. Most American cheesecakes do rely on cream cheese, although the other flavors and ingredients vary dramatically. Cheesecake clubs allow you to try many different cheesecake flavors, without needing to make anything yourself.
Desserts That Use Cream Cheese
Avocado Chocolate Mousse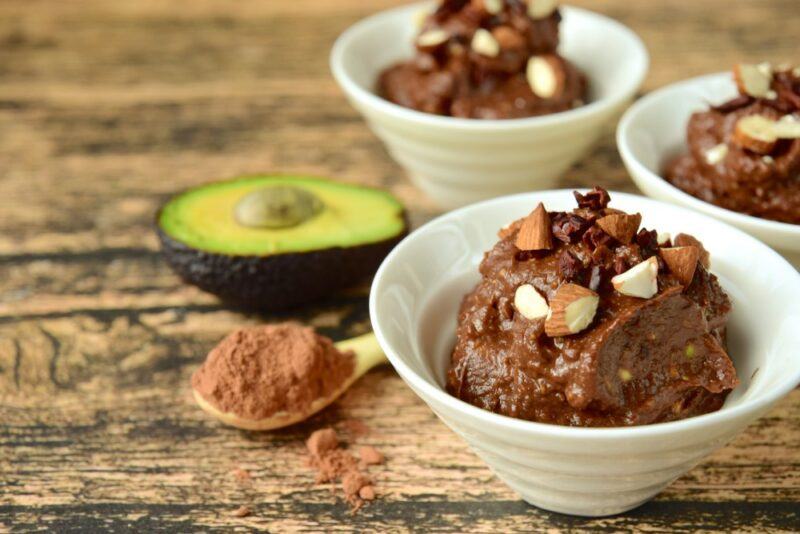 Avocado is a surprisingly useful dessert ingredient. It adds plenty of creaminess and healthy fats. Combine this with chocolate, cream cheese, and a few other ingredients and you have decadence without limit.
The chocolate is especially important, as it helps to mask the flavor of the avocado. This way the treat just tastes like regular chocolate pudding.
That said, chocolate isn't the only way to go. You can also make avocado mousse with avocado, cream cheese, gelatin, and lime juice. This style isn't as sweet and allows the avocado flavor to shine through more.
Cream Cheese Cookies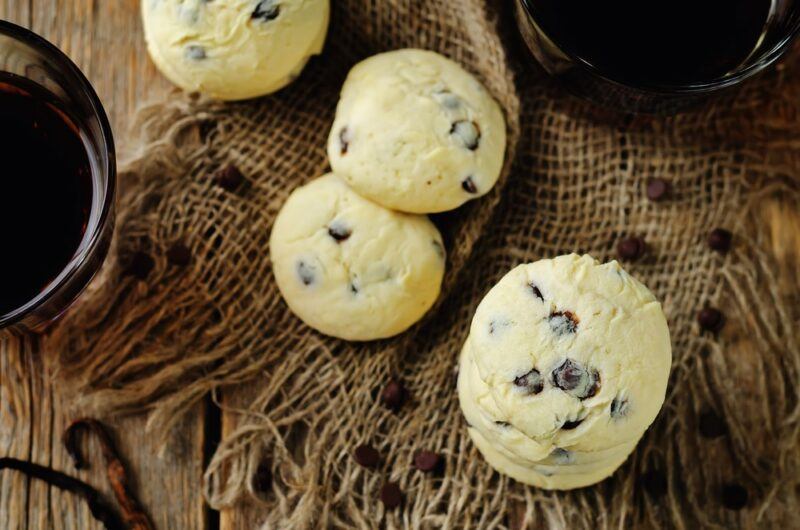 Have you ever used cream cheese in cookies? Doing so is perfect if you want cookies that stay soft even after baking.
Many recipes keep the flavors fairly simple, using ingredients like almond extract or vanilla extract. Lemon juice and lemon zest work well too, if you want something more vibrant.
Or, you could take a seasonal approach, using ingredients like cinnamon and even pumpkin pie spice to create a delicious nuanced cookie.
Cookies And Cream Cheesecake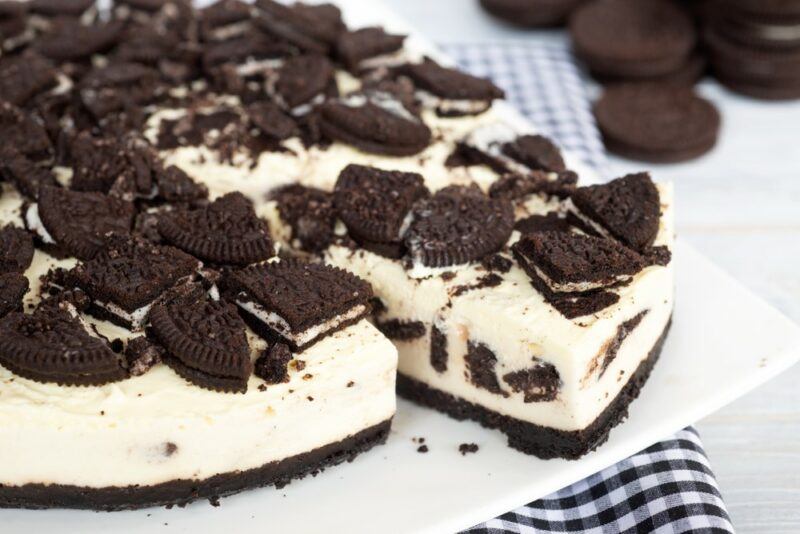 Cheesecake is probably the most well-known cream cheese dessert. What type of cheesecake though? There's an endless range of flavors and styles.
Cookies and cream cheesecakes are different enough to be interesting, but are also still familiar. They're excellent if you use Oreos as the cookies, although other cookies are tasty too.
You don't need to make these yourself either. The style is popular enough that you can order cookies and cream cheesecakes online and through local bakeries. You might even find one in your grocery store.
Red Velvet Cheesecake Brownies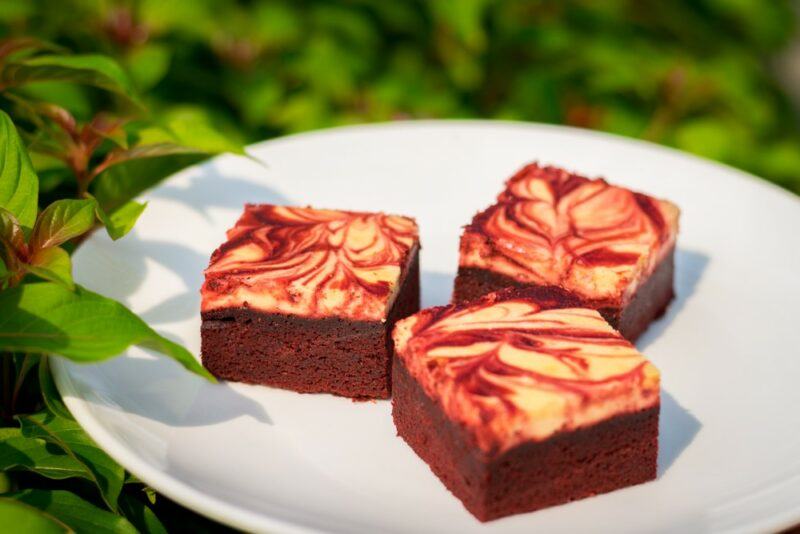 You'll see the word cheesecake pop up in many of the desserts on this list. This doesn't mean the dessert is actually a cheesecake, but simply that it uses cream cheese as an ingredient, so it has some cheesecake qualities.
Red velvet cheesecake brownies are an excellent example. They're much more fascinating than regular brownies, as they have the bright red color from cheesecake, along with plenty of cream cheese swirl. Not only do the brownies look amazing, but they taste delicious as well.
Cream Cheese Lemon Cookies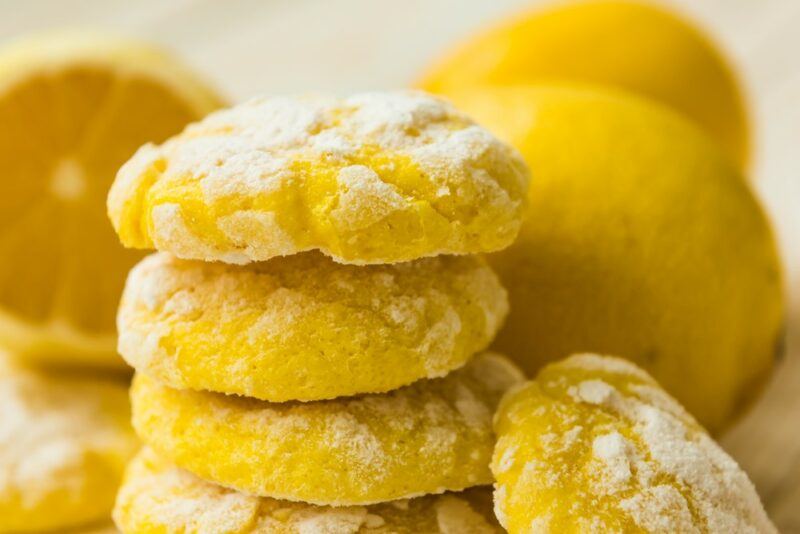 Combining lemon and cream cheese is a genius move. The lemon's sharpness helps offset the cheese's creaminess, giving you a fantastic flavor balance.
Also, like the cream cheese cookies we mentioned earlier, these will always be soft. This is perfect for anyone who doesn't want crisp and crunchy cookies.
Kolaczki Cookies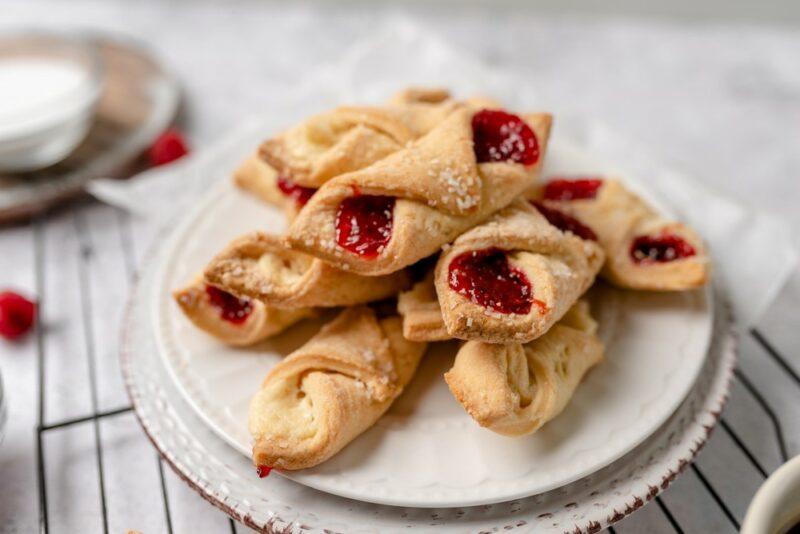 Speaking of cookies, here's a different style to try. Kolaczki cookies are a traditional Polish treat and often rely on cream cheese dough.
They're a fantastic dessert, as the cookie dough is surprisingly similar to a pastry, while the cookies also have a delicious filling. While the cookies look complicated, they're pretty easy to make at home.
Chocolate Cream Cheese Truffles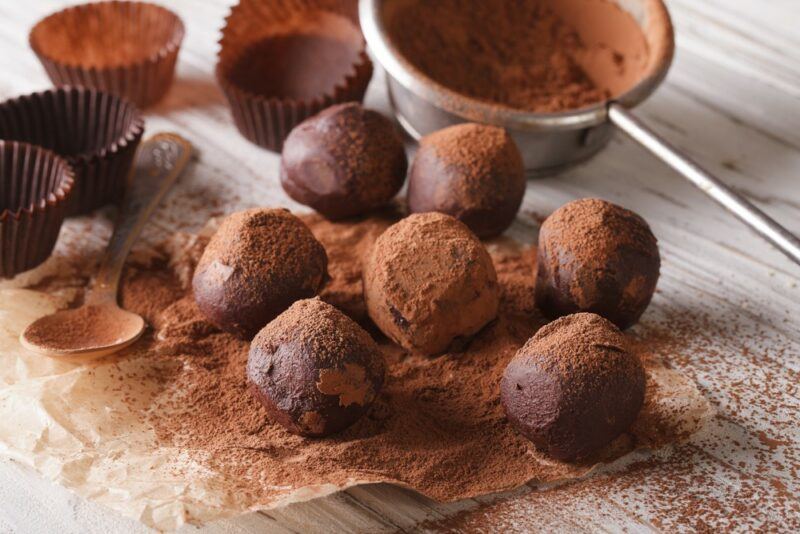 Cream cheese adds an amazing decadent texture to truffles, which is why it features in so many truffle recipes. You don't need to worry about the flavor either, as the taste of chocolate will dominate your dessert.
You could take things one step further by rolling your truffles in coconut flakes, icing sugar, crushed pistachio nuts, or another topping. Dipping them in chocolate works well too.
And, of course, milk chocolate truffles aren't the only option. You could make white chocolate truffles instead or experiment with other flavors.
Cheesecake Ice Cream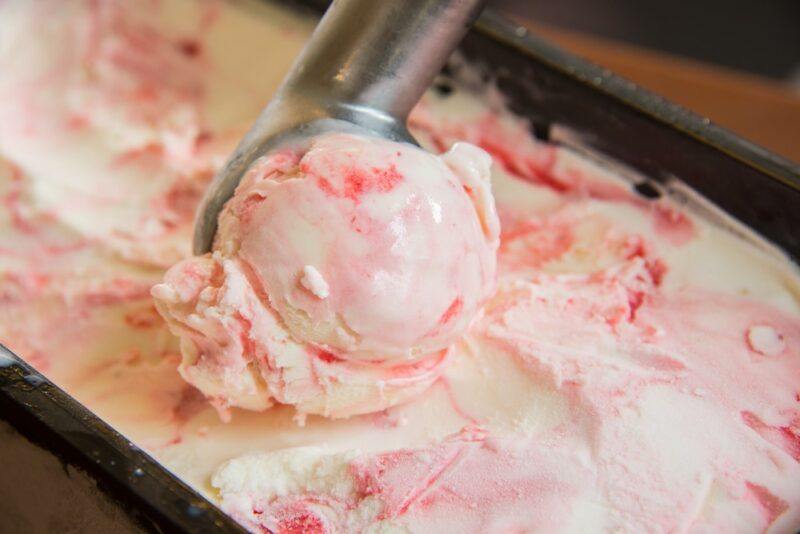 Have you ever used cream cheese when making ice cream? It's not a common addition, yet can work well.
The dessert ends up being a lot like a frozen cheesecake. That's fantastic, as long as you remember to tell guests what they're eating. After all, the flavor profile is very different than vanilla ice cream, so it can catch people by surprise.
You could make flavored versions too, like the pictured strawberry cheesecake ice cream.
This dessert is also a fantastic ice cream alternative. Regular ice cream gets a bit 'same old, same old' after a while, so why not mix things up?
Sandwich Cookies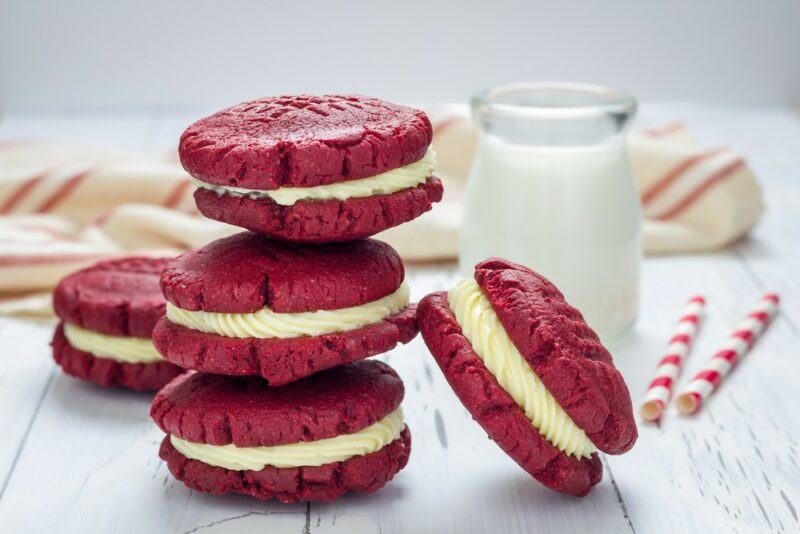 Cookie sandwiches are a fantastic way to make cookies much more engaging. You also get to play with the contrast between the flavor of your cookies and your filling.
While there are many variations, most sandwich cookie recipes use cream cheese as part of the filling. You don't need to stick to traditional flavors either. There are plenty of fun versions out there, including red velvet and funfetti cookie sandwiches.
Death By Chocolate Cheesecake Bars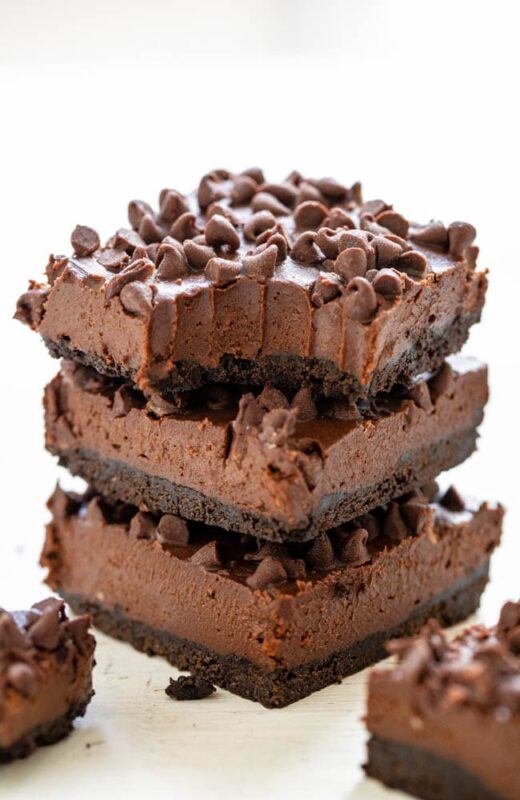 Death by chocolate desserts are best reserved for true chocolate lovers, as they can be seriously intense. The death by chocolate cheesecake bars from averiecooks.com are no exception.
Not only are these bars incredibly decadent, but they don't even need to be baked. The recipe makes 16 small cheesecake bars. Don't worry about the tiny portion size though – these bars are incredibly rich, so you're only going to want a little at a time.
Cheesecake Fat Bombs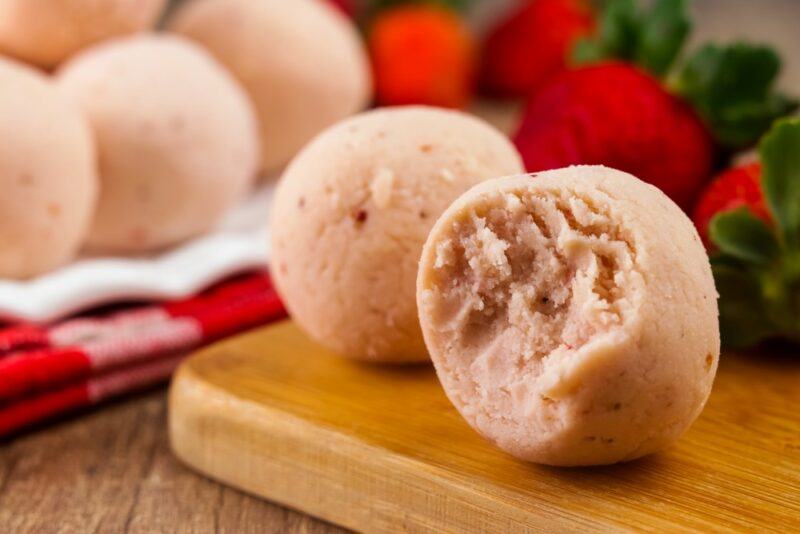 Fat bombs are popular among low carb and keto dieters, as they are full of healthy fats and contain barely any carbs. With cheesecake fat bombs, cream cheese is one of the main sources of fat.
There are plenty of different recipes too, including every flavor combination that you can imagine. Some even mimic Reese's Peanut Butter Cups, while others use lighter flavors, like cream cheese and lemon.
No Bake Lemon Cheesecake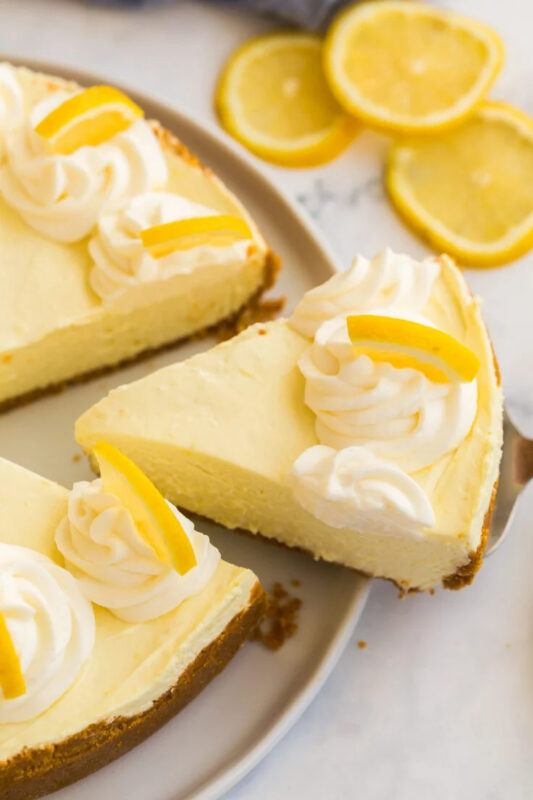 Here's another treat that contrasts cream cheese and lemon. This time the recipe comes from thereciperebel.com and has you making a whole cheesecake.
The treat is perfect for anyone who gets sick of excessively sweet desserts. After all, some desserts really go over the top, don't they?
This is a no bake cheesecake, so you don't need to use the oven at all. You can also freeze the cheesecake and serve it while it is still mostly frozen. This is ideal if you only want little pieces of cheesecake now and then.
Chocolate Chip Cookie Cheesecake Bars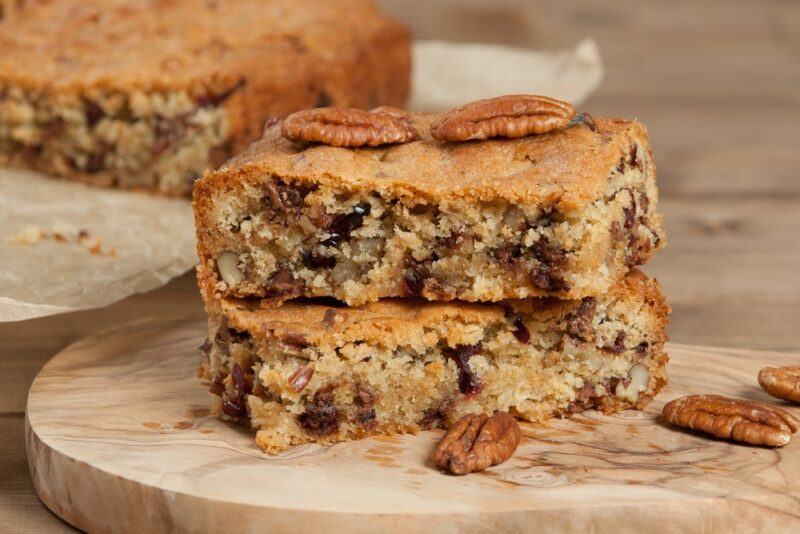 These bars are like a love child between chocolate chip cookies and cheesecake, as they have some of the best features of each. They also follow a tried and true style, so you know the bars will be popular, even if you've never made them before.
There are also plenty of recipes, each with their own quirks. For example, some have two cookie dough layers with a layer of whipped cream cheese in the middle, while others skip the layering and use the cream cheese as part of the cookie dough.
Cream Cheese Stuffed French Toast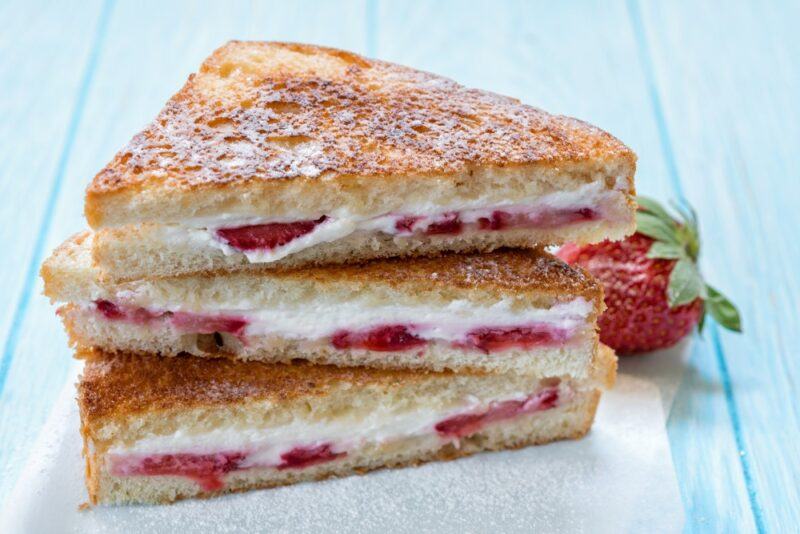 Have you ever stuffed French toast with cream cheese? If not, the trick is certainly worth trying. The cream cheese provides a fantastic texture and flavor contrast, making your French toast that much better.
Try topping the whole thing with fresh berries and cream. This will give you a decadent dessert or breakfast that's perfect for any celebration.
Mini Cheesecake Bites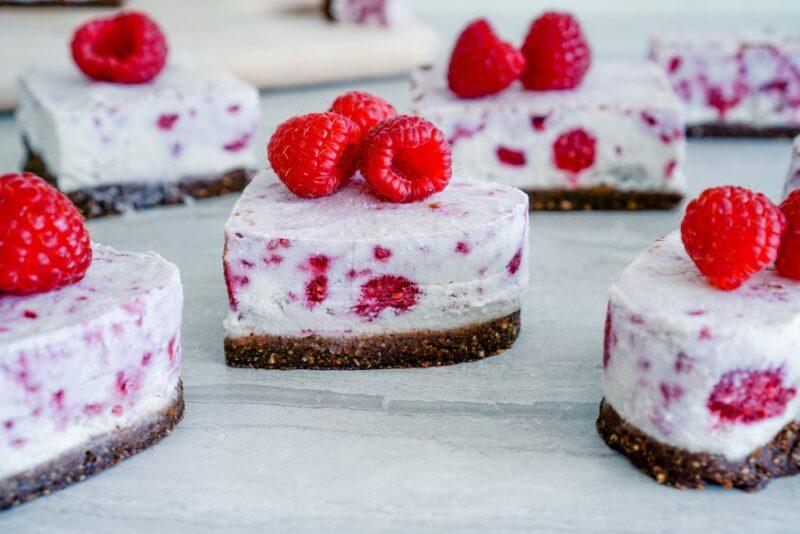 Mini cheesecake bites don't need much explaining. They're basically tiny cheesecakes that can be made in muffin tins.
The style has a few advantages. First, full cheesecakes often feel like they're too much, while a mini cheesecake can be pretty perfect.
Also, mini versions give you the chance to play around with flavors and ratios. For example, you might use more crust and less cheesecake filling than a traditional cheesecake.
Mini cheesecakes are great at parties too, as they're a perfect finger food. This is much better than guests trying to navigate a plate and fork, especially if they're also standing and socializing.
Cheesecake Filled Cupcakes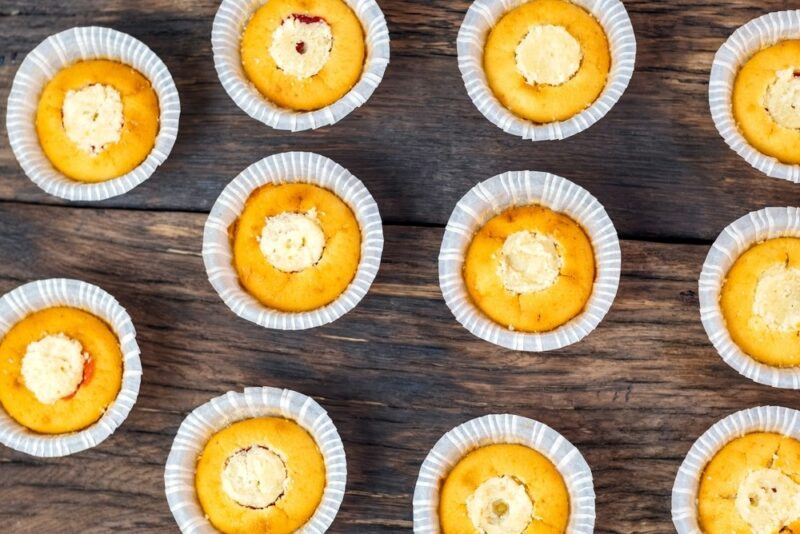 Want to make cupcakes more interesting? Why not stuff them with cheesecake?
Some people do this by matching flavors. For example, strawberry cupcakes might have a strawberry cheesecake filling and strawberry frosting. However, you can also contrast the flavors, like having vanilla cheesecake in the middle of a chocolate muffin.
These muffins would be great at parties or as gifts, as most people wouldn't be expecting the cheesecake filling.
Margarita Cheesecake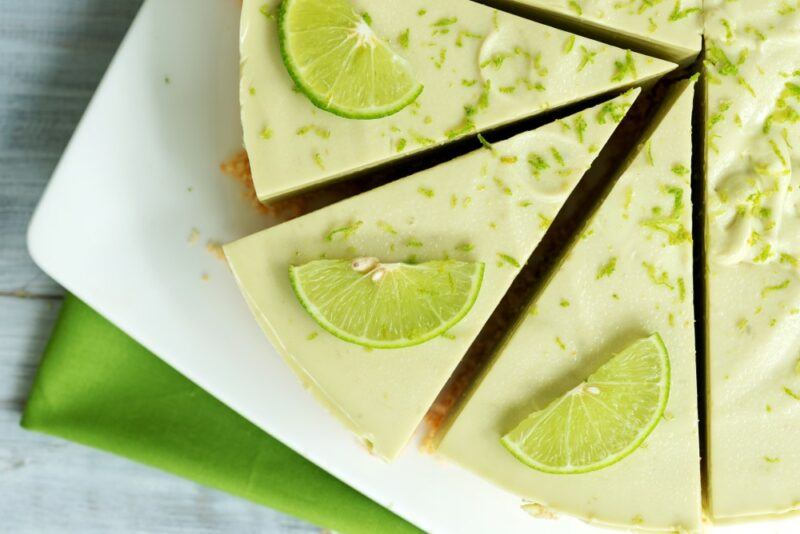 We've mentioned a few cheesecakes already, but this one is seriously too good to pass up. The idea is obvious from the name – a cheesecake with all the flavors of a margarita.
Some versions even use tequila as an ingredient. The tequila isn't essential, but it does make the flavor profile much more authentic. You can make mini margarita cheesecakes too or even margarita cheesecake bars.
Cheesecakes In A Jar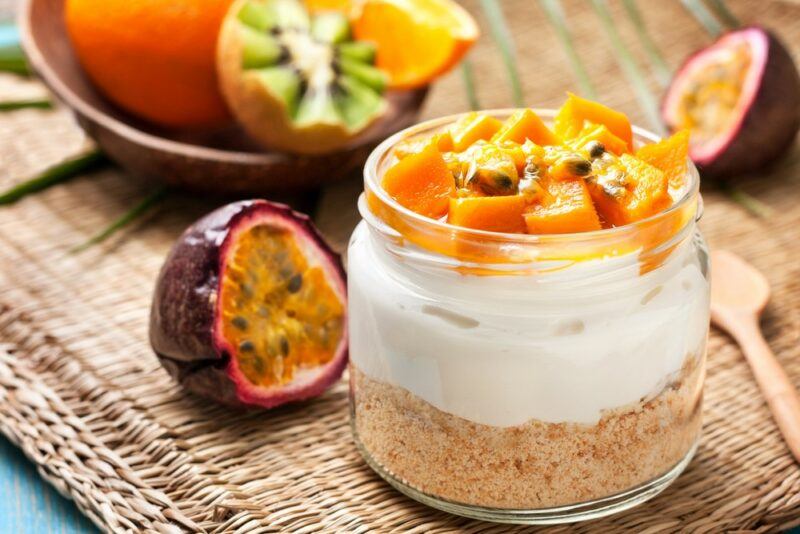 While cheesecakes are delicious, they're also frustrating to prepare. A lot of work goes into them and you end up with this huge dessert that isn't necessarily as good as you expect.
Cheesecake jars are a way around the issue, as they're single serving desserts. They often don't need any baking either, which makes them a breeze to prepare. They're also great for parties, as you can have many different flavors. Plus, guests can simply grab a jar and a spoon, rather than trying to messily cut a piece of cheesecake and eat it from a plate.
The potential to customize is amazing too. Not only can you choose what goes on top of the cheesecake, but you can also mix flavors into the cheesecake mixture itself. Even having two or three versions would be enough to impress any party guest.
Cinnamon Cream Cheese Roll Ups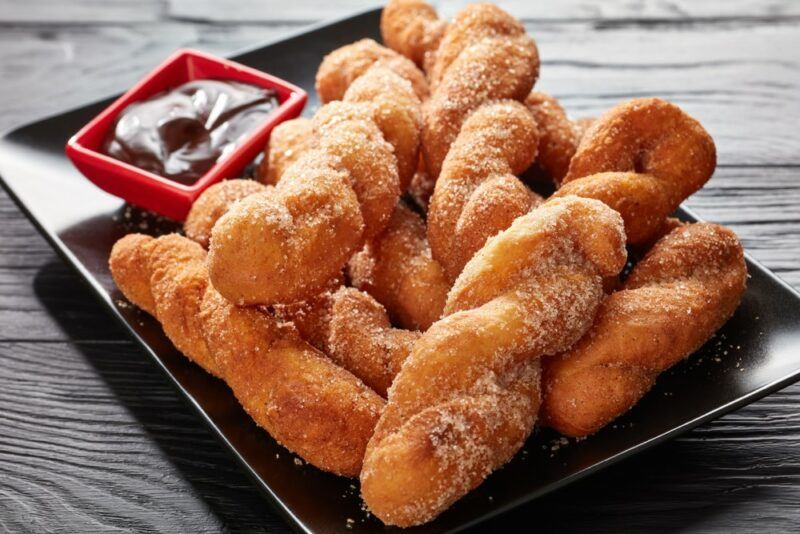 These roll ups aren't nearly as well known as cookies, brownies, and cake. Don't let that stop you though. They're still a delicious treat that's easy to make and amazing to eat.
The treat starts off with sliced white bread. The crusts are cut off and the bread is flattened, then it is thickly spread with cream cheese. Sometimes the cream cheese is whipped with sugar and cinnamon to make it even sweeter.
Then the fun begins. The rolls are dipped in melted butter and a cinnamon sugar mix, then baked. You end up with a delicious dessert that seems incredibly decadent. It's almost impossible to tell that the base ingredient was sliced white bread.
Cheesecake Fruit Salad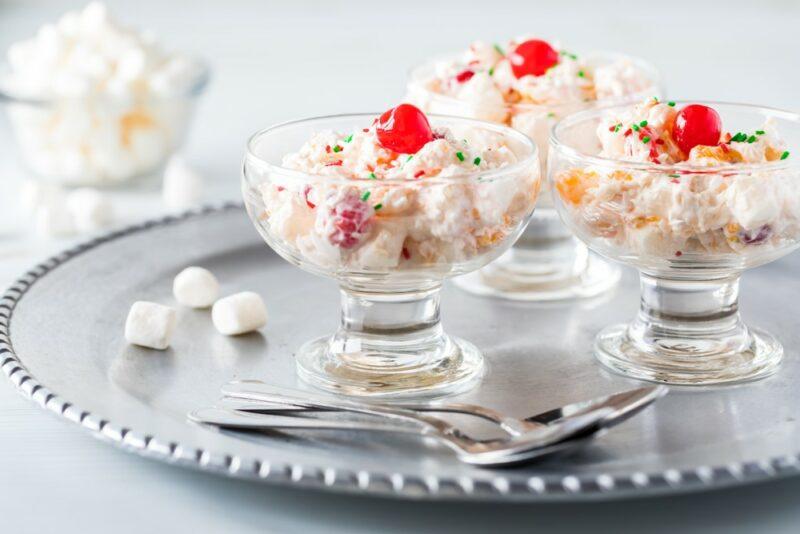 A cheesecake fruit salad takes a regular fruit salad and makes it much creamier. How this is done varies from recipe to recipe. Many rely on cheesecake pudding mix and some cream cheese, while others combine cream cheese and Cool Whip.
It's an interesting idea, as the creaminess makes your fruit salad seem even more decadent. Sticking to fresh fruit is almost essential for this salad. Trying to make it with thawed fruit instead risks giving you a mushy dessert, as fruit releases a lot of water as it thaws.
Strawberry Cheesecake Popsicles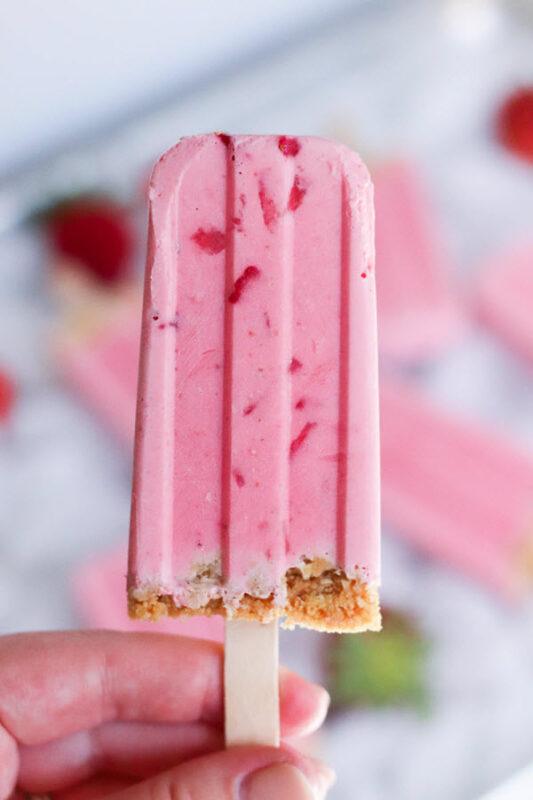 What about putting cheesecake into a popsicle form? There's a fantastic recipe at sixsisterstuff.com that attempts to do just this. The popsicles are surprisingly easy to make, as there are only a handful of ingredients.
There's another cool thing too – the recipe actually uses crushed graham crackers at the base of each popsicle. This makes them even more like the real deal.
Cake Pops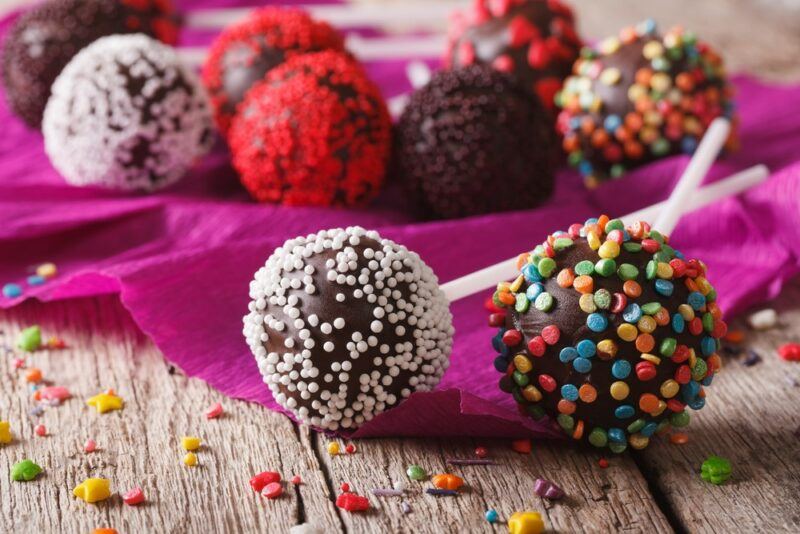 Have you ever experimented with cake pops? The idea is to make a ball of cake, dip it, and then decorate the finished cake pop. They are a little finicky to start with, but they get easier as you go.
Besides, once you get the hang of them, cake pops are perfect at parties. They add a little extra and are much more interesting than a plain old birthday cake.
Many recipes start with a boxed cake mix, then use extra ingredients to create the exact flavor and consistency. Most of the time, the cream cheese isn't used in the cake mix itself. Instead, it becomes the main part of the coating.
You could also prepare your cake from scratch. Doing so takes more work, but should bring your cake pops to a delicious new level.
Cheesecake Parfaits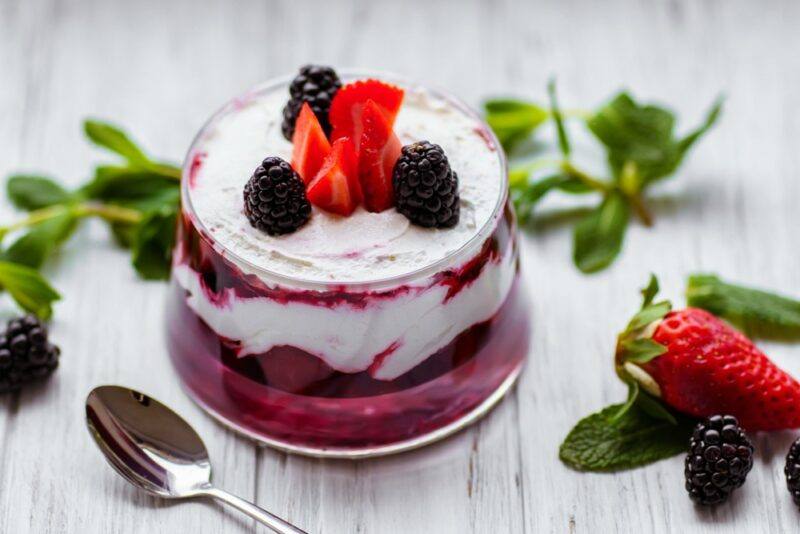 Of all the ways to make cheesecake parfaits, the approach from letsdishrecipes.com is one of the best. What we love most is the convenience, as the recipe combines pound cake from the store with cream cheese filling and berries.
What could be easier than that?
Of course, you could use homemade pound cake instead, especially if you already have some on hand. Either way, it's a delicious dessert that looks amazing when served in a glass.
Raspberry Cream Cheese Coffee Cake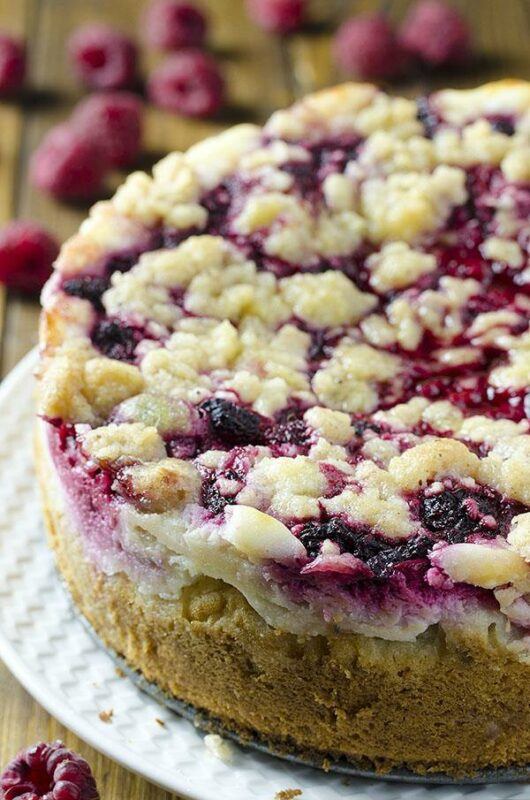 Adding raspberries and cream cheese into a coffee cake is the perfect way to make the dessert even better. Raspberries really are the ideal fruit here, as they're easy to find and have such a bright vibrancy to them. This version from omgchocolatedesserts.com is particularly delightful.
That said, you could easily use a different type of fruit. Some recipes even avoid fruit entirely. For example, a cinnamon cream cheese coffee cake is delicious and perfect for the fall. Plus, you don't need any fresh fruit at all.
Air Cheesecake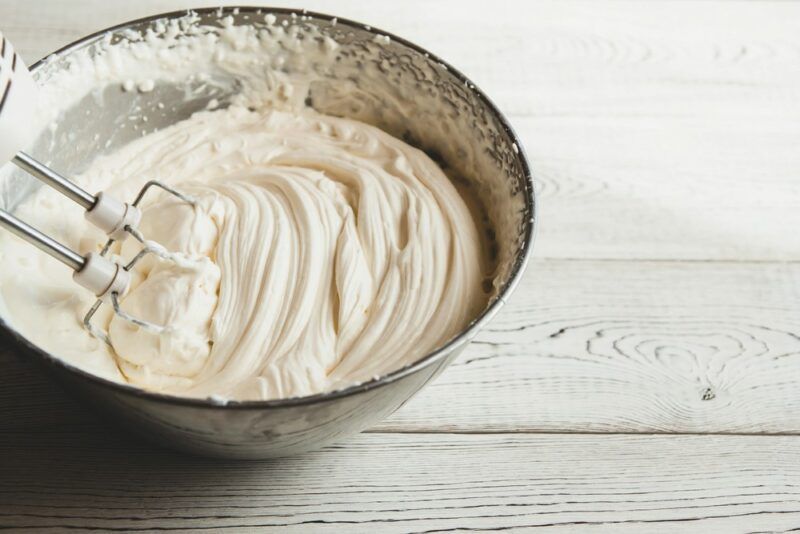 Air cheesecake is unusual. Okay, that's putting it mildly. The dessert is basically a simple mock cheesecake. It doesn't taste exactly like cheesecake, nor does it have the same texture, but it's delicious, inventive, and well worth trying.
Air cheesecake is incredibly easy to make. You just whisk cream cheese and sugar together. Then in a different bowl, use a mixer to beat whipping cream until you get stiff peaks.
The cream cheese mixture can then be folded into the whipping cream, giving you a mousse-like dessert. You could easily add flavor, like by using cocoa powder or perhaps a small amount of fruit juice.
Lemon Cheesecake Tarts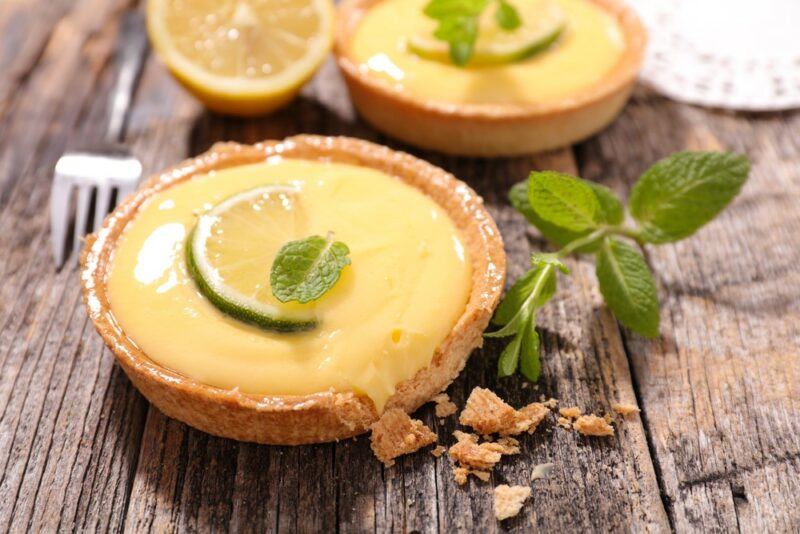 Lemon tarts are always delicious. The lemon provides a bit of tartness and a bright flavor, which is much better than an excessively sweet dessert.
Cream cheese is an interesting addition, as this provides extra creaminess, making the dessert even more decadent.
Instead of making a large cheesecake tart, why not try for small ones instead? These would be perfect as finger food during a party.
Mini Sugar Cookie Fruit Pizza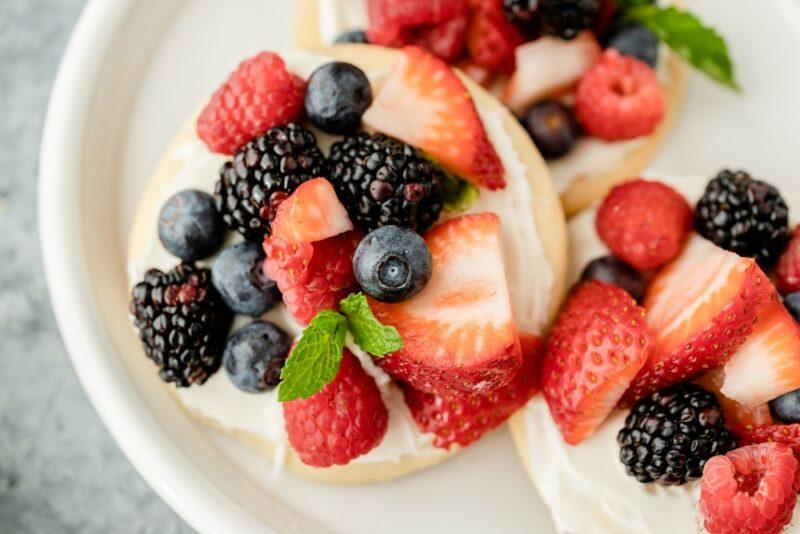 It's hard to beat sugar cookies as a base for dessert pizza, partly because their flavor is mild and doesn't take away from the other ingredients.
The cream cheese is crucial for this dessert, but you won't use this for the cookies themselves. Instead, the cream cheese is spread on top, acting as a replacement for pizza sauce.
Because you're making a sweet treat, the cream cheese will normally be mixed with powdered sugar and vanilla extract. You could even include Cool Whip to lighten it up.
Pumpkin Pie Empanadas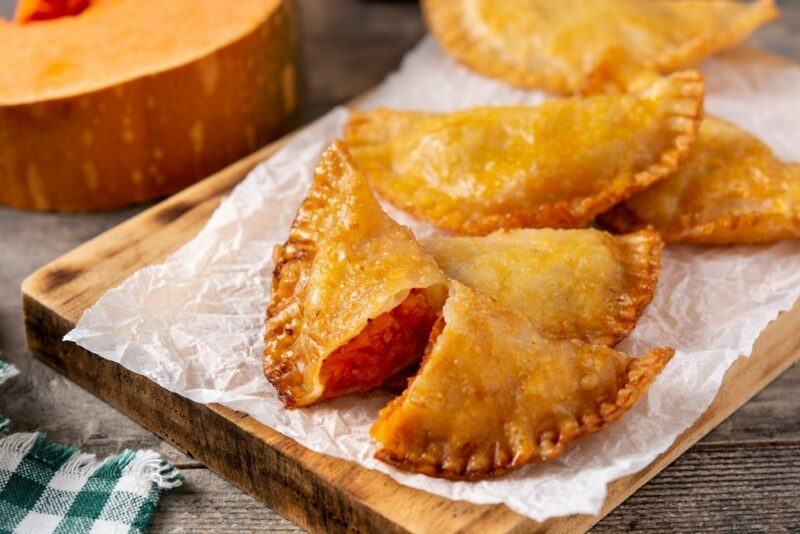 Empanadas are often a savory treat, filled with beef, chicken, cheese, vegetables, or similar ingredients. However, you can make sweet versions too.
Pumpkin pie empanadas do what the name suggests; they combine an empanada with pumpkin pie flavors. You can also coat the outside with cinnamon and sugar to make the empanadas even tastier.
For something different, why not play around with the shape? While empanadas traditionally have a folded over pouch-like shape, they can also be rolled. This gives you a completely different experience.
This recipe is a reminder that desserts from other countries can taste amazing – including Asian desserts and even Russian desserts. Why not experiment?
Red Velvet Cake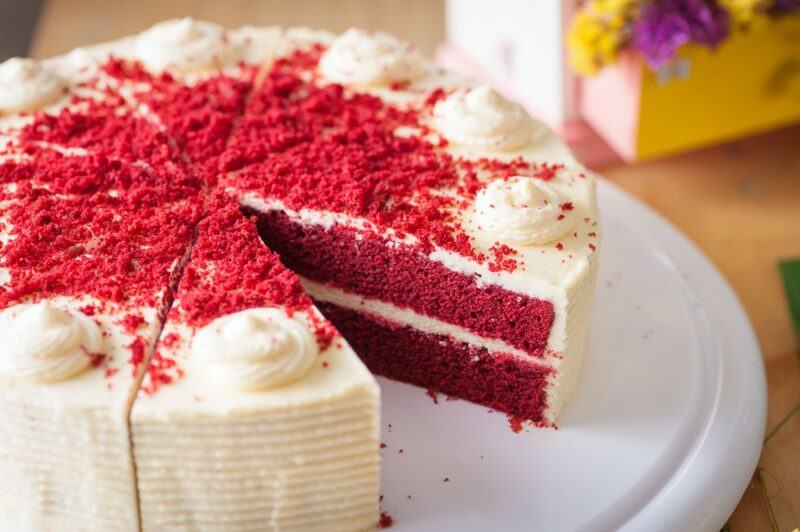 When it comes to cake, cream cheese is most often used as part of the frosting. Red velvet cake is one of the best examples, as there's such a strong contrast between the cream cheese frosting and the bright red color of the cake.
The cake looks even more stunning if you have multiple layers with cream cheese frosting between each. Doing so gives you the most contrast. You're also keeping the cake nice and moist.
Pumpkin Cream Cheese Muffins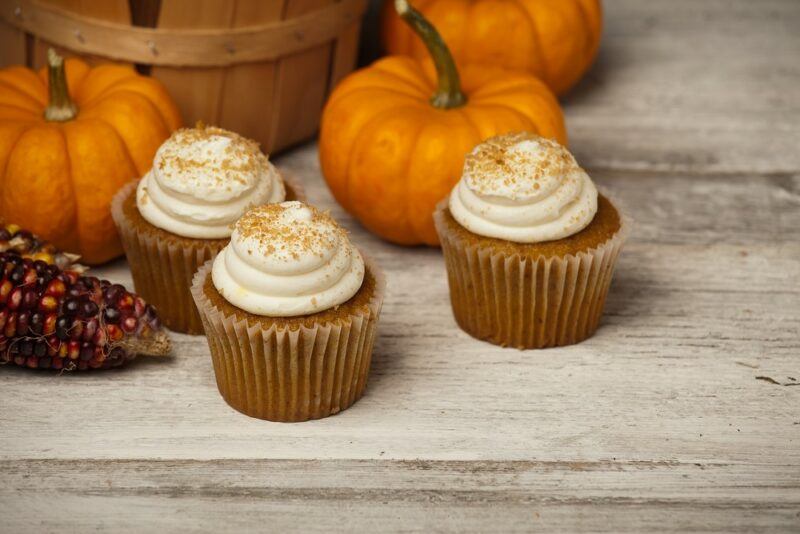 Cream cheese can easily feature in muffins too. Sometimes it's used as frosting, but you can also make swirl muffins, which have a delightful mottled appearance.
Pumpkin cream cheese muffins are an excellent version to try, particularly in the fall, when pumpkin spice seems to be everywhere.
Alternatively, what about making regular pumpkin spice muffins, then having a hidden cream cheese-based center? The hidden center is a delicious surprise and isn't that tricky to make.
Carrot Cake Donuts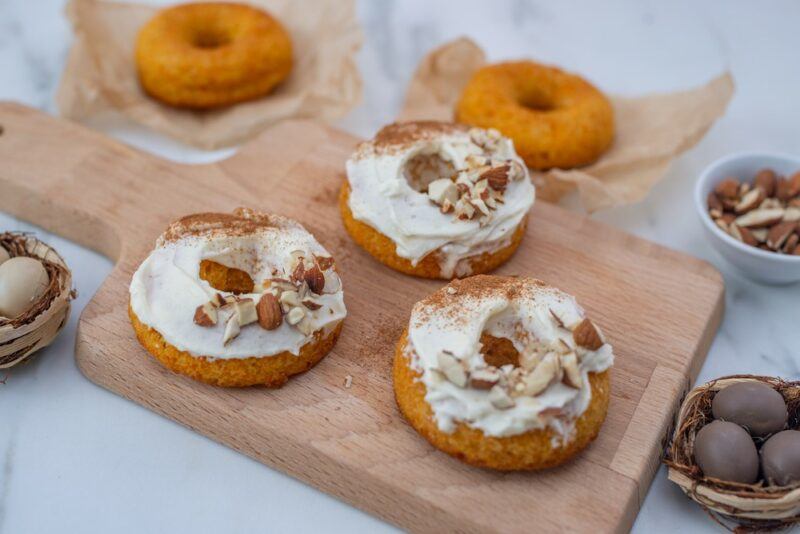 We didn't include regular carrot cake on this list because it's obvious and a little boring. Carrot cake donuts are different. These inherit some of the flavor and texture of carrot cake, but are distinctly donut-like as well.
Not surprisingly, the cream cheese shows up in the icing, rather than the donuts themselves.
Pumpkin Roll Cake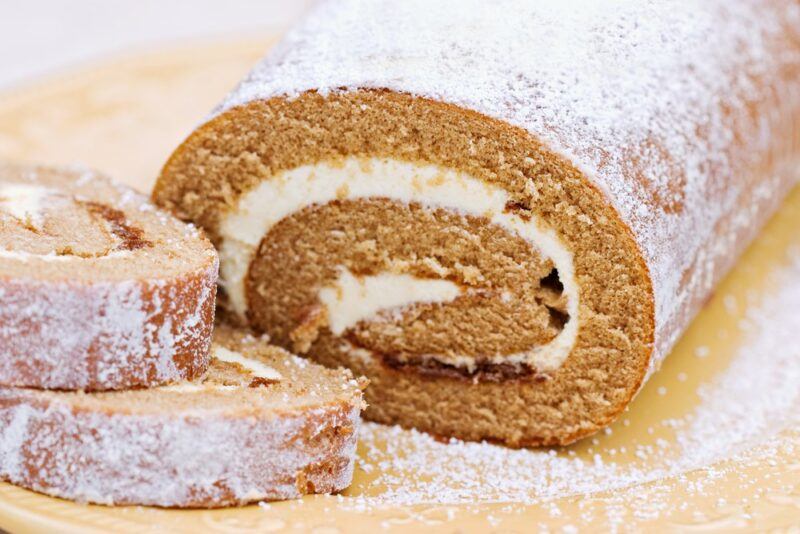 Pumpkin roll cakes are so much fun. They offer all the classic flavors of fall in a dessert that isn't too dense.
Each recipe has its own take on the idea. Still, most use cream cheese as one of the main ingredients in the filling for the roll cake. This creates a perfect contrast between the bright orange cake and the white filling.
Cannoli Dip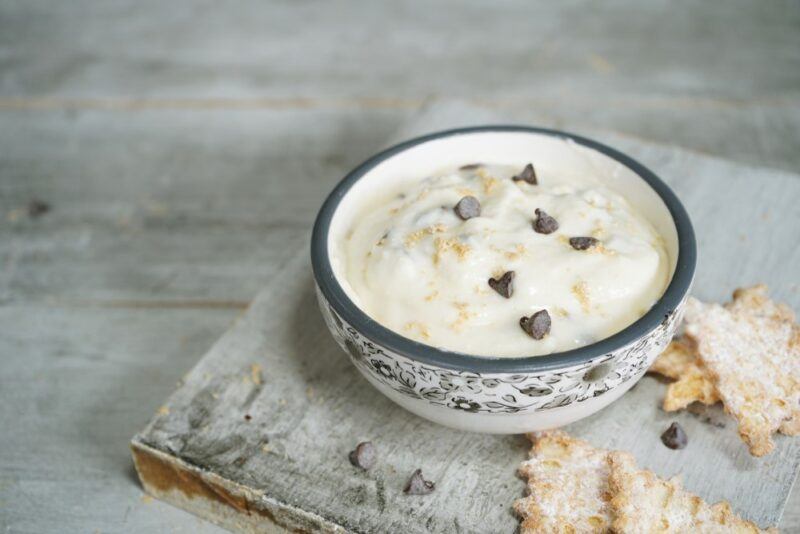 Many cannoli recipes rely on cream cheese, so they could be included on this list too. But, today, we're interested in cannoli dip instead. This has the same flavors as cannoli filling and is served in dip form.
Broken cannoli shells are the ideal thing to serve with this dip. If you can't find them, try using broken waffle cones or graham crackers.
Berry Cream Cheese Dump Cake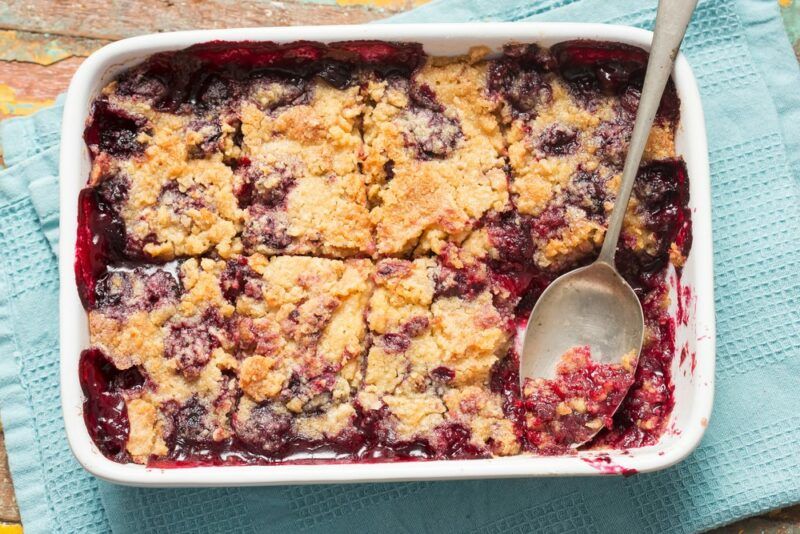 Dump cake is fantastic because it's so simple. You're basically making a fruit cobbler, but you're using cake mix as a key ingredient. Cake mix gives you a different texture and is also easy to prepare.
Cream cheese doesn't normally feature in dump cake, but you can easily add cubes of cream cheese to your cake. This creates pockets of creaminess that nicely contrast the rest of the cake.
Combining berry dump cake and cream cheese is an exceptional place to begin, as there's a slight sharpness to berries that's balanced by the cream cheese.
Cream Cheese Pound Cake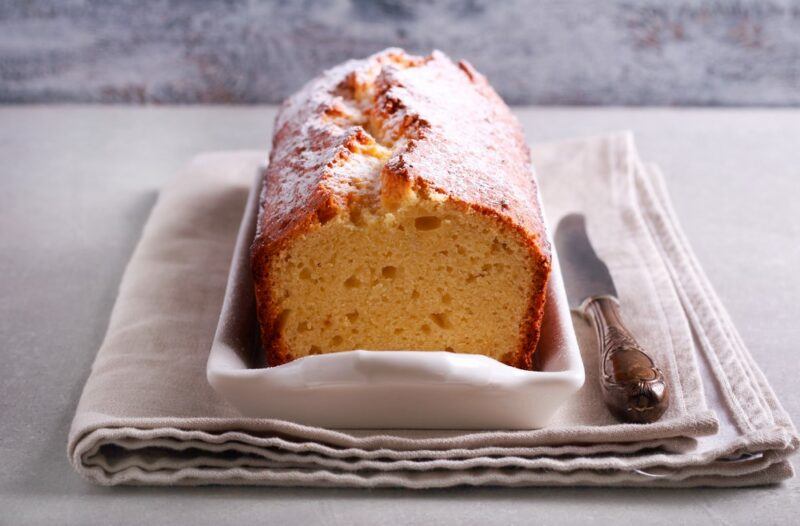 Cream cheese is often used in pound cake, helping to keep it soft and moist. Plain pound cake is delicious and works well as an ingredient in other desserts, like the cheesecake parfaits we mentioned earlier.
Or, you could experiment with flavored recipes. For example, blueberries work well when scattered throughout the pound cake batter. You could also use some lemon zest and lemon juice for a flavor contrast.
Cream Cheese Danish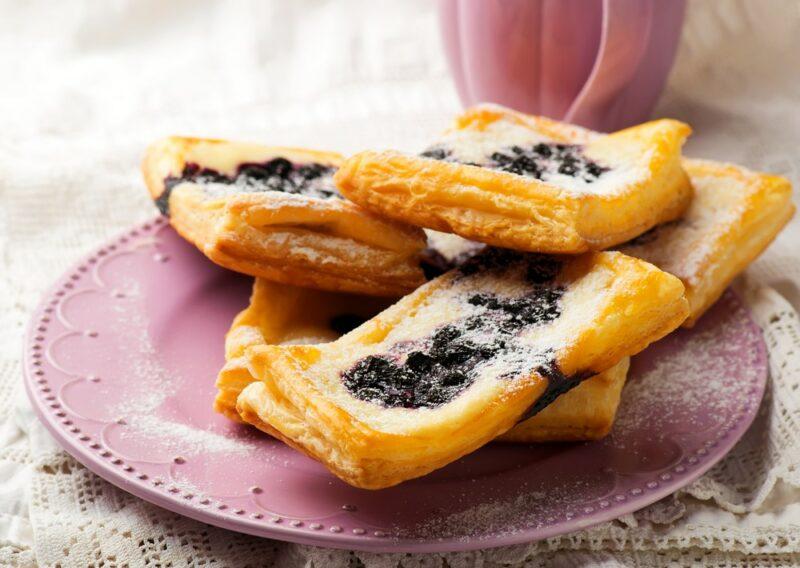 Finally, we have cream cheese danishes. These are delicious alternatives to fruit-based danishes. Most recipes even let the flavor of the cream cheese shine through.
Others include a combination of fruit and cream cheese. These are just as tasty, perhaps even more so.