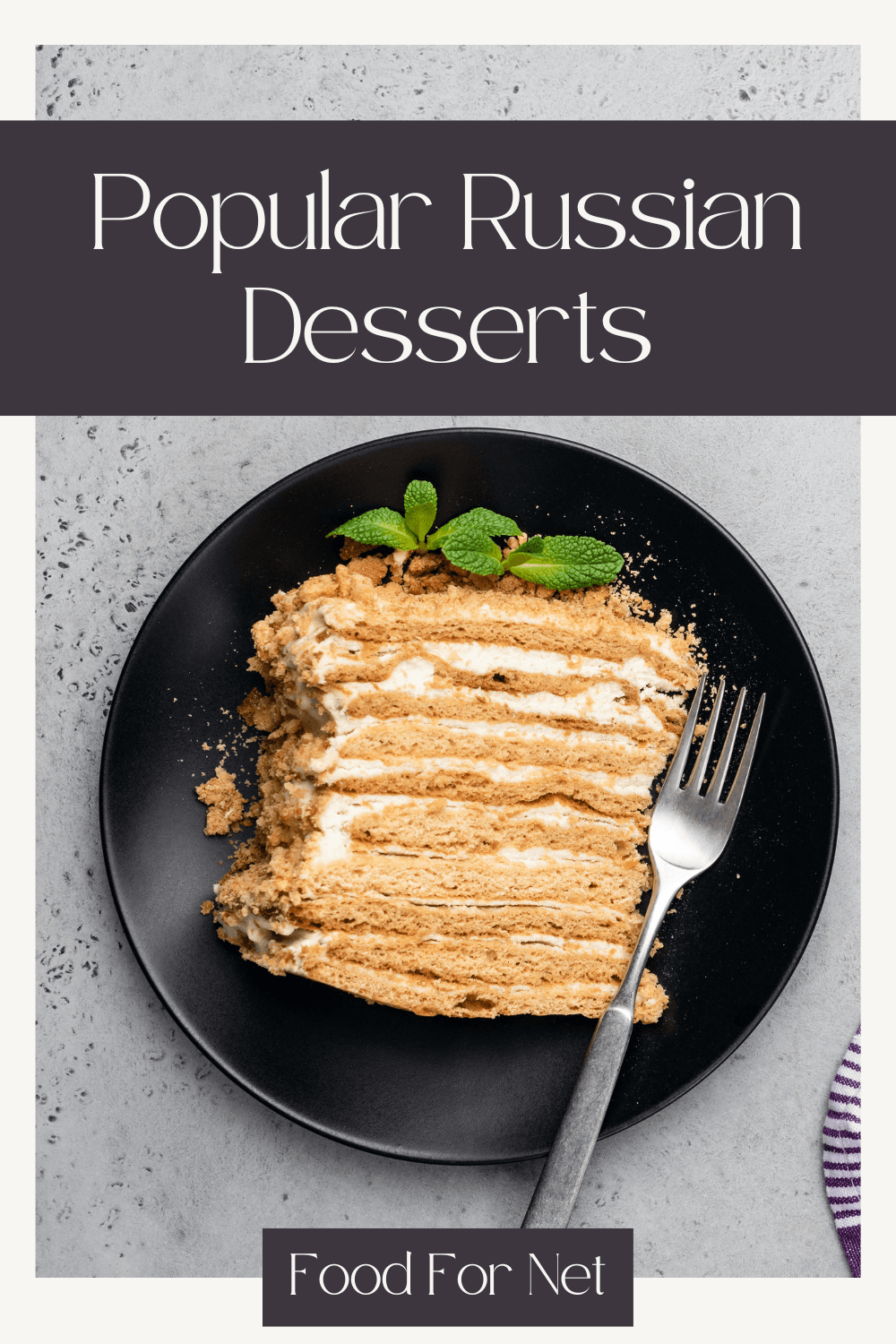 Who can go past dessert? After all, it's the perfect treat after dinner that completely rounds out your meal and makes everything better. There are all types of desserts too, including cakes, pastries, chocolate, and many others. But, why stick with familiar treats when there are so many exciting and unusual ones? If you're ready to branch out, Russian desserts are a fantastic option.
Why Russian desserts? Partly because they're different. In fact, Russian desserts are more varied than many other types. They're particularly good after Russian food, but you could easily make them at home, regardless of where you live and what you're eating.
Don't worry if these desserts are completely unfamiliar. There are plenty of recipes online and many people make the treats regularly. You can also experiment with desserts from other places, like South America and Asia.
P.S. If you want something more familiar, why not join a dessert of month club? These clubs send fully prepared desserts every month. Sometimes you get one full sized dessert with each shipment. Other times you get a selection of smaller treats, but either way, you get delicious desserts without any effort on your part.  
Desserts From Russia
Chocolate Salami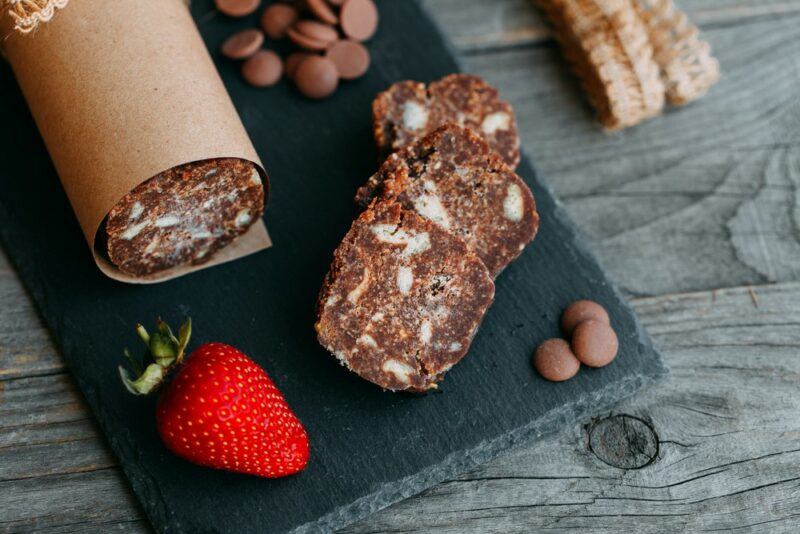 This dessert speaks for itself. It looks a little like a roll of salami, except that it is made with chunks of cookies and nuts, with sugar, milk, and cocoa making up the rest of the dessert.
Thin slices of the 'salami' would be excellent additions to a dessert charcuterie board, especially if you make it at home yourself. Also, this a no bake dessert. That's exciting, as it makes the dessert very easy to prepare.
Kartoshka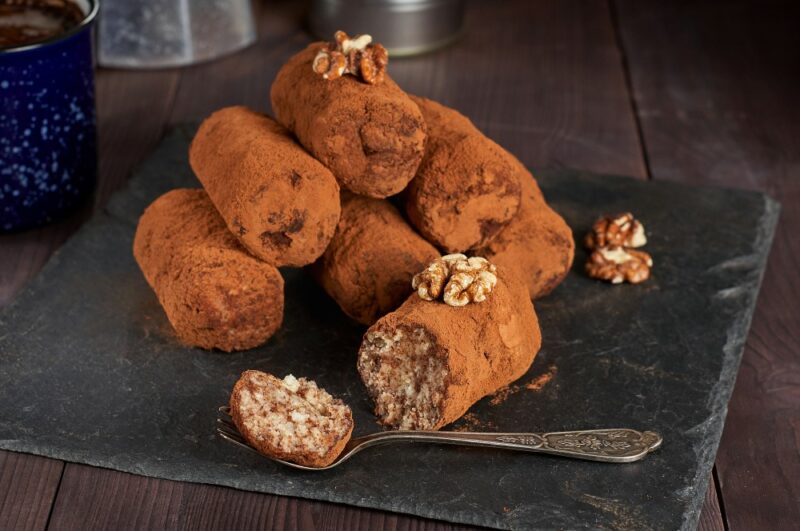 This Russian treat is essentially a twist on chocolate truffles, made using condensed milk, cookies, cocoa, and nuts. The dessert has been prepared a few ways over the years, including using old pastry and then bread crumbs. Many versions also add some cognac to the recipe, providing even more flavor.
There's plenty of room to adapt the recipe too. For example, you can change the type of cookies used, drop out the cocoa, and use lime zest instead.
The name of these treats translates to potato pastry. Don't worry though, there aren't any potatoes in the recipe. The name simply refers to how these treats are normally in the shape of mini potatoes, rather than round like regular truffles.
Medovik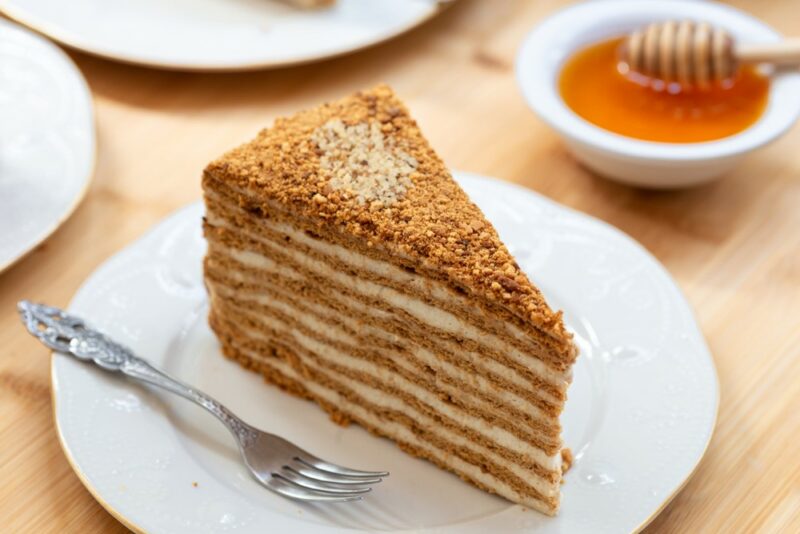 This Russian layered honey cake is seriously impressive. It uses incredibly thin layers that are stacked on top of one another. It's often made using eight layers, which give the cake a stunning appearance and an interesting texture.
The flavor is also delicate and dominated by honey. This means that the specific honey you use will have a huge impact on the flavor of the finished cake. As a result, it's often worth focusing on high-quality raw honey. You could even turn to a honey of the month club to see how different types of honey change the dessert.
There's also a frosting that's used on top of the cake and in the layers. This often relies on sour cream, which gives the cake a delicious tanginess.
Ptichye Moloko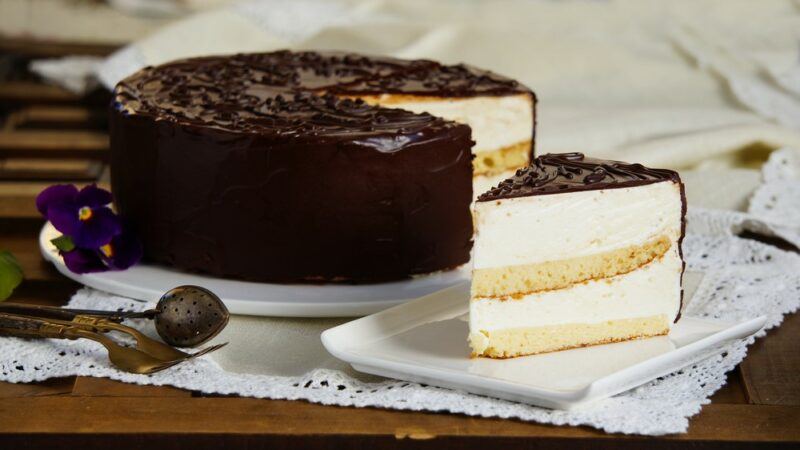 Ptichye moloko also goes by the name bird's milk and is a classic type of Russian dessert. It's a fascinating treat, as it reverses the traditional balance of filling to cake, with thin layers of sponge cake that are separated by thick layers of custard.
Yet, this isn't an overwhelming cake, as the custard layers are light, with a texture that's a little like a souffle. There's an equally famous candy bar version of the dessert, called ptasie mleczko, with many of the same flavors and a similar lightness.
The name bird's milk has an interesting history. It appears to reference a Russian idiom, where bird's milk is something that's incredibly rare and delicate. Ptichye moloko mightn't be rare, but the delicate reference certainly holds true.
Another story focuses on the candy bar version, suggesting that if a man has everything, perhaps only bird's milk could make him happy. Wherever the name truly comes from, it's clear that this is a delicious and popular treat.
Blini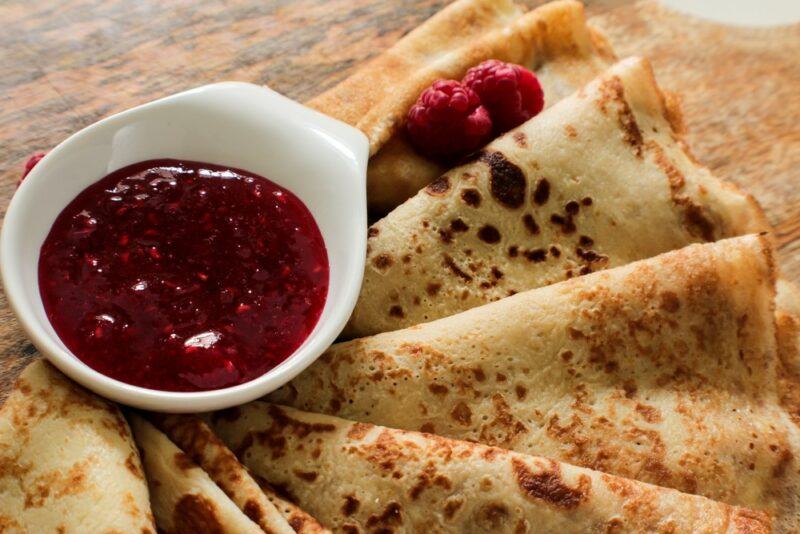 Blinis aren't exclusively a dessert food, although they can certainly be eaten as a dessert. They are essentially thin pancakes.
Here in the United States, the term blini is sometimes used for bite sized pancakes that work well as appetizers. However, in Russia, the term more often refers to thin pan sized pancakes.
Sweet toppings for blini are similar to what we regularly serve with pancakes, including jam, fruits, and cream. They're also traditionally served with caviar and creme fraiche. This is a more savory approach, but could still be eaten for dessert.
While blinis can be eaten cold or at room temperature, they're best served warm. The treats lose some of their texture when left to sit too long.
Pryaniki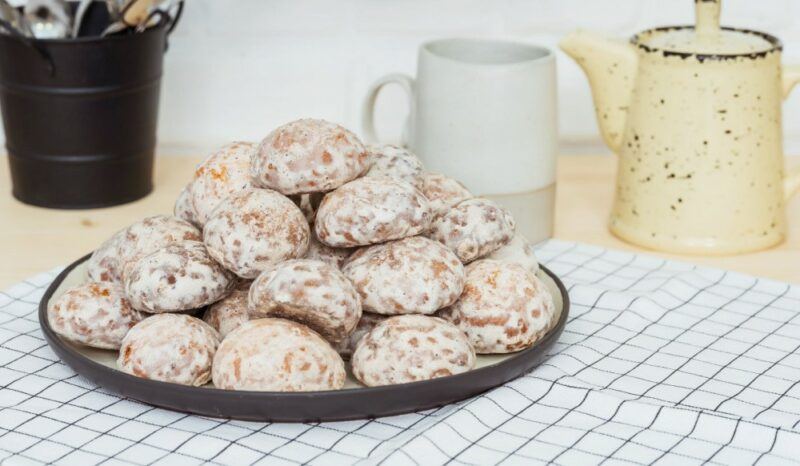 Here's a fantastic option for dessert lovers. Pryaniki are a type of honey spice cookie, which rely on ingredients like allspice, anise, and cinnamon to give them a complex warming flavor profile.
Interestingly, pryaniki are often seen as being Russian gingerbread, even though ginger isn't an essential ingredient at all. Some recipes leave the ginger out entirely, making the treat milder than gingerbread. 
The use of honey rather than sugar gives the cookies a little extra nuance.
Smetannik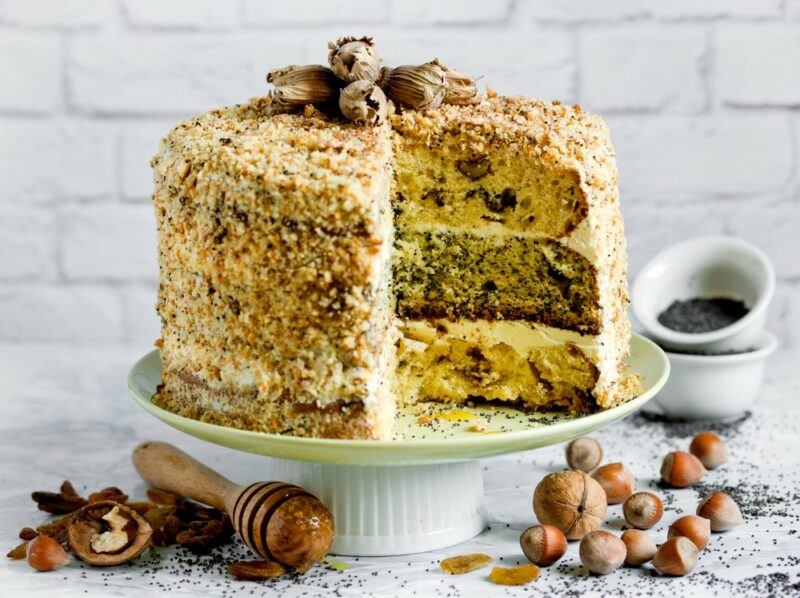 Smetannik is most well-known for relying on a sour cream frosting, which provides a slight tartness that complements the sweet flavor of the cake. But, don't worry, the sour cream isn't overwhelming at all. Sometimes it isn't even noticeable at all in the finished cake.
It's another layered cake, so it always looks impressive. It's also an easy treat to get right, as the sour cream helps to keep all of the layers moist.
The sour cream even means that you don't need to soak your cake layers at all. This is particularly true if you finish the cake with frosting on top and down the sides. Seriously, this may be the moistest cake you've ever tried.
Waffle Cake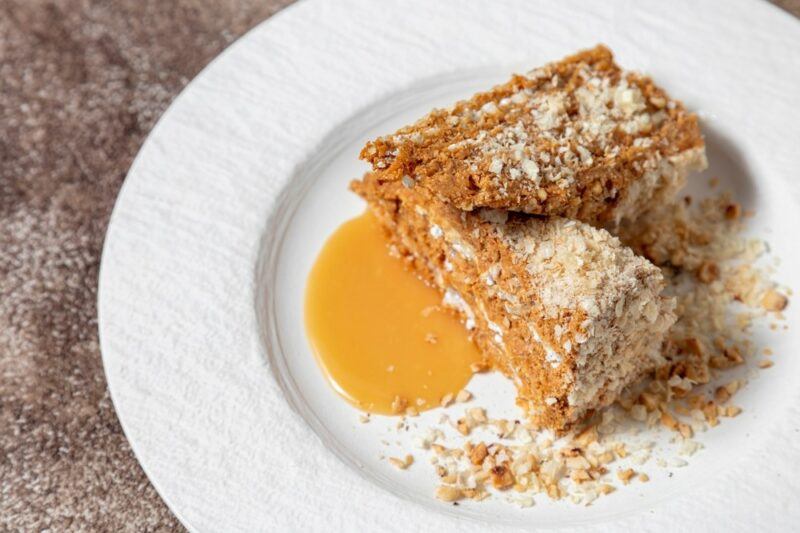 This waffle cake is linked to Russia and Ukraine, with both countries making a similar version. You're simply looking at layers of waffles that have been spread with a mixture of dulce de leche and softened butter.
The treat is particularly good with colored waffles, as these make the waffle cake stand out.
This is also an extremely easy dessert to prepare, as you can rely on store-bought waffles and canned dulce de leche. Making your own dulce de leche could make this an even tastier treat, but you certainly don't need to prepare your own waffles. 
Pirog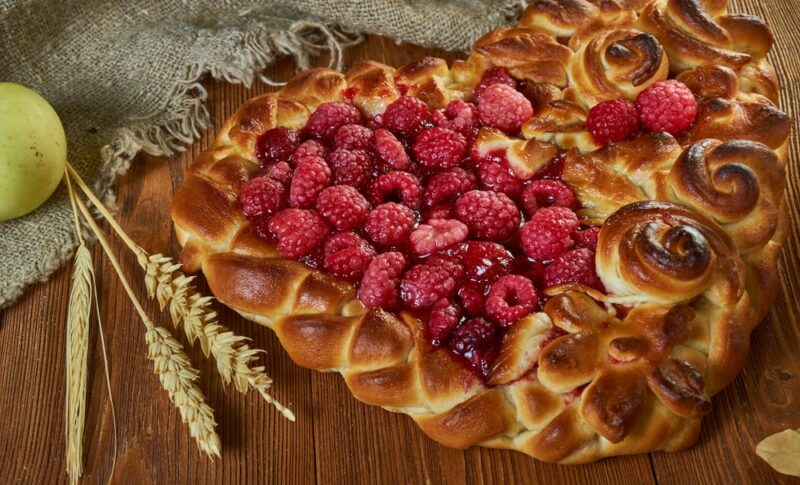 Pirog is quite simply a Russian pie, which can have a sweet or a savory filling. The pie is often circular, but you can find oblong or tapered versions as well. Then there are the more exciting shapes, like the one in the image.
Pirog is traditionally made using yeast-raised dough. This makes it different from American pies and those in many other countries. However, some versions rely on puff pastry or shortcrust pastry, which changes the dish somewhat and makes it more familiar.
Sweet versions of pirog can easily be served as dessert. Possible fillings include berries, apples, berries, honey, and nuts, or a combination of these.
Sharlotka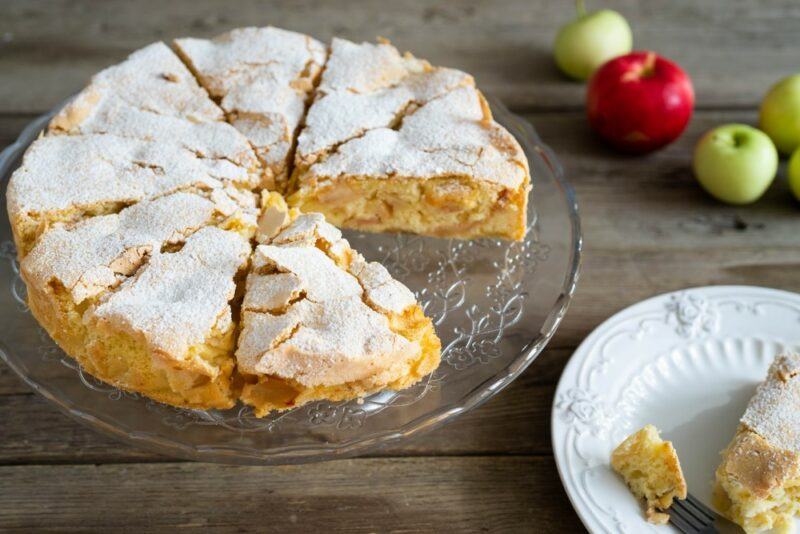 This dessert follows a different style, as it's a classic apple sponge cake with a long history. The cake relies on light sponge and small apple pieces, which make it a simple snack – perfect when you're sick of heavy desserts.
Plus, sharlotka focuses on inexpensive and easy to find ingredients. The choice of ingredients makes this an easy cake to prepare at home, even when finances are tight.
Kogel Mogel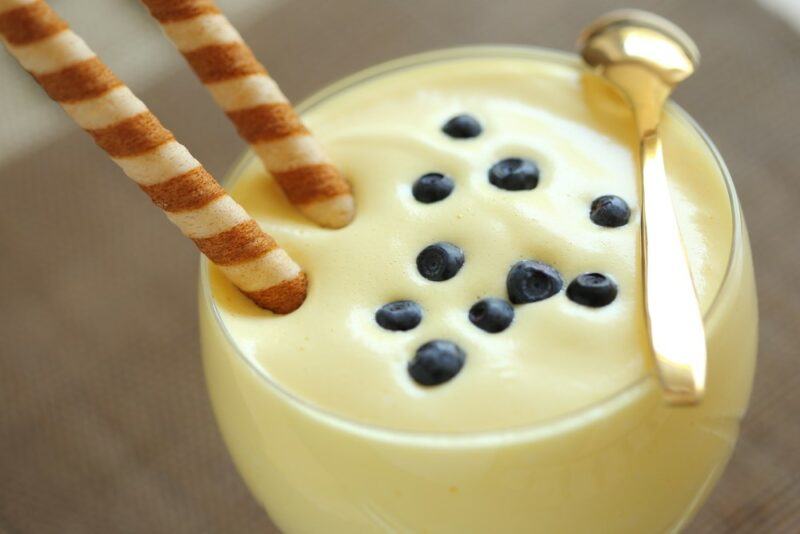 Kogel mogel is a Jewish dessert that's now popular in many countries, including Russia and Poland. It's a delicious and simple dessert made using sugar and egg yolk,
Many versions add extra flavor ingredients like lemon juice or cocoa powder. These ingredients make the dessert even tastier. It can also be spiked with alcohol, particularly rum or brandy.
Napoleon Cake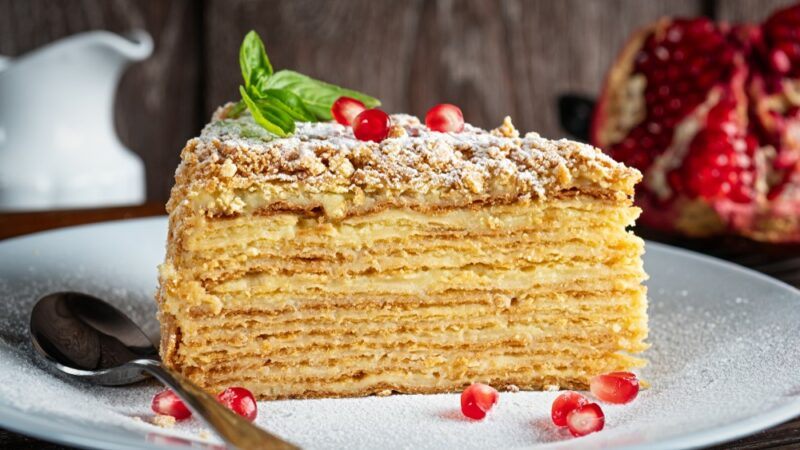 Napoleon cake is another classic layered Russian cake. It looks much like medovik, to the extent that they could be confused for one another.
However, Napoleon cake differs in a few ways. One is that it relies on puff pastry, rather than using soft honey-based layers. The cream layers for Napoleon cake are also butter based and include caramelized condensed milk. These ingredients create a delicious sweet cake with a distinct flavor profile. 
If you're making the cake at home, it's best to leave it to sit for between 24 and 48 hours. This gives the pastry layers time to soften and get easier to eat.
On a side note, there is a Russian and a French version of the Napoleon cake. The two are closely related, although the Russian version tends to use more layers and isn't as crispy.
Kulich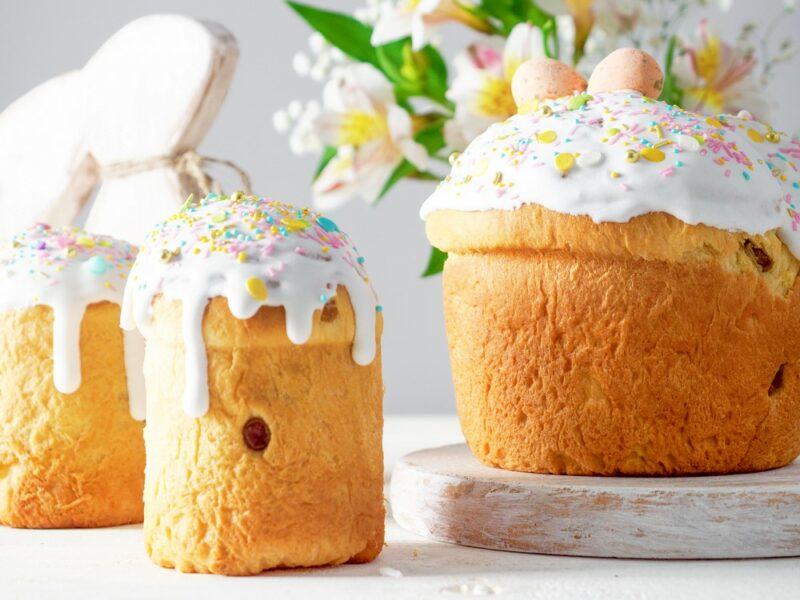 This strange looking dessert is Russian Easter bread. It's not an easy treat to make, as the bread can take around half a day to rise (which isn't surprising when you consider how tall it is).
However, the bread is sweet and delicious, making it worth all the time you put in. It is mostly prepared as part of Easter celebrations, but you don't need to follow this pattern. You could easily make the bread for a different celebration or even just as a treat. 
Pastila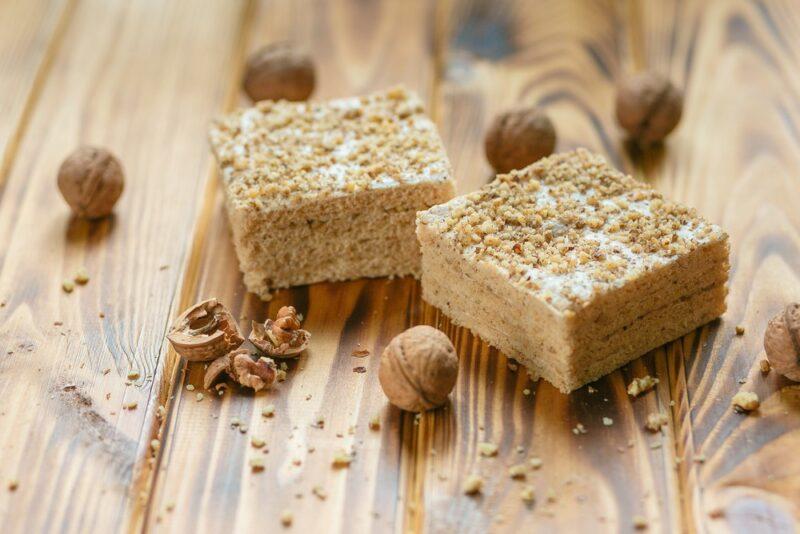 Pastila is an unusual dessert that takes fresh fruit and creates a marshmallow-like treat. It's a very simple recipe too, often relying on just granny smith apples, granulated sugar, egg whites, and powdered sugar.
The ingredients are layered and baked, which gives you a light and sweet treat with an unexpected texture.
Pirozhki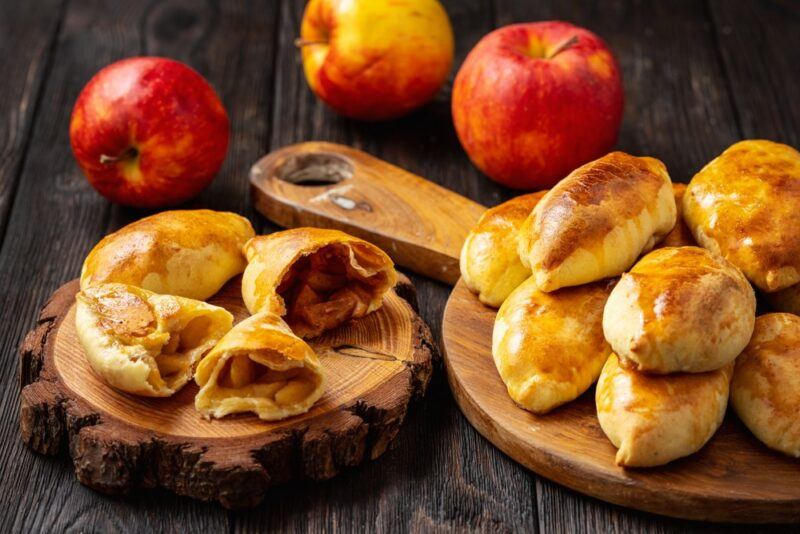 We talked about pirog earlier, which are sweet or savory Russian pies. Pirozhki are similar. The one difference is that they're much smaller.
In fact, the term pirozhki is simply a diminutive of pirog and simply means 'small pirog'. These treats offer the same flavors and textures as a full pirog, but they're smaller and are easier to eat.
Vatrushka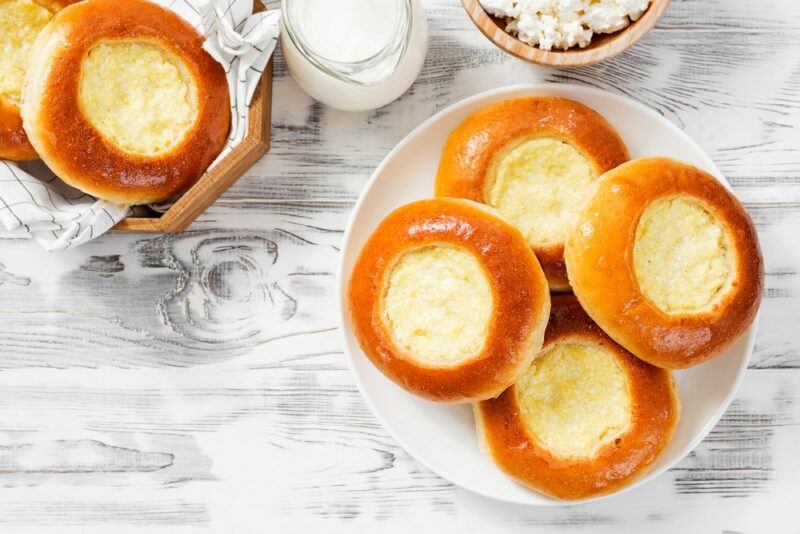 Vatrushka is a specific type of pirog. It's traditionally small, sweet, and formed as a ring of dough. The filling consists of quark.
Quark is interesting. It's a dairy product that's made from adding heating soured milk. It's technically considered a type of cheese, somewhat similar to cottage cheese. However, quark is smoother than cottage cheese and has its own distinct flavor.
You could use Greek yogurt or perhaps cream cheese as an alternative to quark if you're making this treat in the United States. Doing so will give you a similar dessert, even though some of the flavors will be lost.   
Zefir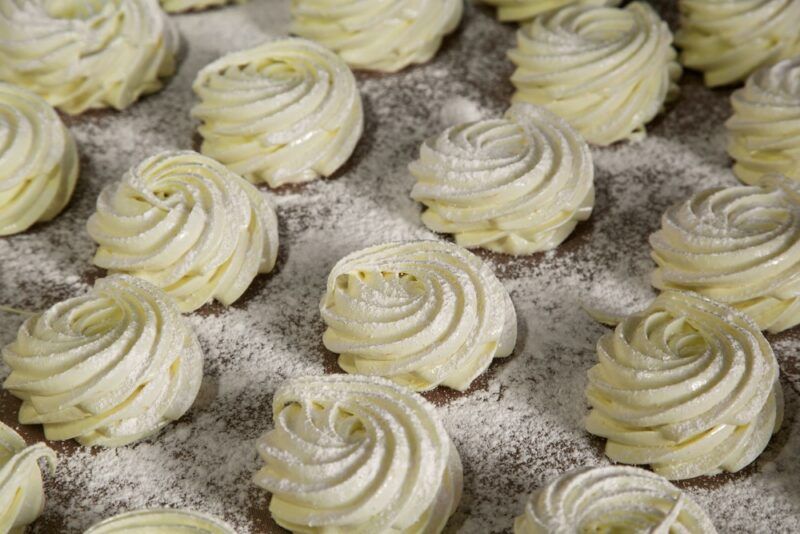 These marshmallows are an amazing looking Russian treat. They're much lighter and airier than regular marshmallows, despite using most of the same ingredients.
One difference is that these delights rely on whipped berry puree or fruit, which provide an interesting flavor and color to the marshmallows. Their elegant shape also makes them perfect for serving at parties.
Getting the shape right is a little tricky at first, but the technique isn't extremely complicated. This means you should be able to make them at home – after a little trial and error.
Stolichny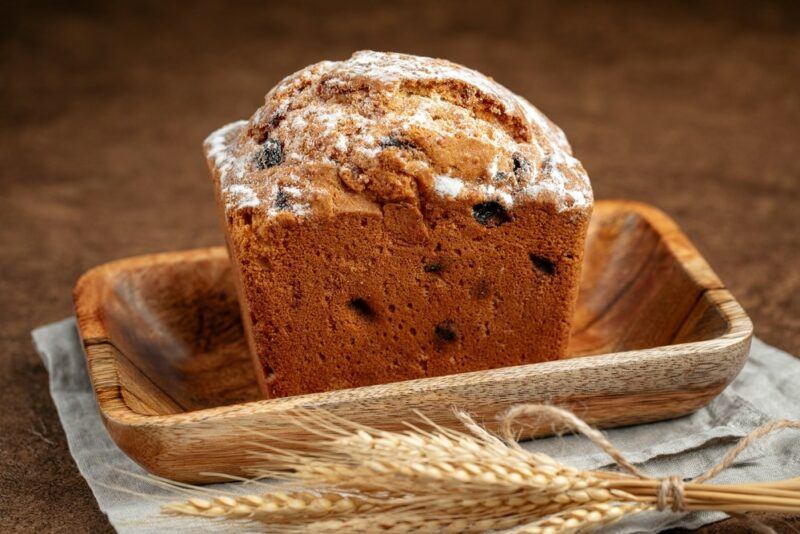 Stolichny is a little confusing, as the name refers to two different things. One is a Russian chicken and vegetable salad, while the other is this Russian raisin cake.
The cake is often served with tea but can also be eaten on its own for dessert. The flavors make it particularly good in the winter. It can even be served as a seasonal treat around Christmas time.
Royal Cake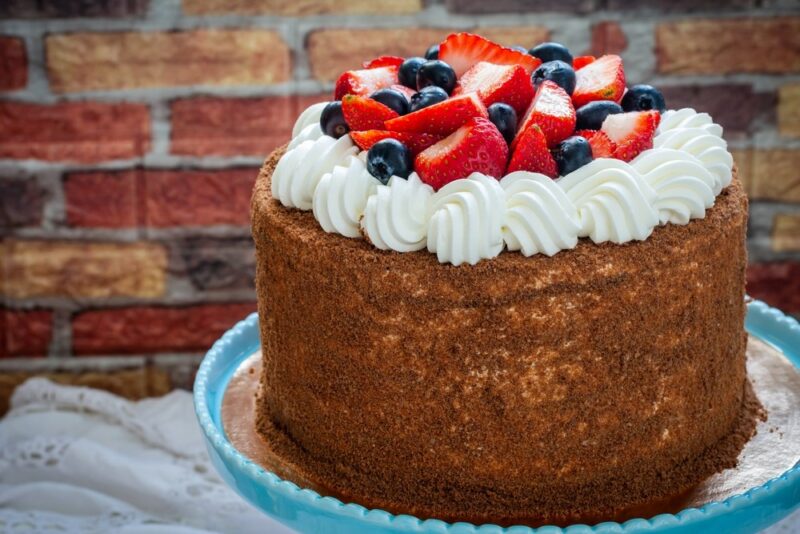 Russian royal cake also goes by the name korolevskiy and is certain to impress. It's another layered treat and includes ingredients like walnuts, poppyseeds, dulce de leche, cherries, and plenty of chocolate.
Many recipes alternate the layers, so you get some fruit heavy layers and other creamier ones within the same cake. However, this isn't essential. You could easily skip layers or pick a single type and use this for the entire cake.
After all, even traditional cakes get tweaked depending on who is making them. Families all have their own favorite flavors and combinations of ingredients. Why not make this cake your own?
Cherry Soup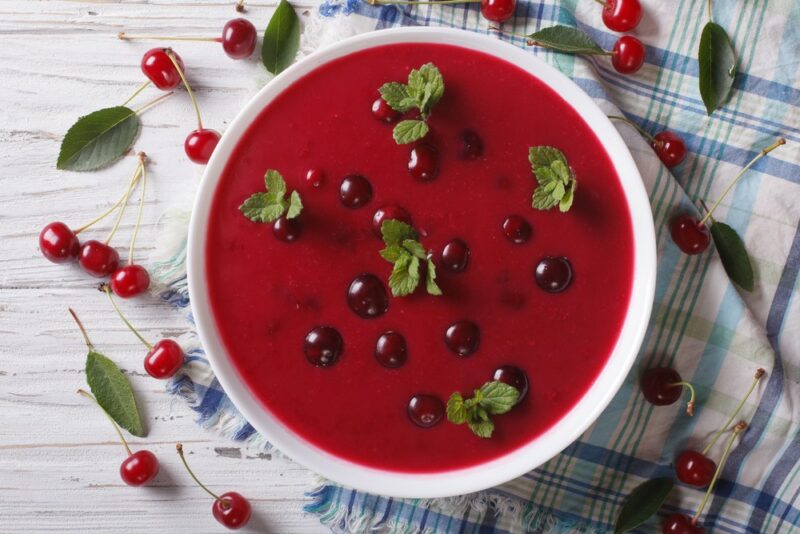 Have you ever tried soup for dessert? Cherry soup is a fantastic example of this style (there's also an interesting black sesame soup in our list of Asian desserts).
Well, honestly, this is basically a sweet cherry drink that gets served in a bowl rather than a mug. It's a fun style, especially if you're looking for something unusual.
Muraveinik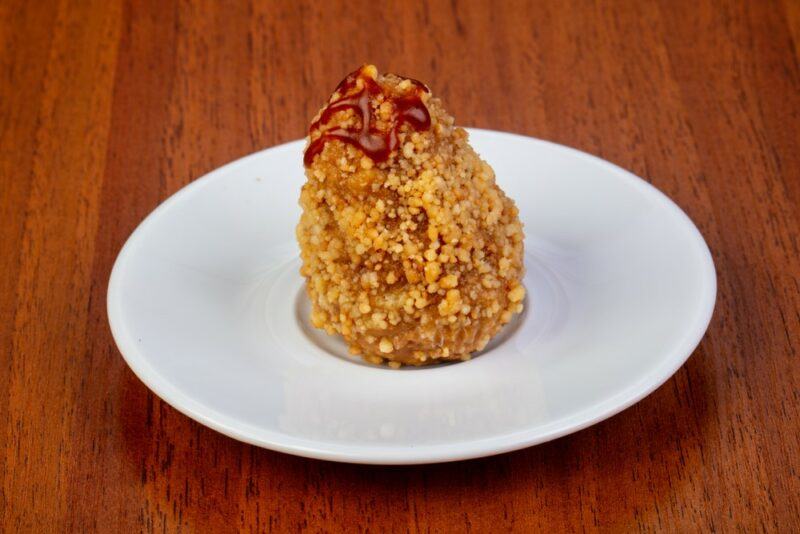 Muraveinik is also known as anthill cake, mostly because it's normally molded to create a mound. Many people also use cocoa powder, chocolate shavings, or other ingredients to mimic the appearance of ants and dirt too.
The cake itself is surprisingly simple and relies on inexpensive ingredients. The choice of ingredients made the recipe perfect during times of scarcity.
This dessert is now firmly embedded as a part of Russian culture, so you'll find it served repeatedly, even these days. Because it relies on simple and familiar ingredients, you could easily prepare this dessert at home and try it for yourself.. 
Syrniki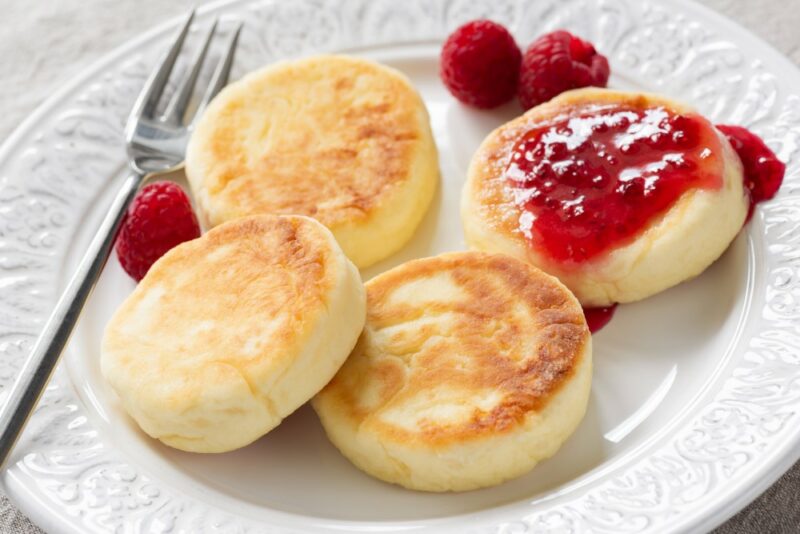 Syrniki are a little different, as these are essentially Russian cream cheese pancakes. They're most often served for breakfast, but can be an interesting type of dessert as well.
Syrniki could be particularly good if you prefer savory desserts over sweet ones.
Rum Baba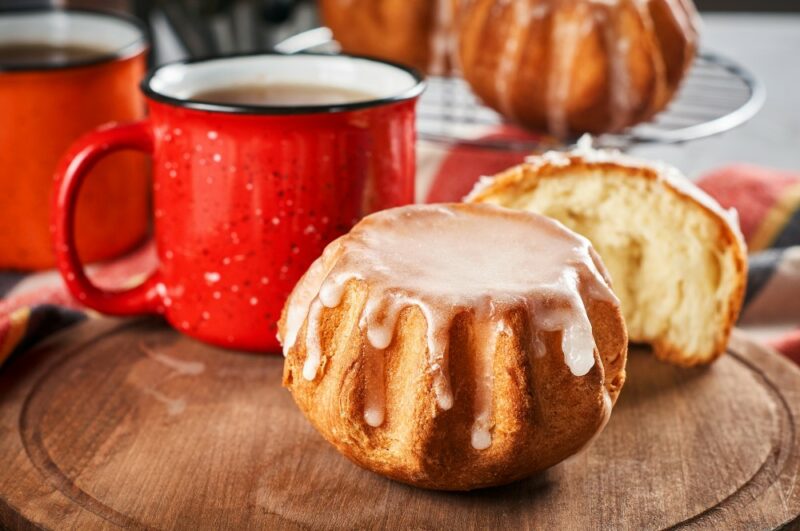 Unlike most of the treats on this list, rum baba doesn't come from Russia. Instead, the dessert may have first come from Poland before being further refined in France. Regardless, rum baba has a long history in Russia, with popularity growing again in recent years.
The cake is delicious, there's no denying that, especially as it has a hint of rum that makes the flavors much better. However, it is a little tricky to make, involving multiple steps and specialized pans. 
If you're visiting Russia, it might be easiest to simply find somewhere that sells rum baba. This way you get to try the Russian version of the treat and see why it's so popular.
Chak Chak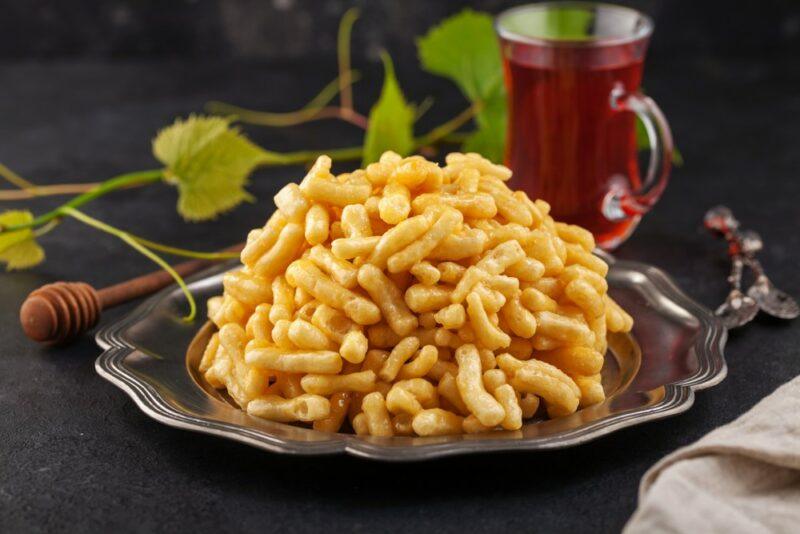 Don't ignore this dessert simply because it looks strange. Chak chak is actually a delicious sweet fried honey cake that is made by preparing dough, cutting it into strips, and then frying the strips. An almond honey mix is then made that is drizzled over the dough.
Some people use plenty of honey and set the dessert in the fridge, which makes it fairly hard. However, you can also drop down the honey content a little and serve the treat still warm, which makes it sticky and soft instead. 
Firewood On Snow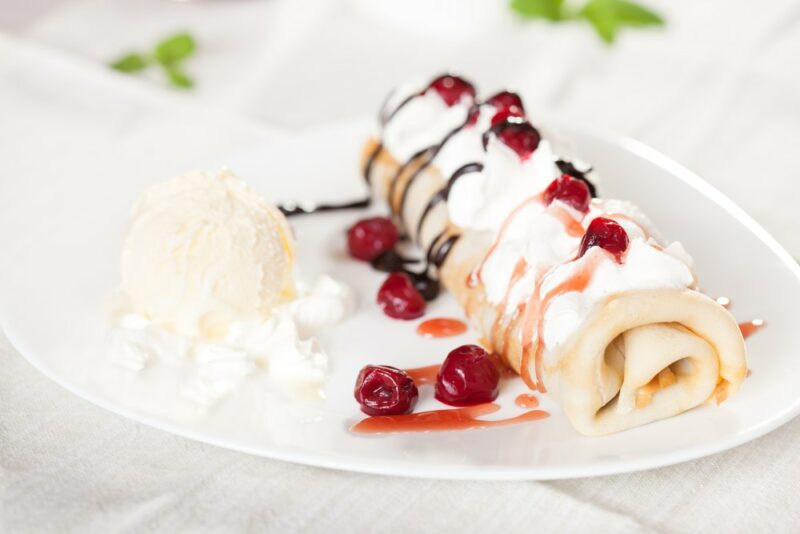 This dessert isn't as well-known as some of the other treats on the list. That's a shame, as it's honestly amazing. The full version involves thin crepes that are rolled with a rich cherry and frosting filling, then stacked into a pyramid-like shape.
Frosting is used to keep the pyramid of crepes together, then the pile is topped with even more frosting, plus grated white chocolate, and coconut flakes. From a distance, the finished dessert really does look like a stack of logs in the snow. 
Leningradsky Cake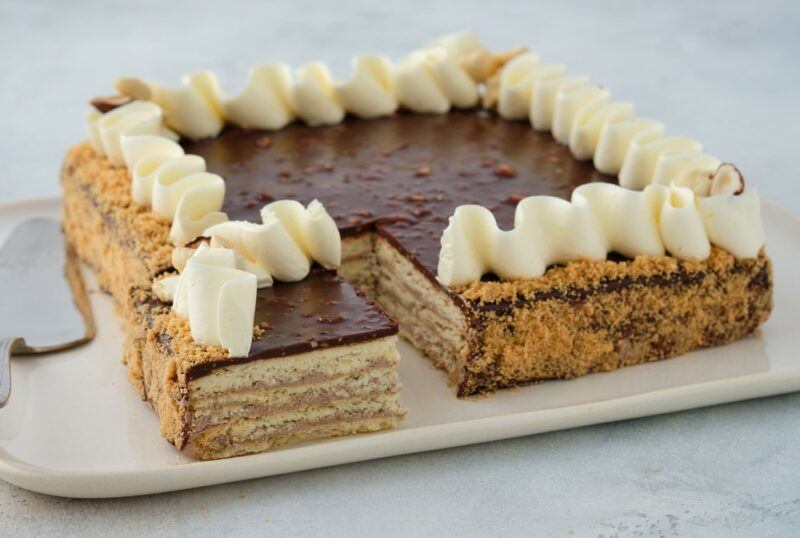 This final dessert was popular during the Soviet Union era, largely because it uses inexpensive ingredients. It's also pretty easy to make. The recipe itself relies on short pastry layers, topped with buttercream, with chocolate fudge used to finish the whole thing off. It's often decorated with chopped peanuts, although the decoration can be as simple or as complex as you like.