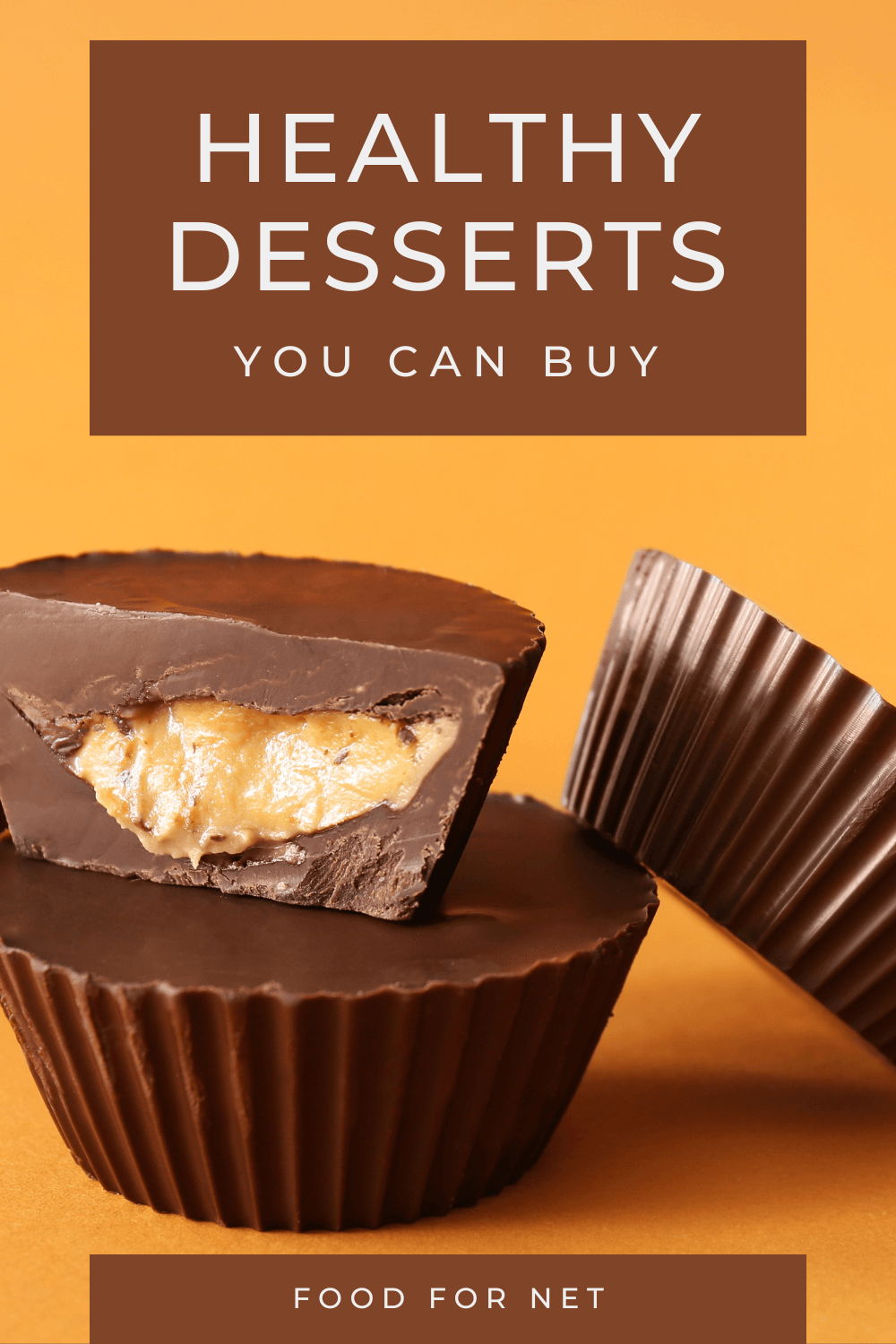 Desserts are delicious and the perfect treat after dinner or whenever you simply have a sweet tooth. They're not always healthy, though. In fact, the tastiest treats are often incredibly high in calories, sugar, and saturated fat. This is particularly true if you're buying desserts rather than making them at home. So, what are the best healthy desserts to buy?
After all, there are some healthy treats out there, ones that use better ingredients and don't go overboard with sugar. But, before we talk about these, we need to look at what makes a dessert healthy anyway.
For some, a healthy dessert relies on natural whole food ingredients and avoids additives. Such desserts won't necessarily be low in calories, but they're still healthy when eaten in moderation.
Other people may look for desserts that are low in refined sugar or ones that contain minimal carbs. Or, perhaps you want a dessert that's low in calories too.
Other times, you might be looking for a dessert that's simply healthier. After all, desserts are meant to be treats, so they don't need to be as healthy as humanly possible.
Whatever your definition of healthy desserts is, we've got you covered. So, let's dive in and see your options for healthy desserts – ones that still taste good.
P.S. If you're looking for tasty and exciting desserts, why not try a dessert of the month club? These clubs are always incredible, as they send you delicious sweet treats every month. Some give you a full-sized dessert, like a cheesecake or a full cake, while others send a selection of small treats in a box.
While such clubs don't always provide the healthiest treats, their food is always tasty. Plus, it's fantastic to get desserts shipped straight to your door, then pair them with your favorite drink.
P.P.S. You can also make desserts using a sous vide. Doing so gives you very delicious treats that are a little different than anything you make otherwise.
Best Healthy Desserts To Buy
Justin's Mini Dark Chocolate Peanut Butter Cups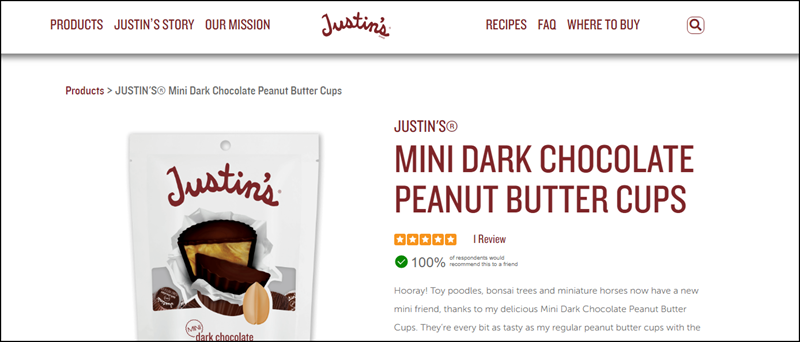 Regular peanut butter cups aren't that healthy, as they're heavily processed and packed with additives. Justin's Mini Peanut Butter Cups are much better.
For starters, they use dark chocolate rather than milk chocolate, so you're getting more plant-based compounds and less sugar. The peanut butter cups are also organic and keep the ingredients list short. There's still some sugar present, but only enough to make these taste just right.
Dark Chocolate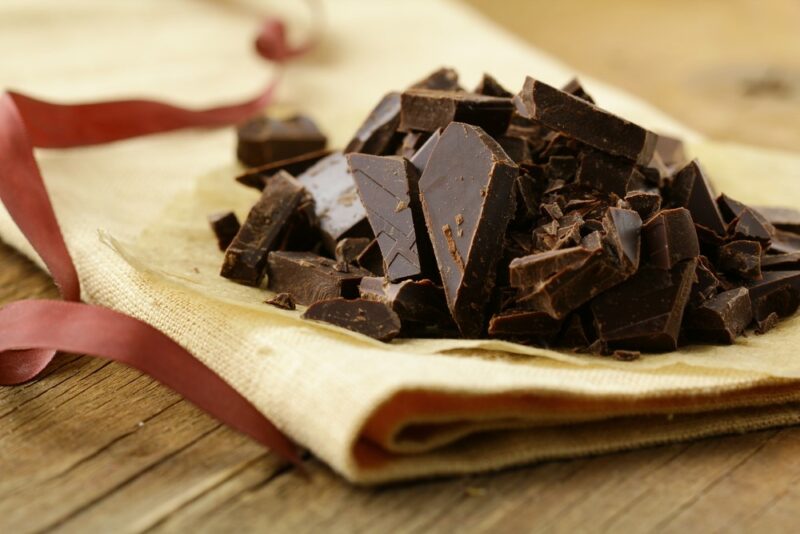 You can also simply turn to regular dark chocolate. This provides plenty of plant-based polyphenols, while often containing little sugar and no additives.
However, the health effects strongly depend on the brand you choose. Some companies still add a decent amount of sugar, don't use enough cocoa, or use unappealing ingredients.
Look for brands that use at least 70% cocoa, ideally 80% or even more. The best ones will have low sugar, avoid flavoring ingredients, and not rely on additives. Also avoid products that use the term 'processed with alkali' on their label. This type of processing may decrease the polyphenols in the chocolate, giving you fewer benefits.
Alter Eco, Pascha, and Taza are all fantastic brands to try. Some of them use natural ingredients for flavor, like freeze dried raspberries. Lindt can be decent as well, but you'll need to check the ingredient labels, as some of their products are better than others.
Halo Top


Halo Top is an incredibly popular alternative to regular ice cream. It comes in a variety of styles, including dairy and non-dairy versions. There are even some keto friendly Halo Top products, along with plenty of flavors and styles.
For example, some of their pint flavors include chocolate cake batter, blueberry crumble, chocolate mocha chip, and vanilla caramel milkshake. There are also Halo Top pops, plus fruit sorbet and fruit pops.
The big selling point is that Halo Top is healthier than conventional treats. Their products are often considerably lower in fat and sugar, which makes them stand out.
However, healthier is the operative word here. The products are still highly processed and contain some additives. You'll see this pattern with other processed treats on the list as well.
Heavily processed desserts aren't necessarily bad for you, as the ingredients have all been tested for safety. However, it's still best to limit your intake of processed foods and focus on natural ones whenever possible. As such, Halo Top products are best seen as an occasional treat, rather than something to eat daily.
Fresh Fruit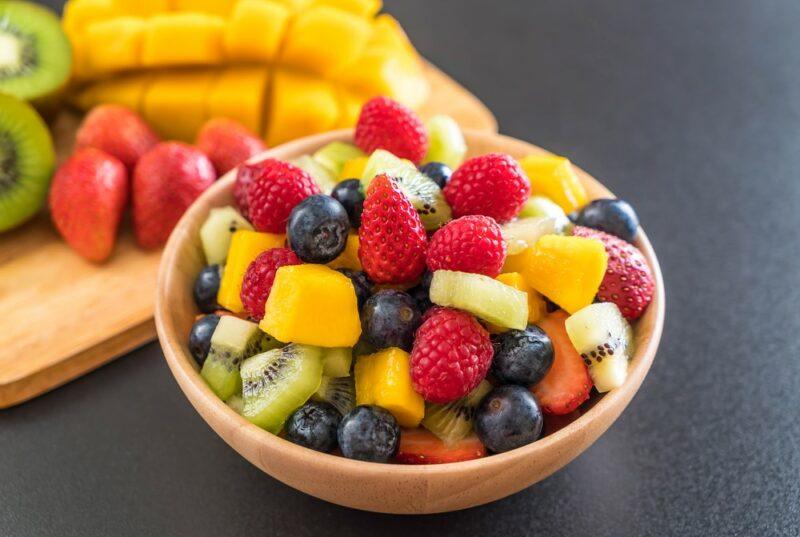 What could be simpler than fresh fruit for dessert? It's easily found at farmer's markets, grocery stores, and plenty of other locations, is minimally processed, and gives you plenty of antioxidants. You could even turn to exotic fruits.
What's not to love?
Berries are a particularly good choice for dessert as they have such a vibrant flavor. They're also a decent source of plant-based compounds and fiber, which makes them even more appealing. You can easily pair them with other foods, like Greek yogurt or granola, for an effortless dessert.
Fiber One Brownies


Desserts tend to be low in fiber, which is a shame, as we need fiber for our digestion. Fiber One bucks this trend by offering plenty of high fiber desserts. Their treats also tend to be low in sugar and net carbs, making them healthier than many other products.
For example, their Chocolate Fudge Brownies contain just 70 calories per serving, while offering 6 grams of fiber and only 2 grams of sugar. Finding a treat that contains just 70 calories is exceptional and these ones happen to be delicious as well.
Unreal Coconut Bars


If you love coconut, Unreal Coconut Bars could be the ideal dessert. They're incredibly simple with just three main ingredients – organic coconut, organic cassava syrup, and dark chocolate.
The treats are also gluten free and vegan friendly, with just three grams of sugar per bar. Plus, each of the small bars contains just 70 calories.
Another cool thing is that the bars avoid both natural and artificial sweeteners. This is important, as there's still debate about how alternative sweeteners impact our health. Sticking to a small amount of sugar instead could actually be healthier.
Diana's Dark Chocolate Banana Babies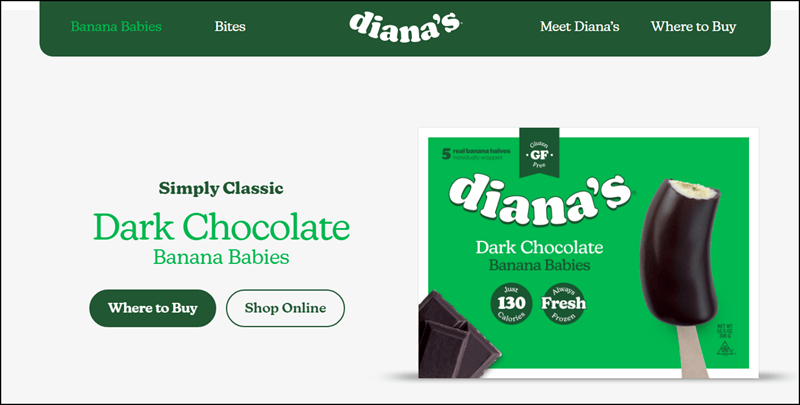 Here's another treat that relies on dark chocolate and fruit. Diana's Dark Chocolate Banana Babies are fascinating, as they literally contain half a frozen banana that has been dipped in chocolate. It's hard to get any simpler than that.
There are some other flavors as well, including milk chocolate, peanut butter cup, and salted caramel, with white chocolate raspberry and chocolate mint coming soon. These other flavors contain more ingredients and are often higher in calories, but they're still pretty healthy.
Skiggi's Kids Pouches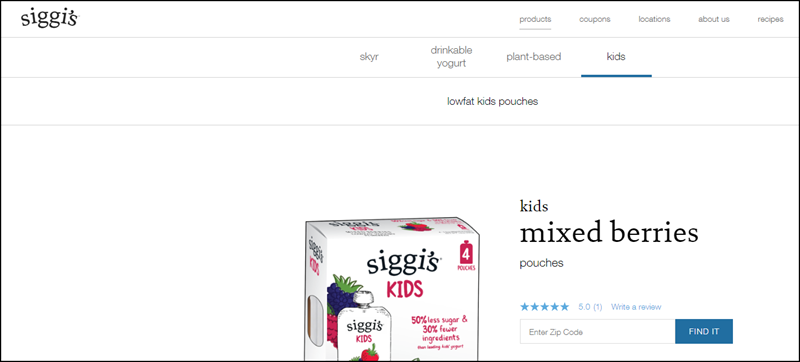 While yogurt itself is good for you, yogurt pouches are often filled with too much sugar and unneeded additives. Siggi's Kids Pouches are a nice break from tradition, as they keep things much simpler. They also claim to have 50% less sugar than leading brands and 30% fewer ingredients.
Their ingredients list really is simple too, relying on milk, milk protein concentrate, fruit, and just a few other ingredients. The yogurt also contains active cultures, making it an excellent source of probiotics.
While these pouches are targeted at kids, they'd be a delicious choice for adults too. They also offer five grams of protein per serving, which makes them pretty filling for a dessert.
Yasso Mint Chocolate Chip Sandwiches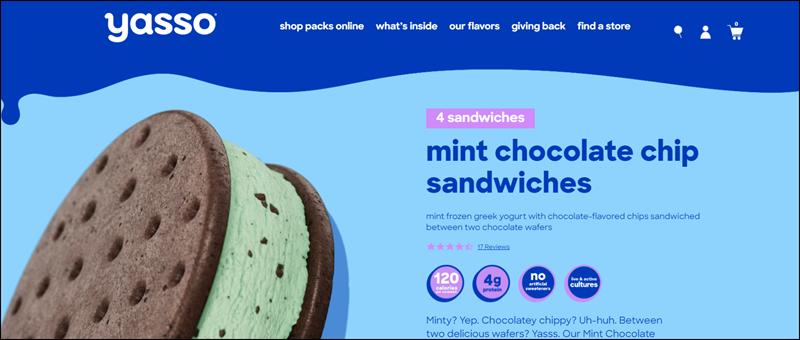 Focusing on healthy foods doesn't mean you need to avoid all of your favorites. Yasso has done a great job of making healthier versions of classic treats, including Mint Chocolate Chip Sandwiches.
Each sandwich contains 120 calories and includes 2 grams of fat, nine grams of added sugar, and four grams of protein.
They don't taste exactly like regular ice cream sandwiches, as they rely on Greek yogurt. But, this is what makes them healthy too. You might even prefer this style to the traditional ice cream sandwich.
Chobani Flips

If you like Greek yogurt, then Chobani Flips work well for dessert too. These have two sections – one with Greek yogurt and the other with some type of mix-in.
The nutritional profile varies from product to product, but you're often looking at around 170 calories, 8 grams of protein, and 12 grams of added sugar per serving. This isn't as amazing as some of the other desserts on this list, but the calorie content is still much lower than ice cream.
There are also many different flavors, so finding one you love shouldn't be too difficult.
Sugar Free Fudgsicles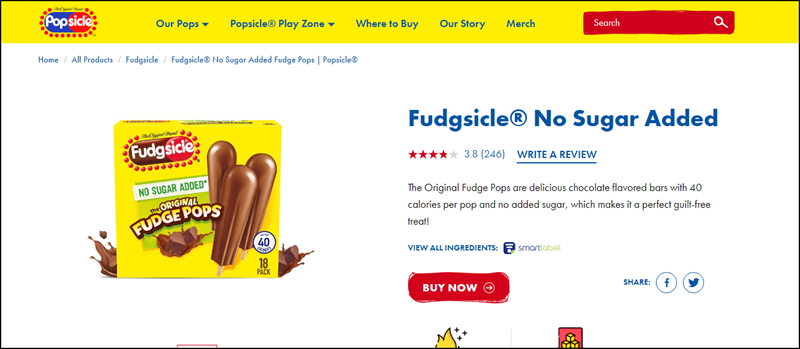 Sugar Free Fudge Pops are more processed than many other entries on this list, but they're an easy chocolatey treat with barely any calories. They might be perfect if you're struggling with chocolate cravings and need a fast treat.
The nutritional profile is pretty impressive, as there are just 2 grams of fat and 5 grams of sugar per serving. The main catch is the additives, as there are plenty of these, including artificial sweeteners and flavors. So, these are best kept as occasional treats.
Nuts And Seeds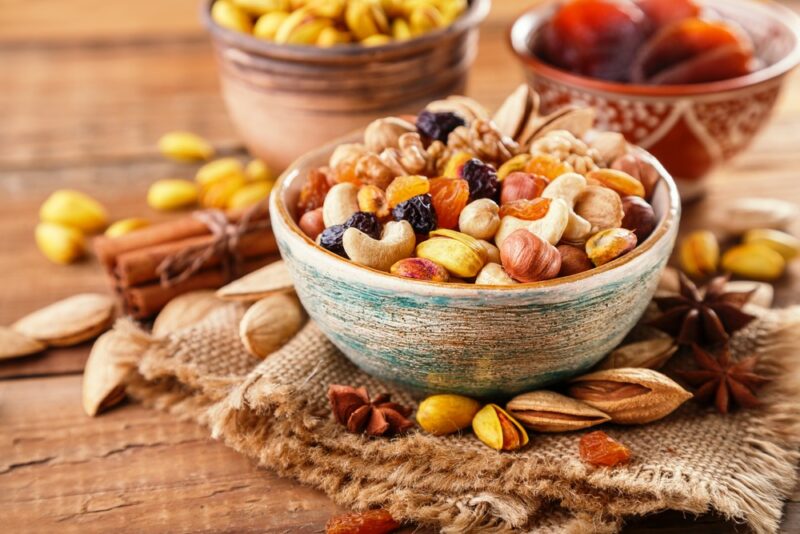 Why not go back to basics with nuts and seeds? Despite being high in fat and calories, these snacks are still healthy.
Some of the benefits come from the protein content. This protein helps to keep you satisfied, which reduces the risk of over-snacking.
Plus, we're talking about an unprocessed dessert that contains plenty of nutrients, plant-based compounds, and healthy fats. Nuts and seeds are savory rather than sweet, but that's not a bad thing either. Many of us need to cut back on sugar anyway.
Mayunoa Harvest Fruit Bites


Mayunoa Harvest Fruit Bites are exceptional. Not only are they organic, but the company sticks to an exceedingly short ingredients list.
Seriously, the mango and coconut flavor just contains mango and coconut. That's it. There are no preservatives and no added sugar. The ingredients are also ethically sourced and direct trade certified. So, you're helping the workers and promoting your own health. We call that a win-win.
Fiber One Cake Bars


We mentioned the brownies from Fiber One earlier, but those aren't all the company offers. They also have cake bars that follow the same patterns.
For example, they have a Soft Baked Birthday Cake Bar with 70 calories, six grams of fiber, and just 2 grams of sugar. The company also has other flavors, plus chewy bars, protein bars, and more. Most of their products are fairly low in calories, so you can simply choose your favorite type.
Chloe's Oatmilk Pops


Oat milk is a fantastic alternative to regular milk, as it's dairy free, high in fiber, and still satisfying. Chloe's Oatmilk Pops give you a creamy treat in plenty of different flavors.
The raspberry chip pops look particularly delicious. Each pop contains 100 calories, 2.5 grams of fat and 1 gram of protein. There are 13 grams of sugar, but this is still much less sugar than in most regular popsicles.
Oreo Thins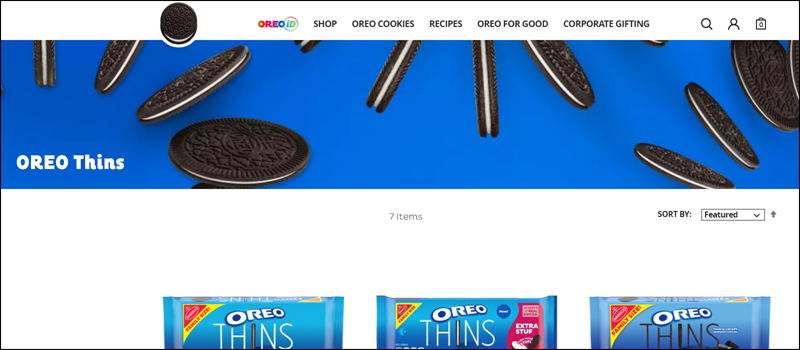 Oreos certainly aren't the healthiest treats on the planet. Not by a long shot. They're incredibly popular though and sometimes you don't want to give up on them entirely.
Oreo Thins are the perfect middle ground, as they're much smaller than a regular Oreo. They're also low in calories, with each little cookie containing roughly 35 calories.
This style works well, as the biggest problem with dessert often isn't what you're eating, but the serving size. Sometimes it's best to simply cut the serving size down, rather than changing the dessert you focus on.
Hungryroot Black Bean Brownie Batter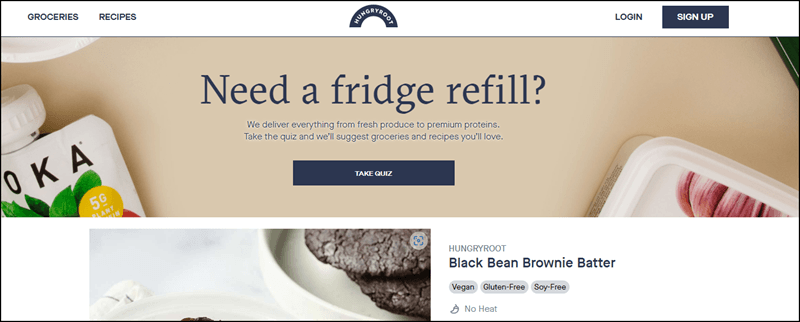 Hungryroot is an interesting meal kit delivery service that also offers some exciting desserts. Their Black Bean Brownie Batter is particularly stunning.
This is designed as a healthy alternative to regular brownies and certainly delivers. Moreover, the brownie batter really does rely on black beans, along with ingredients like almond butter, vegan chocolate chips, maple syrup, and cocoa powder.
The batter can even be baked and turns out just like real brownies when you do so. Making it isn't essential, though. The brownie batter can be eaten as-is or used as a dip if you prefer. The sugar content isn't too bad either, at 7 grams per serving.
Highkey Keto Cookies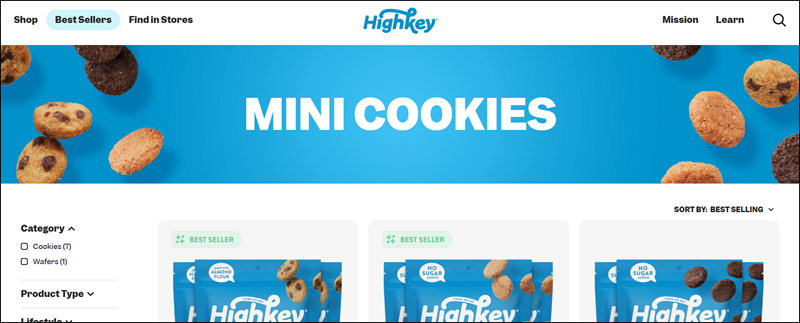 Highkey focuses on creating the snacks that people love, while keeping the sugar content low. The treats are perfect for keto dieters and anyone else who is watching their carb intake.
Highkey Chocolate Chip Cookies are particularly good, as a serving of 7 cookies gives you just 130 calories, 3 grams of protein, 13 grams of fat, and just 1 gram of net carbs.
The ingredients list is decent too, including almond flour, coconut oil, butter, and the like. If the chocolate chip versuin doesn't work for you, Highkey offers plenty of other cookies and treats.
Zambawango Baking


Zambawango is a bakery with low carb and gluten free products, including options like cookies and cream cookies, pumpkin spice whoopie pies, and walnut dark chocolate chip cookies.
Because these desserts come from a bakery, they're much less processed than many of the other products on this list. You don't need to be local either, as Zambawango ships their products throughout the United States.
Dream Pops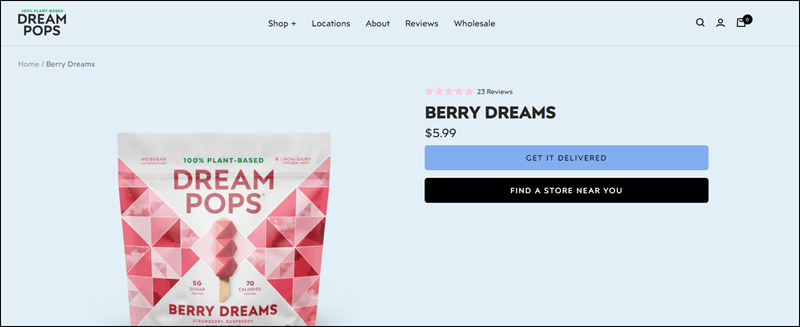 Dream Pops are plant-based frozen treats that keeps the sugar content low. Their Berry Dreams flavor has just 70 calories per popsicle and 5 grams of sugar.
They're very healthy too, as the ingredients include coconut milk, strawberry puree, coconut sugar, passion fruit puree, baobab powder, and natural flavor. The company also has plenty of other treats, like Vanilla Sky Crunch Candy Bites.
The treats can be ordered through the Dream Pops company on a subscription or individually, so it's easy to keep them on hand. You could even serve these as desserts after tacos or pretty much any other meal.
Skinny Dipped Nuts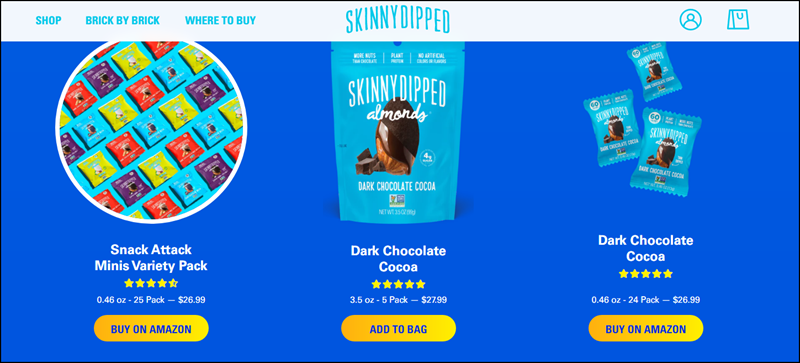 If plain nuts are a little boring, why not try dipped ones instead? Skinny Dipped Nuts has a variety to choose from, such as almonds dipped in dark chocolate, dark chocolate peanut butter almonds, and even unicorn birthday cake cashews.
The dark chocolate almonds are easily the healthiest, as they give you plenty of polyphenols from the dark chocolate and contain few ingredients.
Treats From The Protein Bakery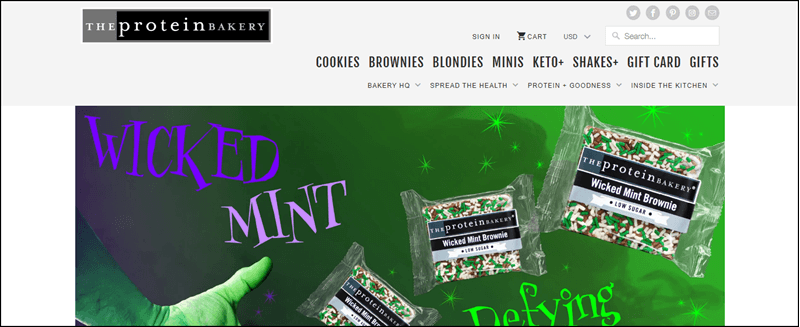 As the name suggests, The Protein Bakery focuses on high protein treats, ones that are much more filling than regular cookies and brownies.
For example, their Wicked Mint Protein Brownie contains an impressive 12 grams of protein and 10 grams of fat. There are only 3 grams of sugar per brownie, which could make these useful even on a keto diet.
There are plenty of other flavors as well, including Pumpkin Walnut Chocolate Chip Protein Cookies and Lemon White Chip Protein Blondie.
Bubbies Mochi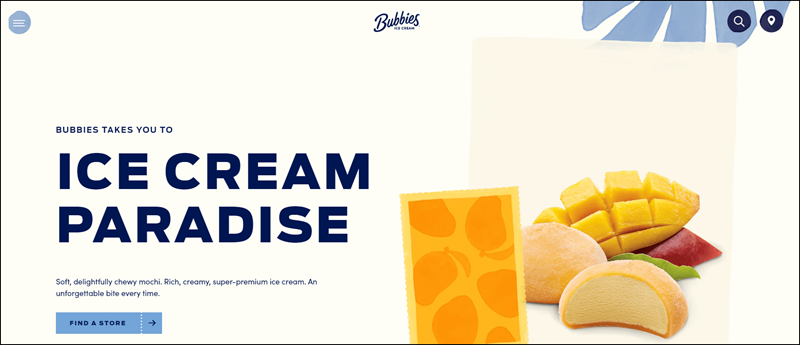 Mochi is a delicious Asian dessert with a glutinous rice exterior and ice cream on the inside. Bubbies Mochi is a great way to enjoy mochi at home without any effort.
The treats rely on ice cream and rice, which mightn't seem ideal. The big advantage is the portion size is small. So, a serving just contains 90 calories, with 11 grams of sugar and 2.5 grams of fat.
Hail Merry Cups


The Mini Pie Cups from Hail Merry also follow the small portion size style. There are key lime, meyer lemon, and sweet potato versions of their miniature pies. These are a fantastic way to get the flavor of your favorite pie, while keeping the calorie content low.
Hail Merry also focuses on natural ingredients, such as shredded coconut, blue agave, virgin coconut oil, and organic coconut sugar. There are some other treats too, including bites that come in at about 60 or 70 calories each.
Alden's Organic New School Orange Cream Bar


This New School Orange Cream Bar is impressive, as it skips artificial ingredients and high fructose corn syrup. Instead, the bars rely on natural ingredients like milk, cream, cream, cane sugar, and an orange base.
Each bar contains 90 calories, 3.5 grams of fat, and 11 grams of sugar. This is a decent nutrient balance for a sweet and delicious treat.
Simply Chocolate Date Bars


Simply Chocolate Date Bars take a natural focus as well. The ingredients list focuses on dates, peanuts, dark chocolate, and sea salt. That's it.
Each bar just contains 80 calories and 9 grams of sugar. Most of that sugar comes from the dates. There's a little added sugar from coconut sugar in the dark chocolate, but not much.
These bars also suit many diets, as they're gluten free and vegan friendly.
Clio Strawberry Greek Yogurt Bar


Our final dessert is these Clio Strawberry Greek Yogurt Bars. They use dark chocolate on the outside and a frozen Greek yogurt filling, giving you plenty of flavor and nutrients. There is some added sugar, enough to give the bars sweetness without going overboard. The protein from the Greek yogurt is helpful too, as this makes the treats satisfying.