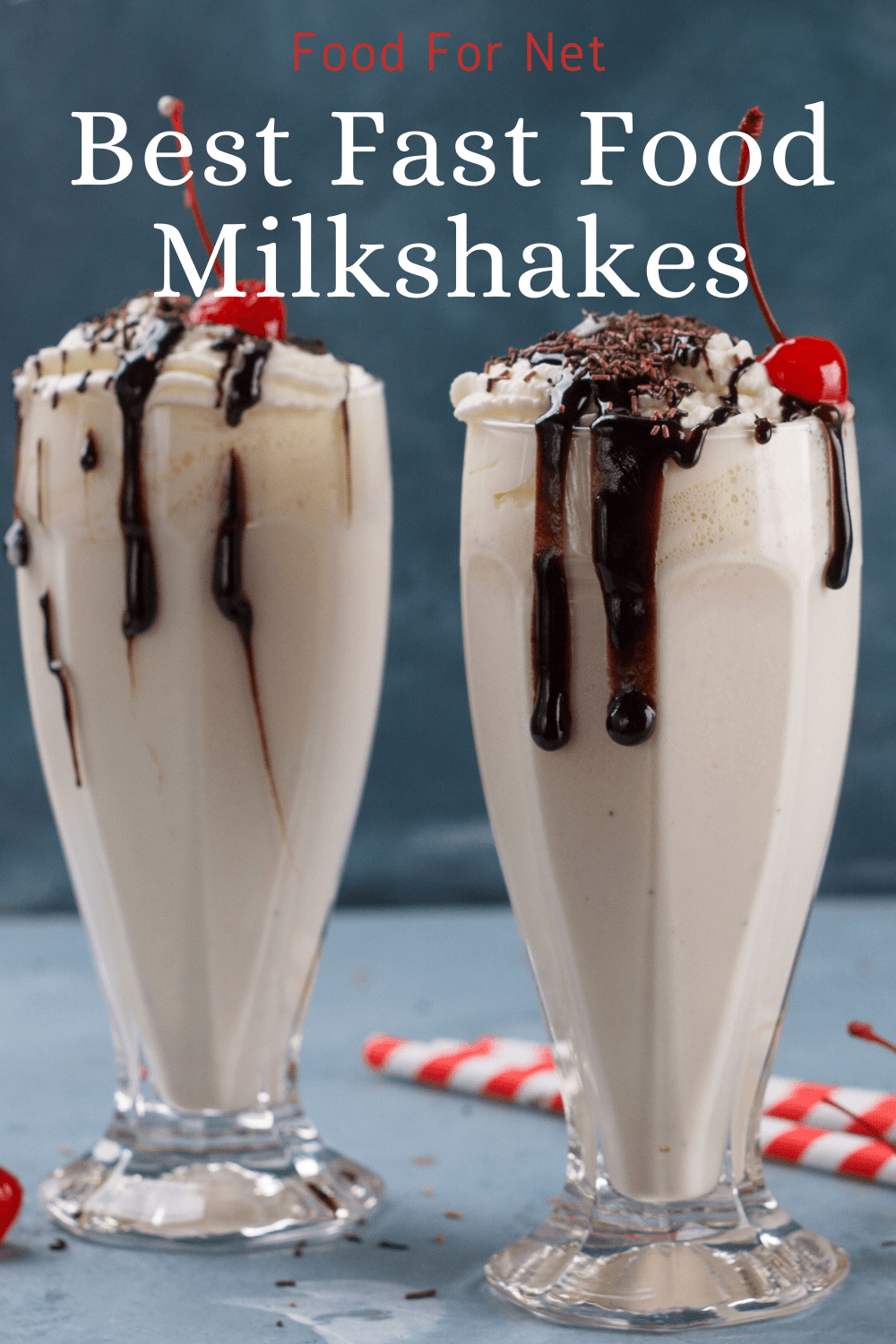 Milkshakes are a summertime staple, and in the peak heat of the day, a milkshake is the perfect side to a burger and fries – whether you're meeting a friend or breaking for lunch. Chocolate and vanilla are your staple flavors, but you can, theoretically, do anything you want with a milkshake.
The basic flavors tend to be universally available wherever you go, but plenty of places like to shake things up a bit and try new things from time to time. Some milkshake flavors become available for a limited time, but the most popular discoveries are often given a permanent position on the menu.
The great thing about milkshakes too is how easy they are to customize. You can always ask for extra whipped cream, for example. Or, many places offer their pre-made options while also giving you the ability to choose any combination of toppings and mix-ins from what they have available. This means you can create your own flavors and keep going back for more of it, or mix things up and try new ingredients every time.
The flavor isn't the only variable when it comes to milkshakes, though. Some people like their shakes super thick and creamy, while others prefer something lighter and thinner. While this comes down to personal preference, it's still important that the company has the right ingredients and methods to create a quality milkshake.
While the idea is simple, not all milkshakes are made equal. You must find the best, most flavorful milkshakes with the perfect texture to sufficiently satisfy the craving, should it arise.
The same is true for other fast food options, like pizza, burgers, and fries. It's always worth shopping around to find the products that fit your needs the best.
Top Ten Best Fast Food Milkshakes
Chick-Fil-A Cookies and Cream Milkshake
Jack in the Box Strawberry Ice Cream Milkshake
Five Guys Bacon Milkshake
Arby's Vanilla Milkshake
Culver's Raspberry Milkshake
Del Taco Strawberry Premium Shake
Wendy's Frosty
Shake Shack's Black and White Shake
In-N-Out Traditional Shakes
Steak N Shake Classic Milkshakes
1. Chick-Fil-A Cookies and Cream Milkshake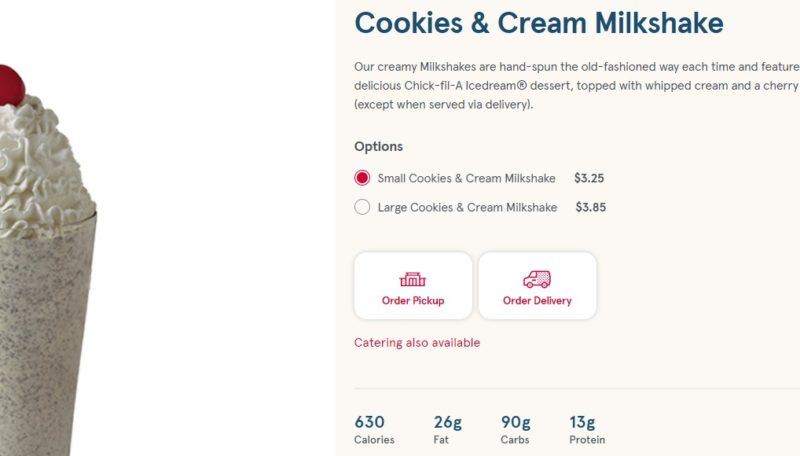 Cookies and cream falls pretty close behind your classic chocolate and vanilla in terms of crowd favorites. The milkshakes at Chick-Fil-A are old-fashioned and hand-spun. The cookies and cream flavor contains their light and creamy "ice dream" product which is essentially soft-serve ice cream made without any actual cream.
Once finished, the shake is topped with whipped cream and served with a single, fresh cherry on top. Available in two sizes, it makes for a sweet side or a great dessert. Much like everything at Chick-Fil-A, it's made with care and attention to detail and quality. This milkshake tops many lists and is the favorite of many loyal customers.
2. Jack in the Box Strawberry Ice Cream Shake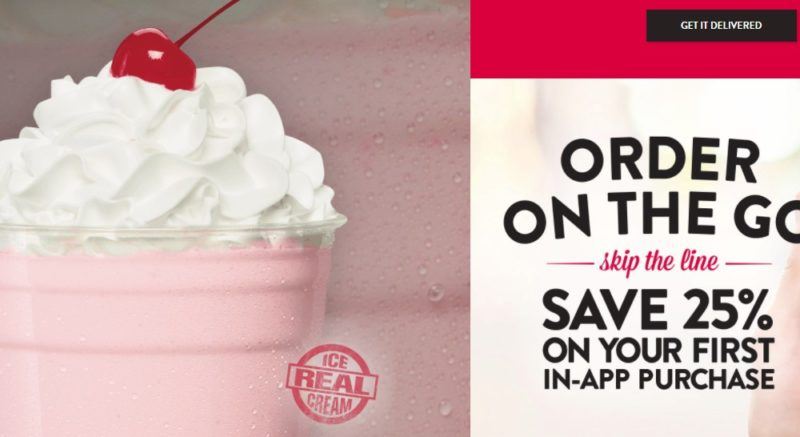 Jack in the Box also serves thick, creamy old-fashioned milkshakes. They tested out several berries but decided that the strawberry was always superior. They blend the berry with vanilla ice cream and delicious strawberry syrup, then serve the shake with whipped cream and a cherry on top.
They're also proud to offer real ice cream in their shakes, meaning the experience is authentic and the taste is top-notch. There's a reason people love this strawberry masterpiece from Jack in the Box – it's the real deal and never disappoints.
3. Five Guys Bacon Milkshake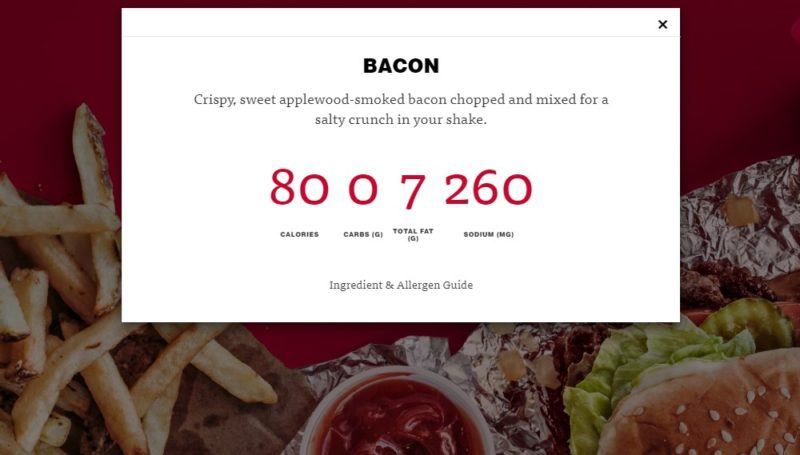 Popular perhaps for its shock value as much as the explosive flavor, is Five Guy's bacon milkshake. The combination certainly isn't for everyone, but it does cater to those that love the sweet/salty dynamic. The drink is exactly what it sounds like – your classic milkshake with bits of bacon mixed right in.
You can go with a classic vanilla shake or choose any of their other available milkshake flavors. If you've never done the bacon milkshake thing before, it may be a good idea to start with plain vanilla to see if you like it all. If it's for you, play around with your other favorite flavors from there. Much like their burgers, many of their milkshakes are customizable with your desired flavors and toppings.
4. Arby's Vanilla Milkshake

Arby's classic vanilla milkshake keeps things simple and classy. Available as a small, medium, or large, it's nothing more and nothing less than a traditional vanilla milkshake. Just because it's simple though, doesn't mean they don't take it seriously.
The shake is made with real ice cream, which you can immediately tell from the perfect balance of smooth and thick with a soft, creamy texture that's never runny or watery. Arby's does it right and you can count on these shakes to be consistently high-quality.
5. Culver's Raspberry Milkshake

Culver's goes out on a limb here with their raspberry milkshake, a delicious, creamy shake that features a less than traditional flavor. They mix up their shake with their very own signature frozen custard that's made with fresh ingredients.
Key ingredients include farm-fresh milk and raspberries. The use of fresh raspberries as opposed to frozen gives the shake a sweeter, fresher flavor and they only use the highest quality berries. Between the custard, berries, and milk, you get a sweet, creamy, flavorful result that often outshines even the more classic flavors offered like chocolate and vanilla.
6. Del Taco Strawberry Premium Shake

Del Taco offers a series of "premium" shakes, available in chocolate, strawberry, or vanilla flavors. While all the shakes are good, it's strawberry that tends to come out on top. The shake is made with real, fresh strawberries and topped with real whipped cream before being served.
If you're craving a sweet treat but don't want a huge sugar overload, they also offer mini-shakes you can order as a compromise. These mini shakes are simply smaller versions of the premium shakes. They contain all the same ingredients but are made on a smaller scale, so you don't have to worry about sacrificing flavor or quality.
7. Wendy's Frosty

Part ice cream, part milkshake, you can never go wrong with a classic frosty from Wendy's. It's a bit of a mystery what they are exactly as some people scoop it like ice cream and others drink it from a straw, like a milkshake. Either method works and is perfectly acceptable.
There's also the french fry phenomenon where people like to dip their french fries into the frosty. It sounds strange at first but a lot of people do it and then rave about how delicious it is. Regardless of how you consume it or what you do with it, Wendy's has created something iconic with the frosty. Available in chocolate or vanilla, it's also a great budget treat as the smallest size is only a dollar.
8. Shake Shack's Black and White Shake

Shake Shack's black and white shake is well-known and a favorite of loyal customers. They've done something amazing with a simple concept – mixing chocolate and vanilla together. These two are the most traditional of milkshake flavors but they're just as delicious when mixed together well.
Shake Shack takes their vanilla frozen custard and slowly mixes in some creamy fudge sauce to create this sweet, flavorful combination. Their frozen custard only ever uses real sugar, meaning no high-fructose corn syrup, and cage-free eggs from dairy farmers that never use artificial growth hormones. They take these top-notch ingredients and spin the custard daily right at the shop.
While custard and milkshakes are never touted as a healthy snack, Shake Shack does what they can to remove the unnecessary artificial ingredients and make their sweet treats as healthy and wholesome as possible.
9. In-N-Out Traditional Shakes

In-N-Out is another place that likes to keep it simple with its classic milkshakes. Available in the three most traditional flavors – chocolate, strawberry, and vanilla – these shakes are thick, creamy, and made with real ice-cream.
Their shakes are known for having strong flavors, which many will appreciate. Some have even ordered a special shake off their "secret menu" which can get you a Neapolitan shake. This is a combination of all three flavors, similar to the popular Neapolitan ice cream. If you're a fan of this ice cream – and aren't the type to eat each flavor separately – this secret extra shake option might be a good one for you to try.
10. Steak N Shakes Classic Milkshake

Steak N Shake has the nostalgic milkshake mastered. While it's great that we can order quick, tasty milkshakes while on-the-go, sometimes there's no beating the homemade milkshake. These are less uniform but often fresher and more authentic, and you can add whatever ratio of milk/fruit/ice cream you want.
This is where Steak N Shake shines. Their classic vanilla milkshake is hand-made to order with customizable topping options, giving it that perfect nostalgic, home-made feel. You can order it as is with the standard ingredients, or you can opt for no whipped cream or extra whipped cream! The cherry on top can also be omitted on request.
While you can never go wrong with the classic vanilla shake, Steak N Shake has also come up with plenty of more adventurous options. If you're up for something a little different, they have flavors like peppermint chocolate chip, eggnog, cotton candy, birthday cake, Butterfinger, chocolate peanut butter, and more.