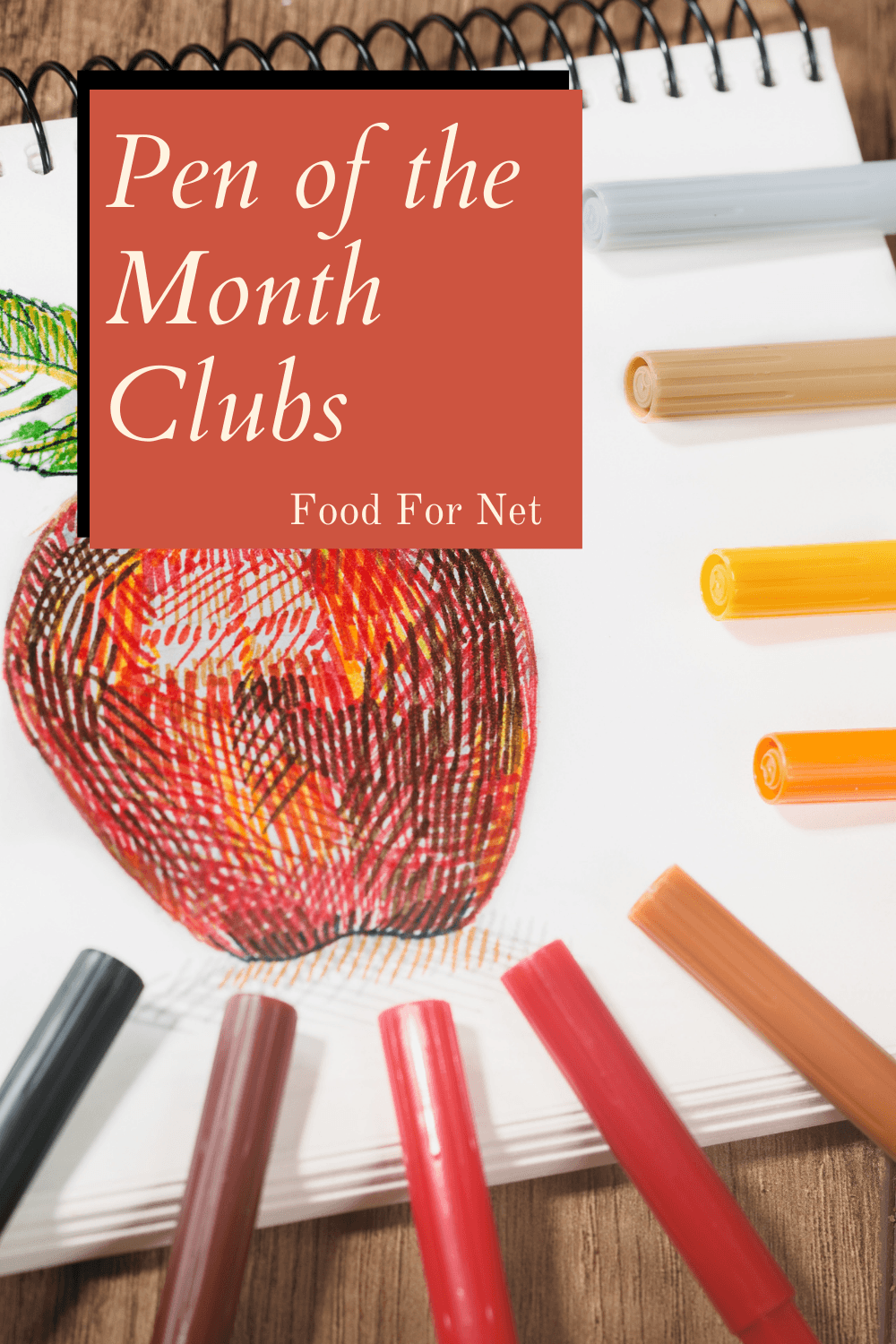 Pens have played a significant role in recording our history, starting as far back as ancient Egyptian times. However, these pen of the month clubs focus on modern creations.
The first pens were made from plants with hollow shafts, like bamboo. These first pens had a sharp end to create a finer pen point. By the 6th century, people started using quills, often from that of a goose, to take the place of plant-based pens. These quills were shaped to a fine point with a cut into a capillary to store the ink.
Though quills were useful for writing, they were far from the cleanest or easiest tool to use, making the invention of the metal nib a welcome sight. The nib was introduced by a jeweler in Baltimore and hit the market in the early 1800s. The nib was made from metal, creating a more durable and cleaner writing tool.
The nib eventually gave way to the fountain pen created in France that could store a more generous amount of ink and allowing for a cleaner and more efficient way to write. The drawback to the fountain pen was the cost, so many continued to utilize the more economical nib.
Finally, in the later 1800s, the ballpoint pen was patented in Hungary, changing the way people looked at pens forever. Of course, pens continued to evolve, and felt tip, gel, and glitter pens all made their way into the world of pens.
Though pens have a long history and are not as utilized as frequently as before, thousands of pen enthusiasts still enjoy the feel of a good pen. Today pens come in a variety of shapes, sizes, colors, styles, and prices.
For those who love pens, there are several pen of the month clubs. Some of these pen subscription boxes are a collection of fun pens, whereas others offer higher-end options. And, there are pen subscriptions that include pens plus a few other fun goodies. So whatever type of pen of the month club you are looking for, you are sure to find the perfect match.
And, if you love pens, you might enjoy other clubs too, like a stationery club, an adult coloring book club or a book of the month club.

Pen of the Month Clubs
Paper + Craft Pantry
iPenStore
Truphae
Cloth & Paper
The Inky Box
Scribe Delivery
Paper + Craft Pantry

Paper + Craft Pantry, founded in 2015 by Pei, has both a brick and mortar storefront and an online store, making it easy and convenient to do business with them.
Paper + Craft Pantry offers every imaginable type of stationery including:
Planners
Washi tape
Pens, markers, highlighters, and pencils
Stickers
Premium journals
Greeting cards
Box sets
However, what sets Paper + Craft Pantry apart from other stationery stores is that they host workshops both in-person and online. They offer various workshop kits such as Goal Setting, Block Printing, Water Color, and Keychain Painting.
Plus, Paper + Craft Pantry also has two subscription boxes: Monthly Stationery Club and Pens of the Month Club. The pen of the month subscription is $35 per month.
Each month the recipient will receive a collection of pens, with no two months the same. The pens will vary in color, style, and brand. The subscription is flexible and can be ordered, canceled, or paused by the 6th of the month. Pens ship out on or before the 20th of each month, via USPS. Shipping is not included in the price, so you need to pay this on top of the monthly fee.
iPenStore

iPenStore is an online pen and stationery store. However, iPenStore first started as a storefront in 1932 on Michigan Ave in Chicago, Illinois. Today, iPenStore is owned and operated by the 4th generation and is a web-only store.
iPenStore carries every imaginable type of pen, like fountain, limited edition collectible, ballpoint, rollerball, pressurized space pens, and more. Plus, they have other products such as pencils, stationery, ink, and accessories.
And because of iPenStore's long history, they have built relationships with over 50 pen suppliers, including top global brands. They even carry Rosetta, an iPenStore exclusive brand.
iPenStore has a pen subscription box that ships quarterly, in January, April, July, and October. Subscriptions are available in the US for $50, Canada for $60, and internationally for $65. Shipping is included with all of the subscriptions.
Each quarter the recipient will receive a box with:
A fountain pen
Journal or notebook
1-2 ink samples for the fountain pen
Other fun writing implements like ballpoint pens, gel pens, and pencils
Occassionally members will receive a limited edition pen too.
Quarterly pen subscription boxes are charged on the 1st of the appropriate month and ship 3-5 business days after. Domestic packages ship via USPS.
Truphae

Truphae, owned and operated by married couple Chris and Kylie Henline, was founded in 2016. Though the company was started in New York, the owners soon moved their operation to Greenville, South Carolina, in 2017. Today, they operate both a brick and mortar storefront as well as their online store.
Truphae is a premium pen store that offers pens starting under $10 and going up to more than $30,000, ensuring they have a pen for every price range. Truphae carries the top name brands like Montblanc and S.T. Dupont.
In addition to their pens, they also sell fountain pen ink, ink wells, pen cases, stationary, and cigar accessories. Truphae offers trade-ins and consignment options too. As the founders had hoped, Truphae is truly the "one-stop-shop for all things pen related."
If you are a pen enthusiast, you won't want to miss out on their pen subscription boxes. There are 3 different subscriptions to choose from:
Collector Monthly Subscription $150 or Premium Option $155 per month

Choose any or all of these categories to be included in your personalized collector box, includes higher-end brands: Fountain pens, ink, cases, and notepads.

Inkmeister Monthly Subscription $25 or Premium Option $30 per month

Budget fountain pen such as JINHAO
Ink samples – Includes brands like Noodler's, Robert Oster, ST Colorverse, Iroshizuku, LAMY, Monteverde, Dupont, and Visconti.

Penthusiast Monthly Subscription $75 or Premium Option $80 per month

Choose any or all of these categories to be included in your personalized collector box: Fountain pens, ink, cases, and notepads.
Premium options include full-size bottles of ink. All orders ship either on the 1st or the 15th of each month, depending on when you place your order.
Cloth & Paper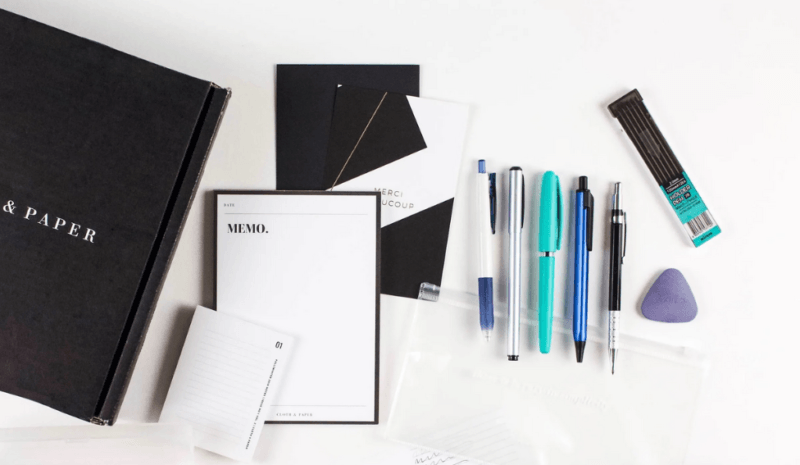 Cloth & Paper, founded in 2015 by Ashley Reynolds, is located in Richmond, Virginia. Ms. Reynolds started Cloth & Paper after leaving her corporate job of nine years.
When Reynolds could not find the perfect planner, she decided to design her own, which is when it all began.
Reynolds is a long-time pen and planner lover making this entrepreneur adventure the perfect match for her passions. Though the business started with planners, it didn't take long before expanding to include other stationery goods such as pens, memo pads, organizational tools, calendars, and more.
Cloth and Paper is a full-service stationery store that sells practical products to help people stay organized. They also have 3 subscription boxes ideal for the pen enthusiast. The monthly subscription boxes they offer are:
Penspiration starting at $18 per month

5-7 pens and pencils each month
Inspiration card that outlines the pens included that month

The Planning + Stationery Box starting at $38 per month

6-8 items including planner inserts and other stationery items like postcards, notepads, journals, and pens

Penspiration and Planning + Stationery Box starting at $48 per month

This is the best of both Penspiration and The Planning box
Penspiration is available in a month-to-month or 3-month duration option. The other subscriptions come in month-to-month, three-month, and six-month options.
The Inky Box

The Inky Box is a pen subscription company, though they offer a couple of one time only boxes too, like the Beginner Box and the Mystery Box. Both of these on time boxes are the perfect way to try out the Inky Box before signing up for one of their subscriptions.
The primary subscription boxes available are:
The Inky Box

Month-to-month for $39.95
3-month prepay for $109.95

6-month prepay for $199.95
12-month prepay for $379.95

The Inky Box mini

Month-to-month for $14.99
3-month prepay for $39.99
6-month prepay for $76.99
12-month prepay for $145.99
Both subscriptions include an array of writing tools like acrylic paint markers, Kuretake Medium-Tip Bimoji, Pentel Brush Tip Sign pen, and Tombow Hard-Tip Fudenosuke pen. Plus, they include practice sheets, greeting cards, and more. The Inky Box mini is the same as the original, but with fewer writing tools.
Boxes ship out during the 1st week of each month. To learn more about the products included in the Inky boxes, follow the company on Instagram or subscribe to their YouTube channel.
Scribe Delivery

ScribeDelivery was created by married couple Chad and Kristen Ettelbrickis, located in Frisco, Texas. ScribeDelivery is a family-owned and operated subscription box company aiming to share its passion for notebooks, fun pens, and artistic inspiration with other stationery aficionados.
ScribeDelivery offers more than just subscription boxes they also carry a large variety of stationery products like notepads, composition books, notebooks, planners, and stationery themed apparel.
Subscription boxes from ScribeDelivery contain a lot more than just pens. Each package includes a premium selection of fun items like notebooks, journals, and pencils, all created to keep you inspired to write. The subscription durations they offer are:
Month-to-month for $29 per month
12-month prepay for $300
Both boxes include free shipping.
The monthly boxes ship via USPS and go out on or close to the 5th of each month. Each month is a different theme of surprise items.