With 2021 lurking just around the corner, many of us are putting together our new reading lists. Before you sit down at the computer Googling the best reads lists, you should check out these book of the month subscription boxes first.
Book of the month subscription boxes eliminate the need for putting together a reading list. Plus, these book clubs save time, money, and the books are conveniently delivered to your door every month.
Many of the month's book subscription boxes allow you to choose your preferred genre, and many are very flexible, allowing you to change your plan as your mood changes. And for those looking for a specific genre such as non-fiction, thriller, self-improvement, or the classics, there are book subscriptions that specialize in genres.
Depending on how fast you read and your reading style, you may want to sign up for more than just one book subscription to ensure you always have a good read on hand. Plus, with the holidays coming up fast, a book of the month subscription box makes for an amazing gift.
Not only do these clubs range in pricing, but some also send multiple books per month. And some even send fun goodies to accompany that month's read.
If your whole family is into reading, then you might want to look at book subscriptions for kids too. Or, for something a little different, what about comic book subscriptions?

Book of the Month Subscription Boxes
Just the Right Book

Just the Right Book is part of RJ Julia Booksellers, a brick and mortar independent book store located in Madison, Connecticut. Just the Right Book is their online book subscription box service specializing in finding the perfect read for each of its customers.
Every month one of the experienced book curators from Just the Right Book will hand-select and mail your next great read. The professionals at Just the Right Book know which books to choose based upon your personal reading profile. Your reading profile includes your favorite authors, books, genres, interests, and more.
When you sign up with Just the Right Book subscription you will first choose:
Hardcover or softcover
Book Plan: Adult, teen, or child
Total Number of Books: 4, 6, or 12 (only one book is shipped per month)
Who the Subscription is For: Yourself or someone else
Delivery Frequency: Over the course of the year or once a month
Payment: Month-to-month or in-full
Adult plans start as low as $23 per month; the more books, the higher the discount.
After signing up, you will be asked to fill out your preference form so that the Just the Right Book staff know what to send you. The first book is shipped within three to four days after you submit your preference form.
Plus, if you have a specific book in mind, you can always send an email requesting that book. And if you are ever unhappy with a book you receive you can contact the staff within four weeks of receiving the book to exchange it, free of charge.
Book of the Month

Book of the Month is an easy and economic book of the month subscription company that has helped readers find great books since 1926.
Every month five excellent books are chosen for you to pick from for that month's read. You can decide on one or more books from that month's selection. The books included each month are often early releases, new authors, or fresh perspectives.
All of the books included in the Book of the Month subscription box are hardcover books. Each month your first book is $14.99, and add-on books are just $9.99.
You can choose up to two add on books to be included in that month's box. In addition to the five monthly book recommendations, you can also peruse all of the books available on their online store.
To make things easier for their members Book of the Month has an app so you can make your monthly selections and update your account conveniently from your phone.
All of the memberships are flexible and allow you to skip a month or cancel any time. For avid readers, you can join their BFF group after you receive your twelfth box.
BFFs receive a free welcome book tote with their 12th box. Plus, BFFs get a free add-on book during their birthday month. Finally, at the end of the year, you get to choose an additional free book from their five best books of the year.
And if you are part of a book club or want to get one started, Book of the Month can help you there too. A book club membership works similarly to the individual memberships, making it easy for all members to get their books simultaneously.
Once Upon a Book Club

Once Upon a Book Club was founded by Michelle Wolett, who also owns Once Upon a BookCase and Chick Lit Designs out of Gilbert, Arizona. Once Upon a BookCase and Chick Lit Designs create cases for phones and iPads that look like the cover of your favorite book.
Once Upon a Book Club is not your average book subscription box; instead, they bring each month's book to life. When you receive your book of the month, you will also get a few fun goodies that coincide with that month's read.
Each box contains between 3-5 wrapped items marked with a specific page number. Each wrapped surprise is supposed to be opened when you reach that page in your book, helping bring the story to life.
In addition to these fun add-ons, you will also receive a 5×7 quote print from the book. Finally, when you log in to Facebook or Instagram, you can access that month's discussion questions and read along dates to participate in live discussions and gift openings with other members.
There are four book club options to choose from:
Month-to-month for $34.99
3 month prepay for $100.99
6 month prepay for $199.00
12 month prepay for $390.00
There is a $10 shipping fee for boxes delivered in the US; shipping is available outside of the country at an additional cost.
Books included in the adult membership include women's fiction, magical realism, contemporary fiction, historical fiction, mystery, and thriller genres.
Each month's books are preselected and are non-refundable. If you are concerned that you may receive a duplicate or may not like the upcoming book; you can always contact Once Upon a Book to find out the next month's selection.
BookCase Club

BookCase Club is an easy no-fuss book of the month club subscription box. BookCase Club allows you to pick the genre, and they do the rest. There are five genres to choose from:
Teenage Dreams – YA books are enjoyed by all ages, think The Fault in Our Stars, The Hate You Give, and The Divergent Series
Booking for Love – Romance novels
Surprise Me Fiction – A variety of different fiction novels
Strange Worlds – Sci-Fi/fantasy Books
Thrill-Seeker – Mystery and thriller novels
After choosing your genre you then select the duration of the book club:
Month-to-month for $9.99 per month
Bi-monthly for $12.99 (Not available for YA)
3-month prepay for $28
6-month prepay for $54
12-month prepay for $100
Each box contains two hand-selected books each month. Shipping is an additional $5 per month. Book subscription boxes go out on the first of each month.
All of the memberships are flexible; members can change their genre in each billing cycle. If you have a multi-month subscription, you can send an email to their support team to swap genre plans before your renewal period.
The membership includes a combination of both hardcover and paperback books. The books chosen each month are a combination of popular and new authors.
Unplugged Book Box

Unplugged Book Box is a unique book of the month subscription box. What makes Unplugged different than other book subscriptions is that each month is a different theme. In addition to a new book each month, the box contains four to six self-care goodies that are part of that month's literature theme.
Some examples of what self-care items included may be are candles, lip balm, novelty soap, wine glass, essential oil roller, and a coffee mug.
The themes vary from month-to-month but are always literature and self-care focused, such as Slow Down, Home is Where the Heart Is, and Keep Your Head Above Water.
There are two book club options to choose from Adult Fiction or Young Adult Fiction. Both options come in the following term options:
Month-to-month for $39.99 per month
3-month prepay for $117.45
6-month prepay for $234.10
12-month prepay for $456
Memberships includes a combination of hardcover and paperback books. And the books selected for this club are all new releases.
Page 1 Books

Page 1 Books is a personalized book subscription box that makes finding the newest great reads even easier. First, you fill out your personal profile questionnaire that asks questions such as:
Tell us about books and authors you love
Books and authors you don't enjoy
Anything else you'd like us to know?
Link to your Goodreads profile
The more details you can provide, the better they can match you with amazing books. After providing them with your profile information, the professionals at Page 1 Books will handpick the perfect book for you, wrap it and send it out with a special literary treat.
There are three subscription term options for three months, six months, and twelve months.
Each membership includes a mix of hardcover and paperback books, but you can choose to upgrade your plan to include hardcovers only. And if you prefer books in large print, they have that available too.
After receiving and reading the book, you can go online and provide feedback to help the staff at Page 1 Books choose your next book. Plus, if for some reason that month's book doesn't work out for you, they will send out a replacement free of charge.
In addition to their subscriptions, Page 1 Books also has a full online bookstore.
Tailored Book Recommendations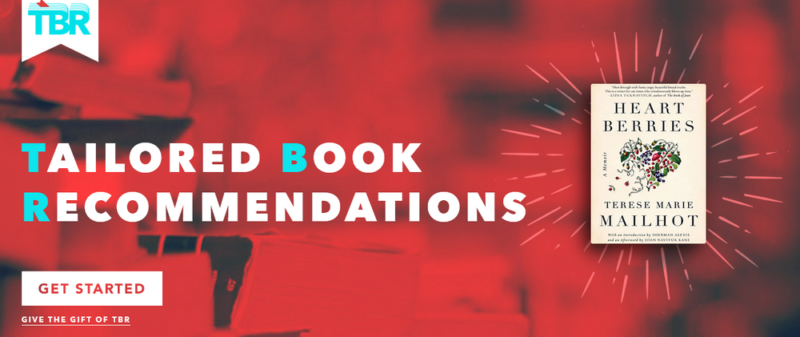 Tailored Book Recommendations (or TBR) takes an unusual approach. The service pairs members with a 'professional book nerd' or 'bibliologist'. That bibliologist selects three books for you every quarter, based on the books you enjoy reading and what you are looking for. You even get a personal note from your bibliologist with each box.
There are two levels to the subscription.
The first is Recommendations Only, which costs $16 per quarter or $52 per year. The cost is low because you're not sent any books. Instead, you're just provided with recommendations. Sourcing the books, if you want them, is up to you.
The other level is Hardcover. This one costs $80 per quarter (+ $5 shipping) or $315 per year (free shipping).
The Hardcover level of TBR is only available to people in the United States, although you can order the Recommendations Only level regardless of where you live.
While this subscription does ship out books quarterly rather than every month, you're getting multiple books at a time, so the amount is similar to the other subscriptions on this list.
Related Content