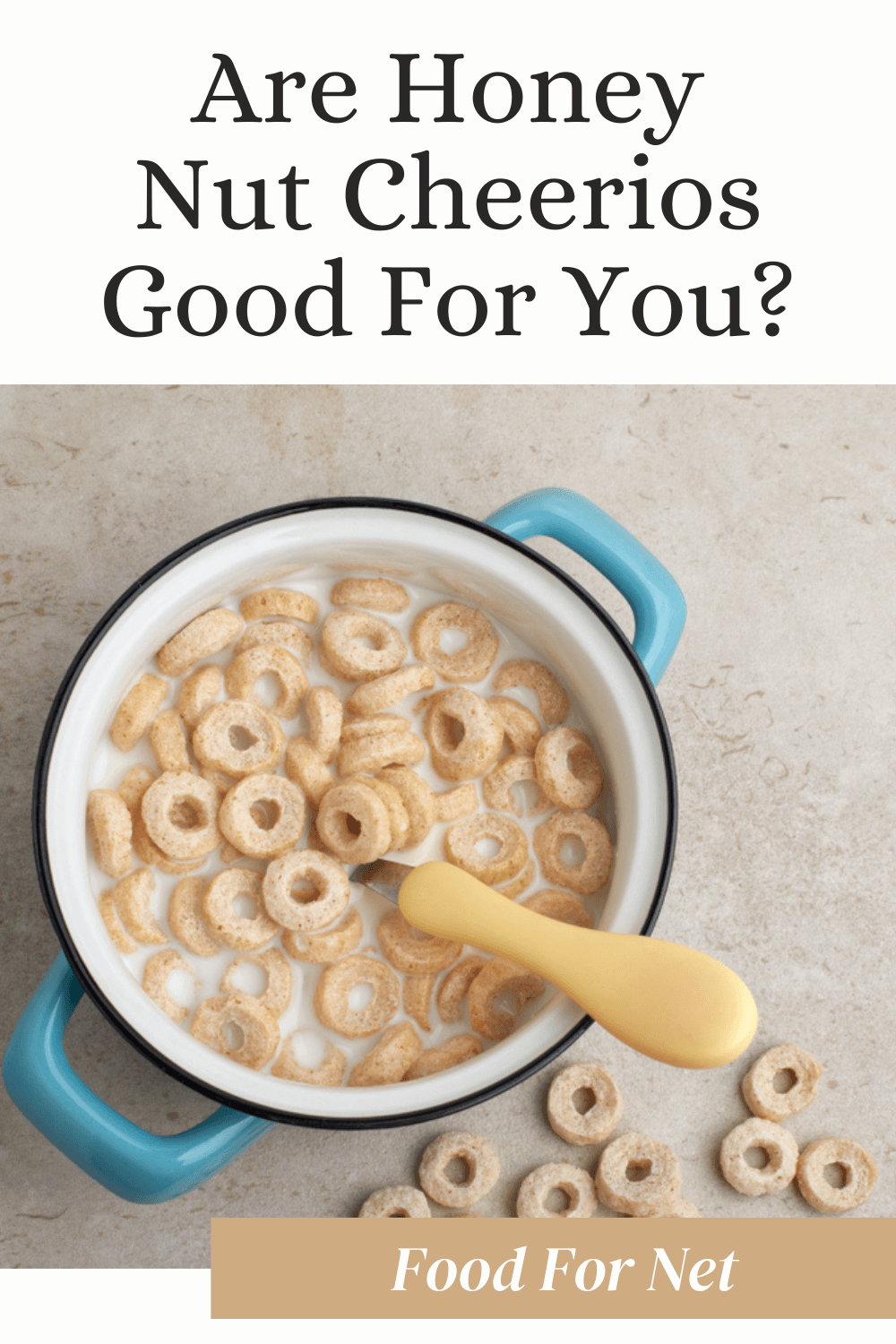 Honey Nut Cheerios look like a healthy choice. The packaging includes claims like can help lower cholesterol, gluten free, and naturally flavored. Plus, the cereal is made using whole oats and real honey. Sounds fantastic, right? So are Honey Nut Cheerios good for you?
Yet, food isn't always what it seems to be, especially when it's been heavily processed. Products like Gatorade, Vitaminwater, and Ensure all highlight this pattern, as they tend to be full of sugar and additives.
Cereal is particularly notorious. Many of the products that line our shelves look much healthier than they actually are. Some are even little more than candy. That brings us back to Cheerios. Are Honey Nut Cheerios good for you? Do they offer all the benefits that the package suggests, or do they fall short?
Are Honey Nut Cheerios Good For You?
Ingredients And Nutrition
Do Honey Nut Cheerios Lower Cholesterol?
Benefits Of Honey Nut Cheerios
Problems With Honey Nut Cheerios
Isn't The Sugar Natural?
What About Other Types Of Cheerios?
Final Thoughts
Ingredients And Nutrition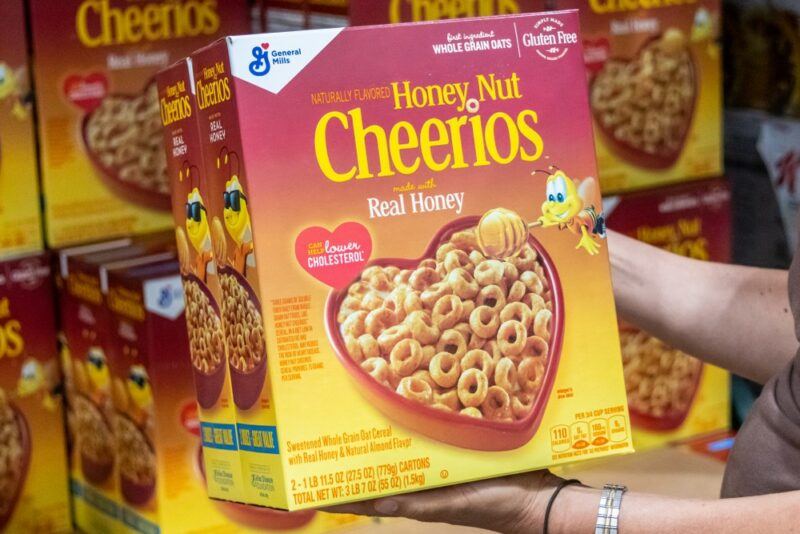 The ingredients list for the cereal starts off with whole grain oats, followed by sugar, oat bran, corn starch, honey, and brown sugar syrup. Other ingredients include preservatives, flavors, oil, and various nutrients.
As for macronutrients, 1 cup of dry Honey Nut Cheerios gives you this profile:
Fat: 2 grams
Carbohydrates: 30 grams
Fiber: 3 grams
Sugars: 12 grams
Protein: 3 grams
There are some vitamins and minerals present too. You get 20% of your Daily Value (DV) for iron, thiamin, vitamin B6, vitamin B12, folate, and zinc, along with 10% DV for vitamins A, C, D, B3, calcium, and riboflavin.
Some of these naturally occur in the oats, while others are added in to make the cereal more nutritious.
Of course, you probably won't eat Cheerios on their own. Most people add milk or plant-based milk to make Cheerios better. Doing so changes the nutrient profile, often giving you some more protein, sugar, and nutrients.
Do Honey Nut Cheerios Lower Cholesterol?
Before we get into the benefits and the risks of this cereal, we need to address the claim that Honey Nut Cheerios help to lower cholesterol. This needs talking about, as the company makes such a big deal of the claim.
First of all, yes, Cheerios can help, as they rely on whole oats. Among other things, oats are an excellent source of soluble fiber. This fiber is important for your digestion and can decrease your cholesterol levels as well.
This effect should help to decrease your heart disease risk, especially if your diet is also low in saturated fat.
So far, so good.
There's one catch though. This benefit comes from the oats, so any source of oats is going to have the same effect. For that matter, any source of soluble fiber should decrease your cholesterol levels and protect your heart.
Honey Nut Cheerios aren't unique in this area at all – and the potential heart health benefit isn't enough of a reason to eat this cereal regularly.
Plus, the Cheerios won't lower cholesterol on their own. As the packaging itself states, you need 3 grams of soluble fiber daily for this effect. You get less than a gram in a serving of Honey Nut Cheerios.
Benefits Of Honey Nut Cheerios
They Provide You With Whole Grains
It's no secret. Diets that are rich in whole grains offer many benefits. People who eat like this regularly end up with a lower risk of heart disease, obesity, and more. Whole grains might even extend your life.
Whole grains are surprisingly uncommon these days, as we're often eating refined grains instead, like with bread that's been made using white flour.
Cheerios are fantastic in this sense. Not only are they a source of whole grains, but they're also very accessible. Even kids enjoy them, which isn't the case for most other whole grain foods.
They're Convenient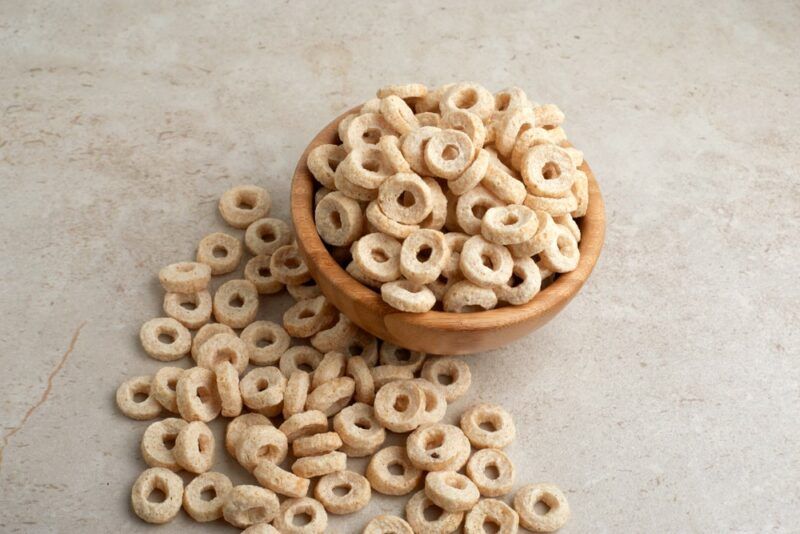 Cereal is incredibly popular, partly because it's so convenient. You just need to pour it into a bowl with some milk and that's it – breakfast.
Heartier breakfasts often involve more prep work and perhaps even some clean up.
Let's face it. Most of us don't have that much time or energy first thing in the morning. The idea of preparing a full breakfast might feel all but impossible.
You're Getting Some Nutrients
While Cheerios aren't incredibly nutrient dense, they do give you either 20% or 10% of your daily needs for a variety of nutrients.
This is a useful effect, as vitamins and minerals are essential for how we function. In fact, being deficient in essential vitamins and minerals can lead to serious health issues down the road.
Problems With Honey Nut Cheerios
The Sugar Content
Plain Cheerios have a fairly good balance of sugar to fiber. The same can't be said for Honey Nut Cheerios.
A single serving of the Cheerios contains a whopping 12 grams of added sugar. 12 grams! That's excessive, especially as you're only getting 3 grams of fiber in that same serving.
It's also too easy to have more than one serving at a time. After all, a serving of Cheerios is just a cup and isn't very filling.
Sugar is a serious problem these days. It's regularly used to make food taste better, sometimes when it isn't needed at all.
Let's not forget that sugar doesn't provide any health benefits anyway. It tastes good and gives you a burst of energy. That's it.
The energy boost isn't as good as it sounds either, as you often end up with a sugar rush, followed by a crash not long after. This pattern is the last thing you want after breakfast.
Sugar has also been associated with many health issues. It can increase inflammation, raise the risk of obesity and type 2 diabetes, while putting you at risk for other diseases as well.
Even if you do want a little sweetness, 12 grams of sugar is excessive. It would be better to buy regular Cheerios and sweeten them yourself.
High In Carbs, Low In Protein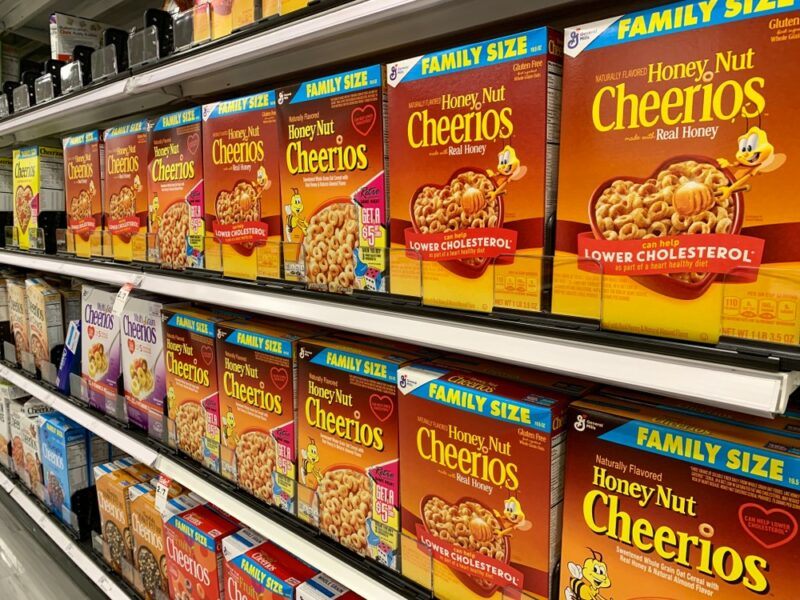 The ideal breakfast sets up for the day, giving you sustained energy and helping you to stay satisfied.
Honey Nut Cheerios aren't likely to have this effect on their own. After all, you're getting 30 grams of carbs per serving and just 3 grams of protein.
That's a horrible balance.
Plus, carb-heavy diets have been linked to no end of problems. Not only do they raise your risk of some diseases, but your nutrient intake is often lower than it could be too.
Cheerios might seem better than most foods because they rely on oats. But, you're still only getting 3 grams of fiber per serving, so they're not that amazing.
The Additives
Cheerios mostly focus on healthy ingredients, but some additives are used as well. The most concerning of these is tripotassium phosphate.
This is a common additive, one that you'll find in many processed foods. The FDA sees it as being harmless, but some evidence suggests otherwise.
Consuming such additives in small amounts isn't likely to cause serious issues. But, Cheerios aren't an isolated case. You're getting the same additives in plenty of other foods as well, so the health effects could easily add up.
They're Heavily Processed
Honey Nut Cheerios are made from oats, but they don't look much like it. That's because they're heavily processed.
This type of processing is always a problem, as each processing step can reduce your food's nutrient and antioxidant content. Processing may also mechanically break apart the fiber somewhat, reducing its benefits.
Processing food almost always reduces the health benefits. Such foods are best seen as a last resort or an occasional treat, rather than something to rely on every day.
They're An Incomplete Meal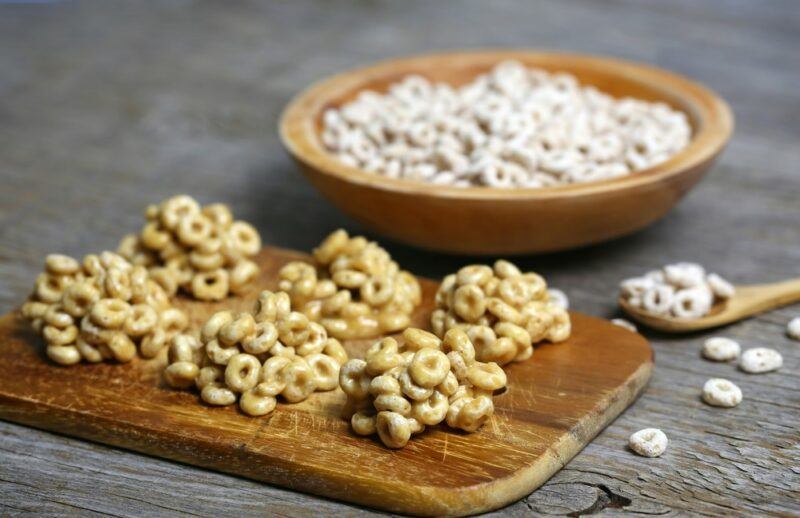 One of the biggest issues with Cheerios is that they're eaten as if they were a complete meal. How many kids rush out of the door each day after eating just a bowl of cereal with milk?
Doing so doesn't work, as Cheerios don't have enough energy to keep you going. Honey Nut Cheerios are even worse than the original version, as the sugar content can give you a sugar buzz, followed by a crash not long after.
Could Promote Weight Gain
Half a cup of Honey Nut Cheerios with skim milk contains less than 200 calories. That's not a large amount for a meal, suggesting that the cereal might help you to lose weight.
In practice, though, the opposite effect is much more likely.
Remember what we said about Cheerios being low in protein? This means that they're not particularly satisfying.
Having Cheerios for breakfast might mean that you get hungry within a couple of hours, which largely defeats the purpose. Being hungry could easily mean that you eat again far too soon and overdo it with calories.
Focusing on protein rich foods is a more robust approach. Doing so makes it easier to keep your calorie intake balanced and stay healthy.
Isn't The Sugar Natural?
Earlier on, we highlighted the high sugar content of Honey Nut Cheerios.
You might have been wondering about that. The cereal relies on honey, after all, so it shouldn't be as bad as cereal made with added sugar instead.
There are two issues with that argument.
First, natural sugar tends to be healthier than added sugar. That's true enough. But, the distinction is based on whether sugar naturally occurs in the food you're eating – not where the sugar came from initially.
For example, dates are naturally high in sugar. But, if you use dates in a bliss ball recipe, you're still adding sugar. Similarly, a whole apple is healthy enough, but adding apple juice to a recipe to sweeten it may not be.
To put it simply, sugar isn't healthy just because it's unrefined or comes from a 'better' source. It's still sugar and will still have the same effects in your body.
The only reason that natural sugar is 'better' to begin with is because you're finding it in foods that are filled with nutrients and fiber (like an apple). Strip away those features and you're just left with sugar.
Second, Honey Nut Cheerios use sugar, honey, and brown sugar syrup. Sugar shows up first in the ingredients list, so most of the sweetness come from this, not from honey.
What About Other Types Of Cheerios?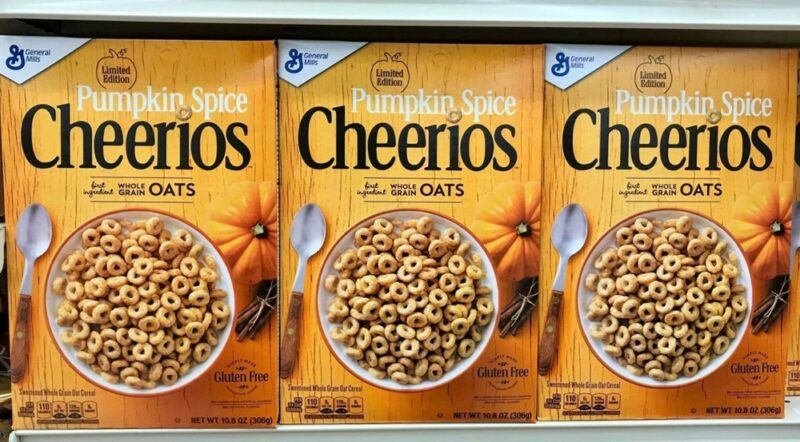 Most of the patterns we've talked about here apply to other types of Cheerios as well. Flavored versions are particularly concerning, as they're often packed with sugar and contain far too many additives.
Plain Cheerios are much better. These keep the sugar content low, giving you a much better balance of sugar to fiber.
Even then, you're not getting much protein, so Cheerios on their own aren't ideal for breakfast. It's best to serve them with ingredients that provide the missing macronutrients. For example, nuts would help with the protein content, while berries would increase the amount of fiber.
Final Thoughts
Honey Nut Cheerios do have a few good features, as they give you whole grains and some soluble fiber.
This isn't enough to make them healthy though. There are too many concerning features, including the high sugar content, all the processing, and the use of additives.
Besides, the most powerful features all come from oats. Why not skip Cheerios entirely and focus on oatmeal or overnight oats? Doing so would give you more fiber and less sugar per serving, creating a healthier and more satisfying breakfast.
Frequently Asked Questions
Do Honey Nut Cheerios Have Nuts?
Honey Nut Cheerios are sweet and have a slight nutty flavor, but they don't actually contain nuts at all. Up until 2006, crushed almonds were used as an ingredient. Nowadays almond flavor is used instead.
Despite the name, almond flavor doesn't always contain almonds at all. The flavor is often sourced from the pits of peaches and apricots instead.
There is one catch though – the almond flavor could come from almonds. The company doesn't need to disclose whether there are any almonds or not. There's also an almond allergy warning on the box. So, even without nuts as an ingredient, anyone with an almond allergy should probably avoid the Cheerios.
Can Babies Have Honey Nut Cheerios?
Regular Cheerios are a popular finger food for babies, often when they are between 9 and 12 months of age (once they're able to pick up the Cheerios themselves). However, Honey Nut Cheerios are a different story.
The problem is the honey. Babies under a year shouldn't be eating honey, as their immune systems are still developing. Consuming honey as honey can lead to botulism. Once the baby is over one year old, you can begin introducing honey-containing foods, including Honey Nut Cheerios. It's best to do so slowly and give their body plenty of time to adjust.
How Much Sugar Is In Honey Nut Cheerios?
A single cup of Honey Nut Cheerios contains 12 grams of sugar, which is all added sugar.
Remember that a cup of Cheerios isn't that much. You might consume more at a time. Plus, any milk you use is going to raise the sugar content a little as well.
Are Honey Nut Cheerios Vegetarian?
Honey Nut Cheerios are vegetarian and don't contain animal-derived ingredients. However, they're not vegan friendly because of the honey.
There are debates about some additives, particularly the vitamin D, which may be animal-sourced. Whether such additives are a problem depends on how you practice your vegetarian diet.
Can Diabetics Eat Honey Nut Cheerios?
Cereal isn't a great breakfast choice for diabetics and can lead to high blood sugar. If you still want Cheerios, then the original version is best, as the sugar content is the lowest.
On the other hand, Honey Nut Cheerios have 12 grams of added sugar per serving, plus just 3 grams of fiber and 3 grams of protein. This is a horrible macronutrient balance for diabetics.
If you are going to have Cheerios anyway, it's best to keep your portion sizes small and include some high protein and high fiber toppings. These should help reduce the blood sugar impact of the cereal.