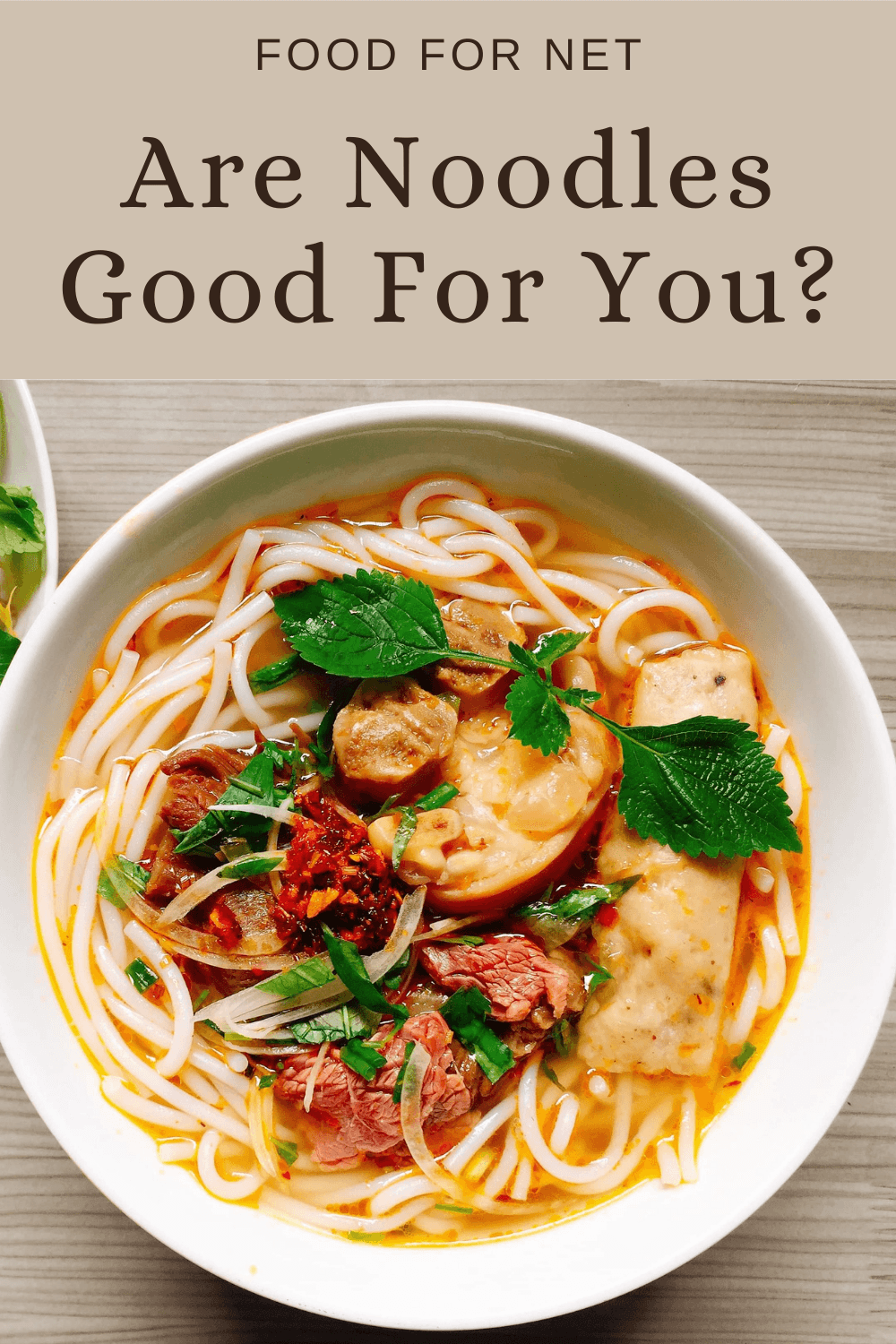 Noodles are a classic go-to ingredient for students and anyone on a tight budget. They offer a fast and easy meal, particularly if you turn to the instant noodle variety. But are noodles good for you, or should you limit your noodle instake?
There are also endless ways to use noodles, including eating them on their own, making ramen, preparing noodle soup, and serving them with meat and sauce – to name just a few. But, the practical features aren't the only thing to think about. We also need to ask, are noodles good for you?
After all, it's never a good thing when a staple part of your diet isn't at all healthy.
To kick off with, we're going to talk about instant ramen noodles, given that these are now so popular. Is ramen bad for you? We'll find out. Most of the benefits and risks also apply to similar types of noodles, including egg noodles and traditional pasta.
We'll also talk about other types of noodles, including options like zoodles, which are popular for anyone watching their carb intake. Not surprisingly, such noodles have different health effects than carb heavy versions.
Are Noodles Good For You?
What Are Instant Noodles Made From?
Benefits Of Noodles
How Noodles Can Be Harmful
Do Instant Noodles Cause Cancer?
Healthy Alternatives To Noodles
What About Rice And Egg Noodles?
Final Thoughts
What Are Instant Noodles Made From?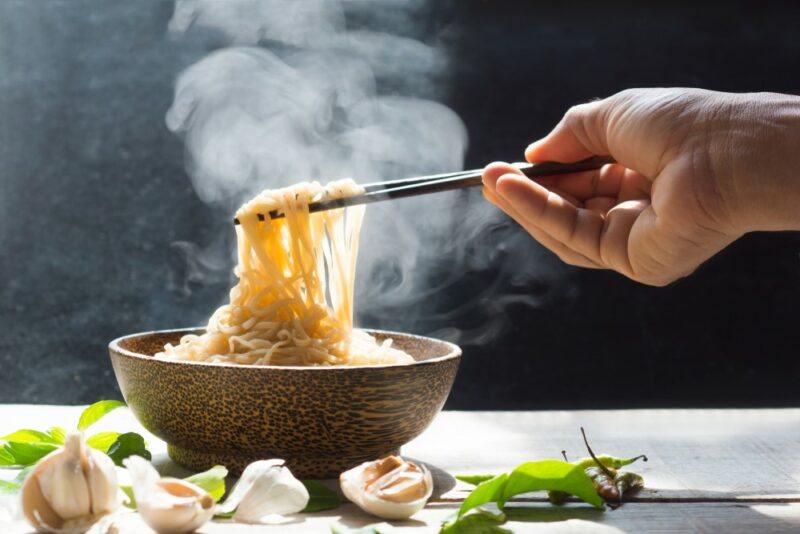 We're focusing on instant ramen noodles, so let's talk a little about them.
There are a few variations, depending on the product, but most rely on wheat flour, water, and salt (or a salt substitute). Alkaline water may be used as well, as this provides elasticity to the noodles.
Beyond this, there may be oils and additives to create the right texture. Then there's the seasoning packet. This often contains a combination of herbs, spices, salt, and more additives.
Benefits Of Noodles
They Can Be Vehicle For Healthy Ingredients
One of the best things about noodles isn't the noodles themselves, but all the things you can do with them. Starchy ingredients like rice, pasta, and potatoes all function in a similar way, helping to bring meals together and making it easy to eat plenty of vegetables.
You might not have made this connection if you've been focusing on instant noodles. Check out some ramen cookbooks, though, and you'll quickly see what we mean. You're often using fresh vegetables, lean protein, eggs, herbs, and plenty of other ingredients.
Choose a good recipe, and you'll end up with a hearty meal that should keep you full for hours. Doing so is also a great way to balance out the less appealing features of noodles.
They're Inexpensive And Convenient
The other reason that people use instant ramen noodles is that they're so easy. Seriously. They're inexpensive and take just a few minutes to prepare.
This combination of features is sometimes incredibly important. Families with barely any disposable income, for example, might rely on instant noodles to bulk out their meals. Plus, because the noodles are rich in carbs, they're a fast source of energy.
You might also use the noodles when you're short on time, motivation, or just need a quick boost. This is why instant noodles are such a staple for students.
Besides, you don't need to eat the noodles on their own. Even if you don't prepare a complex dish, you could add some chopped bell peppers and chicken breast to give you a more nutritious meal that's still easy to make.
How Noodles Could Be Harmful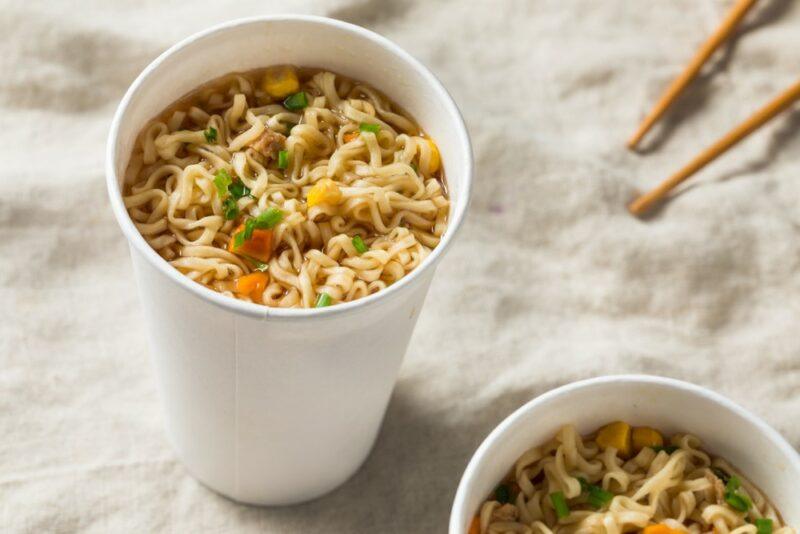 Low In Nutrients And Plant-Based Compounds
Instant noodles are generally made from wheat flour, starch, water, and either salt or a salt substitute. Some versions are fortified with nutrients like B vitamins, but even so, the noodles are hardly nutrient rich.
They've also been ultra-processed. This can mean that some nutrients are lost, along with plant-based compounds. Heavily processed foods like this aren't wise, at all. They tend to impact your blood sugar levels much faster than whole foods.
That's not all. The noodles also tend to be low in both fiber and protein. You're mostly just getting plenty of carbs and some fat – not a great combination for your health.
High In Carbs
While we're on the topic of blood sugar, we should also talk about the carbs in instant noodles. Because the noodles are made from wheat, they're often incredibly high in carbs. Some brands get all the way up to 80 net grams of carbs per serving.
This is a serious issue, as carbs have been associated with a whole host of health problems, including increased inflammation, high blood pressure, increased risk of diabetes, and more. You'll often get a sudden blood sugar spike from the carbs in the noodles as well, which is concerning. The blood sugar effect isn't good for anyone. It's even worse if you have diabetes or prediabetes. In those cases, you may need to avoid the noodles entirely.
Contains Saturated Fat Too
Along with the carbs, instant noodles also contain a decent amount of saturated fat. While the amount depends on the brand, you're often looking at 3 to 4 grams of saturated fat per serving.
This saturated fat could easily lead to issues, including increased heart disease and stroke risk. Even if you're not convinced about all the problems with saturated fat, this is clearly the least healthy type of fat. So, why not skip the noodles entirely and look for healthier options?
Seasoning Packets Make Everything Worse
If you're eating instant noodles, then you're also dealing with a seasoning packet of some description. This is a problem, as most such packets aren't very good for you at all.
They often contain additives, including preservatives and flavors.
Manufacturers often claim that these additives are safe, but honestly, who knows?
One of them, tertiary butylhydroquinone (TBHQ), has been linked to a variety of potential issues. There's also monosodium glutamate (MSG). Some people are sensitive to MSG and may experience some side effects, like nausea and high blood pressure.
Those are just two examples. Other additives may be included as well, each of which can impact your health. It's tough for researchers to pin down all the ways that additives influence your health and there could easily be negative effects that we simply don't understand yet.
The best way around the problem is to make your own ramen seasoning. This way you can rely on real food ingredients and avoid additives entirely.
Ramen Is Often High In Sodium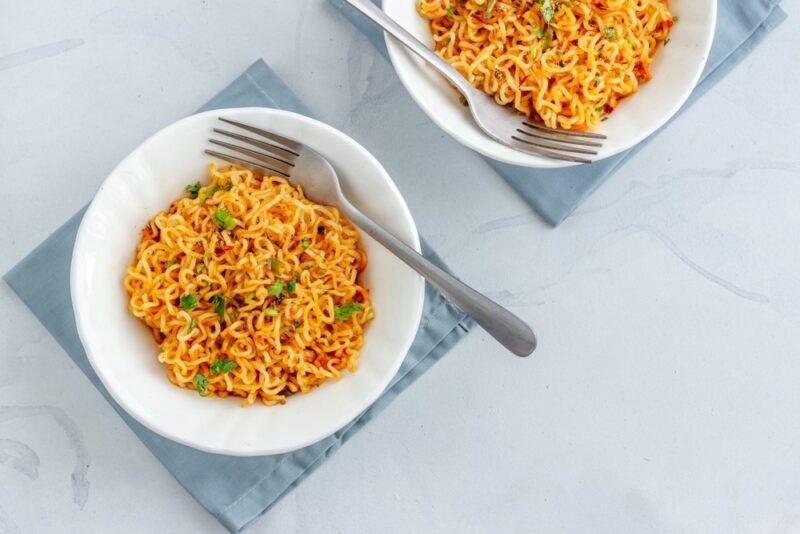 If you're using noodles to make ramen or are simply cooking instant noodles with the flavor packet, then you're going to be getting plenty of sodium. Some versions give you more than 80% of your recommended daily sodium intake – in a single packet!
This is deeply concerning as sodium can lead to all types of problems. It can increase blood pressure, raising your heart disease risk in the process.
The other issue is simply that most of us are already consuming too much sodium. The mineral is incredibly common in processed foods, with most products using much more sodium than they need to.
Contains Gluten
Gluten is a growing problem, with many people finding that they're sensitive or intolerant to the protein. There is a host of possible symptoms, including bloating, depression, fatigue, stomach pain, and brain fog.
People with celiac disease also experience an autoimmune response to the gluten protein, which leads to small intestine damage. While celiac disease is more harmful than gluten sensitivity, both cause uncomfortable side effects.
Unfortunately, instant noodles are made using wheat flour, so they're pretty high in gluten. You may need to avoid them entirely.
Do Instant Noodles Cause Cancer?
Some scare stories circulate around instant noodles, including the idea that they give you cancer or that they have a plastic coating. There's no evidence for either of these claims. Indeed, the plastic/wax coating idea seems to have been a social media myth that rapidly gained traction.
This pattern often happens on social media, where something gets shared a lot because it is engaging or seems like it could be true.
Some theories suggest that noodles cause cancer in other ways, such as due to additives, the sodium content, or simply the fact that the noodles are highly processed.
Could this be true? Well… perhaps. Cancer is tricky. All sorts of things and behaviors can increase the risk of cancer. Instant noodles aren't likely to cause cancer on their own. But, they're still not healthy and eating them daily is likely to lead to some health issues.
Healthy Alternatives To Noodles
While noodles themselves have some serious limitations, there are plenty of alternatives that can be much healthier.
Some of these are made from other ingredients, like red lentils, chickpeas, edamame, quinoa, or black beans. Such products tend to be gluten free, may contain more nutrients than regular noodles, and can be lower in carbs.
However, they are still highly processed. You'll also need to check the ingredients label carefully, as the carb content can vary from one brand to the next.
Another option is shirataki noodles, also known as Miracle Noodles. These are made from a type of soluble fiber called glucomannan that's found in the konjac root. The noodles are made from this fiber and a lot of water, which keeps them low in calories.
Shirataki noodles are popular because they're practically carb-free, making them ideal for keto dieters (they do contain fiber, but not digestible carbs). The catch is that the noodles contain barely any nutrients, so they need to be served with nutrient-dense ingredients.
If you're trying to step away from processed ingredients, spiralized vegetables are an excellent choice. The most famous example is zoodles, which are made from spiralized zucchini.
These are naturally low in carbs, while also providing fiber and some nutrients. You can spiralize other vegetables too, including butternut squash, carrots, radishes, beets, and parsnips.
You could also simply make your own noodles at home using wheat flour. While such noodles would still be high in carbs, they would be additive free. Plus, the high carb content isn't such a big deal if the rest of your meal contains plenty of fiber, protein, and nutrients.
What About Rice And Egg Noodles?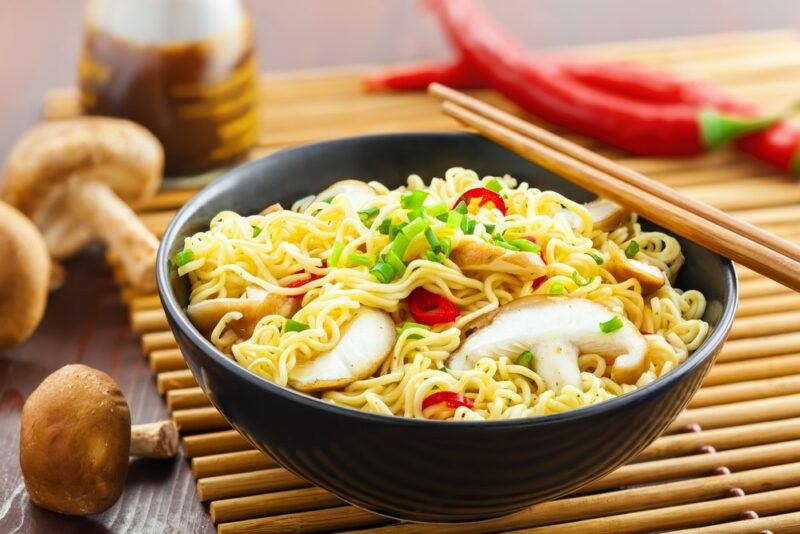 Rice noodles and egg noodles often turn up in recipes as well. You'll even see packets of instant rice noodles that can be used just like instant ramen noodles.
Let's start with egg noodles.
The name is misleading here, as the noodles aren't gluten free at all. They still use a decent amount of wheat flour. The name simply comes from the fact that they use a higher ratio of egg to wheat flour than traditional pasta.
As such, egg noodles are still relatively high in carbs and gluten, and have most of the same benefits and risks as regular pasta.
Rice noodles are different. They're made from rice, which makes them naturally gluten free. They also contain a decent amount of manganese and selenium.
Unfortunately, rice noodles do contain less protein than regular noodles. They're lower in carbs too, but the difference isn't dramatic. As such, anyone watching their carb intake might still need to avoid rice noodles.
Final Thoughts
Generally speaking, instant ramen noodles aren't good for you at all. They're heavily processed, high in carbs, and may contain additives – especially if you use the flavor packet that comes with them.
The issues are even worse if you're cooking and eating the noodles on their own. Doing so is the classic approach when you're broke, exhausted, or hungover, but doing this gives you a ton of carbs, little protein or fiber, lots of sodium, and few nutrients. The lack of protein also means that you'll be hungry again soon after.
To use instant noodles well, it's best to ditch the flavoring packet entirely and use the noodles as part of a larger meal. Noodle cookbooks can help, as these provide recipes and instructions for creating complex and delicious noodle-based meals, ones that often include plenty of veggies.
Even then, you'll need to be cautious with the sodium. Many dishes rely on a sodium-rich broth, which could be an issue if your sodium intake is already high.
Frequently Asked Questions
Do Noodles Make You Gain Weight?
Noodles certainly aren't the best ingredients for your weight. After all, they're generally highly processed, high in carbs, and don't contain that many nutrients.
But, the biggest question isn't whether you eat noodles or not. Your diet as a whole is much more relevant. If you want to eat noodles, try to keep your portions reasonable and have plenty of healthy ingredients with them, like fresh vegetables and lean protein.
Are Noodles Healthier Than Rice?
The nutritional differences between noodles and rice are pretty small. You're often looking at a little more protein, fiber, calories, and carbs for noodles compared to rice, although this varies depending on the type you choose.
Realistically, the differences aren't big enough to make one more powerful than the other. Both noodles and rice can be part of a healthy diet, as long as you don't overdo it with them.
Are Egg Noodles Gluten Free?
Despite their name, egg noodles are still made using wheat flour and aren't gluten free at all.
Do Noodles Have Protein?
While we often think of noodles as being carb laden, they do actually contain some protein as well. You're often looking at around 7 to 8 grams of protein for a cup of noodles. A serving of ramen noodles is a little lower, with just 5 grams of protein, but even here, you're still getting some protein.
What Are The Healthiest Noodles?
Whole wheat noodles tend to be healthier than regular noodles, as they're higher in nutrients and fiber. You can also turn to alternative products, like chickpea pasta and lentil noodles. These are often more nutritious than pasta, even though the texture and flavor aren't quite the same.
Other options exist too, like zoodles. Zoodles are simply made from spiralized zucchini, which makes them much lower in carbs than regular noodles.