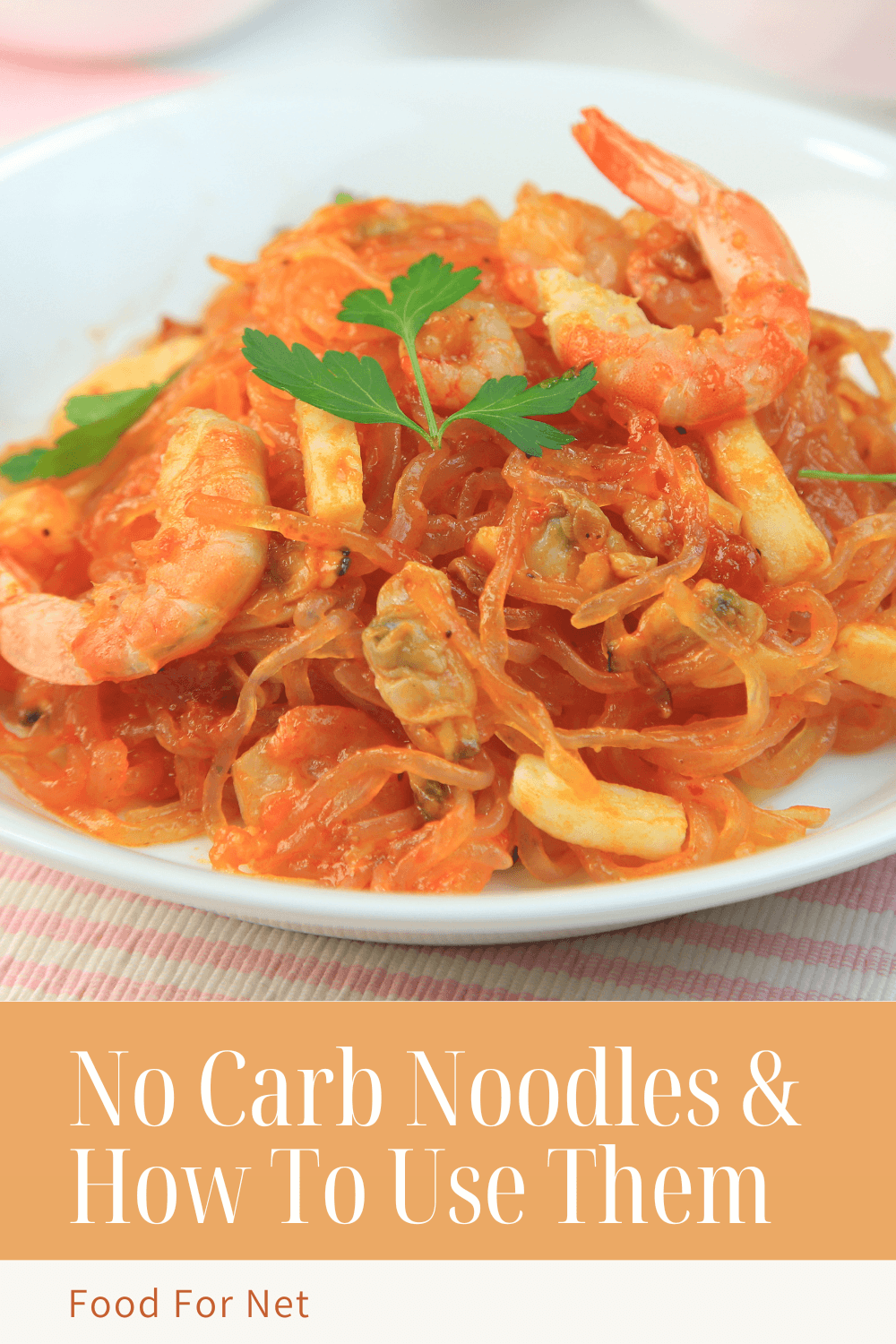 The controversy surrounding carbs seems never ending. While they give us energy, they've also been associated with increased inflammation, obesity, and swings in blood sugar. Avoiding carbs entirely isn't necessary or even possible, but decreasing your carb intake is often powerful for health.
One of the easiest ways is to swap out regular noodles for no carb noodles. After all, a single cup of cooked egg noodles can contain 40 grams of carbs. That's an incredible amount. Other types of noodles aren't much better.
That's a lot of carbs, especially if your other ingredients contain carbs too. Thankfully, there are plenty of low carb alternatives.
As you'll notice from this list, these noodles aren't entirely carb free. This is to be expected, as noodles are plant-based and plants always contain some carbs. The best options are high in fiber and low in digestible carbs.
You could make changes elsewhere in your diet too, like focusing on no carb breakfast foods and even carb free protein powders. Remember though, you don't need to cut carbs out entirely to be healthy. Even keto dieters still consume some carbs.
No Carb Noodles (With Pictures!)
Shirataki Noodles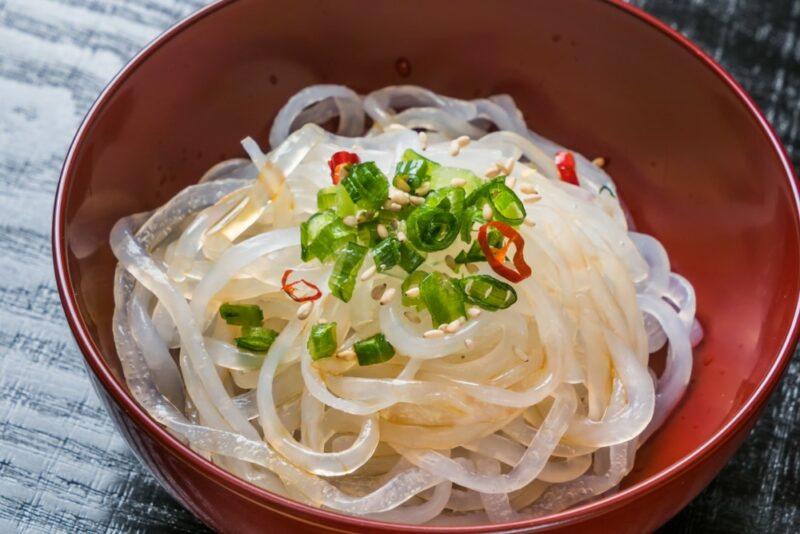 Shirataki noodles are easily the most famous carb free noodle. They're also known as miracle noodles or konjac noodles.
The noodles are made from a soluble fiber called glucomannan. Soluble fiber absorbs water and becomes gelatinous, which helps to keep you full (and offers plenty of health benefits too). This fiber makes shirataki noodles much more satisfying than regular noodles.
The focus on fiber means that these noodles are very low in soluble carbs and calories. Perfect, right?
They're easy enough to use too. Just take them out of the packet and rinse them well (don't skimp on the rinsing, as this makes a huge difference to the taste of the noodles). You can simply mix them with sauce, but the noodles are even tastier if you fry them in a skillet. This way they end up with a more traditional noodle-like texture.
Despite their popularity, shirataki noodles aren't for everyone.
They have a strong smell out of the packet and are pretty slimy. Rinsing them thoroughly and cooking them well helps to make them better. But, even then, many people can't stand the noodles.
Zoodles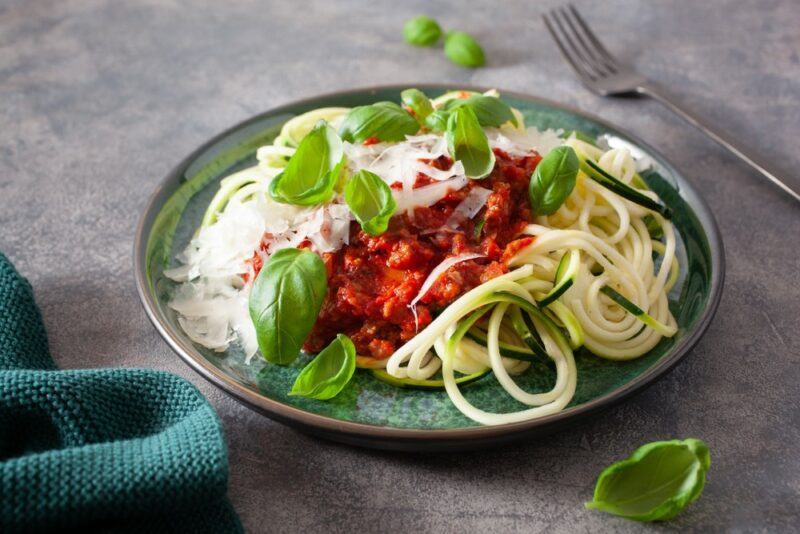 Zoodles, or zucchini noodles, are another exceptionally popular choice. These are what the name suggests – zucchinis that have been cut into small and narrow strips that resemble noodles. While you can make zoodles by hand, they're much better if you rely on a spiralizer instead.
These days zoodles are so popular that you can even buy pre-prepared ones from your local grocery store.
The biggest catch is that zoodles don't taste like pasta. They don't have the same texture either and aren't as satisfying. They can still be delicious, provided you don't expect your meal to be similar to one made using fresh pasta.
Beet Pasta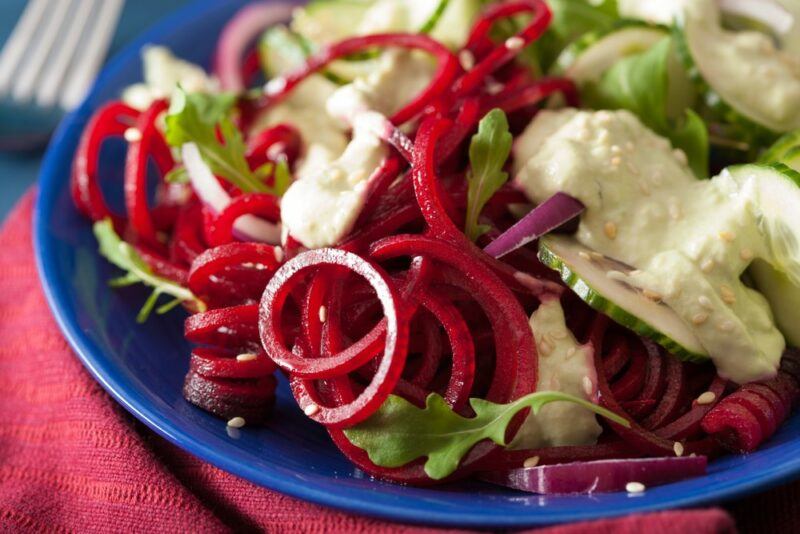 Zucchini is the most famous type of spiralized vegetable, but it's not your only option.
Beet noodles also work surprisingly well, giving your meal a rich color and plenty of antioxidants. You can go beyond simply spiralizing beets too. For example, this 4 Ingredient Beet Noodle recipe uses beets, eggs, coconut flour, and seasoning to make homemade beet noodles – ones with a more familiar flavor and texture.
You don't need to stick to regular red beets either. Golden beets make excellent low carb noodles as well.
Cucumber Noodles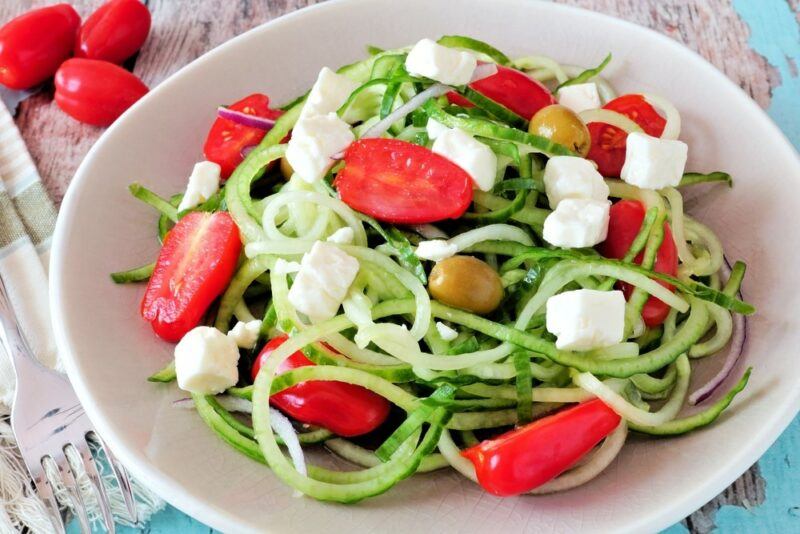 What about cucumber? You can spiralize cucumber in just the same way as zucchini or beets. Doing so gives you a light and refreshing noodle alternative.
One difference is that cucumber noodles are best served raw. As such, they work well with light summer dishes, like a Greek salad or perhaps a chicken-based meal.
Spaghetti Squash Noodles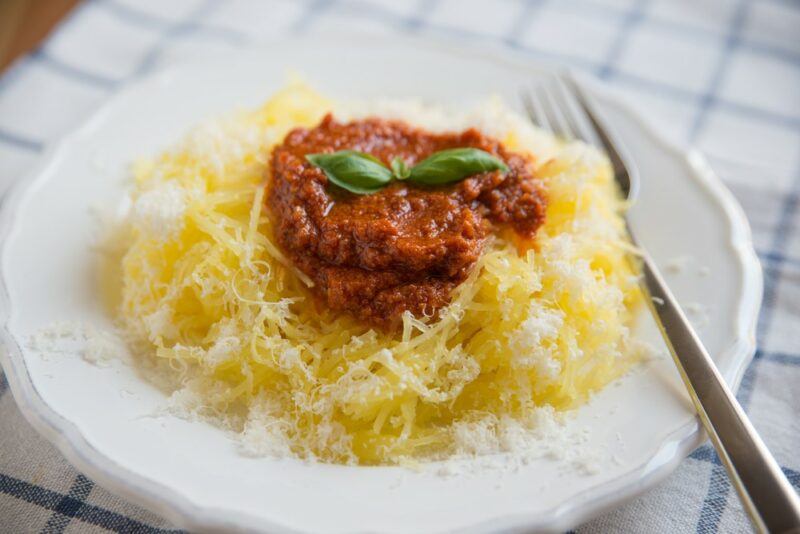 Spaghetti squash is fascinating. It's a winter squash with bright yellow flesh and a mild flavor.
The squash is most famous for how the flesh of the cooked squash easily forms pasta-like strands. The strands are excellent as a low carb and gluten free alternative to pasta.
When cooked well, the texture is somewhat similar to pasta. Plus, the subtle flavor of the squash is easily buried by whatever spices and sauces you are using with it.
As with zoodles, spaghetti squash isn't quite the same as pasta. Rather than expecting a vegetable to somehow mimic the flavor and texture of carb-heavy noodles, why not play around with spaghetti squash? See what dishes you can make with it and how the noodles complement your other ingredients.
Cabbage Noodles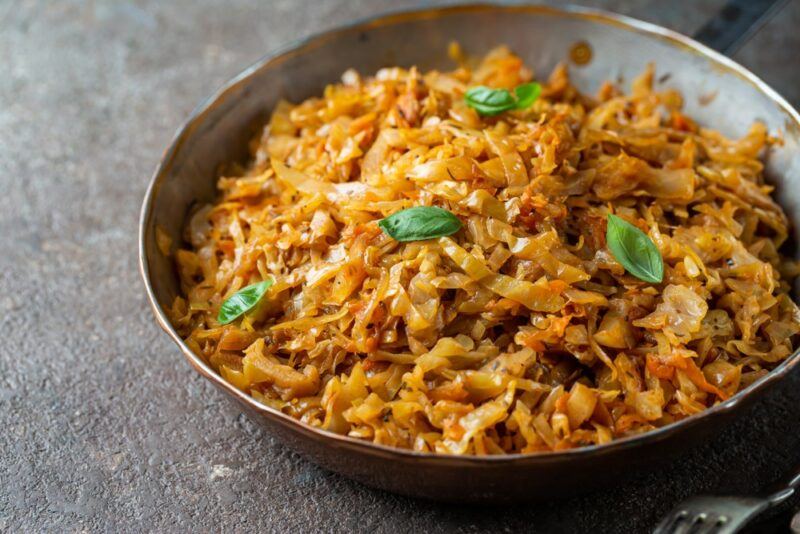 Cabbage is another vegetable that is surprisingly good as a noodle replacement. There's nothing fancy going on either, as we're just talking about regular shredded and fried cabbage.
Cabbage works because it becomes tender when cooked and has a slight sweetness that works well in many recipes.
Keto Egg Noodles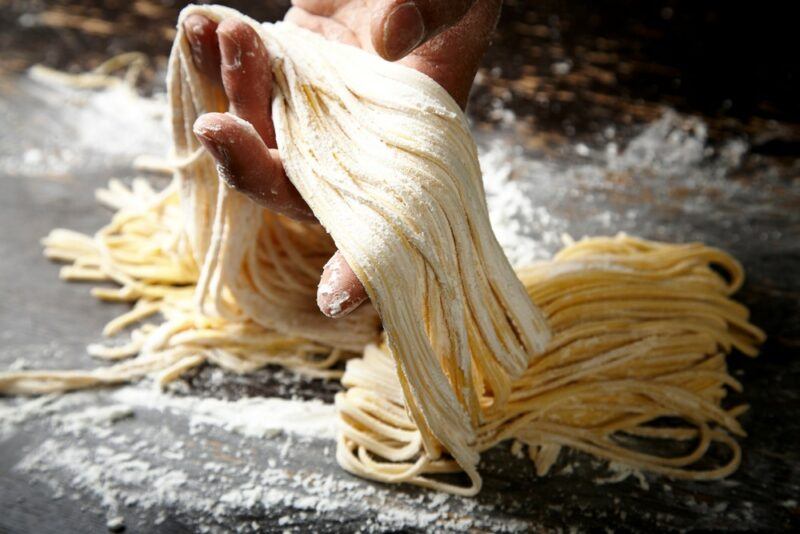 Despite the name, regular egg noodles aren't especially low in carbs (you're often getting 40 or even 50 grams of carbs per serving). This is because they still rely on a decent amount of flour.
Keto egg noodles buck this trend. They keep the carb content much lower, while still giving you noodles that taste much like regular pasta.
Many recipes do this by using a low carb flour instead of wheat flour in the recipe. Almond flour is the most popular approach, although coconut flour or even lupin flour can be used instead. A few recipes even drop out the flour entirely and replace it with xanthan gum.
The other ingredients depend on the recipe you've chosen. Some rely on cream cheese and eggs, while others use cheese and eggs instead.
The best thing is that these do, mostly, taste like regular egg noodles. That's impressive, as most other low carb noodles barely resemble pasta at all.
Kelp Noodles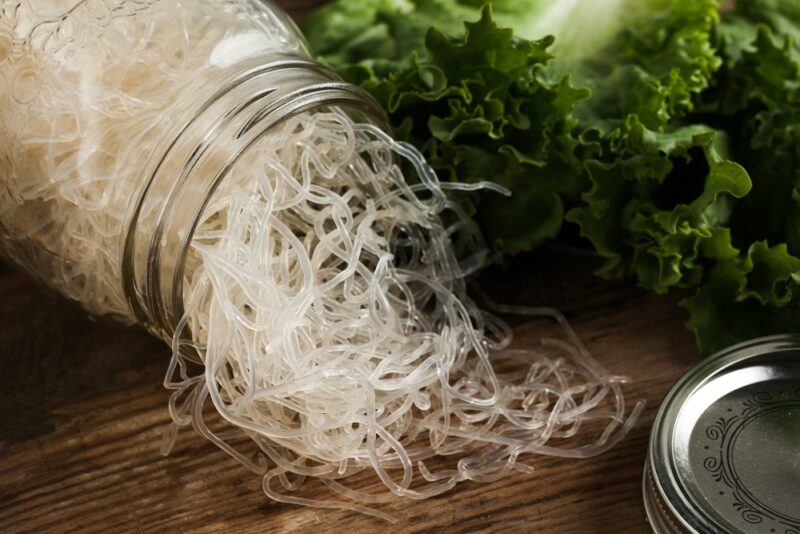 Kelp noodles aren't as well-known as the other entries on this list, but they're becoming more popular. If you can't find them locally, they're easy enough to order online.
The noodles are normally made by combining kelp with water and sodium alginate.
While it seems like the noodles should be fishy, they have a surprisingly neutral flavor instead. The biggest problem is the texture, which is often quite rubbery and distinctive. The noodles still work well if you use them in a strong sauce, but they shouldn't ever be the star of your dish.
You can also include the noodles in Asian meals, including ramen. The texture of the noodles should work well with the other ingredients.
These noodles should provide plenty of health benefits too. Seaweed and algae are even sometimes seen as superfoods these days, suggesting that they're powerful indeed.
Seaweed Pasta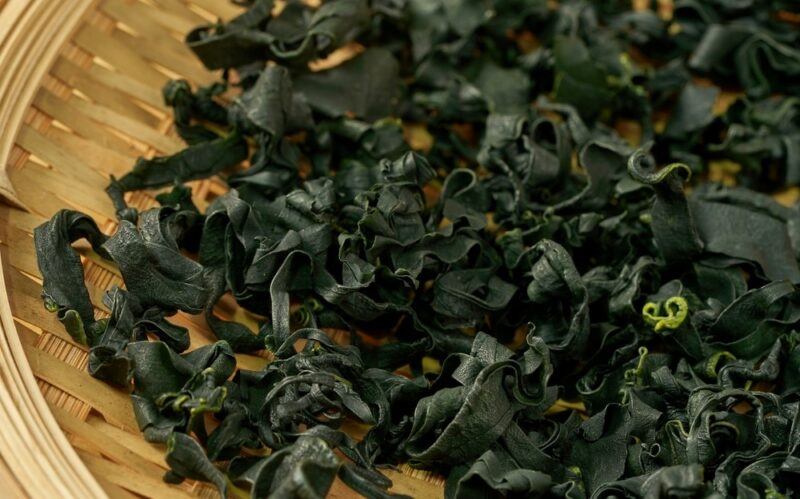 Seaweed pasta is slightly different, as it is normally just seaweed that has rinsed, dried, and cut into appropriate shapes. As such, it has a seaweed-like texture and flavor.
The texture means that seaweed pasta will work well in some dishes and poorly in others. However, it's an interesting ingredient to experiment with, especially as you are getting plenty of nutrients from the seaweed.
You can even cook the seaweed, either by boiling it in water or steaming it. This changes the consistency and brings it more in line with regular pasta.
Tofu Shirataki Noodles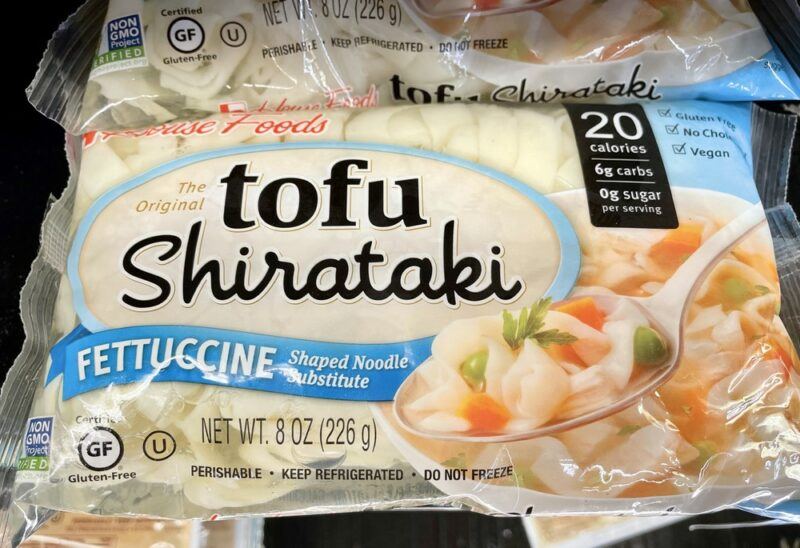 These noodles still rely on the glucomannan fiber that's used to make shirataki noodles. The difference is that these ones also use tofu as an ingredient.
The tofu slightly increases the carb content, while also adding more nutrients to the noodles. More importantly, the tofu changes the texture of the noodles, making them more familiar and enjoyable, while also reducing their sliminess.
Butternut Squash Noodles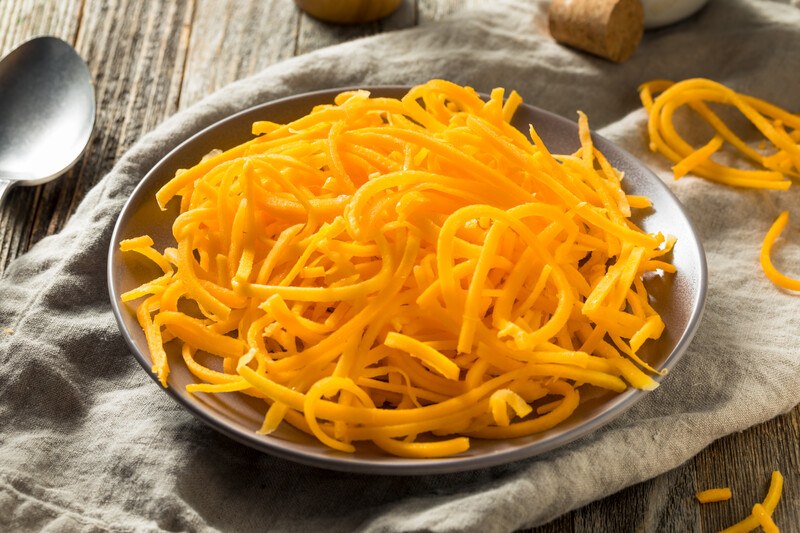 Here's another spiralized option – noodles made using butternut squash. The squash adds a bright orange flavor to your dish and is perfect in the fall months.
The noodles retain the nutty and sweet flavor of butternut squash, so you'll need to pair them with a complementary sauce. Creamy sauces work particularly well, especially as the noodles are firm enough to hold their own in the sauce.
Meat-Based Noodles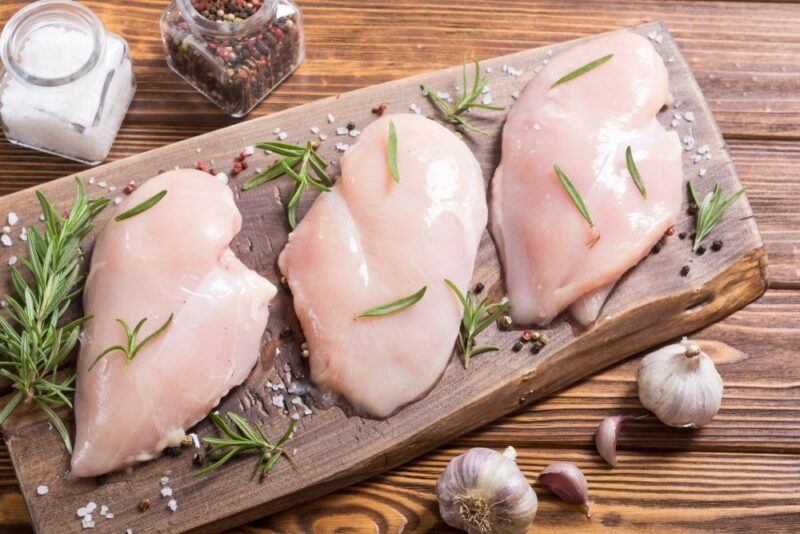 Most low carb noodles rely on plants that have been cut or processed to resemble noodles. This isn't your only option though. You can also make noodles using meat.
There's a fun recipe and set of instructions on the site Headbanger's Kitchen, which steps you through the processes. The recipe relies on chicken breast, but you can use any other type of lean meat instead.
Making noodles from meat like this gives you a denser type of noodle, one that is also packed with protein and is very filling.
Tips For Using No Carb Noodles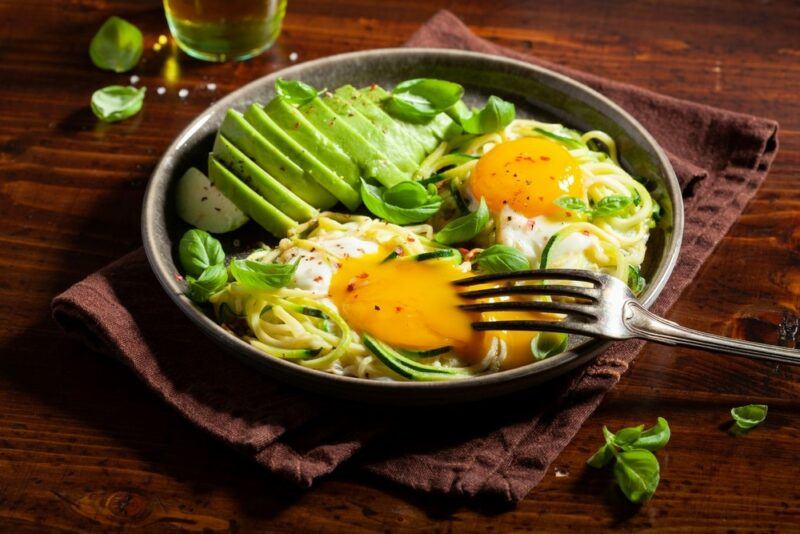 These noodle alternatives are all delicious, healthy, and work well in plenty of dishes. But, as you've probably noticed, none of them are quite like regular noodles.
Most rely on vegetables, so they're less filling than noodles and have quite a different texture. Shirataki noodles, egg noodles, and meat-based noodles are more satisfying, but each type has its own quirks.
So, how do you use these noodles well?
Remember They're Not Pasta
Names like shirataki noodles, zoodles, and kelp noodles suggest that these ingredients are direct replacements for regular noodles. But, if you treat them this way, you'll only ever be disappointed.
Instead, it's essential to play to the strengths of whatever noodle you're relying on. For example, butternut squash noodles do well with heavy sauces, while cucumber noodles are better with light sauces or as part of a raw dish.
It helps to choose recipes that are designed for low carb noodles right from the beginning. These will have a better balance of flavors and textures.
Follow The Instructions
If you're buying a packet of noodles or making noodles from a recipe, be sure to follow the instructions carefully. This is especially true for shirataki noodles and spiralized vegetables – as the wrong prep steps can easily give you an awful meal.
Experiment With Homemade Noodles
Homemade noodles using keto friendly flour are often the closest you'll get to pasta-like texture and flavor. We've talked about a couple of examples in this list, such as using eggs, cheese, and almond flour, or beets and flour.
There are plenty of other recipes as well. While most will contain some carbs, the carb content is much lower than with traditional wheat-based flour.