A keto diet is considered a very low carb way of eating, where most of your calories come from fats instead of carbs or protein. Keto dieters often end up eating somewhere between 20 and 50 grams of carbs per day, which severely limits what they can eat. Thankfully, there are plenty of interesting keto foods out there too.
With these options in your recipe book, you're not just cutting foods out to follow a keto diet. Instead, you're following an entirely different way of eating, one that has includes a wide range of delicious meals.
Doing so is important. Heavily restrictive diets can be very difficult to follow, especially in the long term. If you're enjoying the way that you eat, you're much more likely to stick to your eating plan
In this post, we're focusing on creative keto foods, rather than staple ingredients or keto drinks. Many of these foods were created to replace conventional high-carb foods, like taco shells and bread. You might even find that you enjoy some of these more than the original approach.
Interesting Keto Foods
Zoodles
Other Spiralized Veggies
Cauliflower Rice
Fat Bombs
Savory Fat Bombs
Avocado Boats
Avocado Burgers
Cloud Bread
Cheese Taco Shells
Cheese Crackers Or Chips
Bulletproof Coffee
90 Second Bread
Cauliflower Pizza Bases
Pork Rind Breadcrumbs
Almond Meal As Breadcrumbs
Egg Cups
Lettuce Wraps
Zucchini Lasagna
Salami Crisps
Cauliflower Mac And Cheese
Stuffed Peppers
Jalapeno Poppers
Stuffed Mushrooms
Bacon Weave Pizza
Cheeseburger Casserole
Spaghetti Squash Pizza
Buffalo Chicken Bites
Mashed Cauliflower
Chicken Pizza Crust
Fathead Pizza Crust
Egg Whites Instead Of Bread
Sliced Cucumber For Appetizers
Cauliflower Burger Buns
Egg And Cheese Waffles
Broccoli Pizza Base
Zoodles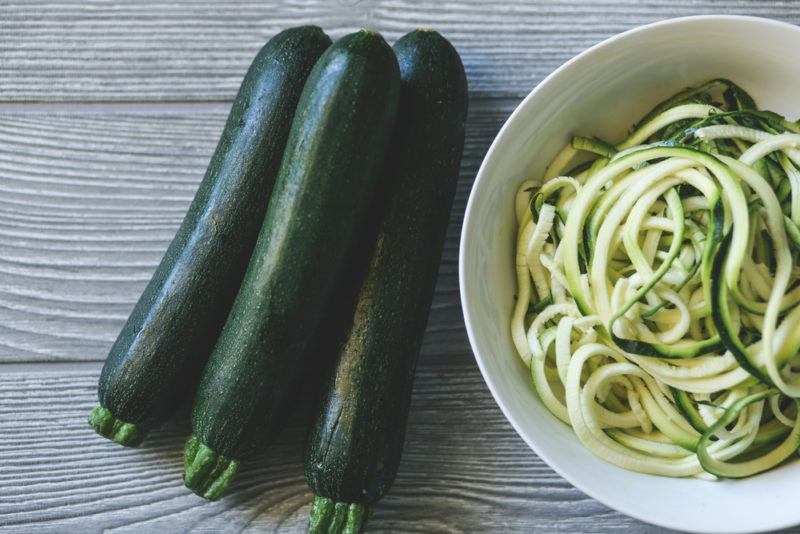 Zoodles are simple and also quite clever. The word is simply an abbreviation of the words zucchini noodle, which also describes exactly what you can expect.
Zoodles are just made up of zucchini that has been cut into thin strips. These strips can be easily made using a spiralizer, although they can be made by hand as well.
While zoodles can be used just like noodles, they don't taste the same. This isn't a bad thing, as zoodles tend to be fresher and mean that your meal does not feel as 'heavy' as a pasta-based meal would.
Other Spiralized Veggies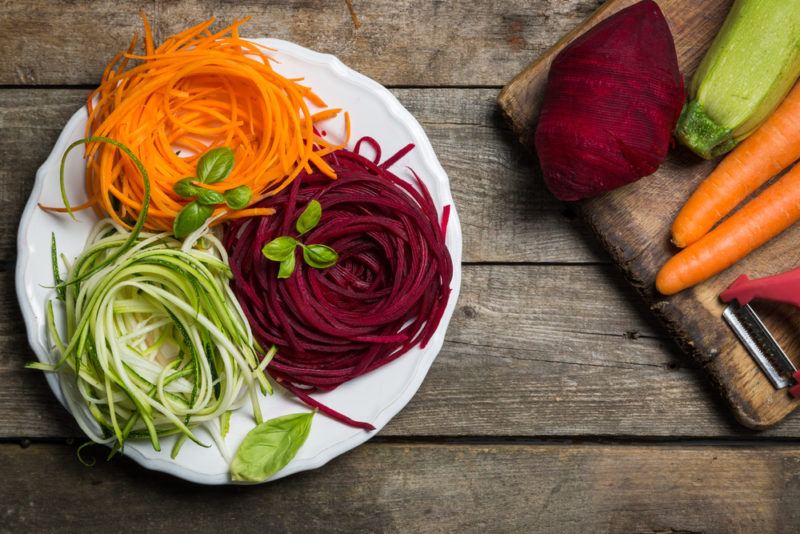 While zucchini is the most common type of vegetable noodle that you'll find, there are others too, such as beetroot, carrots, cucumbers, and oddly enough broccoli stalks.
Spiralizing different vegetables like this is a fantastic way to add more variety to your meals. You might even use two or three different types of spiralized vegetable in the same meal to make it pop with color.
Cauliflower Rice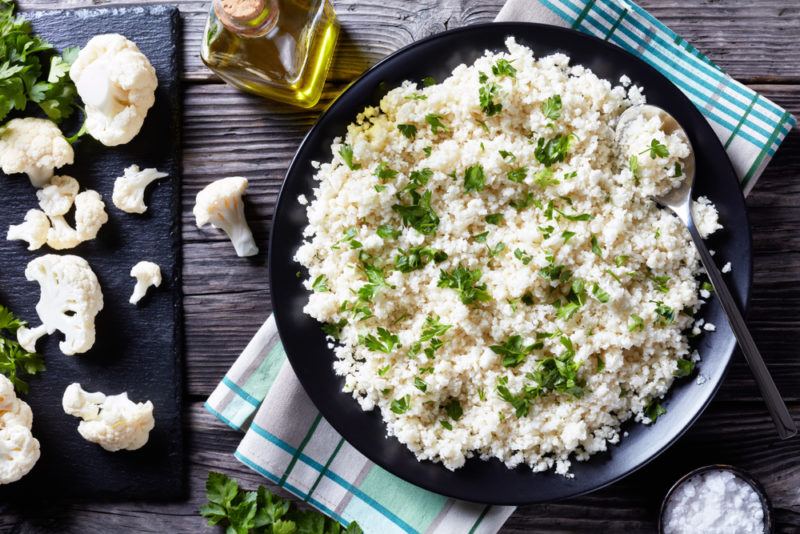 Cauliflower rice is another simple choice. The name says it all, cauliflower rice is cauliflower that has been diced until it is the size of grains of rice.
You can do this using a food processor without too much effort. The approach has become so popular that you can even find pre-bagged cauliflower rice at some stores, either fresh or frozen.
The most common way to use cauliflower rice is as a rice alternative. It can also be used as an ingredient in recipes. You'll see some examples that rely on cauliflower rice later in this list.
Fat Bombs

Fat bombs are incredibly popular on a keto diet. They're a way to increase your healthy fat intake and keep you within your macro goals. In particular, fat bombs tend to be somewhere from 85% to 100% fat, 0% to 10% protein and up to 10% carbs.
Common ingredients include coconut oil, seeds, butter, nuts, cream cheese, and dark chocolate. The high fat content means that fat bombs can be a significant source of energy, while also helping to stabilize blood sugar.
There are countless fat bomb recipes out there, so it's easy to find ones that suit your personal preferences. You might find that you enjoy some styles better than others. For example, some fat bombs heavily rely on coconut oil, which creates a distinctive coconut flavor that will appeal to some people and not to others.
Savory Fat Bombs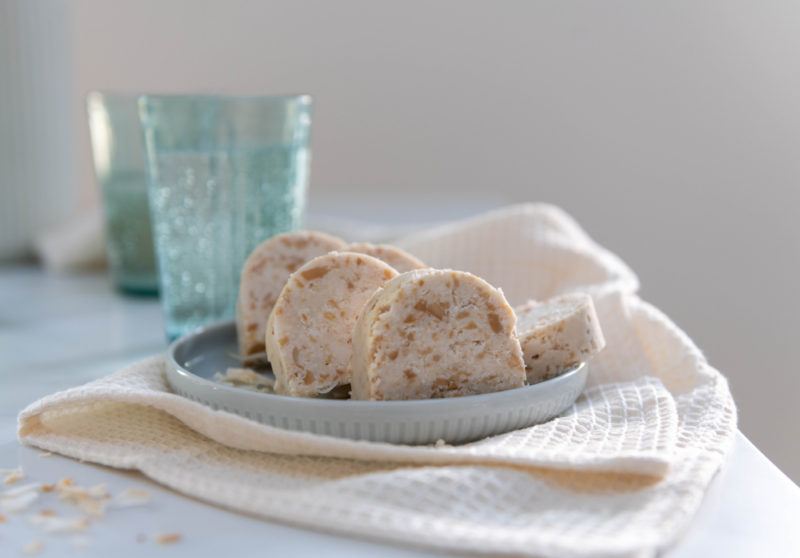 Fat bombs are generally sweet, but there are some savory examples too. Many of these rely on cream cheese as a base ingredient, while other ingredients to provide extra flavoring and texture.
Some savory fat bombs will contain meat as well, such as Buffalo Chicken Fat Bombs from the site Cast Iron Keto.
The choice of ingredients means that savory fat bombs often have a different balance of nutrients than sweet ones. In particular, savory fat bombs tend to be higher in protein, which could make them less relevant for some situations.
Avocado Boats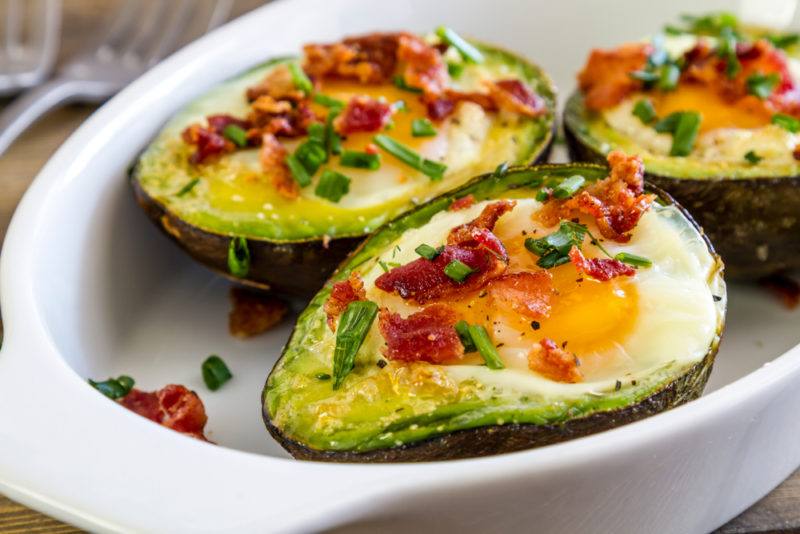 Avocado boats make a fun meal or even a snack. You're simply baking an avocado in the oven while using the seed hole to bake an egg at the same time.
You can easily get more creative with the idea too, such as by including bacon or ham as part of the dish. This combination makes avocado boats a particularly appealing idea for breakfast.
There are also variations where the avocado is baked first and then fillings are placed in the hole. This style gives you even more flexibility about fillings. For example, you could include a deviled egg style mixture in the hole or even a small salad.
Avocado Burgers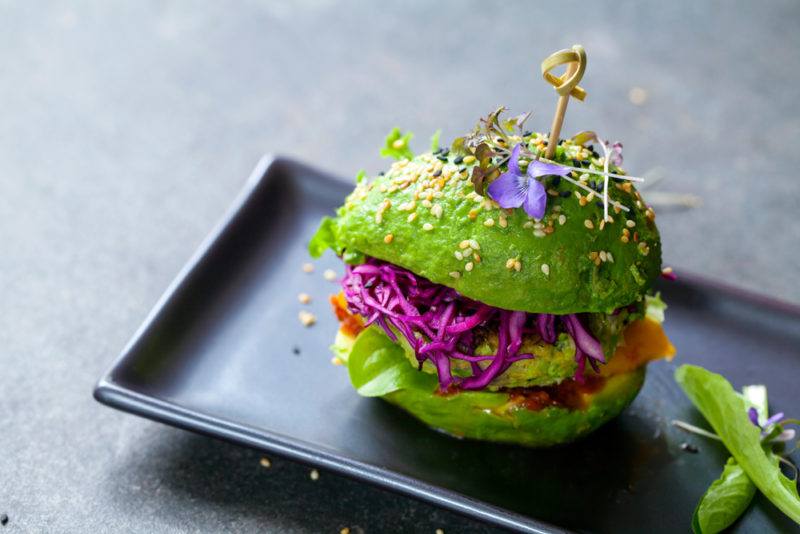 You can include avocado in a burger, or you could use an avocado as a bread replacement instead – just like in the image. This style isn't as unusual as you might expect.
This method of making burgers is an easy alternative to using a burger bun. It is certainly faster than making a low carb burger bun. The downside is that the burgers can be a little messy to eat. Still, they do taste good and messy food can be fun.
Cloud Bread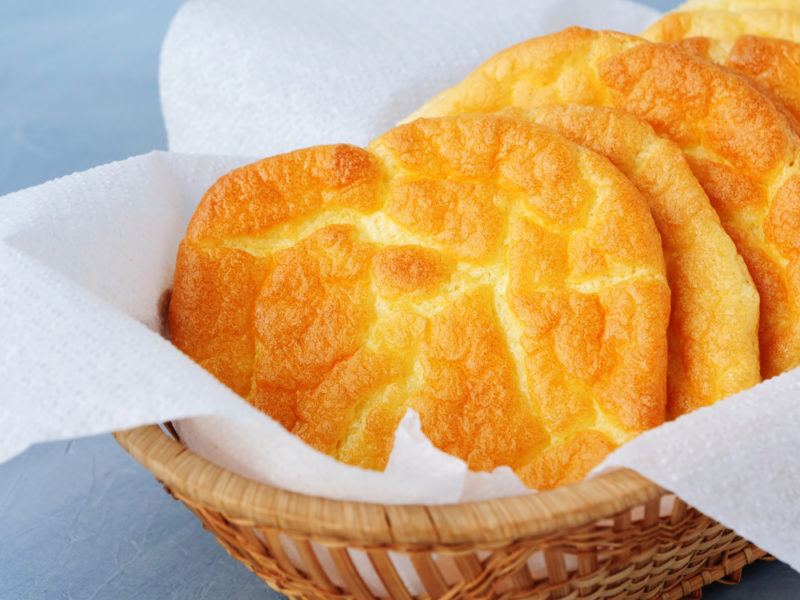 Cloud bread is one of the most popular types of low carb bread out there. The bread relies on whipped egg whites, along with cream of tartar, and cream cheese (or mascarpone).
This combination of ingredients creates a light and fluffy type of bread that works well in sandwiches. The bread is also fast to make, taking around 10 minutes of prep time and 30 minutes or so of cooking time.
Cloud bread ends up being high in protein, low in carbs, and low in fat. This macronutrient distribution is unusual for a keto diet, but the bread still works well if you're combining it with high fat ingredients.
Cheese Taco Shells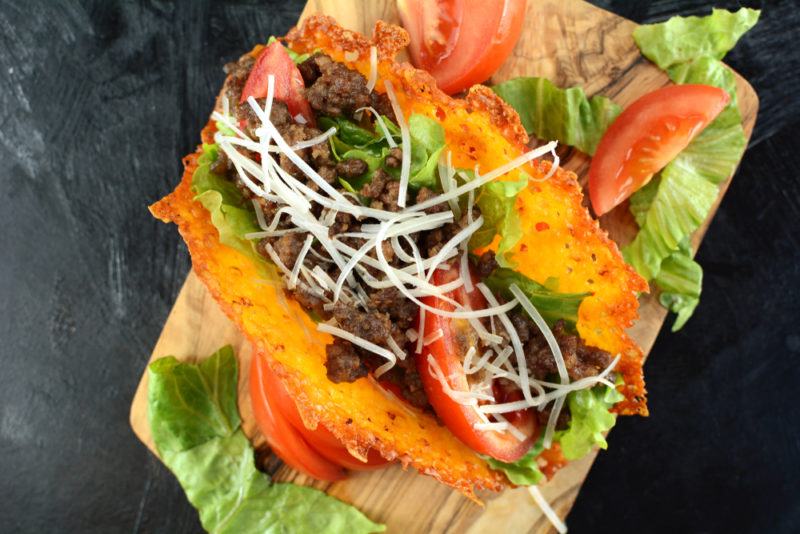 These taco shells are one of the simplest and fastest alternatives to a tortilla wrap. They are quite literally just cheese that has been melted and then allowed to harden in the desired shape.
You can melt the cheese in the oven, arranging it in a circle before you get started. You can even make single taco shells by melting the cheese in a microwave.
The trickiest part is making the taco shape. You need to drape the cheese circle over a piece of wood or something similar while it is still soft and pliable. Don't worry though. The process should quickly become second nature.
You can make taco cups similarly. This time you'll want to focus on smaller rounds of cheese – as you'll be molding these into the cups of a muffin tin while they're still pliable.
Cheese Crackers Or Chips

It's also possible to create crackers or chips using melted cheese. The approach is similar to when you're making taco shells, except that you're making much smaller rounds with the cheese and not shaping them.
Some recipes also call for extra seasonings, like Italian seasoning to make the chips taste more interesting.
Making chips from cheese like this is perfect for keto dieters. The chips end up containing almost no carbs and can be used with many different types of keto dip.
Bulletproof Coffee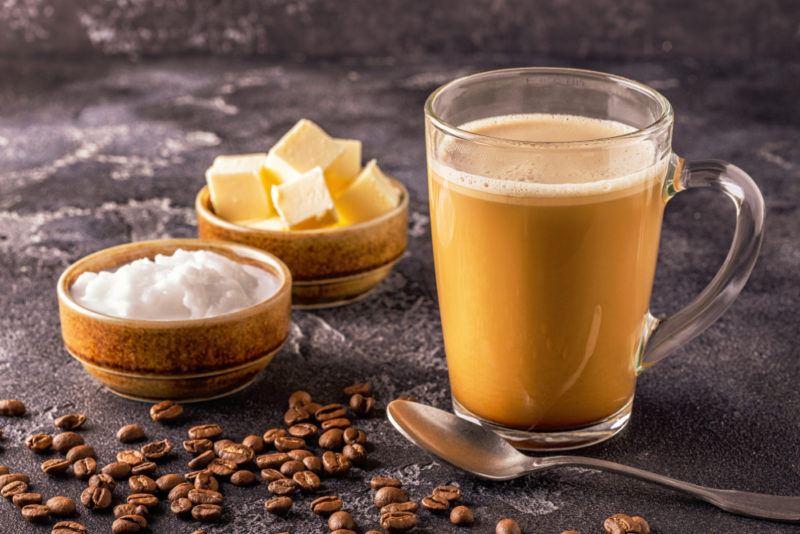 Bulletproof coffee is a classic addition to the keto diet. Many people drink this high fat coffee instead of having breakfast each morning.
The original idea for Bulletproof coffee involves using a branded type of MCT oil, butter or ghee, and coffee. The combination tends to be blended to create a palatable texture.
Many keto dieters make their own variations to the recipe, such as by using coconut oil or regular MCT oil.
Regardless of the specific ingredients, Bulletproof coffee acts as a way to boost fat intake. It is also an energy-rich drink, much more so than regular coffee.
Coconut oil and MCT oil also contain medium-chain triglycerides, which is a specific type of fatty acid. This type of fatty acid has been linked to various health benefits and can help you to enter ketosis faster.
90 Second Bread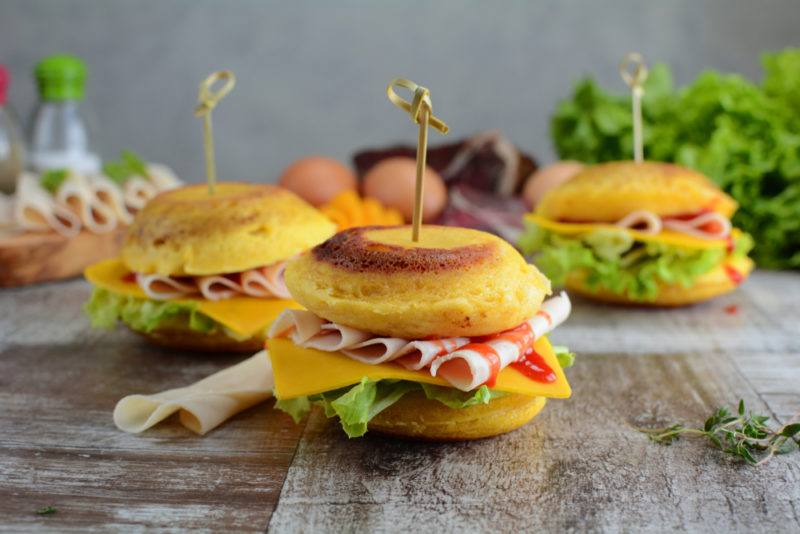 As the name suggests, 90 second bread takes less than two minutes to make. This is because you're preparing the bread in the microwave, rather than baking it in the oven.
The approach means that you're not making very much bread at a time. As such, the bread is perfect for a fast lunch or breakfast for one, but not if you are feeding a family.
90 second bread is surprisingly versatile. For example, you can use it in sandwiches or toasted. You could even make grilled cheese using the bread.
Cauliflower Pizza Bases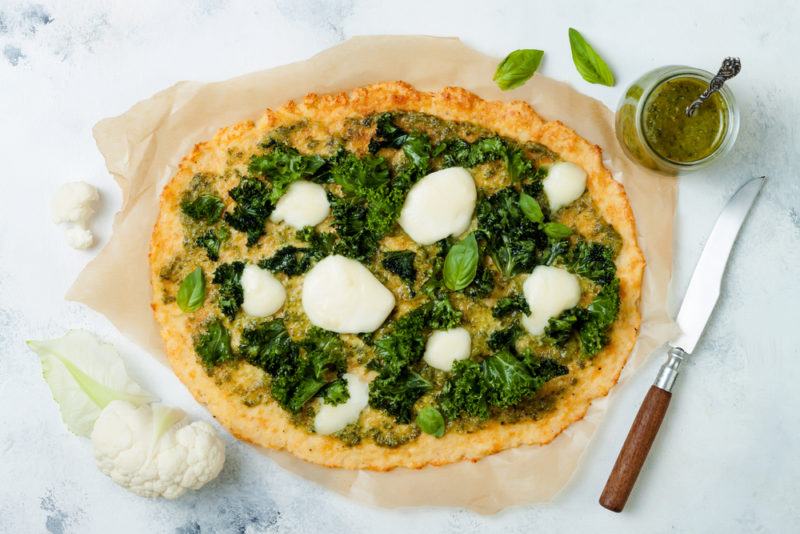 As you can probably guess, a cauliflower pizza base is a low carb pizza base alternative that relies on cauliflower as the main ingredient. Many variations on the recipe use egg as a binding agent, along with various herbs and spices to season the crust.
The crust relies on cauliflower rice, which means that it can be a little labor-intensive to prepare. However, you can buy riced cauliflower these days, which makes the process much easier.
While cauliflower pizza bases are popular, the style doesn't appeal to everyone. Some people find that they don't like the flavor or the texture of the cauliflower base.
Thankfully, there are other low carb pizza base styles that you can try. We'll get to other examples later in this list.
Pork Rind Breadcrumbs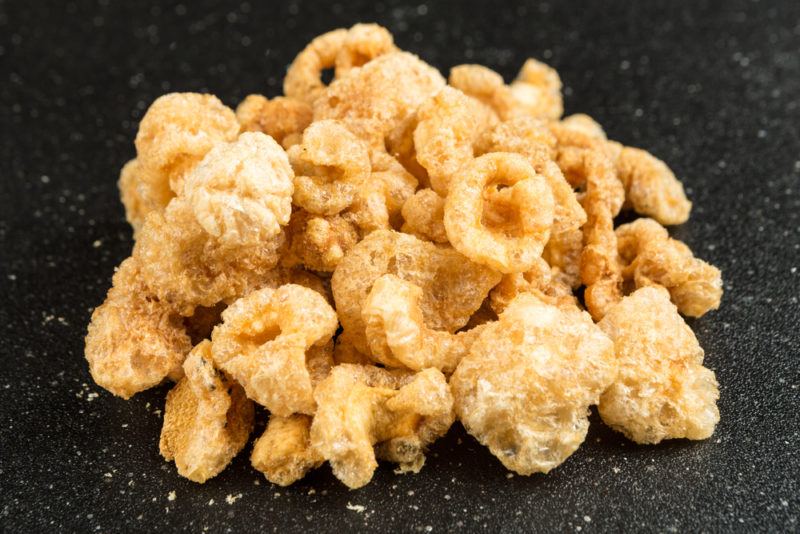 You can't have traditional breadcrumbs on a keto diet, but you can make something similar using pork rinds. The process is easy. You're simply using a food processer to reduce pork rinds down until you get a texture that is similar to breadcrumbs.
Pork rind breadcrumbs won't behave exactly the same as regular breadcrumbs, but you can use them in many of the same recipes. For example, pork rind breadcrumbs can be used as an alternative way to crumb fish.
Almond Meal As Breadcrumbs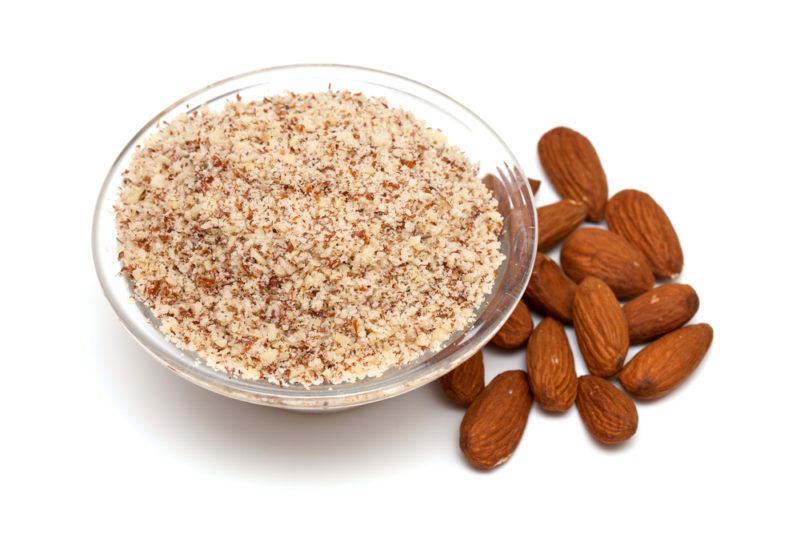 Almond meal has a coarse texture that makes it useful as an alternative to breadcrumbs, especially if you're crumbing fish or something similar.
Some recipes expand on this idea to create a texture that is even more similar to regular breadcrumbs. One example comes from the site Trina Krug, which uses hemp hearts as well as the almond flour.
Egg Cups

The simplicity of egg cups makes them perfect for many different situations. You're basically baking eggs in muffin cups, along with a variety of other interesting ingredients.
Ham, eggs, mushroom, dark leafy greens, and avocado are just a few examples of the ingredients that you can use in egg cups. The cups are also an easy-to-eat snack that you can enjoy hot, warm or cold.
Lettuce Wraps

The idea of using lettuce instead of wheat-based wraps should already be familiar. The style has become so popular that places like Subway are even offering lettuce wraps.
Doing this is a clever way to still enjoy a wrap, without having to worry about all the carbs. Keto dieters often rely on meat and avocados as key ingredients in their wraps, but you can choose whatever low carb ingredients that you like.
Making lettuce wraps that don't fall apart can be a little tricky at first. One way around this is to use paper to hold the whole thing together while you eat it. Some sites also have articles about how to make sure your lettuce wraps don't fall apart.
Zucchini Lasagna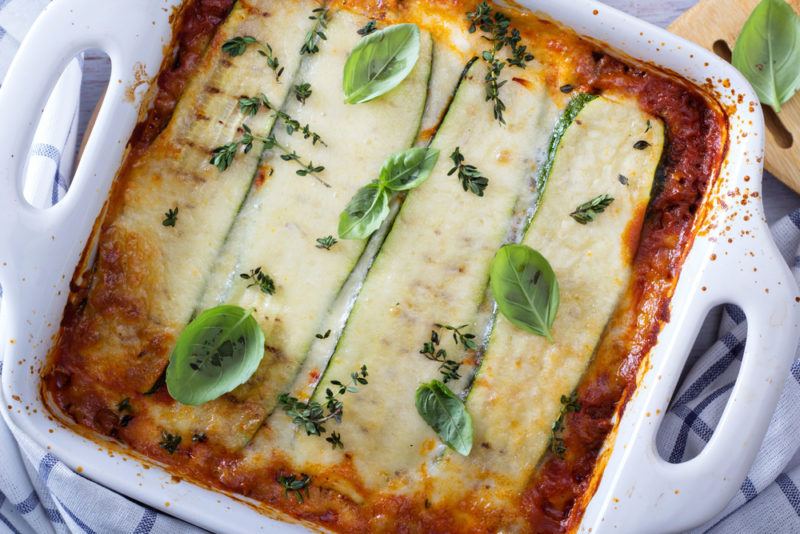 Spiralized zucchini is a popular type of low carb noodle, but that isn't the only way that you can use the vegetable. Some keto lasagna recipes rely on sliced zucchini as an alternative to pasta sheets.
The rest of the recipe tends to be familiar and often includes ingredients like ground beef, ricotta cheese, and marinara sauce. It is possible to make zucchini lasagna without the ground beef too. If you do this, then you would just be using zucchini, cheese, and sauce layers.
While zucchini lasagna isn't difficult to make, you do need to make sure that you remove as much water as possible from the zucchini. Otherwise, your dinner could easily end up as a soggy mess.
Salami Crisps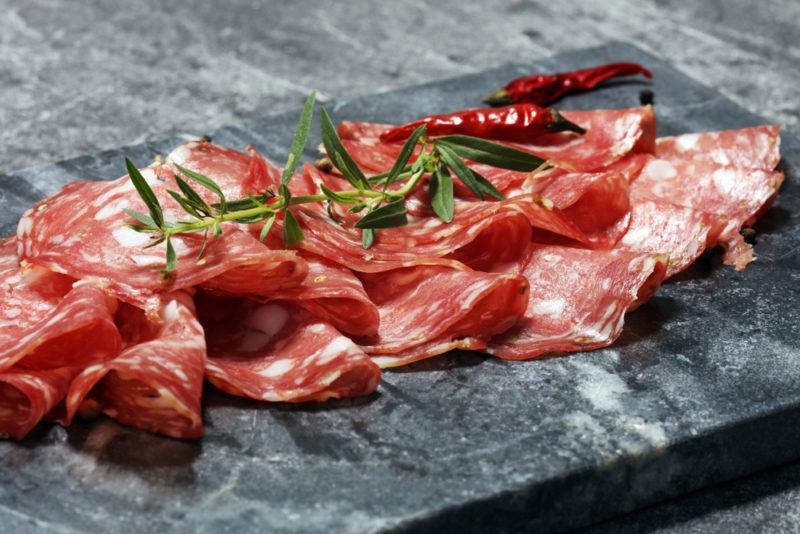 Here's a very simple idea. Salami crisps just consist of salami that has been baked in the oven for around 10 to 12 minutes.
The edges of the salami curl a little when you bake it like that and the salami slices get crisper as they cool. You can do something similar with other thinly sliced meats, although the end results will vary depending on the type of meat that you use.
Cauliflower Mac And Cheese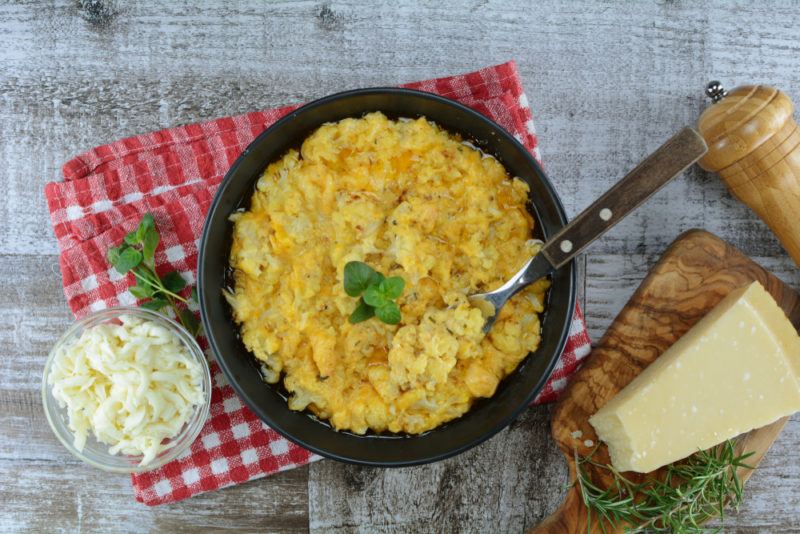 Cauliflower mac and cheese is designed as a keto replacement to traditional mac and cheese – where you're replacing the pasta with cauliflower. The substitution is an unexpected one, especially as the texture of cauliflower isn't very similar to pasta.
While cauliflower is never going to taste like pasta, cauliflower mac and cheese is a very popular dish. You're still getting most of the amazing flavors that come with mac and cheese, but you don't have to worry about any carbs from pasta.
Recipes for cauliflower mac and cheese tend to be simple. The most important aspect is making sure that the cheese sauce is good. The sauce is ultimately what determines how tasty the meal ends up being.
Stuffed Peppers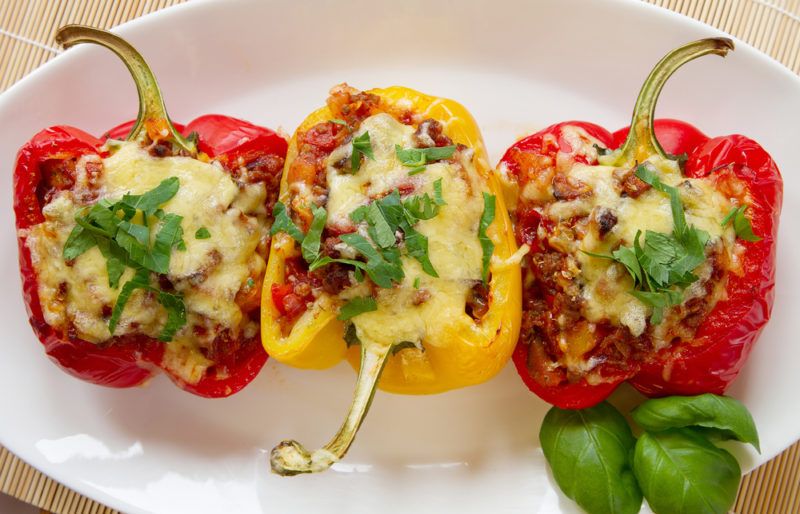 Keto stuffed peppers often rely on ground beef, cheese, tomatoes, and various flavoring ingredients – all baked in the oven. The peppers help to create a freshness to the whole meal, while also acting as natural containers.
Now, bell peppers do contain some carbs, but thankfully the carb content is pretty low. Most of the other ingredients in the recipe are heavy in fat, so the macronutrient composition balances out nicely.
Ground beef isn't the only filling type to consider either. I've seen other variations out there too, including ones that rely on minced chicken or even lamb.
Jalapeno Poppers

Jalapenos work well as a vehicle for keto fillings too. They're much smaller than bell peppers, so you'll often be using jalapenos for a snack or an appetizer, rather than a full meal.
In fact, a single jalapeno ends up having just one net gram of net carbs, making them perfect for keto snacks. You'll often see them stuffed with cream cheese and bacon, with various seasonings included as well.
Stuffed Mushrooms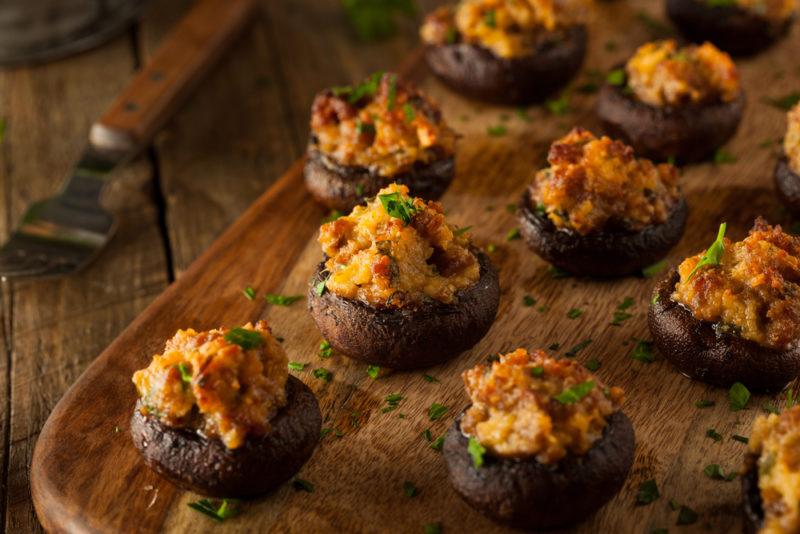 Here's another idea to try – stuffing mushrooms. You can do this with small mushrooms or with larger portobello ones. Either way, the result is delicious and surprisingly filling.
Mushrooms work well for this role as they end up having a meaty texture when they are cooked.
As for fillings, the sky is the limit. Many recipes rely on ground beef, marinara sauce, and cheese, to create a flavor profile that resembles lasagna. I've also seen stuffed mushrooms designed to taste like cheeseburgers or ones that rely on cream cheese and eggs, which creates a different combination of flavors entirely.
Bacon Weave Pizza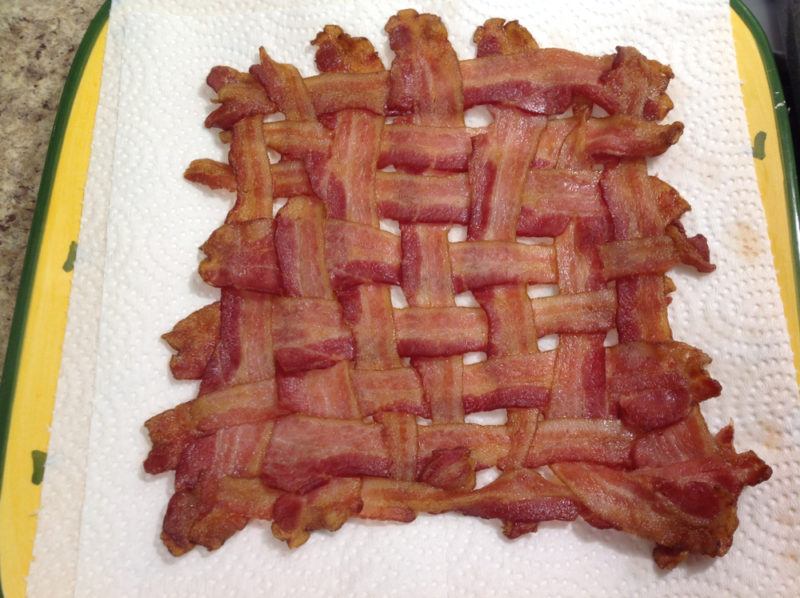 Here's another low carb pizza base approach to consider – bacon. With this type of pizza, you're literally creating a base that is made up of bacon slices woven together and then baked.
It's easy to see how this type of base would be popular, especially for meat lovers. The prep work is minimal too, which is always a bonus.
Cheeseburger Casserole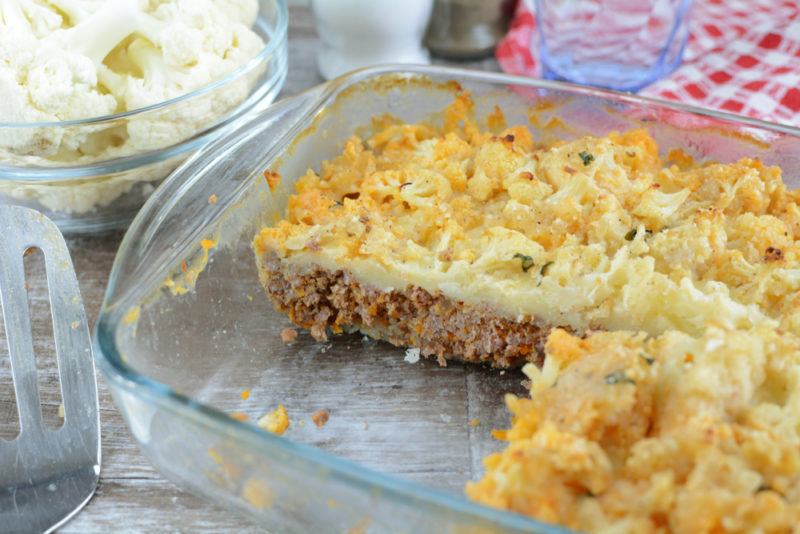 A cheeseburger casserole gives you all the flavors that you would get with a cheeseburger – just in a casserole form. Making a casserole automatically means fewer carbs, as there are no burger buns to worry about.
Casseroles tend to be easy to prepare too. They're perfect if you're cooking for a family, as there is plenty to go around.
Another advantage is that this type of casserole is pretty familiar. This means that people who aren't on the keto diet should enjoy the casserole just as much as keto dieters.
There are many other styles of keto casserole that you can make too. The trick is to cut out ingredients that are high in carbs. Sometimes you might substitute low carb alternatives, such as using cauliflower instead of potato on the top of a casserole.
Spaghetti Squash Pasta

When a spaghetti squash has been baked, the insides make a surprisingly useful pasta alternative. The strands are thin, much like angel hair pasta, while the squash has a subtle flavor.
The texture and flavor of spaghetti squash mean that the vegetable works well with many different types of sauces. If you use a light sauce, then the flavor of the spaghetti squash will be more obvious, while heavier sauces mask much of the flavor. Either approach could be appealing.
Pasta alternatives like spaghetti squash are never quite as good as the real thing, but this is still a pretty good choice if you are craving pasta.
Buffalo Cauliflower Bites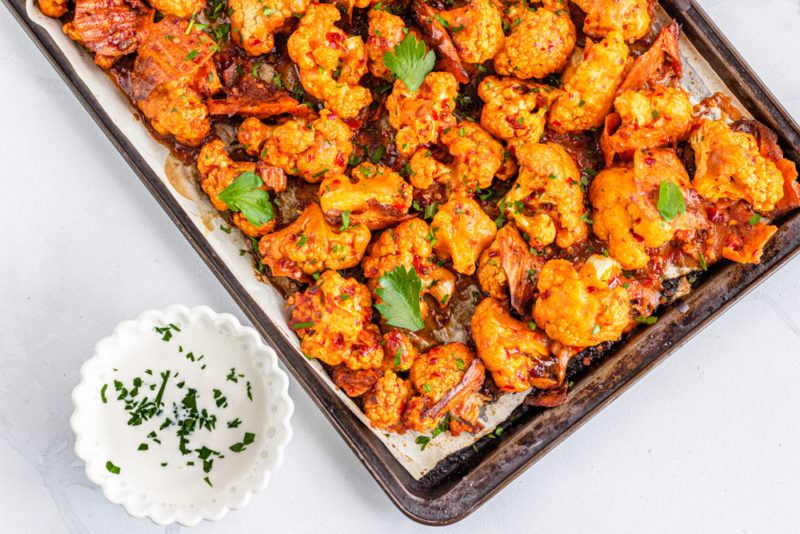 Buffalo cauliflower bites are sometimes promoted as a low carb alternative to fried chicken wings, which seems a bit… odd. While the seasoned and cooked cauliflower does look a little like chicken wings at first glance, there are dramatic differences in texture and flavor.
That being said, the idea is still worth trying. Buffalo cauliflower bites do have a fantastic flavor.
They also make an easy and healthy snack. After all, you're mostly just eating cauliflower that has been coated with seasoning.
Mashed Cauliflower

It's easy to see why cauliflower is so popular on the keto diet – the vegetable is incredibly versatile. In this case, cauliflower can be used as a substitute for mashed potatoes.
The flavor isn't quite the same as regular mashed potatoes, of course, but the end result is surprisingly good. Making the mashed cauliflower is a simple process. You just need to cook the cauliflower until it is tender and then blend it in a food processor.
You can add in other ingredients for extra flavoring, such as herbs and parmesan. Cream cheese is a useful addition too, as this helps to create a similar texture to mashed potatoes.
Chicken Pizza Crust

Did you know that you can make pizza crust using shredded chicken? You'll need a couple of eggs to bind it all together, along with some cheese and seasonings, but that's about it.
This type of pizza base is fantastic if you want something fairly low in calories. You're also getting a pizza base that tastes like chicken, which is a very appealing outcome.
Fathead Pizza Crust

Speaking of pizza crusts, we can't miss one of the classics – fathead pizza crust. This recipe has become a staple approach for many keto dieters. In fact, fathead dough gets used for many other types of recipes as well.
The dough relies on four main ingredients: mozzarella, egg, cream cheese, and low carb flour. Almond flour and coconut flour tend to be the main flour choices. The site Wholesome Yum talks about the dough in detail and shows you how to make it.
Egg Whites Instead Of Bread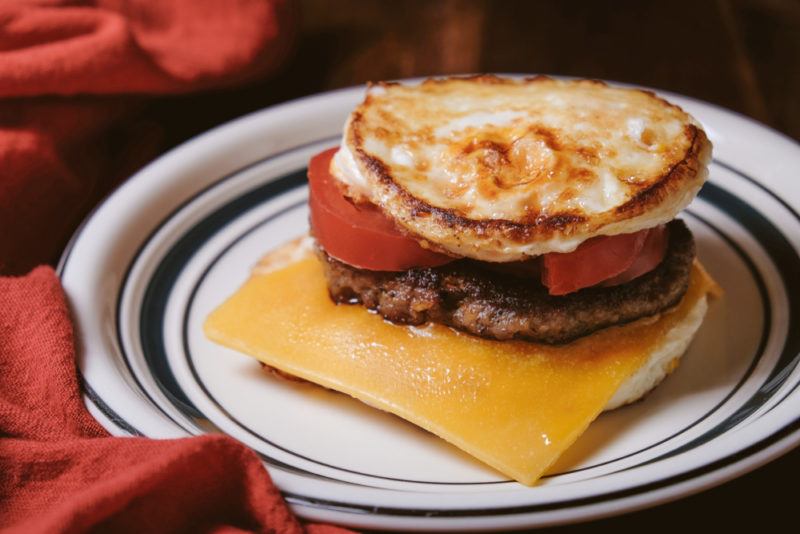 Here's an easy way to have a breakfast sandwich when you're on a keto diet – skip the bread. As the image shows, you can use fried egg whites as an alternative to the bread. You might even include the egg yolk, if you want the extra nutrients.
This type of sandwich would be greasier than a regular breakfast sandwich, but it should still taste just as good. You could get around some of the greasiness by eating the sandwich with a knife and fork.
Sliced Cucumber For Appetizers

This approach isn't just useful for keto dieters. It can work well for anyone who wants to decrease their carb intake. All you're doing is using slices of cucumber rather than crackers or pastry for appetizers.
Cucumber pairs well with many flavors and it also gives you appetizer a refreshing edge. Just make sure that you slice the cucumber thick enough so that it doesn't give under the weight of your other ingredients.
Cauliflower Burger Buns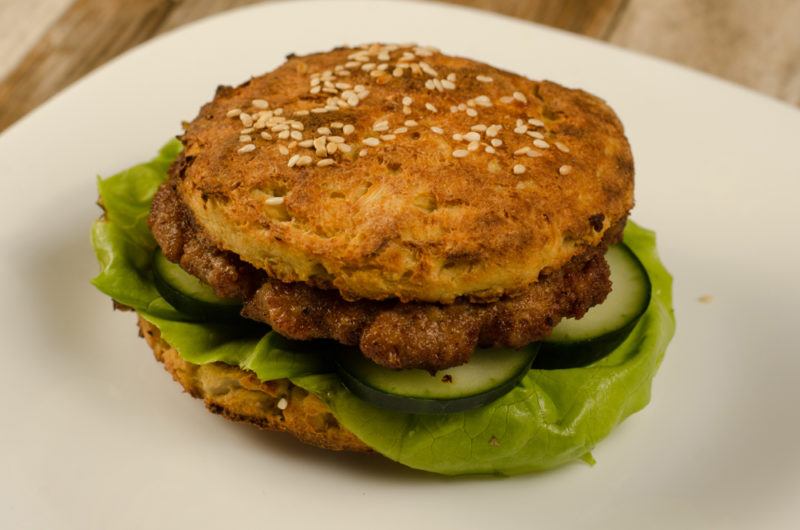 Cauliflower can also be used to make burger buns or other bread alternatives. The process is similar to making a cauliflower pizza crust, so you're generally relying on riced cauliflower, eggs, and parmesan.
The burger buns aren't going to have the same texture or flavor as regular bread, but they do still work well. If nothing else, you do end up with a burger that looks mostly traditional. The same can't be said for some other keto burger bun replacements, like ones that rely on avocados or lettuce.
Egg And Cheese Waffles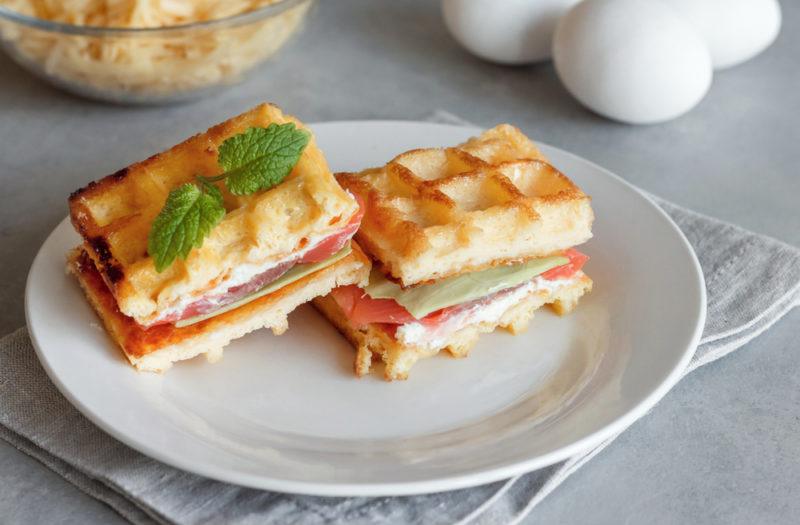 Egg and cheese waffles (or chaffles) look like regular waffles. The difference is that they're made using eggs and cheese instead. Chaffles are incredibly easy to make, as the basic recipe just relies on those two ingredients. Nothing else.
The mixture is then poured into a waffle pan and then cooked like normal. You could also make these as pancakes instead, as long as you pay close attention to the cooking process.
You can also expand on the recipe by adding or changing the ingredients. For example, using mozzarella cheese makes the chaffles a little sweeter. You can then add in other sweet ingredients, like cocoa powder or cinnamon sugar.
Savory chaffles can work well as a bread alternative for sandwiches, although you might need to eat the sandwich with a knife and fork.
Broccoli Pizza Base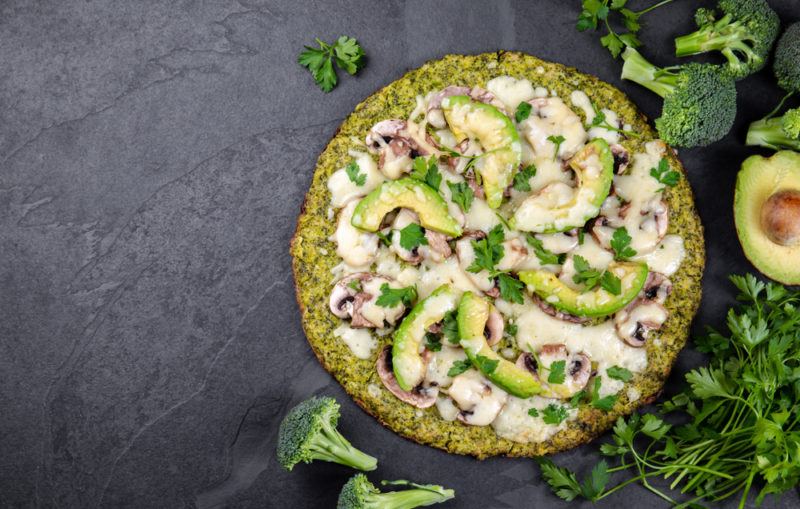 While cauliflower tends to be the go-to ingredient for the keto diet, broccoli can be used just as easily in some recipes. This broccoli pizza crust is one example of the pattern.
Just like the cauliflower version, the broccoli is riced when you make the crust and an egg is used as a binding ingredient. In both cases, you need to bake the crust on its own first, so that it is crispy. Toppings can then be added and the whole pizza baked again in the oven.
The end result acts as a delicious alternative to wheat-based pizza bases and has an interesting color.