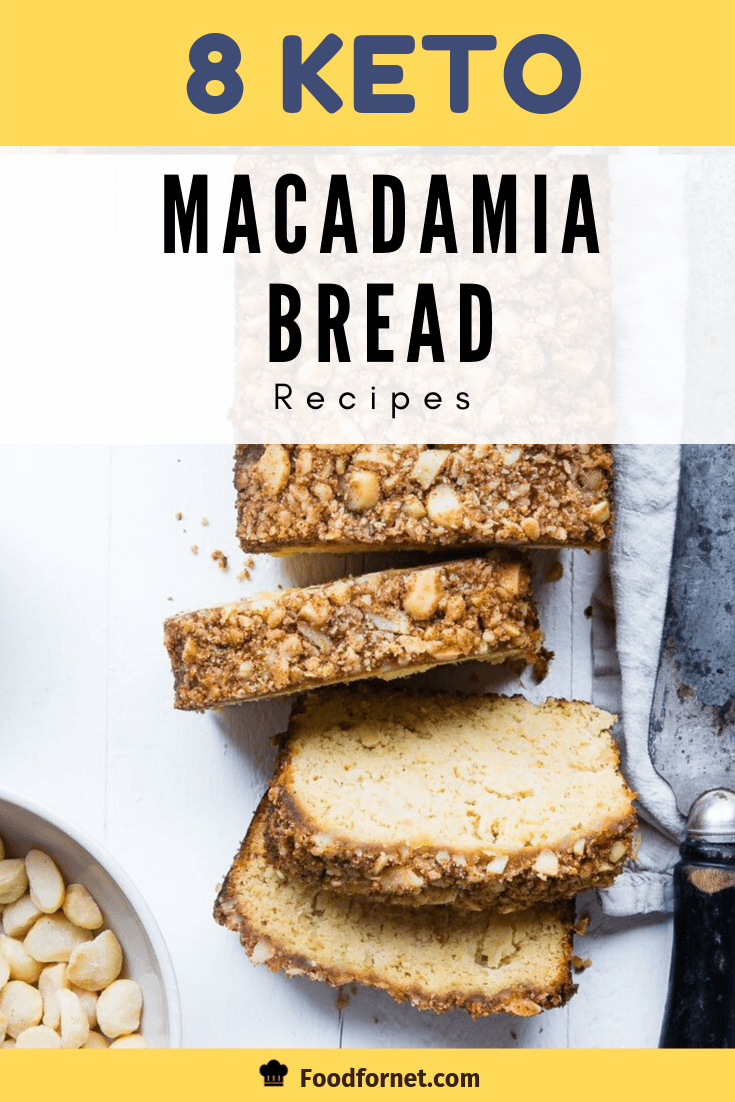 Macadamia nuts have an amazing flavor, so why not include them in your bread? The idea has become popular due to The Magic Pill documentary.
A woman in the documentary made bread using macadamia nuts, coconut butter and some other keto ingredients. It's easy to see how the bread would take off, especially among people who are new to keto.
The items in this list are all keto macadamia bread recipes. Each recipe creator uses their own combination of ingredients to create a distinct loaf of bread. While some do end up being similar to one another, there are significant differences as well.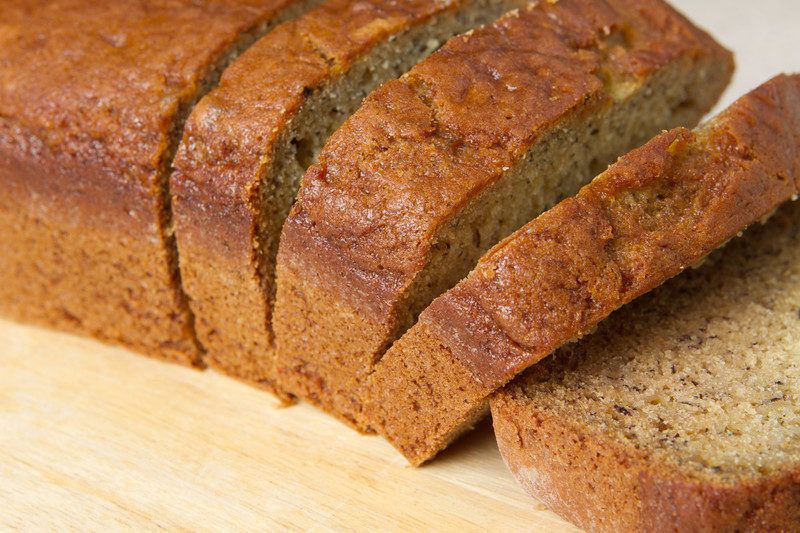 Keto Macadamia Bread Recipes
Macadamia Nut Bread
Keto Macadamia Bread
Low Carb Keto Bread
Keto Macadamia Bread
Macadamia Nut Bread
Keto Fat Bread
Macadamia Nut Bread
Keto Macadamia Bread
PS. If you like the idea of nuts in bread, there are plenty of keto bread recipes that rely on almonds and almond flour.
PPS. If you like the crunchy earthiness of macadamia flavor, try these keto seed breads.
Macadamia Nut Bread

This first recipe comes from Deanna at theharvestskillet.com. She mentions that she was trying to find a version of the bread that did not heavily rely on coconut butter. As she points out, coconut butter can be pretty expensive.
The recipe is a good place to get started with macadamia nut bread, as it is so simple. There are only five ingredients and a short list of instructions. If you cut the finished loaf into ten slices, each slice will contain just one net gram of carbs.
Keto Macadamia Bread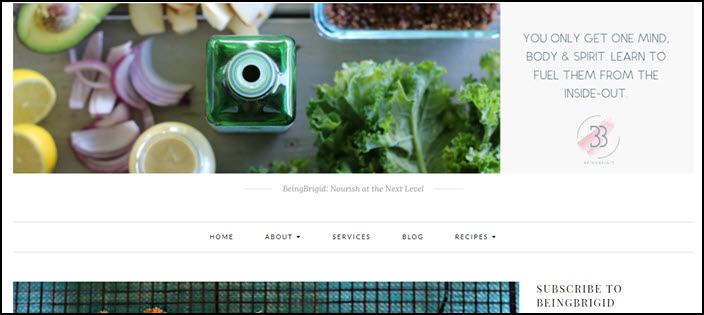 Brigid mentions that this recipe is fantastic for nutrients. The macadamia nuts mean that the bread is high in magnesium and potassium, two nutrients that are often difficult to get on a keto diet.
You can find the recipe at beingbrigid.com. It is naturally low in carbs, with just four net grams of carbs per serving. It is high in fat too, so you end up with hearty slices of bread.
Low Carb Keto Bread

This next recipe comes from flavcity.com. It takes an unusual approach to keto bread, as it avoids most types of low carb flour.
Coconut butter, eggs and macadamia nuts provide the base of the bread instead. Lemon is included as well, which creates an enjoyable nuanced flavor. The bread ends up being exceptionally low in carbs – with just one net gram of carbs per serving.
Keto Macadamia Bread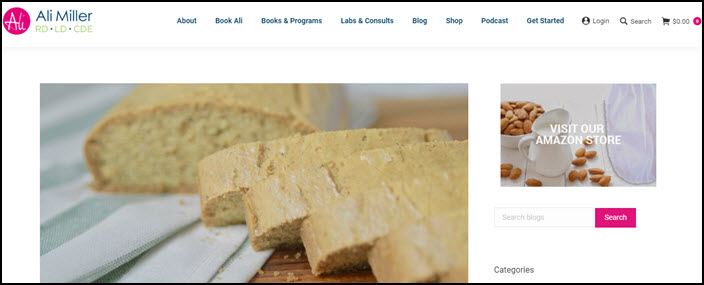 Here's another variation on macadamia bread. This one comes from the site alimiller.com. It uses a similar approach to the previous example, in that it relies heavily on eggs, macadamia nuts and coconut butter.
However, this version uses different quantities. It includes some almond flour and ground flaxseed as well. These changes mean that you end up with a different flavor and texture combination.
Macadamia Nut Bread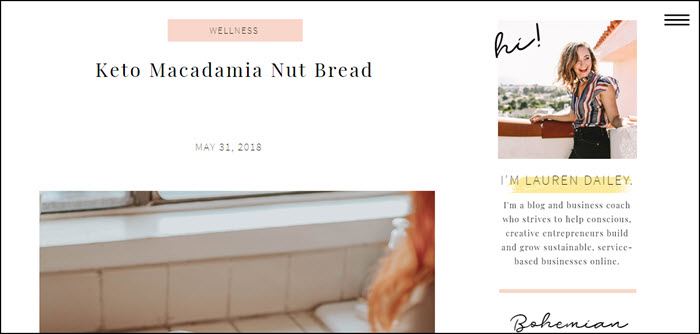 I found this bread recipe at bohemianbythebay.com, although it has been featured on at least one other site as well. The recipe has some similarities to the previous two examples, as it uses significant amounts of macadamia nuts and coconut butter.
In fact, you're including a full cup of coconut butter, so this bread would be fairly expensive to make. There are only a few other ingredients in the recipe. Details aren't provided about the number of carbs, but the carb content isn't likely to be very high.
Keto Fat Bread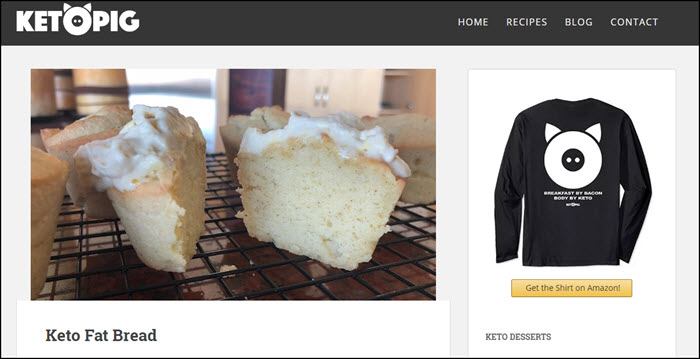 This recipe comes from ketopig.com. Unlike the previous examples, it relies on shredded coconut rather than coconut butter. You're basically using the shredded coconut to create coconut butter.
The bread ends up being very high in fat as there aren't any low carb flours included. The biggest advantage of this example isn't the recipe itself but all of the images. You're able to see the various steps of the process, which makes it easier to get the bread exactly right.
Macadamia Nut Bread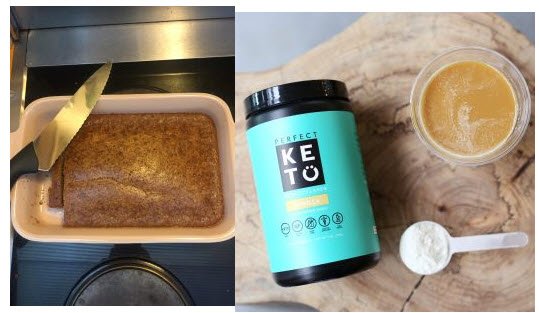 Here's a recipe from blazebell.com. It looks more like a regular keto bread recipe, as it includes almond flour and ground flaxseed.
The recipe also takes advantage of Vanilla Protein Collagen from Perfect Keto. Ingredients like this often aren't necessary, but they are powerful ways to boost your nutritional intake.
In fact, this recipe could improve your health in a number of ways, as it includes coconut oil too. This is another healthy ingredient and is one that may help you to stay in ketosis.
Keto Macadamia Bread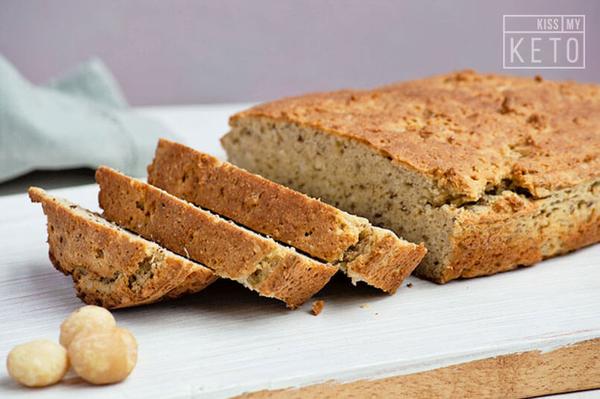 This recipe can be found at kissmyketo.com. It's incredibly similar to the previous example. The two recipes have most of the same ingredients and even have some of the same quantities. As such, you'll get a similar outcome with either recipe.
This current version is a little easier to follow and includes nutrition details for the bread. Those details alone might be a reason to try out the recipe. The bread also ends up having a good balance of nutrients, with around 2.5 net grams of carbs per slice.