When it comes to cooking, I have a strong preference for cuts of meat like beef and chicken. But, there is something to be said for sausages as well. They are an especially powerful option for cold winter nights when you want something hearty and filling. I haven't published a lot on my site yet, but come next winter, I'll be posting more slow cooker sausage recipes.
At the same time, sausages are great simply for the flavor they impart, along with their flexibility. These aspects mean that there are many different types of meals that work perfectly with sausages, many of which are simple to prepare and to eat.
I also find that sausages work well for most audiences, including kids and picky eaters. There is just something about the simplicity of sausages that makes them popular, regardless of who you are cooking for.
So, if you love sausages or are just looking for new inspiration, check out this list. All of these recipes can be made in the slow cooker, making them a perfect choice for effortless dinners. There is also a variety of styles, including some meals that are heavy and filling, along with others that are lighter.
Slow Cooker Sausage Recipes

Slow Cooker Split Pea and Smoked Sausage Soup
Creole Chicken and Sausage
Chicken Tagine with Spanish Chorizo and Sun-Dried Tomatoes
Slow Cooker Sausage Risoni
Slow Cooker Breakfast Casserole
Sausage, Hash Brown and Cheddar Casserole
Slow Cooker Sausage and Peppers
Sausage and Shrimp Gumbo
Loaded Potato and Sausage Soup
Slow Cooker Jambalaya
Slow Cooker Split Pea and Smoked Sausage Soup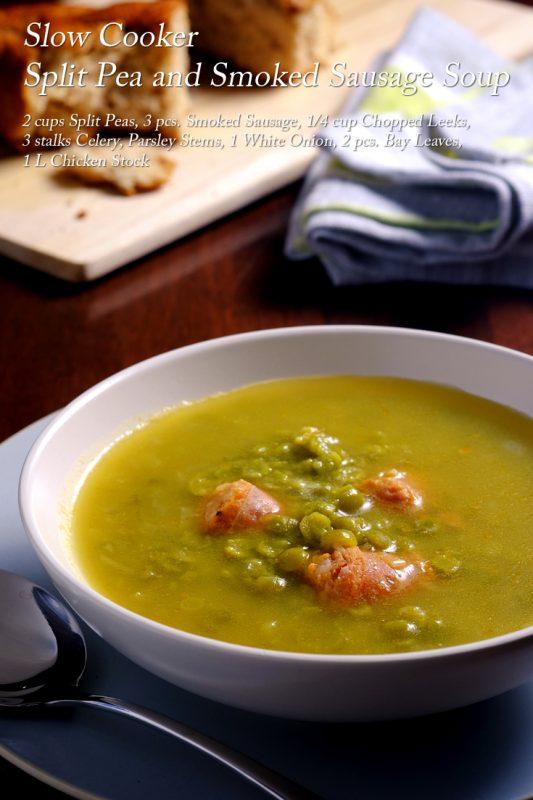 I always find that sausage works well in a soup or a stew, like in this Split Pea and Smoked Sausage Soup. Here, the smoked sausage helps to impart a smoky and rich flavor, something that you wouldn't get from split pea soup on its own. Additionally, the sausage adds a nice texture, making the soup much more interesting overall.
Including sausage in a soup recipe also helps to make it that much more filling, especially if you're preparing the dish for dinner. That alone is a reason to try this recipe, even if you don't make soup often.
Creole Chicken and Sausage

This recipe comes from pinchofyum.com, which also happens to be one of my favorite food blogs. The recipe itself is a powerful example of how you can make hearty and warming meals with sausages. In this case, you have chicken and sausages as ingredients, both of which are key sources of protein. An optional extra is black beans, which would make the whole dish heartier still.
I love the idea of this meal, especially as it makes use of a range of different flavors and ingredients. It is also slightly spicy, although it is mild enough that most people would still enjoy it. The dish can be served on rice, as Lindsay did, although it would also work exceptionally well with mashed potatoes.
Chicken Tagine with Spanish Chorizo and Sun-Dried Tomatoes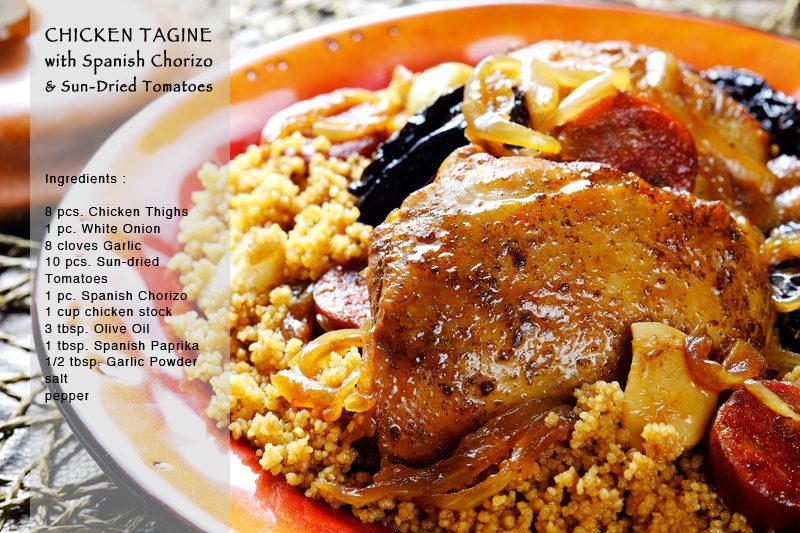 I loved making this Chicken Tagine with Spanish Chorizos and it ended up being a great example of how flavorful slow cooked dishes can be. In many ways, the chicken is actually the star of the dish and much of the prep work focuses on this aspect.
But, the meal wouldn't be the same without the chorizo either. In particular, the chorizo provides much of the vibrant color of the final dish, while also complementing the other flavors that are present. So, in this case, you end up with a meal that relies on sausages for taste and texture, even though the emphasis is on the chicken.
Slow Cooker Sausage Risoni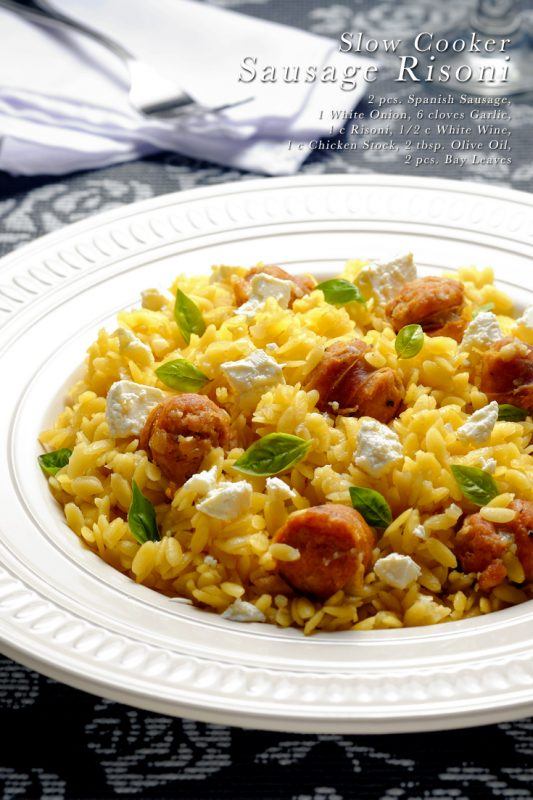 This Slow Cooker Sausage Risoni was directly inspired by the Spanish sausages that I had lying around in my freezer. Unlike many of the other recipes on this list, the end result is a relatively light dish, one that wouldn't be out of place as lunch on a warm summer's day.
For the most part, you could make the same recipe by substituting another protein instead, like chicken. But, I personally think that Spanish sausages or chorizos would make the best choice. These serve to add more flavor overall and complement the dish perfectly.
Slow Cooker Breakfast Casserole

I found this Breakfast Casserole at sixsistersstuff.com and it is a great choice if you're looking for a hearty breakfast. Of course, as the author notes, you don't actually have to eat this for breakfast at all. Instead, it would be suitable for any meal.
Nevertheless, the slow cooker aspect does mean that this recipe would work great first thing in the morning. In particular, you could just put it on before bed and leave it to cook while you sleep. This is also a good recipe if you don't like much complexity, as you would probably already have most of the ingredients at home.
Sausage, Hash Brown and Cheddar Casserole

This Sausage, Hash Brown and Cheddar Casserole from browneyedbaker.com follows the same general idea as the previous recipe. As such, it would also be perfect for breakfast, although you could choose it for dinner as well. The end result looks slightly different with this recipe but both recipes are bound to be popular. After all, who doesn't love an eggy and cheesy breakfast?
Slow Cooker Sausage and Peppers

The previous two recipes were attractive but, as you can probably imagine, they aren't the healthiest options out there. This recipe from organizeyourselfskinny.com is a little different in that sense, as there is an emphasis on making a healthy meal. The recipe itself is for slow cooked sausages, in a red sauce that contains a range of peppers.
With that in mind, there are many different ways to serve the finished meal. The creator suggests a hoagie roll or having it over pasta. Likewise, you could pair this with mashed potatoes and some vegetables, or with something else. The options here are endless and you can choose based on your own preferences.
Sausage and Shrimp Gumbo

Gumbo can be a fun dish, especially as there are so many different variations on it out there. This particular recipe is one example and it can be found at adashofsanity.com. As the name suggests, sausages are one of the two key ingredients in this dish, with the other being shrimp. So, it is a great dish if you're looking for something hearty and want to enjoy your seafood too.
Loaded Potato and Sausage Soup

I can imagine this Loaded Potato and Sausage Soup as the perfect pick for kids that are fussy eaters, or as a simple meal for game day. The recipe comes from wonkywonderful.com and it strongly falls into the category of warming comfort food.
Now, there is nothing especially complicated about the recipe and you may well have most of the ingredients already. But, the choice of ingredients does create an attractive overall flavor and texture. Plus, there are a few aspects that you may not have expected. With that in mind, the recipe is worth checking out, even if you aren't sold on the idea.
Slow Cooker Jambalaya

This final recipe comes from budgetbytes.com and, as such, there is a strong focus on creating a meal that is affordable. The dish itself uses chicken thighs and smoked sausage, both of which are inexpensive options for meat that are also filling. As Beth notes, you can also change up the sausage that you use, which will have a dramatic effect on the flavor of the whole dish.
Now, jambalaya is a dish that you can cook fairly easily on the stovetop. But, making it in the slow cooker is simpler still and means that there is less work involved. Plus, preparing it this way lets you avoid heating up your house, which is perfect if you're making the meal on a warm day.