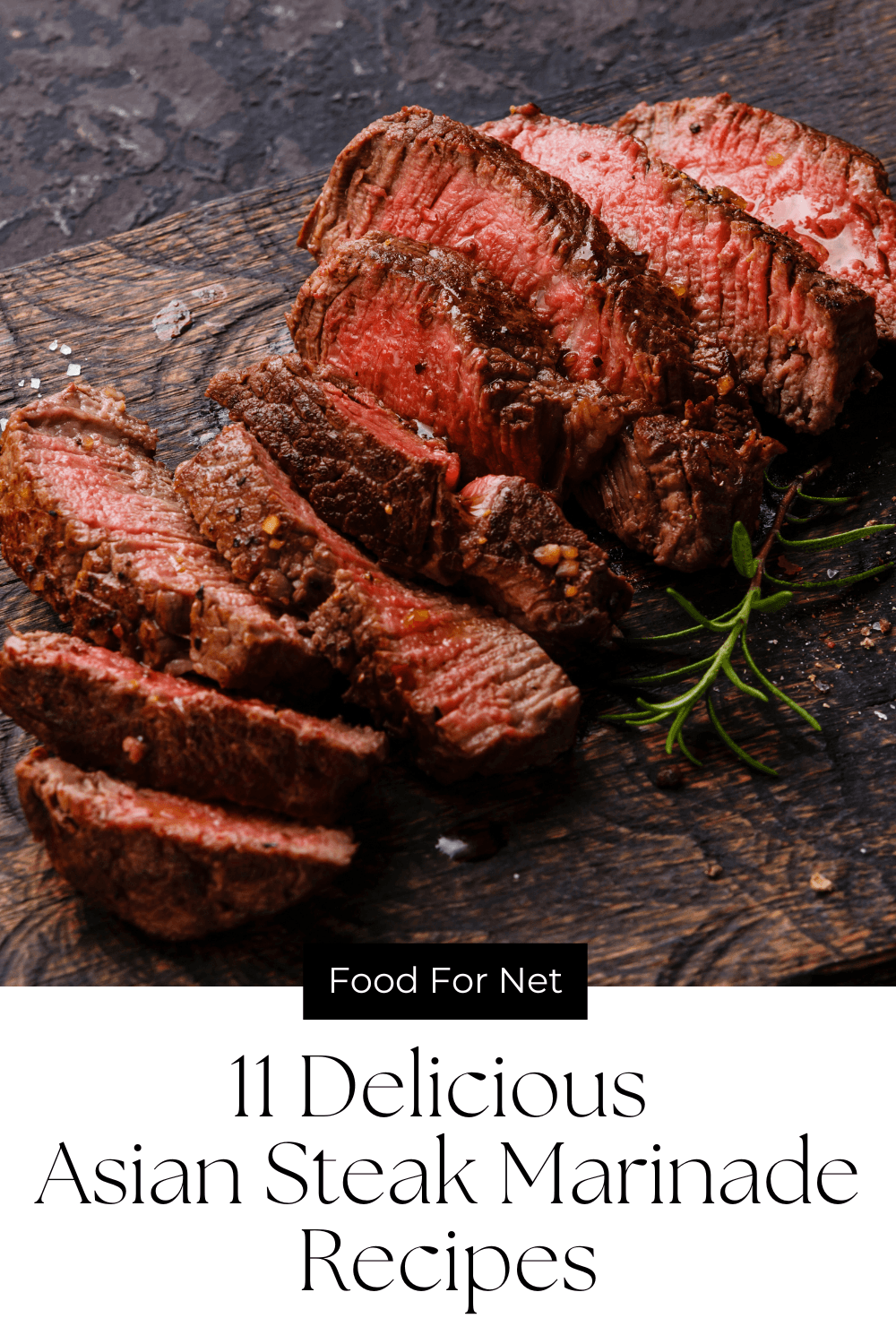 Steak is delicious, but do you know what makes it even better? Marinade! The right marinade adds an amazing flavor to your meat and makes it much more tender. There are many styles to choose from, but today we're just focusing on one, Asian steak marinade.
This is a popular type of marinade and makes your steak taste simply amazing. You get a rich umami flavor from the marinade, which perfectly complements the nuances of your steak.
The featured recipes all fall into the category of acidic marinades. This means they use ingredients like vinegar to help decrease the protein bonds in your meat and tenderize it. This is a popular style, largely because it works so well.
So, today, we're highlighting our favorite recipes for Asian marinades. But, most of these don't just focus on the marinade. They also provide details for cooking and serving your steak. You'll be able to get dinner on the table in no time.
For more ideas, why not check our list of Asian sous vide recipes. You could also try to pair some of these meals with Asian desserts for a truly spectacular experience.
Asian Steak Marinade Recipes (With Pictures!)
Steak Marinade In 30 Minutes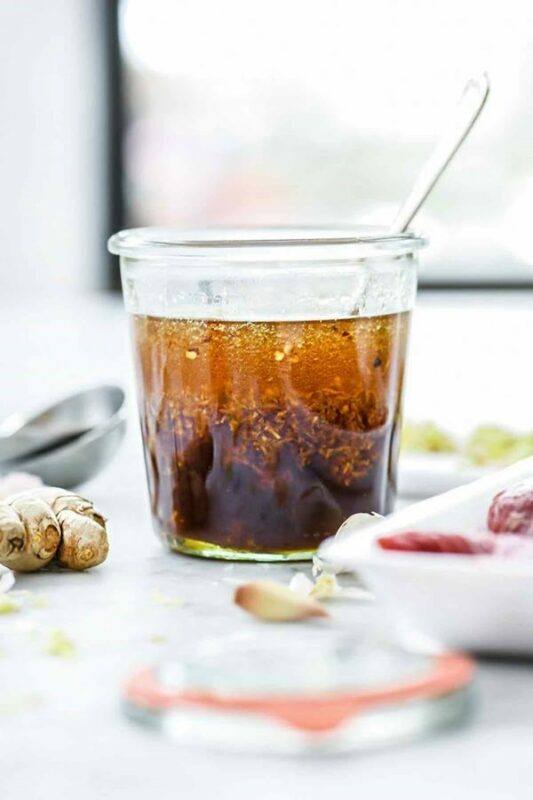 This recipe comes from Heidi at foodiecrush.com and it's a fantastic one to kick this list off. As the name suggests, you can actually have the steak on your dinner table within 30 minutes – marinade included.
This means you're only leaving the steak in the marinade for around 15 minutes. This is actually long enough to impart the desired flavors. Of course, you can easily leave the steak in the marinade for much longer if you would like to.
The recipe focuses just on the steak, but Heidi also provides information about how to turn your cooked meat into a full meal. For example, you could make a meal using ramen noodles or perhaps make tacos using sliced steak.
Asian Steak Marinade

Here's a delicious option from ohsweetbasil.com. It's a little more complex, as you're meant to use a spice rub on the steak before marinating it. Doing so adds an extra layer of flavor and makes the meal taste even better.
The recipe was developed based on the idea of fajitas, so you could easily use the steak in this way. Seriously. Asian flavors work so well in fajitas.
This marinade should be particularly good for tough meat, as the rub includes grapefruit or pineapple juice, which helps to tenderize the meat too.
Hibachi Steak Marinade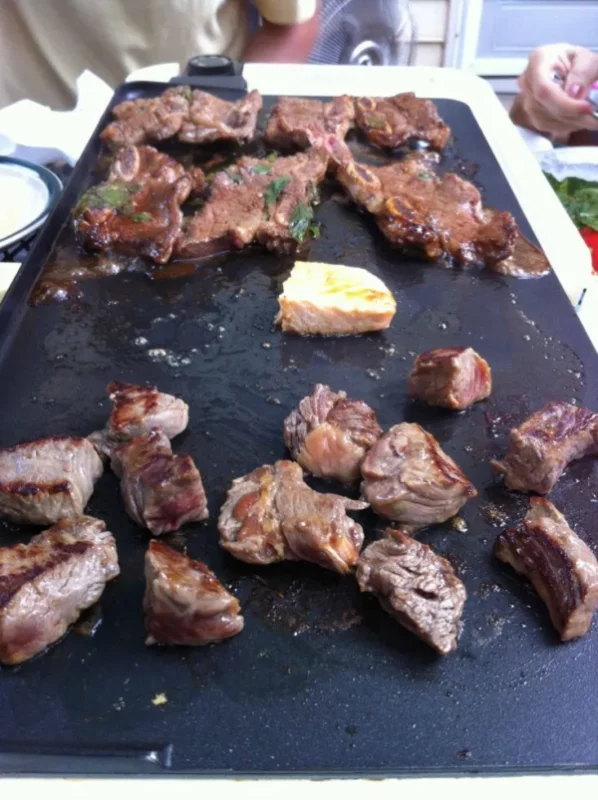 Here's a different style to try. The recipe can be found at ohsnapletseat.com and focuses on hibachi steak.
The word hibachi actually refers to a cooking style. Many restaurants serve hibachi steak served on a flat hot plate that's much like a griddle. Traditionally, though, hibachi steak is cooked on a grill plate on top of a bowl filled with charcoal. This is an amazing way to cook and serve steak, especially for guests.
That said, you're not forced to follow that cooking style. You could use this marinade and cook the steak on a regular grill instead.
Asian Steak Bites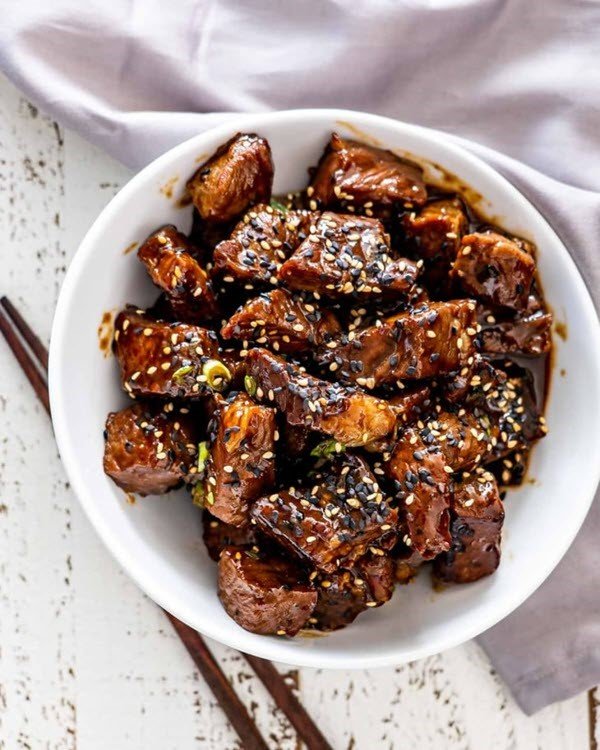 Like the previous recipe, this one focuses on small pieces of steak. The style is fantastic, as the steak bites will cook quickly and are versatile. You could serve them as an appetizer or perhaps add a few ingredients and use them as part of a full meal.
The other cool thing? These take less than 15 minutes to make. That's counting the time for marinating.
Because this is a fast recipe, you'll probably want a fairly tender cut of steak, like ribeye. If you're using a tougher cut, it's probably best to increase the marinating time to at least half an hour. For full details, check out the recipe at jocooks.com.
Japanese Marinade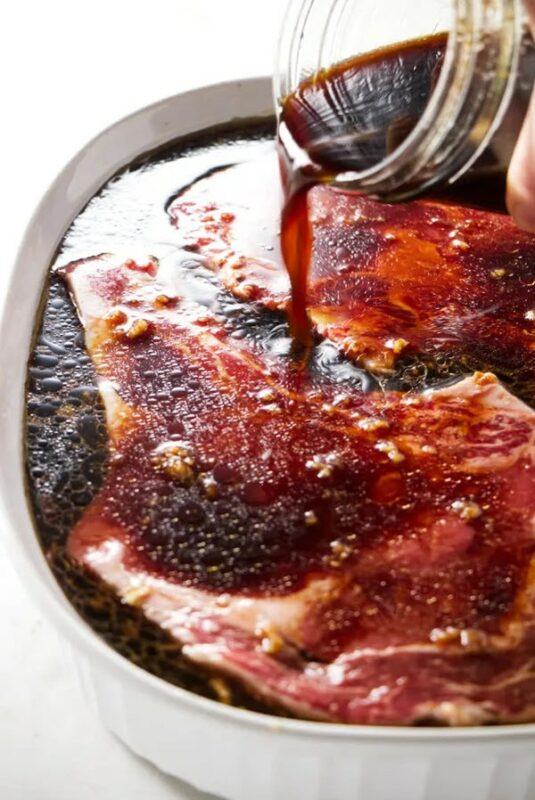 Here's a fantastic recipe from savorthebest.com. It's inspired by Japanese steakhouse marinade and really does offer all the expected flavors.
Try this recipe if you're looking for something exciting, as the flavor profile is a bit different than any of the other marinades. There's even an extra ingredient that adds to the umami flavor of the marinade and makes everything pop.
This is also a great recipe for beginners, as Dahn spells out absolutely everything you need to know, including how long you need to marinate the steak and exactly how to do so.
Asian Flank Steak Marinade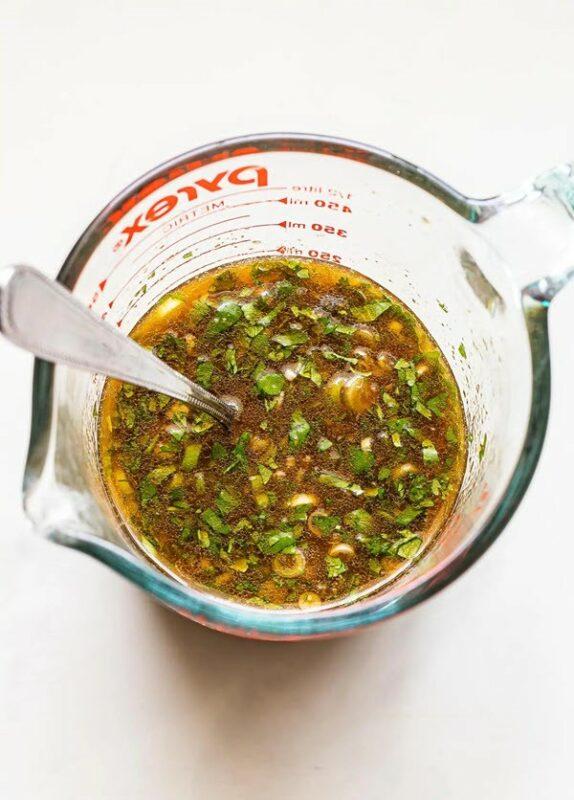 As the name suggests, this recipe (from reciperunner.com) is designed for flank steak. This cut of steak is fantastic, as it's typically inexpensive, but contains plenty of flavor. Flank steak is best when marinated, which makes this recipe perfect.
Many of the ingredients will be familiar, including soy sauce, sesame oil, and rice vinegar. There are a couple of less common ingredients too that make this marinade even more interesting.
Also, you could make a spicy version of this recipe or tone things down and create a mild one instead.
Keto Asian Steak Bites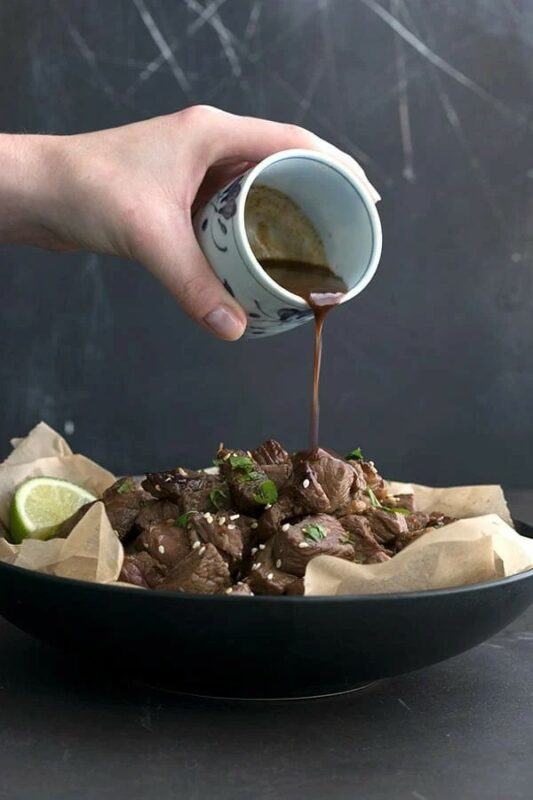 This recipe comes from alldayidreamaboutfood.com and it's a little different. Notably, this is a keto recipe. This means that it uses a low carb sweetener rather than sugar or honey.
Marinades don't typically contain that many carbs, but when you're following keto, every carb makes a difference. Beyond the sweetener, most of the ingredients in this marinade should be familiar. It's a delicious recipe and well worth trying, even if you're not a keto dieter.
You'll find plenty of other amazing keto recipes on the site as well.
Japanese Grilled Hibachi Steak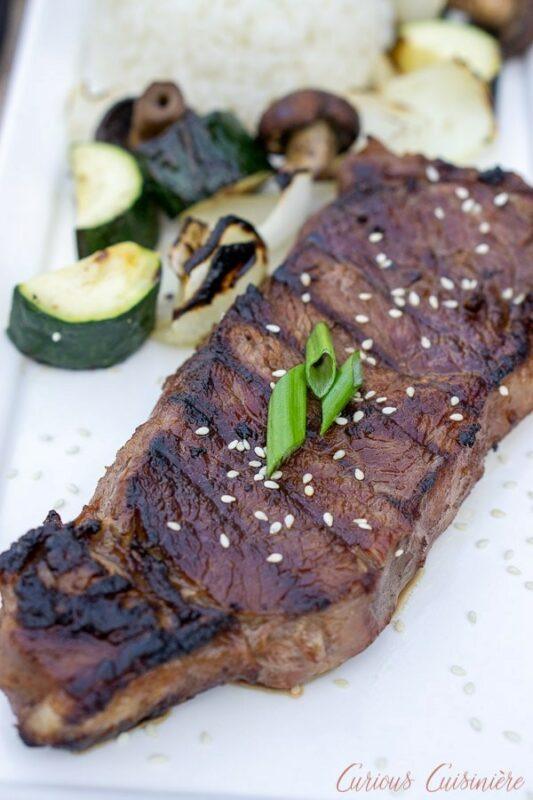 Here's a second recipe for hibachi steak and it comes from curiouscuisiniere.com. The recipe doesn't just include details for actually preparing the steak. There's also plenty of information about the history the hibachi cooking technique and how to prepare your steak perfectly.
The recipe is a little unexpected, as you end up cooking the steak over a charcoal grill. This makes it a versatile recipe that you can serve in many situations.
Thai Marinated Flank Steak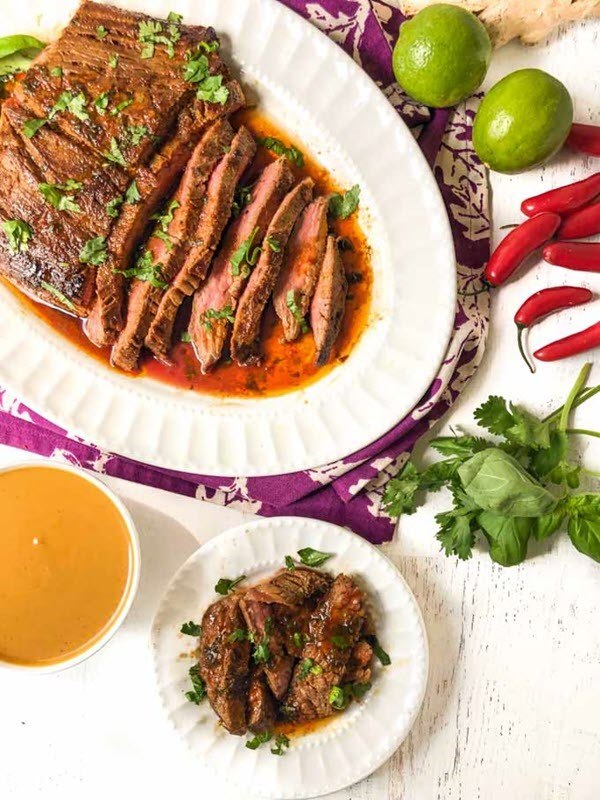 This recipe comes from mylifecookbook.com. It focuses on Thai flavors, so some of the ingredients mightn't be what you expect.
The recipe also comes with details for making a peanut butter dipping sauce. That sauce works perfectly with the flavors of the steak and the marinade.
This is also a low carb recipe. This means you could easily include it on a keto diet. If you're not following a low carb diet, you could use brown sugar in the recipe instead of the low carb sweetener. Either version should be delicious.
Negimaki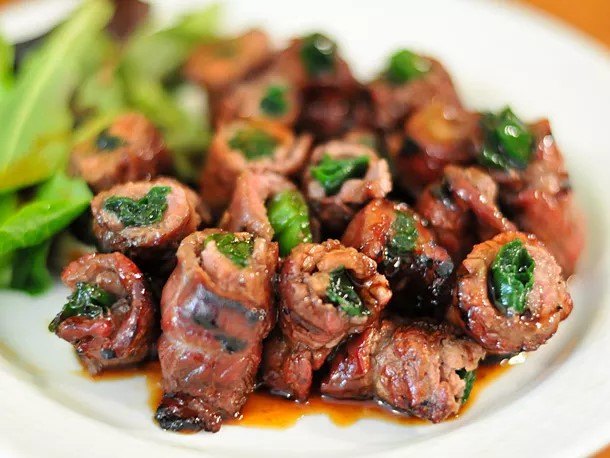 I love the style of this recipe. It basically involves making small beef rolls. They look a little like meat versions of sushi, which is pretty cool.
The recipe comes from seriouseats.com. It's a little unusual, as sake is used as part of the marinade. The sake adds a fantastic flavor that you don't normally get.
You only need to marinate the steak for 15 to 30 minutes. After all, you're working with thin pieces of steak, so they won't need any longer than that.
Keto Teriyaki Beef On A Stick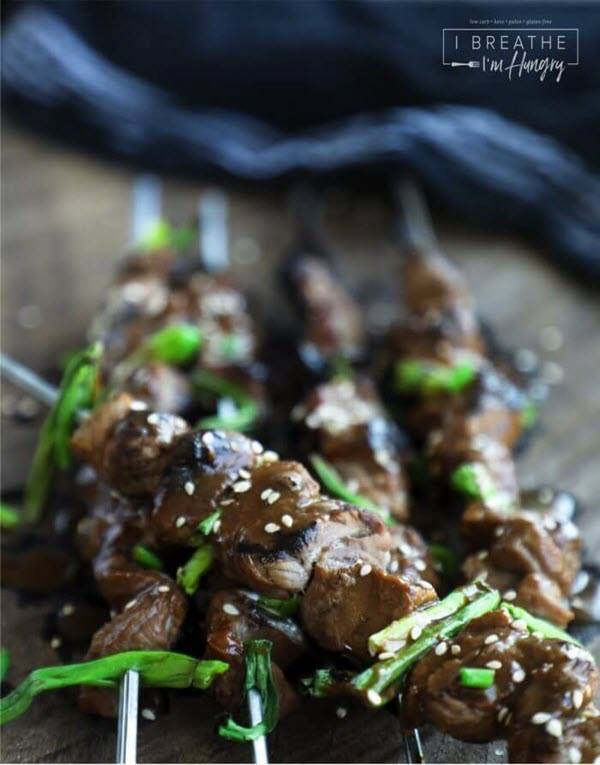 This final recipe comes from ibreatheimhungry.com and it's another keto-friendly one. It's a little different again, as you're serving the beef on a stick. This style is great for fast cooking – particularly outdoors in the summer.
Interestingly, it's best to keep these skewers as being just meat-based. Threading veggies on too doesn't work as well because the meat will cook much faster than the other ingredients.
You don't need to stick to the skewer style though. You could easily use the marinade with small chunks of beef instead or perhaps with a larger cut of steak.
What Do Asian Steak Marinades Have In Common?
While there are differences between the various recipes on this list, there are also many common ingredients. Here are a few you can expect:
Soy sauce (regular and sweet). Soy sauce is crucial for the Japanese flavor you're looking for. Most marinades simply use regular soy sauce, but a few add sweet soy sauce as well.
Rice vinegar. This is a little sweeter and milder than other types of vinegar, while still having the desired effect in your marinade.
Sesame oil. Toasted sesame oil provides plenty of flavor, making the marinade even more exciting.
Seasonings, including salt and pepper.
Ginger. This adds complexity to the flavor profile. Many recipes call for grated fresh ginger, which is more potent than dried ginger.
Sugar. Some recipes include sugar for a little extra sweetness, while others leave it out. You'll see low carb sweeteners feature instead of the sugar in some recipes.
What You Need To Know About Marinating Steak
Does Marinating Steak Ruin It?
Most of the time, no. Marinating a steak adds flavor and makes it more tender. Don't worry, you'll still be able to taste all the richness of the steak.
Still, if your steak is already tender and packed with flavor on its own, then the marinade shouldn't be needed. Using a marinade won't necessarily ruin the steak, but it really is a waste.
What Types Of Steak Should You Marinate?
Cheap cuts of steak and lean cuts of steak are the best options for marinating. These are often fairly tough and can be chewy if you try to cook them as-is. Marinating them makes the world of difference, giving you a tender and delicious steak dinner.
How Long Should You Marinate Steak For?
30 minutes is often the ideal length of time to marinate steak, particularly if it is a thin cut. This is enough time to add flavor and tenderize the meat, and is perfect for weeknight dinners.
You can marinate your steak for longer than this. Anywhere from 30 minutes to overnight works well. Just try not to go longer than 8 hours or so.
Can You Over-Marinate Steak?
Actually, you can! An extended marinade can break down the proteins in your meat too much, making the outer layers mushy. Doing so can completely ruin the texture of the steak.
Plus, if you have a thick cut of steak, the marinade won't penetrate the center, regardless of how long you leave it for. So, a crazy long marinade time isn't doing you any favors at all.
What Else Can You Use These Marinades For?
We've been focusing on Asian marinades for steak, but the same marinades work well with many other ingredients.
Chicken. While chicken doesn't need tenderizing in the way that steak does, it still takes on plenty of flavor from your marinade. Marinating chicken helps to keep it moist as well, which is always helpful.
Mushrooms. Did you know that you can marinate mushrooms? Doing so adds a ton of flavor and makes them taste amazing. You don't need to marinate them for long though. Even just 5 or 10 minutes will do the trick.
Tofu. You'll normally need some type of seasoning or marinade for tofu, as it doesn't taste great on its own. An Asian marinade is particularly apt and will work well in many meals. Plus, tofu has a loose structure, so it should get flavored all the way through.
Pork. Marinades like these are a fantastic way to make pork taste more exciting. Why not try them with budget cuts of pork? You'll be amazed at how much better the meat tastes.
Lamb. Let's not forget about lamb. It has a different flavor profile than beef but works well with most of the same marinades. In fact, you can use lamb instead of steak in many recipes.
Exotic meats. Many exotic meats will work well with a marinade too. The marinade may even make them easier to eat, by cutting down some of the most intense flavors. You'll need to experiment here though, as Asian flavors will work better with some types of meat than with others.