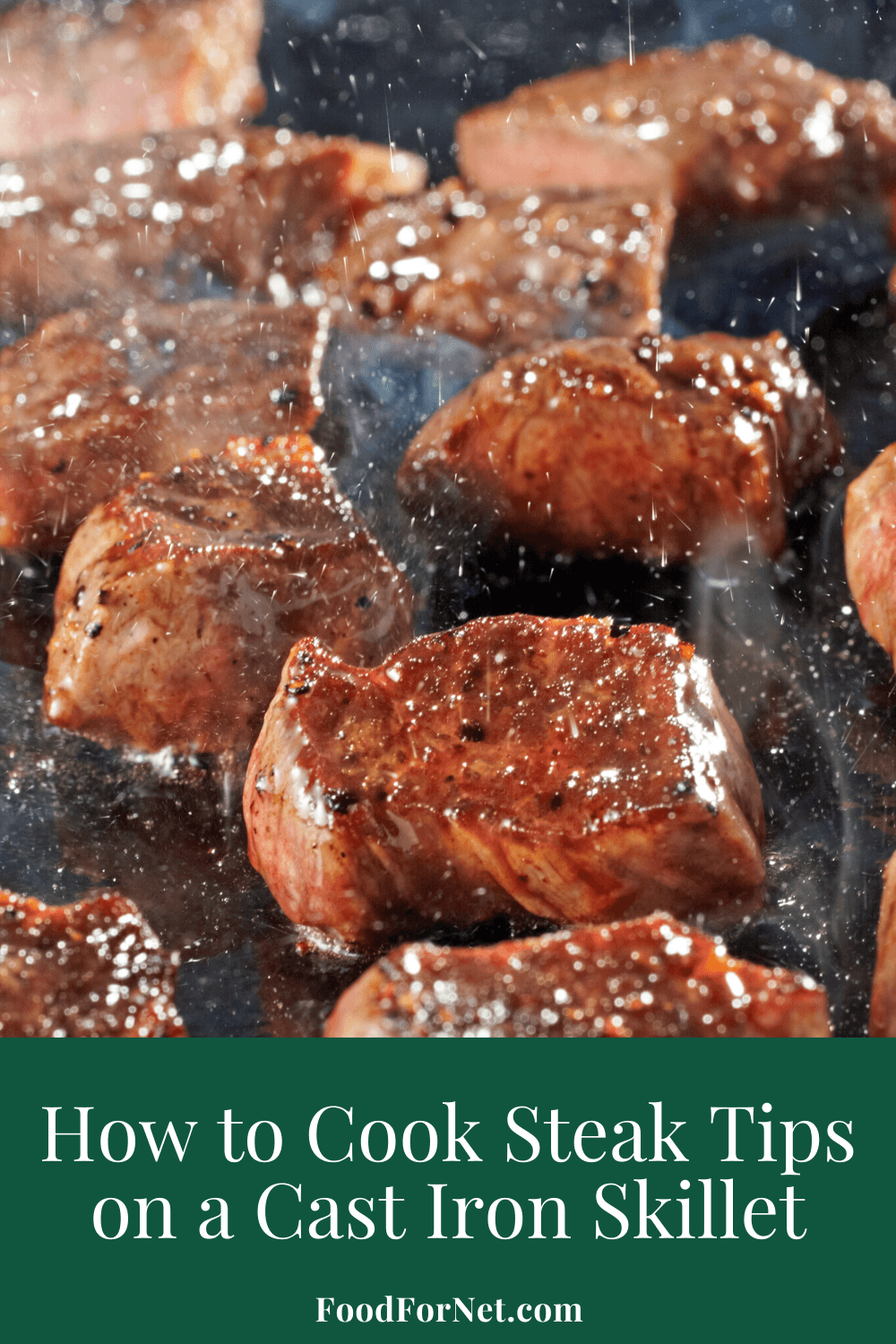 Steak can be enjoyed in many different ways. Be it through grilling, braising, slow cooking, or pan-frying, there are a lot of cooking methods to choose from, with each one giving the steak a different flavor and texture to it. One of these methods is cooking through a cast-iron skillet.
Cast iron skillets and cookware, in general, have a property that allows them to retain heat for long periods of time. It's also a relatively cheap way to cook food, as the materials and processes needed to produce a cast-iron skillet aren't that expensive. This makes it a good cooking method for those who want to enjoy some steak at home without relying on fancy grills or slow cookers.
Today, we'll be taking a look at how to using the cast-iron skillet. But we aren't using just any beef steak – we'll be using steak tips. Contrary to their name, steak tips are not tips of steaks, nor are they one single kind of steak. Steak tips are simply "chunks" of steak, and can be made from any cut, be it tenderloin, skirt steak, or top loin.
So get your cast-iron skillets ready and your steak tips prepared because we're giving you a step-by-step tutorial on how to cook these delicious steak cuts on one of the most common (and most affordable) cookware items on the planet.
4 Steps To Cooking Steak Tips On A Cast Iron Skillet
Step 1: Cut Your Steak Into Tips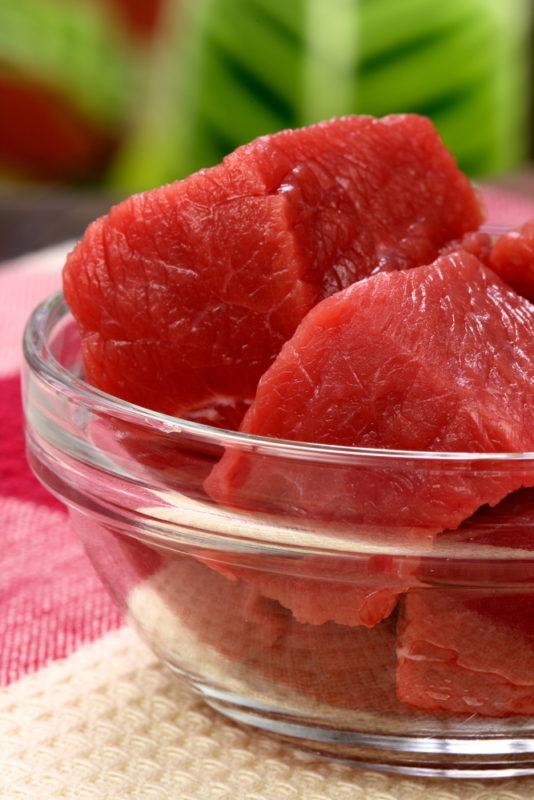 Not everybody can get their hands on steak tips at their local supermarket. My local shop doesn't ever have "steak tips". So, if you're one of those people, you can get around this by buying some regular steak, and cutting them into tips by yourself. This is actually preferable IMO because then you get to choose your cut of meat.
Steak tips are normally cheap cuts of steak, which is probably why they are also heavily flavored, and there's less emphasis on the doneness of the steak, as there is with ribeye or ny steak.
To cut the steak into tips, you can first freeze your beef for around 30 minutes. You don't want to freeze it for much longer because if it gets too solid, it'll be just as hard to cut as it is when at room temperature. 30 minutes is enough time to make the steak firm enough without it being completely rock-solid.
Once you're done with the slight freeze, bring your steak over to a cutting board and cut away. You'll find that cutting it is a lot easier than you'd expect thanks to the freezing. Be sure to keep the cuts at a reasonable length and width, not being too thin or too thick to eat. A thicker cut will allow for more rare doneness, while a thinner cut will allow for fast cooking and more flavor absorption. If you're going for shish kabobs, cutting them into 1-inch cubes works as well.
Step 2: Season Or Marinate Your Steak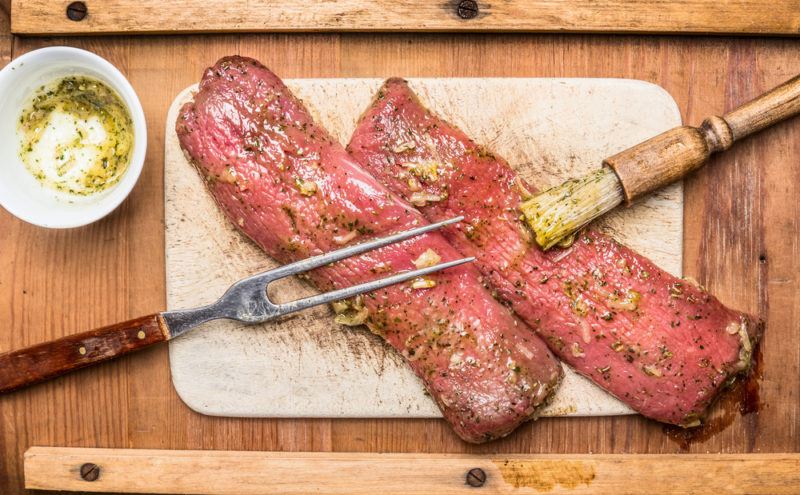 Of course, to make a good steak, you'll have to add the proper seasoning or marinade beforehand. Steaks, while delicious, aren't delicious by themselves, and need some additional ingredients to really get going.
When it comes to what particular ingredients you should use, though, that decision is entirely up to you. Go ahead and use that secret sauce that's passed down your family line, or just rub some good old salt and pepper if you'd rather do that.
For those who don't have an idea of what to do, though, don't worry, because we've got you covered. Other than salt and pepper, there are other condiments and spices that can really add flavor to the steak. Chili powder, paprika, or garlic powder are just some of these options. You'll want to sprinkle as much as you'd like onto the steak and rub them onto the meat to really let the flavor seep in.
If you're dealing with a tougher cut of meat, then marinating the steak is a great option as well. Marinades can be easy to make, but hard to get right, but fortunately, the rules on making marinade aren't too difficult to follow. Just remember to have 1 part acid (like wine, vinegar, or even beer), 3 parts fat or oil, and your desired seasonings. You can also follow a marinade recipe that we've got later in this article.
All you have to do now after marinating your tips is to wait. The longer you wait, the more tender it becomes. However, remember that too much time spent marinating can lead the beef to lose some of its color thanks to the acid.
Step 3: Sear The Steak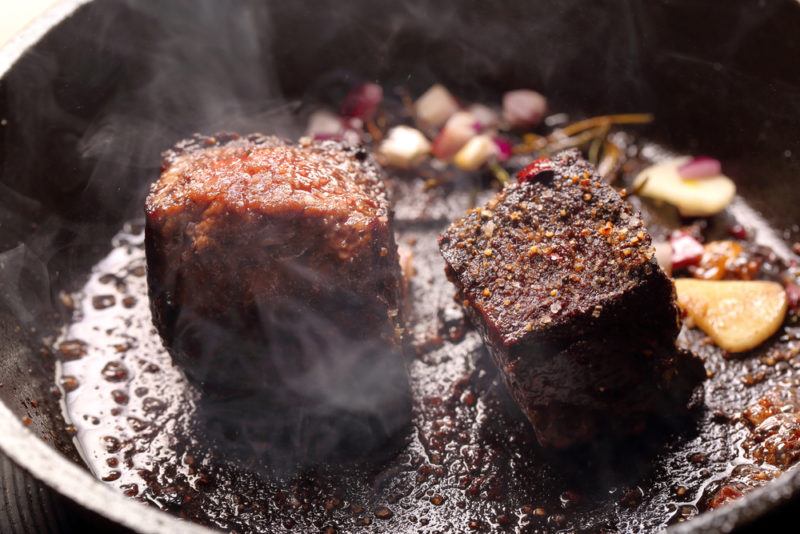 Here's where things get a little more fun. Once you're done seasoning and/or marinating your steak tips, it's time to sear the steak. To begin, coat the surface of the cast-iron skillet with oil of your choice. Then, preheat the skillet at a medium to high temperature, until oil is hot, but not smoking. In a cast iron skillet, I'm not shy with the oil. You don't want to end up deep frying your steak tips, but if you run out of oil, you could end up burning your pan and ruining your dinner.
Once hot, place individual steak tips in the pan so that they are not touching each other, but not so few that it's going to take forever to cook all the tips. They should sizzle immediately. If not, your pan is not hot enough. We are not warming up these tips – we're searing them!
Once your steak tips are down on the pan, do not move them. Moving them will allow the tips to cook but you won't get a good sear. You can check one of the tips by using tongs or a fork after a few minutes to see if you have a sear you approve of. If not, put the tip back down on the same side until you get a sear you like. You'll know it's done once you see it having a golden-brown layer of crust on it. Once it's done, ideally you should manually turn each individual tip until your steak reaches your preferred internal doneness.
IMPORTANT! You may not able to to sear every single side before your steak is done, depending on the thickness of your cuts and the temperature of your pan. I usually get 1 or 2 sides done, then call it okay. With sauce, that'll be good enough.
Once done, remove the tips, and add the next batch.
HOT TIP! Personally, I'm lazy and will just power through the rest of my steak tips, but you may notice some burning by the end of your searing sessions. Marinade, spices, and lost flakes of steak will continue to cook in the pan while you add new batches of steak tips. For example, if you have rosemary in the marinade, those rosemary sprigs will be black and crispy after 3-4 batches of steak tips. In an ideal world, you'd remove the pan from the heat, scrape off burnt bits, wipe the pan, add new oil, and start fresh.
How you deal with this situation will depend on the time you have left to cook, and how well you managed steak juices and marinade throughout the cooking session. A quick wipe with a paper towel could save you some hassle, so just keep an eye on things.
Step 4: Cook the Steak Tips To Desired Doneness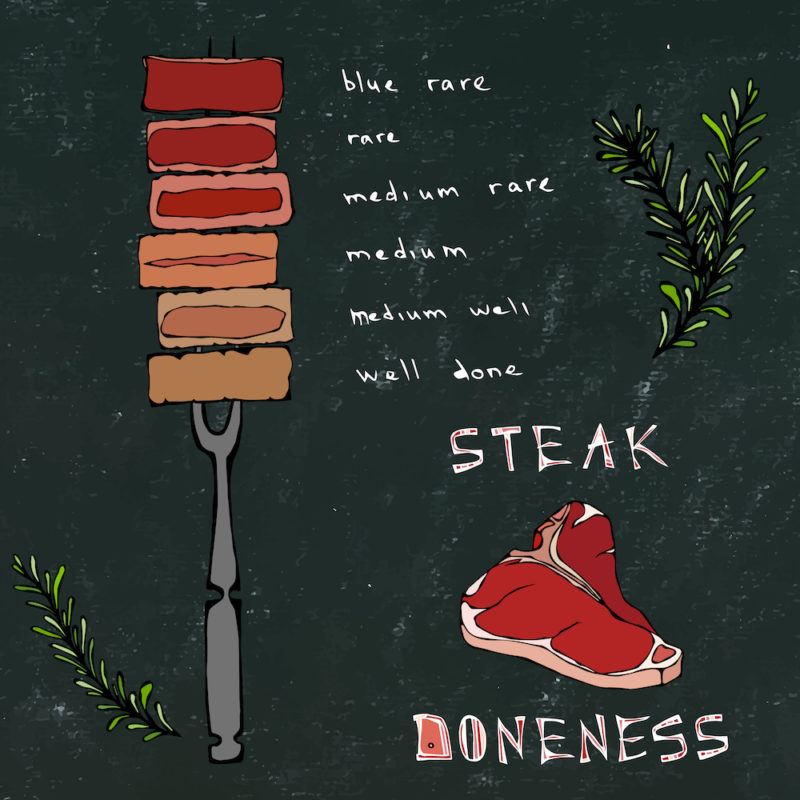 If you're cooking steak tips made out of thin strips of beef, then you can definitely skip this part, as there isn't much inside meat to work with. For those small, cubed tips, however, you can definitely cook them the way you like them, just like any other steak cut.
First, decide on what level of doneness suits you (or the people you're cooking for) best. We aren't going to go into too much detail on this, but remember that the extremes (well done and blue rare) isn't a universal favorite. Not everybody can appreciate a blood-rich steak or a dry, dull one.
To play it safe, we recommend cooking the steak tips 'till it's medium in doneness. This is the most commonly requested way to order steaks, according to an article by Men's Health. This is followed by medium-well and medium-rare, which are also relatively mild levels of doneness in the spectrum.
For those who are cooking for themselves, then, by all means, do what you want. As a general rule, you'll want to keep the temperature of the skillet at certain levels to achieve the desired level of doneness. Here they are:
Rare: 120° F – 125° F
Medium-rare: 125° F – 130° F
Medium: 135° F – 140° F
Medium-well: 145° F – 150° F
Well done: 160° F and above
Use a digital thermometer if you can't trust the temperature shown on your stove. It never hurts to be too sure when cooking steak.
Recommended Marinade: Beer Teriyaki Marinade
With beef being heralded as such a premium red meat, you'd typically associate it with wine, as it complements a high-class dining experience. But even humble beers can work really well with beef, and it doesn't have to be in the form of a beverage. You can add your favorite beer in your beef in the form of a marinade.
This is possible because beer is slightly acidic. Some beers are more acidic than others, with barley malt beers being one of the most acidic brews at 4.00 – 5.00 pH. It also has a flavor that works really well with beef, making it a good candidate for a component in the marinade.
Here's the list of ingredients you'll need to make your own beer teriyaki marinade:
⅓ cup of beer (preferably IPA or pale ale)
¾ cup olive oil
¼ cup Worcestershire sauce
¼ cup soy sauce
2 tbsp. Lemon juice
1 tbsp. Garlic powder
1 tbsp. Dried parsley
1 tsp. Crushed pepper flakes
1 tsp. Paprika
To prepare the marinade, simply mix all the ingredients together. You can do so easily with the help of a blender, blending for around 30 seconds.
If you don't have a blender lying around at home, though, you'll need to go manual. Place the ingredients in a bowl and whisk away for about 1 minute until everything's thoroughly mixed.
Final Sauce-ing
Personally, I love to go light on the marinade during the cooking process to save myself the hassle of burnt bits in the pan, then I add extra sauce afterward and toss the steak tips to fully coat them. Alternatively, sometimes I like to actually cook the sauce in the pan when the tips are done to get some of that caramelized steak juice and add some meaty flavor to your sauce.
Sometimes, nice, clear, fresh sauce is best though. When you sauce and toss, less is more. You don't want soggy steak tips!
Love Steak?
If you can't get enough steak, try a steak of the month club, and get top quality steak delivered to your doorstep. Get the best cuts, from artisanal farms, and humanely raised animals for incredible flavor and texture!
Related Content