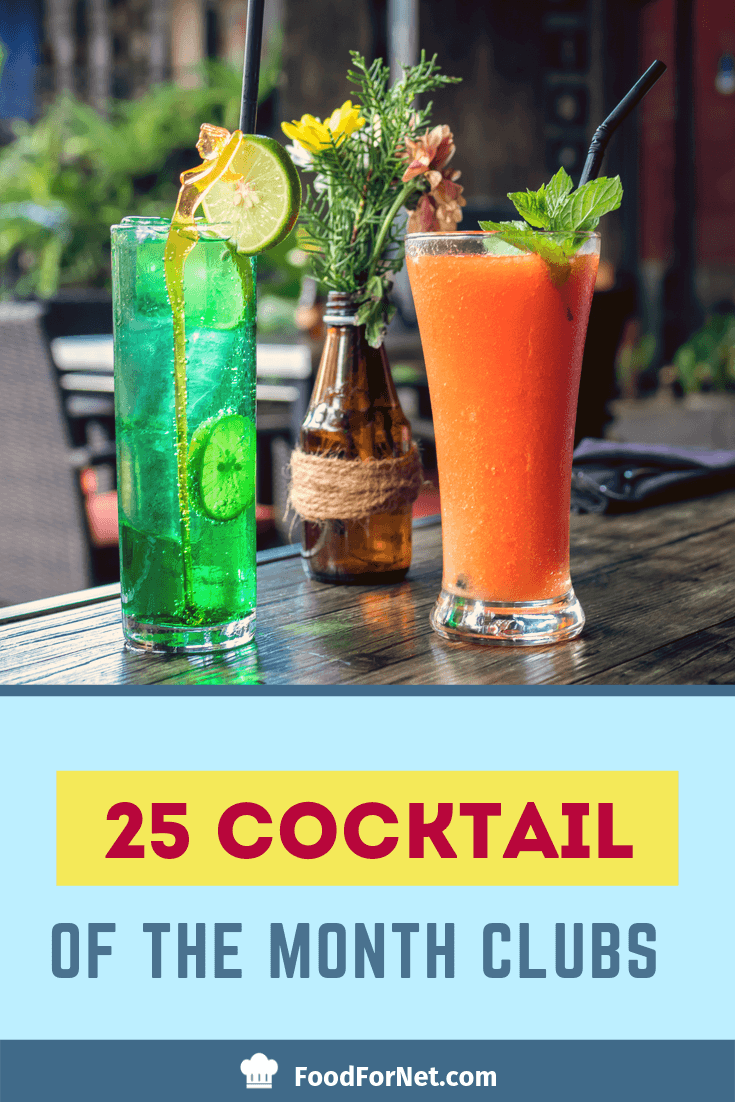 Cocktails can be extremely fun, especially for a group of people. But, where do you start? There are so many different types out there, often with multiple ingredients and specific techniques. This is where cocktail of the month clubs come in. These clubs offer you the chance to experiment with cocktails, learning new types and trying out many recipes along the way.
Now, I've joined beer of the month clubs before and similar whiskey clubs. But cocktails? Well, the clubs are a little different. After all, a cocktail is much more than one type of alcohol. This also means that no two clubs are the same. They actually vary much more than any other type of alcohol of the month club.
For one thing, cocktail of the month clubs come in two distinct styles. The first style gives you all the ingredients (or almost all of them) you need to make your cocktails, including the booze. You might need to go out and buy a lemon or something like that but that's typically about it.
The second style is more limited. In most cases, these will give you the various mixers and other ingredients. But, you have to buy the alcohol yourself. This is a little frustrating, especially if you only have access to full-size bottles. But, there are two advantages.
The first is that these clubs will ship to more states. So, you can still join one even if alcohol cannot be sent by post in your state. Additionally, you get to pick your own booze. That's perfect if you have specific preferences or if you already have a well-stocked liquor cabinet.
And, of course, some clubs will offer complete bottles of spirits with their membership while others won't. Whichever style and club you choose, cocktail of the month clubs are simply fun. That's all there is to it. Even if you don't like every cocktail, you're slowly expanding your repertoire and learning about combining different spirits and ingredients as you go.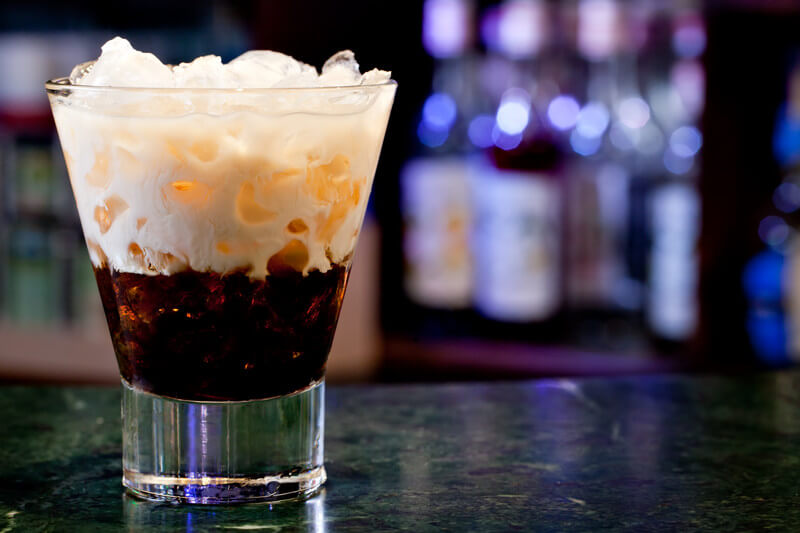 Cocktail Of The Month Clubs
***Did you know?*** Flaviar has mini "taster kits" for many types of spirits including scotch, bourbon, tequila, gin, brandy, and more. Get 3 vials of your favorite spirits to try, plus free shipping. Then, get access to exclusive bottles and tastings of hard-to-find spirits.
Full Sized Cocktail Clubs (With Alcohol)
Cocktail Box from Bitters + Bottles
The Cocktail Box subscription is designed to help people build a bar and learn cocktails at the same time. To do so, it offers full-sized bottles of spirits, along with related ingredients like ginger beer and bitters. In total, you get 6 ingredients per box, along with 10 or more recipes.
The company estimates that each box makes around 25 cocktails, which works out at around $3.76 per cocktail. That's much cheaper than you'd buy them at a bar and you're also learning what to do along the way.
The subscription costs $94 per month (plus $14.99 shipping) and will last for 12 months. But, you can stop or pause that subscription at any point. The boxes can also be purchased independently, if you would rather do that.
I love this style for anyone who doesn't already have a decent selection of booze. But, you're just getting 6 total ingredients per box. This limits how many different cocktails you could make. It would suck to get full-sized ingredients just to find that you don't like all of the cocktails that you're making.
Crafted Taste
With Crafted Taste, the focus is entirely on modern cocktails. Some of these are entirely new, while others are modern variations on old classics. Either way, the company works to find cocktails that are popular, interesting and high-quality.
The monthly club offers 750 ml bottles of spirits, along with full sizes of any mixers and ingredients used. You also receive recipes for the cocktail(s) in the kit, along with food pairing information and some classic cocktail recipes for good measure.
The subscription costs $150 per month, with no minimum length. There is also a Premium subscription that you can choose instead. This one offers the same general features but you either get extra bottles of spirits or higher quality spirits each month.
As with most clubs, you don't get to choose exactly what you get, so there is a degree of chance. But, even if you're not convinced about every cocktail that you get, you could easily find other uses for the ingredients.
Tiki Cocktail Box
The Tiki Cocktail Box is a UK company but they will ship to the United States. The boxes contain a 500ml to 700ml bottle of rum or another spirit, along with one mixer and any other non-fresh ingredients needed. As the name implies, you also get a Tiki mug and there is a recipe card for a Tiki cocktail.
So then, the club offers an unusual type of cocktail and a pretty fun style too. The subscription is every two months and costs £50 (around $65 USD currently). You need to pay shipping as well, although the site doesn't state how much this is.
Select Club from Caskers
Technically speaking, this Select Club isn't a cocktail club. But, it's interesting enough to include on the list. The club offers 3 full-sized bottles of spirits every 3 months, along with tasting notes. Membership costs $139.99 every three months.
The style is a really good way to restock your bar and will include some products that you haven't tried before. This works well for cocktails, as you will need a selection of spirits to make more and to experiment. The idea may be particularly good for anyone who already knows how to make cocktails. After all, many of the other clubs are targeted at beginners.

Miniature Cocktail Clubs (With Alcohol)
Cocktail Courier by Shakestir
Cocktail Courier is a small-scale cocktail club. With it, you get small servings of all the ingredients to make cocktails. Each kit has enough to make between 4 and 12 drinks, depending on the specific cocktail. The style is enough to let you try out different cocktails and experiment. It also means you don't lose much if you don't like some of them.
The club is also personalized. When you sign up, you get to choose which types of spirits you like and this will influence what cocktails you get. This helps make sure you don't get any cocktails that you're going to hate.
There are two versions of the club. One is the Standard Plan, which costs $39.99 per box. The other is a Premium Plan, which is $49.99 per box. Both offer the same general features but the Premium Plan has higher quality spirits and will sometimes include full sized-bottles. Long-term subscribers of the Premium Plan may also receive freebies along the way.
Unlike most clubs, you can increase the frequency. So, you might get boxes every week or every other week, rather than every month. You can also increase the number of boxes you get each delivery, if you want to.
American Cocktail Club
The American Cocktail Club is another one that offers small servings of all ingredients, including the alcohol. In this case, a monthly shipment offers enough to make 4 cocktails. Some of the mixers provided come from American Juice Company and tend to be low in sugar, while others are more conventional.
Some kits also offer additional items, such as a jigger or a garnish. What you get mostly depends on how many individual components the cocktail has. This subscription costs $44.99 per month, including postage and can be canceled at any time.
Saloonbox
Saloonbox offers small servings of spirits and ingredients, including brands that don't normally sell in a small size. The entire box is elegant with everything you need all in one place. The recipes are provided on cards and additional information is also available on each of the ingredients. Unlike most clubs, Saloonbox offers two cocktails each time, rather than one.
The base price for the subscription is $37.50 per month (plus $12.99 shipping) and you pay on a month-to-month basis. There is also the option to prepay for 3, 6 or 12 months. At the 6 and 12 month tiers, the price per month is lower, getting down to $33.50 for the 12 month version.
Speakeasy Co.
The boxes from Speakeasy Co. each offer recipes and ingredients for 2 different cocktails. In total, you get enough ingredients to make 4 drinks. That's enough to work out which ones you like and want to buy the ingredients for yourself.
One unusual thing to mention. The company offers pictures of their previous boxes and some of the spirits are simply provided in clear bottles with a basic sticky label. Some other ingredients, like brown sugar, are in small plastic bags. The need to do this makes sense, especially if the company isn't large. Still, it does feel a little unprofessional.
With this company, the club costs $39.99 per month, plus shipping. But, it seems to be first come first served, with the subscriptions often selling out.
Instapour
Instapour offers two subscription boxes. One is called Pour Some Sugar On Me, while the other is Delightful Recipes & Ingredients. Currently, they both cost $39.99 per month and include a variety of recipes and ingredients – enough for 4 drinks per box.
It isn't actually clear what the difference between the boxes is or whether there is a difference at all. Either way, the price is about average when compared to other clubs, especially as you are getting alcohol.
The company matches the kits to your preferences, which should increase the odds that you'll get cocktails you enjoy.

Alcohol-Free Cocktail Clubs
American Cocktail Club
The American Cocktail Club falls in both categories, as they offer an Everything But The Booze Box. The actual box is designed exactly the same as the alcohol-containing version but you receive premium garnishes or something similar in the place of alcohol.
This version costs $34.99 per month and you can cancel the membership at any time.
Mixology Monthly
Mixology Monthly follows offers a themed box each month. This contains bar tools, glassware and ingredients. The boxes are typically focused on a particular type of cocktail, such as the Moscow Mule or the Old Fashioned.
The general pattern seems to be that you just get ingredients if the cocktail involves a significant number of them. In contrast, if the cocktail doesn't require many, you get mostly glassware and tools instead.
The boxes come in two styles, deluxe and light. Members get to pick which one they want each month. You can also skip a month if you don't like either of the choices. Being able to do this lets you avoid cocktails that you know you won't enjoy.
The club itself costs $60 a month. For some boxes, this seems to be a good deal, while other boxes may feel lacking. As with every club, it really comes down to what you're looking for.
Shaker & Spoon
Shaker & Spoon offers a kit that gives you all of the ingredients (minus the booze) for 3 recipes. There is enough to make 4 servings of each, for a total of 12 drinks. The boxes tend to be high quality, with professional labels on everything that the company has packaged themselves. You can see previous versions of the box on the website, so you know exactly what you're getting.
The syrups used are also made by the company. That gives you a great experience and you could just use a similar syrup if you make the cocktails again in the future. The company also sells many of these individually on their website.
Honestly, this is probably my favorite non-alcohol box from the mix. It's perfect for anyone who wants variation. Because you're getting recipes for 3 cocktails, there will always be a decent number of ingredients in the box, which is a bonus.
The subscription here costs $50 per box if you pay month-to-month. If you sign up for a longer term subscription you can bring this down to between $40 and $45 per month.
Elixir & Co.
The monthly box from Elixir & Co. offers 2 cocktail recipes and enough ingredients to make a total of 4 drinks. Various garnishes are also included, along with bar tools and treats. This creates a much more variable box than what other companies offer. Some months, you may get mostly ingredients, while other months would offer more tools.
If you don't have many bar tools currently, the style could work well. It is a fun way to learn more about cocktails and to grow your collection at the same time.
On the other hand, if you already have good bar tools, many of the items may be redundant. You're also only getting enough ingredients to make 4 drinks, which is less than some of the other kits.
The subscription is $34.99 (shipping included) when you pay monthly. Alternatively, you can pay $99.75 for 3 months at a time (5% discount) or $189.00 for 6 months (10% discount).
Spirit Savant
With Spirit Savant you get enough ingredients to make 10-12 cocktails per box. There are also various other components, including glassware, coasters and bar tools. As with the other companies, exactly what you get varies each month.
Oddly, the company doesn't specify how many recipes are included in a box. From the photos and the phrasing on the site – I'm guessing you're looking at 1 recipe. So, you're getting more servings than many of the other boxes but have fewer options to play around with.
With Spirit Savant, the month-to-month fee is $45 (again, shipping is included). If you pre-pay, the monthly price can be as low as $38 per month.
There is also the chance to get a subscription for 1 person or for 2. There isn't much information about how the subscription for 2 works – but there is often the chance to choose whether you want the boxes to be the same or different.

Crates and Boxes
Spirited Gifts
If you're shopping for an alcohol lover, Spirited Gifts is always a good choice. They have an amazing range of options, more so than most other companies. This includes a significant range of cocktail gift sets.
Some of these are small, where you're getting enough ingredients for just a drink or two. The small styles also come with glassware, so they make an entertaining gift. But, there are also many full-sized gifts. With these, you're getting at least 750 ml of the alcohol in question, along with related ingredients and often glassware.
The Bro Basket
The Bro Basket is all about gifts for men and their alcohol gift baskets are no exception. Most of their baskets are focused on a specific theme. Sometimes that theme is a type of alcohol, while other times the theme might be a person or an occasion (like their The Executive gift basket).
Some of the baskets are also about a single cocktail. A fun example is the Irish Car Bomb basket. This isn't a small cocktail kit either. Instead, it is an impressive selection of components. There are many similar examples on the site as well.
Man Crates
The general concept of Man Crates is fairly similar to The Bro Basket and again, there are multiple gifts that focus on cocktails. A key difference is that Man Crates doesn't ship alcohol. So, you still have to buy that for yourself.
There are also fewer cocktail-related but the boxes present are very impressive. For example, the Bloody Mary Crate includes various seasonings, 6 cans of tomato juice, pepperoni straws, bacon salt rimshot and two plastic glasses. The boxes are also creative and they can make amazing gifts.
Mel & Rose
Mel & Rose offers an impressive selection of alcohol-containing cocktail gift baskets, many of which are comprehensive. The baskets often use a combination of alcohol, mixers and snacks, with some also offering glassware as well. Their Chopin Moscow Mule Cocktail gift is a perfect example and would make an attractive gift.
The large selection means that you're bound to find some products that work, regardless of your recipient's preferences. In fact, the site currently offers more than 150 different gift baskets with alcohol, many of which are related to cocktails.
Build a Basket
The site Build a Basket doesn't focus on alcohol specifically. But, they do make good gift baskets and have a few fun cocktail gifts to offer. These are also different than most other companies. For example, there is a Cherry Blossom Cosmo basket, along with a Vodka and Red Bull basket. Both of those feel like they're targeted at a younger audience, like college students.
Needless to say, these aren't the most elegant or high-quality baskets out there. Even so, they could be a better fit for some situations.
Thoughtfully
Thoughtfully offers a more unusual selection of cocktail gifts. These are defined as bar gifts, so they don't actually contain the alcohol. Even so, they're fun – and the booze is the easiest part to buy anyway.
For example, one option is The Tipsy Mermaid, which offers tools, mixes and ingredients to make fishbowl cocktails (as well as the actual fishbowl). Another is the Tequila Cantina. This is a tray-based setup for tequila shots, including places for the shot glasses, lime and salt, along with the necessary components. All you're missing is the tequila and limes.

Cocktail Kits
Crafted Taste
I mentioned the club from Crafted Taste earlier but the company does also sell cocktail kits independently. These kits offer everything you need to make the cocktails and most can be purchased with or without the alcohol. They make great gifts, especially for people passionate about a particular type of cocktail.
These are also a good place to start if you're not ready for a full subscription yet. With the kits, you can try out the idea with a cocktail that you're certain you'll enjoy.
Bitters + Bottles
Bitters + Bottles is another company that offers cocktail kits. These make fun gifts and are packaged in drawstring bags. In this case, the kits are very small, offering enough alcohol and other ingredients for just a few servings. But, they are inexpensive. They could also be a way to try out cocktails you're not convinced about.
Mouth
Mouth has many different products but their main gift option would be their cocktail kits. These include full-sized bottles of spirits and mixes, with other ingredients sometimes included. They are presented gift wrapped within a tote from the company.
The options include some of the most common cocktail kits, like the Moscow Mule. But there are some more unusual ones too, such as the Au Pear and the Ticked Pink.
1-877 Spirits
1-877 Spirits has a few cocktail-related gifts but this Montanya Colorado Cocktail Kit caught my eye. It is more visually impressive than most of the other cocktail kits and includes a full bottle of Montanya Oro dark rum, along with all the ingredients that you're going to need.
W & P Design
One final company to mention is W&P Design. What they offer isn't a gift basket or box exactly. Instead, they have a collection of Carry On Cocktail Kits. The concept is similar to the previous cocktail kits but these are much smaller and they don't contain alcohol.
Instead, the size and ingredients are specifically designed to pass through TSA screening. The kits only make 2 cocktails, so they're relatively expensive for what you get. But, for the right situation, they could be amazing. They also make fun gifts.