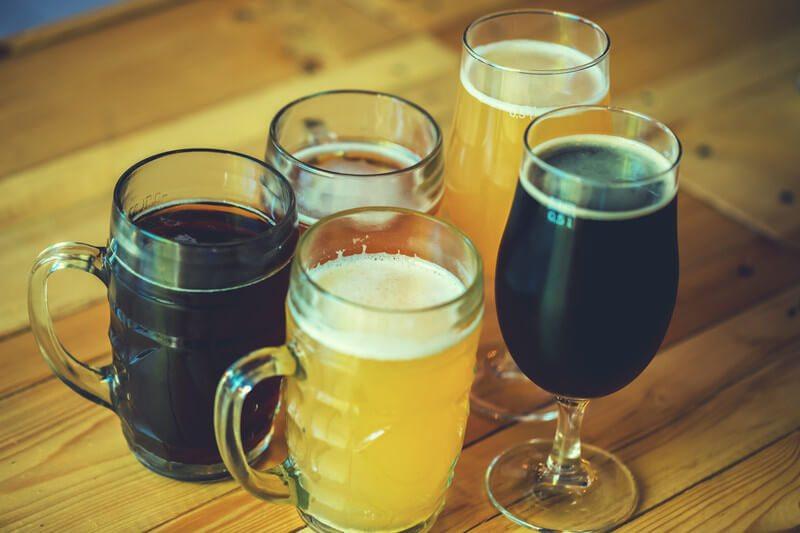 Beer makes a fantastic gift for men, especially those who are hard to shop for. Men like stuff they can use, so you bet they are going to love drinking their way through a beer gift basket.
You can be certain that the contents will be thoroughly enjoyed! That's much better than an unused gift sitting on the shelf for months.
Though anyone can drink beer, the beer gift baskets we picked in this list are the ones we thought would be good for men in particular. Have a hard time shopping for the man in your life? This list all offer a way to step your gift game up a notch.
Some are themed or focus on a specific type of beer, while others just provide various snacks to go alongside the booze. The trick is to find one that suits your price range and the preferences of the person you're buying for.
If you love beer year-round (not just during the holidays), you probably want to check out our list of the best beer of the month clubs. You can be sure we personally tested and reviewed each one!
Beer Gift Baskets For Men
PS. If this gift basket is for a dude, consider a manly food of the month club. Monthly subscription boxes are super popular right now because you get a surprise box every month!
The surprise is even better when someone else is paying for it, so prepaying for a six month subscription is a pretty badass gift.
You could even buy a beer stein to go with your gift and make it extra special.
PPS. Found a new one. You can add as many as 101 beers to this gift basket, and each one is individually wrapped!
BBQ-Focused Gift Baskets
The Mini-BBQ Bash Barbecue Gift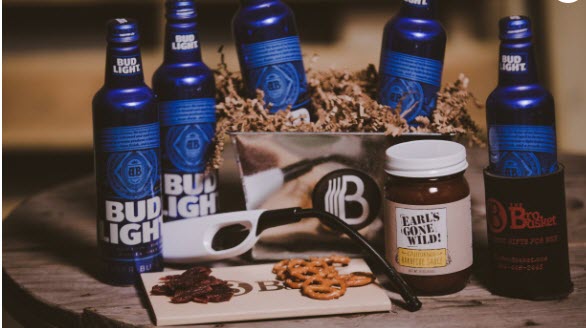 As the name suggests, this gift basket would be perfect for any man who loves to barbecue. It comes with jerky, smoker planks, barbecue sauce, mini pretzels and beef jerky. What's not to love? The 5 bottles of Bud Light mightn't be the most unique beer choice, but they'd still be popular.
The World's Best Barbecuing Gift Basket, With Beer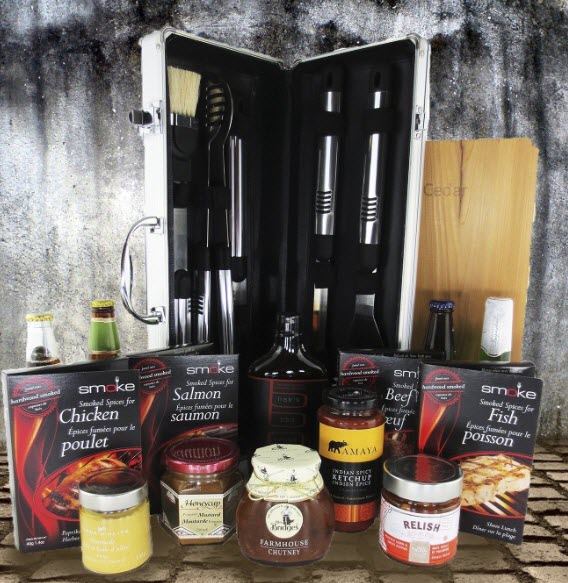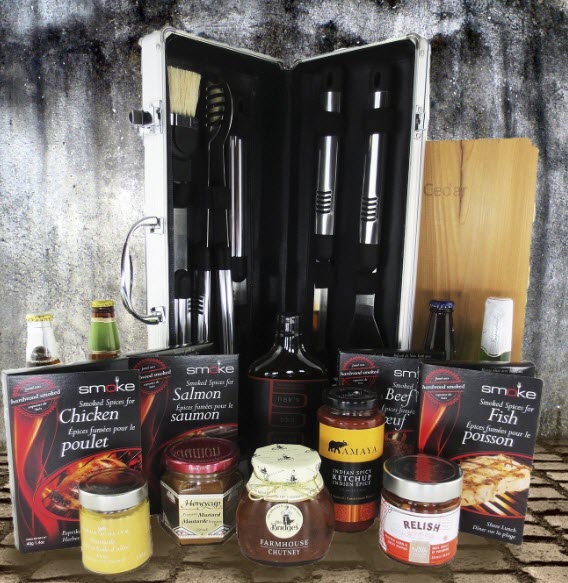 Here's another gift basket for barbecue fans. This one comes with a full set of barbecue tools, along with sauce, spices and related products – not to mention the beer.The barbecue tools are a particularly nice touch. They mean that there is something left over once the food has been eaten and the beer has been enjoyed.
Snacks and Beer
Givens and Company California Craft Beer Fest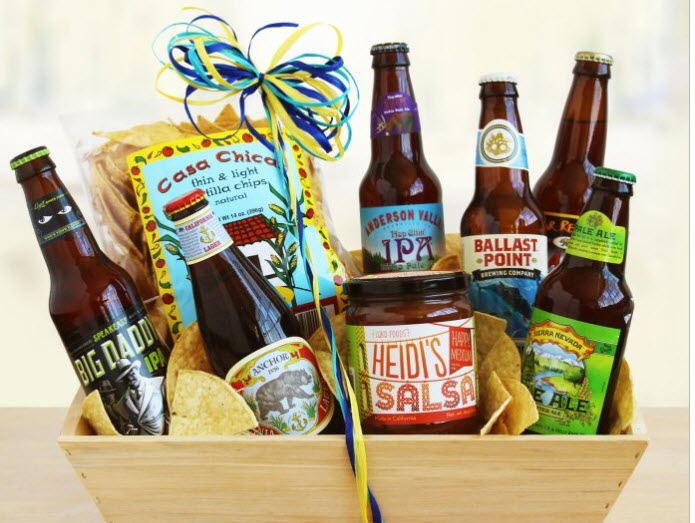 This Craft Beer Fest basket has been featured on various sites under different names. The snacks are simple, just tortilla chips and salsa – placing the focus firmly on the beer. The 6 bottles of beer are all different California craft beers. The combination offers the chance to try some new brews and simply have a good time.
California is also known as being the best place to pick up an IPA, so check out our IPA gift basket list as well.
Great American Brew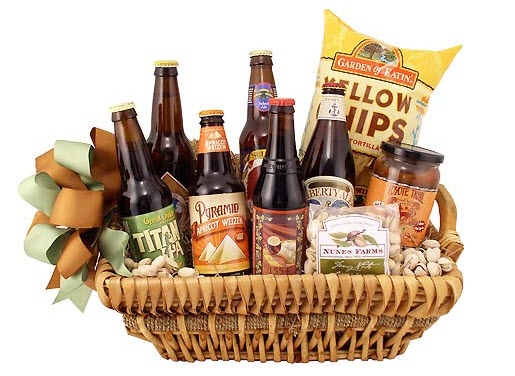 The Great American Brew basket is another choice that offers 6 bottles of beer, salsa and tortilla chips. This time, spicy nuts are included as well, and the gift comes in a basket. The beers are different too, coming from microbreweries across the United States.
Guinness & Goodtimes Gift Basket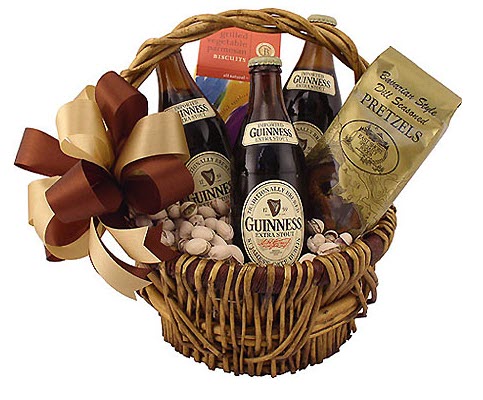 The Guinness& Goodtimes Gift Basket strikes a good balance. It manages to look impressive, without costing a large amount of money. There's a decent number of items included as well, like the 3 bottles of Guinness Extra Stout and various savory snacks.
Get more international beer selections and check out our list of international beer gift baskets.
Cali Craft Sampler Gift Basket

This Cali Craft Sampler Gift Basket packs a lot into a small tin. It contains 4 individual craft beers (12 oz each), 2 packets of Ferrero Roche chocolates,gourmet popcorn, a bottle opener and a pint glass. You can also customize it to change the beer or to add in something else your gift recipient would love.
New York Craft Beer Gift Basket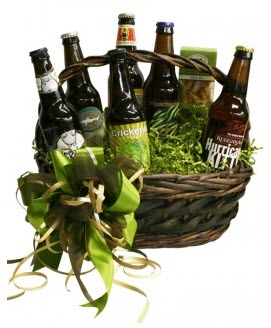 If you're looking for a themed present, this New York Craft Beer Gift Basket is hard to pass by. It offers 6 different beers, all brewed in New York. Pretzels and mustard dip are included as snacks. The color choice makes it visually appealing, while the basket won't break your budget either.
Beer & Popcorn BroCrate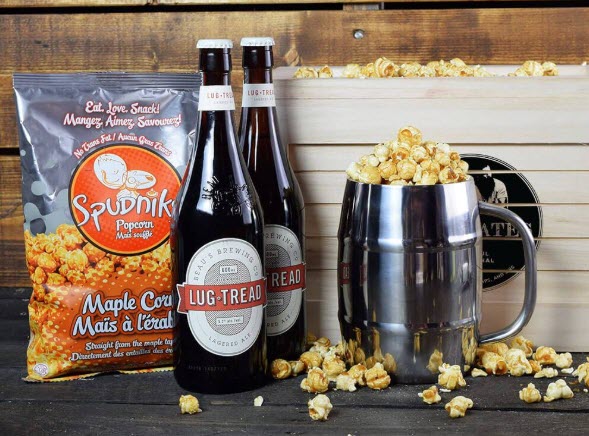 This gift from BroCrate is a reminder that simple is sometimes best. The most unusual aspect is the beer keg mug. It has double insulation, so it will keep beer cold without creating any condensation. You can also add on other items if you want to give more than beer,popcorn and a mug.
The Ultimate Beer Lover Gift for Men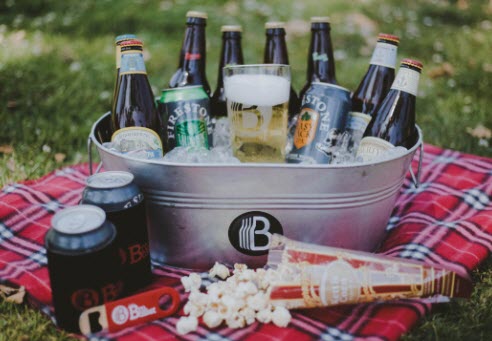 Here's another gift that is all about the beer. This time, it includes 12 different beers. These include 3 individual variety packs of 4 beers, each from different breweries. Because the set is sold by the BroBasket brand, you can request specific breweries to be included.
Lord Nut Peanut Assortment With Beer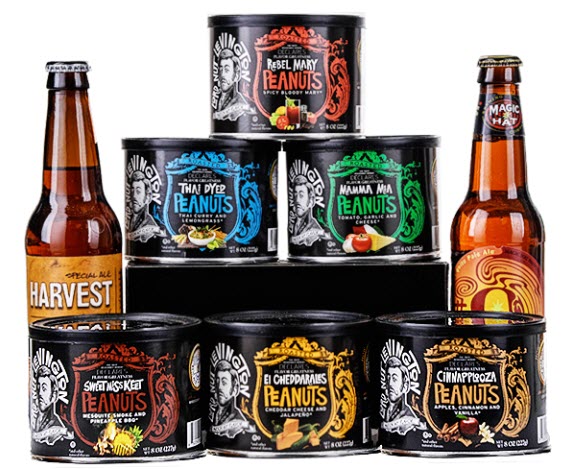 Unlike most of the other baskets, this gift focuses on the snacks first and foremost. It includes 6 different 8-oz flavors of Lord Nut peanuts, many of which are highly unusual.There are also 2 craft beers. These round off the whole collection nicely.
Premium Craft Bouquet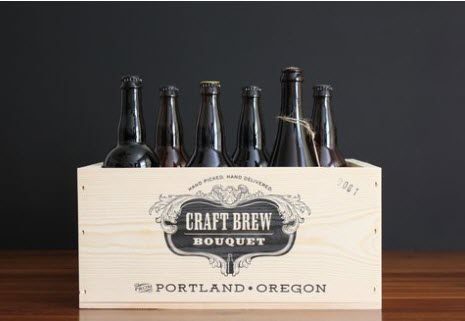 While this is called a bouquet, you're actually getting a beer crate. It contains 6 different large bottles of beer in an appealing crate. The beers are all larger than average, typically from 16.9 oz to 22 oz. There is also a focus on rare and award-winning beer. Finally, the box does contain a sweet snack (a sea salt hazelnut crunch bar) and a savory one (gourmet meat sticks).
Baskets With Plenty Of Snacks
Kick Back and Relax Beer Basket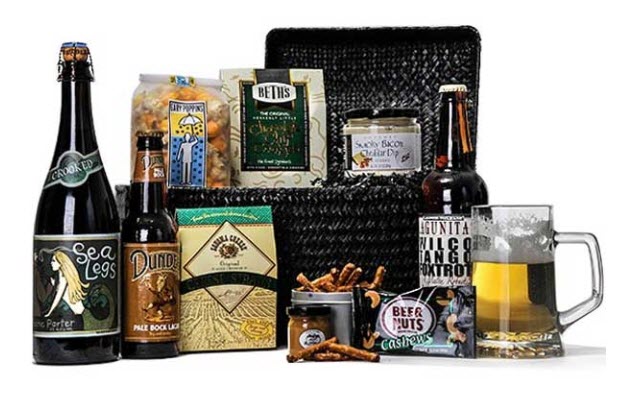 The idea of kicking back and relaxing is often linked to beer, which is what makes this particular basket so great. While there are only 3 beers included, they are considered gourmet brews and some come in larger bottles. The selection of snacks is particularly impressive, including sweet and savory choices.
Guinness Greatness Gift Basket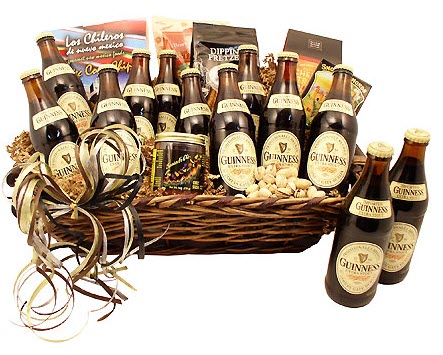 With 12 bottles of Guinness, this gift basket certainly stands out. There's no shortage of snacks either. The basket includes salsa, tortilla chips, almonds, nuts, pretzels and cheesy bites. The beer selection mightn't be diverse, but hey, at least you know that the beer will be well-received.
The Microbrewery Basket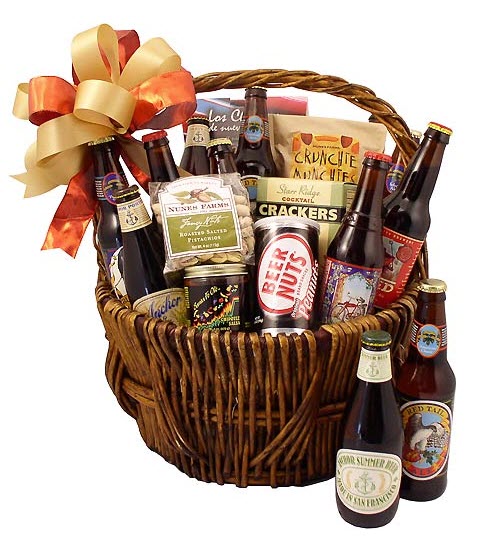 Microbreweries all offer their own distinct brews, making baskets like this one especially appealing. There are 12 different beers present, each from a microbrewery in the United States. Various snacks are included to round out the mix, making this a gift that most men would love to receive.
Yuengling Beer Basket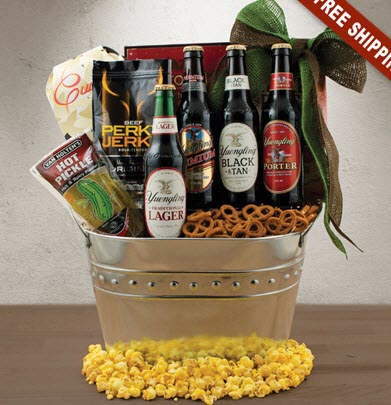 As the name suggests, the four beers in this gift tub all come from Yuengling brewery. The inclusion of jerky and a hot and spicy pickle make the gift especially interesting. There are other snacks too. To jazz it up even more, the gift does come with the pictured steel tub. Add some ice and it could be a way to chill beer at a party.
The Massive Beer Gift Crate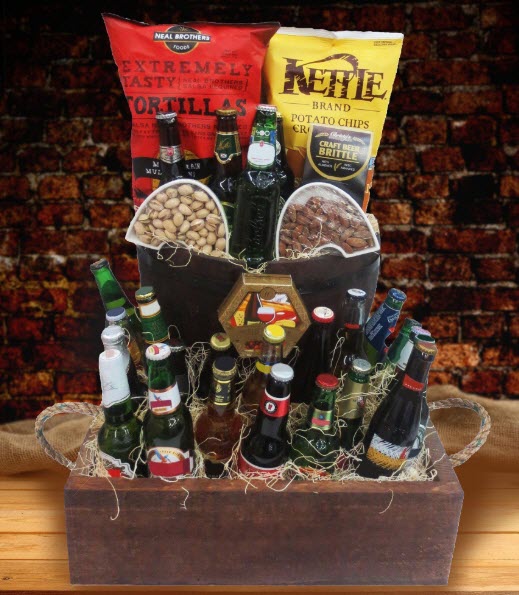 If you're going to give beer, why not go all out? With this beer crate, you're getting 24 bottles of beer from various breweries,not to mention a decent selection of snacks. The presentation is impressive too. Some of the items are arranged in a sturdy crate with rope handles, while others are in a wooden half barrel.
Bucket of Microbrews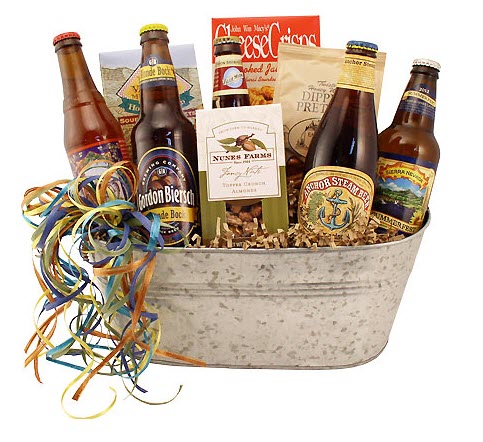 This is another basket that offers 6 different beers, along with various snacks. Some of those snacks are a little unusual, like the sourdough nuggets and zesty cheese sticks. The presentation works well too, as the steel bucket can be used again once the beer is all gone.
Microbrew Beer Bucket Gift Basket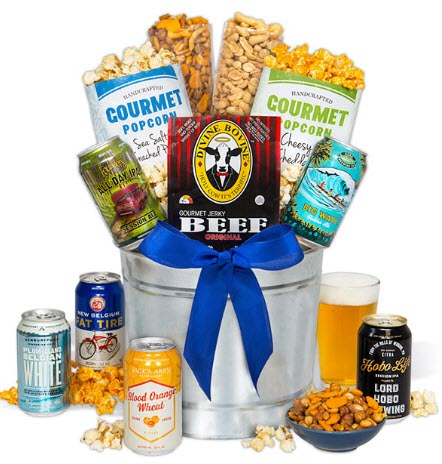 This microbrew bucket is fantastic, simply because of how different it is. This time, all of the beers are in cans, not bottles. The beers are always the same, so you know exactly what you'll receive. The snacks include plenty of popcorn, along with a snack mix and nuts.They're bound to get devoured quickly.
Anderson Valley Oatmeal Stout Deluxe Bouquet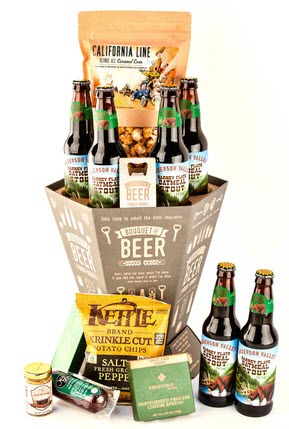 Beer bouquets are a cool concept and this one focuses on Anderson Valley Oatmeal Stout. The bouquet is visually stunning. Plus, you know exactly what beer you're getting ahead of time. The choice of snacks works well too. This includes garlic summer sausage,blonde ale caramel corn, crackers and some chips.
Beer Bonanza Gift Basket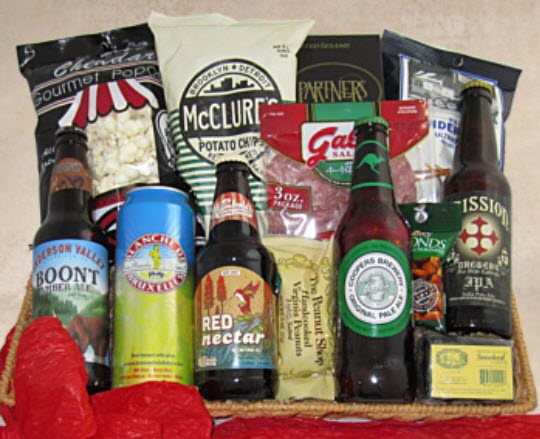 This gift basket isn't as elegant as some of the others on this list, but that doesn't make it any less appealing. The basket features 5 individual beers, along with a decent selection of snacks, like salami, popcorn and smoked cheese. The individual brands won't always be the same, which simply adds to the surprise.
Hop Valley Citrus Mistress Deluxe Bouquet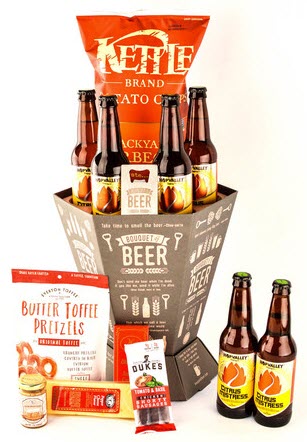 Here's another beer bouquet. It's themed around Hop Valley Citrus Mistress beer,which explains the color theme and choice of snacks. This brand doesn't substitute ingredients. You should always get the exact snacks that are shown in the image (and not any low-quality alternatives).
Beer And Cheese Gift Basket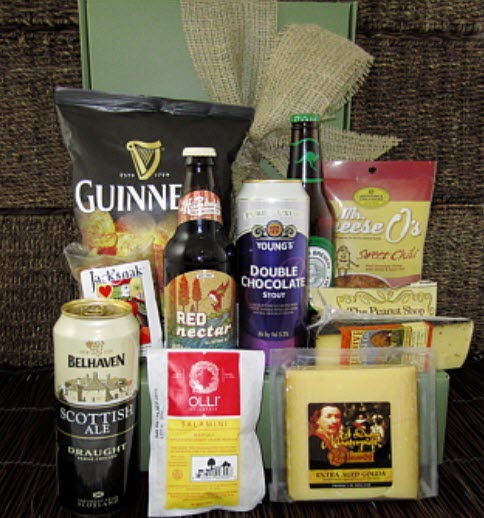 This basket combines beer, cheese and salami,along with a few other snacks. It's a great choice if you want satisfying food to go with the beer, rather than just light snacks. Two of the beers come in bottles, while the others are cans, giving you more variety than normal.
Get The Party Started Gift Basket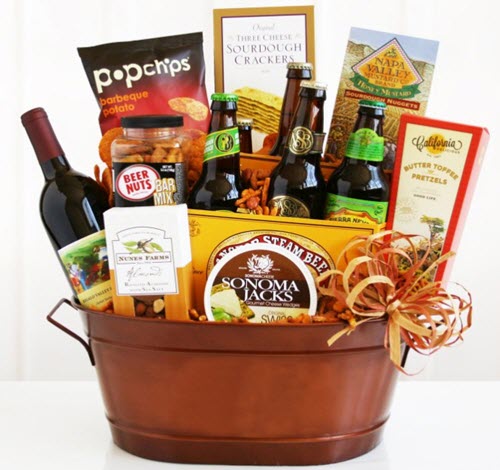 Calling this a Get The Party Started Basket just makes sense. The gift basket includes 6 different craft beers, 2 bottles of wine and a decent selection of snacks.It's also relatively inexpensive for the amount included in the gift. Just be aware that you don't get to pick the wine or the beer.
Beer Only
Drink Up Because It's Ireland Somewhere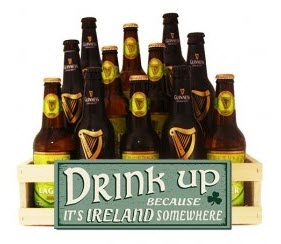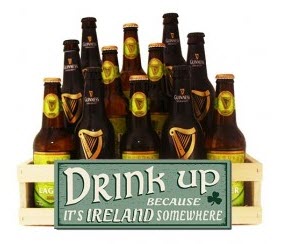 It's not hard to guess the theme of this basket. The beer crate is a simple one, containing 6 bottles of Guinness Draught and 6 bottles of Harp Lager. The 'Drink Up Because It's Ireland Somewhere' plague is also included. While the gift may be on the simple side, it still looks great visually.
Craft Beer Sampler Gift Crate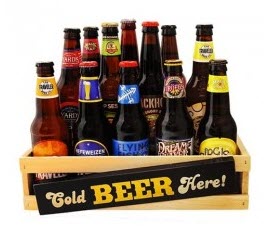 This Craft Beer Sampler Crate is simple, but not to be missed. It contains 12 different beers, all contained in a single crate with a 'Cold Beer Here'plaque. It's a great way to try out beers from many different breweries and expand the palate of whoever receives the gift.
Standard Light Beers Bouquet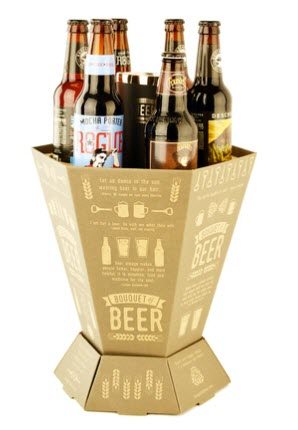 This is another beer-only product and comes from the Bouquet of Beer brand. The beers are all chosen for you, but they're all light beers. There are also upgrades to choose from, including a free greeting card, a beer hydroflask for$19.99 or various snacks for $19.99.
Bouquet of Beer – Build Your Own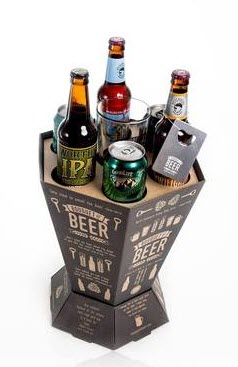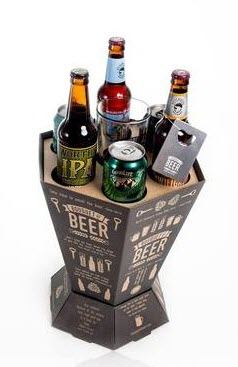 This product comes from the same brand as the previous example. The difference is that you can entirely customize this beer bouquet. That includes choosing which beer you want for each of the six that will be included. Once again, you can add on a card, a hydroflask or snacks if you want.
Jerky
Beer & Beef Jerky Gift Basket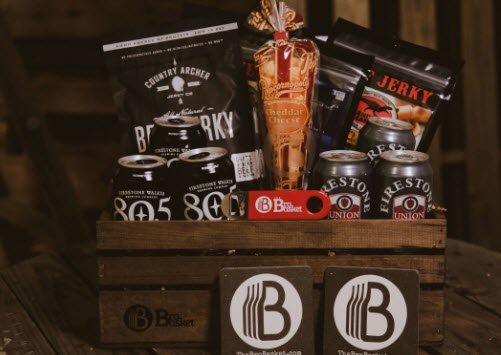 It's easy to see how this gift basket would be popular. It includes 6 cans of beer (3 of each type), along with plenty of jerky in various flavors and some popcorn for good measure. That's not even all. The box also contains coasters, a pint glass and beer cozies. You can't go wrong with it.
Crate Full Of Macho Munchies With Beer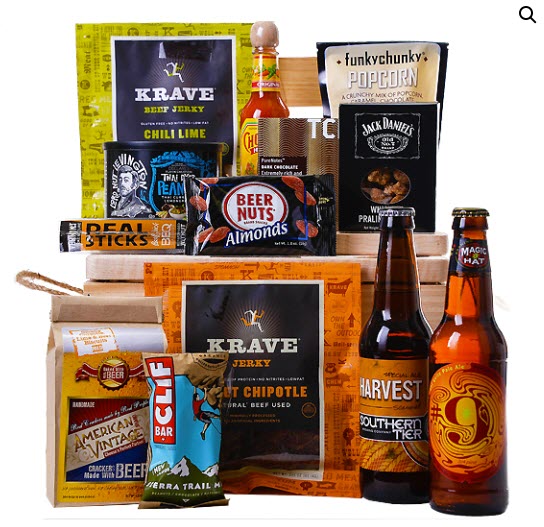 This is one of the few beer crates that focuses on the snacks more than the beer. There are only 2 bottles of beer included this time, but don't let that put you off. The snack selection more than makes up for it, including jerky, almonds, peanuts, popcorn and even trail mix.
Sports and Racing
NFL Tailgate Bucket of Beer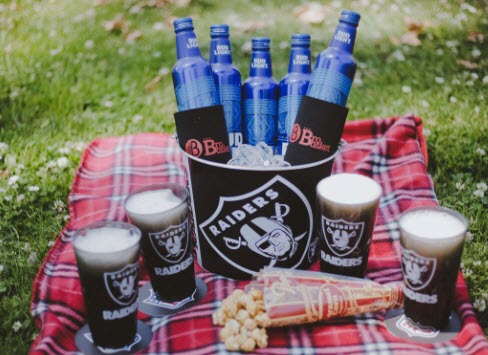 This NFL Tailgate Bucket is the ideal gift for any NFL fan. Don't worry if they don't support the Raiders, you get to pick which team is featured on the bucket and the glasses. You get to choose the beer as well. The bucket contains either 5 or 6 individual beers,depending on the type that you select.
T-Riffic Snacks for the Golfer Gift Basket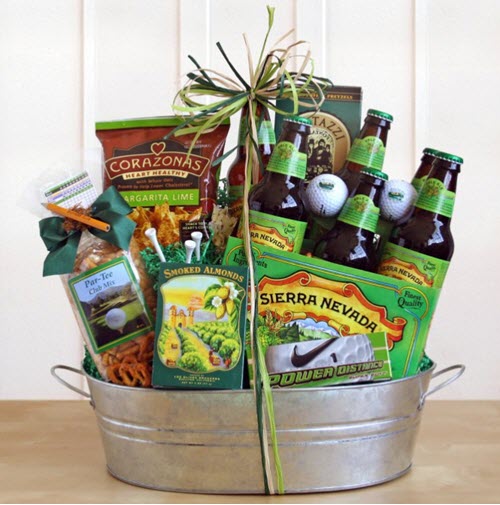 If NFL isn't their thing, what about golf? This Golfer Gift Basket is completely on-board with the green golf theme.It even includes some golf balls and a bag of tees, in addition to the beer and snack selection.
19th Hole Beer Gift Basket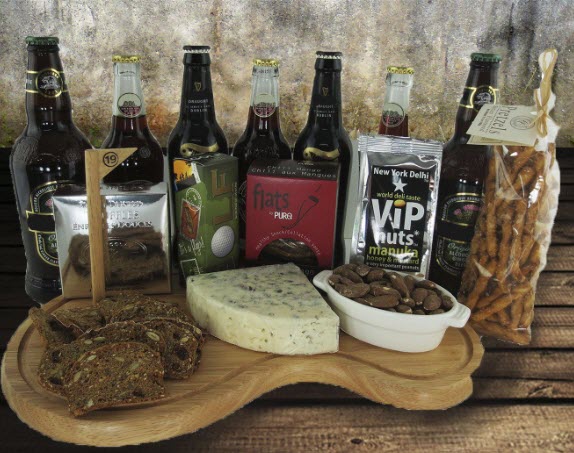 Here's another golf-themed product – in a very different style. Instead of a golf-based color scheme, the gift contains a cutting board based on the 19th hole. Various snacks are included, like truffles, almond, flatbread and cheese. The base price for the basket comes with 4 bottles of beer, but you can increase that all the way up to 24 if you want to.
Touchdown! Gift Basket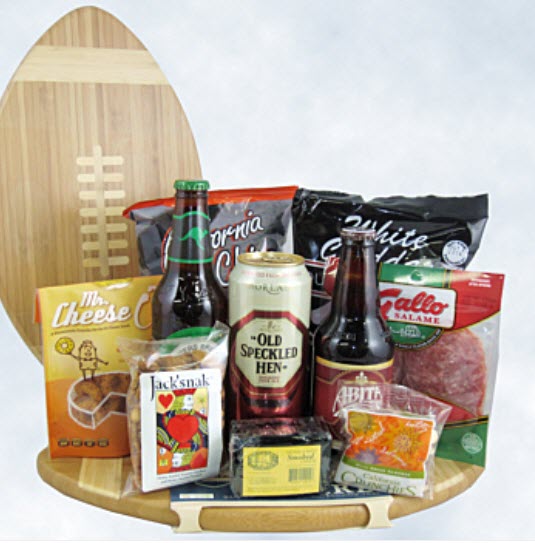 This Touchdown!Gift Basket offers a cutting board too. This time it's in the shape of a football. The basket also includes 3 beers and a selection of snacks. While the snacks might be different than the ones pictured, you're always going to get snacks that pair well with beer.
The Football Beer and Cheese Board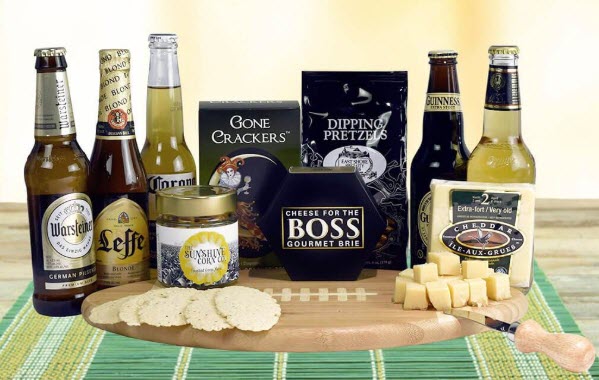 A similar cutting board is featured with this beer gift basket as well. However, the focus is very different and this product appears more refined. Recipients also get gourmet brie cheese,corn nuts, crackers and pretzels, along with related cheese tools.
Big Game Day Basket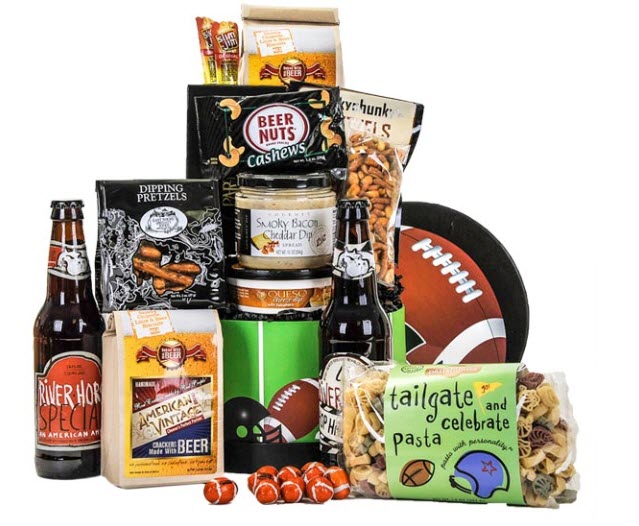 Speaking of game day, checkout this basket. There are only 2 beers included and a there is a much stronger focus on snacks and football. Even some of the food follows that theme, like chocolate shaped footballs and pasta in the same shape. The included snacks would combine with the beer and with game day.
Unique Gift Baskets
The Ultimate Half Yard Of Beer BroCrate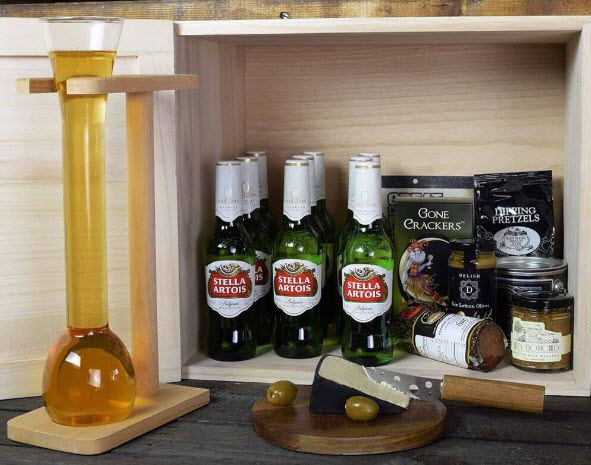 Here's a fun gift to try. This Half Yard of Beer BroCrate includes the half yard glass and holder, along with the beer needed to fill it. There are plenty of savory snacks to accompany the beer, like salami and pretzels. Because this is a BroCrate, you can also add on items, like more beer, gourmet food and even magazines.
House Targaryen Game of Thrones BroCrate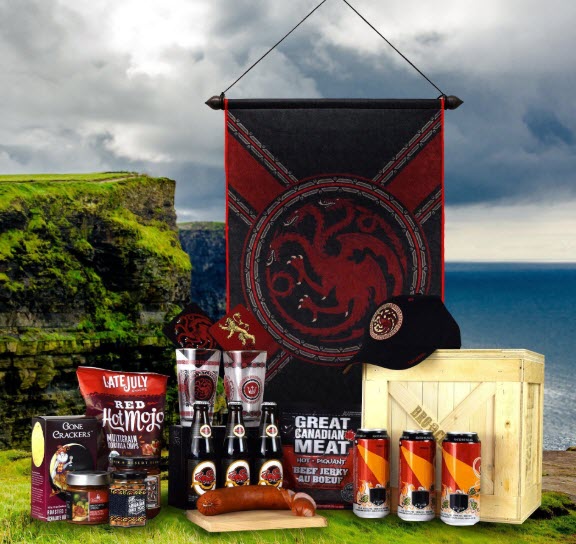 This is the ultimate gift for any Game of Thrones fan. The BroCrate even includes the pictured Targaryen banner, hat, glasses and coasters. The featured beer follows the theme too, including 3 cans of Fire in the Rye and 3 bottles of Dragon Stout. Seriously, how can you go wrong with this gift?
Premium House Stark of Winterfall Game of Thrones Gift Crate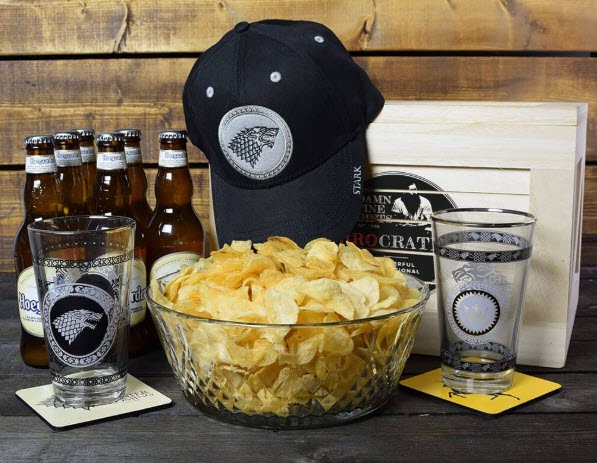 Here's a smaller crate for Game of Thrones fans. This time it focuses on House Stark and comes with a themed hat, glasses, coasters (one Game of Thrones, one random) and a glass bowl. You've also got 6 bottles of Hoegaarden beer and kettle chips.
Deluxe Beer Briefcase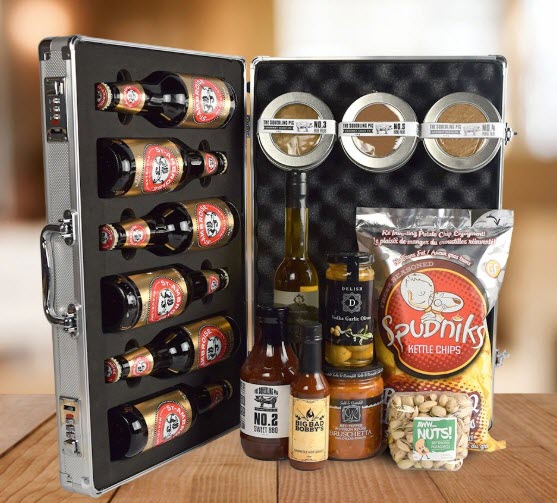 Beer crates don't always look like you might expect. This one is a Deluxe Beer Briefcase. It contains 6 bottles of St. Ambroise Beer,along with various barbecue rubs, sauces and snacks. The briefcase makes the whole gift that much more interesting and is bound to get reused. You're also getting a decent number of items for the price that you pay.
The Skeleton Fiesta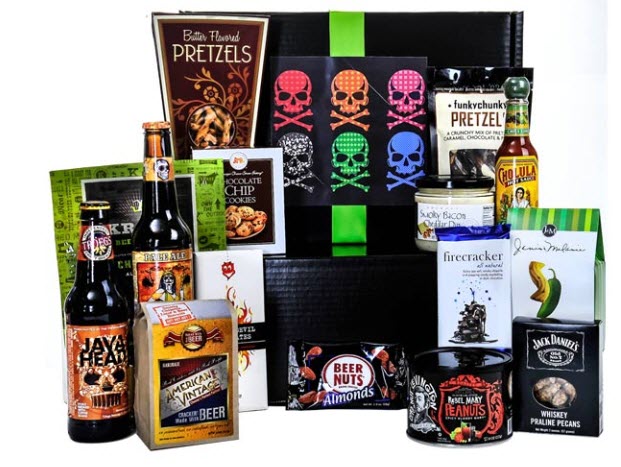 The style of this Skeleton Fiesta gift is just too cool. It contains 2 craft beers and plenty of snacks to go along with them. There's also variation in the snacks,including nuts, pretzels, dip and even chocolate. This is much more appealing than gifts which just multiple versions of the same snack type.
The Deluxe Das Beer Boot! Gift Set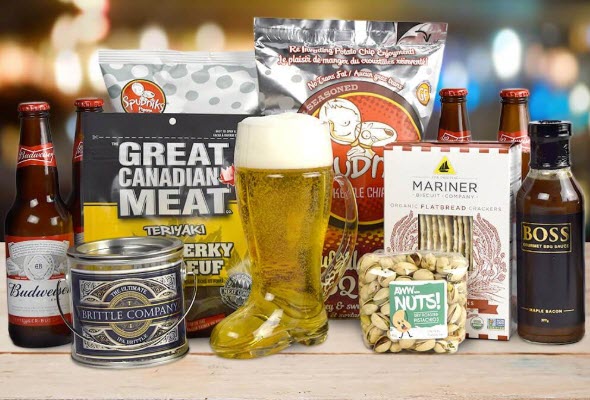 With a name like Das Beer Boot!, it should be pretty obvious what this gift box offers. Of course, you're not just getting the boot-shaped glass. The gift set also contains Guinness brittle, flatbread, nuts and jerky. You can increase the number of beers if you want to, all the way up to 24.
Beer Chopper Basket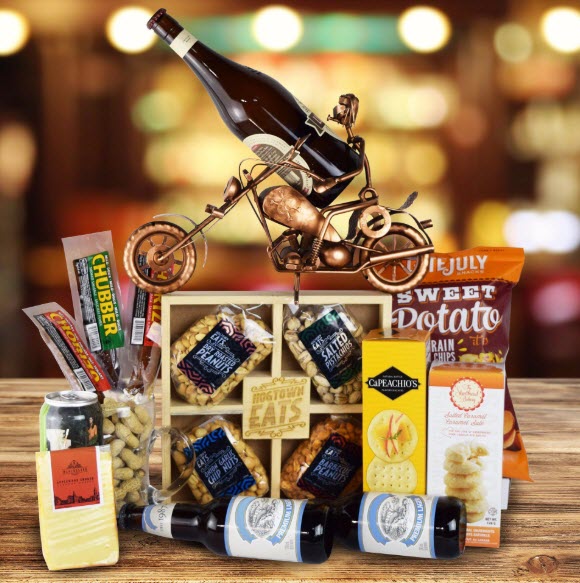 Here's a gift basket that really is unique. It's themed around bikers and even features a Chopper wine holder. A large beer bottle would fit in the holder as well. The gift includes 3 bottles of beer and a beer in a can. There is also a beer pint glass and a decent selection of snacks.
The Quarter Yard Beer Gift Basket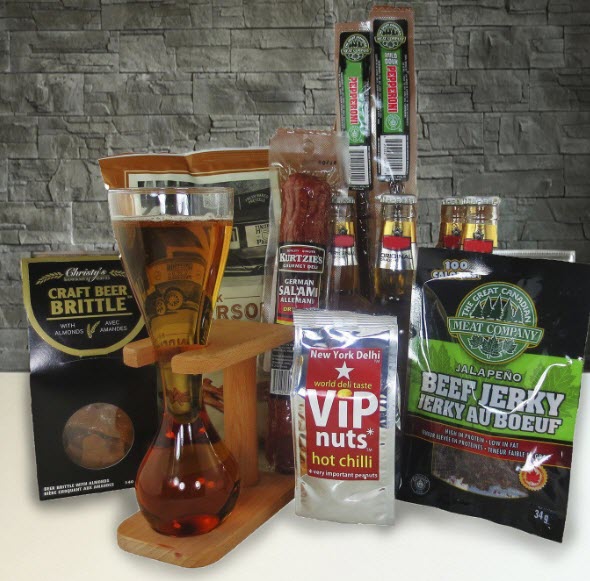 If a half yard glass sounds too big, what about a Quarter Yard Gift Basket? The glass holds up to 13.5 oz of beer, which is a much more manageable amount. The basket also includes beef jerky, salami and various other snacks. This is another product where you can customize the amount of beer or add in other items.
Celebration Craft Beer Tower Gift Basket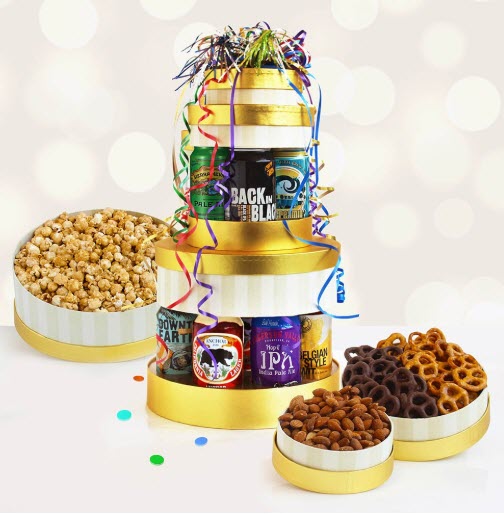 The most interesting aspect of this gift is the packaging. You're getting 10 individual cans of craft beer,along with 3 gift boxes. Each of the boxes is filled with snacks. The whole gift looks great and would always be popular. The style is also the perfect way to kick off a party.
Car Wash Guru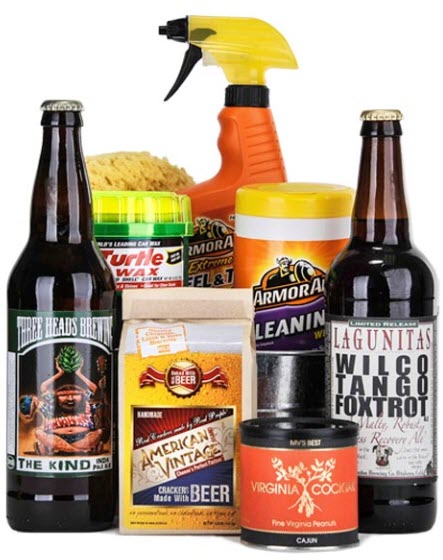 Car washing and beer isn't a common theme for gifts, but why not? This could work well for any man who loves their machine and their booze. The beer and car washing gear are the main parts of this gift, but there are some peanuts and crackers added in there as well.