Cigars, like many of the world's great wonders, are thought to be originated during the time of the Mayans, though no one can be quite sure where and when the first tobacco leaf was smoked.
All we know is that this favorite past time has been around for thousands of years, and now it's come to modern society in the form of a cigar of the month club!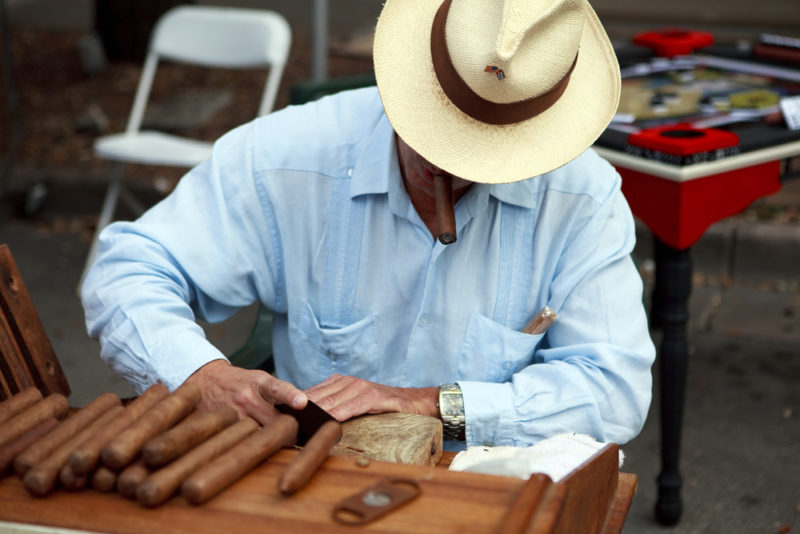 Thanks to Christopher Columbus, the world of cigar smoking expanded into the west. When Columbus and his crew traded goods with the native Indians, tobacco was amongst the more coveted treasures that left the Americas. After returning home, cigar-smoking spread like wildfire and soon became a popular past time.
Although Spain would have preferred to monopolize the market, other countries had different ideas. It didn't take long before tobacco was being grown in Cuba and the Philippines due to their optimal growing climate. Not only did growing tobacco go global, but so did manufacturing.
With a history expanding over a thousand years, cigars now come in thousands of varieties. With so many options available, where do people start when choosing a great cigar? The answer, A Cigar of the Month Club.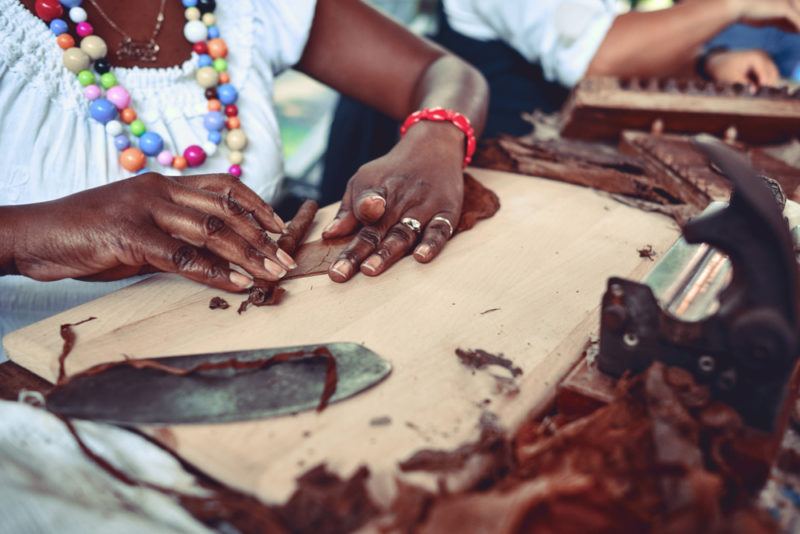 Whether you're new to the world of cigars or have a friend who is a cigar connoisseur a cigar of the month membership will open a whole new world. A cigar subscription allows you to try a large assortment of cigars from all over the world and you never have to leave the comfort of your home.
There a ton of great clubs listed below, and honestly, I recommend that you try them all. However, my current top recommendation is the Premium Cigar of the Month Club. You get a good variety of high quality cigars each month.
I like this club because I'm not an "aficionado" or expert. I just like cigars. I get to try a bunch of different brands, all with different histories, and they include reading material about each on. I like to learn as I smoke! Actually, I'm a member of their beer club and cheese club too. These guys run a tight ship!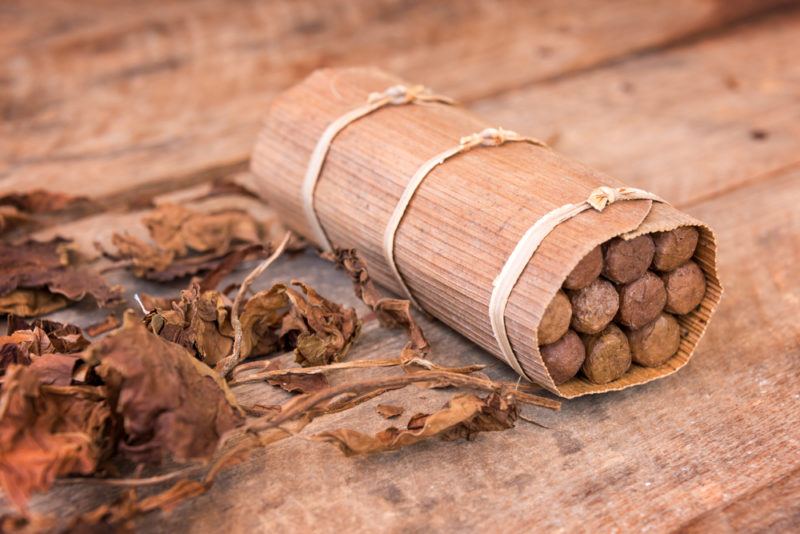 Cigar of the Month Clubs
The Premium Cigar of the Month Club
Amazing Clubs Cigar of the Month Club
Thompson Cigar
CIGARCLUB.COM
Cigar International
Gotham Cigars
Southern Cigar Company
Small Batch Cigar
Cigar Federation Store
CIGAR.com
The Premium Cigar of the Month Club

The Premium Cigar of the Month Club prides itself on ensuring they only offer premium cigars. They have a panel of cigar aficionados that sample over 12,000 cigars each year and accept less than 5% of those tested.
When you sign up with Premium Cigar's COTM club, you can trust you will only receive the top of the line boutique or small batch cigars. There are two different membership options.
The Original Premium Cigar Club – $27.95/Month plus a $5 shipping and handling fee and includes
5 Hand-rolled premium cigars

Each cigar valued between $6-$12
The Rare Cigar Club – $42.95/Month plus a $5 shipping and handling fee and includes
4 Hand-rolled Rare Limited Production Small Batch Cigars

Each cigar is valued between $12-$25
Both Subscriptions Include
Variety of shapes, sizes, and tobacco blends from boutique manufacturers
Tobacco sourced from top-tier producers in Nicaragua, Honduras, and the Dominican Republic.
Tasting Notes

Cigar company profile
Tasting Notes
Suggested Beverage Pairings
Though I haven't tried the Rare Cigar subscription, I'm a big fan of the Premium Cigar subscription. I've smoked cigars occasionally for many years now, and one thing I immediately noticed is that the burn on these is much more even and smooth.
You can tell that it's high quality tobacco and that the cigars are cared for. Nothing like I've ever bought in my local area!
Amazing Clubs Cigar of the Month Club

The cigar of the month club from AmazingClubs.com is another great cigar club option which won't disappoint. Each month you get 5 cigars made with premium tobacco from around the world.
These hand-rolled, limited-production cigars come with special packaging to keep them fresh on the way to your doorstep.
Choose 1, 3, 6, or 12 month delivery options! Combine with a chocolate club or wine club!
Thompson Cigar

Starting with the oldest mail order cigar company, Thompson Cigar was founded in 1915, in Key West Florida. Key West was one of the first locations that manufacturers from Cuba moved to after parting from Spain's cigar monopoly.
Thompson Cigars not only distributes, but they even manufacture their own cigar brand.
The Thompson private label cigars' goal is to provide the most exceptional cigars at a fraction of the price a comparable blend would cost.
In addition to the thousands of cigars to choose from, Thompson also offers a cigar of the month club. The monthly subscription includes:
A free cigar cutter the first month
5 Unique Hand Rolled Premium Cigars each month
Thompson Cigar Monthly Newsletter
Join Thompson's Cigar Rewards Program for free and start accumulating reward points on your monthly subscription
Memberships include month to month, 3, 6, 9, or 12-month subscription options, all priced around $29.95/month.
CIGARCLUB.COM

CIGARCLUB.COM is an exclusive cigar club catering to all levels of cigar lovers. When you join their club or when you order a gift for a friend CIGARCLUB.COM requests you fill out a survey first to determine the likes and dislikes of the prospective cigar smoker.
For personal memberships, they ask questions like:
What you are looking for in a cigar club
Cigar intensity preferences
Coffee and Tea preferences
Evening beverage of choice
Flavor preferences
For gift options, they only ask for:
How often does the intended recipient enjoy cigars
Intensity preferences
But if you don't know the answers no problem! They will make suggestions based on the information provided.
At the end of the survey, whether the membership is for you or someone else, you will be given choices on:
Subscription length 3, 6, or 12-month options
Strength Preferences
Number of Cigars per shipment
With each shipment, you will receive, everything but a humidor to get started
Matches
A card with instructions on how to properly cut, light, smoke, and observe
Cigar cutter included in the first delivery
2-Way Humidity packet, which avoids the need to use a humidor
Note regarding the handpicked cigars
After enjoying the cigars, the smoker is encouraged to rate their cigars. The ratings will aid in choosing cigars for future shipments. Additionally, as time goes on, if you want to change the subscription preferences, you are welcome to do so online.
Cigar International

Cigar International started in 1996 and is based in Bethlehem, Pennsylvania. They are one of the largest cigar distributors in the US and have four retail store locations in The Colony, Tx, Hamburg, GA, and two stores in Bethlehem, PA.
In addition to fine cigars, Cigar International also sells cigar accessories and other products such as:
Humidors and Humidification Products
Cigar Rests
Cigar Cutters
Lighters
Ashtrays
Cigar International's monthly subscription has two different options to choose from, the Original Club and the Double Decker. The original membership includes four unique cigars, and the double-decker is the same, but instead of a single cigar of each brand, you receive two cigars of each brand.
The second decision you need to make is the duration of the subscription. There is a month to month, 3, 6, or 12-month membership options. The Original membership is priced at $19.95/month, and the Double Decker is $29.95 per month, regardless of the length of your subscription.
The last thing you need to decide on is when you want the first delivery to be sent. Shipments arrive between the 15th and the 20th of each month.
Each membership includes the following:
4 or 8 Premium hand-rolled Cigars
Monthly Newsletter
Special Member Discounts on other products
Cigar Cutter in the first shipment
Gotham Cigars

Gotham Cigars is located in Florida and has been in the cigar distribution business since 2001. As of October 2019, Gotham Cigars has become the number one online seller of AJ Fernandez Cigars.
Gotham Cigars has several different cigar buying options, including:
Sampler packs
Over 50 pages of Cigars to choose from ranging from $500 down to $3 and every price point in between
Cigar Accessories
Cigar of the Month Club
Gotham's Cigar of the Month Club offers four different club options:
Silver Membership 1 Month for $29.95/Month
Gold Membership 3 Months for $26.66/Month
Platinum Membership 6 Months for $24.99/Month
Diamond Membership 12 Months for $24.99/Month
Each membership includes:
World-renowned exclusively chosen premium cigars
Free shipping
Monthly Newsletter
Cigar Cutter
Matches
It is assumed based on the photograph that there are 5 cigars per shipment, however, it would be best to inquire prior to purchasing.
Southern Cigar Company

Though the Southern Cigar Company is only four years old, it has grown quickly and has even been featured in InStyle, Maxim, and BuzzFeed.
Southern Cigar's founders are Jason and Mike, both of who are passionate about cigar smoking and understand the overwhelming feelings of shopping for cigars in person.
The inspiration behind Jason and Mike starting the Southern Cigar company was to help cigar enthusiasts around the world have a more enjoyable buying experience. They were the first company to sell a cigar subscription box.
There are three monthly subscription options available, Month to Month, 3 Month Prepay, and 6 Month Prepay. The longer the commitment, the more discounted each plan is. The 6 Month options are $35.95 per month, and the monthly option is $39.95.
Included in your monthly membership, you will receive
4 Cigars with the occasional bonus cigar in Boveda humidity control packaging

No duplicates, each month you will receive a new sample unique from previous deliveries

Triple Torch Lighter in the first box
Double Guillotine Cutter in the first box
Informational card providing background on each cigar in that month's box
Free shipping within the US

Outside of the US, there is a $15 shipping charge plus any applicable local taxes or tariffs

Shipments will arrive each month between the 22nd-24th.
Small Batch Cigar

The Small Batch Cigar company was established in 2012 but has 15 years of experience backing this company. Small Batch Cigar has a vast assortment of cigars but prides itself on carrying the rare and unique varieties.
What sets Small Batch apart from other cigar distributors is their cigar of the month (COTM) clubs. Instead of the standard options based on duration, Small Batch offers clubs based on price.
Here's how it works
Pick a price point

Some of the membership options have limited availability, allowing only 100 subscribers

The price points start from $20 per month. Other price point options include $30, $40, $50, $60, and $100
Each shipment varies in quantity but will include cigars equal or greater to the monthly dollar amount of your membership
The $20 COTM subscription is geared toward the casual or new smoker and will contain 2-3 stogies per month
COTM subscriptions starting at $30 and up are focused on the more experienced cigar enthusiast
All domestic COTM shipments receive free shipping
For those not sure about signing up for a membership or are just looking for a fun gift, but don't know which cigars to choose, should check out the Davidoff surprise sampler. All you need to know is how much money you want to spend and Small Batch will do the rest.
Cigar Federation Store

The Cigar Federation Store is an all-inclusive, one-stop-shop where you can purchase your favorite cigars along with any needed or maybe not so needed fun accessories.
In addition to their general stock Cigar Federation offers a cigar of the month club. They have put a unique spin on this club. The three membership options vary depending on cigar quantity.
The subscription options include a 5, 10, or 20 cigar pack. Each month's shipment contains five unique cigars, if you choose the 10 or 20 pack subscription you will receive five different brands, but multiples of each.
The COTM does not have a required monthly commitment, once you sign up you cancel at any time. Shipping is charged only on the initial shipment.
Your monthly subscription box will arrive within five business days of your initial order and will be sent out at the same time each month moving forward. The monthly blog located on their website will discuss each of the cigars included in that month's subscription package.
CIGAR.com

CIGAR.COM founded in 1996 at the beginning of online shopping. It started with two college student's dreams of bringing cigars to online shopping and creating an easy and convenient shopping experience. Over the years CIGAR.COM grew from a spare room of inventory into a leading online full-service tobacconist.
In addition to an overwhelming number of cigar options and accessories, CIGAR.COM also offers a cigar of the month club. Memberships range in quantity and duration. Membership options are listed below.
Membership Quantity

Original Club includes five unique cigars each month
Double Club contains two of each of the five unique cigars

Membership Month Options – Each subscription is $29.99 per month regardless of which option you choose, include Monthly, 3, 6, or 12-Months.
Each subscription includes the following regardless of which subscription is chosen.
5 Cigars Each Month

1 Featured Cigar which incorporates new or premium blends
2 Recommended Cigars chose by CIGAR.COM experts
2 Everyday Smokes these are affordable classic cigars

Each month's cigar box has a different theme such as region, same wrapper, or flavorful blends
A monthly newsletter
10% discount on all orders outside of the COTM club
The first month you will receive three bonus cigars in addition to the five, plus a cigar cutter
Cheers!