Baby books make a great gift and are fun to read to our little ones, but did you know that reading to your baby helps with their development? Through many studies over the years, child development experts have found that reading to little ones, even newborns has significant long-term benefits in your child's life. This makes baby book of the month clubs such a powerful idea.
First, reading to an infant is an excellent way to bond with your baby. Hearing the sound of their parent's voices is very soothing to infants. And reading does not just benefit babies, it helps parents share a close connection with the children too.
Though your baby cannot understand the words you're speaking, it is still helping prepare your child for reading and communicating with others. According to Kids Health, babies who are read to during their first year are exposed to all of the sounds they will ever need to know to speak their native tongue.
Infants also show a more significant response to sounds when read to versus when simply being talked to, and books help babies begin to focus their eyes on shapes and colors. Plus, through books, infants also start to associate reading with positive feelings, ultimately creating a new generation of readers.
Studies also reflect that babies read to show more advanced math skills, larger vocabularies, and score better on standardized tests at age 3.
So knowing how much positive impact reading to babies has on their development, who wouldn't want to sign up for a baby book of the month club? Baby book subscription boxes are not only an excellent way to build a child's library, but the advantage of having baby books delivered to your door is a convenience most parents welcome.
There is an abundance of baby book of the month clubs. Some of these companies specialize in unique, hard-to-find baby books, whereas other clubs are fully customizable. And most of these baby book of the month clubs can grow with your baby and change to provide more advanced reading material as your child grows.
You can also change clubs as your child ages, as there are plenty of book of the month clubs for children too. Or, what about another type of club, like a craft club for children?

Baby Book of the Month Subscription Boxes
Literati
Gift Lit
Bookroo
Lollipop Book Club
Highlights
Lilypost
Tiny Humans Read
Elephant Books
Literati

Literati is a book subscription company that has clubs for adults and kids. Literati is passionate about sharing the joy of reading with kids, so they have created 6 unique book clubs for kids and have a book donation program.
The book donation program allows people to use their prepaid envelope to donate up to 5 gently used books each month. These books go to various communities in need. Some of the companies Literati partners with includes The Ronald McDonald House, Little Free Library, Andy Roddick Foundation, and more.
Literati Kids offers an array of books for kids 0-13+ years old. Literati Kids has 6 book club options:
Neo: Ages 0-3
Sprout: Ages 3-5
Nova: Ages 5-7
Sage: Ages 7-9
Phoenix: Ages 9-12
Titan: Ages 13+
Book club memberships cost $9.95 each month; shipping is included, even for the returned books.
The Literati Kids Baby Book Club, Neo, includes 5 books, personalized stickers, a collectible art poster, and surprise extras.
Each month the baby book box is based on a new theme. Some of the fun themes you might see are Myth, Fairy Tales, and Folklore, For The Love of Art, Science and Innovation, and Poetry and the Song of Spring.
After you receive your Literati Books, you and your baby have up to a week to read the books and then return any of the ones you don't want to keep. You will be automatically charged for the books you choose to add to your library. The $9.95 membership charge is separate from the price of the books. You can decide to return all 5 with the prepaid label.
Gift Lit

Gift Lit first opened in 2006 by two moms whose goal was to bring good books to family and friends. Over the years, Gift Lit has grown into a leader in the independent bookstore industry.
Gift Lit is all about helping find the perfect gift for the bookworm in your life. They offer numerous gift options for children and adults; plus, if you prefer, you can customize your Gift Lit book collection.
If you are looking for the perfect gift for a baby Gift Lit has 6 different baby book of the month clubs:
Board Books
Baby's First Library
Cressida Collection
Sleep, Baby, Sleep
Educational Board Books
Build Your-Own Children's Set
All of the baby book clubs come in 3 different durations: 3 months, 6 months, and 12 months. All of the books are preselected; however, you can customize any or all of the months. Some of the preselected books include:
Kitten's First Full Moon
Grumpy Monkey
So Light, So Heavy
The Day the Crayons Quit
In the Night Kitchen
Books ship the beginning of the month.
Bookroo

Bookroo was founded by 3 sisters-in-law Rebecca, Jane, and Tiffany, who have made it their mission to help parents and kids spend more time together reading.
Bookroo chooses their books from thousands of titles, but they specialize in finding literary "hidden gems" for kids that you can't find at the average bookstore. The books are all carefully selected with the help of recommendations and reviews by educators, parents, and librarians.
Bookroo sells many of the books on their online store. They offer a unique and diverse selection of books, all categorized to make finding the perfect book fast and easy. However, if you are looking to have fun books delivered each month, then one of their book of the month clubs would be best.
Bookroo has 3 book clubs:
Board Book Club for babies 0-3 years old
Picture Book Club for toddlers 3-6 years old
Chapter Book Club for kids 7-10 years old
Their Board Book Club is the ideal gift for babies. Each month the recipient will receive sturdy board books that will hold up against the attention of little hands.
Each baby book subscription box contains 3 board books varying in length from 8-14 pages. In addition to the books, a detailed note about that month's books will give you background information on the book, author, or illustrator.
Some of the books included in previous baby board book boxes included Jane Foster's ABC, Animal Homes, and Fruit Alphabet.
The Board Book Club comes in 4 different durations:
Month-to-month for $19.95 per month
3 months prepaid for $71.82 ($18.95 per month)
6 months prepaid for $137.64 ($17.95 per month)
12 months prepaid for $263.28 ($16.95 per month)
Shipping is $4.99 per box.
Lollipop Book Club

Lollipop Book Club is a fully customizable child's book subscription company. You can choose to purchase individual book gift boxes or sign up for one of the subscriptions.
The Lollipop Book Club is different from other baby book of the month clubs because they allow you to choose:
The books that are included in the membership
Choose the delivery date
Choose the duration and frequency
Plus, you can include a personal message with each book. However, if you would prefer to have the books be a surprise, you can let the Lollipop Book Club choose the books for you.
When choosing the book club, you are asked a few questions, such as the child's age and gender and the preferred book format. All age groups, except baby books, have two format options: paperback or hardcover. Children 0-2 years old always receive board books.
In addition to the books, each box also includes a lollipop. You can choose from a few lollipop options such as large or small, allergy-free or washcloth lollipops. And if the household has more than one child, you can add additional lollipops to your order.
There are four duration options available 3, 6, 9, and 12 months. After selecting the duration, you are asked to choose which categories of books you want to be included, like Pets and Animals, Multicultural, Family, and Time for Bed. Some of the available books you may see in your baby book of the month club are Harry the Dirty Dog, May I Please Have a Cookie, and Kiss Good Night.
When the book arrives, the delivery will be in the child's name and packaged in a bright-colored gift envelope.
Highlights

Garry and Caroline Myers are the founders of Highlights, which was first released in 1946. Highlights is a monthly magazine for kids ages 6-12, filled with fun activities, stories, puzzles, and Highlight's famous hidden pictures.
Highlights is all about helping children reach their full-potential through using their imagination and creativity. The stories and puzzles in their books and magazines are designed to help kids develop their reading and problem-solving skills.
Over the many years from when Highlights first started, the company has expanded to include other children's magazine subscriptions like:
Hello for Babies 0-2 years old
High Five for Kids 2-6 years old
High Five Bilingüe (in Spanish)
Plus, Highlights has games, websites, mobile apps, and book clubs. They offer 13 book clubs, including a club for babies 0-2 year old called Let's Grow! Play & Learn Subscription Box.
Each of the Let's Grow! Play & Learn Subscription Boxes are carefully curated and include 2 padded board books, an age-appropriate surprise toy, and activity ideas.
The Let's Grow! Baby book club is $24.95 per month plus shipping. It is a flexible monthly subscription that you can choose to cancel anytime.
Lillypost

Lillypost is a child's book of the month subscription company specializing in books for young readers between the ages of 0-7. Lillypost's mission is to help young children learn about the amazing world of literature from the start.
Though Lillypost does not sell their books individually, they do have 3 subscription options:
Board Book Box perfect for babies 0-3 years old
Picture Book Box ideal for kids 4-7 years old
Mixed Book Box for all ages
The Board Book Box includes 4 board books, and you have a choice between a month-to-month or a 3-month subscription. If you choose the 3-month option, you will receive a discounted price per box.
Some of the books you might receive in your board book box are:
Little Green Peas
Never Touch a Monster
We Are Better Together
Penguin and Pinecone
Never Feed a Yeti Spaghetti
Shipping is an additional $4.95 per box.
Best of all, when you sign up for one of Lillypost's subscription boxes, they will donate a book to a child in need. To date, Lillypost has donated 170,000 books since they started.
Tiny Humans Read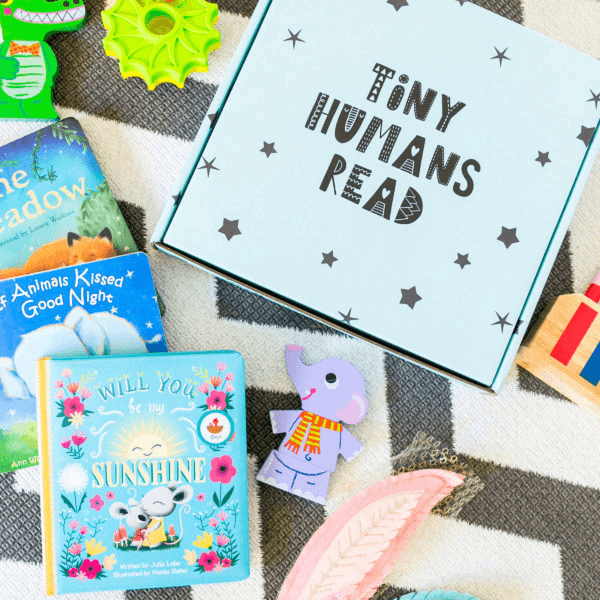 Tiny Humans Read offers curated book of the month clubs that are designed to promote learning and a love of reading. This is another club with an altruistic focus, as they donate a portion of each sales to an early literacy non-profit organization.
There are 3 boxes to choose from:
Board Book Box for $22.99. For children aged 0-3 years. Contains 4 board books.
Picture Book Box for $24.99. For children aged 3-8 years. Contains 3 picture books.
Sibling Book Box for $29.99. Contains 2 board books and 2 picture books.
The prices above are for ordering each club on a month-to-month basis. You can also prepay for 3 months or 6 months, or purchase a single box as a gift. Each box includes tips and activities, along with some printables.
Elephant Books

The packaging for Elephant Books is what makes this club stand out, but the books are appealing too. This time there are 2 clubs to choose from and they're based on the type of book you get.
3 Board Books/Month (paperboard). For children aged 0-2.
2 Picture Books/Month (hardcover). For children aged 2-6.
The pricing is the same regardless of the books you choose:
Month-to-month: $20.99/month
3-month prepay: $19.99/month
6-month prepay: $18.99/month
12-month prepay: $17.99/month
All clubs have an extra $5 shipping and handling fee.
You can also order a Ultimate Baby Gift Package, which includes board books, a gift message, an elephant plush, and reading tips. This option costs $125.99 for 3 months, $197.99 for 6 months, or $332.99 for 12 months.