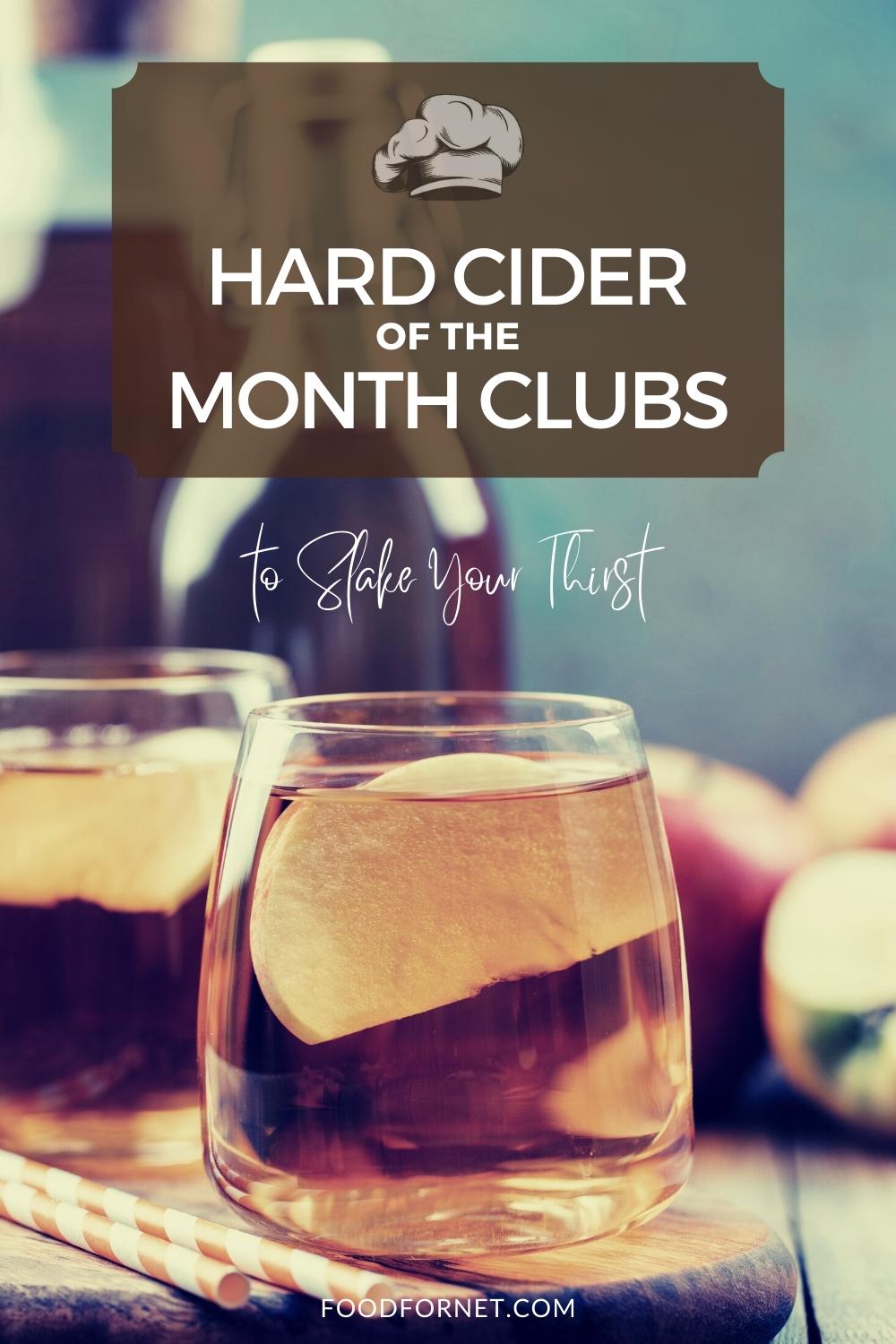 Hard cider has been around for ages and believed to have originated in Europe, likely the England area. It was eventually discovered by the Romans around 55 BC when they invaded England. The Romans later mastered the production of hard cider. Thousands of years later, you can get small batch, artisanal cider delivered to your home via cider of the month clubs!
Hard Cider was one of the first beverages introduced to the US when the early settlers arrived. It was enjoyed by near everyone, including those as young as 15 years old. In fact, hard cider was one of the most common drinks during that time. A survey from 1790 reported that the average person consumed about 34 gallons of cider and beer annually.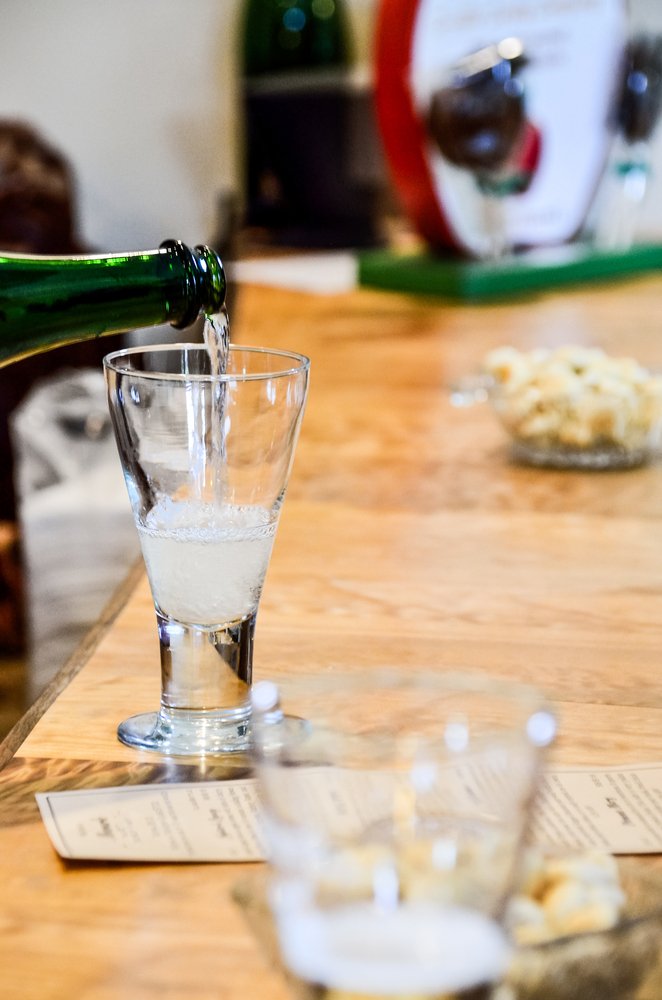 Additionally, during that time, hard cider was believed to:
Aid in promoting healthy digestive systems
Prevent rheumatism, laryngitis, gout, bladder stones, fevers, and colic
Though it is unlikely to carry the above health benefits, it did aid in reducing typhoid, cholera, and dysentery, caused by the local water.
However, during the years of prohibition, hard cider took a big hit because supporters of the prohibition act burned almost all of the orchards. During the years that followed, the apple orchards converted from cider apples to the sweeter edible apples.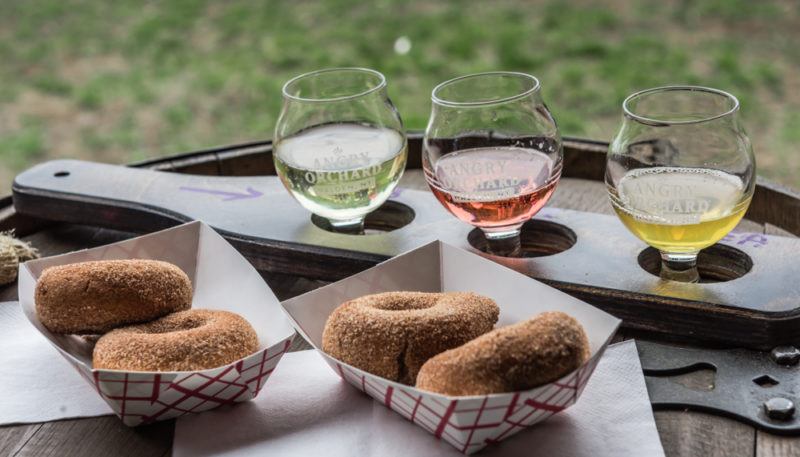 Finally, around 2012 hard cider found its way back into the hands of those who enjoy this fermented beverage. And, in the last ten years or so, the cider industry has blown up. Now large batch, small-batch, and artisan ciders are available for enjoyment all around the country.
If you happen to be a cider connoisseur or just a casual cider drinker, cider of the month clubs memberships is the optimal way to try an abundance of various ciders from around the country.
For many people, cider is a natural progress from interest in craft beer, or perhaps cider is a sweet, sparkly, "gateway drink" that gets you interested in the world of microbrews. There are also some really good beer of the month clubs worth checking out as well!
In today's world of hard cider, it is hard to keep up with all the new products hitting the market every year, so if you would like to keep tabs on the hard cider industry a hard cider subscription can help you accomplish that.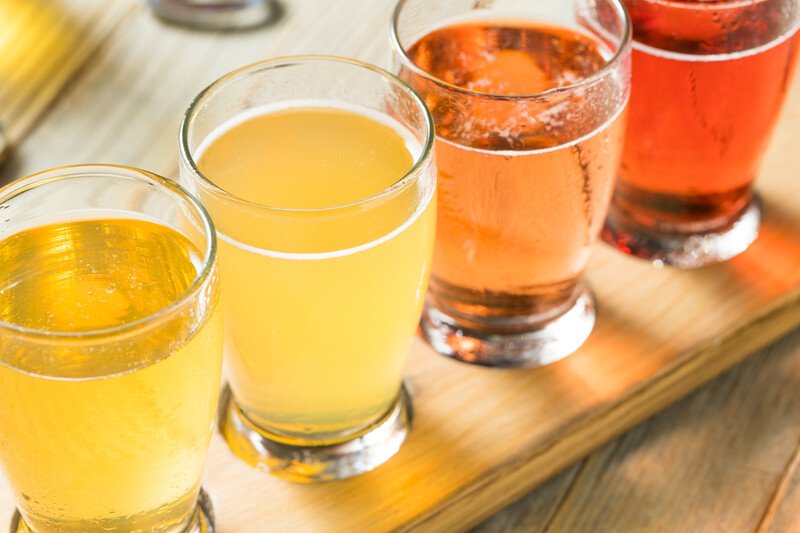 Hard Cider of the Month Clubs
Shacksbury Cider Club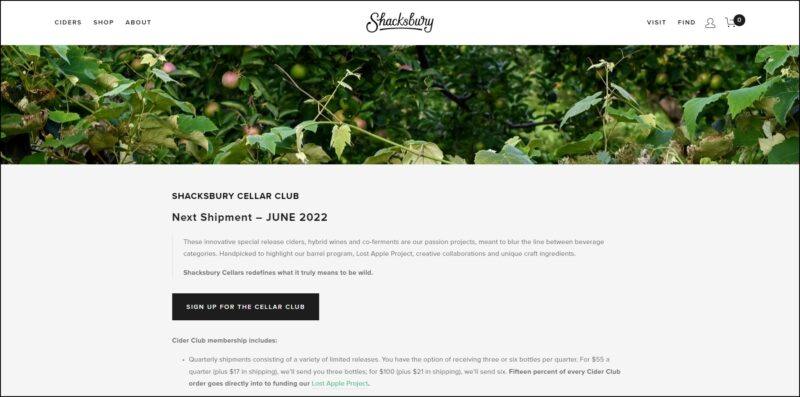 Shacksbury Cider, headquartered in Vergennes, Vermont, creates a variety of unique Vermont ciders. Shacksbury offers all of its ciders online, which are available to ship to the majority of the states.
However, if you are in Vermont and would like to check out Shackbury Cider in person, they have two locations. The Vergennes location is where their cidery is located as well as their tasting room.
Their second location is in Burlington, Vermont, and is a collaborative tasting room. The name of that location is CO Cellars + Tasting Room (By Shacksbury Cider & Zafa Wines).
Neither tasting room is open 7-days a week, so check online before heading over.
Shacksbury Cider has three core ciders available year-round. The flavors are:
Rose – A combination of fresh apples and wine grapes from California
Dry – Made from the Dabinett apple this cider is light and crisp
Arlo – A tart cider made from a blend of European and New England Apples
In addition to their standard three ciders, they also create small-batch seasonal and limited edition ciders, which are available to their Cider Club members.
The Shacksbury Cider club is a quarterly subscription, that offers, their rare ciders, new releases, and limited edition ciders. Members are the first and sometimes only recipients of these unique ciders.
The membership includes:
Quarterly shipment of three ($55 for the cider+$17 for shipping) or six bottles ($100 for the cider+$21 for shipping).
First access to Cellar Sales, which includes limited vintage ciders
10% discount on cider both online or in their tasting rooms
Invitation to tasting events, hosted at their tasting rooms as well as select cities in the US
A guide for that month's ciders, including recipe pairings, information on each cider in the shipment, and fun facts about their cidery.
The Cellar d'Or Cider Club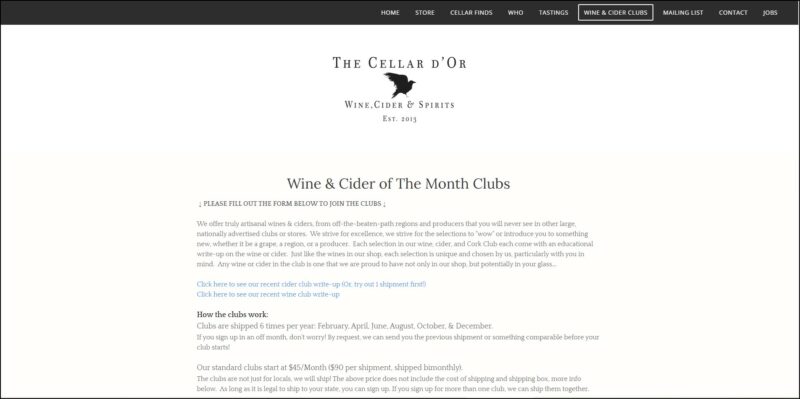 The Cellar d'Or, located in Ithica, New York, is a retail wine boutique. Their focus is on bringing premium wines and ciders from around the world to their valued customers. They pride themselves in presenting their wines and ciders in a non-intimidating fashion.
The Cellar d'Or is open to the public seven days a week. Also, they offer a Friday night free wine tasting. Between 4-7 PM, guests will have the opportunity to learn and taste wines from around the world.
For wine lovers on a budget, Cellar d'Or has a $15 and under selection, plus when you buy six bottles you receive an additional discount, six bottles for $60.
But The Cellar d'Or is much more than just wine. They also offer ciders from around the world. The optimal way to experience these new flavors is by signing up for their cider of the month club.
The cider subscription includes:
4 bottles every other month of traditional hard cider from around the world
Bottle sizes range from 12 oz to 25 oz, with 25 being the most common size
Price is $45 per month plus tax and shipping if applicable.
Cider is either apple or pear based
Eden Cider Club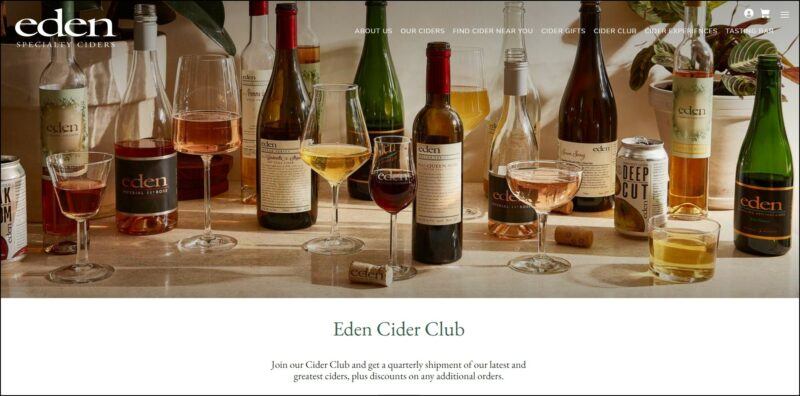 Eden Ciders, located in Newport, Vermont, was founded by owners Eleanor & Albert Léger. The ciders produced at Eden are considered Harvest Ciders, meaning the apples are pressed at or shortly after harvest. Their ciders are created much like wine in that the apples pressed at harvest time will be the only vintage that year.
Eden Ciders harvest the apples from their orchard as well as purchase from other local farmers in the area. In addition to using New England apples to make their cider, they also use the New England cold weather to aid in enhancing the flavors and sugars before the fermentation process.
Much like wines, Eden Cider comes in a variety of sweetness levels. They have everything from sparkling dry cider to dessert ice ciders. If you happen to check out their website, you may be taken back a bit by the prices of their ice cider. However, it takes over 8 pounds of heirloom apples to create one 375 ml bottle of cider.
All of the Eden Ciders are:
Naturally Gluten-Free
Free from colorings, acid, and industrial flavors
No added sugars
If you are interested in trying their unique artisan cider but don't live in the Vermont area, check out their cider club. What's included in the subscription:
One shipment of three ciders per quarter, delivered in March, June, September, and December
Your choice between the following three ciders:

Best of Eden (a mix of both ice and harvest ciders)
Ice Cider Only
Harvest Cider Only

20% off quarterly shipments, plus any additional bottles added to that order
First-pick from their limited edition ciders
15% year-round discount on online cider sales
Special invites to exclusive events
The cost per shipment is between $60-$198, not including shipping.
FinnRiver Farm & Cidery Cider Club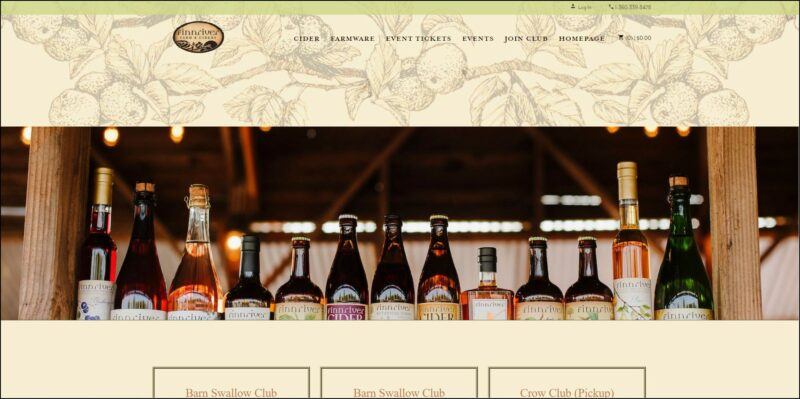 Finnriver Farm and Cidery, located in Chimacum Valley, Washington, was founded in 2008 by the Jorgensen and Kisler families. Finnriver produces a variety of craft ciders and fruit wines.
Their core lines of cider and wine are Traditional Craft Ciders, Contemporary Craft Ciders, Botanical Ciders, Orchard Series Ciders, Brandy Dessert Wines, Port-Style Wines, Crew Selections, Sour Ciders, and Special Releases.
The Finnriver Farm is open to the public seven days a week from noon to nine. As a guest at Finnriver, you can choose to take a guided tour to learn more about their farm and cidery. Or if you prefer to skip ahead and just enjoy the many flavors, they have a taproom and tasting porch where you can relax and enjoy your cider.
However, if you prefer to sample ciders from the comfort of your own home, then their cider club is perfect for you. There are three membership options available:
Barn Swallow Club:

3 Bottles Minimum ($40-$70/shipment)
15% discount on bottles year-round
1 Complimentary tasting

Crow Club:

6 Bottles Minimum ($80-$125 /shipment)
1 Complimentary Tasting
20% year-round discount on bottles
20% discount on draft pours and cocktails in the Chimacum Tap Room
20% off branded apparel
25% off your stay at the Resort at Port Ludlow

Swan Club:

12 Bottles Minimum ($130-$150+ /shipment)
Order Customization available
Same discounts included in the Crow Club
Cider Stoke

3 Bottles Minimum ($40-$70/shipment)
Order Customization available
15% discount on Finnriver draft pours and cocktails in Chimacum Tap Room
15% off on branded apparel
50% off of Cider Barn and Orchard Tours

Super Cider Stoke

6 Bottles Minimum ($80-$125/shipment)
Order Customization available
20% year-round discount on all bottle purchases
20% discount on Finnriver draft pours and cocktails in Chimacum Tap Room
20% off on branded apparel
25% off rooms at Port Ludlow Resort and 20% off rooms at 7 Cedras Hotel
The cost of shipping is not included in the prices listed above. Shipments are sent out four times a year in March, June, September, and December. Also, pickup is available at their cidery or local farmers' market.
Crafty Nectar Craft Cider Subscription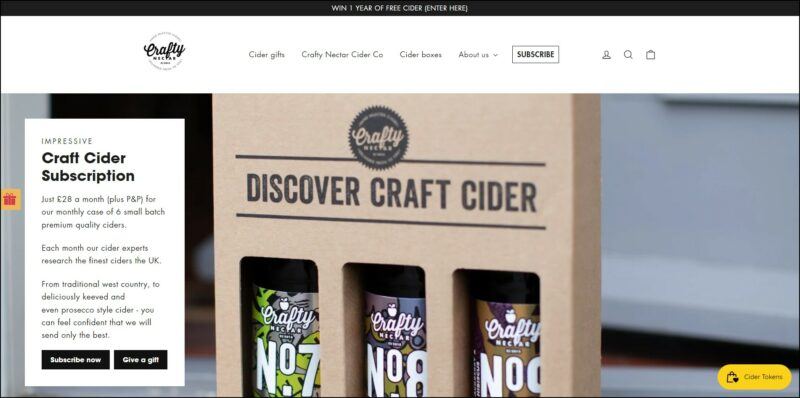 Crafty Nectar champion UK cider – bringing something small, crafted, and local, to a bigger audience. Their small-batch cider is naturally vegan-friendly and gluten-free. Part of their sustainability efforts is making sure that they are plastic-free so they use 100% recycled boxes and also commit to planting, one tree for every order made.
Here's their selection of award-winning ciders:
Crafty Nectar №7 Craft Cider
Crafty Nectar №8 Rhubarb Cider
Crafty Nectar №9 – Blackberry and Hibiscus Co-Ferment
Crafty Nectar 0.5 Alcohol-Free Cider
Their Craft Cider Subscription includes a case of 6 small batch premium quality ciders:
first box is immediately sent out after placing your order, about 1-2 days
subsequent boxes will be sent out every last week of each month
subscription cost £28 a month plus shipping
orders are all plastic free
contains tasting guides and notes
for every box sold, they plant a tree to offset their CO2 emissions
If you're just starting perhaps, you'll prefer their Mini Taster Box priced at £15.50. They also have a couple of gift box ideas for easy gifting – Craft Cider Discovery Gift Box and Cider and Cheese Gift Box. Their Ultimate Cider Advent Calendar and 3 Bottles of Craft Cider with a Cider Glass are also great gift ideas.
As of this writing, they only ship within the UK but are looking for ways to ship UK cider all over the world. Better check in again after some time.
Bristol Cider Shop Monthly Cider Subscription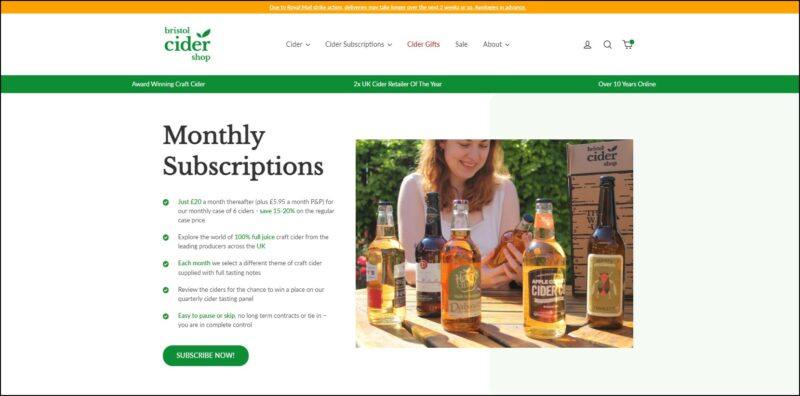 Bristol Cider Shop is another UK company that has been in the cider business since 2010. They've been showcasing the best local, independent, and award-winning cider makers. Today, they showcase about 100 varieties of top-quality ciders. These are from producers that they know personally – so they know where the cider was made, who made it, and what each taste like.
They only sell cider that is:
100% fresh-pressed juice – not concentrate
made on traditional cider farms – not factories
naturally fermented – not artificially produced
Their monthly cider subscriptions will get you a special case of cider:
normally it's 6 500ml bottles or 8 330ml but occasionally it's 750ml bottles or a bag in a box but they'll notify you first so that you can opt in or out
some months you'll get some freebies
subscription price is £20 plus shipping
different theme each month
you can easily pause or skip your monthly subscription
They also send full tasting notes to guide you with the craft cider that they sent – which ranges from something from a new producer, a specific county, a particular style, a single apple variety, or might be something completely new.
Half Time Cider of the Month Club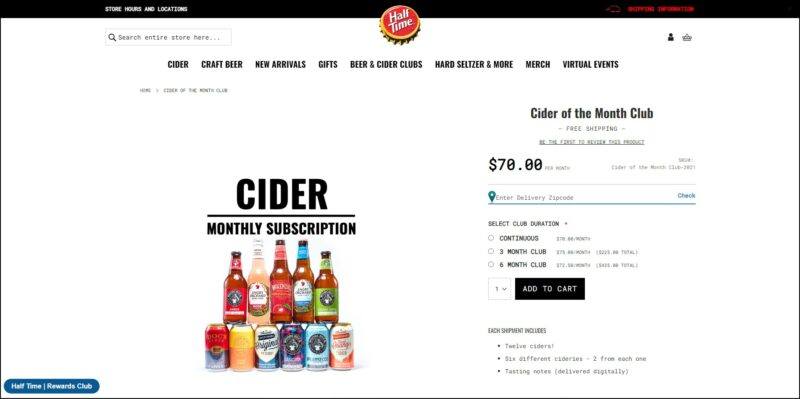 Half Time first opened its store in New York in 2002. Today, they feature over 4,000 craft beer and cider selections from over 800 breweries located in over 50 countries – now, that's quite a selection. They take pride that craft beer and cider enthusiasts are not only after their quality offerings but their exceptional staff as well – all extensively trained with private brewery tastings and industry seminars.
Their Cider of The Month Club delivers only the freshest ciders from sparkling to still and dry to sweet:
you'll get 12 ciders, 2 from 6 different cideries
subscription length varies from continuous, 3 months, and 6 months
pricing is anywhere between $70 to $75 per month
digitally delivered tasting notes
subscription begins the following month after the order is placed
Each cider monthly subscription will satisfy even the most discerning cider enthusiast – whether you prefer bone dry cider or you like it with a tad more sweetness. Their ciders come from around the world but particularly from the Hudson Valley of New York State.
Ash & Elm Cider Co. Cider of the Month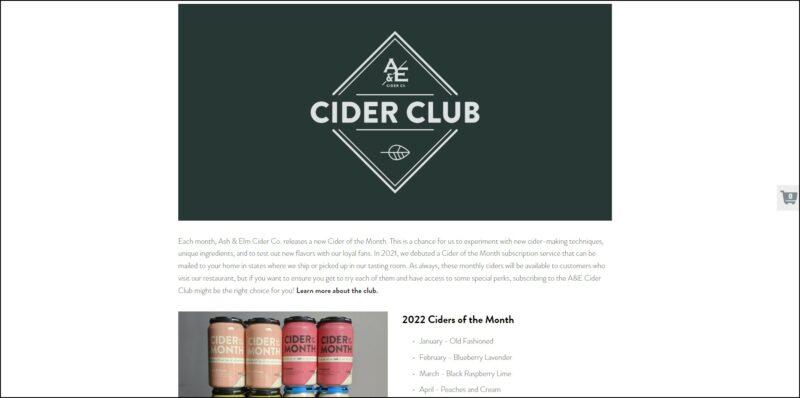 Behind Ash & Elm Cider Co. is a husband and wife team – Aaron and Andrea Homoya. They opened in 2016 after they found their passion for cider following a trip to Ireland. The already avid beer and winemaker Aaron started crafting cider and the rest is history.
Today, they offer cider made from traditional heirloom apple blends to modern and esoteric styles. Ash & Elm Cider Co. also:
use fresh-pressed apple juice and not the concentrated ones
hand-peel every lemon used in their Fleeting Youth cider
use real fruit infusions instead of syrups or fruit concentrates
crush, toast, and blend whole spices needed in their craft cider blends
use all-natural ingredients
Every month, they release a new Cider of the Month and club members will get to enjoy that along with a rotating seasonal cider – that's a total of 4-packs cider shipped quarterly.
There are two programs available.
The Shipping Program, costs $65 and aside from the 4-packs cider, members will also receive:
10% off all online cider purchases and in-person tasting room purchases
free shipping on quarterly boxes
online tasting sessions with the cidermakers
The Pickup Program, costs $55 and aside from the 4-packs cider, members will also receive:
10% off all restaurant purchases
early access to ticketed events in 2022 like brunches, anniversary parties, pairing dinners, etc.
two Members-Only cider parties
You can also gift a subscription by simply availing of their "Gift a 2022 Cider Subscription!" and simply sign up with your contact and payment information. They'll communicate with the gift recipient themselves to assist them in the process whether it's the Pickup or Shipping program.
Eve's Cider Club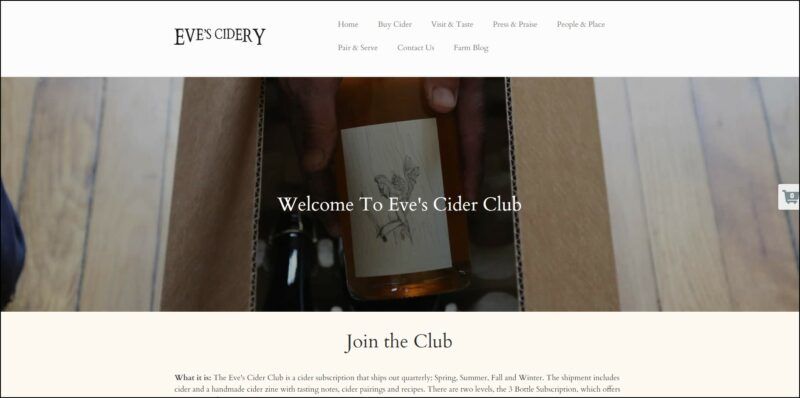 Eve's Cidery is a small family farm that produces its own naturally fermented ciders. Their ciders are made from organically-grown fruits and wild-foraged apples and pears from their own farm located in upstate New York. Their ciders are available online, at the farm, or at Ithaca Farmers' Market.
Their cider club subscription ships out quarterly and includes cider and a handmade cider zine complete with tasting notes, cider pairings, and recipes.
There are 2 levels of subscription.
The 3 Bottle Subscription ($45-$55):
ships 4 times a year (Spring, Summer, Fall, Winter)
3 bottles of ciders according to season
first access to some never-before-released single varietal ciders
10% off additional orders
free tastings at the farm
handwritten club Zine (with stories about each cider, tasting notes, and pairing suggestions)
The 6 Bottle Subscription ($85-$100):
ships 4 times a year (Spring, Summer, Fall, Winter)
6 unique bottles of cider (the same 3 ciders from the subscription club + 3 bottles of single varietal ciders, experimental bottlings, or ciders from their library)
first access to some never-before-released single varietal ciders
20% off any cider purchases
free tastings at the farm
hand-written club Zine (with stories about each cider, tasting notes, and pairing suggestions)
Club members' free tasting is RSVP only – that is for themselves and a guest at the cidery. They actually regularly conduct tastings (RSVP only) for $45, every Saturday at 1 pm, but as members, that's part of your perks.
Alpenfire Cider Club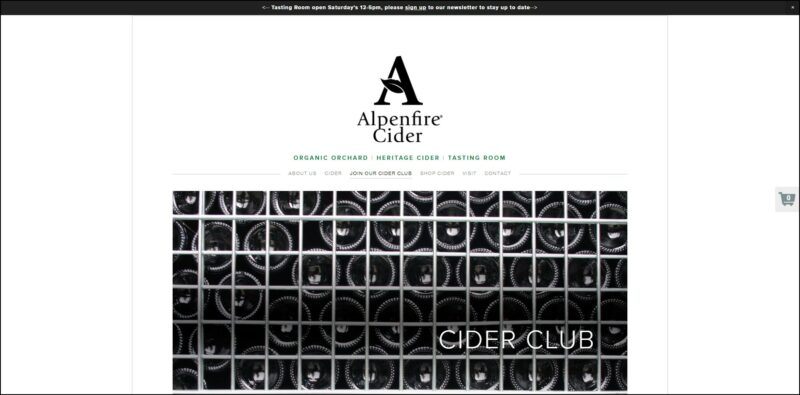 Alpenfire cider is made from organic apples handpicked by family and friends at their annual harvest party at their 2-acre trellised orchard. They continuously strive to craft cider without the use of sulfite in spite of its challenges. They are strongly against using products that could damage not just people but watersheds and wildlife as well.
The care that goes into growing the apples is very evident in the quality of the ciders they produce. The bittersweet and bittersharp varieties speak of tradition and earthiness, the high acid heirloom varieties remind us of that sharp crisp flavor of our grandfather's apples, and the incredible red flesh specialty apples signal that spring and wild strawberries are only a bottle away.
Their Cider Club subscription will get you 3 or 6 bottles of cider including their flagship ciders and one limited release. Cider club members will also enjoy:
two free tastings a quarter, for them and a guest
10% off all products and merchandise when purchased at our tasting room
15% off add-on bottles per cider club release
notices of upcoming events
The 3-bottle shipment costs around $55-$65 while the 6-bottle shipment cost $100-$110, plus additional sales tax and shipping fees.
Farmgate Cider Club Members

Farmgate Cider, located just outside Ottawa, is a family-owned and operated cidery. They value local and sustainable agriculture so using pesticides, hormones, or other chemicals is a no-no. Not only are their ciders made from organic apples, but even the bottles they use are also high quality and reusable.
Among their list of available craft ciders include Wild Child Craft Cider, Stagecoach Estate Cider, Rhubarb Estate Cider, Bee Squared Craft Cider, Sugar Bush Craft Cider, and Russet Craft Cider to mention a few. Estate Ciders are those which are made with juice from apples grown on their estate, while Craft Ciders are those which are made with juice from local apple producers.
Their exclusive cider club comes in 2 packages:
Glen Creek Package ($36 minimum monthly order)
20% off standard pricing
a piece of Farmgate merchandise
an invite to the winter event at Farmgate Cidery and Orchard (to sample new releases)
a delivery charge of $5
Mississippi River Package ($48 minimum monthly order)
20% off standard pricing
a piece of Farmgate merchandise
option for rental of unique Growler Works growler
an invite to the winter event at Farmgate Cidery and Orchard (to sample new releases)
free monthly home delivery
You can tweak the content of your monthly subscription and add more if you like – that's $8/bottle for Estate Cider and $4/bottle for craft cider.
Wild State Cider Club

Wild State Cider is located in Duluth's Lincoln Park neighborhood. Their very taproom and production space are part of a restored old warehouse. They are committed to crafting without the concentrates – so only custom blends of fresh pressed apples and fruits with no added sugar or artificial sweeteners. They also use fine filtration and pasteurization to keep their ciders fresh.
Their flagship ciders include Hazy Pink Pineapple, Pear, Semi-Dry, Raspberry's Hibiscus, and Classic Dry. Seasonal ciders on the other hand include the Rosemary Plum (February), Nordic Berry (April), Peach Basil (June), and Apple Pie (August).
Their Cider Club membership will get you 12 cans of 1 new, club-exclusive cider for $49 per month for taproom pickup. An additional shipping fee of $9 will be charged if you want your cider delivered to your home.
Members will also get:
10% off everything ( including taproom cider, 4-packs, food, and merchandise)
free taproom cider token in every box
BOGO glasses of cider on Tuesdays
first dibs on special cider releases, tickets to concerts, and taproom events
members-only newsletter
Part of their giving back efforts is donating 1% of sales to environmental nonprofits that protects and improve outdoor access.
Finger Lakes Cider House Cider Club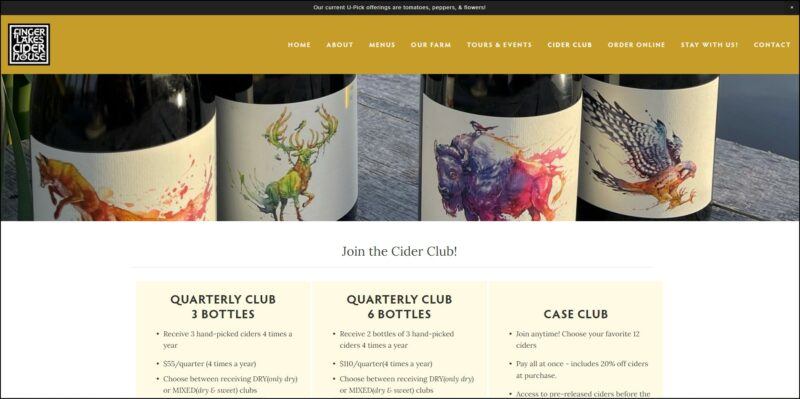 Finger Lakes Cider House which is located on the Good Life Farm, specializes in producing cider and sparkling wine. This farm is a working organic farm and orchard – in fact, they are USDA organic certified and Real Organic certified.
Their tasting room is open 7 days a week for the patron to enjoy their very own artisan ciders and sparkling wines plus a food menu of local meats, cheeses, bread, and other artisan products.
There are three cider clubs to choose from:
Quarterly Club 3 Bottles that costs $55/quarter (one-year commitment)
receive 3 hand-pick ciders quarterly, dry or mixed (dry and sweet)
invite to all quarterly pick-up parties
shipping and tax are not included in the price
early cancellation fee of $55
Quarterly Club 6 Bottles, $110/quarter (one-year commitment)
receive 2 bottles of 3 hand-picked ciders quarterly, dry or mixed (dry and sweet)
invite to all quarterly pick-up parties
free shipping
early cancellation fee of $55
Case Club
join anytime and simply choose 12 ciders
pay all at once (includes 20% off ciders at purchase)
access to discounts, and memberships for 1 year
free shipping for 6 bottles or more
invite to the annual Case Club party
no cancellation fees
All Club Members will also enjoy:
20% off ciders online or in our farm store
10% off everything else in our farm store
access to pre-released ciders and programs at the FLCH (weekly music and pizza, tours and tastings)
2 free half flights/1 free full flight/2 free cider glasses once a month
Club members will also receive a monthly newsletter to keep them updated on what's happening and what new and exciting things can members expect at their next farm visit.
Noble Cider & Mead Club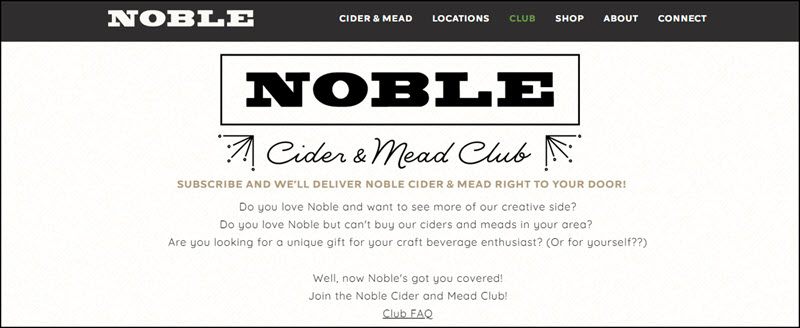 Noble has a couple of clubs for you to choose from. The first follows a familiar style, offering 4 ciders every quarter. These may be cans, 750 ml bottles, or sometimes special smaller bottles. The club costs $59 per quarter. It's more expensive than many other subscriptions, but you are getting some unusual ciders.
Even more exciting is their cider and mead club. This follows the exact same model and pricing structure. The difference is that you get a bottle or can of mead, plus 3 hard ciders. This club is one of the best ways to try mead for yourself.
Angry Orchard Cider Club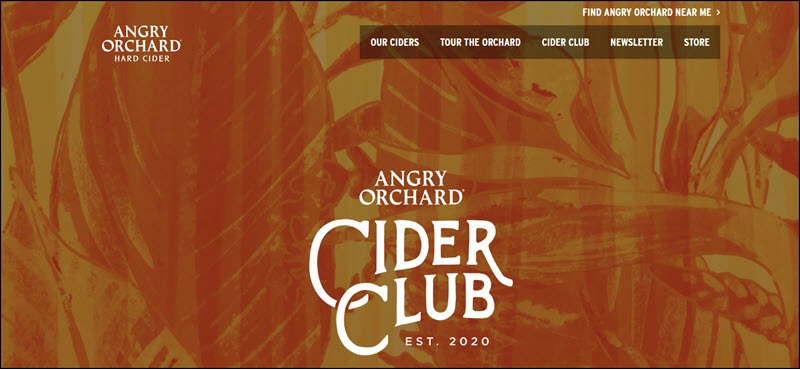 Angry Orchard isn't just a brand you can find in local stores. The company also offers a small-batch cider of the month club. The focus here is on experimentation and innovation. As such, they feature products you won't find anywhere else. These may use unusual fermentation techniques, different types of apples, and even some collaborations.
The club follows a quarterly model, where you get 3 bottles of cider every 4 months. These are sent out in February, May, August, and November. The subscription can be canceled at any time, so you can even sign up for a single shipment to try it out.
Frequently Asked Questions
What Is Hard Cider?
If you're in the United States, hard cider is an alcoholic drink made by fermenting apple juice. In many other places, the same drink is simply known as cider.
Hard cider is normally bubbly and often falls between 4.5% and 7% ABV (alcohol by volume). Some version have a higher alcohol content and these are often drier.
Cider isn't a type of beer, as it isn't brewed from malt and normally doesn't rely on hops either. You may see cider on beer lists though, partly because it has a similar alcohol content and is an easy entry level drink for people who don't like the intense flavors of beer.
Do Any Clubs Offer More Than Just Cider?
Most cider clubs only send out cider. Noble is an exception. Their main subscription costs $59 per quarter (plus shipping) and sends out three ciders and one mead. The mead is a fantastic way to change things up, giving you extra variety without taking away from the cider focus. Mead is also an unusual inclusion in a subscription club, which is a great reason to try it.
You may also see a cider beer subscription come up if you're searching for new subscription programs. While the company seems to focus on cider, they do sometimes substitute cider for beer. Some reviewers ended up with boxes of generic beer, without any cider at all, which seems to defeat the point.
Is There An Angry Orchard Cider Club?
Angry Orchard is the brand that first introduced many Americans to hard cider. While their products are easy to find, the company also has a cider club.
This club ships out three different ciders every quarter. Details are provided about each cider, including how it was made, tasting notes, and even information for pairing and cooking with the cider. The club focuses on small batch productions and innovative styles, giving you unusual drinks to enjoy.
Which States Can Receive Cider Deliveries?
Rules around alcohol delivery are complex. Not only do they vary from state to state, but they're also influenced by the type of alcohol being delivered and sometimes even where the brewery is located.
Thankfully, most states allow cider delivery. The main exceptions are Alabama, Kentucky, Mississippi, and Utah, which all prohibit alcohol delivery. Delaware and Rhode Island have strict rules too, but there are a few exceptions.
Most hard cider clubs will have a FAQ page that says which states they can ship to. If they don't, it's important to contact the company before signing up, just to be on the safe side.