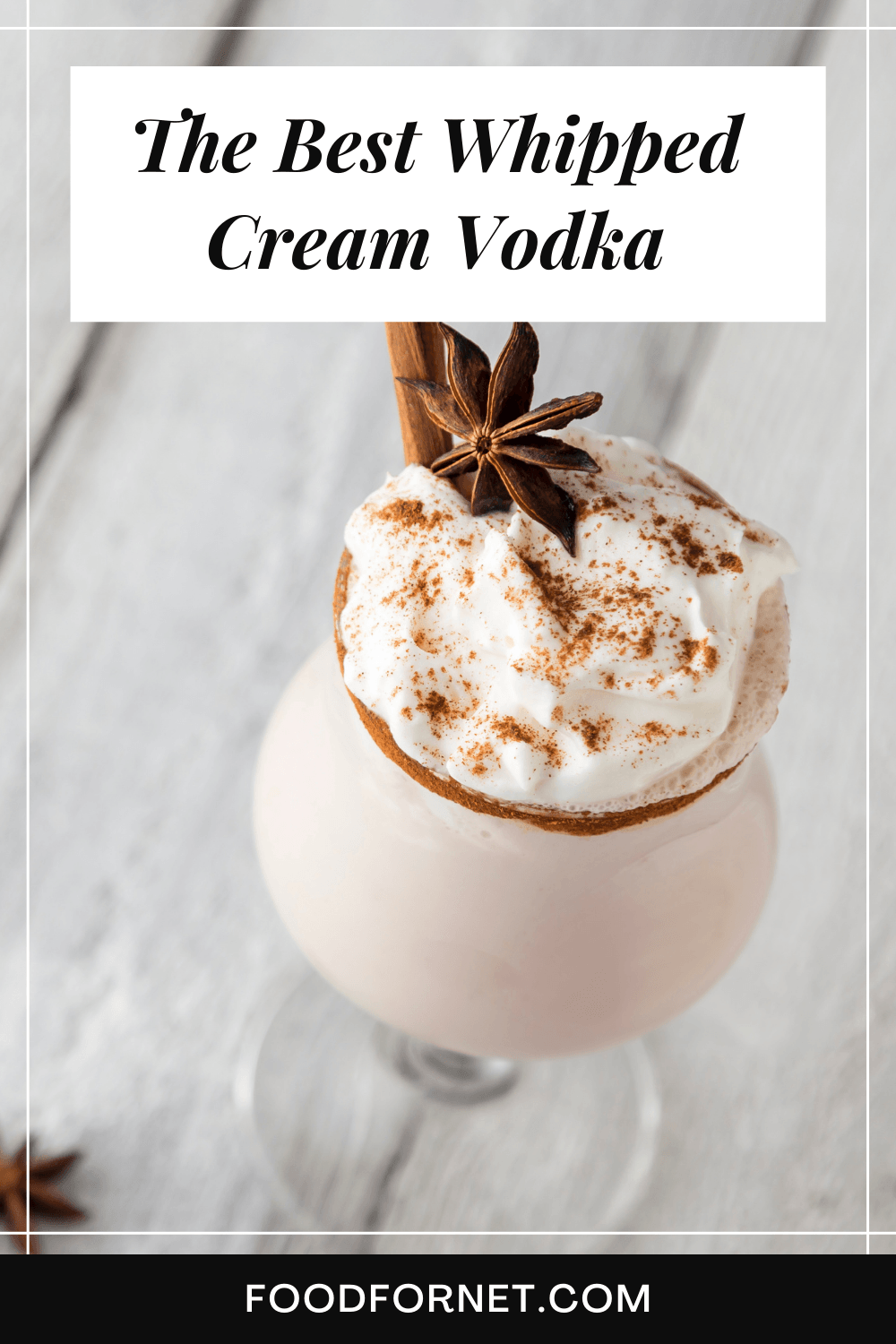 For such a simple mixture, whipped cream has so many amazing uses. It's used to top up hot or sweet drinks like coffee, hot chocolate, or any number of lattes. Similarly, it goes well over cold, blended drinks like milkshakes and smoothies, and it tastes divine when dolloped on top of sweet fruit, particularly berries.
There are many variations available in stores, though these often taste artificial and overly processed – probably because they are! There's no avoiding the sugar content of whipped cream, but making it yourself means you know how much is going in and you can control it if you want. Thankfully, it's also pretty easy to make! All you need is a mixer to go with your three easy ingredients – heavy cream, sugar, and vanilla extract.
Whipped cream is also one of the many flavors that distillers have turned into delicious and versatile flavored vodka. Any drink you were going to top off with whipped cream? Add a shot of the best whipped cream vodka and give it a nice boozy kick at the same time. Feeling more creative? Whip up a sweet, creamy dessert cocktail to enjoy after dinner or serve at your next party.
As easy as this flavor sounds, it's still important that distillers make spirits that are authentic and avoid overdoing the sweetness or making the drink too cloying. Whipped cream is so sweet, to begin with, this becomes a little difficult. The following expressions are examples of whipped cream vodka done right.
The Best Whipped Cream Vodka
1. Pinnacle Whipped Vodka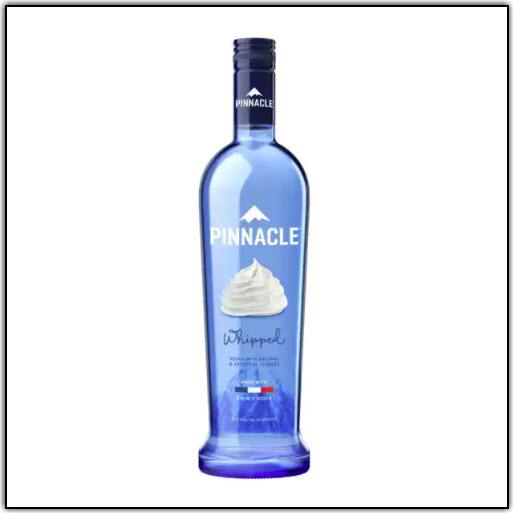 Flavored or not, Pinnacle does vodka right. Their original expression is distilled five times to create an unbelievably smooth palate – so smooth it's won awards. This is also the base for their library of 30 delicious flavors.
Pinnacle Whipped Vodka has a soft, sweet texture and is reminiscent of light, sweet, comforting desserts. You can make some yummy cocktails and add an interesting twist to classics such as the white Russian. Add a shot to your hot chocolate or coffee for an easy flavor bump or enjoy it neat for a simple, delicious sipper.
Sweet vanilla on the nose leads to a strong and extremely sweet whipped cream flavor on the palate, with a touch of vanilla to balance it out. You may notice some vodka notes in the background, but there is no bite or harshness to speak of. It goes down smooth and tastes great on its own. The perfect addition to any dessert.
2. Smirnoff Whipped Cream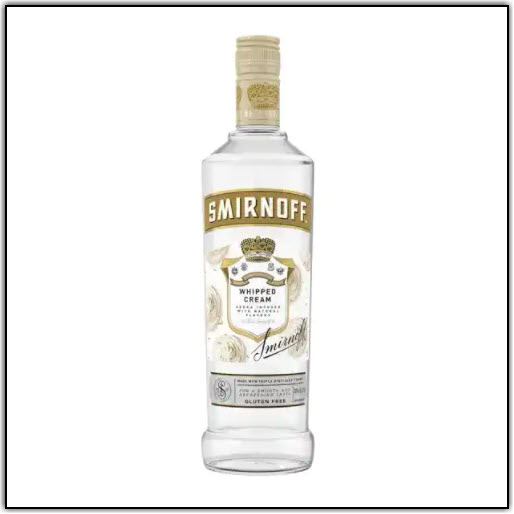 Made with their notorious triple-distilled vodka base, Smirnoff Whipped Cream is the perfect ingredient for bringing booze and dessert together. It's smooth and sweet on its own and makes for a fun, delicious shot. Or pair it with your favorite coffee, ginger ale, or root beer for a quick, creamy, dessert drink.
Beyond that, there are so many cocktails you can use this sweet treat in that dessert will never be boring. It's decadent and indulgent on the nose and the palate.
The aroma is rich and creamy with a sweetness you've never experienced before. The palate offers similar notes of sweet and creamy whipped cream – nothing more and nothing less. The simplicity allows for easy mixed drinks and very specifically flavored cocktails – whether you're at a party or enjoying dessert at home.
3. Veil Whipped Cream Vodka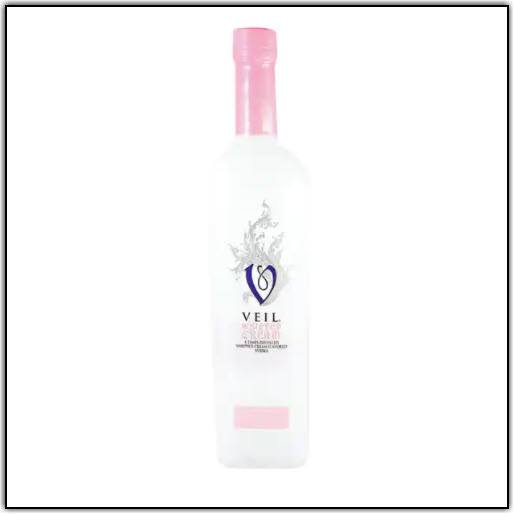 Veil Whipped Cream Vodka is made with a base vodka that's been distilled five times and carefully charcoal-filtered for a clean, refreshing spirit with optimal smoothness. This original recipe was called a "best buy" by the Beverage Tasting Institute, making it the perfect base for their entire collection of flavors.
The whipped cream expression is made to be light, sweet, and smooth with a delicious vanilla undertone. Sweet, creamy, and smooth, it's excellent when served on the rocks or taken as a shot. For a quick mixed drink add some orange soda for a refreshing twist.
Beyond that, add it to your favorite hot drink or dessert for an extra layer of flavor you won't regret.
4. Burnett's Whipped Cream Vodka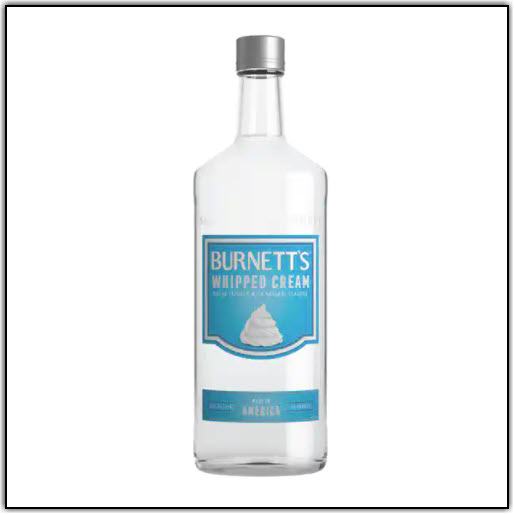 Burnett's base vodka is USA-made, quadruple distilled, and triple filtered. It's a well-known vodka and there's no denying the quality. Its clean texture and smooth taste translate well into all their delicious flavored expressions.
Like the others in their portfolio, Burnett's Whipped Cream Vodka is premium quality and made with natural flavor – in this case, they use the flavor of real whipping cream. They suggest mixing this one with root beer and ice cream for a unique and delicious root beer float.
On the nose you get the precise aroma of whipped cream greeting you immediately upon opening the bottle – it's strong and fast-acting. The palate is just as sweet with the authentic and sugary taste of fluffy whipped cream. It finishes perfectly – sweet, crisp, and smooth all the way down.
5. Poppin Whipped Cream Vodka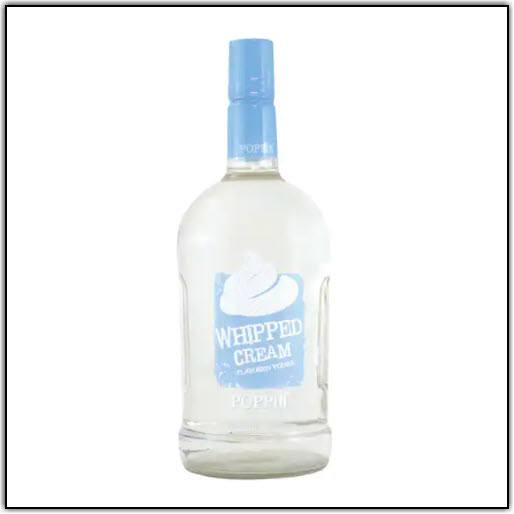 Poppin Whipped Cream Vodka is one of several in a line of spirits designed to help you get your creativity "poppin" and get the party started. The base vodka is five-time distilled, making it extremely clean and smooth, especially for the party-ready price they put on their flavors.
The original expression from Poppin was voted a "best buy" by the Beverage Tasting Institute, meaning you can be confident about any expression that utilizes this fantastic original recipe.
Their whipped cream flavor offers a light and subtle creamy vanilla flavor that is just perfect for mixing. It's not as potent as some of its counterparts, but this is done on purpose.
It's nice on the rocks, but it's really meant to go into a sweet, creamy dessert cocktail, or perhaps add some flavor to your favorite hot drink.
Fun Things to Do With Whipped Cream Vodka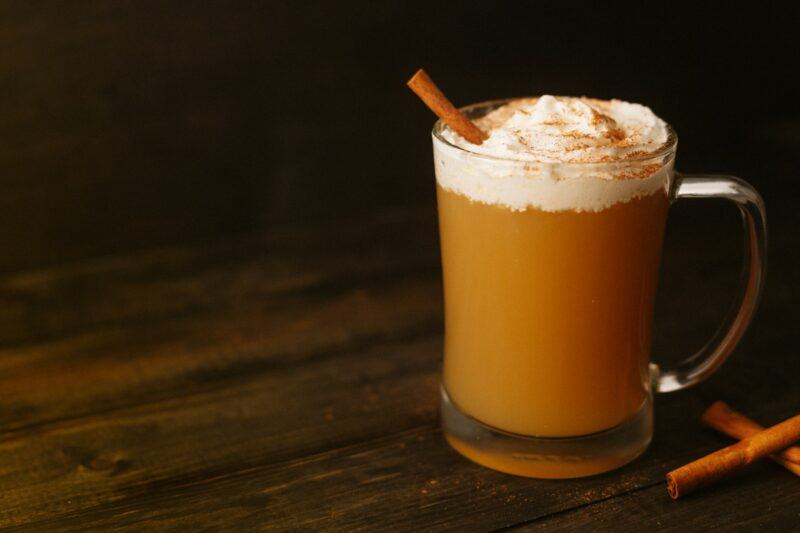 It's no secret that whipped cream vodka makes some incredible cocktails of its own while adding a fun twist to existing classics. For example, add it to a white Russian and you won't be disappointed. The same goes for a chocolate martini.
Unlike other flavored spirits, though, this one can be used elsewhere with similar, if not more delicious, results. Enjoy a cocktail or two, but don't neglect some of these fun alternatives.
Pudding and Jello Shots
Pudding and jello shots are easy, fun, tasty, and cheap – it doesn't get much better than that! They're small and easy to hand out at a party and/or use for drinking games. You can also make a variety of colors, meaning you can make shots to match the theme of your party.
Whipped cream vodka is perfect for both jello and pudding varieties due to its incredible sweetness and simple flavor profile.
Jello shots:
Boil one cup of water.
Pour a box of gelatin mix into your chosen mixing bowl and add boiling water. Whisk until dissolved.
Add one cup of cold water and one cup of whipped cream vodka and whisk further until combined.
Pour the mixture into your desired cups or containers and let sit in the fridge for at least two hours before serving.
Add a swirl of whipped cream on top for extra flavor and texture.
Pudding shots:
In a mixing bowl, add one box of your desired pudding mix, one cup of cold milk, and one cup of whipped cream vodka.
Whisk for about two minutes until everything is combined.
Let the mixture sit for several minutes before separating into your chosen cups or containers.
Once the shots are separated, let them chill in the fridge for about 30 minutes before serving.
Either of these can be made the night before the party, so you don't even have to spend time the day of. Choose one or the other, or bring some of both! While the whipped cream vodka will taste divine, you can mix it up and make the shots with any other flavor you want!
Make a Boozy Milkshake
Whipped cream vodka is an easy ingredient to slip into a sweet vanilla milkshake without adding any harsh vodka flavor. Start with a quarter cup of milk, two or three scoops of vanilla ice cream, and 1.5-2 ounces of whipped cream vodka. Blend it in your blender and enjoy!
Any fruit-flavored ice cream would also make for a delicious shake if you want to mix it up a little.
Make Your House Smell Amazing
Perhaps the least expected item on the list – you can use whipped cream vodka to make your entire house smell like a fresh cake just came out of the oven. Add a splash of the vodka to a reed diffuser and diffuse as normal.
The aroma right out of the bottle is one of the best things about whipped cream vodka, and with this method, you can send that smell everywhere. Use it any time you're celebrating a birthday!