White whiskey is essentially modern-day moonshine. Before the production of whiskey was regulated and barrel aging was common practice, people would drink the distilled spirit right out of the still. Often, it wasn't even properly bottled first! This was out of necessity more than anything – the creation of this light and unfiltered whiskey was illegal.
Imparting specific flavors and refining the process to create a quality expression was not high-priority and yet people wanted moonshine so badly that illegal runners were everywhere.
Modern white whiskey, however, is making a comeback and is becoming a highly sought-after craft whiskey. While the best white whiskey is often made to pay homage to the original moonshiners, much more attention is paid to details, quality, and flavor. It's also a great way for new, up-and-coming distilleries to get bottles on the shelves quickly while they wait for their higher-quality whiskies to age.
"Moonshine" is a blanket term for any liquor being produced without authorization, meaning commercially-made white whiskies bought from the store are not moonshine. However, they often pay tribute to the original spirits and their makers because without them, whiskey may not be what it is today.
Although these whiskies won't have the deep and complex flavor profiles of those that spend years in a carefully selected barrel, they offer their own unique experience. The flavors are unfiltered, unrefined, and often quite raw. The bottles are clear and for some, the sheer novelty is enough to have them to take a few sips neat. White whiskey follows various styles, with some relying heavily on corn, while others have different mash bills.
The Best White Whiskey
1. Buffalo Trace White Dog Mash #1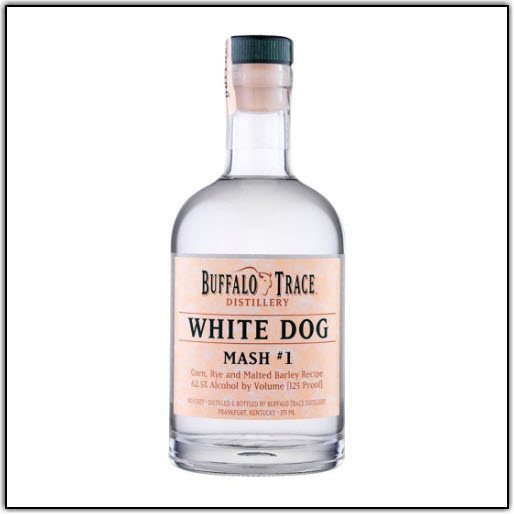 Buffalo Trace White Dog Mash #1 was made to honor the distilling history and heritage of the original explorers. Unaged whiskey was much more common back in the day and the explorers often referred to it as "white dog." They would so often drink it right from the still before any thought was given to barrels, aging, or even proper bottling.
Of course, aging whiskey in barrels is now common practice, but we can't forget where we started. This spirit is made from a high-corn mash bill which comes through quite clearly on the palate. It's bottled at 125 proof and is thought of as a cousin to the original moonshine of the early days.
It's completely clear in the bottle and offers a strong aroma of corn with some softer notes of salted popcorn, cereal, and light floral undertones. The palate is rich with more corn and plenty of sweetness with hints of heat and spice. The smooth finish is warming and dry.
2. Death's Door White Whiskey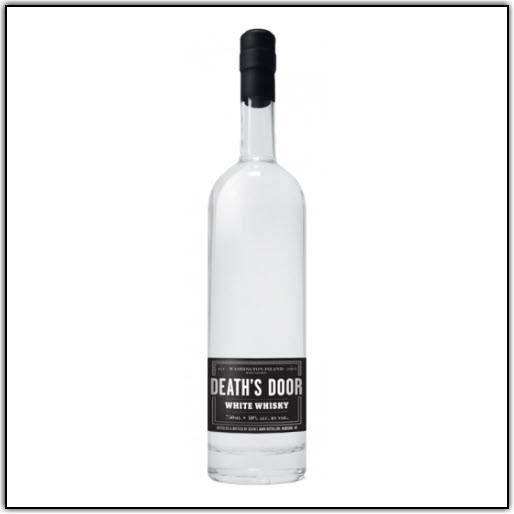 Death's Door White Whiskey references a legend featuring two tribes from the 18th century. As the story goes, the tribesmen were trying to pass through the waters between Washington Island and the Wisconsin mainland. Unfortunately, a harsh storm hit suddenly and they were all swept away to their death. This is what earned the waters here the nickname "Death's Door."
Death's Door Distillery is located on Washington Island. This island is only 22 square miles in size, with a population of 700. The island also produces two types of red winter wheat that can't be found anywhere else. This is the wheat that's featured in 80% of the whiskey's mash bill, with malted barley covering the other 20%.
Once distilled, the whiskey is rested in stainless steel casks before being finished in uncharred Minnesota oak barrels. Once this is finished, Death's Door Master Distiller John Jeffrey fills each bottle by hand.
The expression has an aroma of citrus and tequila with sweet fruit notes. The palate opens sweet and warm with light flavors of vanilla and malted grain. It has a creamy mouthfeel and a gentle finish.
3. Popcorn Sutton Small Batch Recipe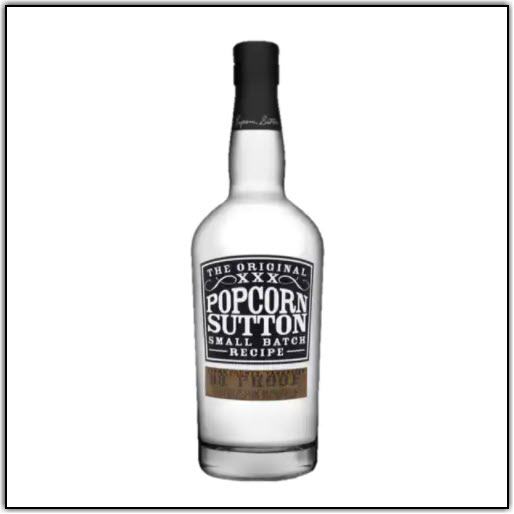 This unique expression is named after its creator. Marvin "Popcorn" Sutton was a legendary bootlegger in Tennessee who used a 100-year-old family recipe that got passed down through the generations. He made and sold the drink out of the back of his truck. He then wrote and published a book on how to make moonshine before passing away in 2009.
Copies of his book are still out there, but it may cost you a pretty penny to get one! While much time has passed and the process of creating the whiskey has become more refined as well as legal, the recipe for this delectably smooth small-batch whiskey remains the same.
Popcorn Sutton Small Batch Whiskey has a simple but pleasant aroma of heavy grain and mild petrol. This leads to a much more complex palate that is initially very sweet with notes of popcorn, simple syrup, and rolled oats with grassy notes in the background. The finish is fresh, clean, and a little bitter with notes of tree bark.
4. Hudson New York Corn Whiskey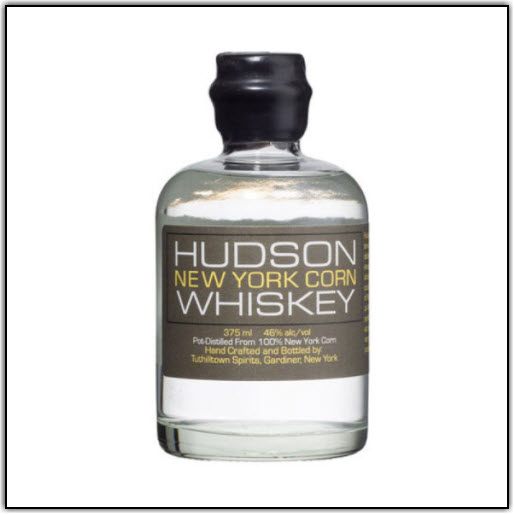 Hudson New York Corn Whiskey is double distilled in pot stills and made from New York Corn. It's bottled with no aging whatsoever, giving it a crystal clear look in the bottle. This is a basic, traditional whiskey and it was one of the first made in New York State after prohibition.
It's often enjoyed in its unaged state, but it's also used as the foundation for many of Hudson's other whiskies.
The aroma here is yeasty and full of bread dough with notes of raw, stripped corn on the cob and plain, unbuttered popcorn. The palate is light and spicy with flavors of fried corn, bitterness, and a touch of fruit to balance it out.
The finish features red peppers and notes of heavily toasted corn with lingering spices.
5. George Dickel No. 1 Whiskey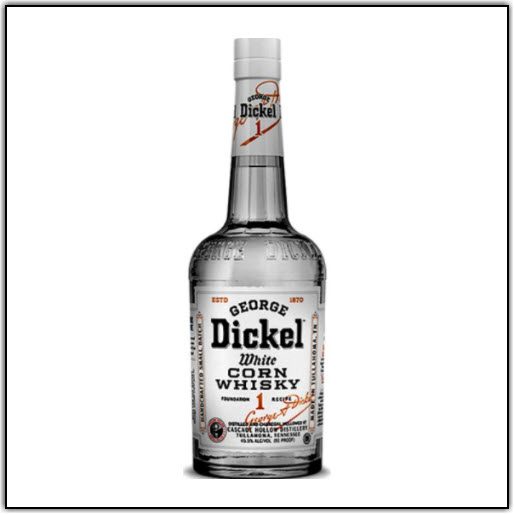 George Dickel No. 1 Whiskey is made from mostly corn, with eight percent rye and eight percent barley. This unaged expression is the base for many other George Dickel whiskies and is a perfect example of what whiskey was like before barrel aging ever became a thing. This one is put through George Dickel's charcoal filtration which mellows it a little bit, but there is no aging to speak of.
Corn is very strong on the nose, with light and subtle notes of vanilla, raspberry, blueberry pie, and sugary sweetness in the background. Notes of corn are similarly strong on the palate, with quieter notes of pie crust, berries, vanilla, and a touch of tartness that is reminiscent of lemon but not overtly citrus.
The finish is strong but quick with more notes of corn, vanilla, pie crust, and subtle sweetness.
White Whiskey Cocktails
Due to the often unfiltered and less refined nature of white whiskey, you may not want to throw them into a traditional cocktail as a bourbon or Scotch substitute. But, the unique flavors of white whiskey do make for some pretty good cocktails.
The Heartbreaker
This recipe comes courtesy of Chilled Magazine and it's a sweet, refreshing reminder of how well moonshine often pairs with fruit. Its deep red color also makes it the perfect Valentine's drink or just a treat for that special someone!
Ingredients:
1 ½ ounces white whiskey
4 pressed raspberries
½ ounce agave
½ ounce fresh lime juice
2 ounce chilled prosecco
2 regular raspberries for garnish
Once the ingredients are gathered, it's a fairly easy drink to make:
Begin by muddling the raspberries in a cocktail shaker.
Then, add ice and the other ingredients. Shake well.
Strain into a flute glass.
Top with prosecco.
Garnish with the remaining raspberries and enjoy!
Dirty Moontini
If you're a real martini enthusiast, this drink certainly resembles a good old-fashioned dirty martini, but it's catered to make the white whiskey shine.
Ingredients:
2 ½ ounce white whiskey
½ ounce dry vermouth
½ ounce olive brine
1 tsp maple syrup
2 dashes of bitters
Olives for garnish
Instructions:
Put the vermouth in a martini glass and swirl it, rinsing the entire inside of the glass.
Next, shake up the white whiskey, olive juice, and bitters with ice in a cocktail shaker.
Strain the drink into the glass.
Add your olives to garnish and enjoy!
Moonito
Another fun play on a classic is the moonshine mojito. This one has your white whiskey replacing rum to create a new take on the crisp and refreshing mojito.
Ingredients:
1 ½ ounce white whiskey
4 ounces club soda
½ ounce fresh lime juice
2 tsp sugar
10 mint leaves
Instructions:
Start by placing your mint leaves into a strong glass and crush them into the bottom. This releases their oils and juice.
Add the lime and sugar and crush again.
Partially fill your glass with crushed ice and pour in the whiskey.
Top with club soda and enjoy!
You can enhance this recipe a little by adding some fruit juice for extra flavor and sweetness. If you want extra flavor, sweetness, and booze, add some fruit-flavored moonshine. Anywhere from a half-ounce to one and a half should do the trick, depending on how strong you want the flavor.