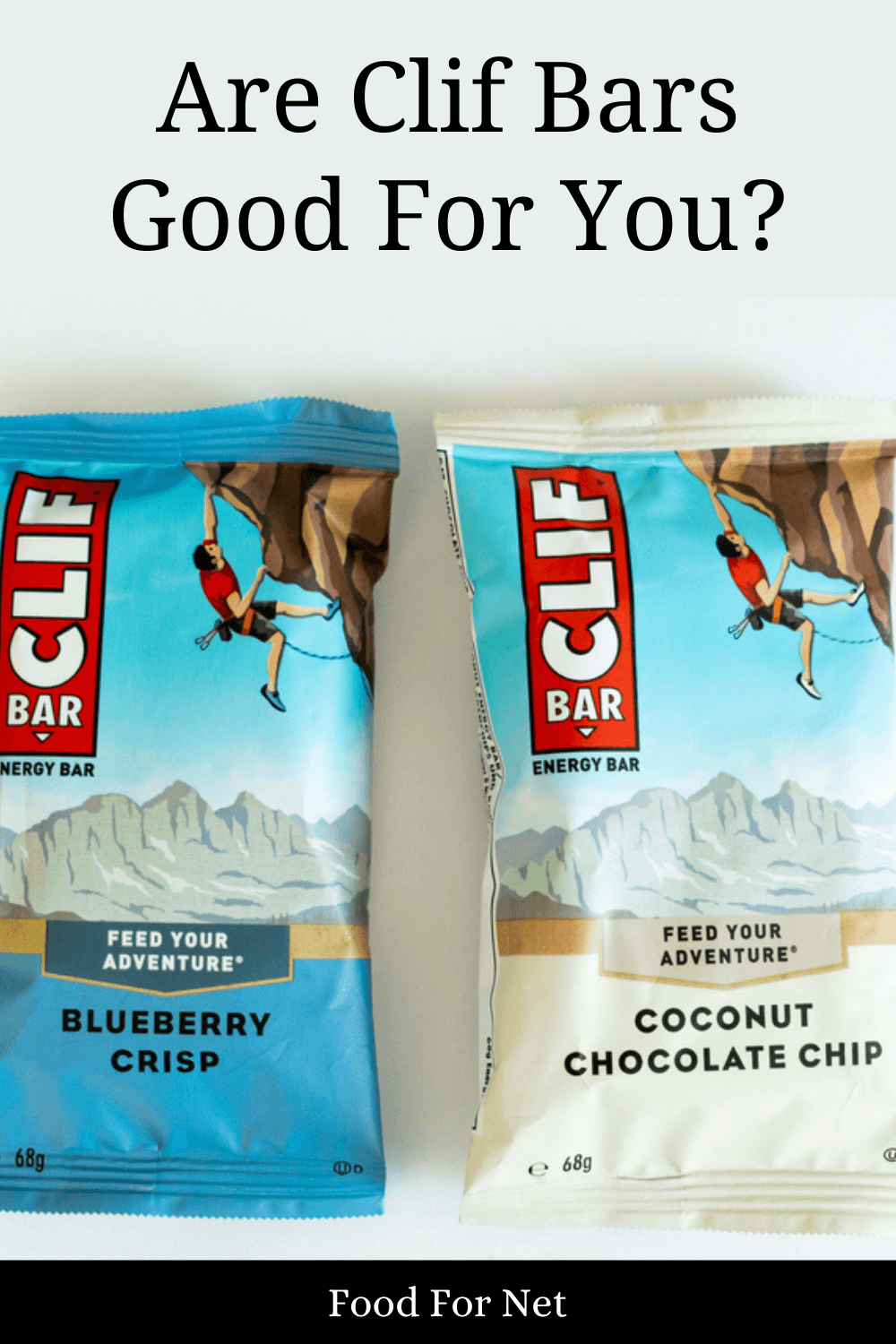 Clif bars are fantastic as an easy and fast way to boost your energy. They're delicious too, which certainly can't be said for all the snack bars that you buy from the store. With such a good flavor and so many types to choose from, it's no wonder that plenty of us buy the bars and snack on them regularly. Still, the flavor of the bars leads to one critical question – are Clif bars good for you?
While healthy food can be delicious, it often isn't as amazing as the junk food you buy in the store. Indeed, the tastiest things are often highly processed and packed with sugar.
To answer whether Clif bars are healthy, we need to take a close look at the bars themselves, along with when they might be the most useful. After all, the nutrients in bars are only ever part of the story. When you use the product and how it fits in with your needs is incredibly important as well.
Are Clif Bars Good For You?
Types Of Clif Products And Clif Bars
Benefits Of Clif Bars
Problems With Clif Bars
When Are Clif Bars Useful?
What About Other Clif Products?
Final Thoughts
Types Of Clif Products And Clif Bars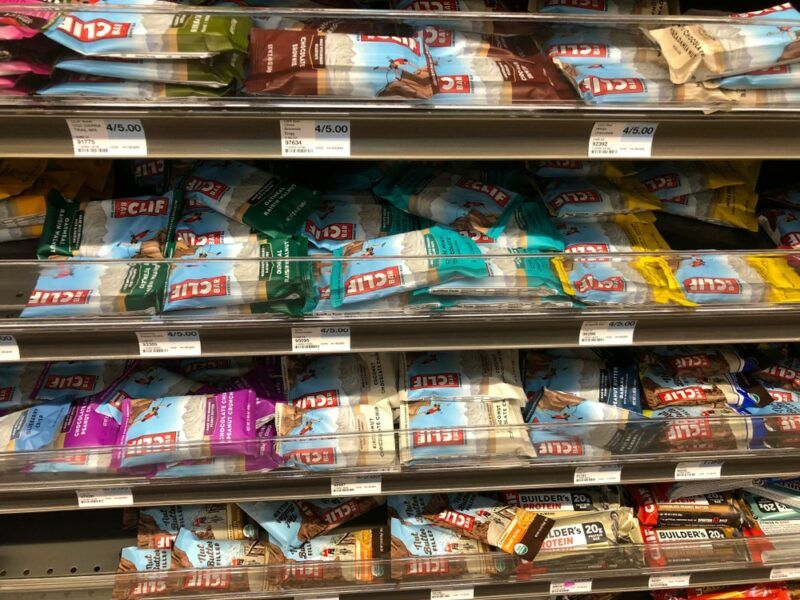 The Clif company now covers three brands: Clif, Luna, and Clif Kid, with many product types within each of these brands. The Clif brand alone includes bars, mini bars, cereal, energy gel, energy chews, and more.
For this post, we're sticking to the Clif bars themselves, including the full sized ones, the minis, and the nut butter bars. But, most of the patterns apply to other products from the company as well.
Clif Bars
So, the Clif bar (which they write as CLIF BAR) itself is what made Clif famous. It's promoted as "The Ultimate Energy Bar®" and now comes in a variety of flavors, including:
Chocolate chip
Crunchy peanut butter
White chocolate macadamia nut
Dark chocolate mocha
Peanut butter banana with dark chocolate
Spiced pumpkin pie (seasonally available)
Peppermint bark (seasonally available)
The macronutrient profile for the chocolate chip bar looks like this:
250 calories
Fat: 6 grams (2 grams saturated fat)
Carbs: 43 grams (5 grams fiber, 17 grams sugar)
Protein: 10 grams
Ingredients include rolled oats, brown rice syrup, soy rice crisps, cane syrup, natural flavors, soy flour, sunflower oil, and an array of others.
The ingredient selection and nutritional profile vary from one flavor to the next. For example, the white chocolate macadamia nut version includes 9 grams of protein, 21 grams of sugar, and 7 grams of fat.
Mini Clif Bars
The mini bars are exactly what you'd expect, smaller versions of the Clif bars. They're designed to give you a quick hit of energy and contain between 100 and 110 calories per serving.
For the chocolate chip version, you're getting 2 grams of fat, 2 grams of fiber, 9 grams of sugar, and 4 grams of protein per bar.
Not surprisingly, the ingredients selection is similar to the full sized bars.
Clif Nut Butter Bars
As the name suggests, the nut butter bars use nut butter as a key ingredient. Flavors include chocolate & hazelnut butter, coconut & almond butter, and chocolate chip & peanut butter.
The nutritional profile is a little different from the other products, with the chocolate chip & peanut butter bar containing:
230 calories
Fat: 11 grams (2.5 grams saturated fat)
Carbs: 27 grams (3 grams fiber, 11 grams sugar)
Protein: 7 grams
Notably, these bars have a similar amount of calories to the regular ones, but are lower in sugar and higher in fat. The bars in this range are also USDA organic certified, which isn't true for the other product ranges.
Benefits Of Clif Bars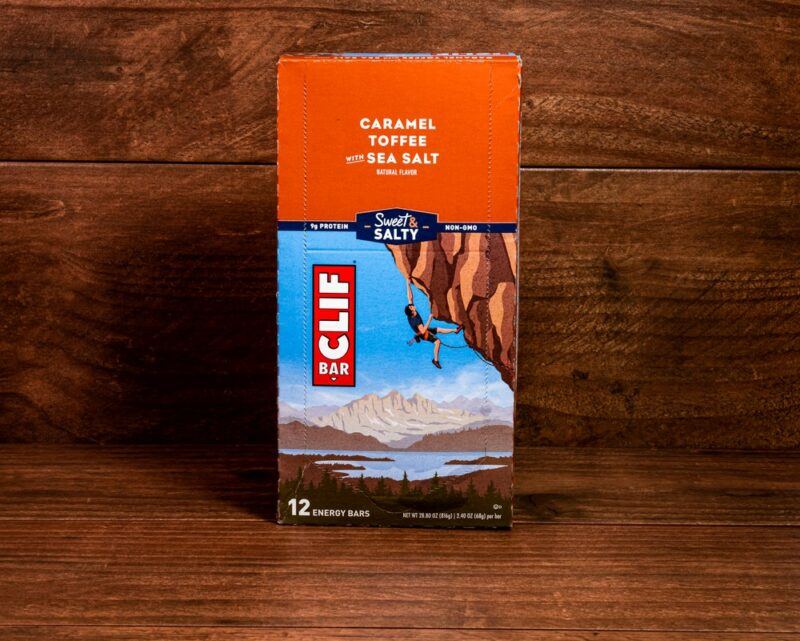 They're A Fast Source Of Energy
Clif bars will reenergize you quickly, as they're high in carbs and added sugar. This sugar will hit your bloodstream fast and give you an energy boost.
Carbs and sugar do have downsides, that's true, but people who are exercising intensely or for a long time often need the fast boost of energy that carbs offer. Plus, Clif bars are designed for people who are being very active. The company even has a page on their site designed to help you match your energy source to what you're doing.
Many Ingredients Are Organic
Clif focuses on using organic ingredients where they can. Their nut butter bars are even USDA certified organic, while their other products use a variety of organic ingredients, like organic rolled oats, organic rice syrup, and more.
Organic ingredients may be better for you and for the environment, especially as there are plenty of rules surrounding the way that they are grown and the chemicals used on them.
You're Getting Benefits From The Oats
Clif bars use rolled oats as one of their main ingredients. These oats provide a host of benefits, such as helping to stabilize your blood sugar levels, lowering your cholesterol levels, and even providing antioxidants.
These effects are strongly linked to the soluble fiber found in the oats, particularly beta-glucan, which may help with your immune system as well.
Indeed, you get 5 grams of fiber in many of the Clif bars. This is incredibly helpful, as many of us aren't getting enough fiber in our diets currently. There are plenty of ways to boost your fiber intake, but few are as delicious and easy as snacking on a Clif bar.
They Contain Nutrients
While a Clif bar will never replace a meal, the bars do contain a decent selection of nutrients, including magnesium, potassium, vitamin E, iron, and calcium.
These nutrients are all important. They're involved throughout your body, keeping your systems working well and providing you with energy.
They Taste Good
The popularity of Clif bars is partly related to how good they taste. Not only are there plenty of flavors to choose from, but all of the flavors seem to work incredibly well.
You can see this by checking out the reviews on Amazon. The bars regularly get 4.5 stars or above, which is impressive, as Amazon reviewers are often quite critical.
They Offer Some Protein
Clif bars do provide some protein as well, around 9 grams or 10 grams of protein for the regular bars. Protein has many uses throughout your body, including muscle development.
Protein isn't just relevant when you're trying to build muscle though, it also plays roles in the regular function of your body, so you need plenty of it regularly. Ten grams of protein per bar isn't incredibly impressive, but it's enough to help curb your appetite and to provide some health benefits.
Problems With Clif Bars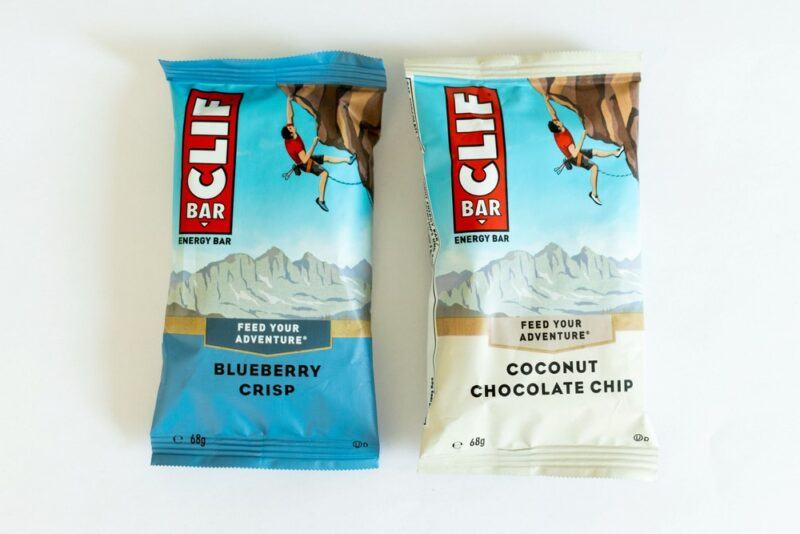 The Sugar Content
The sugar in Clif bars is a serious concern. The chocolate chip bar, for example, contains a whopping 17 grams of sugar, 16 grams of which comes from added sugar.
The risks of sugar are well-known at this point. Not only is sugar high in calories, but it also increases inflammation and raises the risk of many health problems, including type 2 diabetes, depression, and heart disease. It often leads to weight gain too, which can lead to a variety of other issues.
Having 16 grams of added sugar in a regular Clif bar seems excessive. Some of them even contain more than that. Most people aren't going to need that much sugar, even if they've been very intense with their exercise.
Could Lead To Weight Gain
A single Clif bar contains around 250 calories, some fat, and a lot of sugar. As such, you're getting a considerable calorie hit from the bar, especially if you eat the whole thing in a sitting.
The bars mightn't be very satisfying either, as they only contain around 10 grams of protein per serving.
If you had the bars regularly, or even semi-regularly, this high calorie content could easily lead to weight gain. This issue is even more likely if you're assuming that the bars are healthy and aren't really paying attention to the calorie content.
They're Not Cheap
If you buy Clif bars in a box, you're often paying around $0.90 or so per bar. They're more expensive if you're buying the bars individually.
There are plenty of more expensive bars out there, but even so, the price is getting up there – especially as you're not getting that many nutrients or that much protein per bar. You could get most of the same benefits from a much simpler homemade snack, like some fruit and a handful or two of nuts.
They're Highly Processed
While Clif bars do use organic ingredients, they're still highly processed and include ingredients like soy protein isolate, barley malt extract, soy flour, and natural flavors. Even when the original ingredients are healthy, ultra-processed foods aren't great for health.
For one thing, when foods are processed like this, the sugar hits your bloodstream pretty quickly. The processing steps also reduce the nutrients and antioxidants. You'd get many more benefits by focusing on the whole ingredients.
They Include Soy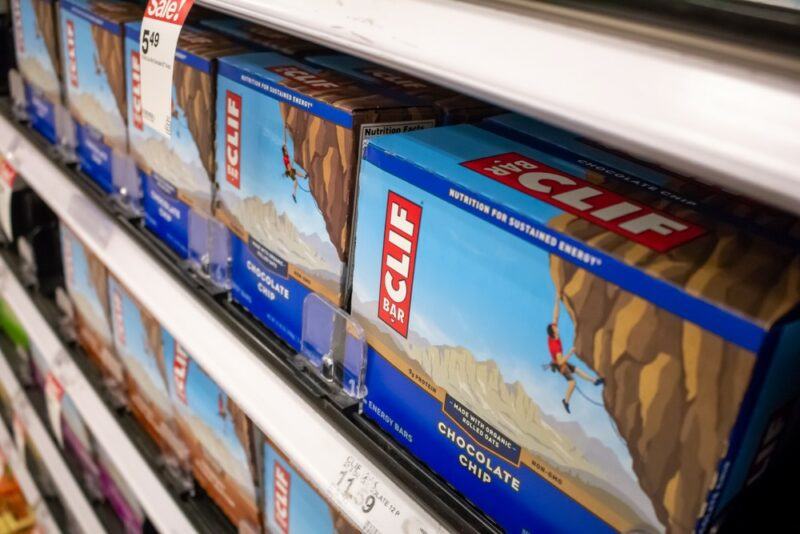 Soy is incredibly controversial, more so than most other ingredients. Part of the problem is the phytoestrogens. These are plant-based compounds that are structurally similar to estrogen and can bind to estrogen receptors.
As a result, phytoestrogen may influence health and estrogen levels in various ways. The effects are somewhat complex, as phytoestrogens can have estrogen-like effects, but they can also block the effects of estrogen, depending on the context.
There's enough potential for harm from these effects that some people choose to avoid soy entirely.
To make matters worse, soy also includes antinutrients. These compounds can decrease your absorption of some nutrients. Their effects are minor if you're healthy, but they are another reason to be wary with soy.
Finally, there's the fact that soy is incredibly common on plant-based diets. It's a popular ingredient in plant-based meats, is used for tofu and tempeh, and is also often used in the form of soy flour and soy milk.
With so many ways to use soy, it's easy to consume large amounts. If you're doing that, then the potential negative impacts of soy become much more relevant.
When Are Clif Bars Useful?
Clif bars are designed for physical activity, which is why they contain a decent number of carbs. After all, carbs are the ideal way to refuel during exercise, as our bodies can quickly use them to replenish glycogen stores.
You can use the bars before or during exercise, or even after, to help your body recover. If you're using a decent amount of energy exercising, then the calories and the sugar in the bars make sense.
As for exercise, we don't just mean taking a spin class or going for a jog. Our bodies generally have the energy to do that without any need to refuel afterward.
Yet, most people aren't using Clif bars because they need them. Instead, they're often seeing them as a healthy snack or for some extra protein. The bars often become something easy to snack on in the middle of the day.
As we've already shown, though, Clif bars aren't a great source of protein. They're also too high in sugar to be a useful everyday snack.
If you need protein, it's better to look for a product that focuses on protein, one that contains 15+ grams of protein per serving and much less sugar. You could even turn to protein shakes or make your own homemade protein bars.
If you want a nutritious and healthy snack, then it's best to focus on a whole food snack, rather than a processed bar. Hummus and carrot sticks or apple wedges and peanut butter are both easy snacks that give you plenty of nutrients and are delicious as well.
What About Other Clif Products?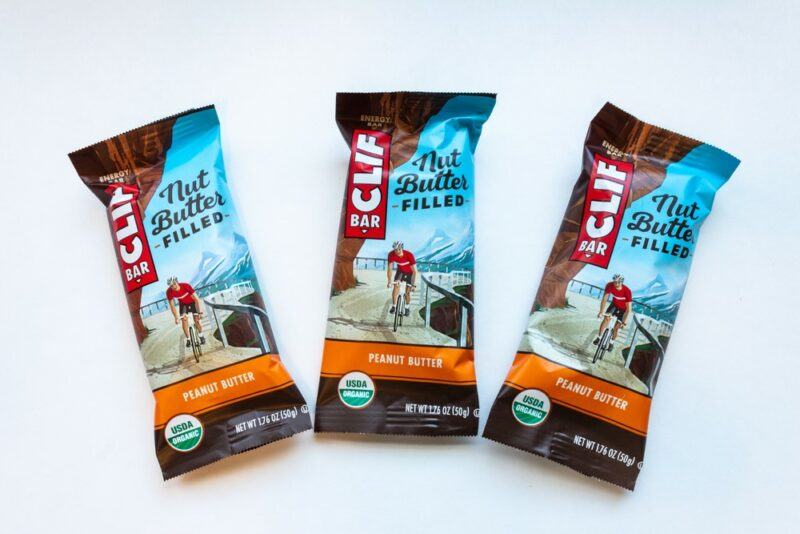 We've only touched on a few Clif products here, but there are plenty of others, including the ones designed for kids and the Luna bar range. There are also Clif Builders bars, which contain 20 grams of protein and 17 grams of sugar.
The differences influence how relevant the product is for you. For example, the Builders bars should be more satisfying than the original Clif bars and could be useful for developing muscle.
Even so, we're still talking about highly processed products that are often high in sugar as well. They're never going to be healthy when used as a regular snack.
Final Thoughts
Clif bars are designed as a fast source of energy for people who are highly active. They achieve this goal well too, providing you with a burst of energy from the added sugar. You even get some protein, fiber, and nutrients at the same time.
Still… we are talking about a highly processed product, one that's high in sugar. The bars will only ever be healthy if you've been working out intensely and need a large boost of energy. This won't be the case for most people.
Even if you do need this much energy, there are other options. You could even simply have a banana. Chocolate milk is surprisingly powerful for exercise recovery as well. Both options are less processed than Clif bars and could easily be better for you.
Related Content
Frequently Asked Questions
Are Clif Bars Gluten Free?
Clif Bars does offer some gluten free products, including protein bars. Some of their gluten free products include Chocolate Peanut Butter Builders Bar, Chocolate Mint Builders Bar, LemonZest Luna Bar, Chocolate Chip Protein ZBar, and plenty of others. The full selection of gluten free bars can be found on the Clif Bars site.
The main exceptions are any protein bars containing oats, as the oats aren't certified as gluten free (and can be cross contaminated with gluten). These bars may still be viable if you're only slightly sensitive to gluten, as they are made using gluten free ingredients.
Are Clif Bars Vegan?
The Clif Bars website states that the products heavily rely on plant-based ingredients and most don't have any intentionally added animal ingredients. The main exceptions are some of their protein products, like Clif Whey Protein, which relies on whey protein. There's also a peanut butter and honey bar that contains honey.
The company has an interesting philosophy though, as they say that the bars are mostly vegan friendly, but that they don't consider them to be vegan. This may be because there's still the risk of contamination by animal-based ingredients.
Do Clif Bars Have Caffeine?
Most Clif Bars don't intentionally contain caffeine. However, there is always a tiny amount of caffeine in chocolate, so any bar with chocolate will contain some caffeine too (we're normally just talking about roughly 5 mg of caffeine per bar, too low for you to even notice).
Clif Bars does also have a collection of coffee energy bars. These are designed to taste much like specialty coffee and contain somewhere between 60 and 70 mg of caffeine per bar.
Are Clif Bars Low FODMAP?
Not in the least. Most Clif Bars include soy flour, roasted soybeans, and organic soy flour. All three of these are high FODMAP ingredients. Some other ingredients can also be a problem, including dried apricot, dried apple, and honey.
In fact, there currently isn't a single flavor that's free from high FODMAP ingredients.
Most mainstream protein bars have this issue. Kind Bars are better, but they still contain some types of FODMAPs. It's much better to make protein bars yourself, using a low FODMAP recipe. This makes it much easier to avoid all high FODMAP ingredients.
Are Clif Bars Good For Diabetics?
Clif Bars are generally a poor choice for diabetes, as they're pretty high in protein and carbs. Some of their regular bars even contain around 17 grams of sugar, contrasted against just 10 grams of protein and 5 grams of fiber.
The sugar content is why the bars provide such a fast energy hit. That's a useful feature if you're an athlete or are burning a lot of energy, but isn't so great for diabetics. Bars like this will simply spike your blood sugar – an effect you should be trying to avoid.