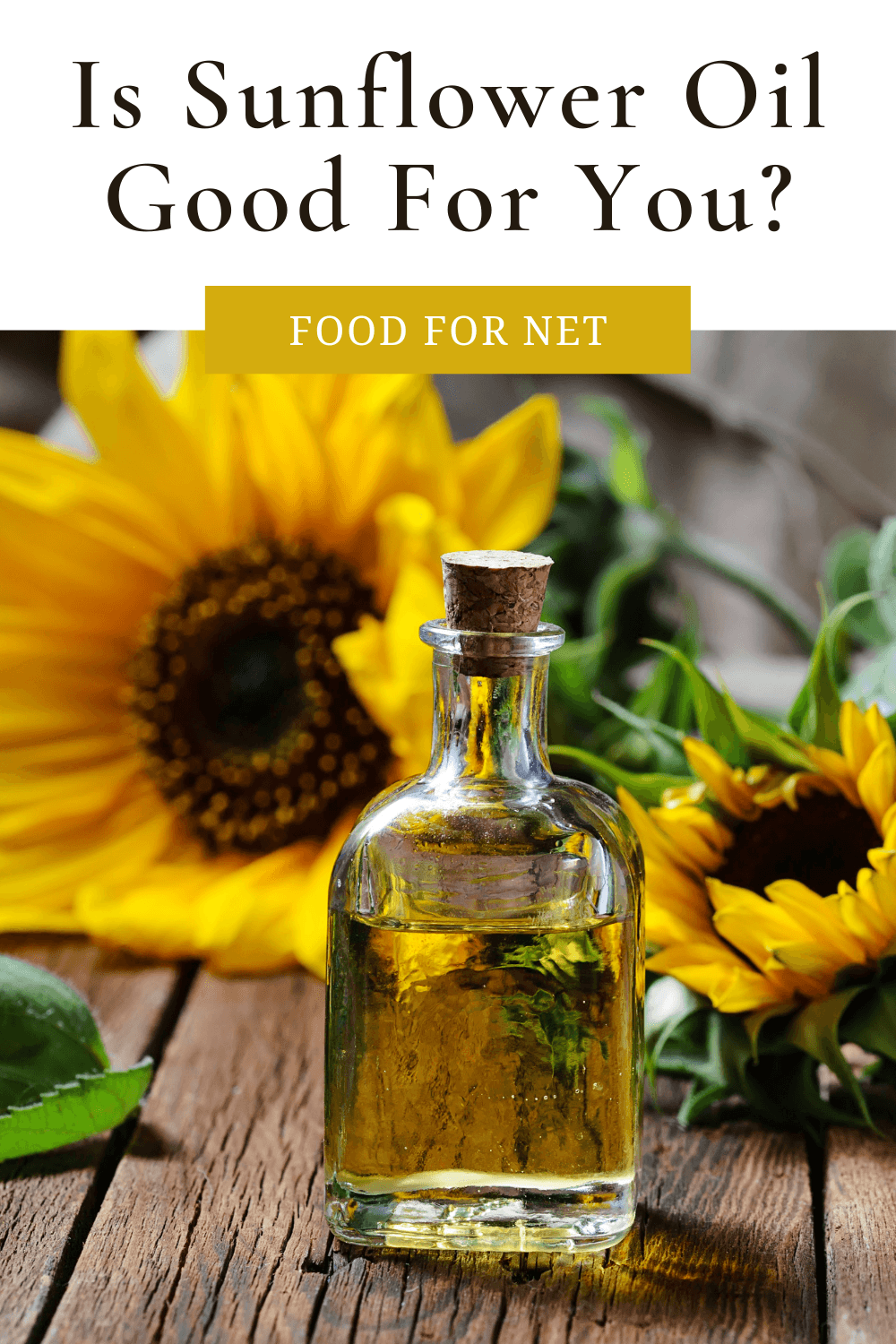 Sunflower oil is an inexpensive cooking oil, one that many people turn to every day. It's also touted as being incredibly healthy, largely because it's high in monounsaturated fats and polyunsaturated fats, while being low in saturated fats. Still, we have to ask, is sunflower oil good for you?
Despite all the rhetoric that sunflower oil is healthy, plenty of people claim the opposite. There are two standout problems – the omega 6 content and the fact that sunflower oil is often highly refined.
In this post, we're breaking down the benefits and risks of sunflower oil, to help you decide whether sunflower oil will fit well into your diet or whether it's something to avoid instead.
Remember too that sunflower oil is just one option when you're cooking. There are plenty of others too, like avocado oil, olive oil, coconut oil, and even butter. Each of these has its own set of features, some that are appealing, others that are much less so.
Is Sunflower Oil Good For You?
Benefits Of Sunflower Oil
How Sunflower Oil Could Be Harmful
Sunflower Oil Versus Vegetable Oil
Is Sunflower Oil Genetically Modified?
Types Of Sunflower Oil
Final Thoughts
Benefits Of Sunflower Oil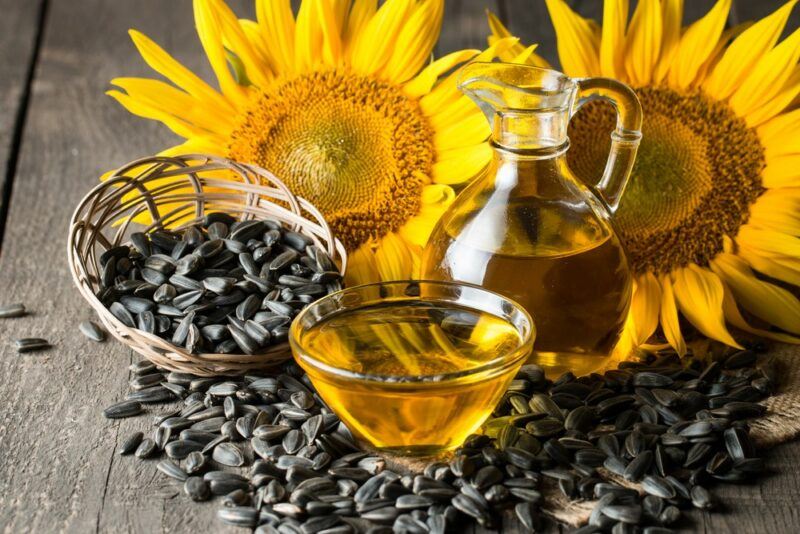 The Vitamin E Content
Sunflower oil is incredible for vitamin E. You end up with close to 30% of your daily requirements for the vitamin from a single tablespoon. This makes the oil one of the easiest ways to boost your vitamin E.
Why does that matter?
Well, vitamin E has a variety of benefits. For starters, it acts as an antioxidant. This means that it helps to lower oxidative stress throughout your body and decrease the risk of disease.
Vitamin E has also been linked to benefits for your skin, lower risk of heart disease, and decreased cognitive decline. Let's not forget that vitamin E is also an essential nutrient, one that your body needs to function as it should.
Promotes Nutrient Absorption
We have long been taught that fat is unhealthy and that low fat foods are by far the healthiest option. Yet, that's not entirely true. For one thing, most problems don't come from fat itself, but from the fact that we're consuming too many calories.
Fat can even be helpful, as some important nutrients are fat soluble, including vitamins K, A, D, and E. Having a source of fat when you're consuming these nutrients increases your absorption, potentially leading to more health benefits.
This means that using sunflower oil or another fatty ingredient in your salad dressing might actually be a healthy choice, rather than an unhealthy one.
Can Improve Heart Health
The balance of fats in sunflower oil could make it powerful for your heart health, particularly if you focus on high oleic sunflower oil. For example, some studies have linked the oil to decreased levels of harmful LDL cholesterol and triglycerides.
These effects may be even stronger if you're consuming the oil instead of an option that's rich in saturated fat (like butter or coconut oil) (here's a good indication, oils that are naturally solid or semi-solid at room temperature are often high in saturated fat).
As always, the research in this field is ongoing and there are still gaps in our knowledge. This means that while products like sunflower oil are likely to reduce your risk of heart disease, they might not do so in practice. It's still important to pay attention to how your body responds to the oil.
It Is Very Practical
There are some non-health related benefits to sunflower oil too, starting with the mild flavor. This makes it an easy choice for cooking, as there's no chance that the oil will change the flavor of your food.
The oil also performs well too, particularly for frying and other types of high heat cooking.
Plus, sunflower oil is often fairly inexpensive. It's certainly cheaper than options like avocado oil and olive oil. This makes it very relevant to families with a tight budget.
How Sunflower Could Be Harmful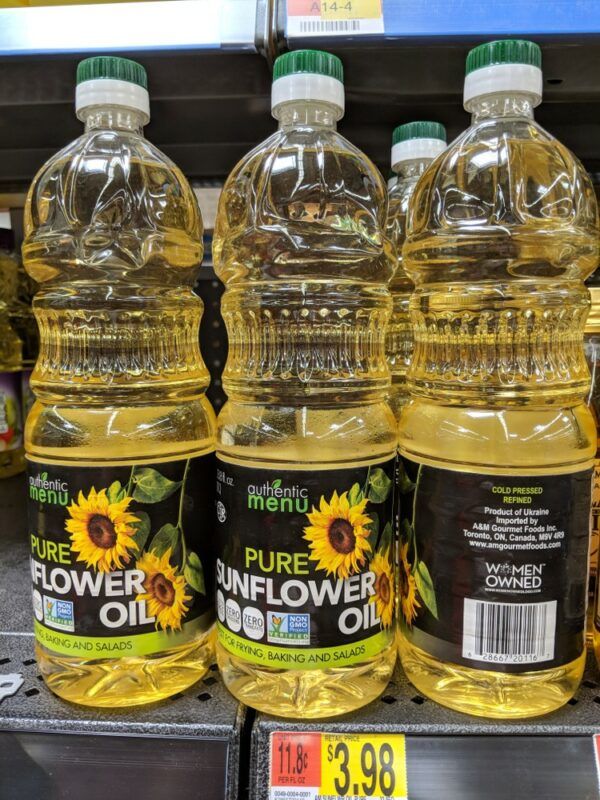 The Omega 6 Content
The balance of fats in sunflower oil, while appealing, isn't as good as it first seems.
One serious problem is the linoleic acid present – and there can be a considerable amount of it in sunflower oil (generally between 44% and 75% of all the unsaturated fats). Linoleic acid is very relevant, as it's a type of omega 6 fatty acid.
Now, omega 6s are healthy and play some important roles in our bodies. The problem is that many of us are consuming far too much omega 6 and not enough omega 3.
This is crucial because the ratio of omega 6 to omega 3 fatty acids is directly related to inflammation. Consuming too much omega 6 often leads to higher levels of inflammation, which may then increase the risk of inflammatory diseases, like heart disease, arthritis, and diabetes.
Most of us consume much more omega 6 than is desirable and less omega 3, partly because of ingredients like sunflower oil and soybean oil. It's often best to change focus entirely and look for oils that are low in omega 6 instead, like olive oil and coconut oil.
It's Often Highly Refined
Sunflower oil is almost always refined. The processes include bleaching and deodorizing steps, which strip away some of the natural flavor and color from the oil, giving you a more neutral product.
The refining is fantastic for creating a stable oil that lasts for a long time and can be used in countless ways. However, refined oils mightn't be great for health.
For one thing, the refining processes can lead to rancid polyunsaturated fatty acids, which don't behave well at high heats. The processes often rely on strong chemicals too, like hexane.
The worst offenders are oils with trans fats and hydrogenated oils (seen mostly in ingredients like margarines), but sunflower oil still isn't that great. In contrast, oils like extra virgin olive oil and virgin avocado oil go through minimal processing, which should make them much better for you.
The High Smoke Point Might Be Deceptive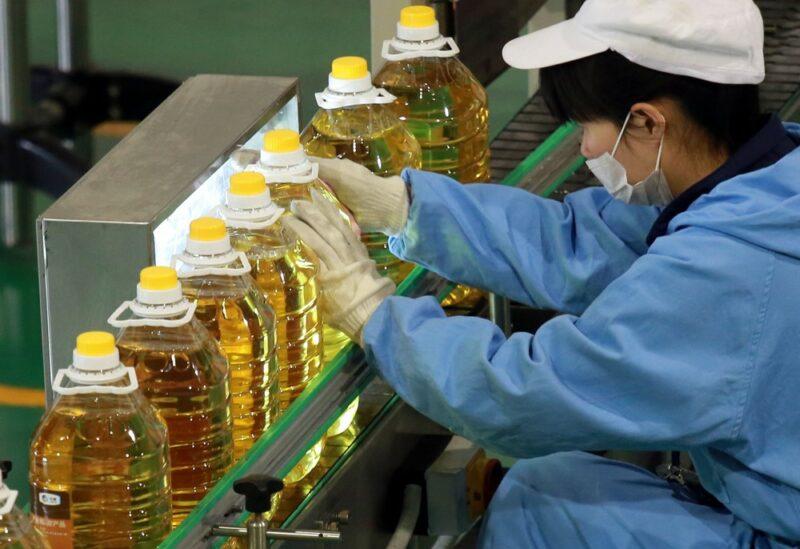 We often equate a high smoke point with stability when cooking oils at high temperatures. However, this isn't always the case, as oils can still release potentially dangerous compounds when cooked at high heat, even if you're below their smoke point.
One study found that sunflower oil was particularly concerning in this regard, releasing more concerning compounds than other plant-based oils.
This means that sunflower oil mightn't be as safe for high temperature cooking as we've long assumed.
Sunflower Oil Versus Vegetable Oil
You've probably heard the term vegetable oil kicked around. The term refers to any oil that comes from a plant. Most vegetable oils are a combination of multiple oils, like sunflower, corn, soybean, and canola oil.
The health effects vary depending on the specific oils used and how much of each. Still, you mostly end up with a highly processed and refined oil, one that doesn't have that much flavor. Vegetable oils are often high in omega 6 as well.
The amount of refining means that vegetable oils typically have a high smoke point, making them excellent for high heat cooking. The oils are also much less expensive than alternatives like avocado oil or olive oil.
Not surprisingly though, there are plenty of concerns about the processing steps. Some of these involve pushing the oil past their natural tolerance for heat, an effect that's certainly not desirable.
Is Sunflower Oil Genetically Modified?
While multiple varieties of sunflowers are used to make sunflower oil, there has been no genetic modification at all. All the differences come from selective breeding instead.
Genetically modified sunflowers aren't likely either, as the genes in sunflower are difficult to modify. Plus, there are too many similar wild varieties that modified genes could potentially pass into.
These patterns make sunflower oil a safe choice if you're hoping to avoid genetic modification.
Types Of Sunflower Oil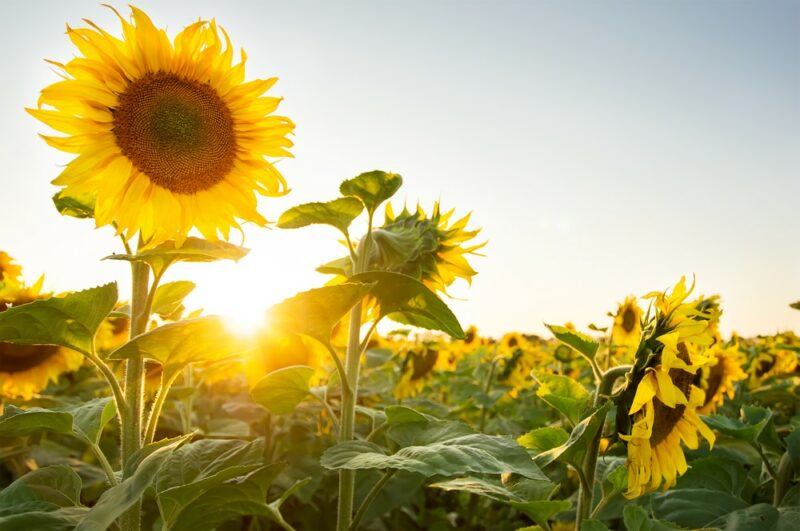 Sunflower oil is, quite simply, oil that has been made from the seeds of the sunflower plant (Helianthus annuus). Stands to reason, right?
However, sunflower oil isn't all the same. There are multiple types to choose from, which vary in their fatty acid content. The three main versions you'll find in the United States are:
High linoleic oil, often around 68% linoleic acid
Mid oleic oil, often around 65% oleic acid
High oleic oil, often around 82% oleic acid
There is also high stearic/high oleic oil, which contains around 70% oleic acid and 18% stearic acid. This version mostly shows up in commercial products, as steric acid is a type of saturated fat and is solid at room temperature. As such, the high stearic/high oleic versions of sunflower oil behave differently than other types.
High linoleic oil is the most common version on grocery store shelves and is often the least expensive as well. Unfortunately, it's not the best choice, as linoleic acid is an omega 6 fatty acid – and too much of it can promote inflammation.
There's also the amount of refinement to consider.
As we discussed earlier, sunflower oil is often heavily refined. While refined oils are considered safe, it's still much better to turn to unrefined ones instead.
Thankfully, some companies do produce unrefined sunflower oil. This oil is produced by cold pressing the sunflower seeds. The main catch is that unrefined oil has a lower smoke point, so it doesn't work as well for high heat cooking.
Final Thoughts
Sunflower oil is an interesting case. On one hand, it's well-known as a heart healthy oil. Using it instead of saturated fat rich oils might be a powerful way to decrease heart disease risk.
Yet, sunflower oil has some serious issues too. Not only is it highly refined, but it's also loaded with omega 6 fatty acids.
So, is it a good choice?
Well, if you're using the oil sparingly and have plenty of omega 3 in your diet, then it could be a healthy enough ingredient. You might even see some benefits from the oleic acid.
But, even then, there are better alternatives. Avocado oil, for example, contains much less omega 6 per serving, is often unrefined, and still has a high smoke point.
Getting The Most Out Of Sunflower Oil
If you are going to rely on sunflower oil, it's important to choose the product carefully. This way you get the most benefits and fewest risks.
High oleic versions are appealing, as their omega 6 content is lower. Plus, oleic acid has been linked to many health benefits.
If you're not using the oil for high heat cooking, then unrefined sunflower oil should better than the refined version. After all, why use a heavily processed ingredient if you don't need to?
However, if you are cooking at high temperatures, it's best to stick to the refined version. Because this has a higher smoke point, it produces fewer concerning chemicals when you use it at a high heat.
Finally, it's best to stick to slow and gentle cooking approaches whenever you can. Doing so reduces the risk that any undesirable compounds will be released.
Frequently Asked Questions
Is Sunflower Oil Inflammatory?
Sunflower oil could promote inflammation due to the omega 6 content. Now, omega 6 isn't necessarily harmful on its own, but a high ratio of omega 6 fatty acids to omega 3s can easily lead to inflammation.
Whether it has this effect will be influenced by the rest of your diet and the amount of sunflower oil you consume. If you don't have the oil often and consume plenty of fish, then sunflower oil might not promote inflammation at all. But. if your omega 3 intake is much lower, then sunflower oil could easily be a problem.
Is Sunflower Oil Good For Frying?
Sunflower oil has a high smoke point, which makes it excellent for frying and even deep frying. It's also a neutral oil, so it won't dramatically impact the flavor of your food.
Does Sunflower Oil Go Bad?
Sunflower oil can go rancid, particularly if it isn't stored well. When this happens, the oil has a sharp or bitter taste. It even smells a little like nail polish remover. Still, if stored well, sunflower oil should last around 2 years unopened and 6 months or so after opening.
Does Sunflower Oil Cause Acne?
Some theories suggest that the omega 6 in sunflower oil could promote inflammation. Inflammatory hormones may then increase acne, particularly for people who are already prone to skin issues.
That said, the evidence for sunflower oil causing acne isn't strong. Many people even use sunflower oil directly on acne-prone skin without causing flare-ups.
Is Sunflower Oil Hydrogenated?
Hydrogenation is used to make vegetable oils solid at room temperature. This means that any liquid sunflower oil you buy isn't going to be hydrogenated (as it's liquid, not solid). However, you may find hydrogenated sunflower oil in some products, such as plant-based butter alternatives.