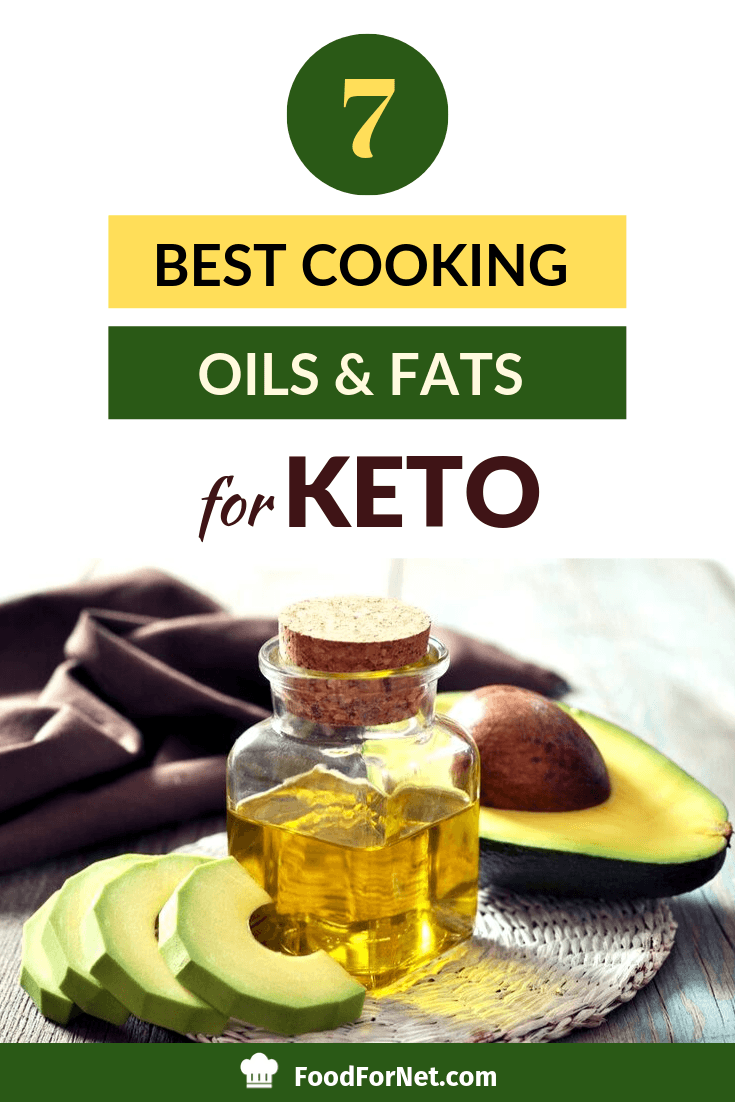 Fats and cooking oils are major staples of the ketogenic diet. These ingredients help add healthy fats to your meals to help you achieve ketosis, but they also come with many other added health benefits. Many can even be used for roasting vegetables.
But it's important to know that not all fats and oils are created equal! Many popular oils like canola oil or corn oil have more downsides than positives.
The best cooking oils & fast for keto are going to be nutrient dense with vitamins, antioxidants, saturated fats, and monounsaturated fats. Some, like coconut oil, will also contain MCTs which are great for energy!
Best Oils & Fats For Cooking on Keto
Coconut Oil
Extra Virgin Olive Oil
Grass-Fed Butter
High-Oleic Sunflower Oil
Ghee
Avocado Oil
Sesame Oil
1. Coconut Oil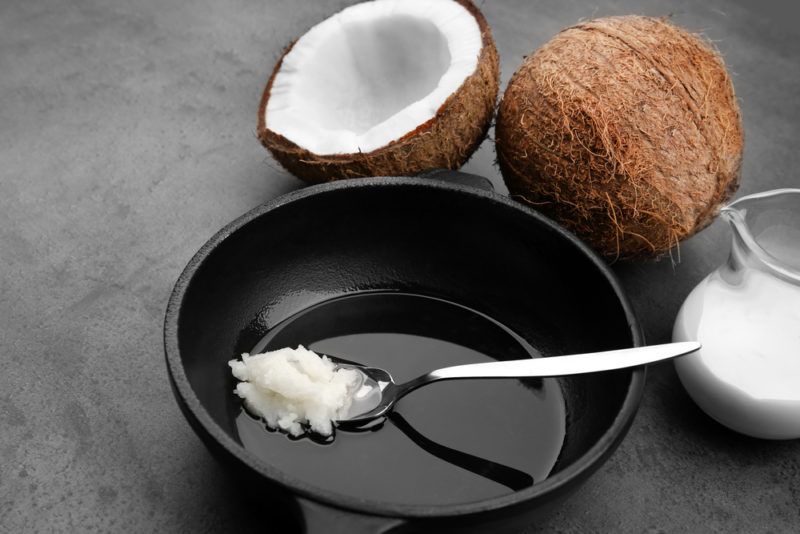 Probably the best cooking oil for the keto diet is this popular tropical oil. Coconut oil is high in saturated fats, which are now considered good compared to some other dietary fats. However, the type of saturated fat found in coconut oil is also noteworthy. This oil is namely highest in saturated fats called medium-chain triglycerides (MCTs).
MCTs are fats MCT oil is made of, and their popularity in the keto community is due to their ability to raise ketones. However, cooking with MCT oil isn't recommended, and this oil tends to be expensive compared to coconut oil.
So, coconut oil can be an affordable and convenient alternative to MCT oil. Coconut oil can be used for frying, greasing pans, baking, making fat bombs, and replacing butter in recipes. It has a high smoke point and long shelf life, which is also something to appreciate.
2. Extra Virgin Olive Oil (EVOO)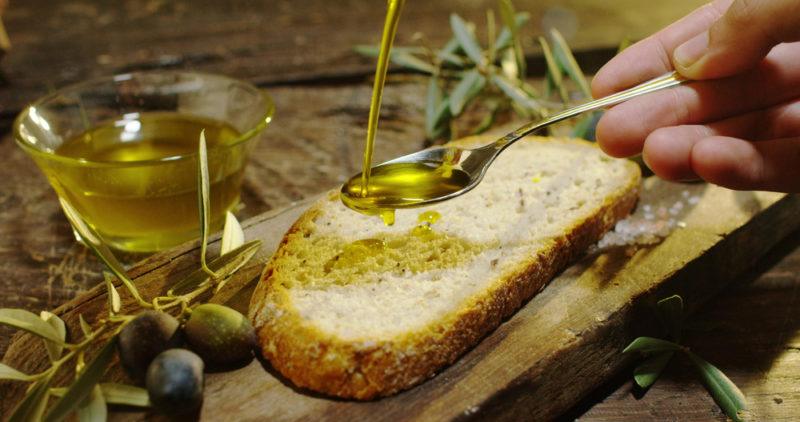 Considered to be the healthiest cooking oil on the planet, EVOO should definitely have a place in your keto pantry. EVOO is high in monounsaturated fats (MUFAs), which are good for metabolic and heart health. MUFAs are anti-inflammatory fats that help boost ketone production.
Besides heart-healthy fats, EVOO is rich in antioxidants and vitamin E, both of which contribute to its anti-inflammatory and antioxidant properties.
EVOO is best used for sautéing, making vinaigrettes, oven-baking, low-temperature frying. The smoke point of EVOO is around 374°F, which makes it not suitable for deep frying.
On a keto diet, you can use olive oil to make salad dressings, sauté keto vegetables, make keto muffins, and drizzle over chicken and fish meals. When purchasing EVOO, make sure to go for trusted brands and look for quality assurance seals to avoid throwing money away on adulterated products.
3. Grass-Fed Butter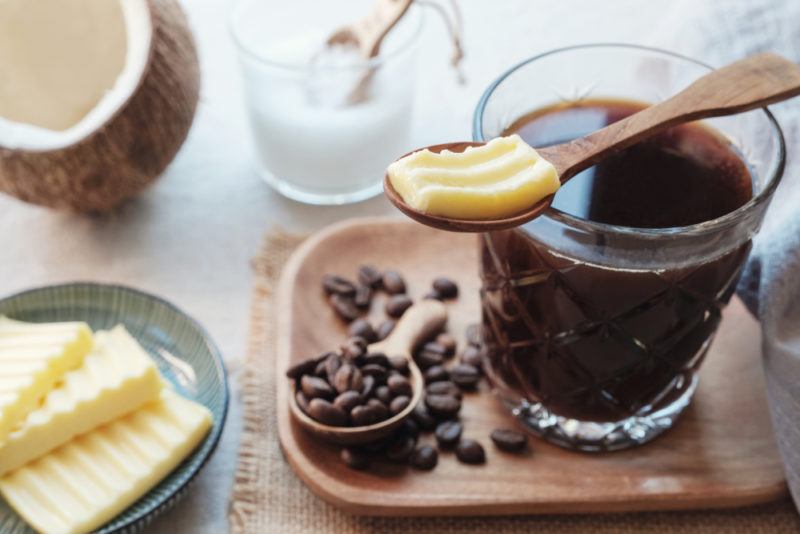 Butter is the quintessential keto diet ingredient, and grass-fed butter especially. Butter makes all your keto meals taste better and it's also quite healthy for you despite what you may have been told.
Butter is rich in saturated fats but also MUFAs, carotenes, and vitamin B12. Studies show that grass-fed butter is higher in important omega-3 fatty acids, vitamin A, and antioxidants than conventional butter.
On a keto diet, butter is a staple ingredient of Bulletproof coffee, also known as keto coffee. Keto coffee is believed to help increase ketone production from the added fat while providing a steady energy surge thanks to the caffeine.
You can also use butter for frying, baking, flavoring, and as a spread. Keep in mind that butter has a smoke point of around 350 F, so it won't be suitable with high temperatures.
4. High-Oleic Sunflower Oil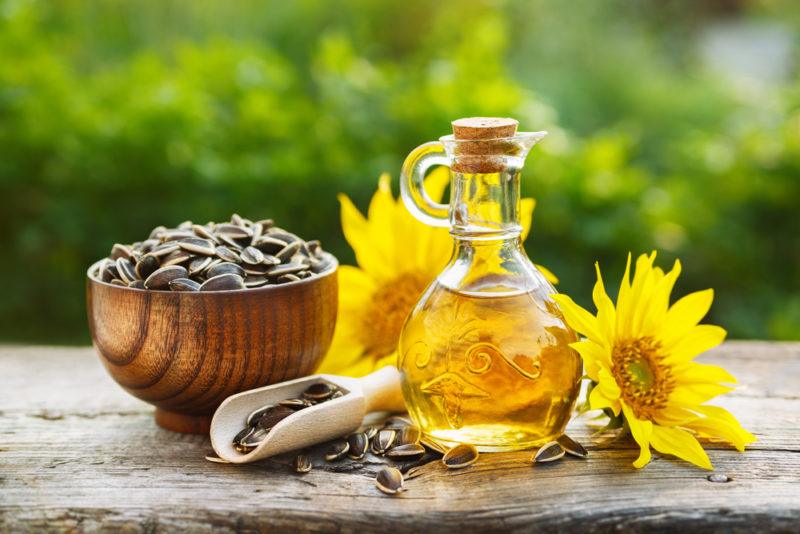 High-oleic sunflower oil has a similar fatty acid composition to olive oil, containing up to 80% MUFAs called oleic acids. Traditional sunflower oil, on the other hand, is mostly composed of omega-6 fatty acids, which studies show are linked to inflammation when taken in excess.
Another difference between high-oleic sunflower oil and conventional sunflower oil is that the former can be cold-pressed, and some brands are completely unrefined.
If you find that olive oil is too expensive or its flavor overpowering, then definitely switch to this oil. It's much cheaper than EVOO and it has a fairly neutral taste and smell. It also has a decent smoke point at around 320 F, making it suitable for a wide range of cooking applications.
5. Ghee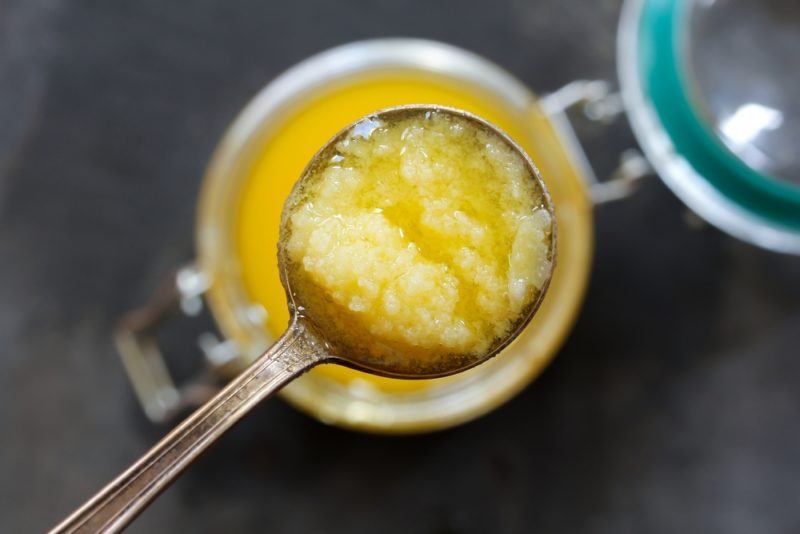 Ghee is a special type of clarified butter with a high smoke point at 400 F. It is made by evaporating water from the butter and removing milk solids. Ghee is clarified longer than classic clarified butter, which renders a deep, nutty flavor to ghee.
Traditionally used in India, ghee is now available in many countries in the West. However, it is also easy to make at home by clarifying butter.
Ghee can be used for frying, sautéing, baking, and most other cooking. It has a different flavor than traditional butter and which goes well with many savory dishes. However, you can enjoy it as a spread and bake muffins and make pancakes with it. Being 100% butterfat, ghee has a long shelf life of up to 12 and even 18 months.
6. Avocado Oil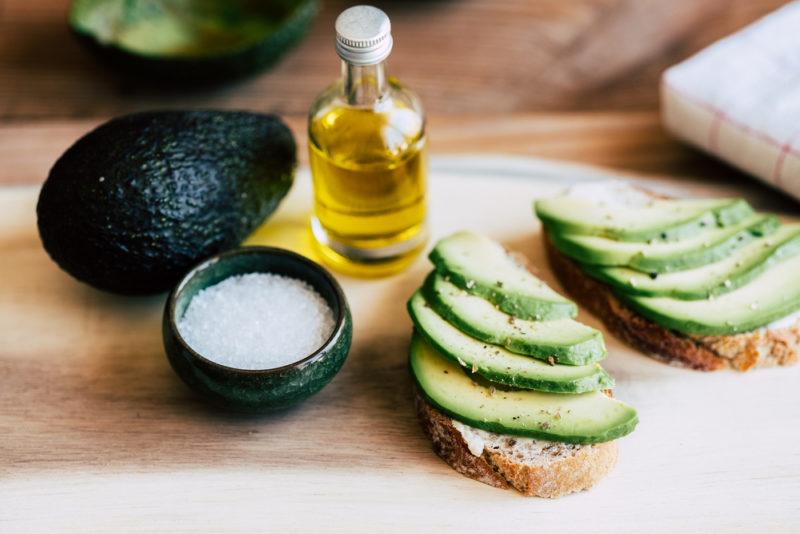 Avocado oil is my personal favorite because of its high smoke point, and the fact that it doesn't impart any particular flavor on the dishes. It's made by cold pressing the pulp of avocados.
Unrefined avocado oil has a remarkably high smoke point at 480 F, which is a good thing if you want an oil that is less risky when it comes to free radical formation or that you can deep fry in.
Keep in mind, though, that avocado oil is both expensive and difficult to find. Most avocado oil produced today is still used for making cosmetics, but it can be bought for culinary purposes at health food stores.
As a cooking oil, avocado oil is similar to olive oil. Namely, it is high in MUFAs, vitamin E, and antioxidants. It is also flavorful because it is cold-pressed and unrefined, although there are refined versions of this oil to help increase its shelf life and heat stability.
7. Sesame Oil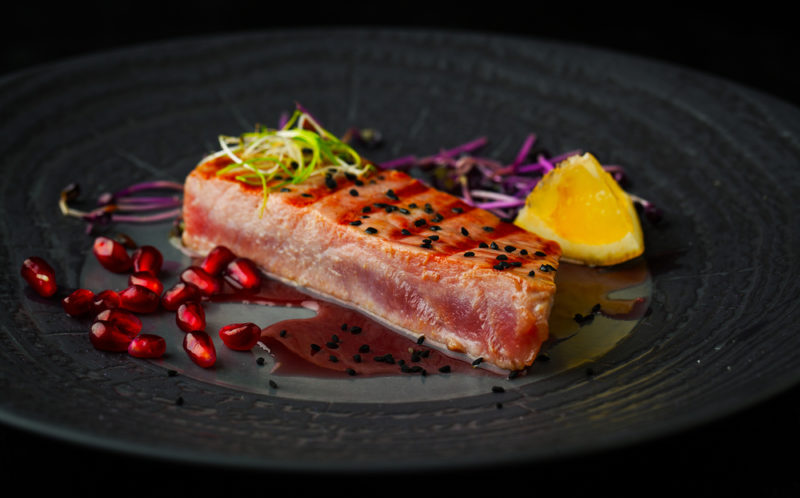 If you love Asian cuisines, then sesame oil should be your choice of keto oil. Sesame oil is made by cold-pressing sesame seeds, and it has a distinct nutty aroma. The oil can be used for cooking and flavoring. However, you should distinguish between light sesame oil, which is mainly used for cooking and dark sesame oil only used for flavoring.
Sesame oil is composed of an equal amount of MUFAs and PUFAs. An interesting thing about this oil is that despite its high omega-6 fatty acid content, it isn't prone to rancidity thanks to its many antioxidants. And speaking of antioxidants, studies found that these compounds in sesame oil provide anti-inflammatory and disease-fighting benefits.
When You Don't Have Time To Cook
Cooking on keto is actually pretty easy in my opinion because I love all the "safe" foods like steak, butter, cheese (and yes, I also eat a decent amount of veggies). What's hard for me is sticking to keto when I'm on the go and don't have time to cook.
That's why I like to have a stack of keto-friendly coffee on hand. This particular type of coffee from Kiss My Keto is great because it contains a blend of MCT 8 and MCT 10 oils (plus delicious chocolate flavor). The oils not only make sure I stay in ketosis, but they also stave off hunger between meals.
Sure, I could just choke down a cup of black coffee and be fine (and I often do), but the instant coffee is quicker, tastes great, and has the keto friendly oils added to it.
Takeaways
Cooking oils and fats are important ingredients on a diet that's heavily based on fat. Choosing only the best of these ingredients is important to gain the most out of your keto diet. The 7 oils listed here are rich in healthful fats, important nutrients, and antioxidants.
All are unrefined, which is important when choosing an oil that has gone through the least processing. As a rule of thumb, I try to avoid vegetable and seed oils, although sesame oil is perfect for Asian food.
And for maximum benefits, it's a good idea to use a combination of different oils and fats in your keto diet to help support overall health and ketosis.