Olive oil is often seen as one of the healthiest types of oils, as it's low in saturated fat and contains plenty of heart healthy monounsaturated fat. But, how much olive oil per day should you be consuming?
It's easy to say that olive oil is healthy, so there isn't an upper limit. You can simply have as much as you want.
That's absurd, though. Eating or drinking too much of anything can cause serious issues. For example, the oxalates in spinach can increase your risk of kidney stones, while even too much water could kill you.
Olive oil has some issues of its own too, as it's high in fat and calories. Consuming too many calories increases the risk of weight gain and a variety of health problems. Clearly you need to be cautious, so what's the ideal intake?
How Much Olive Oil Can You Consume Per Day?

Estimates for olive oil consumption vary dramatically. Some authors suggest sticking to one or two teaspoons per day, with three being the maximum. Others suggest focusing on one or two tablespoons per day, which is a lot more.
This is total olive oil consumption though. So, if you're already using olive oil regularly in your cooking, you mightn't need to add much to your diet.
What's the optimal amount?
No one really knows. Writers have their own opinions, but there's little science telling us the best amount.
There probably isn't one anyway. After all, the rest of your diet is relevant too. If you're not getting much fat elsewhere, then two tablespoons of olive oil per day could work well. This would give you plenty of powerful plant-based compounds from the olive oil.
But, if your fat and calorie intake is already high, you'll probably need much less olive oil. You might even need to stick to just a teaspoon or two of the oil.
If your calorie intake is too high, you might even need to cut out fat elsewhere to account for the olive oil.
So, you'll need to think carefully about your diet to find the best amount of olive oil for you.
How Healthy Is Olive Oil?
There's another important area to cover too – what olive oil actually does for your health. This is critical information for finding the best amount of olive oil for you.
The oil is healthy, there's no denying that. It offers plenty of benefits, like how the monounsaturated fats may decrease the risk of some diseases, while the antioxidants can help with oxidative stress and inflammation.
There are some other potential benefits too. For example, olive oil may help with constipation, regulate your blood sugar levels, and decrease heartburn.
However, olive oil itself is only part of the equation. Many benefits come from consuming olive oil as part of a healthy diet. This normally means eating plenty of vegetables and complex carbs, while limiting your intake of processed food.
Studies have highlighted two main areas where olive oil is powerful.
The first is when you're consuming olive oil instead of saturated fat. This might mean that you cut down your red meat intake and focus more on salads with olive oil. Or, perhaps you stop using butter and coconut oil in your cooking, and start using olive oil instead.
The second is if you're following a Mediterranean diet or a similar eating pattern. While diets in the Mediterranean vary considerably, they often rely heavily on monounsaturated fats, including olive oil, while consuming much less saturated fat than we do.
Mediterranean diets also tend to focus on lean meat, seafood, whole grains, vegetables, and legumes. You don't need to be in the Mediterranean to eat this way either. Mediterranean cookbooks are the perfect way to lean into Mediterranean eating.
The research outcomes suggest that simply consuming more olive oil isn't enough. You'll need to make other changes to your diet as well to truly see health benefits.
Can You Drink Olive Oil?

If you want to consume more olive oil, the next question is – how? The simplest way is to drink olive oil directly.
You can do this. While drinking olive oil mightn't sound that appealing, the approach is completely safe. It's also one of the easiest ways to increase your healthy fat intake.
That's not all. Drinking olive oil may also be the healthiest possible approach, as you're not heating the oil at all. This keeps all the plant-based compounds intact and should give you the most antioxidants.
Ways To Drink Olive Oil
You're probably only having a tablespoon or two of oil, so drinking it shouldn't be too difficult. You could try doing so as a shot or straight off a teaspoon.
If you find regular olive oil too difficult, you could try flavored or infused olive oil instead. Such products are often still high quality, but have extra flavor that can make them easier to drink.
When Should You Drink Olive Oil?
Some people choose to do this first thing in the morning on an empty stomach. Other people do so before or after a meal, or even before bed.
You'll need to experiment to find the right time for you. In particular, some people find that olive oil on an empty stomach makes them feel sick or even causes stomach cramps.
We're all different anyway, so the best time for one person mightn't work well for someone else.
Other Ways To Consume Large Amounts
Drinking olive oil is the obvious way to increase olive oil intake. This way you don't need to think about recipes or the right temperatures for cooking.
Don't worry if this idea seems incredibly unappealing. There are plenty of other ways to increase olive oil intake too, including the following.
Use it in a salad dressing. Olive oil is often used in vinaigrettes and plenty of other salad dressings. As a bonus, the fat from the oil should increase your nutrient absorption from the salad. This increase in absorption can even mean salads with oil are healthier than those without.
Drizzle it over your salad directly. Or, why not skip the dressing and just use olive oil itself on your salad? Infused olive oil is particularly good here, but even regular olive oil will do the trick.
Drizzle it on ice cream. Odd as it may seem, olive oil pairs well with ice cream. Try adding some sea salt to give the combination a bit of extra oomph.
Mix it into a smoothie. Seriously. The other flavors and textures in your smoothie should almost completely mask the olive oil.
Dip bread in oil. This is one of the traditional ways to enjoy olive oil, as you get to fully appreciate the flavor of the oil. You can do this just with olive oil and bread or mix other ingredients into the oil. Adding some parmesan cheese and spices is a simple way to elevate the experience.
Cook with oil. Even extra virgin olive oil can be used for cooking and pan frying, as the smoke point is higher than is often assumed and olive oil has high oxidative stability. It may even be one of the safest oils to cook with.
Use olive oil instead of butter on toast. This works surprisingly well, even though olive oil is liquid and butter is solid. Olive oil doesn't taste the same as butter, of course, but this is an easy way to raise olive oil intake and decrease saturated fat at the same time.
Drizzle it over anything. You can actually drizzle olive oil over almost any dish. It works particularly well with pizza, pasta, and grilled food, but you're not limited to these. Why not experiment and see what else olive oil pairs with?
When To Be Careful With Olive Oil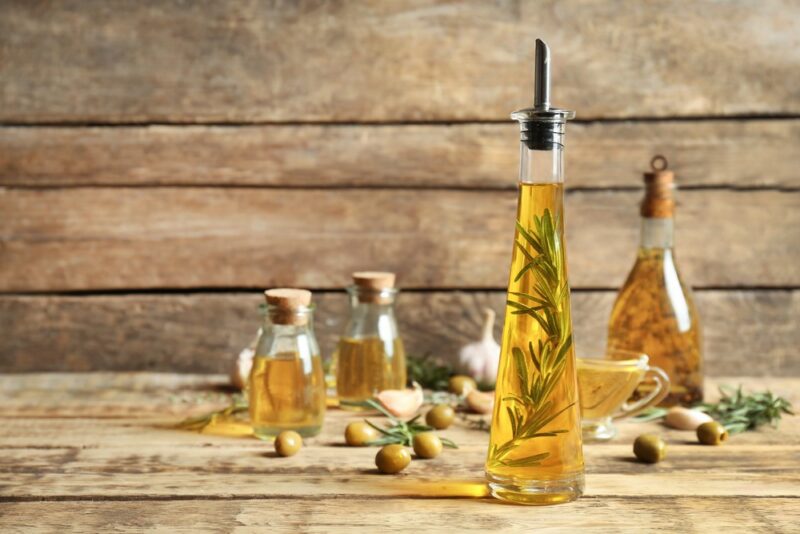 Despite all the potential benefits, it's easy to overdo it with olive oil. After all, many people already have fat heavy diets. Increasing fat intake further isn't helpful at all, even if we're talking about healthy fat like olive oil.
So, if you're struggling with your weight, have been told to cut down on fat, or have a high fat diet, consuming more olive oil could do more harm than good.
Try approaching olive oil as a replacement instead. This could mean decreasing your fat intake by at least a tablespoon for every tablespoon of olive oil that you add into your diet.
Which Type Of Olive Oil Is Best?
Olive oil falls into three main categories – refined, virgin, and extra virgin. Virgin and extra virgin olive oils are made the same way, the big difference is simply the final quality. Various standards are used to assess whether an oil is classified as virgin or extra virgin.
Both types of oil are made using mechanical processes, rather than chemical ones.
Refined olive oil is different and chemicals can be used in the refinement process. Doing so gives you a milder product that may contain fewer antioxidants and nutrients.
Authentic extra virgin olive is the ideal for health. This is the highest quality and least refined, so it contains the most plant-based compounds, including antioxidants.
However, extra virgin olive oil also has the most intense flavor. This can make it difficult to drink on its own.
If you find that extra virgin is too much, you could easily turn to virgin or even refined olive oil instead, as these normally have a milder flavor
Where To Buy Olive Oil

Olive oil isn't difficult to find. You'll see it in many local stores and there are plenty of brands to choose from.
The problem is quality. Extra virgin olive oil is in high demand and is expensive to make. So, some companies cheat, claiming their oil is better than it actually is.
We're not talking about a small amount of oil either – as much as 70% of all olive oil may be fake. Some of these are oils that don't match their labels. So, the label may say extra virgin, while the oil is a combination of virgin and refined olive oil.
Other products have cheaper oils added in to keep the price low.
To avoid this issue, you need to choose your olive oil carefully. Buying through olive oil clubs can help, as these have a strong focus on quality.
It's also important to research the company (regardless of whether you buy online or from a store). Check to see whether there are any controversies about their olive oil or practices. Many companies have been pulled up for selling fake olive oil, so there's plenty of information out there.
What About Olive Oil Supplements?
Some olive oil supplements simply provide olive oil in a capsule form. This theoretically gives you the benefits of olive oil without the flavor.
However, quality is a serious issue. Under-regulation in the supplement industry means that there are many low quality products out there. Some don't match their labeling claims at all, while others may even contain toxic chemicals.
The quality of the olive oil is in question too. It may not even be virgin or extra virgin olive oil and isn't likely to be fresh.
As such, olive oil supplements aren't likely to give you all the healthy compounds that you get with fresh olive oil.
Final Thoughts
For most people, two to three teaspoons of olive oil per day is a good amount. This provides you with plenty of healthy compounds, without increasing your calorie intake too much. You'll see even more benefits if you can decrease your saturated fat intake at the same time.
Remember though, this recommendation of two tablespoons is for the whole day. It counts any olive oil you use in cooking and salad dressings, along with products like olive oil mayo and olive oil butter – not just olive oil that you drink directly.