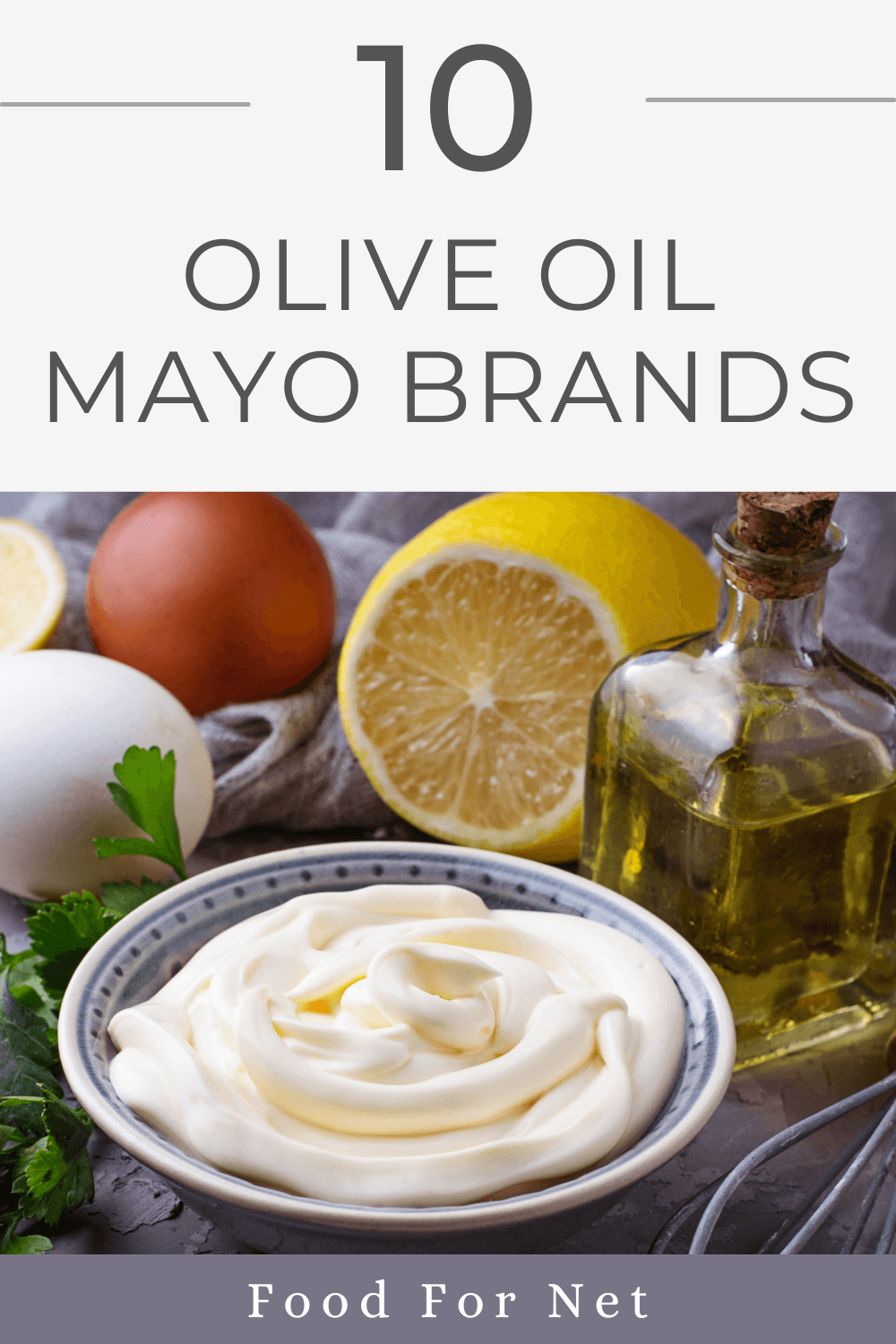 Mayo is incredibly popular as a sandwich spread and an ingredient, but it's hardly the healthiest option. Store bought mayo is often packed with additives and is high in saturated fat. It's easy to go overboard with mayo, especially if you slather it on thickly. Choosing olive oil mayo brands is an interesting alternative. The olive oil changes the flavor and fat profile of your mayo, potentially giving you a much healthier spread.
Some of the brands on this list use olive oil instead of refined oil, but most use a combination of different oils. Combining oils like this might sound counterproductive, but it's an important approach, as olive oil has a strong flavor that can easily overpower the mayo. Adding extra oils helps to dilute the flavor and give you a more balanced spread.
Even using just a little olive oil has benefits. After all, olive oil is rich in antioxidants and monounsaturated fats, features that are powerful for health. However, the true health effects will vary depending on the brand you use and how they make their olive oil.
As you'll see, there is plenty of variations between the products. Some are heavily refined. These often rely on additives and don't use that much olive oil. Others are more natural with a strong olive oil focus. However, these are often more expensive and can be harder to find.
P.S. You could also experiment with olive oil butter. This is higher in saturated fat than olive oil mayo, but it's often less processed and uses fewer ingredients.
Olive Oil Mayo Brands
Hellmann's


Hellmann's is one of the big brands that offers olive oil mayo. Well, they call it Olive Oil Mayonnaise Dressing, which isn't ideal. Companies use terms like 'mayonnaise dressing' when they're tweaking the recipe considerably.
The list of ingredients for the mayo starts with water, olive oil, canola oil, soybean oil, and whole eggs. Water, oil, and eggs are all familiar mayo ingredients, but the rest of the label isn't so appealing. In particular, there are also ingredients like natural flavors, sorbic acid, and calcium disodium edta. Such additives are never ideal.
Then there's the oil profile. The olive oil is encouraging, but there's also canola oil and soybean oil in the mix. That's not good news.
Canola oil and soybean oil mightn't seem so bad at first, as they are both often called healthy. They're also low in saturated fat and could help with your heart. However, both oils are also highly refined and can come from genetically modified ingredients. As such, these oils aren't what you want in healthy mayonnaise.
The order of ingredients does show there's more olive oil than canola oil or soybean oil. Still, we have no idea about the exact quantities.
Best Foods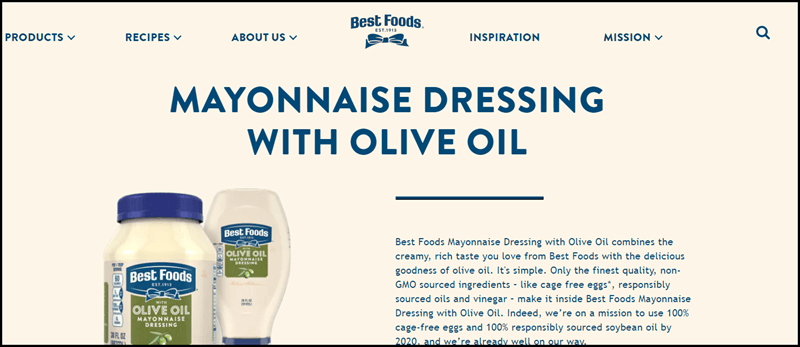 This product should look familiar, as the Best Foods and Hellmann's brand names are actually used for the same product line. Which brand you get will depend on where you live. It's a confusing approach and certainly weird. Then again, large corporations often don't seem that logical.
The ingredients list for the Best Foods version is pretty much identical to the Hellmann's one. There may be subtle differences in the recipes, as ingredient labels don't give us details about ratios or the specific natural flavors that are used. Still, the general patterns are the same, which is what really matters.
So, here too, you're getting some olive oil, some refined oils, and some additives.
Duke's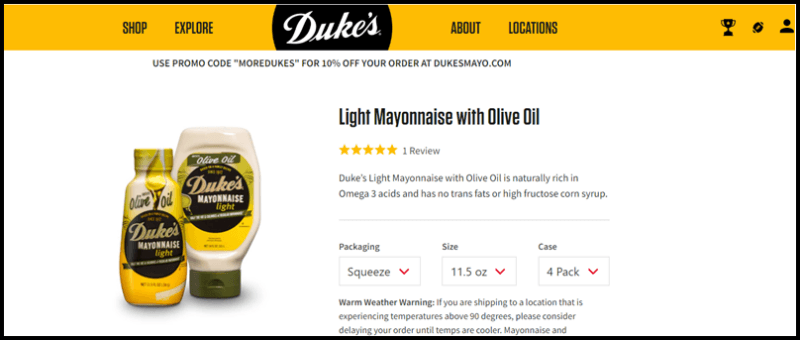 Duke's offers light mayonnaise with olive oil. The 'light' in the title mostly refers to the calorie content of the mayo, as it contains around 50 calories per tablespoon. Some other products are much higher in calories, as 100 calories per tablespoon being common for traditional mayo.
Even with the lower calorie content, the ingredients list for the mayo is instantly familiar. Once again, it starts with water, olive oil, canola oil, and soybean oil. There are additives there too, plus sugar, salt, and spices. So, the limitations are the same as the previous two products.
You'll see this same pattern with many other processed olive oil mayo products.
Fratelli Carli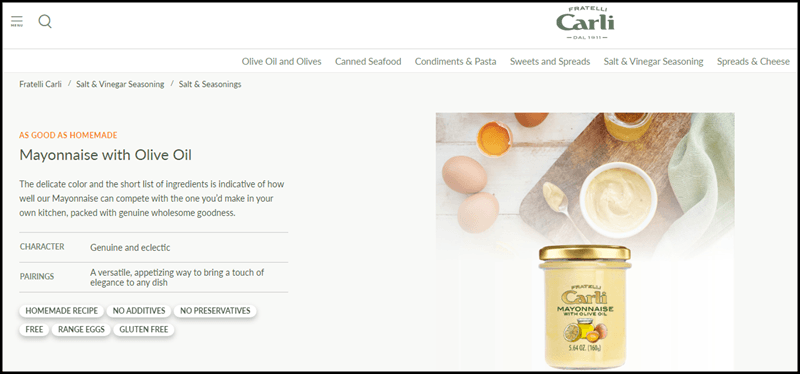 Frateilli Carli is an Italian brand, so it can be a little tricky to find in the United States. You may get lucky though, especially if you look online. The company follows a more homestyle recipe, which means the additive content is low and you get a much more natural product.
This time the ingredients list starts with olive oil, followed by egg yolks, wine vinegar, lemon juice, salt, and sugar. That's it for the ingredients. There isn't anything else to worry about.
Honestly, this is one of the best store bought brands you can find, so it's worth keeping an eye out for it.
Spectrum Naturals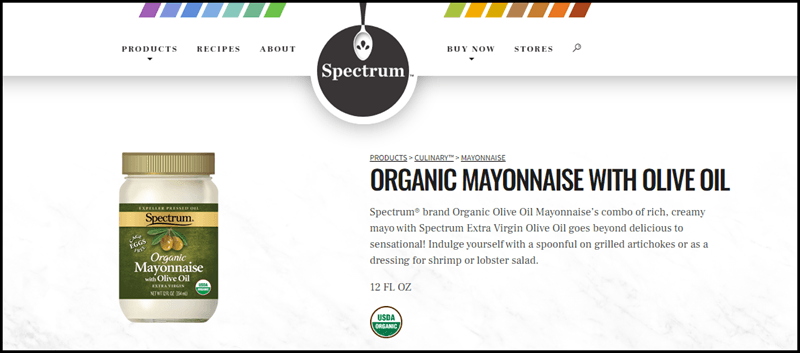 Spectrum Naturals is an excellent choice for quality, as their mayo has some good features and some less appealing ones. On the positive side, their mayo relies on organic ingredients and avoids most additives.
That said, the ingredients list still isn't ideal. It starts with soy oil and/or canola oil, followed by eggs, extra virgin olive oil, filtered water, honey, and vinegar.
Ingredients lists are organized based on how much of each ingredient. So, it's concerning to see extra virgin olive oil so far down the list. There mightn't be much olive oil in the mayo at all.
FunFoods


FunFoods Mayonnaise is an Indian brand that relies on olive oil from Italy. Despite the foreign origins, you can often find the mayonnaise on Amazon and perhaps in some local stores.
Interestingly, this company doesn't offer regular olive oil. They have a vegan version instead, which avoids dairy and eggs, and uses ingredients like water, olive oil, lemon juice, and salt in the ingredients list.
There aren't any other types of oil in the recipe, but olive oil still just makes up 24% of the recipe. This isn't appealing, especially as the oil also contains plenty of additives.
Kraft


Kraft is exceedingly well-known and their mayo follows some familiar patterns. This time the ingredients label starts with water and olive oil, immediately followed by canola oil, soybean oil, vinegar, and modified food starch.
So, again, there are some concerning entries in there. It's also not clear how much olive oil there actually is in the mayo.
Still, this is an inexpensive product that should be easy to find. The calorie content is low as well, at just 45 calories per serving.
Blue Plate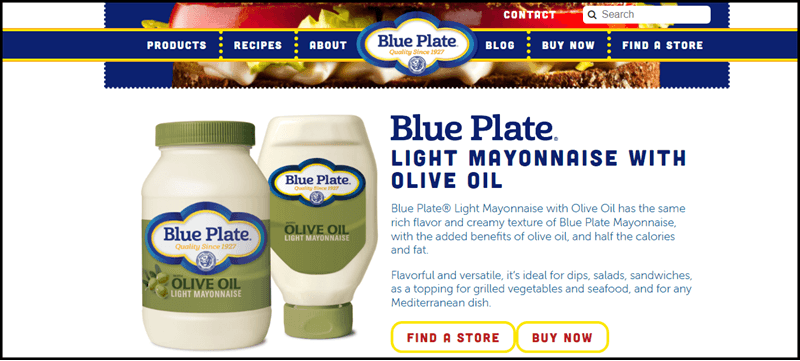 Blue Plate is another popular brand to try. It's another light mayo that follows the same patterns as earlier. So, there is olive oil, canola oil, and soybean oil again, plus some additives and comes in at 50 calories per tablespoon.
With this, and most other products, the inclusion of three types of oil helps to dilute the flavor of the olive oil, while still providing you some benefits. Of course, this mightn't be the type of olive oil mayo that you had in mind.
Biona Organic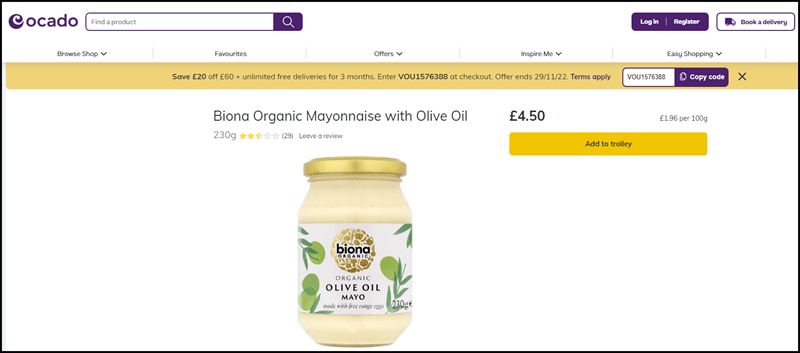 Biona Organic is a UK-based company, so the mayonnaise is harder to find in America. It's a fantastic product though, as it avoids most additives. Plus, olive oil is the first ingredient, followed by sunflower oil and then vinegar. In fact, 40% of the mayo is made up of olive oil which is more than many other products.
The mayo also focuses on organic free range eggs and cold pressed olive oil. So, there's a clear focus on quality.
Hunter & Gather


There's also Hunter & Gather. This is another UK-based company, but it's far too interesting to ignore. This time olive oil is the only oil present and comes to 80% of the total ingredients. The only other ingredients are egg yolk, apple cider vinegar, and pink Himalayan salt.
This is easily the simplest and most natural olive oil mayo on the market. It's also very hard to find in the US, as Hunter & Gather only ships to the UK.
Why Use Olive Oil In Mayo?
Using olive oil doesn't decrease the fat content of mayonnaise at all. You're still getting around 100 calories per tablespoon, plus 12 grams of fat (unless the company makes other changes to the recipe, as some on this list have).
Rather than changing the amount, olive oil simply changes the type of fat. You end up with less saturated fat per serving and more monounsaturated fats. Plus, you're getting plenty of antioxidants and phytochemicals from the oil.
This means you'll still need to watch your intake of mayonnaise, as the calories can add up fast. However, the extra monounsaturated fats, antioxidants, and phytochemicals from olive oil should make your mayo much healthier.
The benefits you get will be strongly influenced by how much olive oil the company uses. Some on this list, like Kraft, use olive oil as one of three types of oil, so you mightn't get much at all. Others, like Hunter & Gather focus much more heavily on olive oil, which should give you a healthier product.
Making Your Own Olive Oil Mayo
Most of the brands on this list aren't ideal. They still offer heavily processed products that rely on additives. Many of them still use some refined olive oils as well.
The alternative is to make your own olive oil mayo. There are plenty of recipes to play around with, like this one from Kitchen Konfidence. Some of them use olive oil as the only type of oil, while others add another oil as well, like avocado oil or canola oil.
You can easily search to find a recipe that matches your preferences.
If you're going to make olive oil mayo, you could use oil from an olive oil of the month club. This would be a great way to see how different olive oils affect the flavor of your mayo.
Alternatives To Olive Oil Mayo
Olive oil mayo is a little tricky, as olive oil has such a distinct flavor. This is particularly true for extra virgin olive oil, which is the most appealing type for health.
In fact, many people find that the oil overpowers their mayo or creates a distinct bitterness that ruins the mayo. This is true even if you make olive oil mayonnaise at home.
These issues are why so many companies use a mix of oils in their olive oil mayo. Using light or refined olive oil may help, as these oils have a milder flavor than extra virgin olive oil. But, even then, the olive oil flavor may be too strong.
For something healthy without bitterness, you could move away from olive oil entirely. Avocado oil is still filled with healthy fats and has a milder flavor. There are also some healthy brands that specialize in this oil, including Primal Kitchen.
So, if you can't find any olive oil mayo brands that work for you, why not try avocado oil mayo instead?