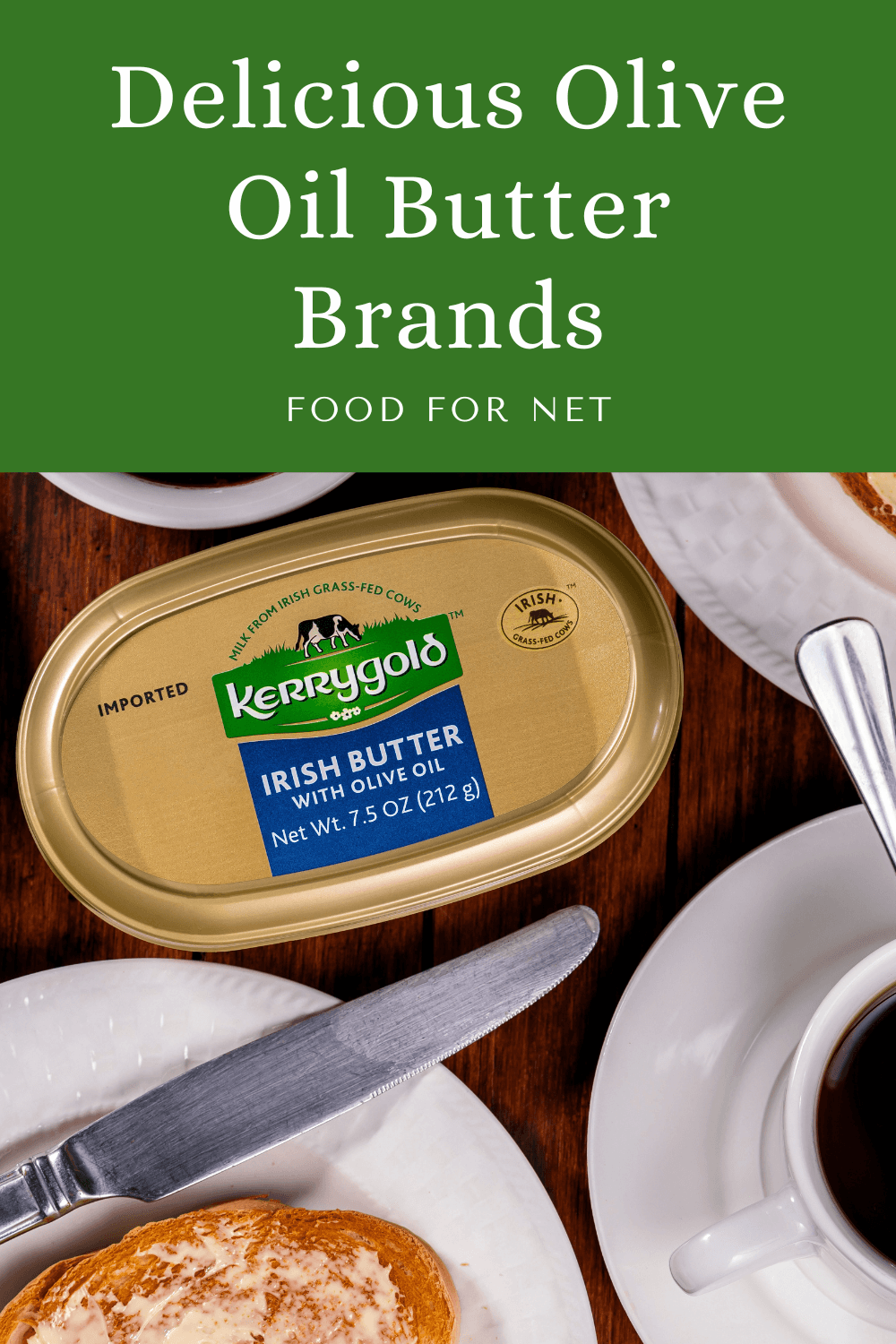 Olive oil is popular as a source of healthy fats and plant-based compounds, while butter is rich in saturated fat. They're both popular, true, but the differences make combining the two sound like a strange idea. Yet, olive oil butter brands are surprisingly common.
The practice of adding olive oil to butter actually works very well. The olive oil provides an interesting flavor and some healthy fats. It also makes the butter slightly more liquid, so it's easier to spread. In fact, olive oil is one of the most natural ways to create spreadable butter.
That said, there are actually two styles of olive oil butter. The first is regular butter with added olive oil. Most such products focus on butter, while the olive oil content is secondary.
There are also vegan olive oil products that are designed to act and taste like butter. These don't get the flavor and texture exactly right, but some are pretty close to the real deal. Because these don't rely on butter itself, they're also lower in saturated fat and could improve your heart health.
However, vegan butters have their own challenges, as most rely on multiple types of oil, including some that aren't as good for you (the same pattern is true for olive oil mayo). So, let's look at the different products and what they have to offer.
Olive Oil Butter Brands
Let's start with the standard definition of olive oil butter. These are simply products that combine butter and olive oil, often with some sea salt as well.
Land O Lakes Butter With Olive Oil & Sea Salt

Land O Lakes is a classic brand that offers many types of tub butter, including flavored butter and products mixed with canola oil. Their olive oil and sea salt version is the best of these for flavor and for health.
The ingredients list is pretty simple too, as the butter just contains cream, olive oil, salt, and sea salt. That's it. No additives to worry about.
Unfortunately, Land O Lakes doesn't have an unsalted version of this butter, which could be a problem if you're watching your sodium intake. This isn't unusual though. In fact, all the products on this list use salt.
This is also a challenging product to find. Land O Lakes has confirmed that the butter hasn't been discontinued and there are no plans to stop producing it, but many stores don't stock it. You might need to hunt through local stores or shop online to find it.
Kerrygold Irish Butter With Olive Oil

The Irish butter from Kerrygold aims to keep most of the flavors and properties of authentic butter, while giving you a slight olive oil flavor and a more spreadable product.
The ingredients list is similar to the previous example and includes pasteurized cream, olive oil, water, and salt. You'll see this pattern time and time again.
The ingredients label tells us that there's more butter than olive oil, but gives no details about the quantities of each. However, the olive oil content is probably fairly low. Otherwise, the product would have a strong olive oil flavor and might be too soft to function as butter.
Goya Butter With Olive Oil & Sea Salt

Goya is another brand that combines butter, olive oil, and sea salt. Their product is appealing as there aren't any additives at all. Instead, you really are just looking at a handful of natural ingredients.
The focus on simplicity is fantastic. But, once again, there's no indication of quantities. This makes the products difficult to compare. You may need to try them for yourself to see which olive oil to butter ratio matches your preferences.
Kroger Spreadable Butter

Even Kroger has chimed in on the idea of spreadable butter. Their version has a short ingredients list as well, with the same ingredients as the previous entries.
The same issue comes up again though, we still don't know how much olive oil is in the product compared to butter. However, because this is promoted as spreadable butter and Kroger often focuses on inexpensive products, the olive oil content may be lower than other brands.
Challenge Butter With Olive Oil

What can we say about Challenge Butter? The company sticks to the same patterns as the previous entries, using olive oil, salt, and cream as the main ingredients. However, there is some added beta-carotene and vitamin A, which aren't found in other similar products.
While the beta-carotene and vitamin A could provide some benefits, they still seem like odd additions. After all, other companies manage to create popular products while sticking to simple ingredients.
Wegmans

Wegmans has a variety of butter and margarine products, including grass fed butter with olive oil. Just like Kroger, the focus seems to be on making butter spreadable, rather than on the benefits of olive oil itself.
The big advantage is that this company uses butter from grass fed cows. This decision could offer some health benefits and perhaps give you better tasting butter too.
How To Make Olive Oil Butter
These companies all offer similar products. Most avoid additives entirely and just stick with cream, salt, and olive oil as ingredients. While the simple ingredients list helps to keep these products healthy, you still have no idea about the quality of the olive oil and how much is included.
So, why not make your own instead?
Doing so allows you to balance the ingredients as you want to, while including your favorite olive oil. You could even turn to oil from an olive oil of the month club. If you did this, then your butter might taste slightly different each month, but would always be delicious.
The flavor variation could even be a good thing. After all, having the same product month after month can quickly get boring.
If you start with butter from the store, then homemade olive oil butter is incredibly easy. You start by whipping the butter using a hand mixer. Once the butter is whipped, you add olive oil and perhaps some salt flakes. The butter is then whipped again, slowly, until you have a homogenous mixture.
Once it is all mixed, you can transfer the butter to the dish you want to serve it in. The butter can be kept in the fridge or used at room temperature, although it will last longer in the fridge.
Combining 200 grams of butter with 100 ml of olive oil is a good starting point. However, you may need to experiment with the amounts to get the consistency you're looking for.
Also, if you're trying to cut down on sodium, you could skip the sea salt and use unsalted butter. The butter won't be quite as good this way, but it should still be delicious.
Vegan Olive Oil 'Butter'
Vegan products often use a combination of oils and other ingredients to give you a butter-like texture and flavor. These products are much more processed than most conventional olive oil butter, but they have to be to get them looking and tasting right.
Country Crock Plant Butter With Olive Oil

Country Crock is most well-known for buttery plant-based spreads, but they do have some butter-like products as well. The most stand-out example is these plant butter sticks with olive oil.
While the butter sticks do contain olive oil, the name is misleading. The sticks actually use a blend of oils, including palm kernel, canola, palm fruit, and olive oil. What's more, olive oil is last on the list. This means the sticks mightn't contain that much olive oil at all.
Most reviews suggest that the product really tastes like regular butter, although it doesn't behave quite the same if you bake with it (which isn't surprising). However, there is concern about the oils used, especially canola oil.
Earth Balance Olive Oil Buttery Spread

While the previous product focused on butter-like sticks, this one from Earth Balance is a buttery spread instead. It follows a similar style, though, using a combination of canola, palm, safflower, flax, and extra virgin olive oil. Other ingredients include salt, pea protein, sunflower lecithin, and natural flavors.
Combining oils like this is a common technique. It's often done for olive oil mayo too, partly because olive oil itself has a strong flavor. If too much was used, the product would taste like olive oil and little else.
Smart Balance Extra Virgin Olive Oil

This product from Smart Balance isn't surprising at all. It's another butter-like spread that relies on vegetable oils.
The primary vegetable oil blend includes canola oil, palm oil, and extra virgin olive oil. Again, olive oil features last on the list. There is a little flaxseed oil present too, plus salt and some additives.
Oddly, the spread includes artificial flavors. While natural flavors are common enough in this type of product, artificial flavors feel like a step too far.
The product also gets awful reviews. Many complaints are related to a formula change, as previous versions of Smart Balance contained much more olive oil than the current one.
Formula changes like this are a risk with any product, particularly anything highly processed. The changes may even mess with a product's flavor or health benefits. So, it's always important to check the ingredients label, even if you've been buying the same product for years.
I Can't Believe It's Not Butter!

I Can't Believe It's Not Butter! has its own entry into this field. This time they rely on soybean oil, palm kernel, and palm oil – none of which are appealing at all. There's also soy lecithin, natural flavors, and beta carotene for color.
I Can't Believe It's Not Butter and similar companies have made progress in creating better and healthier products. They avoid partially hydrogenated oils these days, which means fewer trans fats and better health effects.
Even so, the products remain heavily processed and are still high in calories. This means that whether you choose butter, olive oil butter, or a plant-based product, you'll still need to watch the amount you consume.
Bonus: Butter Infused Olive Oil

We can't talk about olive oil in butter without mentioning the flipside of the equation too – butter infused olive oil. A surprising number of companies do this, including Ariston Specialties.
This type of infused oil still gives you the flavor of butter and olive oil. But, this time olive oil is the dominant ingredient.
While you can't use this oil exactly like butter, it has some clear benefits. For one thing, infused olive oil is minimally processed and rarely uses additives. It also gets most of its fat profile from the olive oil, so it's rich in monounsaturated fats and is low in saturated fat.
Video: How To Mak Vegan Olive Oil Butter