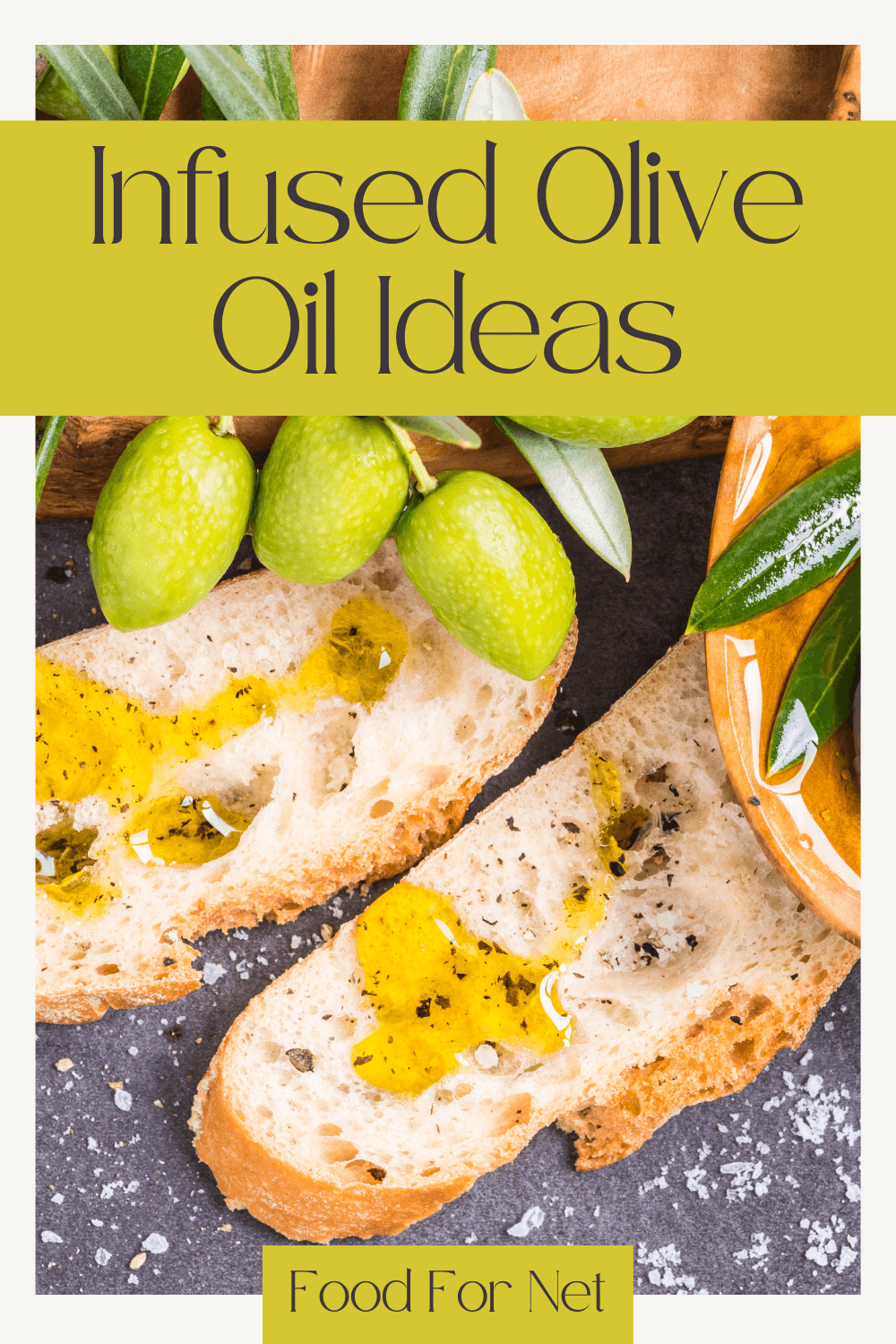 Olive oil has a lot going for it. Not only is the oil rich in monounsaturated fats, but it's also high quality and minimally refined. However, sometimes you want more than plain olive oil. These infused olive oil ideas are a fantastic way to change the flavor profile of the oil and make it more interesting.
The idea is simple. You're either heating oil with herbs, spices, and other ingredients of your choice or you're letting the herbs sit in the oil for a month or more. Both approaches bring the flavor of your additions into the oil, making it tastier and easier to consume.
You don't need a special type of olive oil for infusing either. Any plain oil you buy from the store or get through an olive oil of the month club can be used to make your infused olive oil. Just make sure that the oil is high quality first and that you like the flavor.
Ideas For Infusing Olive Oil
Chili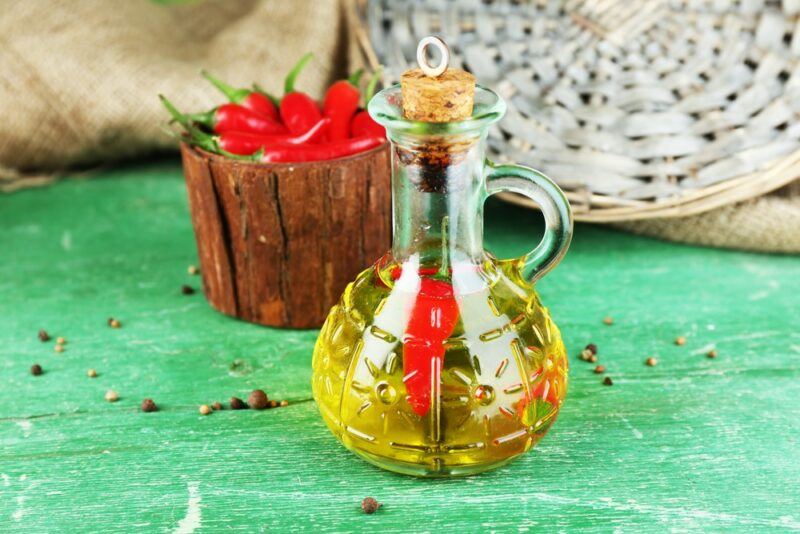 Chili is a fantastic addition to olive oil, as it has such a strong flavor. You can do this by using whole dried chilis or chili flakes. Either style works well and is delicious.
You'll need to think about the type of chili you use as well. A mild one will add a slight heat to your oil, while something intense might be overwhelming. The best choice will be the one that matches your flavor preferences.
Lemon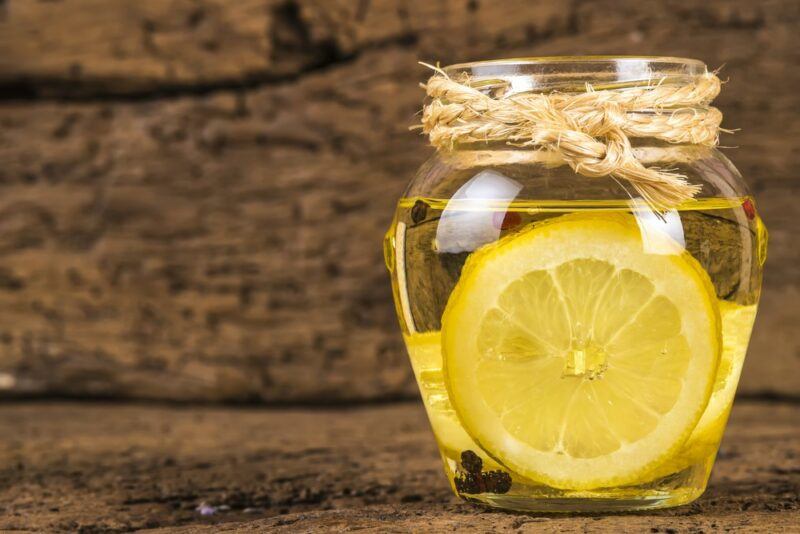 Lemon is another popular infused oil ingredient. The simplest approach is to use the peel from approximately two lemons for every cup of olive oil.
Be careful when peeling the lemons, as you want to avoid as much of the white pith as possible.
Try looking for organic lemons too, as regular lemons from the store often have wax on the peel to keep them looking good. Not surprisingly, you don't want to be infusing any of this wax into your olive oil.
Rosemary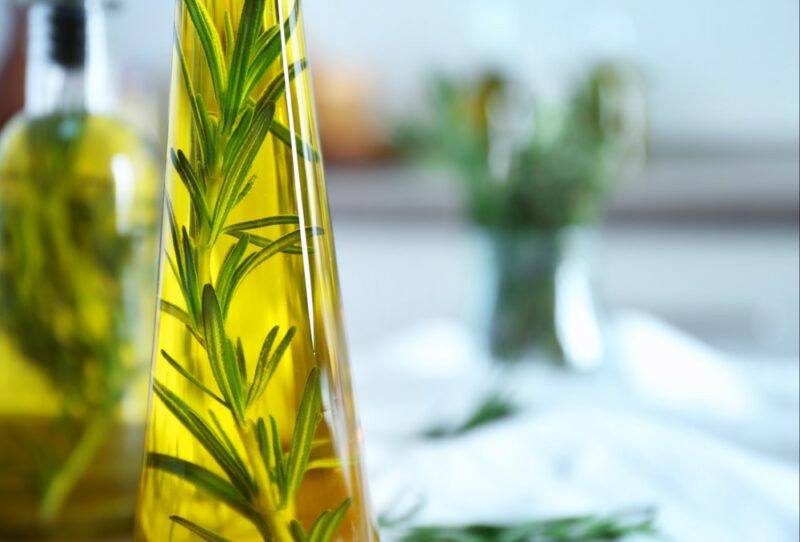 Rosemary is a classic infusion for olive oil. It's also one to be very careful with, as fresh herbs can be contaminated with Clostridium botulinum spores, which may lead to botulism, especially once they've been stored in the oil for a while.
To protect your health, it's important to make sure your rosemary is completely dry before including it in the oil. So, if you're rinsing it first, you'll need to leave it to fully air dry, perhaps on some paper towels.
You can use either fresh or dried rosemary for your infusion. Fresh rosemary is best if you're cooking with the oil or plan to drizzle it over salads. The fresh herbs should give you the most vibrant flavor.
If you're going to dip with the oil instead or serve it for guests, then dried rosemary is just as good.
Garlic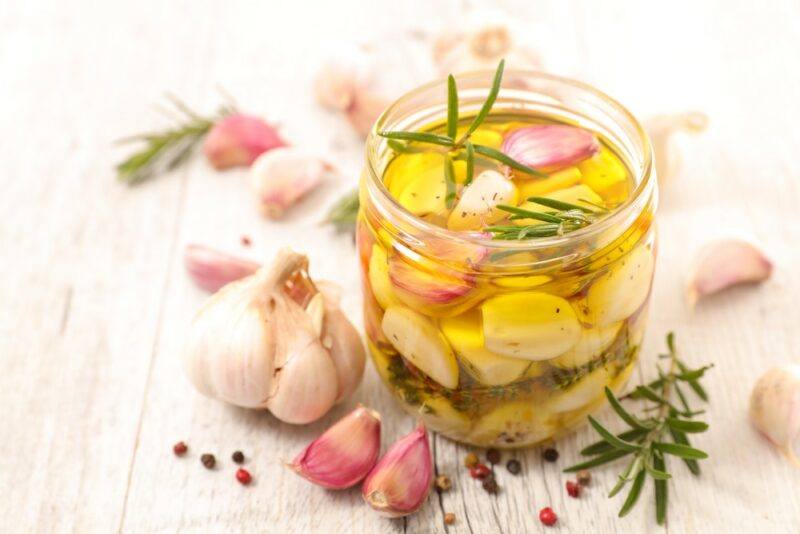 Garlic infused olive oil is always delicious. It's easy to make too, as you can simply use peeled olive cloves that are heated together with the oil. After heating, you can crush the olive cloves slightly with a spoon to release some of their flavor, then let them sit in the oil for half an hour or so longer.
You can also make an infusion using roasted garlic. The best way to do this is to place the garlic and olive oil in a dish (along with any other ingredients you want), then cover this with tin foil. The dish can be baked in the oven for around an hour.
After baking, you strain away the garlic and are left with delicious garlic infused olive oil.
Garlic Chili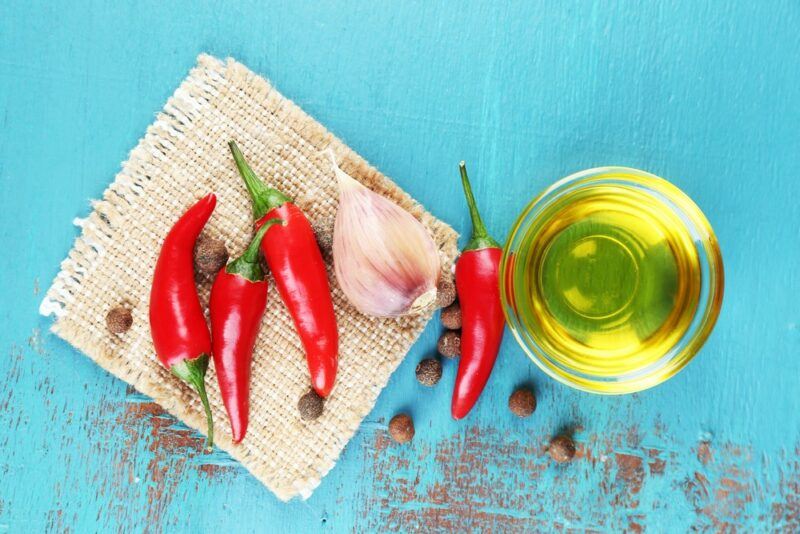 Garlic cloves and chili have complementary flavors, so they work well together in olive oil. There's room for flexibility too, as you can use whole chilis or chili flakes, then either regular garlic cloves or roasted cloves.
Don't forget about herbs either. A sprig or two of fresh rosemary or another herb could complement the other ingredients well.
Black Garlic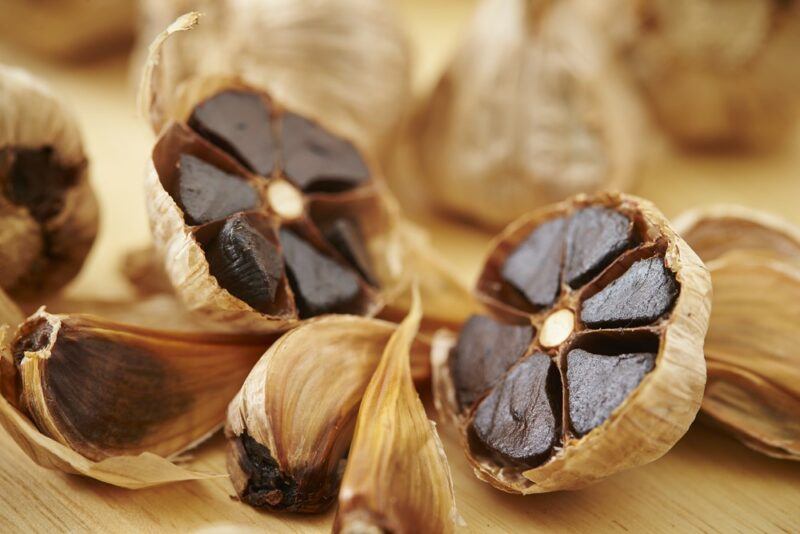 Regular garlic is familiar enough, so what about infusing olive oil with black garlic instead? This is regular garlic that has been aged through warming or yeast fermentation, a process that changes the flavor and texture of the garlic.
The infusion process is roughly the same for both types of garlic, but you get a very different flavor profile, as black garlic is sweeter and lacks much of the pungency found with regular garlic.
You could try using black garlic and rosemary in the same olive oil infusion. The rosemary would provide an excellent herbal contrast to the black garlic.
Rosemary, Garlic, And Chili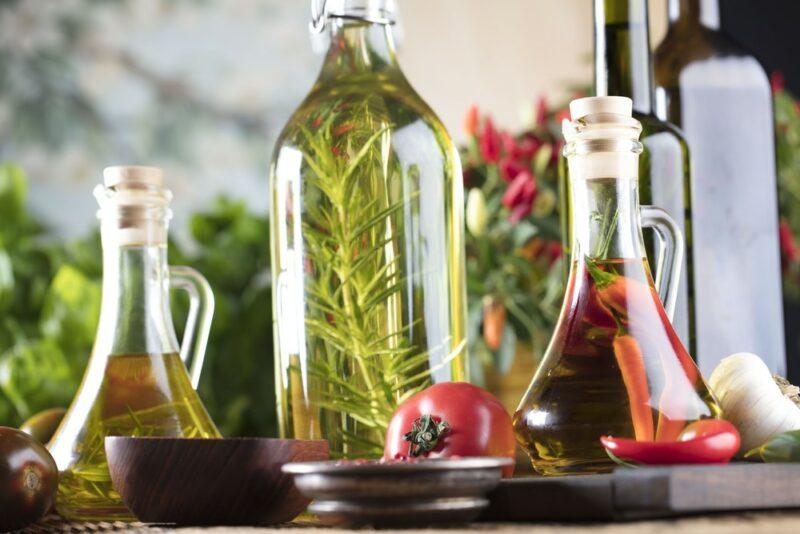 You don't need to stick with just one or two flavors. Using three ingredients gives you a more complex flavor profile. This type of oil is particularly good for dipping bread, as you get to enjoy all the flavor nuances.
Rosemary, garlic, and chili is just one combination of many. It's also a particularly good combination, as the three ingredients complement each other well and work perfectly with many foods and flavors.
But, if you don't like one of the three, why not swap it out? With a little experimenting, you might discover an entirely new flavor combination.
Sundried Tomato And Basil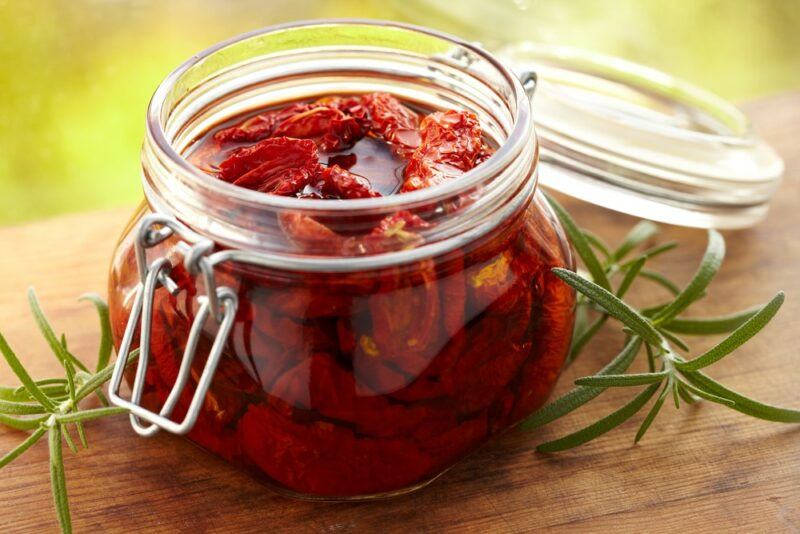 Sundried tomatoes and basil are often used together in pasta sauces and in some pasta dishes, so why not infuse olive oil with their flavors too?
It's best to use fresh basil for this infusion rather than dried basil. Dried would work in a pinch, but dried basil lacks the freshness and vibrancy that you get from the fresh herb.
You can make the oil by simply layering basil and sundried tomatoes in a large jar with the oil. The jar will need to sit for at least a week, if not longer, to allow the flavors to fully infuse and the tomatoes to soften.
Infusing the oil this way also gives you plenty of delicious soft sundried tomatoes that you can use in many recipes or as a charcuterie ingredient.
Lemon And Thyme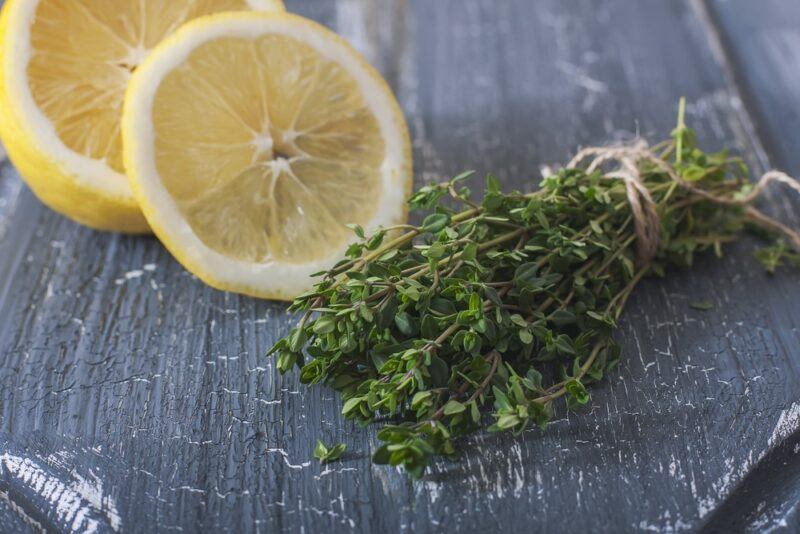 Why not play around with lemon and thyme in your infused oil? These two flavors already go well together and both work well with olive oil.
And, of course, most other herbs will complement lemon too. Why not experiment and find your own recipe?
Fresh Or Dried Herb Blend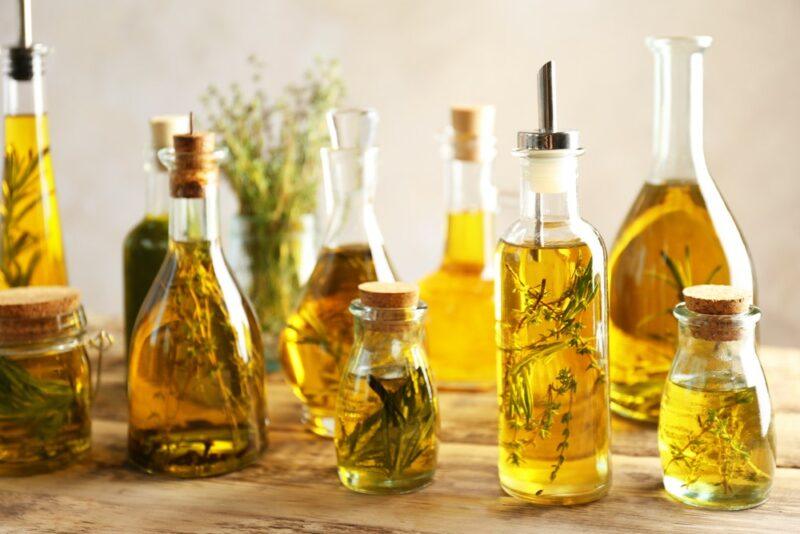 Rather than using a single type of herb, you could use a blend. The options are endless here. Basically, any combination of herbs that work well together could be perfect in olive oil too.
Don't forget about the flavor of the oil though. You'll need herbs that work well with olive oil.
As with rosemary, you can turn to fresh or dried herbs. However, it's best to stick to either fresh or dried, rather than trying to mix and match.
Black Pepper, Bay Leaf, And Citrus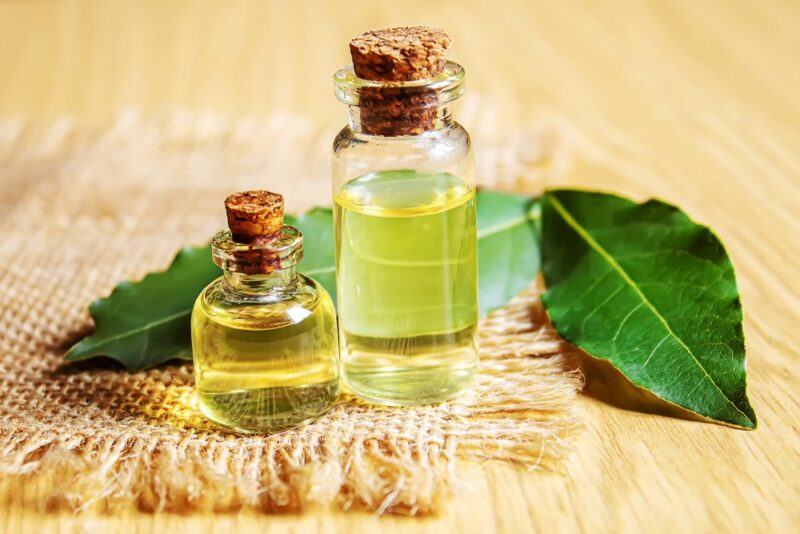 This infusion would be perfect if you're looking for complex flavors to drizzle over roast vegetables or a salad.
It's also a great choice for serving to guests, as they won't have tried infused oil like this before.
Paprika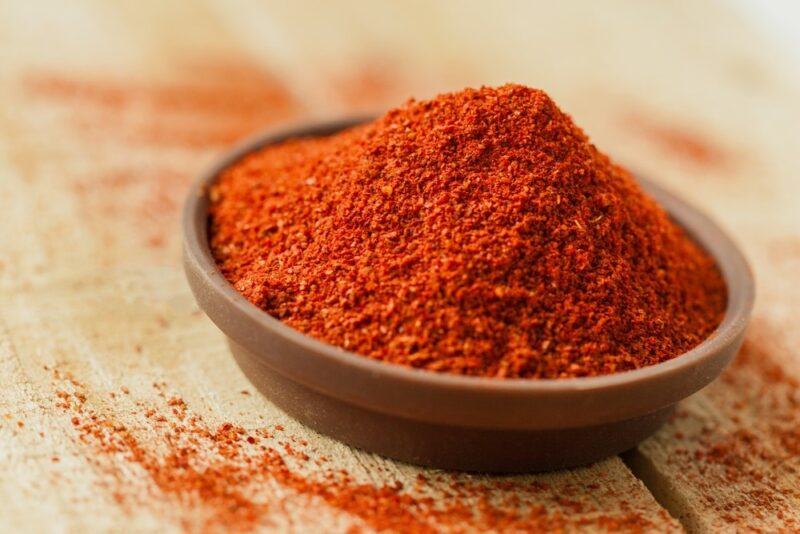 Paprika is a wonderful spice with a rich flavor, especially if you look for smoked paprika. Paprika-infused olive oil has some of the same qualities. As such, the oil is exceptional for roasting vegetables or for using on steak.
Making the infusion is easy. You simply need to heat the olive oil, then take it off the heat and stir in the paprika. After this, you leave the oil to steep for around half an hour.
Next, you need to stain the oil in some way. A coffee filter works well. Otherwise, you can spoon off the clear oil as it settles on top of your oil.
The straining step is trickier than for other oils because you've been using a powder, rather than pieces of herbs. Still, the delicious smokiness of the paprika makes the oil well worth the extra work.
Italian Infused Olive Oil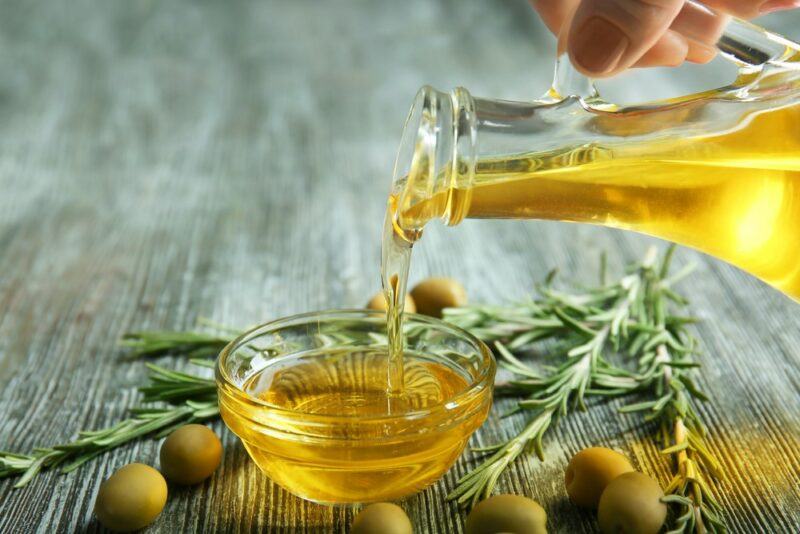 An Italian infusion is simply one that uses the traditional combination of Italian herbs, like basil, thyme, oregano, and rosemary. Adding some red pepper and garlic powder works well too.
You could use fresh herbs, but this infusion works better with dried ones (especially if you're using garlic powder in the mix).
Ginger, Chili, And Star Anise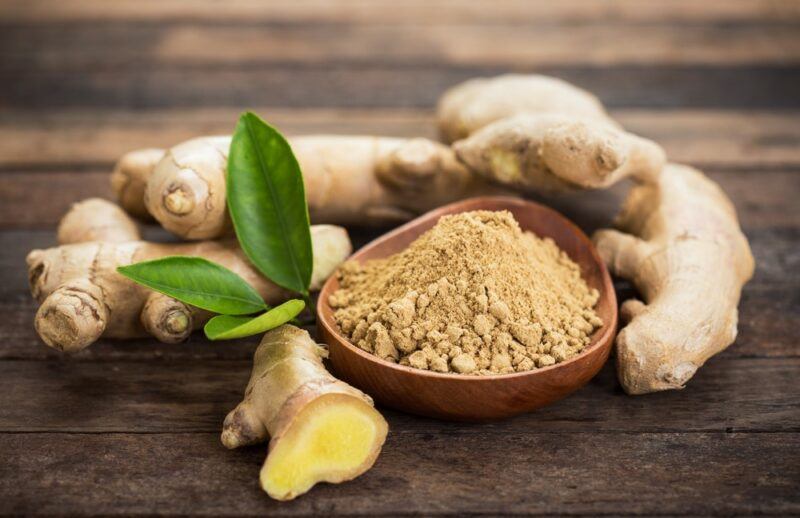 This infused olive oil is more complex than normal, but the flavors all work together perfectly. The star anise is what sets this infusion apart, as star anise has a distinct pungent flavor that's perfect in Middle Eastern cooking and plenty of other dishes.
Bacon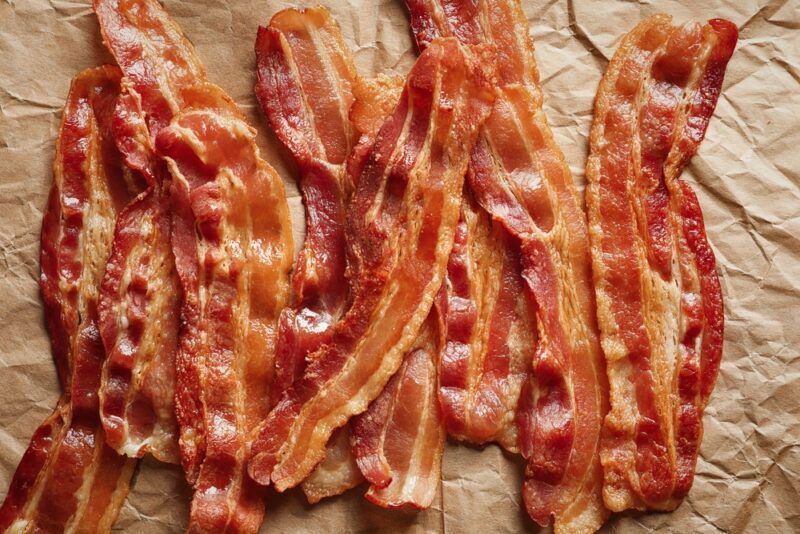 As surprising as it might seem, you can actually make bacon infused olive oil. Some recipes suggest that you just need to allow cooked bacon bits to sit in olive oil for a few hours, then strain the bacon out.
This may work, as bacon has an intense flavor once it's been cooked. However, you'll need to experiment, as there aren't many reliable recipes right now.
If you're not convinced, you could buy bacon infused olive oil instead. While this is still a fairly unusual flavor, some brands do offer it.
Also, this oil will be best for raw uses rather than cooking. The use of bacon means there may be some bacon fat present as well, which will change how the olive oil behaves over high heat.
Video: How To Make Cannabis Infused Olive Oil
How To Infuse Olive Oil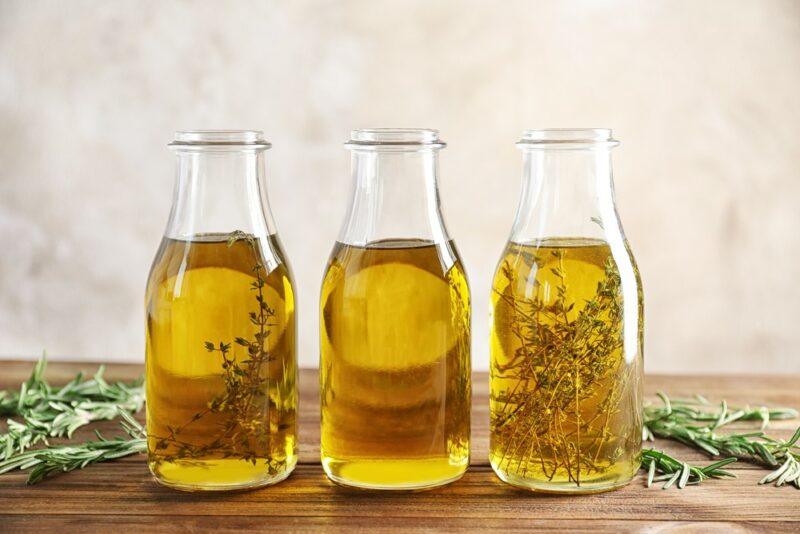 Choosing Your Olive Oil
First, you need olive oil. Any type of unflavored olive oil should do the trick. However, the flavor of the oil plays a huge role in the finished product.
This is actually one time where extra virgin olive oil mightn't be the best choice. While EVOO is the highest quality and offers the most antioxidants, it also has a fairly strong flavor.
Sometimes this flavor will be too much and may overpower your other ingredients. If you want the infused ingredients to shine, it's best to turn to a light olive oil instead.
The Basic Strategy
The process for infusing olive oil is simple. Most of the time, you begin by warming the oil with your chosen ingredients. Keep them over a very low heat for roughly 20 minutes, then take them off the heat and allow them to cool. Doing so helps to bring the flavors of your add-ins into the oil.
After this, you'll typically remove the ingredients you used for infusion and pour the olive oil into a jar or bottle. Once it's in the appropriate container, you can add new versions of the herbs and spices you used.
Removing the original herbs and adding new ones reduces the risk of spoilage, while keeping the flavors fresh.
Infusing Olive Oil Without Heat
Heating the olive oil with its add-ins is the fastest way to infuse the flavor. This isn't the only option though. You can also simply combine the olive oil and herbs and allow them to sit in a dark space.
Doing so takes longer. You'll need to wait a couple of weeks for the flavor to infuse fully. However, olive oil infused this way should last longer than oil made using the heating method.
Acidifying Your Ingredients
Some recipes call for acidifying ingredients like thyme, rosemary, and chopped garlic. You can do this by using a little citric acid.
The citric acid doesn't change the flavor dramatically, but it may reduce the risk of bacterial contamination.
Uses For Infused Olive Oil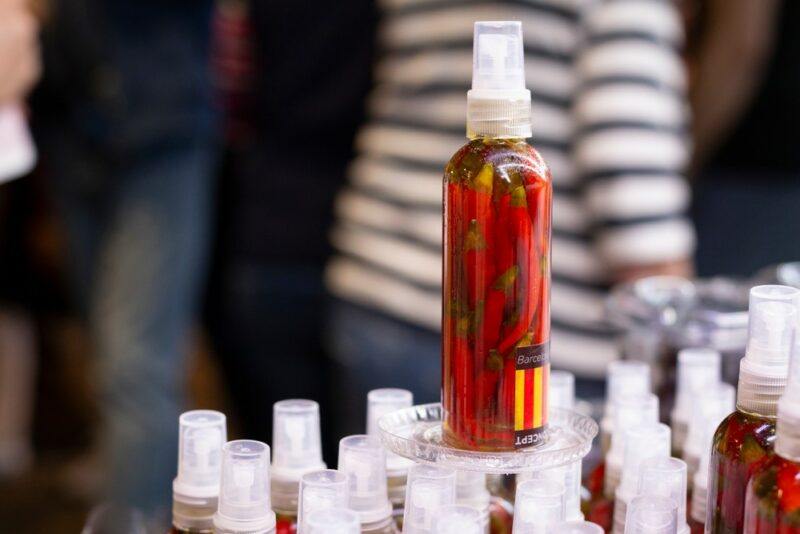 Infused olive oil looks beautiful in the bottle and can be incredibly tasty. But, what do you do with the oil?
The simplest answer is to just enjoy it with some fresh bread. This is the best way to fully experience the flavor nuances.
If you're serving different infused olive oils in this way, it's worth including some of the ingredients in the oil itself. For example, you might add a small sprig of rosemary to the rosemary oil or a garlic clove to garlic oil.
Doing this means that everyone can tell which oil is which. After all, the different flavors look almost identical.
However, that's just one option of many. You can also use infused olive oil in most of the same ways as regular oil. This includes drizzling it on top of salads and soups, using the oil to make a marinade or a salad dressing, and using it for roasting vegetables.
Pro tip, if you're grilling or roasting, allow the oil to be in contact with the meat or veggies for around 30 minutes before you start. This ensures your food will take on the extra flavors from the oil.
Buying Infused Olive Oil Instead
Infusing your own olive oil is fun and gives you full control over the flavors. You can also experiment with unusual flavor combinations, ones that you'd never find sold in a store.
But, as you've seen, there's some risk as well. Plus, even if you're ultra careful, your infused olive oil is only going to last a month, probably much less than that.
Is the oil worth the effort then? It could be if you store it well and only make as much as you need. The approach may also be perfect if you want to experiment with flavors.
However, if you go through olive oil slowly or are worried about the risk, why not buy infused olive oil instead? Many olive oil companies offer infused versions of their oil, giving you plenty of products to choose from. These will be safer than infused olive oil you make at home and should have a longer shelf life too.
Most products stick with the traditional flavor additions, like lemon, rosemary, and garlic. There are some unusual ones out there too, including hot red pepper and even smoked bacon infused olive oil.
Frequently Asked Questions
Why Did My Olive Oil Turn Out Cloudy?
Olive oil can turn cloudy if any of your ingredients were wet when they were added to the oil. This includes fresh herbs that you washed and didn't allow to fully dry.
This is something to avoid, as your olive oil mightn't be safe anymore. It's best to scrap any cloudy olive oil and start again.
Interestingly, some combinations of ingredients appear more resilient than others. For example, lemon infused olive oil is fairly resilient, as is olive oil that uses chili flakes. But, oil made with herbs or spices like garlic and rosemary can be much more sensitive.
Does The Oil Need To Be Stored In The Fridge?
While regular olive oil is best kept at room temperature, infused olive oil should be stored in the fridge instead. It may only be shelf stable for a few days, so the fridge is essential for keeping it safe.
If you keep the herbs in the oil, it is best used within a few weeks. The oil may last longer if you remove the herbs and other ingredients, but you'll still need to pay close attention to the aroma and cloudiness.
Do The Jars Need To Be Dry?
Focusing on dry jars and dry herbs is the best approach. This keeps the risk of spoilage as low as possible.
Can Infused Olive Oil Make Me Sick?
It's important to be careful when infusing olive oil, as doing so can lead to illnesses like botulism. This is particularly true if you're using fresh herbs as an ingredient.
The acidifying approach mentioned earlier reduces the risk of problems. Making sure the herbs and jar are dry should help as well. Even then, it's best to only keep your infused oils for a few weeks and store them in the fridge.
Don't try to keep them for months. Doing so could easily make you sick.
If you used garlic or fresh herbs in your oil, it's best to cut the storage time down even further. Try keeping the oil for no more than a week and storing it in the fridge.
This isn't a long time, but botulism is serious and can cause severe harm. It's always best to be cautious, even when the risk seems minimal.
What's The Ratio Of Olive Oil To Ingredients?
The amount of herbs, spices, and other ingredients you need will vary depending on the recipe. But, a good rule of thumb is to use half a cup of dried or fresh ingredients for every quart of olive oil.
That said, if you're following a recipe, stick to the ratios suggested in the recipe. The creator will have experimented with different quantities and should know the best ratios for a perfect infusion.